College Basketball 2010: The Best Midnight Madness Performances Thus Far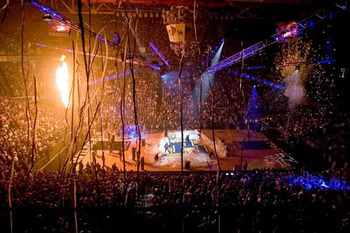 College basketball is right around the corner, and all around the country programs are gearing up with practice and getting prepared for the upcoming season.
With the beginning of practice comes the start of Midnight Madness, a fan favorite across the map.
Midnight Madness can bring the best out in everyone—ranging from an outrageous dunk to a dance simply named after a player (The John Wall Dance).
Last week started off with some top-notch schools, and there was a great turnout for all of the respective Midnight Madnesses.
We saw an assortment of dunks, scrimmages and even entertainment events from all the schools. Everyone was on the edge of their seats throughout the night and into the wee hours of the morning.
However, some teams and players shined more than most.
Did you miss it?
Don't worry. I present to you the best of the best from Midnight Madness.
Feel free to include any other entertaining Midnight Madness events that I missed.
Follow Garrett Tucker on Twitter @GTuckersports
Duke Unveils National Championship Banner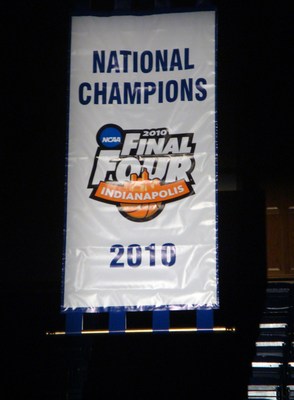 Duke unveiled their 2010 National Championship banner at Midnight Madness last week.
Where else should this start than with the Duke Blue Devils releasing their 2010 national championship banner?
The Dukies said goodbye to last year's national championship team as the banner raised, but they also welcomed a new slew of players, including stud point guard Kyrie Irving.
Coach K and the Blue Devils expect to compete yet again this year, as they are the No. 1-ranked team according to many, if not all, experts.
Duke Slam Dunk Contest
Here is some footage from Duke's Midnight Madness Slam Dunk Contest.
Enjoy!
Memphis Slam Dunk Contest
Memphis always has some great leapers, and nothing is different this year. The Tigers showed out during their time on the floor.
Will Barton, an incoming freshman, may have been the most exciting dunker of the night.
Here is a longer video of the Dunk Contest if you're interested in checking out some more action.
Kansas State Team Dance
Well, usually we have some brutal stuff going on in the Octagon of Doom, but this year, Manhattan treated the fans well with a classic dance from the players and dancers.
Here's the same thing just a little closer.
Kentucky Enterance
Very Undertaker-esque, no?
Georgetown and Wale
Of course, I have to include my Hoyas.
Georgetown has incorporated several music artists in its Midnight Madness, such as Soulja Boy, and this year, it was Wale.
They also showed off a little Michael Jackson.
Here's another great video.
The Double Hurdle Dunk from UNC-Asheville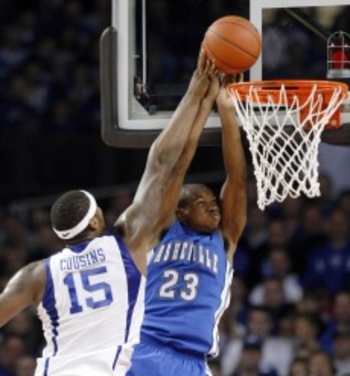 You usually don't hear from a team like UNC-Asheville during Midnight Madness, but senior John Williams made his name known, and he is now a sensation.
Williams hurdles 7'2" teammate Sean Hobbs, catches a lob pass as he jumps over another teammate and then throws down the two-handed alley-oop.
I couldn't find a good video from YouTube, but here is a link to it on Rivals.
NC State Fab Freshmen and Ryan Harrow Dance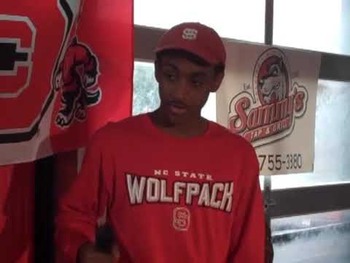 Ryan Harrow brings a new aspect to the Wolfpack, including some dancing ability.
NC State has a great group of freshmen coming in this year, including C.J. Leslie, Lorenzo Brown and Ryan Harrow. The three youngsters showed off for the crowd throughout the night.
However, the best part is at the end...
Last year we saw the great John Wall Dance at Kentucky, and this year we witnessed another young point guard do his thing—freshman Ryan Harrow of NC State.
You don't get a great view from that video, but here is a great video from Rivals.
Keep Reading