The narrative that there is not an elite team in college basketball this season has seen two real challengers lately.
Michigan State has one of the two best players in college basketball and has blown the doors off everyone in the last month. The Spartans have outscored opponents by 31.3 points per 100 possessions over their last six games, and if you compare that with the best six-game run last year's juggernaut, Kentucky, had in the SEC (a 35.3 efficiency difference), Sparty is not far behind.
Kansas, meanwhile, just won what is considered the best league in college basketball by two games. The Jayhawks have also won 11 straight, and they can take that "winning the best league in the country by two games" to another chest-puffing level. The Big 12 has the highest rating of any league in Ken Pomeroy's database dating back to 2004.
But the numbers go the other way as well. And, conveniently, the advanced statistics suggest that this truly is the year of parity.
Pomeroy's Pythagorean winning percentage, which is how teams are ranked on his site, is one way that allows us to compare teams from one season to another, and that data isn't too kind to the those ranked near the top this year compared to years past.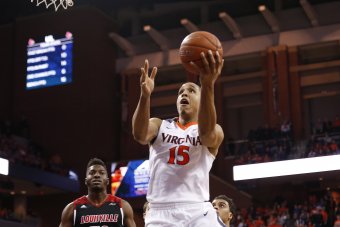 Geoff Burke-USA TODAY Sports
Virginia, the current No. 1 team on KenPom.com, would rank seventh in last year's ratings, and if the season were to end today, UVA would be the worst No. 1 in the history of the site, which dates back to 2002. In fact, the Cavaliers would rank in the top two only twice during that time span—2006 and 2011.
"Whoever the favorite is this year is probably going to have less of a chance to win than any other year in the past decade or so," Pomeroy told Bleacher Report.
Pomeroy's logic goes beyond the top teams not being up to the usual standard. While there aren't any elite teams, there are a lot of really good teams, and the numbers back that up as well.
The teams from around No. 13 to No. 25 this season are stronger than they have been in most years, according to the data, and the gap between Nos. 1 and 20 is as small as it has ever been.
"I think that is a hidden point that a lot of people aren't talking about," Pomeroy said. "I think that explains why so many teams have so many losses."
So where did all the elite teams go?
The short answer: to the NBA.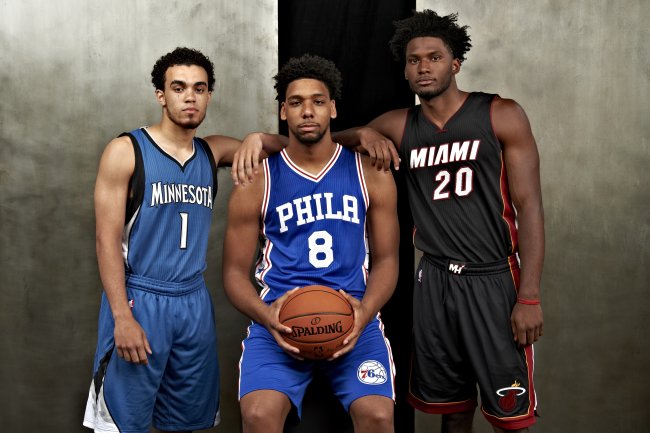 Jennifer Pottheiser/Getty Images
Three different things were in play in the last year that influenced the top tier of college basketball dropping off.
Last year's one-and-done class was one of the strongest in years, and those players leaving for the NBA caused a major drop at some of the blue-blood schools, mainly Kentucky and Duke.
Once you get past the first few players, this year's freshman class is one of the weaker classes in recent memory. (If you don't want to take my word for it, check out what scouts had to say earlier this year.)
Some of the best one-and-done talents chose a non-traditional route. Two of the best NBA-level talents, Ben Simmons and Jaylen Brown, chose LSU and Cal, respectively, instead of going to one of the blue bloods where players of their ilk usually end up.
NBA talent is not the only ingredient to making an excellent college team, but it certainly helps. Pomeroy pointed to the 2013-14 season as one that shared some similarities to this year in terms of a drop-off at the top, and the top team that season for most of the year was Florida. Those Gators went 36-3 and made the Final Four, and not one player off that roster has played a game in the NBA.
Kansas, the team currently No. 1 in the polls, as well as possible No. 1 seeds Virginia and Villanova have similar rosters to that of the 2013-14 Gators.
"Kansas doesn't have a surefire first-round pick on their team, and they definitely don't have a first-round pick in their starting lineup," an NBA scout told B/R. "Villanova and Virginia have nice players, but there isn't clear high-level NBA talent on any of those teams."
Michigan State has two players who could be first-round picks, Denzel Valentine and Deyonta Davis, but Davis is more of a project and only the fifth-leading scorer on the team.
"The thing you have to remember is it's a weak draft, and not only did the teams last year have high first-round picks, it was a better draft," the scout said. "Karl Towns, Jahlil Okafor and Frank Kaminsky are probably going to have decade-and-a-half careers in the NBA.
"The only guy [who will be in the NCAA tournament] that's a potentially great player—when I say great, I mean an elite NBA player—is maybe [Duke's] Brandon Ingram, and he's so young."
Ingram is also on a team that lacks the depth and interior defense to win a title. The Blue Devils are one of the only teams that have multiple first-round prospects. Outside of Michigan State, the others with multiple projected first-rounders (Maryland, California and Kentucky) have other issues that have kept them from looking anywhere close to elite.
KU's rotation is full of borderline pros, and Bill Self has arguably the deepest team in the country, but in terms of raw talent, this group is not even in the top five in the Self era. The current Jayhawks have elevated themselves to one of Self's favorites, and as the coach openly admits, that's because they've done more with less.
"I'm more proud of this team," Self said. "I've been proud of teams before, but…if you've got lottery picks or something like that, you know you have better players. If better players perform at a fairly high level, the chances are pretty good that you'll be successful. This team, I think we've got terrific, good players."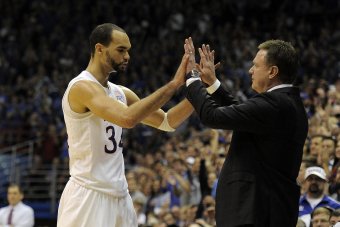 John Rieger-USA TODAY Sports
This is Self's way of saying, hey, we've got a nice roster, but I'm not working with any lottery picks or future NBA All-Stars.
"I think this team has earned its stripes probably as much as any team we've ever had here, because the league is the best it's ever been and these guys win it by two games, so I totally respect these guys," Self went on to say. "But I also know this, the margin for error is less. You talk about it being wide-open, it's less.
"… Of the successful teams we've had in the postseason, we've got to do more things to create energy and make other teams play poorly."
Because every recruiting class is not created equally, there are some years in this era of college basketball where experience becomes more important than talent.
That's why the teams considered the best this year—Kansas, Michigan State, Virginia, Villanova, North Carolina and Oklahoma—are filled mostly with upperclassmen. But like Self said, the margin for error for those teams is less because the field is deeper and their talent is less of an advantage over the next tier than in most seasons.
One exercise that shows how much early entrants water down the blue bloods is putting together starting fives for some of those programs in an imaginary world where players stuck around for four years.
Mythical rosters

| | | | | |
| --- | --- | --- | --- | --- |
| Kansas | Kentucky | Duke | Arizona | UCLA |
| Frank Mason III | Tyler Ulis | Tyus Jones | Gabe York | Zach LaVine |
| Ben McLemore | Jamal Murray | Grayson Allen | Stanley Johnson | Jordan Adams |
| Andrew Wiggins | James Young | Justise Winslow | Rondae Hollis-Jefferson | Shabazz Muhammad |
| Perry Ellis | Julius Randle | Jabari Parker | Aaron Gordon | Kyle Anderson |
| Joel Embiid | Karl-Anthony Towns | Jahlil Okafor | Brandon Ashley | Kevon Looney |
B/R
Those five programs would be Goliaths this season, and it would be fun to see them battle it out.
That's not to say the current state of college basketball is a bore. But years like this can lead to a dud of a Final Four. In 2014, a No. 7 seed (Connecticut) played a No. 8 seed (Kentucky) for the national championship. Three years before that, VCU and Butler took part in a brickfest in Houston.
What's promising this year is that with a deeper list of really good teams, it's more likely that four quality programs make it to Houston.
And, as Pomeroy points out, the Pythagorean rating could conceivably go up for whoever emerges as the No. 1 team.
"I would guess it would rise just because one of those top four or five teams is probably going to play better than they have been, which will cause it to rise a little bit," he said.
Last year, the Blue Devils went from the 63rd-rated defense on his site on this date to No. 12 by the end of the tournament, and they raised their rating from .9410 to .9594.
If Kansas, Michigan State or Virginia got that much of an NCAA tourney bump, it would still be a down year for the top team but much closer to the norm.
Will our eventual champ be as good as Duke or Kentucky or Wisconsin last year? Probably not. But last season was more of an outlier in excellence than this season is in mediocrity.
C.J. Moore covers college basketball for Bleacher Report. You can follow him on Twitter, @CJMooreBR.