B/R Expert Predictions for 2013-14 NCAA Basketball All-American Teams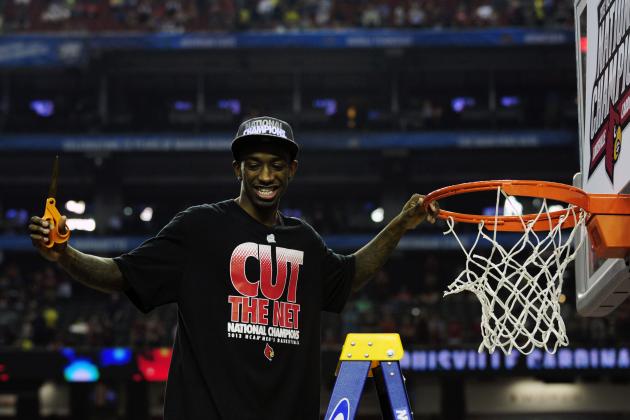 Bob Donnan-USA TODAY Sports
Will Louisville's Russ Smith get some All-American love this year? Several of our experts think so.
Our writers agreed to disagree on preseason All-Americans this season.
Only two players were unanimous first-team selections, and a third (some Canadian kid playing in Kansas) may have made it if not for one of our writers disliking the young'uns. (He believes freshmen should earn it. It's a noble cause.)
On the kid-friendly ballots, this freshman class is well-represented. The hyped ones have definitely given us more choices than we had last year, when filling out such a preseason ballot was not so easy. It's good to have options.
Before we get to the picks, we apologize to those of you who will be upset that your favorite player off your favorite team didn't many anyone's list. Hey, there's probably a good reason for that.
Begin Slideshow

»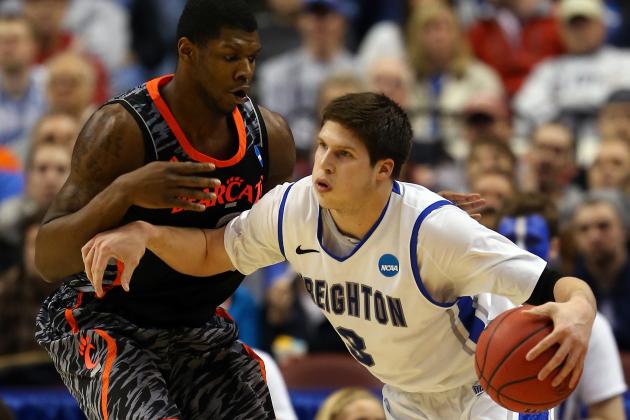 Elsa/Getty Images
Creighton's Doug McDermott has already made two All-American teams in his career.
Projected First Team
Marcus Smart, PG, Oklahoma State
Just about every coach in the Big 12 will tell you Smart is his favorite player he coaches against. The guy plays with unbelievable effort, which is contagious. He helped make a bad Oklahoma State defense one of the best in the country. His jumper is suspect, but he makes up for it with his all-around game.
Russ Smith, SG, Louisville
Smith is always attacking whether the ball is in his hands or he's trying to take it away. His performance in the first four games in the NCAA tournament last year was better than any player in the country.

Andrew Wiggins, SF, Kansas
I've seen Wiggins live three times now. What he can do athletically—his speed in the open court and his second jump—is as good as I've ever seen. He's nowhere near a finished product, but Bill Self will find a way to take advantage of all that ability.

Doug McDermott, PF, Creighton
In 10 years, we'll look back at McDermott's numbers and marvel at how a guy who was such a high-usage player could put up such efficient numbers. It's good that McDermott will get to do his thing in the Big East this year, where no one can question the legitimacy of such numbers.

Julius Randle, PF, Kentucky
The Wildcats are going to be really good—maybe not 40-0 good, but really good—and assuming they're really good, someone off that team is going to be an All-American. Julius Randle is the most talented player on the roster, so he gets this spot.

Projected Second Team
Jahii Carson, PG, Arizona State
Carson is a blur with the basketball and the best scoring point guard in college basketball. He helped the Sun Devils win 12 more games than the previous season last year.
Gary Harris, SG, Michigan State
The mixtape for this man should be played to a nice jazz beat. Harris is extremely smooth with the ball in his hands and has a beautiful jumper.
Joe Harris, SG, Virginia
Harris is another smooth operator with a beautiful jumper. He'll get more attention this year when the Cavaliers become a Top 25 team.

Jabari Parker, SF/PF, Duke
Parker is a natural wing who will play the stretch 4 for Duke. He's a matchup nightmare at that spot and Coach K knows a thing or two about exploiting mismatches.
Mitch McGary, C, Michigan
McGary's back injury is a concern, especially for a guy who relies as much as he does on physical strength and hustle. But, if this is the man we saw in the NCAA tournament, he'll be an All-American.
Projected Third Team
Aaron Craft, PG, Ohio State
Ignore the numbers. Look at Ohio State's win total. If the Buckeyes are once again a top 10 team, Craft will be the reason why. Much like Smart, his effort and intensity are contagious.
Spencer Dinwiddie, SG, Colorado
Dinwiddie, at 6'6" with a long wingspan, can defend multiple positions and is one of the best defensive guards in the country. He's also a really good slasher who gets to the free-throw line frequently.

C.J. Fair, SF, Syracuse
Fair added some range to his jumper last year, and he was already a really good driver. He's just one of those guys who is going to quietly rack up points, and it doesn't look like he has to try that hard.

Glenn Robinson III, SF/PF, Michigan
Robinson could either be what he was last year—a really nice role player—or turn into a star. It all depends on how comfortable he is playing with the ball in his hands.

Aaron Gordon, PF, Arizona
He wants to be a wing, but if he embraces playing around the basket, he's going to be a star. Gordon is extremely athletic and has great hands and a nose for the ball.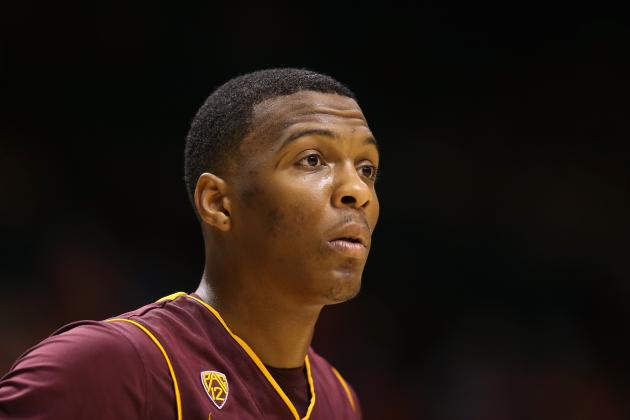 Jeff Gross/Getty Images
Arizona State point guard Jahii Carson is the surprise pick by Kerry Miller.
Projected First Team
Marcus Smart, PG, Oklahoma State
When a consensus top-five draft pick turns down the NBA to play another season in the nowhere-near-as-good-as-it-used-to-be Big 12, it's kind of a given that he'll make first team.
Andrew Wiggins, SF, Kansas
It's not every year that a freshman makes first team in the preseason All-American voting—in fact, it's only happened once, and Harrison Barnes ended up being a bit of a disappointment that year as a result of those expectations—but Wiggins isn't your average freshman. If he lives up to even half of his potential, he might be the AP Player of the Year.
Doug McDermott, PF, Creighton
McDermott is once, twice and, now, three times a member of the first team. McDermott was a first team All-American in each of the last two seasons, and moving from the Missouri Valley to the new Big East shouldn't have any negative impact on his ability to make it a third time.

Russ Smith, SG, Louisville
Smith is one of the best scorers and perimeter defenders in the country. There's no reason to assume that he won't finish in the top 50 in both points per game and steals per game for a second straight year.
Jahii Carson, PG, Arizona State
If you disagree with this pick, then you didn't stay up late to watch grainy online feeds of Arizona State games anywhere near as often as I did last year. By the end of the season, Carson was being double-teamed every time he crossed midcourt, yet he still found a way to routinely score 20 points per game. If his mid-range game has improved at all—and if Jordan Bachynski can become a more reliable low post threat in his senior year—Carson could very well lead the nation in scoring.
Projected Second Team
Gary Harris, SG, Michigan State
After playing most of last season with a shoulder injury and still becoming one of the best shooting guards in the country, I can't wait to see what Harris can do at full health.
Julius Randle, PF, Kentucky
Projected-best player on the projected-best team in the country? I'd say that's worth at least a second team nomination. Due to the absurd amount of talent on Kentucky's roster, I'm concerned enough about ball distribution and Randle's raw totals at the end of the season that I'm not quite willing to put him on the first team, though.
C.J. Fair, SF, Syracuse
If nothing else, Fair is a lock to make first team on the "There's no way that guy still has another year of college eligibility" All-Stars. It feels like Fair has been playing for Jim Boeheim since 2004, but the senior forward is poised for his best year yet.
Jabari Parker, SF/PF, Duke
6'8" forwards who can stretch the floor by playing the wing have been Mike Krzyzewski's bread and butter for the past 20 years. Duke is going to send one of those types of players to an All-American team. The only question is whether it's Parker or Rodney Hood.
Semaj Christon, PG, Xavier
I suspect I'll be the only person with Christon on any of his three teams, but I loved what I saw last year. There were certainly some growing pains—he had at least five turnovers in 10 different games, including 10 in Xavier's lone game against VCU—but most of those struggles were early in the year.
Over his final five games, Christon averaged 16.0 points, 5.4 assists, 3.6 rebounds, 1.8 steals and 2.2 turnovers. If he can carry that late-season success over to the Big East—and improve upon his 67 percent free-throw shooting in the process—he could be headed for a monster season.
Projected Third Team
James Michael McAdoo, PF, North Carolina
McAdoo has the skills to put up 20 points and 10 rebounds per game, but his refusal to do so has made him one of the more frustrating players for Tar Heel fans to watch. If Marcus Paige can evolve into something of a Kendall Marshall 2.0 in his sophomore season, McAdoo should become the benefactor in the form of a ton of easy buckets.
Shabazz Napier, SG, Connecticut
Napier and Ryan Boatright might be the best backcourt duo in the nation. Forced to choose just one, however, I'll take Napier for his 40 percent clip behind the arc last season and his willingness and ability to play tough defense and fight for loose balls.
Sam Dekker, SF, Wisconsin
Dekker played limited minutes for much of his freshman season, but he came out of his shell over the final third of the year. In Wisconsin's last 12 games, Dekker averaged 19.5 points per 40 minutes, despite having to share three-point attempts with Jared Berggren and Mike Bruesewitz.
I'm not quite expecting a Marshall Henderson-amount of nightly three-point shots, but the additional playing time should pay huge dividends.
Kendall Williams, PG, New Mexico
Williams enters his senior season having increased his points, assists and rebounds in each of his previous collegiate campaigns. Besides, there's bound to be at least one All-American from a non-major conference. It might as well be the guy who once scored 46 points in a game last year.
T.J. Warren, PF, North Carolina State
Total gut call, but Warren averaged 12.1 points per game last year as a freshman and is the only returning member of the team who averaged more than five points or 13 minutes per game. Deshaun Thomas took nearly 30 percent of Ohio State's field goal attempts last season and made third team in the process. I'm expecting similar results from Warren.
Noteworthy Omission
Mitch McGary, PF/C, Michigan
A great run through the NCAA Tournament last season, but I simply can't ignore a back injury that will likely impede him in the early parts of the season and the fact that he only had two double-doubles during the regular season last year.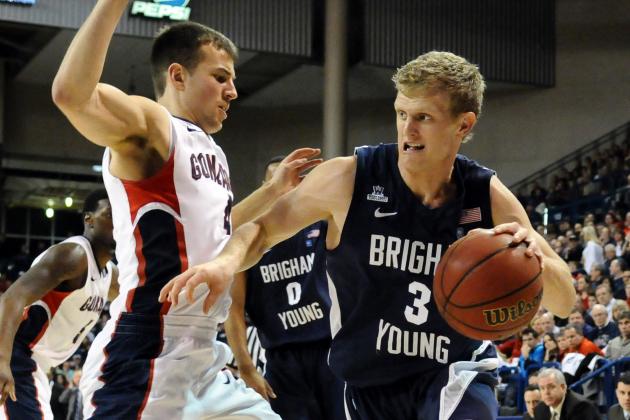 James Snook-USA TODAY Sports
BYU's Tyler Haws ranked 11th nationally in scoring last season.
Note: I don't include freshmen on preseason All-America ballots. It will be no surprise to see Julius Randle, Andrew Wiggins, Aaron Gordon, Jabari Parker and one or both Harrison brothers play at an All-American level, but they need to prove it first.
Projected First Team
Jahii Carson, PG, Arizona State
When Carson gets flying in the open court, it looks like someone in the production truck sped up the game somehow. It will be no surprise to see him lead the Pac-12 in both scoring AND assists.
Tyler Haws, SG, BYU
Haws didn't show a bit of rust last season after a two-year layoff. He still has plenty of support, so it's not like opponents can triple-team him or anything. Expect very similar numbers.
Doug McDermott, F, Creighton
This kind of efficiency from a player who works so much on the perimeter just isn't natural. He could end his career among the top five scorers of all-time.
Marcus Smart, PG, Oklahoma State
The only thing he's missing is a consistent shot. Otherwise, he'll break an opponent's will on either end with great drives and a pickpocket's hands.
Russ Smith, SG, Louisville
We assume he's a crazed gunner with no conscience, and sometimes, he is. Still, his defense is top-notch, and his passing is underrated. We may see more of the latter if Rick Pitino wants to let him audition for NBA scouts.
Projected Second Team
Aaron Craft, PG, Ohio State
We know he can pass and defend with the best. Scoring is still the question, just as it was last season.
CJ Fair, F, Syracuse
His efficiency went up with more opportunities last season. If the Orange have any shooters who can open lanes for him, he'll roll in the ACC just like he did in the Big East.
Cory Jefferson, PF, Baylor
Jefferson likes being a true post player, which is something Baylor needed when Quincy Acy left. His numbers should skyrocket unless Kenny Chery likes to get his own shot as much as Pierre Jackson did.
Adreian Payne, PF/C, Michigan State
If he produces more consistently, Payne goes to the NBA lottery. He can stroke it from the outside, but he doesn't use that as an excuse to hide from contact like Baylor's Isaiah Austin does.
Glenn Robinson III, F/G, Michigan
His efficiency may dip with use, but expect good scoring numbers from all the Wolverine sophomores now that they'll have a pass-first point guard in charge.
Projected Third Team
Jerrelle Benimon, PF, Towson
Expect a 20-10 season from Benimon this year. He'll get the green light to shoot from anywhere, and rumors even circulate that he'll play a little point. Towson's looking to complete a two-year turnaround from one win to the tournament.
Montrezl Harrell, PF, Louisville
He'll get an insane workload if Chane Behanan's suspension is anything substantial. Even if it isn't, the Cardinal post game still runs through him.
Gary Harris, SG, Michigan State
Harris had a really solid freshman season, and he allegedly wasn't even healthy. If he is now, he'll be a major threat for the Big Ten scoring title.
Joe Harris, SG, Virginia
Harris scores just as well inside the arc as out. He has the green light to take any shot he deems a good one, which should help him transcend UVa's often-methodical offense.
Shabazz Napier, PG, UConn
Napier's the best player that the casual fan still isn't quite aware of. Now that UConn appears to be fielding a full team and is eligible for the NCAA tournament, he'll change that.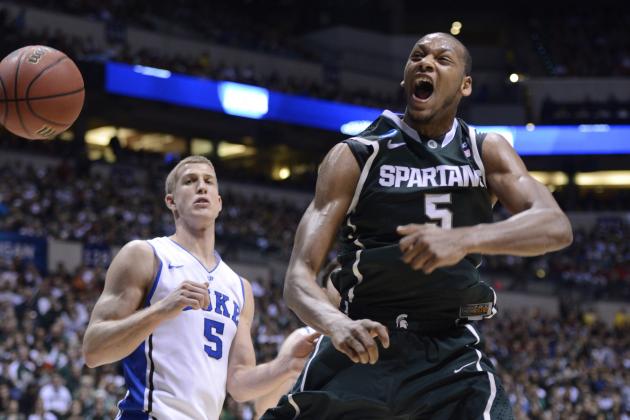 Jamie Rhodes-USA TODAY Sports
Michigan State big man Adreian Payne came on strong at the end of last season.
Projected First Team

Marcus Smart, PG, Oklahoma State
He fills up a stat sheet better than any player in the college game. At 6'4", 225 pounds, he's also an impossible matchup for most college (or pro) point guards.
Russ Smith, SG, Louisville
Smith's energy fueled last year's champs on both ends of the floor. He's a great scorer even without being a great shooter, and his defensive instincts are top-notch.
Andrew Wiggins, SF, Kansas
The top freshman in the country, and the favorite for the top pick in next June's NBA draft, can do a little of everything as a 6'7" small forward. He'll have every opportunity to lead the Big 12 in scoring for the rebuilt Jayhawks.
Doug McDermott, PF/SF, Creighton
McDermott plays more like a small forward on offense, but he's a major factor as a rebounder, too. The best scorer in college hoops, and already a two-time All-American, he's as surefire as it gets for this list.
Adreian Payne, C, Michigan State
An NBA-caliber athlete already, Payne gained a lot of confidence in his shot last season. With Derrick Nix gone, he'll be the Spartans' No. 1 offensive option with scoring numbers to match.
Projected Second Team
Jahii Carson, PG, Arizona State
Just 5'10" but blindingly fast, Carson excelled despite a weak lineup around him. He's a scorer first, but he'll pick up his share of assists (especially with Penn State transfer Jermaine Marshall joining the backcourt).
Spencer Dinwiddie, SG, Colorado
With Andre Roberson gone to the NBA, Spencer Dinwiddie is the best defender in the Pac-12. He's also Colorado's top offensive weapon, a respectable three-point threat and a terrific finisher at 6'6", 200 pounds.
Jabari Parker, SF/PF, Duke
Parker's a natural 3-man who will spend much of his time facing bigger opponents on undersized Duke. The freshman has the defensive skills to make the mismatches work for him, not to mention the scoring punch to lead the Blue Devils offense.
Julius Randle, PF, Kentucky
The jewel of Kentucky's overwhelming recruiting class, Randle has an NBA body already at 6'9", 250 pounds. He's the best scorer on the top-ranked 'Cats, both for his low-post skills and for his silky jump shot.
Isaiah Austin, C, Baylor
Austin is amazingly agile at 7'1", 225 pounds, and he loves to pull bigger defenders to the perimeter and shoot over them or drive around them. Even as a freshman, he was one of the top rebounders and shot-blockers in the Big 12.
Projected Third Team
Shabazz Napier, PG, UConn
Napier just beats out the country's toughest defender, Ohio State's Aaron Craft, for this spot. The Huskies star is a fine defensive weapon in his own right, and his offense (as either distributor or scorer) is light-years ahead of what Craft can do.
Joe Harris, SG, Virginia
Harris would be getting a lot more attention if the Cavaliers had made the NCAA tournament last March. He's a lethal three-point shooter and (at 6'6") a solid defender and rebounder.
Tyler Haws, SG, BYU
A pure scorer who piled up numbers for an also-ran team last year. BYU has a shot at an at-large bid this time around, and if the Cougars upset mighty Gonzaga, Haws will be the reason why.
James Michael McAdoo, PF, North Carolina
McAdoo disappointed everybody by being very good rather than great as a sophomore. He's a little more under-the-radar this year as a result, but he still has a real chance to explode for an ACC Player of the Year-type season.
Mitch McGary, C, Michigan
He's not the biggest center at 6'10", 255 pounds, but McGary is incredibly active. If his tender back holds up, he should be almost as impressive over a full season as he looked during Michigan's Final Four run in March.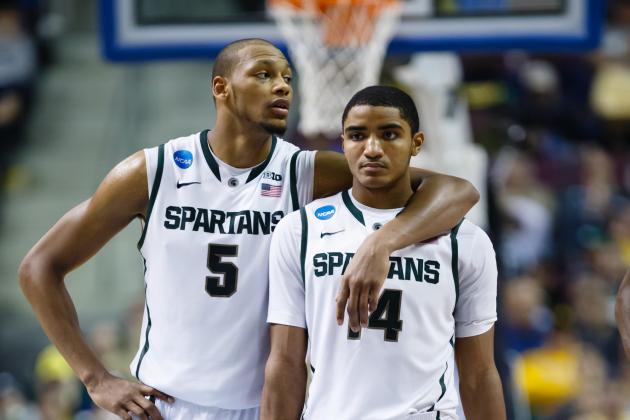 Rick Osentoski-USA TODAY Sports
Scott Polacek went Spartan-heavy with his All-American team with Adreian Payne, left, and Gary Harris, right, both making first team.
Projected First Team
Marcus Smart, PG, Oklahoma State
Smart is my pick for National Player of the Year, and he should help Oklahoma State at least challenge Kansas for a Big 12 title. Smart excels at both ends of the floor, which can't be said about every superstar.
Gary Harris, SG, Michigan State
Gary Harris may be the best player in the nation that nobody talks about. He has a consistent jump shot, can attack the rim and is gradually becoming a formidable defender in Tom Izzo's physical system.
Andrew Wiggins, SF, Kansas
You may be tired of hearing about Andrew Wiggins, but there is a reason he received so much hype this offseason. His athleticism is unparalleled, and he will hear his name called before anyone else's come draft day.
Doug McDermott, PF, Creighton
Doug McDermott will lead the nation in scoring this year, and he will get more recognition nationally for doing it in the Big East instead of the Missouri Valley. No matter what defenses throw at him, McDermott scores more efficiently than anyone else.
Adreian Payne, C, Michigan State
I am particularly high on Michigan State this year, and Adreian Payne is a major reason why. With no more Derrick Nix in East Lansing, Payne will stuff the stat sheet with points, rebounds and blocks all season long.
Projected Second Team
Aaron Craft, PG, Ohio State
Nobody impacts the game in a more unique way than Aaron Craft without the ball in his hands. Craft is the best on-ball defender in the nation and became a more effective offensive player down the stretch last year when he attacked the rim and relied less on the jumper.
Russ Smith, SG, Louisville
With no more Peyton Siva in town, Louisville's backcourt now belongs to Russ Smith. Look for his efficiency to improve as the lead option for the Cardinals as he scores even more points in 2013-14.
Jabari Parker, SF, Duke
Jabari Parker got somewhat lost this offseason in all the Andrew Wiggins hype, but the former Sports Illustrated cover boy will thrive in Coach K's system. Duke will exploit as many mismatches as it can with Parker's length and athleticism.
Aaron Gordon, PF, Arizona
Arizona lost a lot of talent from last year's squad, but Sean Miller's excellent recruiting class has the Wildcats poised to win the Pac-12. Aaron Gordon is the headliner freshman, and he will score and rebound at will on the low block.
Julius Randle, C, Kentucky
Julius Randle is the best player on what is right now considered the best team, which boosts his stock. Randle will lead the Wildcats in blocks and rebounds while anchoring the middle for a physically dominant Kentucky squad.
Projected Third Team
Jahii Carson, PG, Arizona State
There may not be a faster and more explosive player in the nation than Arizona State's Jahii Carson. It is worth staying up late to see the Sun Devils in action when this walking highlight-reel is on the floor.
Tyler Haws, SG, BYU
If Doug McDermott is the favorite to lead the nation in scoring, BYU's Tyler Haws isn't far behind. With experience now under his belt, Haws will be a scoring machine as the Cougars look to challenge Gonzaga in 2013-14.
LaQuinton Ross, SF, Ohio State
Deshaun Thomas led the Big Ten in scoring last year, and someone on Ohio State's roster has to fill that void. LaQuinton Ross showed the nation what he is capable of in the NCAA tournament, and that resurgence will lead to a terrific season for the Buckeyes swingman.
C.J. Fair, PF, Syracuse
Syracuse will look to challenge Duke and North Carolina for ACC supremacy. If the Orange are going to win the league in its first try, it will be because C.J. Fair anchors that suffocating 2-3 zone and leads the squad on the offensive end in points and rebounds.
Mitch McGary, C, Michigan
Mitch McGary probably would have garnered a spot on my second team if it wasn't for his lingering back issues. He seemed to finally figure it out in the NCAA tournament and will play a featured role in Michigan's offense this year if he stays healthy.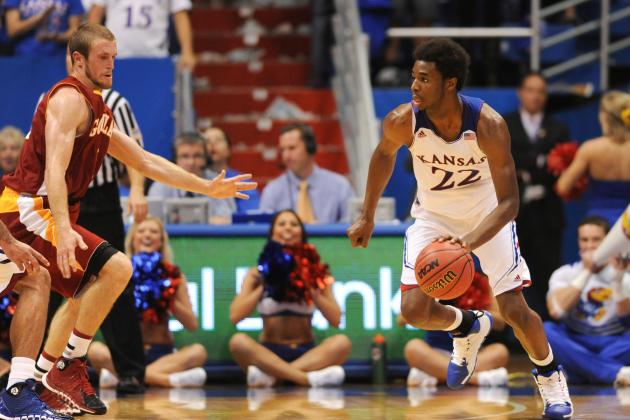 Denny Medley-USA TODAY Sports
Kansas wing Andrew Wiggins was solid in his debut at Kansas. He had a highlight reel dunk and scored 16 points in the exhibition opener.
Projected First Team
Marcus Smart, PG, Oklahoma State
No one else in the country plays with as much ferocity on both ends of the court. Smart is relentless with the ball in his hand and ruthless when he is locking up opponents.
Andrew Wiggins, SF, Kansas
We might run out of superlatives before the end of the season to describe Wiggins' 2013-14 performances. This program-changer has transformed the Jayhawks from a transitional team to a national contender.
Doug McDermott, PF, Creighton
McDermott's undervalued first three collegiate seasons will be validated this year when he takes care of business in the new Big East. He is on pace to pass Larry Bird, Elvin Hayes and Oscar Robertson in all-time scoring sometime in March 2014. Impressive.
Russ Smith, SG, Louisville
Smith is a relentless rim attacker, averaging over nine free throws per game in last year's March Madness. Splitting time between both back court positions, Smith will demonstrate his expanded ability to do more than just score as a senior.
Julius Randle, PF, Kentucky
Randle's inside-outside versatility makes him a major nuisance for opponents. Even with the obscene amount of talent in Lexington, Randle will still standout on the Wildcats roster.
Projected Second Team
Jahii Carson, PG, Arizona State
No player on this list is more critical to his team's destiny than Carson. The lightning-fast floor leader could pull off the rare, collegiate "points-assists" double-double.
Jabari Parker, SF/PF, Duke
Versatility is Parker's calling card. If Blue Devils head coach Mike Krzyzewski chooses to use him this way, Parker could be the only power forward in the nation that leads his team in assists.
Aaron Gordon, PF, Arizona
Regardless of which front court position he plays more of, Gordon will lead the nation in slam dunk competition-level throw downs. No front court player attacks the game with more passion and energy than this Pac-12 combo forward.
Gary Harris, SG, Michigan State
Known for his silky-smooth jumper, he is also a suffocating defender. A healthy Harris could translate into a Spartan national championship.
C.J. Fair, SF/PF, Syracuse
This athletic, senior forward is on a mission to prove that he is NBA-draft worthy. Winning the ACC POY would silence a few critics, right?
Projected Third Team
Aaron Craft, PG, Ohio State
Craft's impact on Ohio State's success is more about leadership and intangibles than statistics. Known for being the best collegiate on-ball defender, Craft could turn a few heads with his offensive output his senior season.
Shabazz Napier, PG, Connecticut
Napier is one of the best kept back-court secrets in the nation. The 6'1" senior can score (17.1 PPG in 2012-13), but he is an undervalued playmaker and rebounder.
Glenn Robinson III, SF, Michigan
Robinson benefited from playing a stretch-4 role for Michigan last season. He should be able to slide over to become a skilled slasher and board crasher for John Beilein's Wolverines this season.
Cleanthony Early, SF/PF, Wichita State
Early's 2013 March Madness performance put him on NBA scouts' radars. The 6'8" Shocker senior will have a chance to show everyone that what they saw in last year's tournament is real.
Adreian Payne, PF, Michigan State
Payne has progressively developed into one of the best true power forwards in the current college game. He effectively uses his size, strength and athleticism to dominate the boards on both ends of the court.