College Basketball Power Rankings: Bleacher Report's Preseason Top 25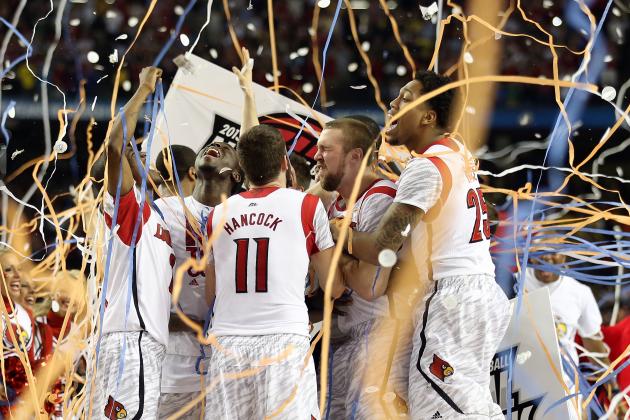 Andy Lyons/Getty Images
Can the Cardinals repeat as champs?
Preseason polls are tricky because, as a voter, you have to decide something right off the bat.
Should your poll be a representation of who you think are the best 25 teams right now or the best 25 at the end of the season?

That will give you a different poll, especially this year, when Kentucky, Duke and Kansas are super young and Louisville is currently without one of its best players.
John Calipari provided some good wisdom on the topic when his team was voted No. 1 in the Associated Press poll.
"It's a nice honor, but it's way too early to figure out who's the best team in the country," Calipari said. "We may be very talented, but I can't imagine us being the best team in the country at this point."
Good answer. Here's what I hear...
Who gives a crap about who is the best team in November?
This is a prediction of who will win the national championship and who will be the best 25 at the end of the year. So please spare me the smack talk if one of these teams struggles early on.
If one of these teams goes all 2012-13 Kentucky and lands in the NIT, smack away.
Others Receiving Consideration: Wisconsin, Iowa State, Colorado, Georgetown, Boise State, Notre Dame, Indiana, Harvard, UCLA, Illinois, Iowa.
All advanced stats, unless otherwise noted, come from KenPom.com (subscription needed).
Begin Slideshow

»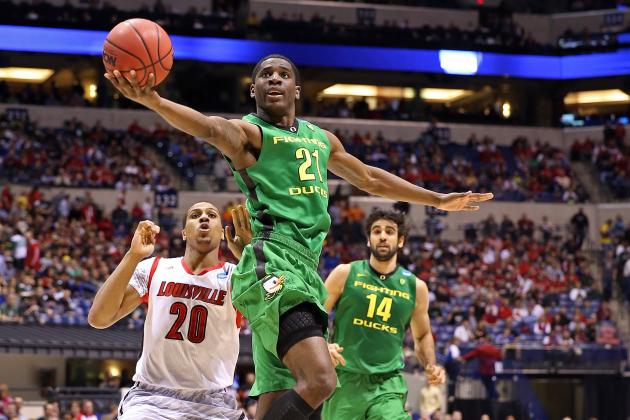 Andy Lyons/Getty Images

2012-13 Finish: Lost to Louisville in Sweet 16
Why They're Here: Sophomore guards Dominic Artis and Damyean Dotson have the potential to be the best backcourt in the Pac-12.
Dotson came on strong at the end of last season, averaging 16 points over the final six games. The value of Artis became apparent in how Oregon performed without him when he was out with a foot injury. The Ducks went 5-4 without Artis and 23-5 with him.
One Thing to Watch: Oregon's defense was remarkably better last season, and a big reason why was the interior defense and rebounding of Arsalan Kazemi, who transferred from Rice. Kazemi led the nation in defensive rebounding percentage. The good news is the Ducks replace one elite rebounder with another with the addition of Mike Moser.
What Could Go Wrong: Moser could be the Moser of 2012-13. The Ducks are pretty thin up front and need Moser to be closer to what he was as a sophomore at UNLV, when he averaged a double-double.
First Litmus Test: vs. Georgetown, Nov. 8 (Armed Forces Classic in Camp Humphreys, South Korea)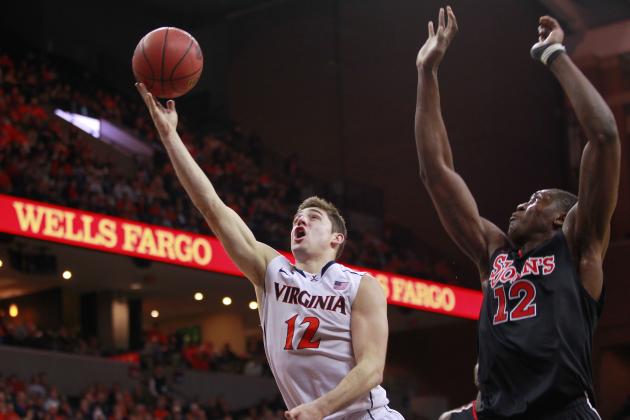 Geoff Burke-USA TODAY Sports
Virginia's Joe Harris has averaged double figures throughout his career.
2012-13 Finish: Lost to Iowa in NIT quarterfinals
Why They're Here: Virginia has a star, Joe Harris, and a solid supporting cast that should get even better this year with the addition of South Carolina transfer Anthony Gill. If you don't believe Harris is a real star, go back and look at what he did in February of last year (22.6 PPG, 68.4 effective field-goal percentage). He was playing as well as any guard in the country at the time.
One Thing to Watch: Mike Tobey. When Tobey got time last year as a freshman, he produced. He scored in double figures during the five games in which he played more than 20 minutes. The one thing holding him back was likely his thin frame, and Virginia is listing him at 26 pounds more than a year ago.
It was also impressive that Tobey made the U-19 team for the United States this summer. Granted, Virginia head coach Tony Bennett was an assistant on the team.
What Could Go Wrong: Life away from home. The Cavaliers went 2-7 on the road in the ACC last year and were perfect at home. They also lost their season opener last year at George Mason. That putrid road record is what likely kept them out of the NCAA tournament.
First Litmus Test: vs. VCU, Nov. 12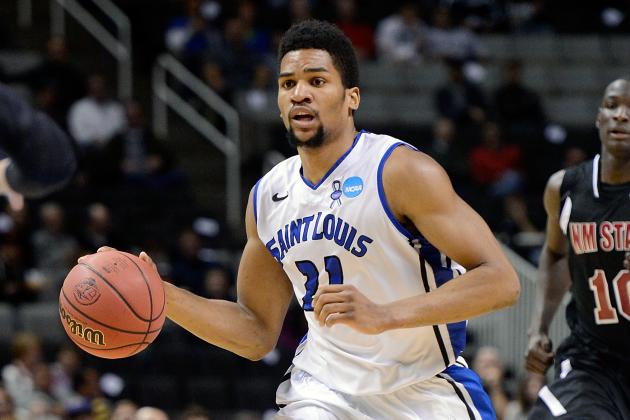 Thearon W. Henderson/Getty Images
Leading scorer Dwayne Evans was an All-Atlantic 10 selection last year.
2012-13 Finish: Lost to Oregon in Round of 32
Why They're Here: Seniors Dwayne Evans, Mike McCall, Jordair Jett and Rob Loe have been part of a core group that has won 54 games in the last two seasons and made the NCAA tournament both years.
The Billikens won the Atlantic 10 last year because they played great defense and rarely turned it over or took a bad shot on offense. With four experienced seniors in their top six, that should not change.
One Thing to Watch: One of the key losses for the Billikens is guard Kwamain Mitchell, who was the second-leading scorer on the team last year. Mitchell will be replaced by Central Michigan transfer Austin McBroom, who averaged 10.9 points and 2.7 assists as a freshman two years ago.
Mitchell was a great driver. McBroom is a good three-point shooter—he made 42.1 percent of his treys as a freshman. The Bills will need McBroom to be a scorer, even if he gets it done in a different way than Mitchell did.
What Could Go Wrong: Not enough scoring. Saint Louis graduated two double-digit scorers in Mitchell and Cody Ellis. If others don't pick up the slack, the offense could struggle.
First Litmus Test: vs. Wisconsin, Nov. 26 (Cancun Challenge)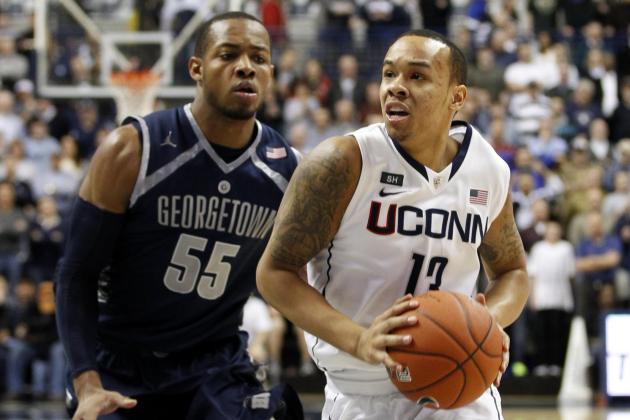 USA TODAY Sports
UConn point guard Shabazz Napier is part of one of the best backcourts in the country.
2012-13 Finish: Ineligible for the postseason; finished 20-10 overall, 10-8 in Big East
Why They're Here: All the Huskies had to play for last season was pride, and they still played hard for Kevin Ollie. Ollie returns all five starters, and his backcourt of Shabazz Napier and Ryan Boatright is one of the best scoring backcourts in the country.
One Thing to Watch: The emergence of DeAndre Daniels.
Daniels put together a nice sophomore season after a disappointing freshman campaign. The Huskies were a poor rebounding team last year and lacked interior scoring options outside of Daniels. For this team to reach its ceiling, Daniels needs to continue to get better.
What Could Go Wrong: UConn's defense was not up to the standard Jim Calhoun had created. Calhoun's teams were typically great at blocking shots and keeping opponents to low shooting percentages.
The Huskies need better interior defense this year. Freshman Kentan Facey is one guy who could potentially help in that department.
First Litmus Test: vs. Boston College, Nov. 21 (2K Sports Classic)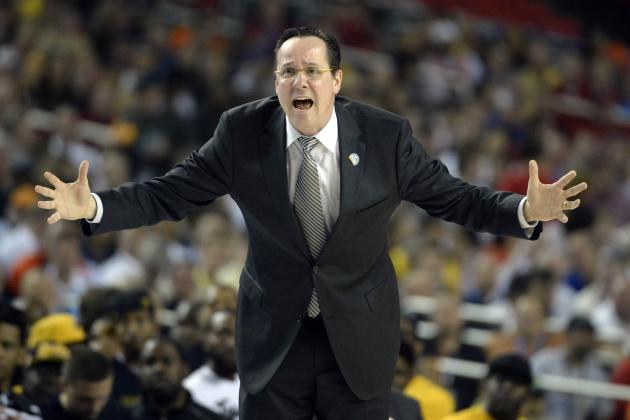 Robert Deutsch-USA TODAY Sports
Wichita State's Gregg Marshall became a coaching star in March.
2012-13 Finish: Lost to Louisville in the Final Four
Why They're Here: Last year, Wichita State had to replace five starters, and we saw what Gregg Marshall pulled off in March. This year, Marshall returns three players who started in the Final Four, including leading scorer Cleanthony Early. The Shockers also return sixth man Fred VanVleet and guard Evan Wessel, who started the first eight games of the season before breaking his pinky and sitting out the rest of the season.
Those guys form a good core, but the real reason the Shockers are here is Marshall. To me, he's kind of like Marquette coach Buzz Williams. No matter what those guys return or add, by the end of the year, it's a good bet their team will be one of the top 25 in the country. So go ahead and put them there in the preseason and say you saw this coming.
One Thing to Watch: Ron Baker. He missed most of the season with a foot injury last year, and then came back to average 11 points per game in the NCAA tournament. If Baker can play like the guy he was in the NCAA tournament for an entire year, the Shockers could be pretty good.
What Could Go Wrong: Handling success. The Shockers are the hunted in the Missouri Valley, especially now that Creighton is gone. They've been good the last few years, but they've never started a season with as much attention as they have now after the Final Four run.
First Litmus Test: vs. BYU or Texas, Nov. 26 (CBE Classic in Kansas City, Mo.)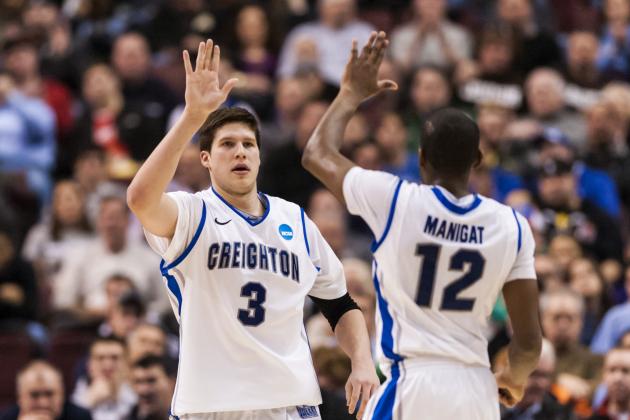 Howard Smith-USA TODAY Sports

2012-13 Finish: Lost to Duke in Round of 32
Why They're Here: It should be a rule that if you return a two-time first-team All-American, you automatically make the preseason Top 25. Along with the aforementioned Mr. Doug McDermott, the Bluejays also return three other starters.
Do not underestimate the impact of Grant Gibbs getting a sixth year of eligibility. McDermott is a great scorer, and he's going to put up points no matter what, but it would have hurt his game to take away Creighton's best passer.
One Thing to Watch: Who will replace big man Gregory Echenique's production in the low blocks? Echenique was great at sealing his man in deep and getting easy buckets. Will Artino put up similarly efficient numbers in limited minutes, so there's hope that there will not be a big drop-off at that position.
Greg McDermott also has the flexibility of playing a small-ball lineup that would be tough to defend by moving his son to the 5 and playing three-point specialist Ethan Wragge at the 4.
What Could Go Wrong: Too much will be made about how Creighton no longer gets to beat up on the Missouri Valley and is now in a big boy conference. The new Big East is stronger all around than the Missouri Valley, but the difference is less than will be perceived.
Still, it is a change, and there's always the possibility that such an upgrade in conferences will be a tough transition.
Early Litmus Test: vs. Arizona State, Nov. 28 (Wooden Classic)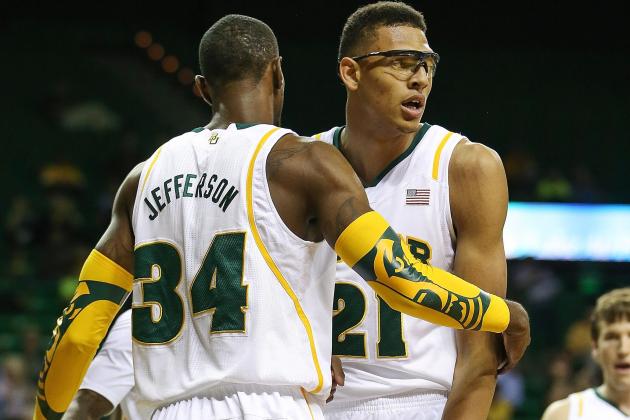 Kevin Jairaj-USA TODAY Sports
Cory Jefferson and Isaiah Austin are the leading returning scorers for the Bears.
2012-13 Finish: Won the postseason NIT
Why They're Here: Unless you're a Big 12 coach, Baylor is kind of the forgotten team in the Big 12. Well, unless you're Kansas or Oklahoma State, everyone is pretty much forgotten in the Big 12.
But there are two other teams in the league (Baylor and Iowa State) that should make the NCAA tournament. Baylor's frontcourt of Isaiah Austin and Cory Jefferson features two pros and a potential third pro, Rico Gathers, coming off the bench. Austin has lottery talent. That's one of the best frontcourts in the country.
Of course, you could say a lot of these same things last year. Plus, Baylor had one of the best point guards in the country, Pierre Jackson, and that team failed to make the NCAA tournament.
No team in this range has bigger boom or bust potential.
One Thing to Watch: What Baylor gets out of freshmen wings Ish Wainright and Allerik Freeman, who is currently out with a wrist injury. Add Denver transfer Royce O'Neale to that list if the NCAA grants him a waiver to play right away.
One thing Scott Drew lacked last season was wings with size. That made it hard for him to mix in much zone defense. If one or two of those wings can make the rotation, it gives Drew a lot more flexibility defensively.
What Could Go Wrong: Point guard play. Jackson was such a big part of everything Baylor did offensively the last two seasons. His replacement is Kenny Chery, who, like Jackson, is a junior college transfer. Chery doesn't need to be the scorer that Jackson was, but he needs to be able to handle the starting job because Drew doesn't really have another good option.
First Litmus Test: vs. Colorado, Nov. 8 (in Dallas)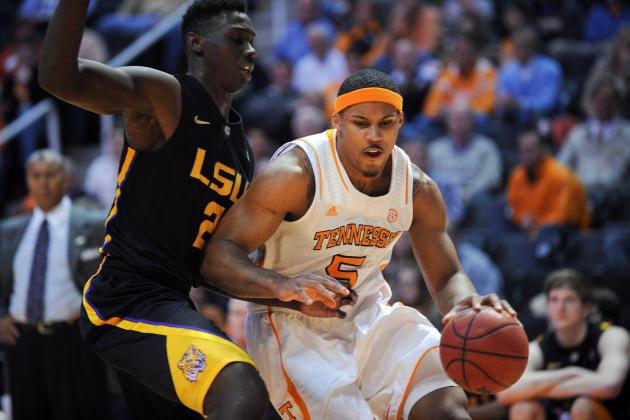 Randy Sartin-USA TODAY Sports
Tennessee's Jarnell Stokes nearly averaged a double-double last year (12.4 points and 9.6 rebounds).
2012-13 Finish: Lost to Mercer in first round of postseason NIT
Why They're Here: Tennessee has a really nice trio in Jordan McRae, Jarnell Stokes and Jeronne Maymon. Maymon was Tennessee's second-leading scorer two years ago and then missed last season because of a knee injury. McRae and Stokes emerged as the leading scorers without Maymon.
The Vols have not exactly lit up scoreboards in their two years under coach Cuonzo Martin, but when you add in 5-star wing Robert Hubbs, this has the potential to be a nice offensive team with the athleticism to be really good on defense as well.
One Thing to Watch: Three-point shooting.
The Vols struggled from the arc last year, making only 31.6 percent of their threes. They weren't quite as bad during SEC play, shooting 34.6 percent.
The addition of Hubbs and Memphis transfer Antonio Barton could help. Barton is a career 41.7 percent shooter from deep. If Tennessee's shooters can at least make opponents respect them, that'll help open things up for Maymon and Stokes in the post.
What Could Go Wrong: Point guard play. The Vols are leaning on Barton to be the guy. Barton saw his minutes gradually decline over his three years at Memphis. He doesn't need to be a star, but Tennessee needs him to be competent and get his assist numbers up, which have always been low.
First Litmus Test: at Xavier, Nov. 12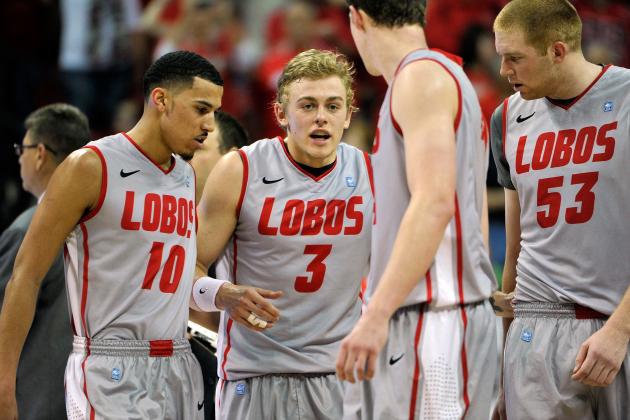 Jeff Bottari/Getty Images

2012-13 Finish: Lost to Harvard in Round of 64
Why They're Here: Familiarity.
Steve Alford is gone, but New Mexico made a good move, at least for the short term, by hiring assistant coach Craig Neal. The Lobos return four veteran starters, and there's no need to drastically change what they did last year when they won the Mountain West.
One Thing to Watch: Aussie big man Cameron Bairstow was the fourth-leading scorer for the Lobos last year, but it wouldn't be shocking to see Bairstow lead the team in scoring this year. He averaged 12.8 points per game and led Australia to a silver medal this summer in the World University Games.
What Could Go Wrong: There's always a chance that a coaching change ends up hurting a program. It's more likely that it would hurt New Mexico down the road than this season because of the veterans on the team.
First Litmus Test: vs. UMass or Nebraska, Nov. 22 (semifinals of Charleston Classic)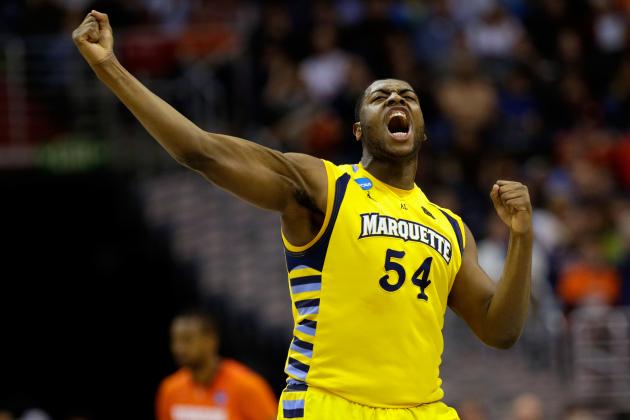 Win McNamee/Getty Images
Marquette's Davante Gardner is one of the craftier big men in the country.
2012-13 Finish: Lost to Syracuse in Elite Eight
Why They're Here: The Golden Eagles are playing a new role: favorite.
Marquette is the pick to win the new Big East after getting picked to finish seventh and then winning a share of the league title last year in the old Big East.
That team, typical of all Buzz Williams teams, overachieved. This one actually has the best talent in the new league, mainly because of a top-10 recruiting class combined with the return of big men Davante Gardner and Jamil Wilson.
One Thing to Watch: How many minutes Gardner can handle. It would benefit Marquette to play the big man more. Last season, Gardner averaged 21.4 points per 40 minutes, but he played only 21.5 minutes per game.
What Could Go Wrong: The freshmen don't live up to the hype. Williams needs at least a couple of his freshmen to produce, especially after the unexpected departure of Vander Blue. Blue declared for the NBA draft and was recently released by the 76ers.
First Litmus Test: vs. Ohio State, Nov. 16
Geoff Burke-USA TODAY Sports
VCU's Juvonte Reddic blocks a shot.
2012-13 Finish: Lost to Michigan in the Round of 32
Why They're Here: Shaka Smart's team has won at least one game in the NCAA tournament for three straight years, and this could be his best team.
The combination of Juvonte Reddic and Treveon Graham is one of the best one-two punches in the country, and that's not just at the mid-major level.
One Thing to Watch: Briante Weber's defense as a starter.
Weber led the nation in steals percentage last year coming off the bench. His minutes going up could be bad news for opposing guards.
What Could Go Wrong: One impact on the rule changes could be that it's more difficult to play a pressing style. It's tough to pressure all 94 feet when you're not allowed to get handsy, and officials insist they're not going to allow it. Smart is a good coach, and he should be able to adjust, but it could take some time.
First Litmus Test: at Virginia, Nov. 12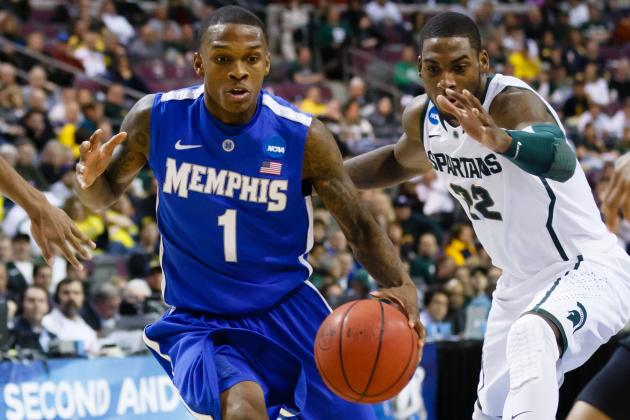 Rick Osentoski-USA TODAY Sports
Leading scorer Joe Jackson returns to the Tigers for his senior season.
2012-13 Finish: Lost to Michigan State in the Round of 32
Why They're Here: Memphis has one of the best backcourts in the country, and Josh Pastner signed another really good recruiting class.
Bringing in talent has never been an issue for Pastner. Finding competition during the conference season has been. The Tigers could be the team that benefits more than any other from the move to the American Athletic Conference. They are also the one team with the talent to actually give Louisville a run for the conference title.
One Thing to Watch: Remember two years ago when Laurence Bowers got hurt and Missouri coach Frank Haith was forced to play small ball? Those Tigers turned into the best offense in college basketball.
These Tigers, of Memphis, could put together a similar lineup now that they have former Missouri guard Michael Dixon. Pastner may choose to go with a more traditional lineup and bring one of his four senior guards off the bench, but let's hope (for our enjoyment) he studied some of Missouri's 2011-12 season.
What Could Go Wrong: The guards are proven, but you cannot say the same for the frontcourt. Memphis lost its two leading rebounders: D.J. Stephens (to graduation) and Tarik Black (transferred to Kansas). Pastner has some talent up front with the return of Shaq Goodwin and the addition of freshman Austin Nichols. One of the two needs to be productive for Memphis to be really good.
First Litmus Test: at Oklahoma State, Nov. 19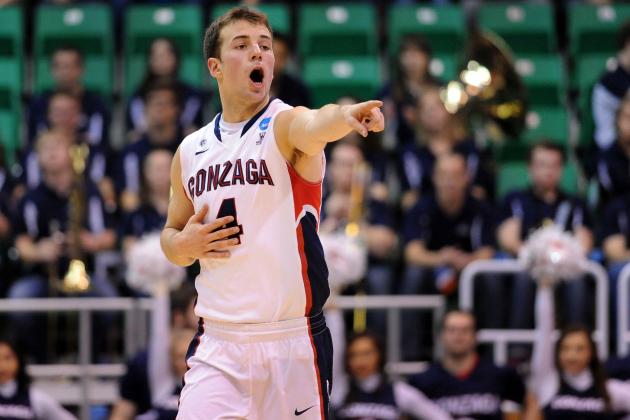 Steve Dykes-USA TODAY Sports
Kevin Pangos is one of two returning starters for Gonzaga.
2012-13 Finish: Lost to Wichita State in the Round of 32
Why They're Here: Mark Few is pretty good at putting a roster together. He had enough talent in his program two years ago that he was able to redshirt Kelly Olynyk. Yeah, the same Olynyk who turned into an All-American and a lottery pick.
The Zags are once again going to be strong up front. Not only did they have one of the best starting frontcourts last year, their third and fourth big men—Sam Dower and Przemek Karnowski—were as good as any third and fourth bigs in the country. They're now starters, and like Olynyk, they should be ready to produce.
One Thing to Watch: Point guard Kevin Pangos led the Zags in scoring as a freshman and then was willing to give up his role as the go-to guy to Olynyk last year. Look for Few to run more stuff for Pangos this season and his scoring to go back up.
What Could Go Wrong: Karnowski does not need to be Olynyk, but the Zags need him or Dower to be a consistent scorer from the post. If that does not happen, the Zags will not be nearly as good as they were last year.
First Litmus Test: Possible semifinal game vs. Baylor at Maui Invitational, Nov. 26 (Gonzaga plays Dayton and Baylor plays Chaminade in first round)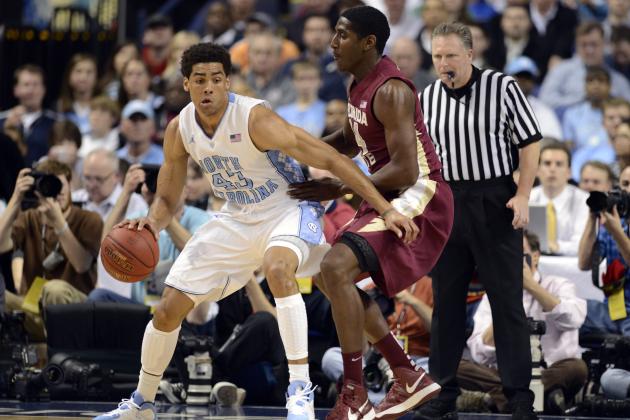 John David Mercer-USA TODAY Sports
North Carolina big man James Michael McAdoo will need to be good early with leading scorer P.J. Hairston starting the season suspended.
2012-13 Finish: Lost to Kansas in the Round of 32
Why They're Here: Here are Roy Williams' worst teams at North Carolina:
2003-04: Went 19-11; lost in Round of 32
2005-06: Went 23-8; lost in Round of 32
2009-10: Went 20-17; NIT runner-up
2012-13: Went 25-11; lost in Round of 32
Here's how the Heels followed those seasons:
2004-05: Went 33-4; national champions
2006-07: Went 31-7; lost in Elite Eight
2010-11: Went 29-8; lost in Elite Eight
2013-14: ???
Williams has never had two below-average years in a row. So if history tells us anything, the cycle points to the Tar Heels reaching (at least) the Elite Eight.
One Thing to Watch: Who will start alongside James Michael McAdoo inside. Williams has a lot of options with returners Brice Johnson, Joel James and Desmond Hubert and then freshmen Isaiah Hicks and Kennedy Meeks. Junior Jackson Simmons could also compete for playing time.
It will be hard to fit all seven in the rotation, and it would benefit the Heels if two of the seven emerged as the obvious choices. My bet is either Johnson or one of the two freshmen.
What Could Go Wrong: P.J. Hairston does something stupid behind the wheel. No joke. Hairston could not help himself this summer. He insisted on staying in the news. If he gets in trouble again, especially for an auto-related incident, Williams would have to finally say goodbye to his star guard, wouldn't he?
First Litmus Test: at Michigan State, Dec. 4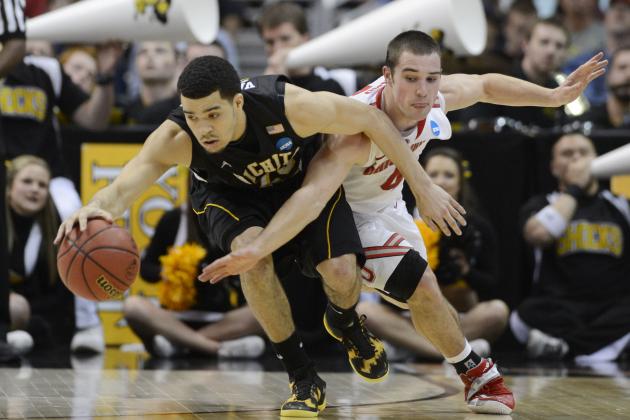 Richard Mackson-USA TODAY Sports
Aaron Craft has been pestering point guards for the last three years.
2012-13 Finish: Lost to Wichita State in the Elite Eight
Why They're Here: Even if the Buckeyes struggle offensively—and that's a possibility after losing Deshaun Thomas—they're still going to win a lot of games because of their defense. Not only is Aaron Craft a great defender, but the combination of Craft and Shannon Scott makes life miserable for opposing guards.
The Buckeyes don't exactly have proven scorers, but they have some intriguing pieces with LaQuinton Ross and Sam Thompson. Ross scored 53 points in Ohio State's final three tourney games, and like Thomas before he became a starter, Ross was a high-volume shooter in limited minutes.
One Thing to Watch: Tempo. Thad Matta has never been one to play uptempo, but it might be the way to play with this team, as he'll play with a constant small-ball lineup.
What Could Go Wrong: An injury to Amir Williams. The Buckeyes are really thin up front. Williams is probably the worst player in Ohio State's top six, but Matta doesn't really have a good option if he goes down.
First Litmus Test: at Marquette, Nov. 16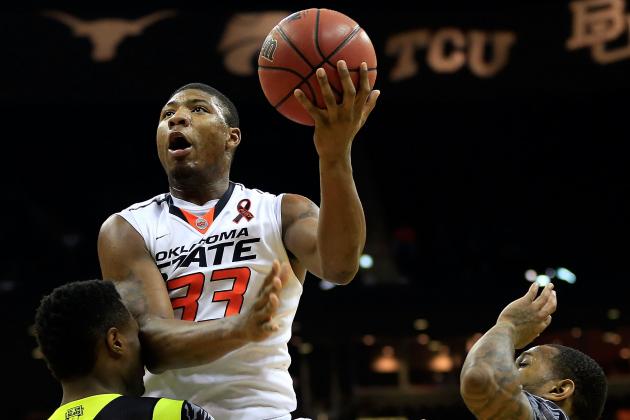 Jamie Squire/Getty Images
Marcus Smart surprised most by returning for his sophomore season.
2012-13 Finish: Lost to Oregon in Round of 64
Why They're Here: Last year Marcus Smart changed the culture at Oklahoma State with how hard he played.
"They see a guy going that hard and is that good a basketball player, they know if you don't go a little bit harder, you'll be exploited," Oklahoma State coach Travis Ford said last month at Big 12 media day. "It shows how little you are doing. You've got to try to match that or you're going to look silly. He was a great leader from Day One, because all he cares about is winning, period."
Smart's presence made Oklahoma State's defense go from average to really good. For the Cowboys to take the next step, the offense will have to make a similar leap. It's a good bet that Smart will have a better handle on how to make that happen as a sophomore.
One Thing to Watch: Markel Brown. Smart gets all the attention, but Brown is one of the best shooting guards in the country. Smart barely beat him out last year as the team's leading scorer, but it wouldn't be shocking to see Brown lead the Cowboys this year.
What Could Go Wrong: Poor outside shooting. Smart struggled from the perimeter last year, and the Cowboys shot 31.6 percent from deep as a team. They need to shoot more consistently to be a Top 10 team.
First Litmus Test: vs. Memphis, Nov. 19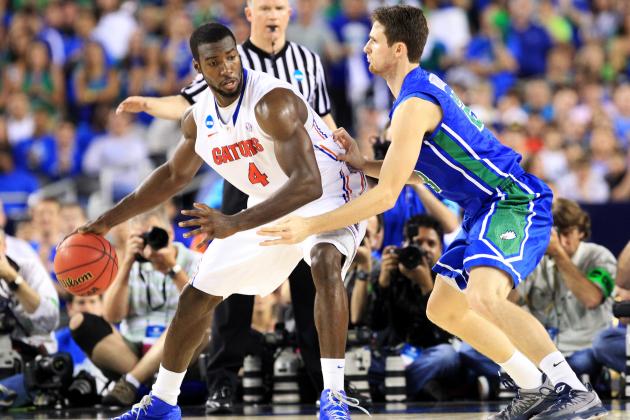 Ronald Martinez/Getty Images
Patric Young is Florida's leading returning scorer.
2012-13 Finish: Lost to Michigan in the Elite Eight
Why They're Here: Last season, Florida got back to dominant defense.
The Gators were one of the best defensive teams in the country, and on their good days, no one could play with them. All 29 of their wins came by double digits.
That defense has the potential to be just as dominant, if not more. The Gators return their best two defenders (Scottie Wilbekin and Patric Young) and have more playing time available for their best defender off the bench last year, Will Yeguete.
One Thing to Watch: Freshman point guard Kasey Hill. The Gators graduated double-digit scorers Mike Rosario and Kenny Boynton in the backcourt and need either Hill or Rutgers transfer Eli Carter to fill the void. Hill is one of the most talented guards Donovan has ever recruited. He was the second-ranked point guard in his class by both Rivals.com and ESPN.com.
What Could Go Wrong: Getting enough offense. In addition to graduating Rosario and Boynton, Florida also graduated stretch 4-man Erik Murphy, who was a 45.3 percent three-point shooter and arguably the most important weapon offensively on the team last year.
The Gators do have a lot of options to replace Murphy's production, including Yeguete, Casey Prather, Virginia Tech transfer Dorian Finney-Smith or South Carolina transfer Damontre Harris. The best option could be freshman Chris Walker, who has yet to qualify but could join the team this semester.
First Litmus Test: at Wisconsin, Nov. 12
Kevin C. Cox/Getty Images

2012-13 Finish: Lost to Michigan in the Final Four
Why They're Here: Different year, same story.
Syracuse will have a dominant zone defense with a ton of length. Syracuse has a talented point guard; this year's version is freshman Tyler Ennis. Syracuse has an NBA-caliber sixth man coming off the bench; Jerami Grant could be what Dion Waiters was two years ago.
The parts change, but not really. Jim Boeheim has a formula, and it's not smart to bet against it.
One Thing to Watch: The new rules could make it difficult to guard the ball, and you could see more teams going to a zone defense to keep the ball out of the paint and protect their best players from foul trouble. If the zone defense becomes the best D to play in this new game, then no one will have a bigger advantage than Boeheim and the Orange.
What Could Go Wrong: It can be difficult to adjust to a new conference. New venues, different officials and an unfamiliarity with ACC teams will be a challenge for the Orange. Of course, it could also work out in Syracuse's favor because most ACC teams have never dealt with a zone like Cuse's, and the Carrier Dome is a tough place to play.
First Litmus Test: vs. Minnesota, Nov. 25 (Maui Invitational)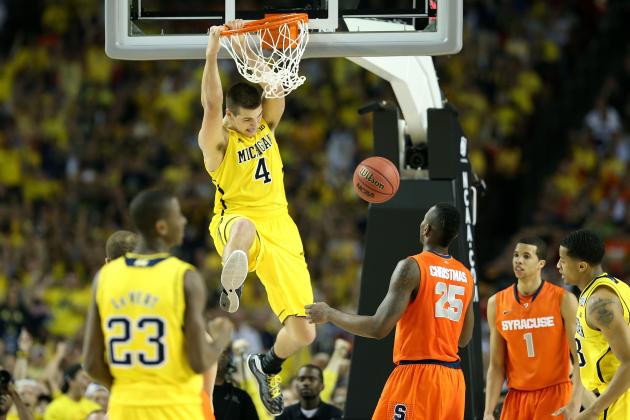 Streeter Lecka/Getty Images
Michigan's Mitch McGary is expected to be a star after his performance in the NCAA tournament last year.
2012-13 Finish: Lost to Louisville in national championship
Why They're Here: The obvious question mark at Michigan is replacing Trey Burke. But the Wolverines were in a similar boat two years ago when Darius Morris left early for the NBA and John Beilein had to hand the keys over to Burke.
That worked out all right, and freshman point guard Derrick Walton will have better weapons around him than Burke had as a freshman.
One Thing to Watch: How Glenn Robinson III handles a bigger role in the offense. Robinson rarely had to create for himself last season, and now that he's the go-to guy, he'll have the ball in his hands a lot more this year. He's talented enough to flourish, but it'll definitely be an adjustment.
What Could Go Wrong: Mitch McGary's back. McGary has not been cleared to play yet by doctors, and back issues are not something that typically just go away. If this is something that lingers all year, that's not good for Michigan.
First Litmus Test: at Iowa State, Nov. 17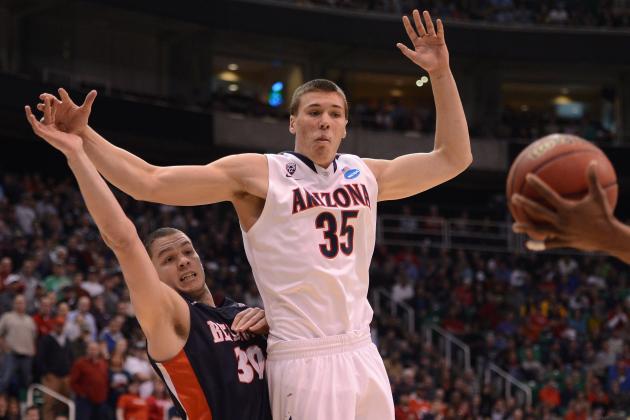 Harry How/Getty Images
Big man Kaleb Tarczewski is one of three returning starters for the Wildcats.
2012-13 Finish: Lost to Ohio State in Sweet 16
Why They're Here: Since Sean Miller arrived in Tuscon, he has been one of the best recruiters in the country, and he has a potential All-American this year in freshman Aaron Gordon.
But the one thing Miller had failed to recruit was a pass-first point guard to set up all the weapons he's brought in. Well, Miller finally has found his man in Duquesne transfer T.J. McConnell. In Arizona's exhibition opener, McConnell had eight assists in 23 minutes. That's more assists than Mark Lyons had in any game last year.
One Thing to Watch: How Miller distributes the minutes in the post.
Miller has a lot of options, and the plan appears to be to start sophomores Kaleb Tarczewski and Brandon Ashley and then start Gordon at small forward. The only problem is that Gordon is probably better suited at power forward, which could also be the case for freshman Rondae Hollis-Jefferson.
It wouldn't be surprising to see Miller eventually move Gordon to the starting 4 spot to get another guard, Gabe York, in the starting lineup. The coach could have a battle on his hands between making everyone happy and what's best for the team.
What Could Go Wrong: The pieces not fitting together. Miller has talent, but it could be a challenge defining roles.
First Litmus Test: at San Diego State, Nov. 14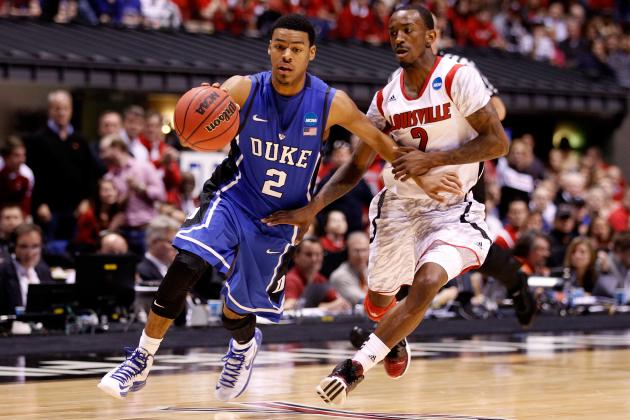 Andy Lyons/Getty Images
Duke point guard Quinn Cook will have plenty of weapons around him this season.
2012-13 Finish: Lost to Louisville in Elite Eight
Why They're Here: It's almost as if Mike Krzyzewski knew this would be the year the rules changed and he built a roster that would take advantage of it.
It's going to be tough to guard a lineup that can put four ball-handlers on the court at the same time and give each one the ability to attack from the perimeter at any time. The temptation will be to pack the paint and take away driving lanes, but Duke will be able to spread the floor with shooters.
One Thing to Watch: Coach K's rotations. Duke's coaching staff has talked about playing some extreme small-ball lineups that include Jabari Parker at the 5 and Rodney Hood at the 4, a style Coach K has experimented with during the Olympics. Who knows if that will work on the defensive end, but it will be incredibly fun to watch when Duke is on offense.
What Could Go Wrong: Defense. The worst defensive team Coach K has had in recent years was his 2008-09 team when he went with another small-ball lineup. Parker will be a mismatch for opposing 4's, but he could also have his own problems guarding the post. Amile Jefferson and Marshall Plumlee also need to prove that they can be rim-protectors.
First Litmus Test: vs. Kansas, Nov. 12 (Champions Classic in Chicago)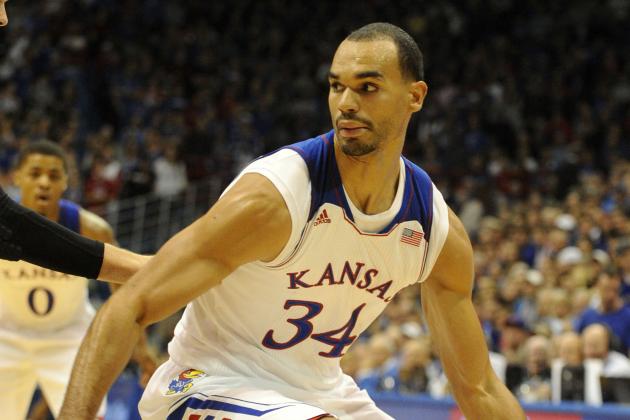 John Rieger-USA TODAY Sports
Sophomore forward Perry Ellis could be just as important to Kansas this season as Andrew Wiggins. Bill Self has said Ellis could lead the Jayhawks in scoring.
2012-13 Finish: Lost to Michigan in Sweet 16
Why They're Here: Bill Self had what might have been his best recruiting class ever, and then he signed Andrew Wiggins.
What is probably lost in all the Wiggins hype is that Self already had a great class. Wayne Selden and Joel Embiid, like Wiggins, are viewed as potential lottery picks, and Embiid is coming off the bench.
It could take some time, but by the end of the year, expect that Self will have turned all that talent into one of the best defensive teams in the country. This is one of the most athletic groups he's ever had.
Self has also had success with freshmen wings—Brandon Rush, Xavier Henry and Ben McLemore—so he should also be getting the best out of Wiggins by March.
One Thing to Watch: Self's willingness to mix defenses. KU's on-the-ball defense in its exhibition opener was not great. It will obviously get better, as the Jayhawks are extremely inexperienced. But Self is also going to have to make some adjustments to how Kansas played defense last year—pressuring the ball and funneling everything to Jeff Withey.
Embiid has the potential to be a good shot-blocker, but he's no Withey. The strength of KU's defense could be its length on the wing, and that's one reason why Self hinted this summer that he might try some zone, a defense the coach has rarely used.
What Could Go Wrong: Early exit in March. The last time Self had a team this inexperienced was in 2005-06, when Mario Chalmers, Julian Wright and Rush were freshmen. That team started out slow—3-4 after seven games—won the Big 12 and then got upset by Bradley in the opening round of the NCAA tournament.
That group would eventually win a national title two years later, a year after Wright left for the NBA. Could it be the Jayhawks get better after Wiggins leaves? It's certainly possible because of how important experience can be, especially in March.
First Litmus Test: vs. Duke, Nov. 12 (Champions Classic in Chicago)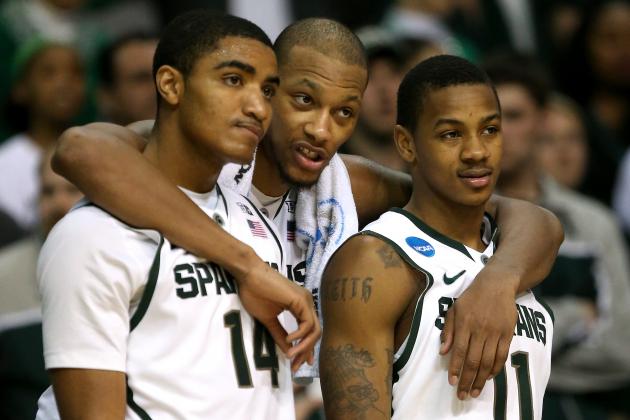 Jonathan Daniel/Getty Images
Gary Harris (left), Adreian Payne (center) and Keith Appling (right) form one of the best trios in college basketball.
2012-13 Finish: Lost to Duke in Sweet 16
Why They're Here: Michigan State has a lot in common with last year's Louisville team.
The Spartans have a core returning that had success last season. It's pretty much a given they're going to be really good defensively. They have a legendary coach. They have NBA talent; it just isn't the one-and-done variety. All they need to do is improve the offense, something Louisville was able to do last year.
One Thing to Watch: Adreian Payne's aggressiveness. Payne is one of the most talented bigs in the country, but he has been more of a complementary player than a star throughout his career. Last season, for instance, he took only 20.4 percent of the shots when he was on the floor.
That speaks to the Spartans' balance, which is a strength, but it would serve them well if Payne developed some selfishness and tried to become a star. The Spartans need both Payne and Gary Harris to be consistent scorers for the team to reach its ceiling.
What Could Go Wrong: Point guard play. Keith Appling is a gifted scorer and has plenty of ability, but Appling's assist numbers last year were too low.
He had zero assists and four turnovers in the tourney loss to Duke and averaged just 3.3 assists for the year. If he doesn't improve as a setup man, it'll be hard for the Spartans to get to a Final Four.
First Litmus Test: vs. Kentucky, Nov. 12 (Champions Classic in Chicago)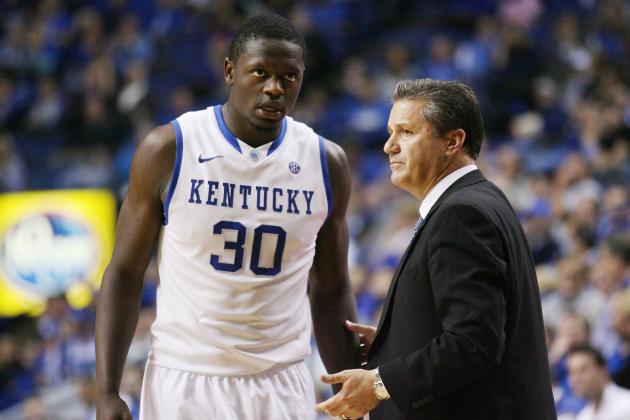 Mark Zerof-USA TODAY Sports
Kentucky freshman Julius Randle is expected to be the star of this loaded roster.
2012-13 Finish: Lost to Robert Morris in NIT first round
Why They're Here: Kentucky fans may consider this a slap in the face to not be No. 1. To them, I say, remember this is a preseason poll that does not matter. I'm also not of the "prove something first" party. If I was, then Kentucky would not be ranked this high.
The talent John Calipari has assembled is pretty unreal, and I don't think there's any chance anything remotely close to what happened last season will happen with this team. Those 'Cats had talent, but they lacked depth and a great point guard. This team should have both.
There are two reasons I didn't put UK at No. 1. The first is that there was another really good option, and your preseason No. 1 should be the team you believe wins the title; that team, for me, is Louisville. The other reason is Calipari's best teams have had a great defensive presence at center (Marcus Camby, Joey Dorsey, DeMarcus Cousins and Anthony Davis). Willie Cauley-Stein has that potential, but I'm not sure he can be that guy.
One Thing to Watch: Calipari's backcourt rotation. Kentucky has plenty of depth in the post but is limited in the backcourt unless you really believe Calipari wants Jarrod Polson to again be part of the rotation. It'll be interesting to see if Aaron Harrison can slide over to point when his brother Andrew Harrison is on the bench.
If Calipari can play a backcourt of Aaron and James Young when Andrew is on the bench, then the Wildcats will be able to play five future pros at all times.
What Could Go Wrong: Chemistry. Calipari has a gift for bringing in a lot of talent and getting his guys to play together, but he's never had this much talent at one time. It's a challenge any coach would embrace, but it is a challenge.
First Litmus Test: vs. Michigan State, Nov. 12 (Champions Classic in Chicago)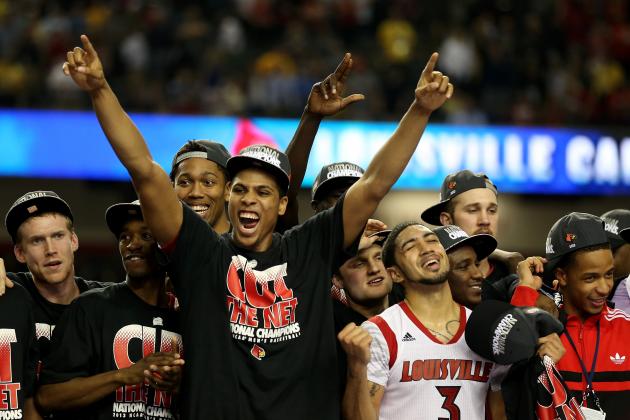 Andy Lyons/Getty Images
Louisville will try to become the first team since Florida to repeat as national champs.
2012-13 Finish: National champions
Why They're Here: Louisville's defense has been dominant for two straight seasons, but the offense has been a work in progress.
The Cardinals made huge improvements last season when Russ Smith became a more efficient chucker and Pitino found a consistent shooter, Luke Hancock, in March. That offense was superb in the national championship game without getting a good game from Smith.
Well, that offense looks to be even better this year.
New point guard Chris Jones has more offensive ability than Peyton Siva had, Montrezl Harrell has more offensive ability than Gorgui Dieng and Louisville's bench improved with the additions of freshmen Anton Gill and Terry Rozier. Plus, you add another year of experience for Smith, Chane Behanan, Hancock and Wayne Blackshear, and what you should get is an improved offense.
One Thing to Watch: Behanan's suspension. Without Behanan, the Cardinals are not the best team in the country. They're still really good—Top 10, maybe even Top Five—but Behanan's ability to change a game with his physicality makes Louisville a lot better on both ends. (See the national championship game.)
Behanan believes he'll be back, and while he's gone, Rick Pitino will be able to experiment with some small-ball lineups that include Blackshear at the 4, which could be beneficial down the road.
What Could Go Wrong: The new rules will make it more difficult to play the kind of aggressive full-court press that helped Louisville win the title. But good coaches adjust, and Pitino will find a way to make sure his press is still a weapon.
Replacing the leadership and headiness of Siva will also be a challenge. Hancock, and even Smith, should help in that department.
First Litmus Test: vs. North Carolina or Richmond, Nov. 24 (Hall of Fame Tip-Off)