Ranking the 10 Most Dangerous NCAA Basketball Scoring Tandems for 2013-14 Season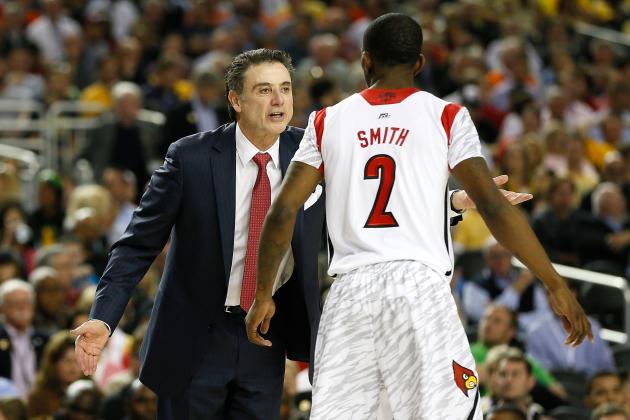 Kevin C. Cox/Getty Images
Scoring has never been an issue for Louisville's Russ Smith. As for shot selection, that's another story.
Think making a preseason Top 25 is hard? Try figuring out who the top scoring tandems in the country are going to be.
It takes a willingness to share, and it also helps if your other best players are willing to be complementary threats. Nowhere on this list will you find Creighton and Doug McDermott, because that's mostly a one-man show.
These are the duos coaches hate game-planning for, because it's easy to focus on one guy. It's a headache preparing for two.
Begin Slideshow

»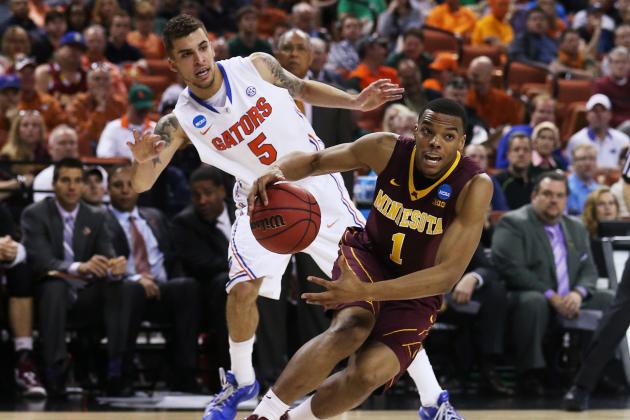 Ronald Martinez/Getty Images
Andre Hollins averaged 26.5 points per game last season in the NCAA tournament.
Minnesota had one of the most efficient offenses in the country last year but played an extremely slow pace. The Gophers were like Wisconsin-lite.
New coach Richard Pitino returns the top two scorers off last year's team, Andre Hollins and Austin Hollins (no relation), and Pitino brings with him a much quicker tempo.
Andre and Austin are the only two returning starters, so their roles should only increase. It's also worth noting that Andre finished 2013 playing the best basketball of his career in the NCAA tournament where he averaged 26.5 points per game.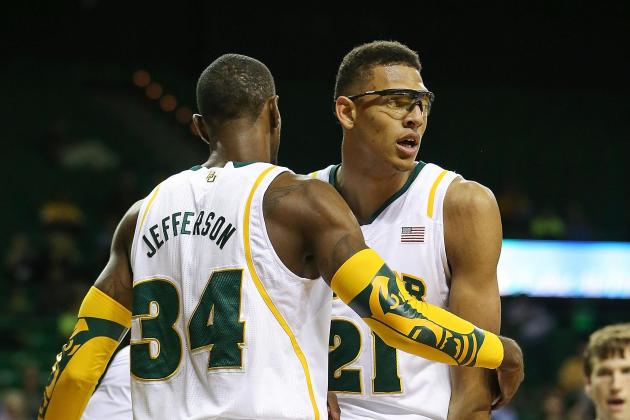 Kevin Jairaj-USA TODAY Sports
Baylor's twin towers, Cory Jefferson and Isaiah Austin, form one of the most talented frontcourts in the country.
Baylor coach Scott Drew has attracted some talented big men to Waco the past few years. It's impressive, because when you look at the numbers, Baylor has been a program where the guards put up big numbers.
Over the past nine seasons, a perimeter scorer has led the Bears in scoring each season. This upcoming season that should change.
Isaiah Austin was a borderline lottery pick and decided to return to school after he tore the posterior labrum in his shoulder. Cory Jefferson also has a chance to be a pro and had a great finish to his junior season, averaging 22.8 points per game over Baylor's final four wins in the postseason NIT.
If the duo can get Baylor's guards to give up the rock, they could put up big numbers this season.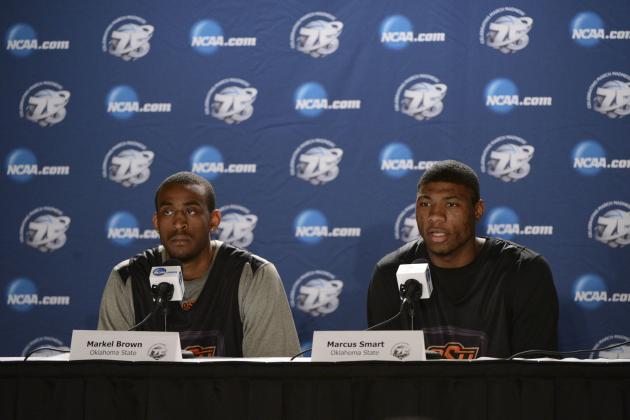 Kyle Terada-USA TODAY Sports
Marcus Smart (right) and Markel Brown (left) led the Cowboys in scoring last season.
Scoring is not exactly what Marcus Smart is known for. He's appreciated by coaches because of the intangibles he brings to the table. He didn't even lead his high school team in scoring; his buddy Phil Forte did.
Oklahoma State shooting guard Markel Brown is best known around the country for his dunking ability.
Both players took strides last year as scorers. Smart averaged 15.4 points per game, using his size and strength to overpower point guards. Brown averaged 15.3 points per game and shot a career-best 36.4 percent from distance.
They might not be the most willing scoring tandem in the country, but they're definitely capable of putting up big numbers.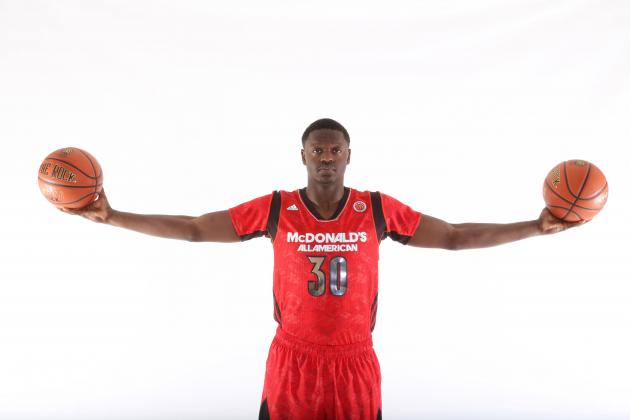 Brian Spurlock-USA TODAY Sports
Julius Randle is the highest rated of prospect of Kentucky's star-studded freshman class.
Don't get mad about not making the top five, Big Blue Nation. It was tempting to leave Kentucky off the list altogether.
The Wildcats have so much talent that it's going to be hard for two players to dominate the ball. The Wildcats do have three guys who have a rep as alpha dogs: Julius Randle and the Harrison twins.
Shooting guard Aaron Harrison has always been the best scorer of the two brothers, and Randle is the best prospect of the bunch. If two players will emerge as the go-to guys, it's those two.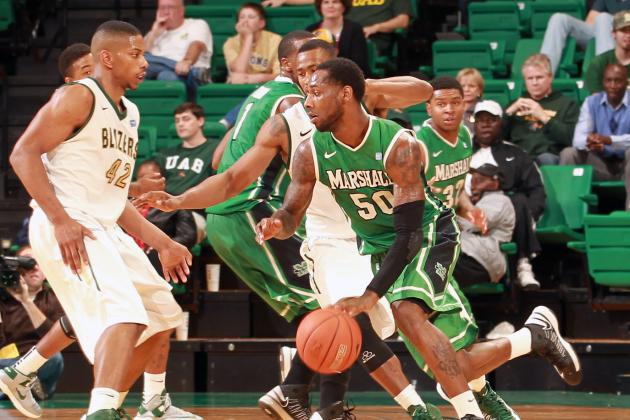 Marvin Gentry-USA TODAY Sports
DeAndre Kane is eligible right away to play next season at Iowa State.
DeAndre Kane was a high-volume shooter in three seasons at Marshall, where he averaged 15-plus points per game each year.
Where is the best destination the past few years for transfer guards who like to shoot? Iowa State.
Fred Hoiberg's offense pushes the pace and gives star guards plenty of opportunities to score.
Hoiberg also likes to exploit matchups, and stretch-4 Georges Niang is a matchup nightmare. Niang, who averaged 12.1 points per game as a freshman, is unlike most stretch-4s. In addition to knocking down the three, he can score from the blocks with an array of post moves.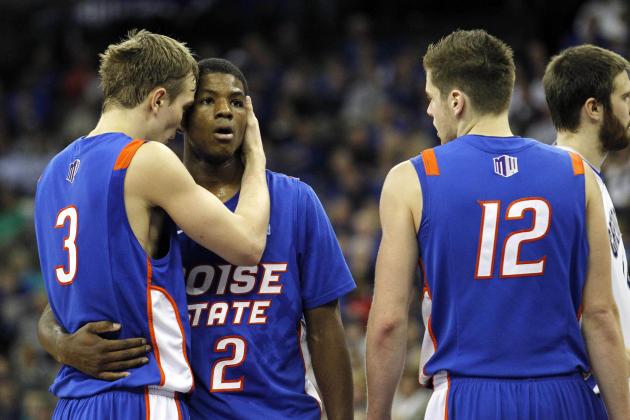 Matt Ryerson-USA TODAY Sports
Anthony Drmic (3) and Derrick Marks (2) led Boise State to its first NCAA tournament since 2008 last season.
Anthony Drmic and Derrick Marks were forced into roles as the stars at Boise State as soon as they stepped on campus.
As freshmen, Drmic and Marks were the leading scorers on the team, but that wasn't overly impressive as they combined to average 21.4 points per game and the Broncos won only three games in the Mountain West.
As sophomores last season, they combined to average 34 points per game. Boise State made the NCAA tournament.
The Broncos return all five starters, including Drmic and Marks. Expect the climb to continue.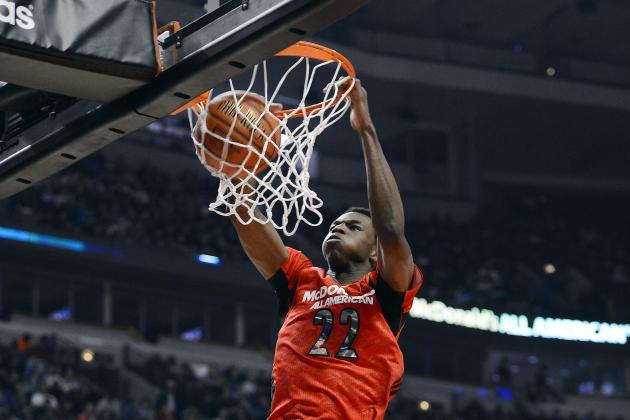 Mike DiNovo-USA TODAY Sports
Andrew Wiggins dunks during the McDonald's All-American game.
Kansas coach Bill Self has a history of big men with scoring ability waiting around for their turn.
Cole Aldrich went from averaging 2.8 points as a freshman to 14.9 as a sophomore. Marcus Morris averaged 12.8 as a role player as a sophomore and then 17.2 as the star his junior year. Thomas Robinson backed up the Morris twins, averaging 7.6 as a sophomore, and then led the team at 17.7 points per game as a junior.
Perry Ellis showed the potential as the star-in-waiting big man late last season. Ellis, who averaged only 5.8 points per game as a freshman, scored 23 and 12 in the final two rounds of the Big 12 tournament.
Most would expect Andrew Wiggins to be the leading scorer this season for the Jayhawks, and for good reason. Wiggins is tabbed as the one of the best talents of the past 10 years. But don't sleep on Ellis, who could very well make the KU big-man leap like those before him.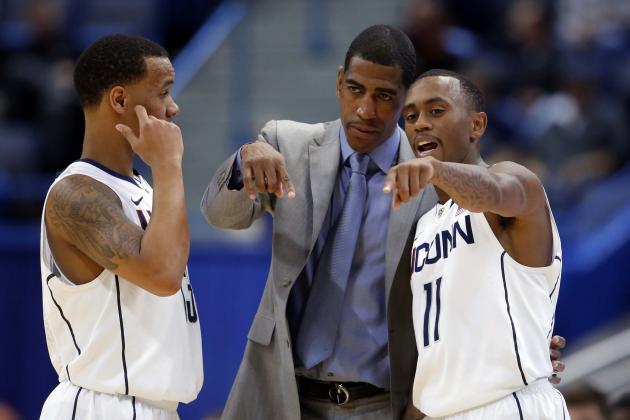 David Butler II-USA TODAY Sports
UConn coach Kevin Ollie talks to his two star guards last season.
If you were to poll guards across the country on the backcourt that is the biggest pain in the rear to defend in the country, Shabazz Napier and Ryan Boatright would rank near the top.
Both have wheels. Both have great handles. And both relentlessly come at you for 40 minutes. Last season, new coach Kevin Ollie built his offense around the two guards. They both averaged at least four more points than their final season under Jim Calhoun, combining for 32.5 points per game.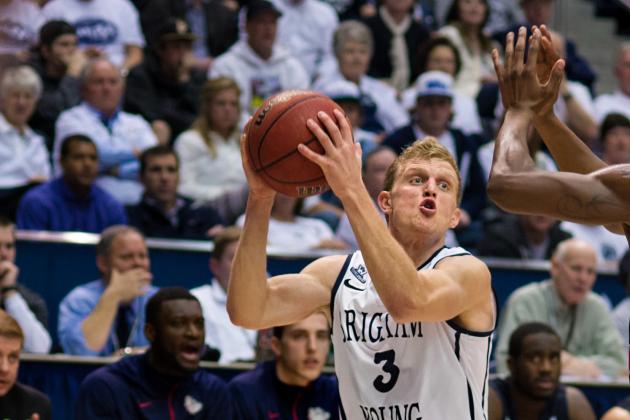 Douglas C. Pizac
BYU wing Tyler Haws ranked seventh in the NCAA in scoring average last season.
The best scoring tandem in the country a year ago was Tyler Haws and Brandon Davies. Combined, they averaged 39.4 points per game.
Haws, who averaged 21.7, returns to BYU, and the offense could once again be dominated by two players. Matt Carlino will take the place of Davies as Haws' sidekick.
Carlino deserves that role after the way he scored in the postseason NIT. In four games, he averaged 18 points per game. Haws averaged 27.8 over the same stretch.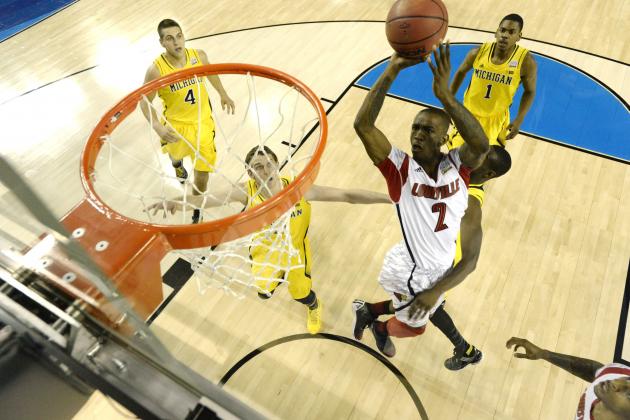 Pool Photo-USA TODAY Sports
Russ Smith's ability to get to the paint made him one of the best scorers in the country last season.
Russ Smith could have some competition in his pursuit of buckets. Smith averaged 18.7 points per game last season and used nearly a third of Louisville's possessions when he was on the court.
Next season, Rick Pitino is combining Smith with junior college transfer point guard Chris Jones, a man who had usage rates that would make Smith envious. Jones averaged 21.8 points on 16.6 shots in only 23.2 minutes per game last year at Northwest Florida State College.
Smith and Jones already started their scoring battle this summer at the Adidas Nations camp. In the camp final, Smith scored 23 and Jones scored 26 playing on opposing teams, via Jonathan Givony of DraftExpress.com.
They'll have to figure out a way to share playing together this upcoming season.