NCAA Basketball Teams Most Likely to Run Away with 2014 Conference Titles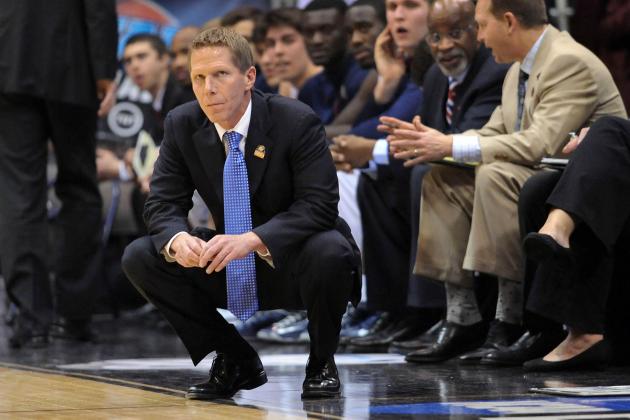 Steve Dykes-USA TODAY Sports
The last time Mark Few's Gonzaga team lost a league game in the WCC was Feb. 18, 2012.
Conference realignment is sucking the fun out of rivalries and geography in college basketball, but in some leagues it's sucking the competition dry as well.
Wait until you see what's left in the WAC. John Calipari could win that league playing with four.
Elsewhere around the country, some leagues are just simply down but have at least one dominant team. February and early March in those conferences could be a bore.
If you love watching a close race come down to the finish line, then this list isn't for you. But hey! On the bright side, you can go ahead and start filling in your bracket with this group.
Begin Slideshow

»
Jamie Rhodes-USA TODAY Sports
Russ Smith and Louisville could lack the "battle tested" tag when the NCAA tournament arrives because of a relatively weak American Athletic Conference.
One of these things is not like the other.
No offense to the newly formed American Athletic Conference, but Louisville looked around and figured out it was time to explore other options.
The Cardinals, however, were late to the game in ditching the old Big East and get to spend one year with the Big East leftovers and newbies from the Conference USA.
Connecticut returns a team that would have been on the bubble had it not been banned from the postseason, and Memphis has another great recruiting class to go along with some talented veteran guards. Those teams should at least pose a challenge.
The rest will take turns getting steamrolled by the Cardinals as they try to repeat as national champs.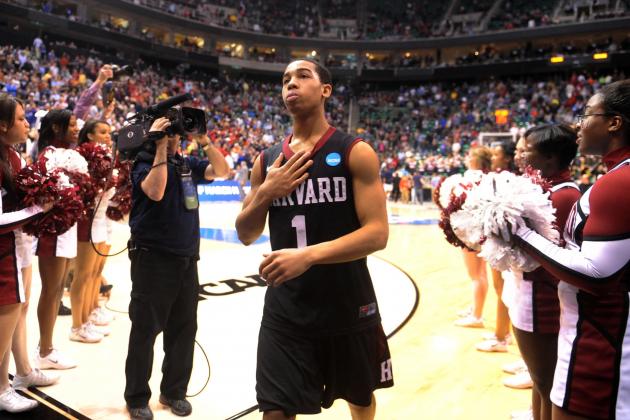 Steve Dykes-USA TODAY Sports
Siyani Chambers was forced into a major role as a freshman and responded by averaging 12.4 points and 5.7 assists.
Harvard returned three starters a year ago from an NCAA tournament team. The Crimson then lost two of those starters—Kyle Casey and Brandyn Curry—to an academic cheating scandal.
Where did the Crimson end up? In the basement of the Ivy League? Nope. They won the league and pulled off the upset of the NCAA tournament over No. 3 seed New Mexico.
Now the Crimson returns almost everyone. They graduated only one contributor to that team, role player Christian Webster, and return Curry and Casey, who was the team's leading scorer in 2011-12.
As for the top competition, Princeton, the Tigers graduated their leading scorer.
On paper, the only Ivy League team in the recent era that could compete with the 2013-14 Harvard team is Cornell from 2009-10, and that team made the Sweet 16.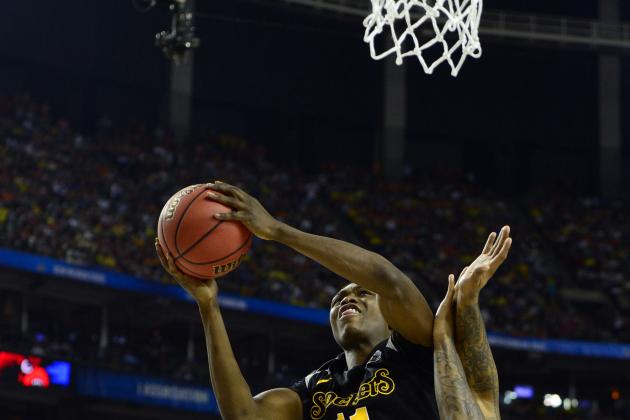 Bob Donnan-USA TODAY Sports
With Doug McDermott no longer around, Cleanthony Early is the best returning player in the Missouri Valley.
One reason to believe Wichita State is going to dominate the Missouri Valley this season is last year's third-place team, Northern Iowa, graduated three seniors including its leading scorer.
This would usually be a good time to point out that, hey, Wichita State graduated four players from its rotation. But what Gregg Marshall has built in Wichita is a program that simply reloads.
Heck, last year's team was replacing five starters, and that squad ended up in the Final Four.
With Creighton gone, Wichita State is by far the class of the league. The Shockers return leading scorer Cleanthony Early and NCAA tourney hero Ron Baker.
It took Northern Iowa four years to get close to even making the NCAA tourney after its 2009 run. It's going to take another few years for the Panthers or some other Missouri Valley program to emerge as a worthy rival for the Shockers.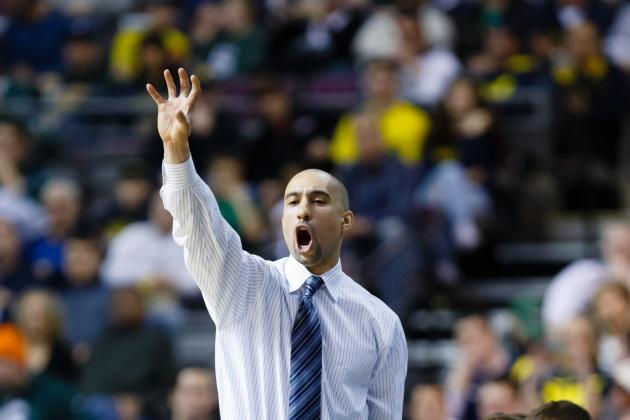 Rick Osentoski-USA TODAY Sports
Shaka Smart has been incredibly consistent at VCU. He has won at least 27 games in each of his four seasons as the team's head coach.
The Atlantic-10 isn't exactly VCU and everyone else. It's VCU, St. Louis and then everyone else. That becomes the case when Butler, Xavier and Temple booked it for other leagues.
The Billikens actually beat the Rams a year ago by a game for the conference title, and both teams return a good core. VCU is the pick because Smart returns a slightly better roster and St. Louis graduated more valuable pieces.
Those two teams are close, but there's enough of a drop off after No. 2 for VCU and the A-10 to be included in this list. The only other A-10 teams to finish with a better than .500 league record a year ago were La Salle, Massachusetts and George Mason. (George Mason was in the Colonial.) None of those three are at VCU's level.
St. Louis graduated Kwamain Mitchell and Cody Ellis. Ellis, a stretch-4, led the Billikens in threes made, and Mitchell was the team's best guard on both ends. He had his ups and downs offensively as a senior but finished with five 17-plus point games in St. Louis' final eight.
The Rams will be a preseason top 15 team, and Juvonte Reddic and Treveon Graham are near locks for all-league. They also have the best home-court advantage in the league and the best coach.
Once St. Louis graduates the core that Rick Majerus brought on to turn the program around, the league could be VCU's to dominate for the foreseeable future.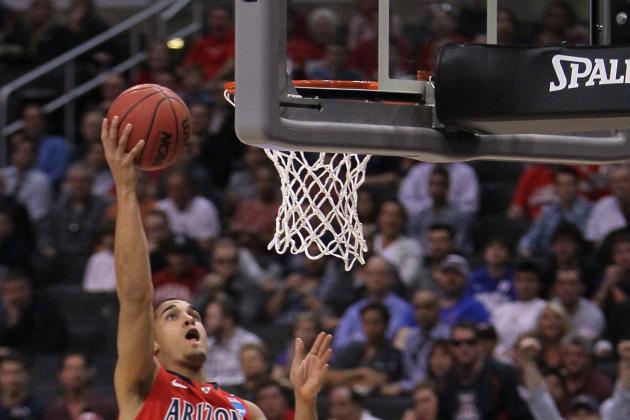 Jeff Gross/Getty Images
High-flying guard Nick Johnson is the leading returning scorer on a stacked Arizona roster.
The last time we did a way-too-early preseason poll, Arizona checked in at No. 4. The only other two Pac-12 teams to appear in the poll were Oregon at No. 22 and Colorado at No. 25.
Those are two nice squads, but from a talent standpoint, no one is close to Arizona.
The Wildcats have the guy who should be the preseason favorite for conference player of the year in freshman Aaron Gordon. On a U-19 USA team this summer that included Oklahoma State's Marcus Smart, Duke's Rasheed Sulaimon and Louisville's Montrezl Harrell, Gordon was the leading scorer.
And even without Gordon, the Wildcats would be the most talented team in the league. Sophomore big men Brandon Ashley and Kaleb Tarczewski should take steps forward, Nick Johnson is one of the most athletic guards in the country and Arizona finally has a true point guard in Duquesne transfer T.J. McConnell.
This is the best roster that Sean Miller has assembled in his five years at Arizona, only comparable to the 2010-11 squad with Derrick Williams, and those Wildcats won the league.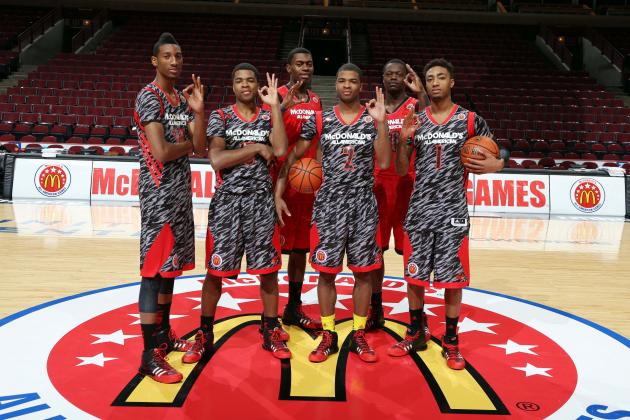 Brian Spurlock-USA TODAY Sports
After a down year, John Calipari signed six McDonald's All-Americans and his group of future pros is the preseason favorite to win the title.
The SEC spent the offseason trying to help its teams figure out how to schedule better so they can get to the big dance.
Hmmm... Maybe the league was just that bad?
It doesn't figure to be much better next season, except for at the top. You have the greatest recruiting class of all time at Kentucky, a well-coached team with a bunch of seniors in Florida and then a bunch of teams that will beat up on each other but go nowhere. Maybe Tennessee wins enough against that group to get to the tourney.
Almost every league has its ups and downs, and it doesn't help matters that most of these schools see basketball season as a distraction between football seasons.
The Wildcats have a worthy competitor in the Gators, but the talent in Lexington is at another level than Billy Donovan's experienced bunch.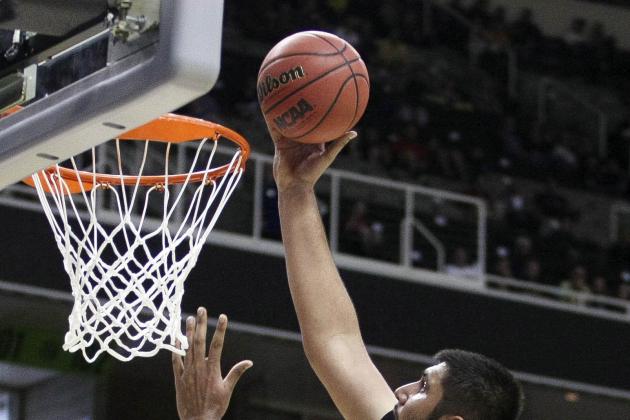 Kelley L Cox-USA TODAY Sports
As if the Aggies didn't have enough of an advantage in the WAC, they've got a 7'5" guy on their team, Sim Bhullar.
This is what New Mexico State, a team that went 14-4 in the WAC and won the WAC tournament, has to go up against to get back to the NCAA tournament:
Three of the five teams from the now-defunct Great West, a league that didn't even have enough teams to qualify for an NCAA tourney auto-bid.
UMKC from the Summit League. The 'Roos went 8-24 last year.
Cal State Bakersfield, which didn't even have a league last year.
Grand Canyon making the move from Division II to Division I.
Seattle, one of three WAC holdovers, went 3-15 in the WAC last season.
And the cream of those turds is Idaho, who went 7-11 in the WAC last year.
Go ahead and punch the Aggies' ticket to the tourney.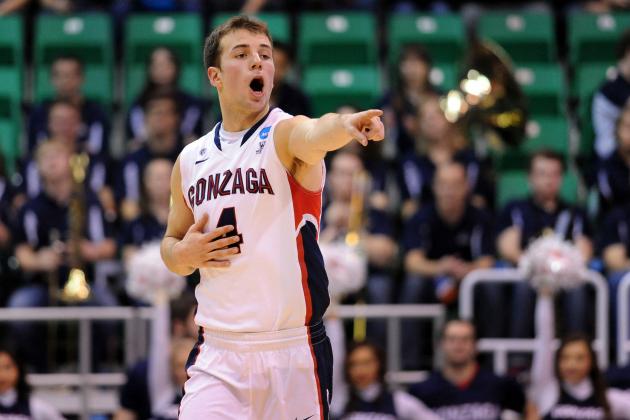 Steve Dykes-USA TODAY Sports
Gonzaga point guard Kevin Pangos will try to lead his team to back-to-back undefeated seasons in the WCC.
Gonzaga better put together another impressive non-conference resume this season. Those shouts that the Zags don't play anyone in their league are only going to get louder.
Last season, Gonzaga at least had St. Mary's to judge itself against. The Gaels went undefeated in the WCC against everyone not named Gonzaga.
St. Mary's graduated point guard Matthew Dellavedova, one of the greatest players in the program's history who actually helped his team win the league in 2012.
The Gaels could still have a decent team, but everything they did the last few years was built around Dellavedova.
Meanwhile, Gonzaga is arguably just as stacked as last season even with the loss of Kelly Olynyk to the NBA. Other than New Mexico State in the WAC, no team should have an easier time winning its conference.