Ranking the Top 20 Mid-Major Stars for the 2013-14 College Basketball Season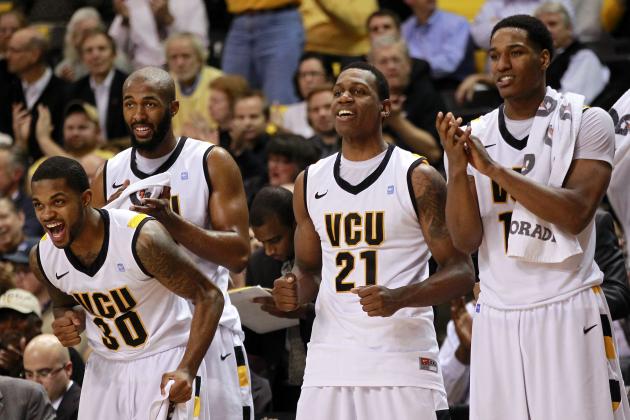 Geoff Burke-USA TODAY Sports

Our definitions of the already-nebulous term "mid-major" are set to be challenged this season, thanks to the ever-present specter of conference realignment.
Because rivalries being sacrificed in the name of the almighty dollar is so 2011, groups of schools have upped the ante by bisecting themselves and creating a whole new league.
And speaking of the Big East and American Athletic Conference, for the purpose of this piece, both will inherit the previous Big East's major-conference designation. Until one or the other struggles to something like two NCAA bids, this writer continues to consider them major conferences.
The Mountain West and Atlantic 10, however, will continue to toil under the "not quite ready for prime time" banner. The A-10 lost three of its most bankable programs in the Big East/American fallout, while the MWC laid an egg in the NCAA tournament that belied its lofty RPI ranking.
While the rest of the West Coast Conference may be comfortably considered mid-major, Gonzaga has been left out of these rankings. Reaching No. 1 in the national polls and a top NCAA tournament seed has its perks.
With all the logistics out of the way, here lie 20 players who the casual fan may not hear about until March. The educated fan, however, should already know that these young men are legit.
Begin Slideshow

»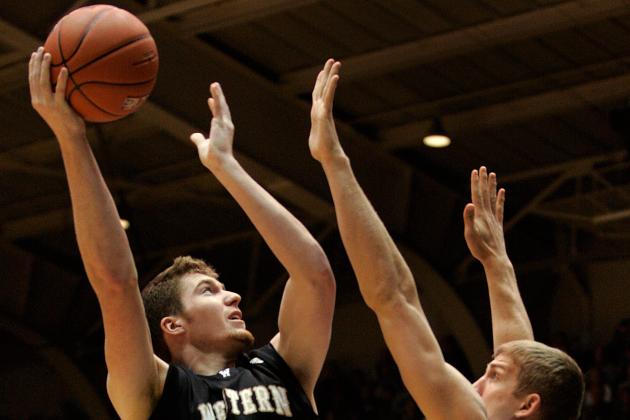 Mark Dolejs-USA TODAY Sports

"Big men can't shoot free throws."
It's one of the cliches of the game, perpetuated through the age of Chamberlain all the way through to modern goliaths like Shaq and Dwight Howard.
This is not to say that Western Michigan's 6'10" senior Shayne Whittington should be mentioned with those stars, merely to applaud him for his skill level.
Whittington ranked among the MAC's top 10 in five different categories: points (10th), rebounds (second), blocks (fifth), field goal percentage (eighth) and yes, free-throw percentage (seventh at 79.6 percent). The second-team All-MAC selection also led the conference with 12 double-doubles.
The Broncos reached the semifinals of the College Basketball Invitational, and Whittington held up his end with averages of 15.7 points, 6.7 rebounds and 2.7 blocks.
This season, WMU must replace three of its top five scorers, including Whittington's primary inside support, forward Darius Paul. Paul transferred to Illinois, where his brother Brandon has just concluded a stellar career.
Look for Western's offense to run through Whittington once more. With the departure of Akron's Zeke Marshall, the MAC's top big man is either Whittington or Buffalo's Javon McCrea. More on him later.
USA TODAY Sports

College basketball's best candidate to average 20 points and 10 rebounds this season may be Towson's Jerrelle Benimon.
Benimon, a burly 6'8", 245-pound former Georgetown Hoya, went beyond first-team All-CAA last season to earn conference player of the year honors and even copped an Associated Press All-American honorable mention.
Such honors should be expected for a player who averages 17 points, 11 rebounds and two blocks per game while shooting 53 percent from the floor and even 41 percent from three-point range.
Benimon did not shy away from major competition in the slightest. The Tigers took on Georgetown, Temple and Oregon State last season—pulling the upset on the Beavers—and Benimon put up a combined 61 points and 55 rebounds in those outings.
It's too easy to completely credit Benimon for Towson's improvement from one win in 2011-12 to 18 in 2012-13, but there was certainly no bigger factor. With the Colonial losing reliable programs like George Mason and Old Dominion to other leagues, the third-place Tigers can't be written off as contenders as long as the "Benimonster" is lurking.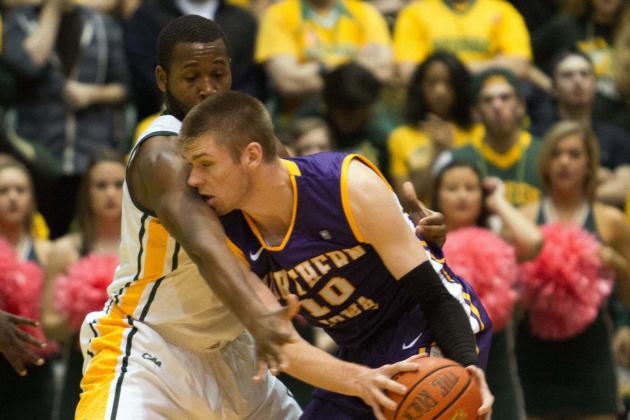 USA TODAY Sports

The Northern Iowa Panthers had five players who averaged nine or more points per game last season. Rising junior Seth Tuttle is the only one that returns.
Tuttle has played largely at center during his first two seasons, thanks to the presence of entrenched power forward Jake Koch. With Koch gone, the 6'8" 220-pounder should be allowed to step out of the pivot and show off more of a face-up game.
As a freshman, Tuttle shot 65 percent from the floor to rank in the national top 10. Last season's percentage dropped by about 10 points, but 55 percent is still highly respectable at any level of college basketball.
Overall, Tuttle should be considered a fearsome shooter, as he improved his foul shooting to 77.5 percent last season and has even made 40 percent of his career three-pointers, albeit in a small sample size.
If he spends more of his time as a jump shooter, Tuttle's scoring average should take a leap from last season's 11.4, but his 6.6 rebounds per game may stagnate. UNI is always a threat in the Missouri Valley Conference, even in what looks like a transition year. With Creighton gone, anything is possible.
Eric P. Mull-USA TODAY Sports

When's the last time you saw a six-foot point guard rank in his league's top 10 in rebounding? Youngstown State's Kendrick Perry ranked top six in scoring, assists, steals and free-throw percentage among Horizon League players, but his impressive 5.5 rebounds per game also came in 10th.
Perry should have gotten a bit of national shine after leading the Penguins to a November upset of Georgia, but his team staggered through an inconsistent season. Still, YSU reached the CIT, which constituted the program's first-ever postseason appearance.
For his part, Perry carded 10 games of 20 points and a pair of double-doubles en route to his second straight first-team All-Horizon selection. After missing four late-season games, Perry returned strong by averaging 20.7 points and seven rebounds. That included scoring 31 and outdueling Oakland gunner Travis Bader in a CIT win.
The Penguins return five of their top seven scorers, and Perry will lead the march. Horizon League powers Valparaiso and Detroit both lost major stars, and the race could be more open than usual.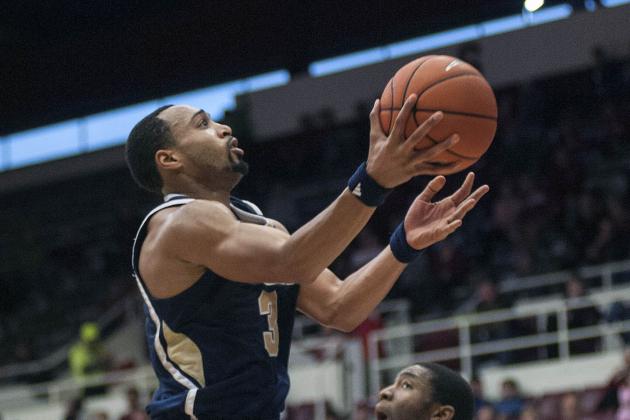 Ed Szczepanski-USA TODAY Sports

If UCSB's Alan Williams isn't going to win Big West Player of the Year, look for UC Davis guard Corey Hawkins to stake his claim to the award. Hawkins finished his first year at UCD as one of only 16 players in America to average 20 points per game.
His scoring wasn't a Marshall Henderson-esque barrage of pure volume, either. Hawkins was a 60 percent true shooter as a redshirt sophomore, including 40 percent from three-point range and 84 percent from the foul line.
Want more? How about 5.6 rebounds, 3.3 assists and 1.5 steals per game? Hawkins crushed the notion of jet lag in his trip to Hawaii, hanging 40 points and 12 rebounds on the Warriors and making 8-of-9 three-pointers in the process.
Hawkins has certainly found a home since transferring from Arizona State, and he forms the Big West's most dangerous backcourt with fellow snipers Ryan Sypkens and Tyler Les. The Aggies return last season's top four scorers and can make the Big West a fun league to watch this season.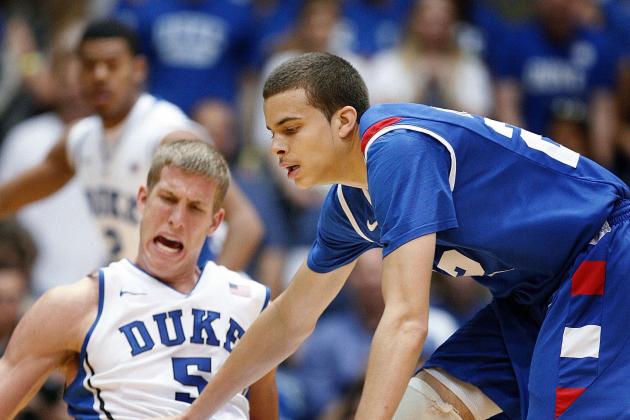 Mark Dolejs-USA TODAY Sports

In his freshman season at Georgia State, guard R.J. Hunter was everything advertised and then some.
The 6'5" son of head coach Ron Hunter arrived with a reputation as a scorer, and his 17.0 PPG verified that billing. He was disruptive on the opposite end as well, pulling nearly two steals per game.
Where Hunter surprised observers may have been on the glass. A player whose listed weight of 185 pounds is considered highly generous, Hunter pulled more than five rebounds per game, including a double-double in his debut at Duke.
Hunter broke the 20-point barrier 12 times, with the high-water mark being a 38-point explosion against Old Dominion. He was named CAA rookie of the year, first-team all-conference and a Kyle Macy Freshman All-American for his efforts.
The Panthers return two other double-figure scorers in point guard Devonta White and forward Manny Atkins while also adding former N.C. State and Kentucky point guard Ryan Harrow.
Hunter may not see as many looks at the basket during GSU's maiden voyage in the Sun Belt Conference, but the ones he gets should be even better than the ones he saw as a freshman. The Harrow addition will draw a few more curious eyeballs, and Hunter should take advantage of the new attention.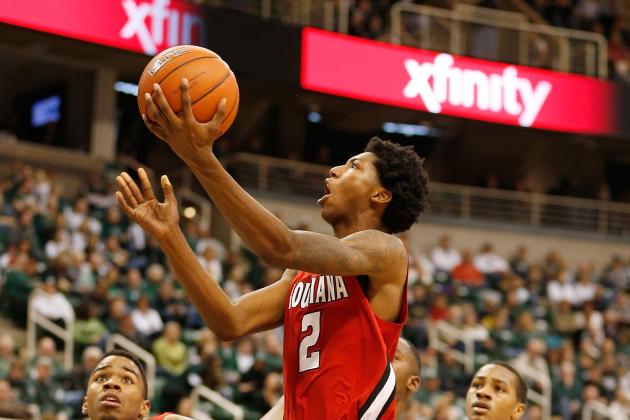 Gregory Shamus/Getty Images

The odds are good that the casual fan scanning the roster of the USA's Under-19 World Championships team did a double take halfway down. Sprinkled in with players from Florida, Syracuse, Louisville and Duke were a few of the elite high school recruits...
...and Elfrid Payton, a 6'3" guard from Louisiana? Not Louisiana State of the SEC, mind you, this is Louisiana—more popularly called Louisiana-Lafayette—of the Sun Belt Conference.
At those World Championships, Payton was one of only three players to start all nine games, the others being Tennessee's Jarnell Stokes and Louisville's Montrezl Harrell. He tied for third on the team with 19 assists and came in second with 21 steals, adding 6.1 points per game on top of that.
Payton had already proved he could play against tough competition, outplaying Michigan State's Keith Appling in a narrow three-point loss at the Breslin Center last November.
He averaged 19 points, six rebounds and eight assists in three wins over a mercurial North Texas team, led by NBA second-round pick Tony Mitchell. Payton also fell one rebound short of a triple-double against FIU in January.
For the season, Payton finished third in the Sun Belt in scoring while leading in assists and steals.
Some of his weaker shooting games came against teams like Middle Tennessee and Florida Atlantic, both of whom have departed for Conference USA. With fellow double-figure scorers Bryant Mbamalu and Shawn Long returning, the Ragin' Cajuns should be a team to watch, even if that casual fan only tunes in to check out the guy who somehow went with America's best to Prague.
You've probably seen it, but go ahead and look at it again. It's that nasty.
"It" is the monster alley-oop that Florida Gulf Coast forward Chase Fieler put down on the Georgetown Hoyas in last March's NCAA tournament. "It" was when notice was served that the Eagles weren't a typical 15th-seeded cream puff and that an upset could truly happen.
FGCU's—oh, pardon me—Dunk City's trip to the Sweet 16 landed the team an ESPY, got coach Andy Enfield a job at USC and put the Fort Myers campus in a rare spotlight.
Most of the top guns return, and Fieler is the most reliable. His 62.0 effective field-goal percentage (eFG%) and 64.1 true shooting percentage (TS%) both ranked in the nation's top 30. The 6'8" forward also finished second in the Atlantic Sun with 49 blocks, taking over the school's all-time lead in the process.
Fieler will be Gulf Coast's only senior this season, and if the team adapts well to whatever changes new coach Joe Dooley—an ex-Kansas assistant—wants to make, Cinderella could make another trip to the dance next March, too.
USA TODAY Sports

At this time last season, Stony Brook fans thought they had the final piece in place. Freshman forward Jameel Warney was going to be the rebounding support that do-everything leader Tommy Brenton needed to get the Seawolves to their first NCAA tournament.
SBU won its third America East regular-season title in four years, but the tournament crown remained just out of reach. Don't blame Warney, though.
The 6'8", 255-pound bruiser shot nearly 62 percent from the floor, good for a top-15 finish nationally. He blocked 48 shots to lead the AE and finished sixth at 7.2 rebounds per game.
In the Seawolves' final hurrah, Warney came up with 17 points and seven rebounds in the NIT against Iowa, a team boasting capable frontcourt players like Aaron White, Adam Woodbury and Gabe Olaseni. Incidentally, Iowa also gave Warney one of his other scholarship offers out of high school.
With the veteran Brenton graduating, Stony Brook's interior offense will run almost exclusively through Warney. The traditional low-post banger will have another three years to pummel his America East foes.
None of them are happy about that.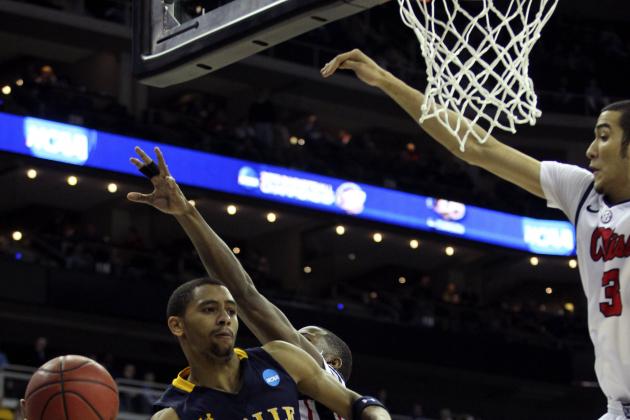 Ed Zurga/Getty Images

The La Salle Explorers cracked the Sweet 16 behind one of America's most underappreciated backcourts. The quartet of Ramon Galloway, Tyreek Duren, Sam Mills and Tyrone Garland combined for 52 points, 12 rebounds, 11 assists and six steals per game last season.
This season, Galloway is the only one missing.
Duren was usually second in line for shots behind Galloway, but he was every bit as reliable. A 57 percent true shooter, Duren was held to single-digit scoring only three times before the NCAA tournament.
He struggled in the first two rounds of the Big Dance but rallied for a 19-point effort in a third-round win over Ole Miss. Duren's two free throws with 1:07 left tied the game and paved the way for Garland's now-famous "Southwest Philly Floater."
This season's La Salle squad will take its emotional cues from Duren, who is a much calmer presence on the floor than the more animated Galloway. All the other contributors aside from Galloway return, so don't bet against the Explorers sailing into another NCAA tournament.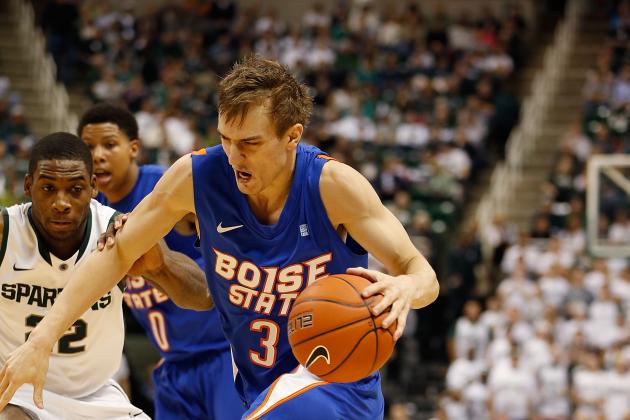 Gregory Shamus/Getty Images

Speaking of great backcourt quartets, another one could be found in the unlikely locale of Boise, Idaho.
Australian Anthony Drmic was the lead trigger man in a group consisting of floor general Derrick Marks, sniper Jeff Elorriaga and reserve sparkplug Mikey Thompson.
Drmic finished second in the Mountain West at 17.7 points per game, dropping 20 or more in 11 of his final 15 games. He put down 25 points, 10 rebounds and five assists early in the season against Oakland, helping to hold gunner Travis Bader to 3-of-15 shooting. He hung 34 points in a win over LSU.
Even in the disappointment of the Broncos' season-ending loss to La Salle in the NCAA tournament's First Four, Drmic put together a strong 28-point effort, making 9-of-17 from the floor.
This season, everyone's back except reserve center Kenny Buckner. Boise should be considered a preseason favorite in the Mountain West, which has lost many of its most recognizable faces from last year. Expect Drmic to be in the thick of the player of the year race from the season's opening tip.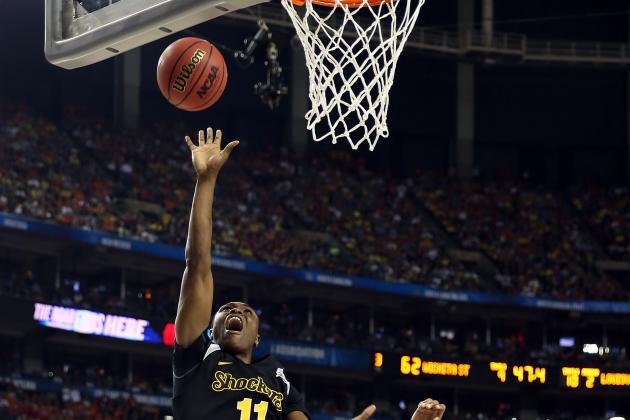 Andy Lyons/Getty Images

The reader is free to debate whether a team that just made the Final Four can still be considered "mid-major," but Wichita State must replace three of its top five scorers. With fellow forwards Carl Hall and Ehimen Orukpe graduated, 6'8" senior-to-be Cleanthony Early will need to repeat as the Shockers' top scorer.
If Early can keep his performances more consistent, he'll contend for Missouri Valley Player of the Year. In a single early-season stretch, Early bounced from two points against Tennessee to 20 points and 10 boards against Charleston Southern to a 2-for-13 shooting effort against Southern Miss.
Early struggled late in the Missouri Valley tournament, averaging only five points and five rebounds. He then caught fire once the NCAA tournament began. His 16.2 points and 7.6 rebounds in the tournament included a 24-and-10 effort in the semifinal against Louisville. Had the Shockers pulled off that win, Early would have been a heavy favorite for Final Four Most Outstanding Player.
Wichita State's encore will be heavily dependent on how sophomore point guard Fred Van Vleet adapts to being the starter. He'll have to rely on Early both early and often.
Geoff Burke-USA TODAY Sports

UMass point guard Chaz Williams needs an NCAA tournament appearance to make himself a household name. The 5'9" speedster has established himself as a force much bigger than his physical stature.
Only one player in America has more assists than Williams over the past two seasons. Williams' 473 dimes equate to a 6.8 per game average, and he's on pace to break the school's all-time record of 678.
Not bad for a guy who spent his first year of eligibility at Hofstra.
The Minutemen had some solid secondary options last season, so Williams was able to focus more on distributing the ball. He still led the team at 15.5 points per game, fifth in the Atlantic 10. He may be forced to shoot more with three of those secondary options gone.
Williams occasionally struggled against NCAA tournament teams, averaging 13.2 points, 7.5 assists and 1.8 steals in 10 such games. (Everyone should struggle like that, eh?) Either way, the departures of conference rivals like Butler, Temple and Xavier should open the field slightly for Williams to enjoy a dominant senior season.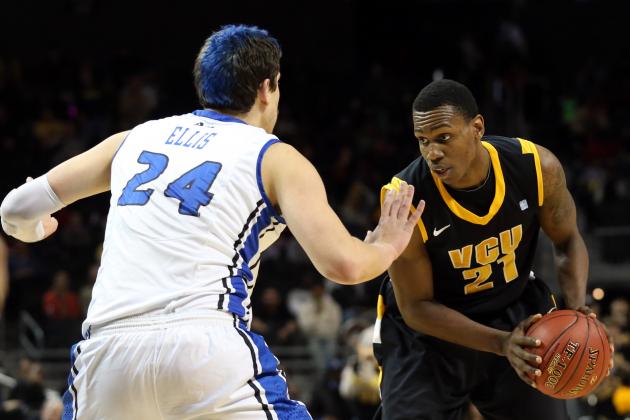 Anthony Gruppuso-USA TODAY Sports

VCU, like Wichita State, has a recent Final Four to hold as evidence to free it from the "mid-major" designation. Back-to-back third-round losses, however, are taking a bit of bloom off the rose. This season, the Rams still have enough talent to make a deep run, led by a skilled, veteran inside-outside duo.
The outside half of that equation, 6'5" swingman Treveon Graham, transitioned smoothly from being a bench contributor to leading the team in both shots (413) and scoring average (15.1).
Graham crunched numbers early on against strong competition, putting up 26 points against Memphis, 16 points and eight rebounds against Duke and a 19-and-8 night against Belmont. Late in the season, the Rams missed him on the glass, as he failed to surpass five rebounds in four of VCU's final five games.
For the season, Graham was more efficient as a sophomore, raising both his eFG% and TS% by five points from 2011-12. With the departure of prolific gunner Troy Daniels, Graham and senior Rob Brandenberg may take up full-time residence outside the arc. If Graham improves his shooting by a similar rate, an A-10 scoring title may be within reach.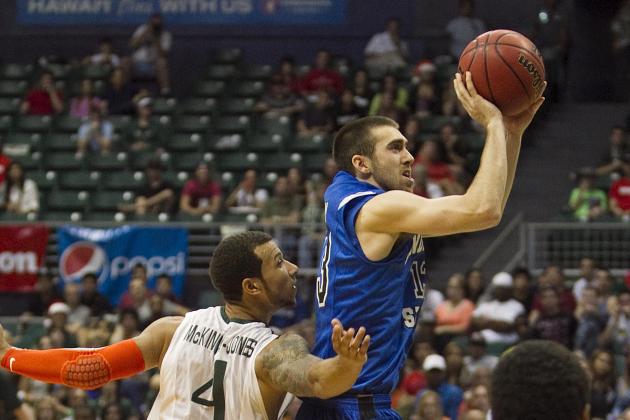 Marco Garcia-USA TODAY Sports

It had been a while since Indiana State had a first-team All-Missouri Valley selection. 2001, to be exact. No Sycamore has done it twice since 1985 and '86. Point guard Jake Odum ended the first drought last season and should be fully capable of breaking the other streak this year.
Odum climbed into the MVC's top 10 in scoring last season, adding another dimension to his ledger. The 6'4" playmaker has ranked no worse than third in assists and seventh in steals over his three seasons as a starter.
Not a player who likes to make it rain from beyond the arc, Odum seeks to do his damage from 18 feet and in. His 0.85 FTA/FGA ratio ranked sixth in America, and he made 77 percent from the line. Less than 20 percent of his shot attempts were threes.
The Sycamores played four non-conference games against eventual NCAA tournament teams last winter (New Mexico, Ole Miss, San Diego State and Miami). Odum averaged 15 points, six rebounds and six assists in those contests, figures slightly above his season rates.
With seven of their top eight scorers back, the Sycamores should be equipped to make another charge in the MVC, especially now that Creighton has been traded out for Loyola of Chicago. Odum should be a contender for conference player of the year, an award no ISU player has won since Nate Green in 2000.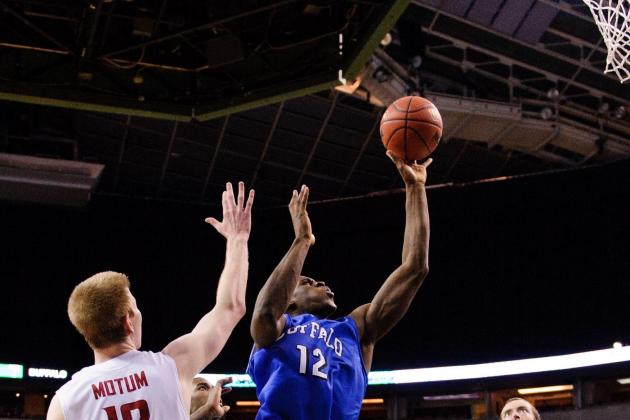 Steven Bisig-USA TODAY Sports

In three seasons at the University of Buffalo, Javon McCrea has racked some huge hardware: MAC Freshman of the Year in 2011 and two straight All-MAC first-team honors. The goals for 2013-14 are to get the Bulls to their first NCAA tournament and take that elusive conference player of the year award.
Those two ambitions are sure to be very closely related.
McCrea has been a top-20 scorer, top-10 rebounder and top-five shot-blocker since the moment he arrived at UB. His field-goal shooting has declined from its lofty 63 percent as a freshman, but he continues to make improvements on his most glaring weakness: foul shooting. From barely scraping 50 percent as a rookie, he's pushed his rate to just over 70 percent as a junior.
McCrea and Akron big man Zeke Marshall played each other to a standstill in their meetings last season. He produced three tremendous outings against Kent State, averaging 28 points, 10 rebounds and four blocks.
Most of McCrea's support is back this season, but on a 14-20 team, that's not always a huge positive. The weight of the Bulls' conference title hopes will still rest on McCrea's sizable shoulders.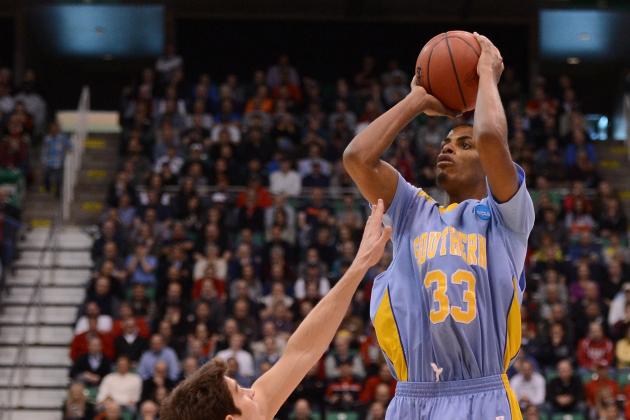 Harry How/Getty Images

Malcolm Miller was Southern's best player last season, and he didn't start a game. A preseason wrist injury and a slow transition to coach Roman Banks' defense-first system resulted in him being installed as the sixth man, a role that he never vacated.
Nobody complained, and the Jaguars almost made history.
Miller struggled through a difficult 3-of-10 shooting night in Southern's opening NCAA tournament game against top-seeded Gonzaga. In a game that was within one point with two minutes remaining, each of those shots loom large. With all the criticism lobbed the Zags' way following the narrow escape, the fact remains that very few teams were able to slow Miller that well.
The nine-point night was only the fifth time all season that Miller had been held to single digits. His eFG% (62.9) and TS% (64.0) both led the SWAC and ranked in the top 30 nationally. He shot over 50 percent from the floor and 45 percent from three-point range.
The 6'6", 200-pound former junior college transfer will need to be every bit as efficient to push the Jags to a similar level this season, since guards Derick Beltran and Jameel Grace have departed. Who knows, maybe Banks will even pencil him into a starting lineup or two.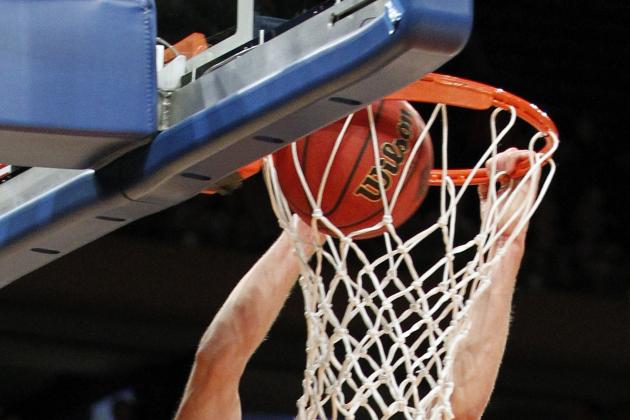 Jason Szenes/Getty Images

Part of life as an athlete at BYU involves putting one's career on hold for a church mission, often to places where basketball is at best an afterthought. That's where Tyler Haws got lucky.
His mission was to the Philippines, a place that enjoys its basketball. Haws told Sports Illustrated's Andy Glockner that he was able to get in an occasional game, but nothing to prepare for the intensity of American Division I college ball. That makes his 2012-13 season all the more impressive.
With only a slight dip in his shooting percentages, Haws vaulted from a solid piece on the 2009-10 team to one of the most prolific scorers in the nation. His 21.7 PPG ranked seventh in the nation. No matter the opponent, Haws crunched numbers.
He outdueled the nation's scoring leader, Virginia Tech's Erick Green, to the tune of 42 to 12 in a dominant win. Florida State? 23 points and nine rebounds. Notre Dame? 21 and eight.
During the Cougars' run to the NIT semifinals, Haws averaged 28 points and shot 55 percent. The 6'5" rising junior may need to maintain such momentum early on this season as new supporting players fill in for the departed Brandon Davies and Brock Zylstra. Point guard Matt Carlino returns, and look for him to find Haws as often as he can.
Thearon W. Henderson/Getty Images

The Saint Louis Billikens had to attend a funeral for their former coach Rick Majerus in December. All they did from there was win the Atlantic 10 regular-season and tournament championships, earning a No. 4 seed in the NCAA tournament.
Forward Dwayne Evans was in charge of most of the heavy lifting. In his junior season, Evans tore down more than twice as many rebounds as any of his teammates, averaging 7.7 a game. He also led the team with 14 points per game, shooting 54 percent from the floor and 76 percent from the line.
Despite standing only 6'5", Evans took on all comers. He pulled 11 rebounds against Kansas. He scored 24 points and added 11 boards against Butler in the A-10 tournament, then faced down New Mexico State's 7'5" man-mountain Sim Bhullar for 24 and six in the NCAA tournament. Over SLU's final nine games, Evans averaged 20 and 10, impressive numbers at any size.
Guards Mike McCall and Jordair Jett return for support, but Evans will need some amount of rebounding help from 6'11" Rob Loe, or else he'll need to provide a lot more than six double-doubles.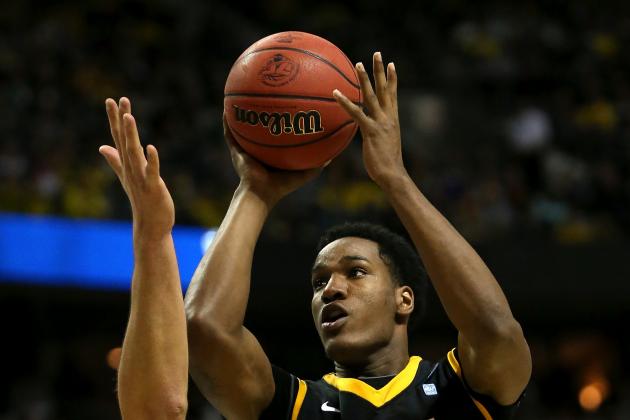 Jonathan Daniel/Getty Images

Earlier, we covered Treveon Graham, VCU's Mr. Outside. Now comes Juvonte Reddic, Mr. Inside.
At 6'9" and 235 pounds, Reddic draws comparisons to former Ram Larry Sanders, who is now one of the fiercer young rebounders and post defenders in the NBA. Reddic is far from Sanders' equal defensively but has demonstrated he's a dangerous post scorer.
As a junior, Reddic averaged nearly 15 points and eight rebounds, finishing 10th and fourth in the A-10 respectively. The first two double-doubles of his season came against Wichita State and Duke, then he went on to add nine more.
His field-goal shooting has improved 10 percent over the course of his career, and he's also progressed to a 70 percent foul shooter. In addition, he's not a post player who tends to have the ball stripped, recording a 0.83 steal-to-turnover ratio, which is great for a guard, let alone a power forward.
Reddic should get some post support from Florida State graduate transfer Terrence Shannon, so his counting numbers could take a hit. Look for his efficiency to keep improving, however, as he'll no longer be the only inside option for coach Shaka Smart's Rams.
For more from Scott on college basketball, check out The Back Iron. This week: Marshall Henderson vs. Johnny Manziel.