Michigan Basketball: Wolverines' 5 Best-Ever NBA Products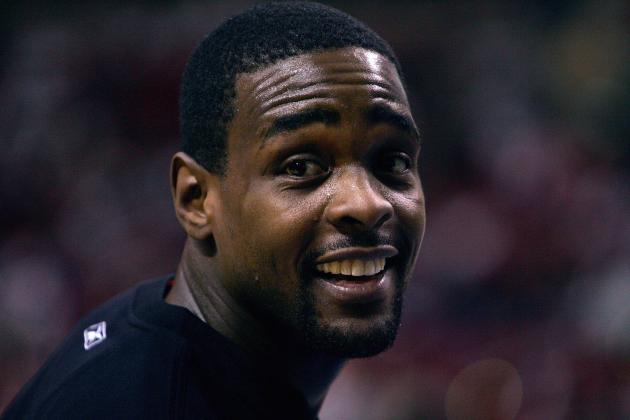 Ezra Shaw/Getty Images
Where does Chris Webber rank among the best professionals to come out of Michigan?
The 2013 NBA draft will see two prominent Michigan basketball players be selected by professional organizations. Trey Burke and Tim Hardaway Jr. both have a chance to be the first Wolverines taken in the first round of the draft since 2000.
Despite the lengthy drought of first-rounders, Michigan has sent several successful players to the NBA over the years.
Five stand tall above the rest. The following group of players have been ranked based on the number of All-Star selections, All-NBA selections, career awards and NBA titles they achieved over the course of their respective careers.
Begin Slideshow

»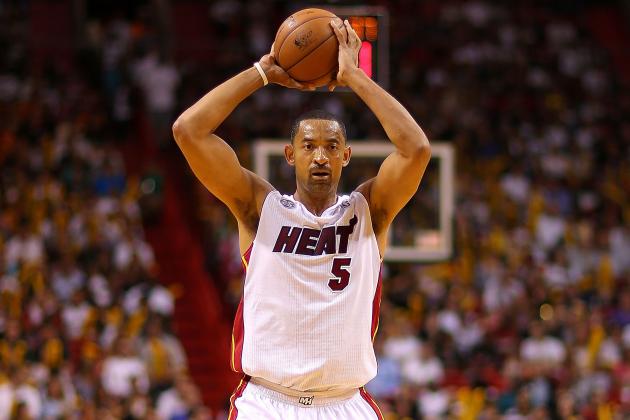 Mike Ehrmann/Getty Images
Juwan Howard made an immediate impact in the NBA after leaving Michigan.
NBA Career Statistics: 13.4 points per game, 6.1 rebounds and 46.9 field-goal percentage
Number of Seasons in the NBA: 19
The first time a ranking of the Michigan basketball program's best NBA products was put together by yours truly, Juwan Howard checked in at No. 7. After further review and careful reconsideration of credentials for the rankings, Howard shot past Jamal Crawford and Jalen Rose to No. 5.
Howard was a model of consistency for much of his professional career.
In six of the 6'9", 250-pounder's first seven seasons in the NBA, he averaged at least 17.0 points per game. A breakout second-year campaign (22.1 points and 8.4 rebounds) in 1995-96 earned him a spot on the Eastern Conference All-Star team. Those numbers also allowed Howard to garner All-NBA Third Team honors.
Even after the Fab Five member's production dipped in 2001-02, he still scored more than 11 points and six boards in four of the following five seasons.
Over the course of a 19-year career, Howard played for eight different teams. For the past three years, Howard has been a member of the Miami Heat. Although he played in just 35 games the past two campaigns, Howard became the only member of the Fab Five to win an NBA championship.
It is unclear at this time whether or not the former No. 5 overall pick of the Washington Bullets will be back for a 20th professional season in 2013-14.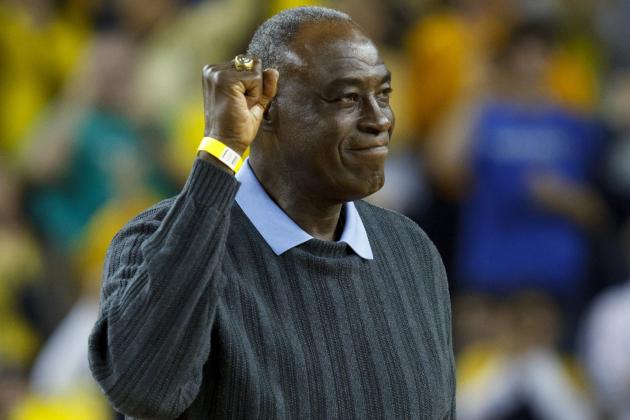 Rick Osentoski-USA TODAY Sports
Cazzie Russell played a total of 12 NBA seasons.
NBA Career Statistics: 15.1 points per game, 3.3 rebounds per game and 46.4 field-goal percentage
Number of Seasons in the NBA: 12
Not only did Cazzie Russell enjoy great success as a Michigan Wolverine, the two-time All-American went on to accomplish even bigger things in the NBA.
After guiding the Wolverines to three straight Big Ten Conference titles and a pair of Final Fours (1964, 1965), the New York Knicks selected Russell with the No. 1 overall pick in the 1966 NBA draft. It did not take long for Russell to live up to the hype.
As a rookie, the Chicagoan scored 11.3 points, 2.4 assists and three rebounds per contest. The outstanding debut season saw Russell be selected to the NBA All-Rookie First Team.
Things took off during Russell's sophomore campaign with the Knicks. The 6'5", 218-pounder averaged more than 16.9 points over the next two seasons. Russell regressed to 11.5 points per contest in the 1969-70 season, but he played an important role in New York's NBA title run.
In all but three of Russell's final eight years as a pro, he averaged at least 15.7 points. Two seasons with the Golden State Warriors saw Russell score upwards of 20 points per game. The 21.4 points he put up nightly in 1971-72 helped him earn his only All-Star invitation.
Russell finished his career in 1978 after playing in just 36 games for the Chicago Bulls.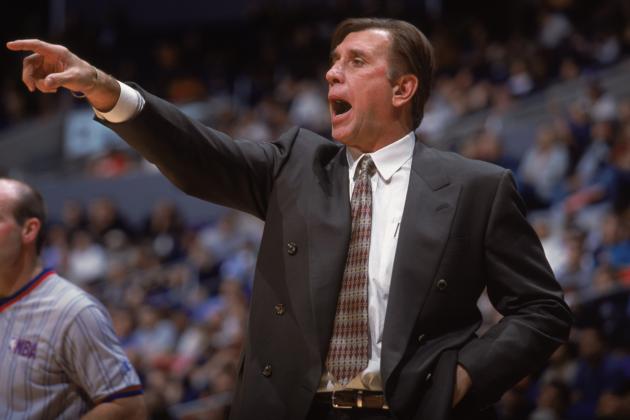 Robert Laberge/Getty Images
Rudy Tomjanovich succeeded as both a player and coach at the NBA level.
NBA Career Statistics: 17.4 points per game, 8.1 rebounds per game and 50.1 field-goal percentage
Number of Seasons in the NBA: 11
Had it not been for a punch from Kermit Washington of the Los Angeles Lakers in 1977, Rudy Tomjanovich may be in the NBA Hall of Fame today.
The San Diego Rockets chose Tomjanovich with the No. 2 pick in the 1970 NBA draft. He struggled mightily as a rookie. After the Rockets relocated to Houston in 1971-72, he averaged at least 14.2 points for nine straight campaigns. That stretch included four years of 20-plus points per game.
Washington's punch during an on-court brawl could not have come at a worse time for Tomjanovich. The blow to his jaw left him with life-threatning injuries. At the time of the punch, Rudy T had averaged 21.5 points through 23 games of the 1977-78 season.
Despite being able to return for three more stints with the Rockets, Tomjanovich was never the same. His minutes dropped significantly and he made just one more All-Star appearance. During Tomjanovich's prime (1974-77), he played in four consecutive All-Star Games.
The Rockets did manage to make the 1981 NBA Finals in his final season.
The Hamtramck, Mich. native did coach the Rockets to back-to-back NBA championships, though, in 1994 and 1995. Tomjanovich also led the United States to a gold medal in the 2000 Summer Olympics.
Both Michigan and the Rockets have retired Tomjanovich's No. 45.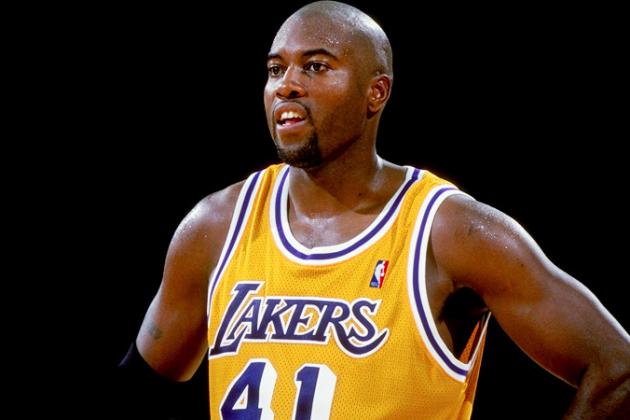 Glen Rice is one of the greatest three-point shooters in NBA history. Photo courtesy of ESPN.
NBA Career Statistics: 18.3 points per game, 40 percent three-point shooter
Number of Seasons in the NBA: 15
Glen Rice left Ann Arbor as arguably the greatest player in the history of Michigan basketball. The small forward still holds several school records. Leading the Wolverines to the 1989 NCAA Championship is also why Rice is still considered to be one of the best to ever don the Maize and Blue.
At the next level, Rice went from being an average scorer to a dynamic three-point shooter. Rice shot just 24.6 percent from beyond the arc as a rookie in 1989-90. The following season, he made 38.6 percent of his threes and scored 17.4 points per game.
In six of the next seven campaigns, Rice piled up over 21.1 points a night. During those years, Rice continued to improve as a three-point shooter. The Flint Northwestern High School alum shot a career-high 47 percent from distance in 1996-97 with the Charlotte Hornets.
A two-season stint with the Los Angeles Lakers from 1998 to 2000 helped Rice go from being a three-time All-Star to an NBA champion. Rice averaged 15.9 points per game for the 2000 Lakers, who topped the Indiana Pacers in six games to win the NBA title.
Rice went on to play the next four seasons with the New York Knicks, Houston Rockets and Los Angeles Clippers before retiring in 2003.
An All-Star Game MVP award and All-NBA Second Team selection in 1997 are also on Rice's impressive pro resume.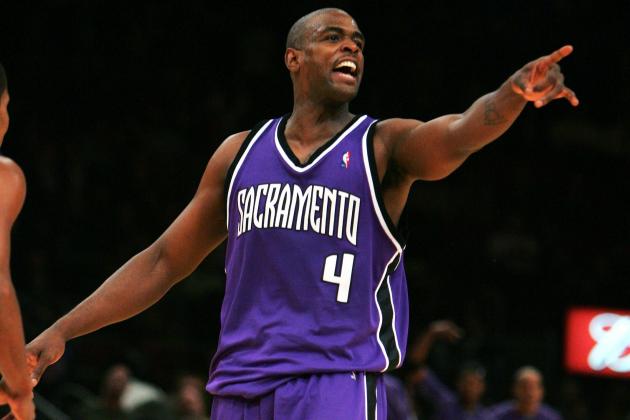 Ezra Shaw/Getty Images
Chris Webber never won a ring, but his dominance was undeniable.
NBA Career Statistics: 20.7 points, 9.8 rebounds per game and 47.9 field-goal percentage
Number of Seasons in the NBA: 15
Although Chris Webber never captured an NBA title, he still turned in the most impressive professional career of any former Michigan Wolverine.
Like Cazzie Russell, Webber was taken No. 1 overall in the 1993 NBA draft. The Orlando Magic immediately traded Webber to the Golden State Warriors. The 6'10", 245-pounder started all 76 games, scored 17.5 points, grabbed 9.1 rebounds per game and was named the 1994 Rookie of the Year.
Webber went on to score at least 20 points per contest in the next nine campaigns. In six of those seasons, Webber averaged a double-double. The Detroit product also hauled in a league-high 13.0 rebounds in 1998-99, his first of seven seasons with the Sacramento Kings.
In addition to being a five-time All-Star, Webber was on an All-NBA team every year from 1999 to 2003. Webber guided the Kings to a franchise-record 61 games in 2001 as well.
Sacramento retired Webber's No. 4 in 2009.