Michigan Basketball: Best-Case Scenarios for Projected Starters in 2014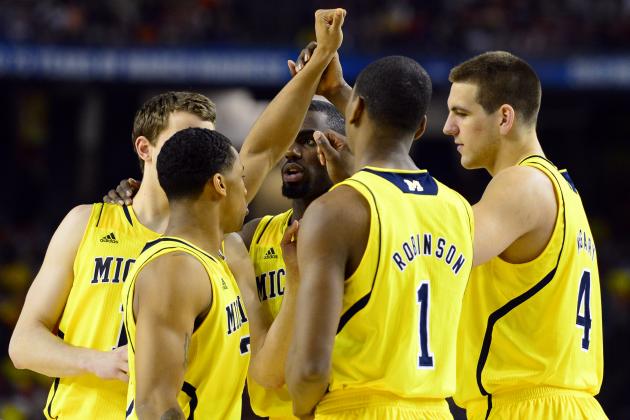 Bob Donnan-USA TODAY Sports
The Michigan Wolverines could return to the Final Four with strong seasons from each of their starters.
There are no official lineups for the Michigan basketball program's upcoming season, but there are some early hints as to who will be in the starting five come November. Given the structure this team appears to be taking on, each of the starters' best-case scenarios can be assessed.
This year's starting lineup will look much different from last season in terms of positions. Both Trey Burke and Tim Hardaway Jr. are gone, which leaves to vacant spots in the starting five. Neither of those positions will be up for grabs. Instead, a second big man will be added.
How far Michigan goes in the postseason and whether or not it contends for a Big Ten Conference title will depend on how close these players come to recording their best possible seasons.
Begin Slideshow

»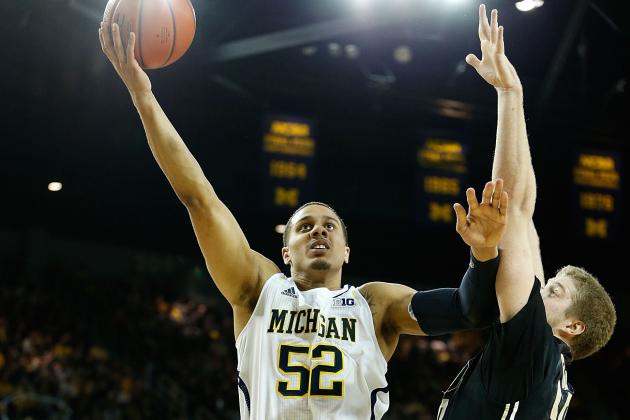 Gregory Shamus/Getty Images
Jordan Morgan will have a chip on his shoulder this season.
Projected Starter: Jordan Morgan
For the time being, head coach John Beilein is forging ahead with a plan to start two big men this season. Expect Jordan Morgan to take advantage of the upcoming opportunity for redemption and a chance to get back into the starting five.
Once there, Morgan has to be the same player he was prior to a Jan. 27 ankle injury: a leader at the defensive end and an effective screener in the high pick-and-roll offense.
If Morgan can do both of those things, the bigger starting five will be an advantage for the Michigan Wolverines. Morgan's re-emergence could turn the Wolverines' paint presence into a strength at both ends of the floor.
And Michigan will need it, too. The Big Ten Conference is not going to be any less physical this season. Bigger teams around the league, particularly Michigan State and Kansas, gave Michigan a lot of problems on the interior in the 2012-13 season.
The rising redshirt senior does not have to be a dynamic scorer. Averaging close to five points and shooting 57 percent for a second straight campaign is all Michigan needs from Morgan.
In short, the best-case scenario for Morgan is to be the same player that started in 53 consecutive games. First, he will have to beat out veteran big man Jon Horford in a competition for the spot.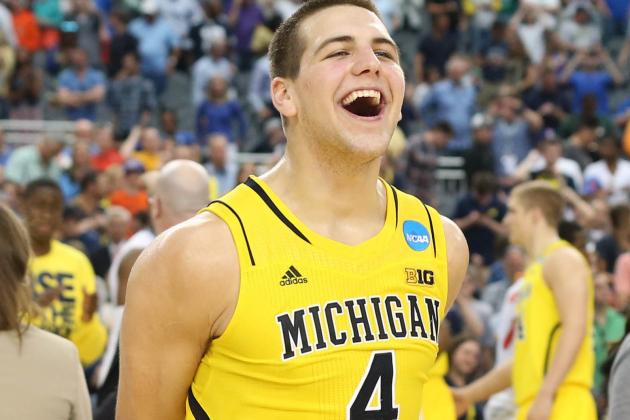 Matthew Emmons-USA TODAY Sports
A breakout season from Mitch McGary is on the horizon.
Projected Starter: Mitch McGary
It may have taken more than half of the 2012-13 season, but Mitch McGary eventually showed the world why he was once the No. 2 prospect in the ESPN 100. But, poor dieting and underdeveloped footwork prevented McGary from making an immediate impact with the Michigan Wolverines.
"My balance wasn't as good because weight was a problem, and a lot of it was footwork," McGary told ESPN.com's Jason King. "I know there are guys who are the same size as me who are going to knock me around. I learned how to stay balanced and keep my weight under me."
With both of those issues behind him, the 6'10", 250-pounder is primed for a breakout sophomore campaign.
Even without Trey Burke, McGary should be the dominant player he was in the NCAA tournament. Derrick Walton and Spike Albrecht will be able to drive the lane and create shots for McGary.
Polishing up a mid-range jump shot will also make it easier for McGary to score without help. Developing a post game would add a much needed weapon to his arsenal as well.
McGary will have to make some adjustments defensively. Playing the 4 is a lot different than the 5. McGary's new position will require him to defend quicker forwards and he will need to do so without fouling. Rotating off screens and switches will be difficult for McGary as well.
Similar numbers (15.3 points and 10.7 rebounds) are the best-case scenario for the Brewster Academy alum in 2013-14.
If the rising sophomore can make the aforementioned offensive and defensive adjustments, he will be a force for the Wolverines.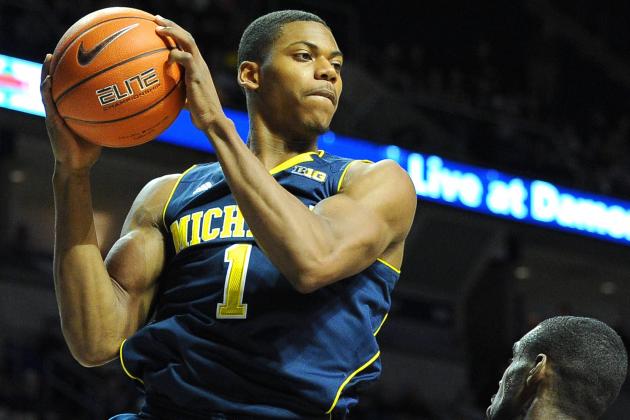 Rich Barnes-USA TODAY Sports
Expectations are high for Glenn Robinson III's sophomore season.
Projected Starter: Glenn Robinson III
Another starter changing roles this season is Glenn Robinson III. After spending much of the 2012-13 season at the 4, Robinson is now going to be the Michigan Wolverines' small forward. This will require the St. John, Ind., native to go from being a finisher to a scorer.
According to Hoop-Math.com, 56 percent of Robinson's attempts from last season came at the rim. A whopping 65 percent of those plays came via assists. All 71 of his three-point shots were assisted, too.
For Robinson to have the best season possible, he will need to make more jump shots. As a freshman, Robinson shot a mere 43 percent on two-point jumpers and 33 percent from behind the three-point line. Those numbers have to come up.
Drives and alley-oops will still be an important part of Robinson's game. His athleticism will allow him to do both of those things consistently. Shoring up his jumper, though, will allow Robinson to create more scoring opportunities by himself.
Making a seamless transition to the 3 and continuing to be a presence on the glass is the best-case scenario for Robinson in 2013-14.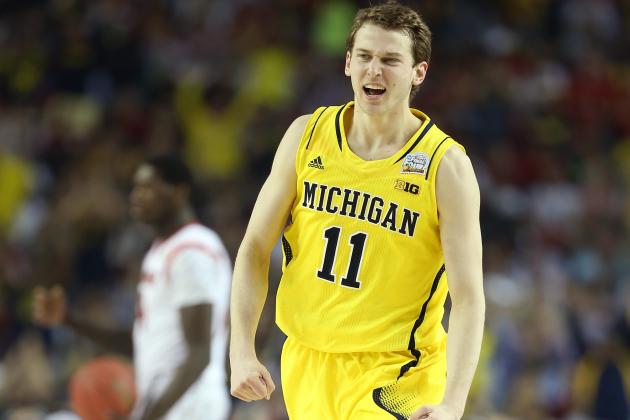 Andy Lyons/Getty Images
Nik Stauskas has to get better defensively in 2013-14.
Projected Starter: Nik Stauskas
Following a relatively impressive and consistent freshman campaign, Nik Stauskas has one major issue in need of improvement: his defense.
There were far too many instances last season when Stauskas became a defensive liability. The best-case scenario for him in 2013-14 would be to play better on-ball defense. Otherwise, Stauskas could find himself behind Caris LeVert in the starting rotation.
The Canadian does not need to be a lock-down defender. All Stauskas has to do is go from being weak to mediocre defensively.
Fortunately for the Wolverines, Stauskas is a scorer at the other end. There were only 10 games in 2012-13 when Stauskas failed to reach double-figures. In four of those contests, he played less than 20 minutes.
Another part of Stauskas' best-case scenario will be three-point shooting consistency, especially at the end of the season.
Although Stauskas shot 44 percent from beyond the arc for the season, he only hit that mark six times in the Wolverines' final 13 games. A stretch of three contests from Mar. 6-14 was the only time he did it consecutively. Shooting funks are inevitable. For Michigan's sake, though, it has to hope Stauskas' occurs early in the year rather than postseason play.
Projected Starter: Derrick Walton
Nobody will be under more pressure and scrutiny all season long than Derrick Walton. The incoming 4-star prospect is the favorite to replace Wooden Award-winning point guard Trey Burke. Although the two play a similar style of basketball, Walton will not be the scorer Burke was. At least not as a freshman.
Mitch McGary, Glenn Robinson III and Nik Stauskas will take care of the scoring. What Walton has to do is limit turnovers, create shots for others and be an efficient shooter.
Before any of this can happen, though, Walton has to beat out Spike Albrecht. Given the fact Walton possesses a level of athleticism Albrecht does not, the former should be able to win the starting spot. Walton's explosiveness and ability to run the floor in transition will likely give him a leg up in the position battle.
Decision-making will play a major factor in John Beilein's impending lineup as well, but as long as Walton is about even with Albrecht in this regard, the job will be his.
Best-case scenario for Walton is winning the starting job and taking care of the basketball. Scoring near or slightly above double-figures is all Walton needs to average in terms of points per game. Avoiding giveaways and being a facilitator will be much more important areas for the frosh to focus on.
The success of the Michigan Wolverines this season will be depend on the play of Walton. Another trip to the Final Four is not out of the question if Walton rises to the challenge of managing Michigan's offense.