Big 12 Expansion: 12 Possibilities for the Big 12 to Get Back to 12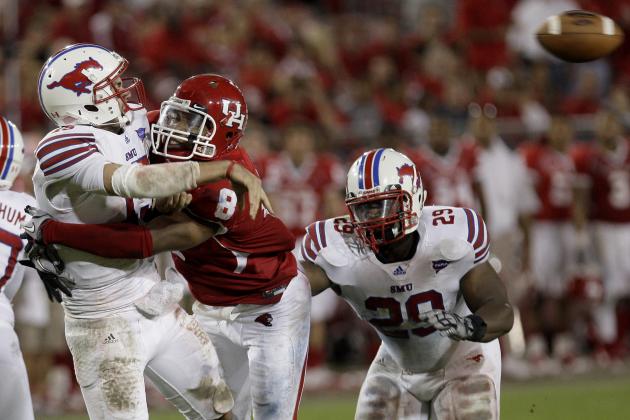 Thomas B. Shea/Getty Images
Houston (red) and SMU (white) are two possibilities for the Big 12's 11th and 12th teams
With the Big East/American Athletic realignment occurring in a few weeks, college football will be left with five "power conferences." Four of them have big-money championship games. The fifth is the Big 12.
For the Big 12 to again stage a championship, it will need to add an additional two teams, for a total of 12. Having a dozen teams would also help the conference champs' chances at making the College Football Playoff, and increase the feasibility of a cable network. (While the Big 12 has a webstream, it has not launched its own channel as of yet).
Here are 12 teams that could be the 11th and 12th members of the Big 12.
This article operates on the assumption that the Big 12 is below the SEC, Pac-12, and Big Ten in the college football pecking order, and is unlikely to pry away any members of those conferences. Most of the suggested teams are current or former members of Conference USA or the Mountain West; many are in or border current or former Big 12 territory.
It is also constrained by the fact that the Big 12 (and the Big Eight before it) have been conferences of mostly public schools, but also that the Big 12 may want to find a rival for West Virginia, who at present is geographically isolated from the other teams in the conference.
Begin Slideshow

»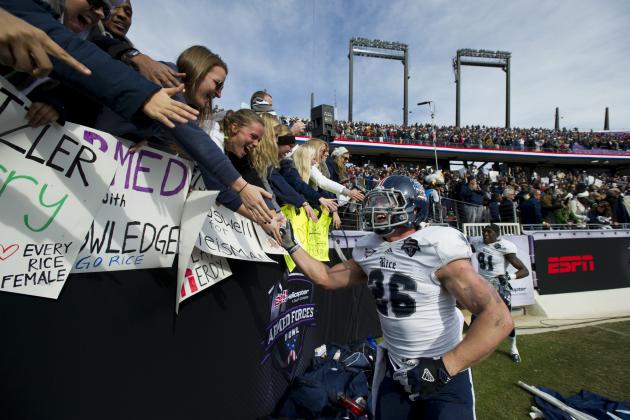 Cooper Neill/Getty Images
Rice at the 2012 Armed Forces Bowl
Conference: Conference USA
Enrollment: 6,082 (3,708 undergrad)
Pro: It's in Texas. It has halfway decent football and baseball venues.
Cons: It's not a public school. It has an enrollment of only 6,000 students, of which fewer than 4,000 are undergrads. That's considerably smaller than Baylor or TCU; it's less than one-eighth the size of the University of Texas. And it's one of the least successful teams in Conference USA, with only three bowl games and zero March Madness appearances since 2000.
Of the four Texas C-USA or American Athletic schools, I'd consider Rice to be the longest shot at being invited to the Big 12.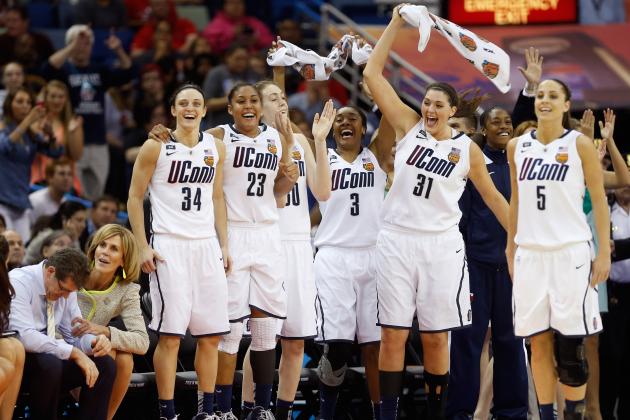 Chris Graythen/Getty Images
The UConn women's basketball team
Conference: American Athletic (formerly Big East)
Enrollment: 30,034 (17,528 undergrad)
Obviously, the major drawback to UConn is that it's 1,300 miles from Kansas City, the traditional center of the Big 8 and Big 12 Conferences. Storrs is a three-and-a-half hour plane ride from Big 12 member Texas Tech; West Virginia is the only Big 12 school within 1,000 miles of UConn.
However, the geographical drawback is more than offset by the opportunities and competitiveness UConn has to offer. Adding UConn would open up the Big 12 to lucrative Northeastern markets.
UConn is a powerhouse in women's basketball, and adding them would create an interconference rivalry with up-and-coming power Baylor (this in contrast to the American Athletic, whose members are neither traditional rivals, nor, save for soon-departing Louisville, particularly good at women's hoops).
UConn's men's basketball team is the best team on the East Coast that's not in the Big East or ACC, with two NCAA championships, three Big East crowns and ten March Madness berths this millennium.
And it's not that bad in football either: though it's only been in the FBS for fourteen years, it's qualified for five bowl games, including the 2011 Fiesta Bowl. It also has one of the newest and most state-of-the-art college football venues in the Northeast in Rentschler Field.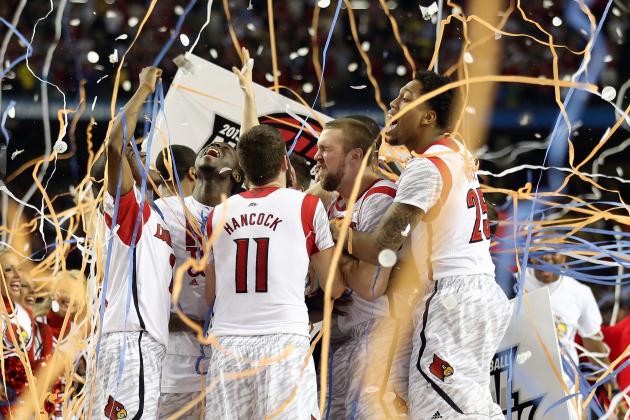 Andy Lyons/Getty Images
Louisville winning the 2013 Final Four
Conference: American Athletic (formerly Big East; ACC in 2014)
Enrollment: 22,293
Obviously, if you add Louisville, you're getting a power in both basketball and football. Louisville just won the men's basketball championship, was the runner-up in the women's, and plays its games in the brand-spanking-new KFC Yum Center.
But, of course, it's football that brings in the big bucks. Good thing the Cardinals are the defending Sugar Bowl champions, are 122-65 since 1998, and have a 55,000-seat stadium that is only 15 years old.
To top it off, the Cards also are pretty good in baseball, and would provide West Virginia with a natural rival.
So why isn't it higher on the list? Because, if things go according to plan, Louisville will jump to the ACC in a year or two.
It's unclear how the Big 12 relates to the ACC in the pecking order, as the Big 12 is a better football conference, but the ACC is a better basketball conference. No matter how the pecking order works, Louisville would likely be out millions if it reneges on the ACC for the Big 12.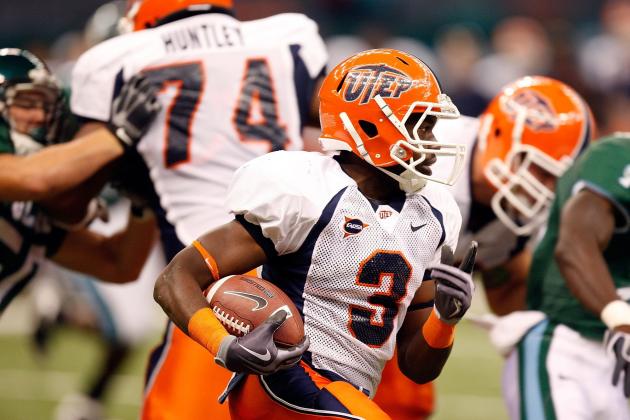 Ronald Martinez/Getty Images

Conference: Conference USA
Enrollment: 21,011 (17,205 undergrad)
El Paso is one of the faster-growing media markets in Big 12 territory, now approaching one million, plus an additional million on the Ciudad Juarez side of the border. UTEP has also won 20 national championships in track or cross country.
However, in revenue sports, UTEP has not been lights-out of late. Their football team went 54-75 since 2000, this playing against inferior competition in the WAC and Conference USA.
Its last bowl victory came in 1967, the year after UTEP won its one and only NCAA men's basketball championship. UTEP has only been to the Big Dance three times since 2000, losing in the First Round each time.
While UTEP offers possibilities market-wise, it would quickly become the Big 12's competitive doormat.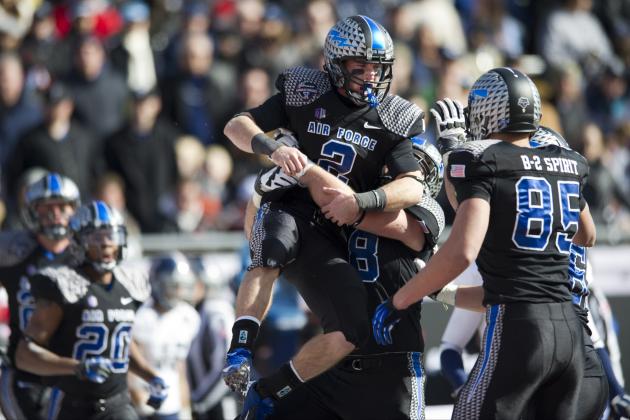 Cooper Neill/Getty Images

Conference: Mountain West
Enrollment: 4,413
In 2011, it was reported that the Big East was going to invite Air Force. Air Force is one of the better teams in the Mountain West, having played in a bowl game in each of its last six seasons.
As a service academy, Air Force has a nationwide fan base. It also is in traditional Big 12 territory, as it borders two states with Big 12 teams and is only an hour-and-a-half drive from former Big 12 member Colorado.
Why it won't happen: Air Force purportedly turned down the Big 12 in 2011 (citing being trampled by Texas and Oklahoma recruiting-wise), leading the Big 12 to invite West Virginia instead.
Could the promise of even more riches in the form of a TV network sway the Falcons? Who knows?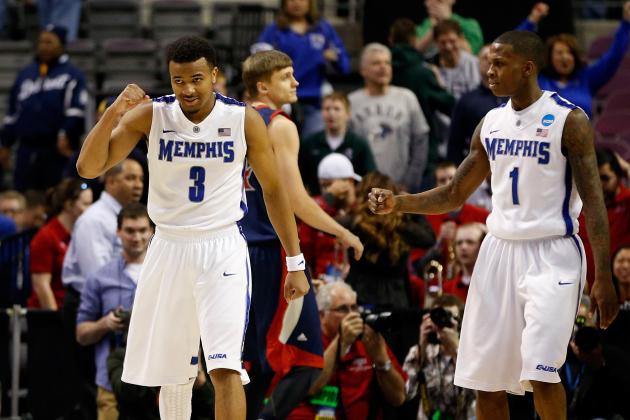 Gregory Shamus/Getty Images

Conference: American Athletic (formerly Conference USA)
Enrollment: 22,365 (17,963 undergrad)
Memphis may be the best athletic program in the former Confederacy that isn't in the SEC or ACC.
Obviously, Memphis' main strength is men's basketball: it has won seven of the last eight Conference USA Tournaments and made the Final Four in 2008. In the last three decades, the Tigers boast a record of 585-276.
Memphis' football program is a little worse: the Tigers have never won a Conference USA crown and have missed out on the postseason each of the last four campaigns.
However, Memphis is in a medium-sized media market with little to no other FBS competition and also has solid venues in the FedEx Forum and the Liberty Bowl.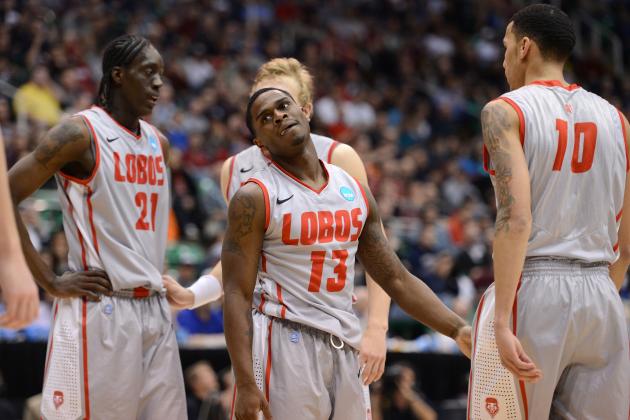 Harry How/Getty Images
The New Mexico Lobos in the First Round of the 2013 NCAA Tournament
Conference: Mountain West
Enrollment: 35,211
Why nobody's considered UNM for an upgrade to a major conference is beyond me. And of major conferences, the Big 12 would certainly be the best fit: New Mexico borders two current and one former Big 12 state.
The Lobos have a fairly strong basketball program that has gone 263-156 since 1999 with three NCAA berths, including a No. 3 seed in 2013.
In terms of football, the Lobos have been fair-to-middling: though they've made five bowl games since 2000, they've been 7-42 in their last four seasons.
The Lobos have made the last four NCAA baseball tournaments and play in the largest ballpark in the Mountain West. This ballpark compliments UNM's other two facilities: The Pit (one of the largest on-campus arenas in the nation) and University Stadium (site of the annual New Mexico Bowl).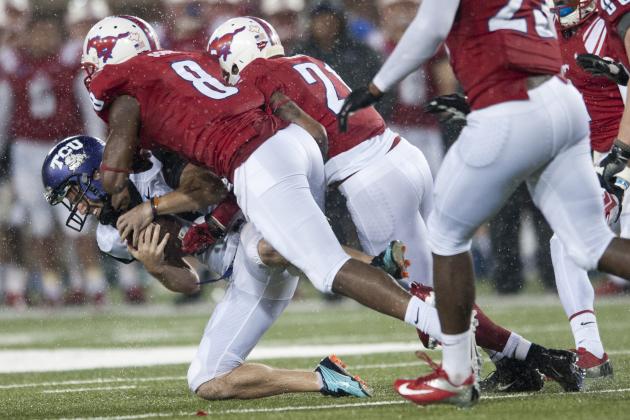 Cooper Neill/Getty Images
SMU vs. TCU in football
Conference: American Athletic (formerly Conference USA)
Enrollment: 12,000 (7,000 undergrad)
SMU seems like a logical choice geographically, joining perennial rival and DFW Metroplex stablemate TCU, who joined the Big 12 last year. However, geographical logic doesn't seem to matter much nowadays, as conferences prefer to avoid market saturation in favor of having a presence in as many markets as possible.
The problem with SMU is partially that it's a smaller, private school when most of the Big 12 is larger, public schools. Though their basketball program is currently making noise by hiring Larry Brown, the fact remains that they haven't been to the Big Dance since 1993.
The Mustangs have made bowl games each of the last four years, but haven't won a conference title since 1984. In between, they were hit with the death penalty in the late 1980s. SMU's record since 1997 sits at a paltry 64-114.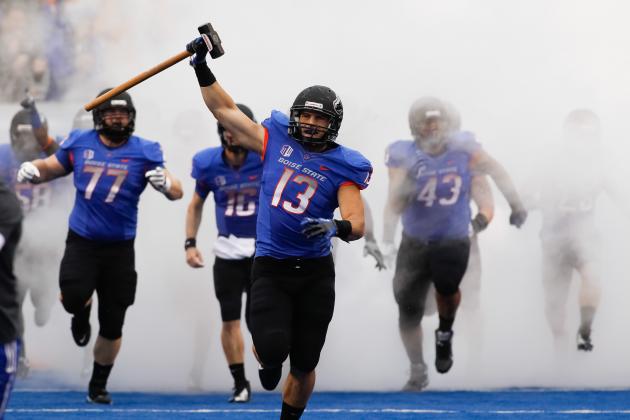 Otto Kitsinger III/Getty Images
Boise State enters onto Bronco Stadium's "Smurf Turf"
Conference: Mountain West
Enrollment: 22,678 (19,657 undergrad)
The list of good college football programs that aren't in power conferences starts with Boise State. Boise State (along with TCU and SDSU) was set to join the Big East prior to the Big East's implosion that resulted in the Broncos deciding to stick with the Mountain West.
Since 2000, Boise State's record is an astonishing 147-21, with eight WAC championships and a MWC crown. They have qualified for a bowl game each of the last 11 seasons, including two Fiesta Bowl wins.
Boise State has acceptable venues in Bronco Stadium (host of the Famous Idaho Potatoes Bowl) and Taco Bell Arena.
The big drawback to Boise State: it's geographically isolated from the rest of the Big 12 (1,400 miles from KU, 1,600 miles from Texas) and is in a lilliputian-sized market (albeit one that has nearly doubled in size since 1990). Boise State has also never won a NCAA men's basketball tournament game; it lost in the play-in game to La Salle earlier this year.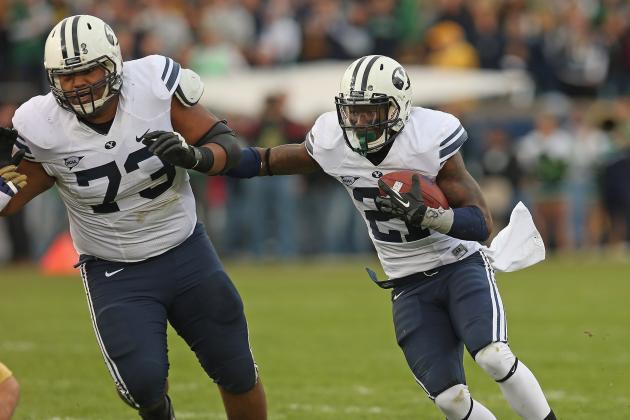 Jonathan Daniel/Getty Images

Conference: West Coast/FBS Independent (previously Mountain West)
Enrollment: 34,130 (30,745 undergrad)
The last mid-major (i.e. not Notre Dame or a current "power conference" member) to win a national championship was BYU in 1984. Under Bronco Mendenhall, the Cougars have won two Mountain West conference crowns, played in eight straight bowl games, and made the final AP Top 25 four times.
The Cougars basketball team has made nine Big Dance appearances since 2000, winning six regular-season Mountain West tourneys. The basketball team plays in the Marriott Center, one of a handful of NCAA arenas with a capacity of over 20,000. The Cougars are also is quite successful in non-revenue sports, particularly men's and women's volleyball.
BYU has attempted to create a nationwide following, essentially as the Mormon Notre Dame. They have been somewhat successful in this regard. It also offers the Big 12 access to Utah media markets, which are small but fast-growing.
And remember, this almost happened: when people were projecting the Big 12 South joining up with the Pac-12, most had the remaining husk of the Big 12 joining up with BYU and other powerful Rocky Mountain teams.
The only drawbacks to BYU would be distance from existing schools and the Big 12 being primarily a conference of public schools.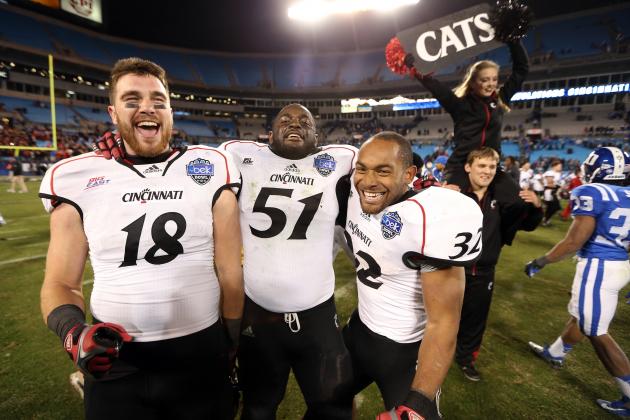 Streeter Lecka/Getty Images
Cincinnati at the 2012 Belk Bowl
Conference: American Athletic (formerly Big East)
Enrollment: 41,970 (31,985 undergrad)
If you're looking for a rival for West Virginia that has both halfway decent football and basketball teams, look no farther than the Cincinnati Bearcats.
Cincinnati's basketball program has been competitive in the Big East and Conference USA, with eight tourney appearances since 2000. Their record is 298-145 in that time.
The Bearcats' football team has won or shared four of the last five Big East crowns, and has participated in seven straight bowl games, including two BCS bowls. The Bearcats are in the process of expanding longtime venue Nippert Stadium.
Cincinnati also has a goodly-sized media market, albeit one that also contains pro football and baseball teams.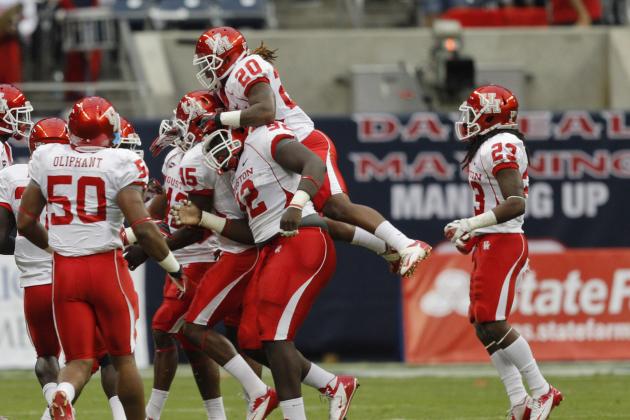 Bob Levey/Getty Images

Conference: American Athletic (formerly Conference USA)
Enrollment: 40,747 (31,367 undergrad)
Houston is the most successful college football program in Texas that isn't, or hasn't been, in the Big 12. They have played in seven bowl games since 2000; they boast an 83-79 record and a Conference USA championship in that time. Houston also is building itself a new stadium to replace the antiquated Robertson Stadium.
It's not that bad in baseball or basketball either, though their greatest successes are far in the rear view mirror. And let's not forget that Houston is one of the biggest markets not only in Big 12 territory, but in the entire country.
Houston is the best option for the Big 12 in current Big 12 territory and, in my opinion, the best option overall.