Super Early Predictions for the Final 2013-14 ACC Basketball Standings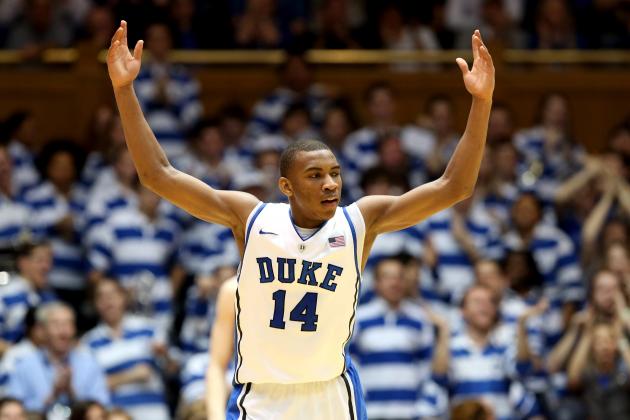 Streeter Lecka/Getty Images

Usually around this time of year, we have a pretty good idea what every college basketball team will look like come November.
As for the ACC, that picture is a bit out of focus until we find out what happens to North Carolina's P.J. Hairston. It's not looking good for Mr. Hairston.
Whether the Heels have Hairston or not, the new-look league is stacked at the top, and once Louisville joins in 2014, the ACC will have a claim—Coach K is already making it—as the best conference in the history of the game.
Next year's group will be pretty salty as well. Here's how we rank them.
Begin Slideshow

»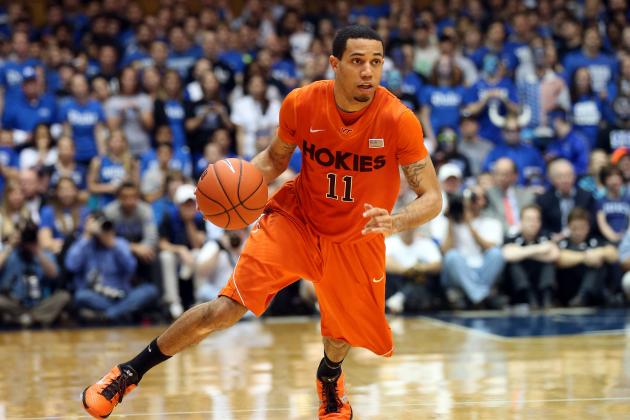 Streeter Lecka/Getty Images

Last season Virginia Tech had Erick Green. Green led the nation in scoring, was the ACC player of the year, took one-third of Virginia Tech's shots when he was on the floor and led the team in assists.
That team finished in last place in the ACC.
Next season the Hokies will not have Green. Is there any reason to think they'll finish anywhere above last place?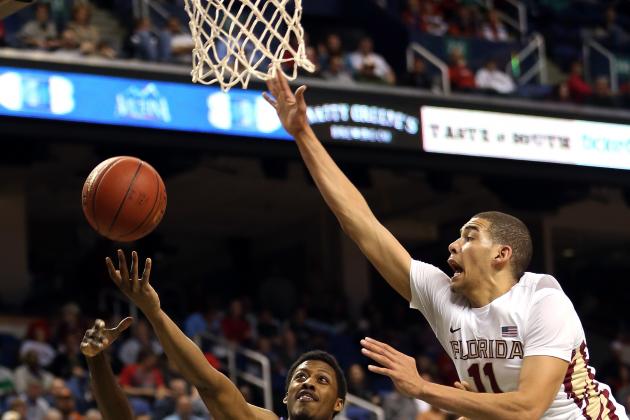 Streeter Lecka/Getty Images

In his three seasons at Clemson, coach Brad Brownell has won 22, 16 and 13 games, respectively. The descent could continue as the Tigers graduate leading-scorer Devin Booker, the only integral piece that was left from the Oliver Purnell era.
Booker was the best shooter on a poor shooting team. There's not much hope that the Tigers will be much better in 2013-14.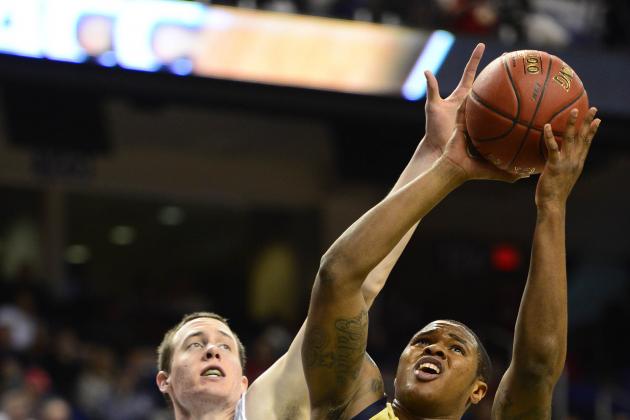 Bob Donnan-USA TODAY Sports

Brian Gregory's team showed some signs of progress last season on the defensive end. Gregory's teams have always been good defensively, and there at least seems to be an identity that Gregory is creating. The Yellow Jackets held opponents to low shooting percentages and were good on the boards.
The offensive end was another story. Freshman Marcus Georges-Hunt was the only player to average double figures at 10.8 points per game. The good news is that Tech's four leading scorers return. It's tough to see the Jackets leap to the top-half of the conference, but if they're able to beat up on the bottom feeders, they could find themselves closer to .500.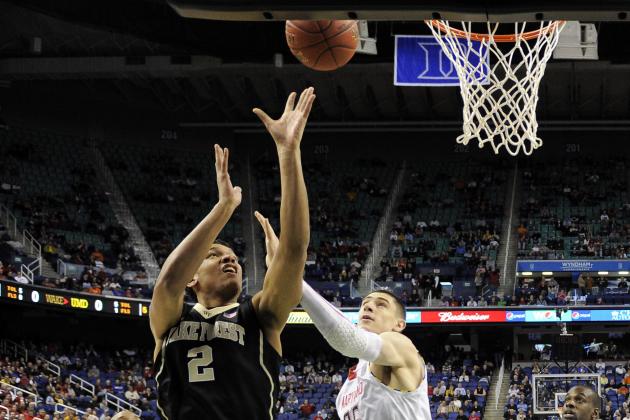 John David Mercer-USA TODAY Spor

Jeff Bzdelik took over a team in 2010 that was coming off an NCAA tournament appearance and he's won 11 ACC games in three seasons.
Bzdelik has more pressure on him to have a good season than any coach in the ACC. He had five freshmen in his rotation last season and one of the youngest rosters in the country. The fact that he had his best season at Wake Forest with that much youth, including a win over conference champ Miami, was at least a sign that things are improving.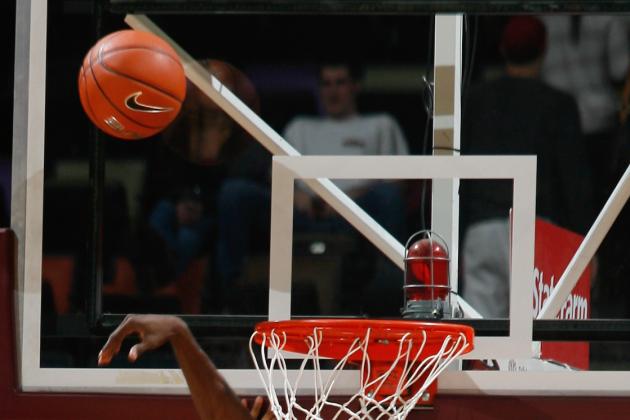 Phil Sears-USA TODAY Sports

Florida State fans will have to try to avoid going through the season without thinking "if only Andrew Wiggins were here."
Wiggins would have made a huge difference. Now Leonard Hamilton needs to move on and figure out what in the world happened to his defense in 2013.
The Seminoles were ranked in the top-15 of Ken Pomeroy's adjusted defensive efficiency for four straight years, including leading the country in 2010 and 2011. Last year's team ranked 165th. Wiggins or no Wiggins, that's an issue FSU needs to address.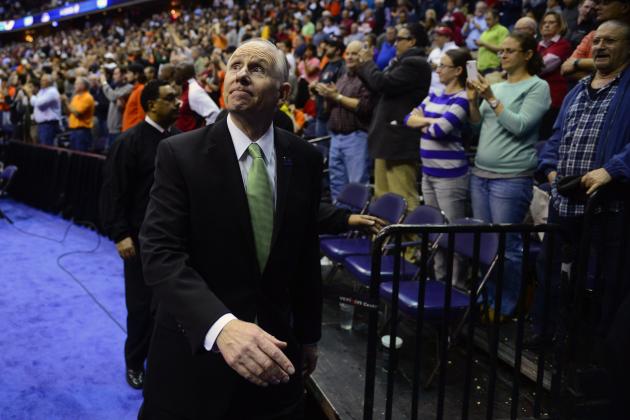 Bob Donnan-USA TODAY Sports

Jim Larranaga has as difficult a rebuilding job as any in the country. Wing Rion Brown is the only player in Larranaga's top-seven that will be returning.
Rebuilding would have been a lot easier if Shane Larkin had decided to stick around.
It would also help if K-State transfer point guard Angel Rodriguez is given a hardship waiver by the NCAA to play right away. That's TBA for now. If Rodriguez is allowed to play, the Hurricanes would climb a spot or two in these rankings.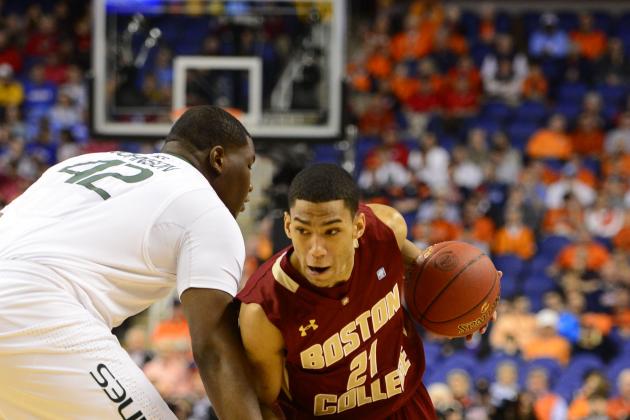 Bob Donnan-USA TODAY Sports

Steve Donahue won at Cornell with one really strong class. Donahue smartly left for BC after that class—which had gone to three straight NCAA tournaments—graduated.
It's not quite as easy to ride one class in the ACC, but Donahue is building in similar fashion. Last season, the top-seven in Donahue's rotation were all underclassmen—five sophomores and two freshmen.
Donahue has a solid inside-outside combo in Olivier Hanlan and Ryan Anderson.
The Eagles won four straight late in the year before ending the season in the ACC tourney with an 11-point loss to Miami.
With all those underclassmen a year older, the Eagles are the best bet to make the biggest climb in the standings.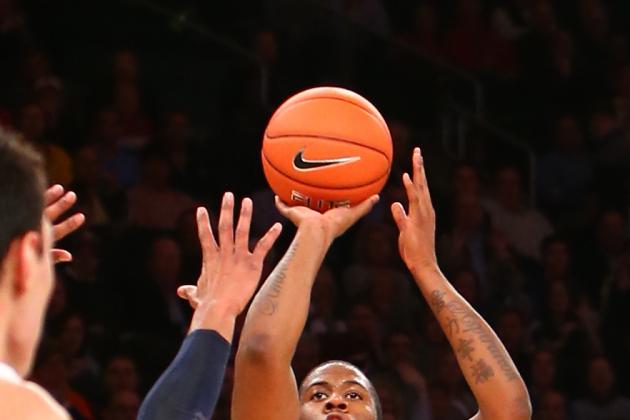 USA TODAY Sports

The Panthers have to replace senior point guard Tray Woodall and big man Steven Adams.
Replacing Woodall would have been easier had Marshall transfer DeAndre Kane decided to join Pitt. Kane initially told Jeff Goodman of CBSSports.com that he was transferring to Pitt, but later changed his mind and ended up at Iowa State.
Dixon will figure out a way to make what he has work; he does just about every season. He's missed the NCAA tournament only once in his 10 seasons at Pitt.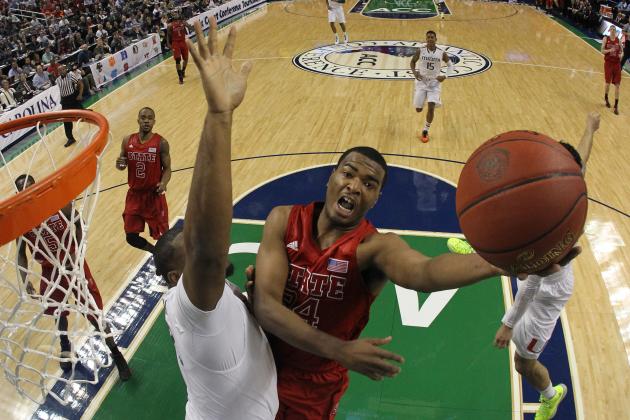 Streeter Lecka/Getty Images

Losing talents like C.J. Leslie, Lorenzo Brown, Richard Howell, Scott Wood and Rodney Purvis would kill most programs.
And it's doubtful you'll find Mark Gottfried celebrating all those loses. But the Wolfpack were as talented as any team in the country a year ago and all that got them was an 11-7 record in the ACC and a round of 64 exit in the tourney.
A fresh start might not be the worst thing.
Gottfried has sophomore-to-be T.J. Warren—an extremely efficient scorer as a freshman—and a talented freshman class coming in, led by point guard Anthony Barber. Maybe this group will overachieve.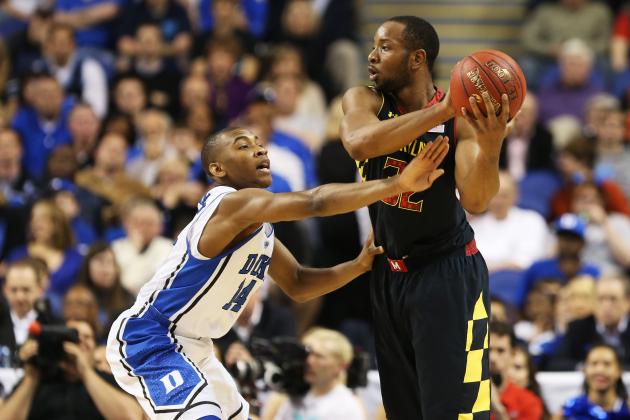 Streeter Lecka/Getty Images

Don't be fooled into thinking that Alex Len was the best or most important player for Maryland last season because of where Len will go in the draft.
Dez Wells was Maryland's best player, and Wells is back for his junior season.
The Terps also lose point guard Pe'Shon Howard, who decided to transfer, but incoming freshman Roddy Peters could be an upgrade there.
The top of the ACC is tough, but the bottom-half of the league isn't exactly loaded with talent. If Peters turns out to be a player and Wells continues to improve, Mark Turgeon should be able to rack up enough wins for his first tourney appearance at Maryland.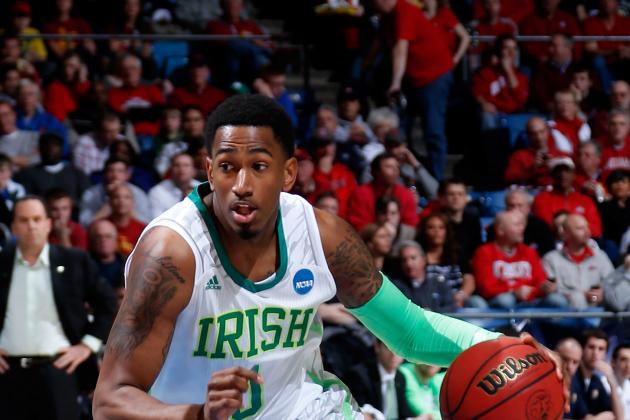 Joe Robbins/Getty Images

If you're breaking the conference into tiers, this is the beginning of the top tier.
Mike Brey will be searching for that one consistent post guy he always seems to have due to the graduation of Jack Cooley. Garrick Sherman, he of zero minutes played in regulation and then 17 points scored in four overtimes against Louisville, is a candidate.
Whether Brey finds his scorer in the post or not, he should be able to lean heavily on his backcourt. The Irish return both Jerian Grant and Eric Atkins, who both averaged better than 36 minutes per game last season.
Brey also signed McDonald's All-American point guard Demetrius Jackson.
That gives Brey three guards who can create off the dribble and by committee play a Ben Hansbrough-like ball-dominant role in the offense.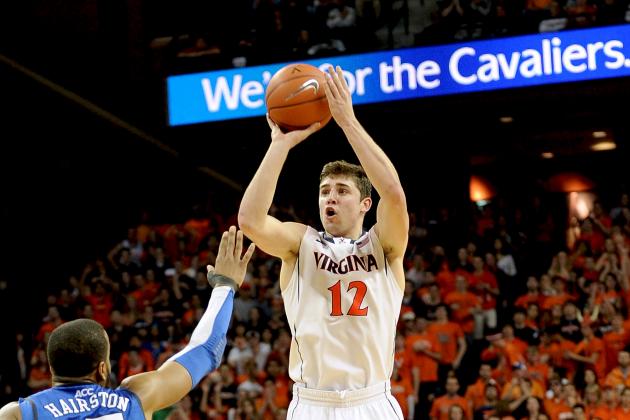 Lance King/Getty Images

If you're looking for an ACC preseason player of the year, Joe Harris would be a worthy candidate.
Harris had a stretch in ACC play last season when he averaged 22.6 points over nine games. With most of the key parts around him returning and the addition of South Carolina transfer forward Anthony Gill, the Cavaliers should be expected to fair at least as well as they did last year when they went 11-7 in ACC play.
Peter G. Aiken-USA TODAY Sports

The jury is still out on P.J. Hairston, who got himself in some legal trouble this week. (Read this Raleigh News & Observer report for the details). Getting caught with marijuana is not good. But Hairston wouldn't be the first athlete to get caught with some weed and not face a stiff penalty from his coach.
Now if the gun that was found turns out to be Hairston's, Roy Williams will be put in a tough spot.
With Hairston, the Heels have a shot at the ACC title. Without him, they're still a talented team, but no longer in the title conversation.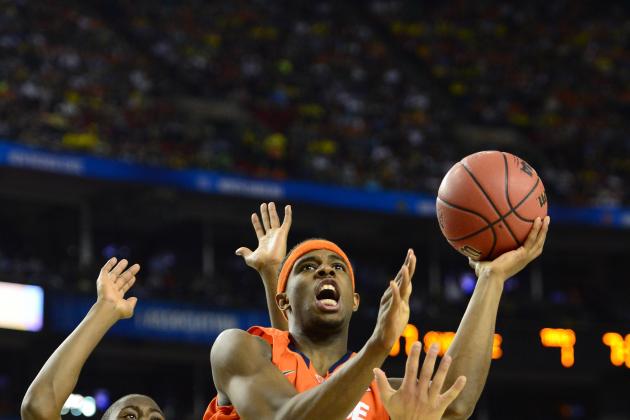 Bob Donnan-USA TODAY Sports

We know Jim Boeheim is going to have a talented roster. C.J. Fair and Syracuse's best big men return. Boeheim also signed a solid recruiting class. We know Syracuse is going to play a zone. Boeheim always plays a zone.
ACC teams know this too. Doesn't mean they'll be prepared.
Big East teams will tell you that zone is always going to be tough to go against, but almost the entire ACC seeing it for the first time will be a major advantage for Syracuse next season. Just ask the teams that the Orange knocked off in the first three rounds on the way to the Final Four last year.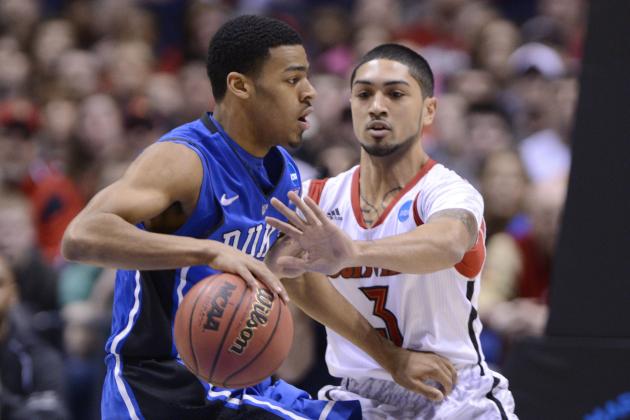 Jamie Rhodes-USA TODAY Sports

The only real question mark for Duke next season is a low-post threat. The Blue Devils have so many perimeter players that Coach K doesn't have any reason to worry about production from outside guys.
Duke has two of the best wings in the league in freshman Jabari Parker and transfer Rodney Hood. Sharpshooter Andre Dawkins is back after sitting out last season. Rasheed Sulaimon and Quinn Cook return. Coach K will be able to bring Dawkins, Tyler Thornton and then incoming freshmen Matt Jones and Semi Ojeleye off the bench.
Most coaches would sacrifice a big man or two for those kind of options on the perimeter. Mason Plumlee and Ryan Kelly will be missed, but it's not like there are a lot of teams in the ACC with dominant scoring big men. Coach K will figure out a way to compensate and all those guards and wings will be enough to win the ACC.