Predicting the 10 Most Painful Teams to Watch for 2013-14 NCAA Basketball Season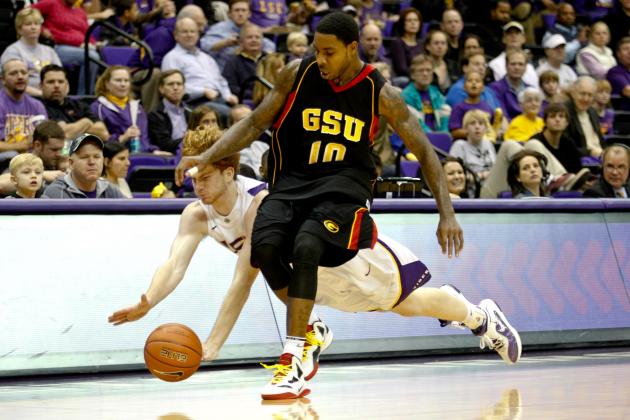 Derick E. Hingle-USA TODAY Sports

With months to go before the actual season tips off, most college basketball crystal ball predictions are focused on the best teams in the nation and how new recruits will blend in with their respective rosters.
But for every national championship-caliber squad, there are plenty of teams that are just plain bad. These are groups (for the most part) that will in all likelihood win single-digit games and may even struggle to get to five victories.
Read on to see the 10 most painful teams to watch for the 2013-14 college hoops season.
Begin Slideshow

»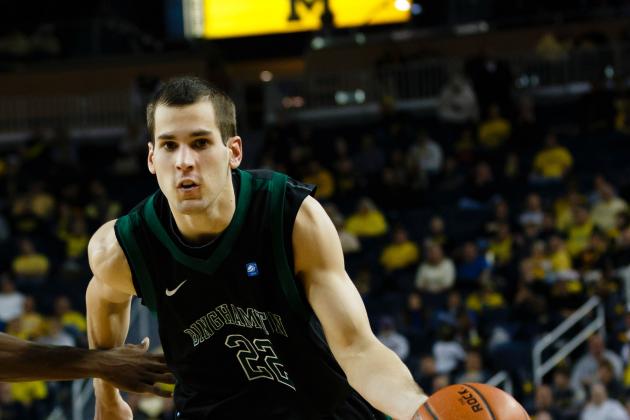 USA TODAY Sports

The Maine Black Bears were the only team that Binghamton managed to beat in an entire season of America East basketball last year. The Bearcats weren't exactly lining up against a schedule of Dukes and Indianas, but they still only managed that single conference victory by a single point.
Binghamton was painful to watch because it was allergic to putting the ball in the basket. It ranked 341st in the country in points per game, 347th in assists per night and 341st in field-goal percentage. If boring was a quantifiable stat, the Bearcats would have ranked in the 340s there too.
In the one game Binghamton played against an opponent of note, it managed to score 39 points in defeat against Michigan. Sure, nobody would expect the Bearcats to even keep that game competitive, but even IUPUI managed to crack the 50-point plateau against the Wolverines.
The good news for the Bearcats is that the leading scorer from a year ago was only a freshman. He may have only hit 39 percent of his shots, but Jordan Reed should improve every year he is on campus.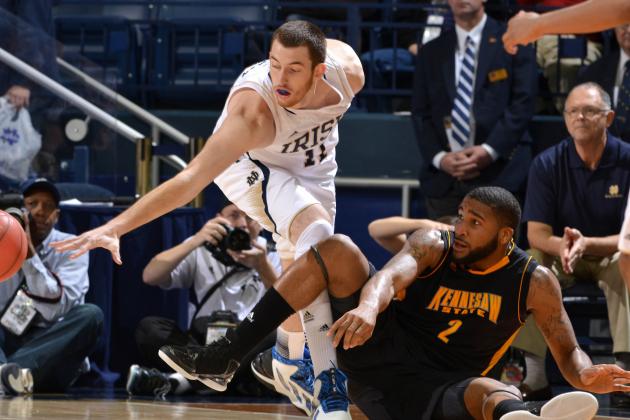 USA TODAY Sports

Kennesaw State opened up the 2012-13 campaign with a trip to Tennessee as the Volunteers' first sacrificial lamb of the year. However, the Owls kept it close and only managed to lose by nine points.
There was reason for optimism for this Atlantic Sun team if it could stay within single digits on the road against a SEC squad. And then the rest of the season started.
Kennesaw State finished an abysmal 3-27 on the year and only managed to achieve one of those victories against powerhouse South Carolina State in overtime. One bright note was the fact that the Owls kept one of their regular-season games against Florida Gulf Coast closer than Georgetown and San Diego State were able to in the NCAA tournament.
If the Owls plan on being less painful to watch in 2013-14, they should plan on improving in at least one area of the game. They ranked among the worst in the country in scoring, shooting and rebounding. Not exactly a formula for exciting basketball.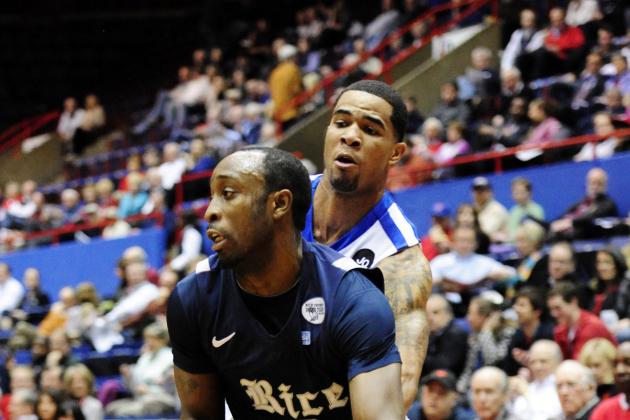 Shanna Lockwood-USA TODAY Sports

If you start to notice a pattern with these slides, it is because basketball teams that lose almost every single time they take the floor by hardly scoring any points are painful to watch. Rice fits under that category as well.
The Owls were 312th in the country in points per game and 322nd in field-goal percentage in 2012-13 and probably won't be much better this season. Their leading scorer, Tamir Jackson, was a senior last year, which means a squad that already couldn't put the ball in the basket will be missing the player that was best at doing just that.
Rice lost its final 11 games last year en route to a 5-26 overall record and 1-15 finish in the Conference USA. For those wondering why Memphis will be so much better off in the American Athletic Conference than the C-USA, it is because of teams like Rice.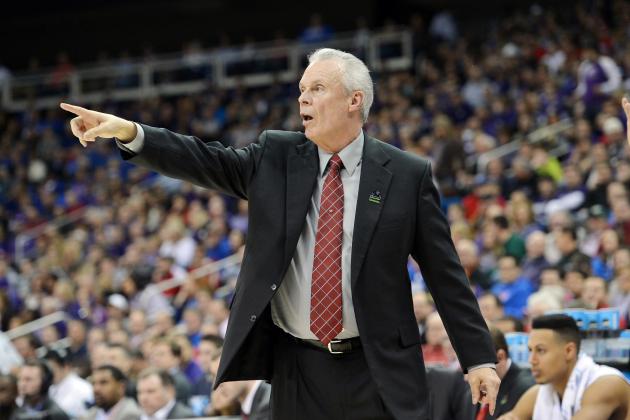 Peter G. Aiken-USA TODAY Sports

Wisconsin is clearly more talented than the rest of the teams on this list, and there is definitely an element of tongue in cheek with this slide.
That being said, unless you are a fan or enjoy watching paint dry in 35-second increments, the Badgers are painful to watch. Bo Ryan is one of the best coaches in the country and does more with less talent than just about anyone else, but the grind-it-out style he instills in his squads is not aesthetically pleasing to the casual fan.
Last season Wisconsin finished 206th in the country in points per game and 211th in field-goal percentage. The lack of scoring is a result of its slow style of play, but the fact that the Badgers only shot 42.6 percent meant that when their fans were treated to an actual shot instead of mind-numbing dribbling in the half court, it was more than likely going to clank off the iron.
Wisconsin will be good once again in 2013-14 because it always is, but that doesn't mean Ryan's squad will be appointment viewing for anyone who actually enjoys things such as fast breaks, scoring or more than two shot attempts per minute.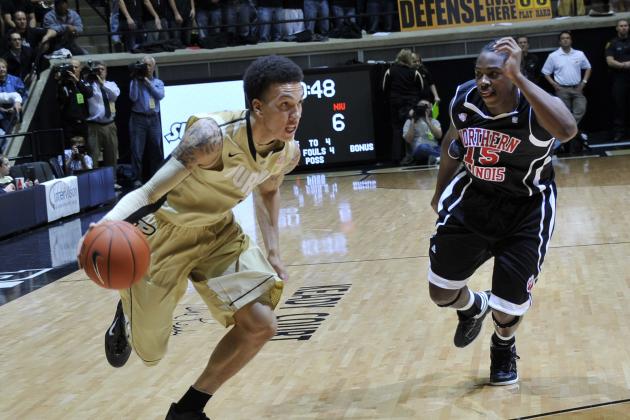 Sandra Dukes-USA TODAY Sports

Northern Illinois scored a whopping 25 points last season in its trip to Eastern Michigan.
That is all.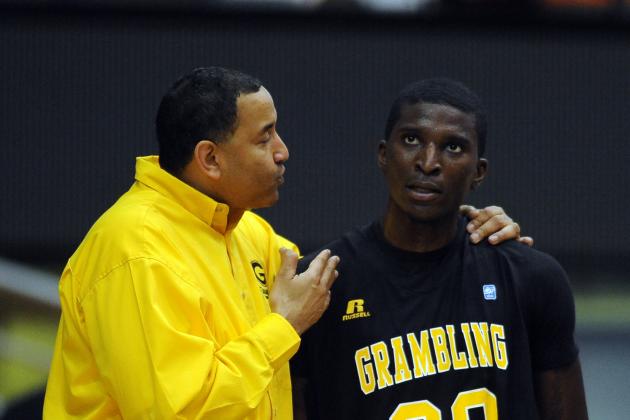 Steve Dykes-USA Today Sports

To call Grambling State's 2012-13 season a bad year would be an insult to bad years everywhere.
The Tigers finished an (im)perfect 0-28 and came within single digits of their opponents exactly one time all season. If you are looking for a silver lining, that sole single-digit defeat was in the conference tournament against Alabama A&M—a team they lost to by a combined 52 points in the previous two matchups—so perhaps there was some gradual improvement.
The Tigers were also the only team in the nation to score fewer than 50 points a night.
Grambling State does have one recruit coming in for the 2013-14 campaign. Justin Dobbs, who averaged 19 points per game, led his high-school squad to a City League championship and is a talented player, but it would take Michael Jordan in his prime to turn the Tigers around in one year.
There is only one college basketball team heading into the new season with the reality that coming within single digits of its opponent in one regular-season game would be an improvement from the year before. That one team is Grambling State.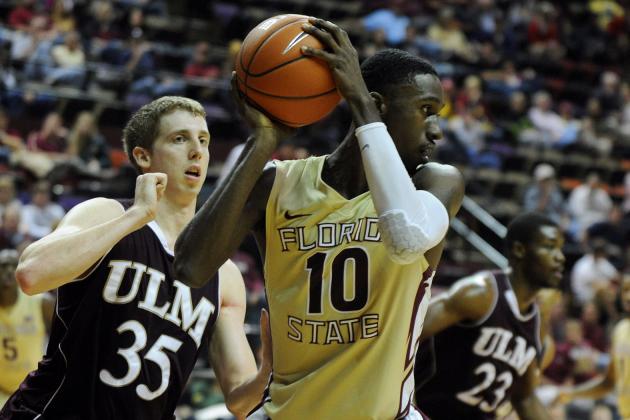 USA TODAY Sports

To say Louisiana-Monroe went through a rough stretch to end last season would be a massive understatement.
The Warhawks dropped 15 of their final 16 contests because they couldn't score or rebound, which are just minor details on the basketball floor. In fact, they finished 323rd in scoring and 333rd in total rebounding in the nation and frankly got worse as the season went on.
Louisiana-Monroe may improve on its 4-23 record from a year ago, especially since its leading two scorers return, but that doesn't mean it won't be a particularly painful squad to watch. The worst team in the Sun Belt usually is difficult to get excited about.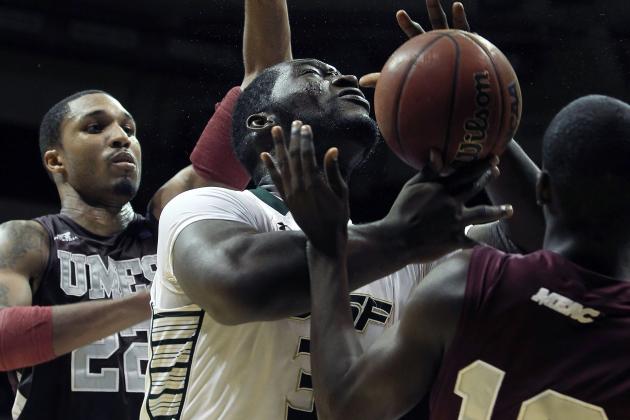 Kim Klement-USA TODAY Sports

Apparently there is a college basketball program called Maryland-Eastern Shore. Who would have known?
All joking aside, the worst team in the Mid-Eastern Athletic Conference was rough to watch in 2012-13 and probably will be again next season. The Hawks finished 2-26, and one of those wins came in double overtime against the powerhouse that is Coppin State.
They were 344th in the country in points per game and 347th in the nation in field-goal percentage. They also finished an abysmal 342nd in assists per game because anytime someone made a good pass, his teammate bricked the subsequent shot.
There were seven games last year in which Maryland-Eastern Shore failed to score 50 points. Another season with that type of offensive production will have fans turning the channel quickly in 2013-14.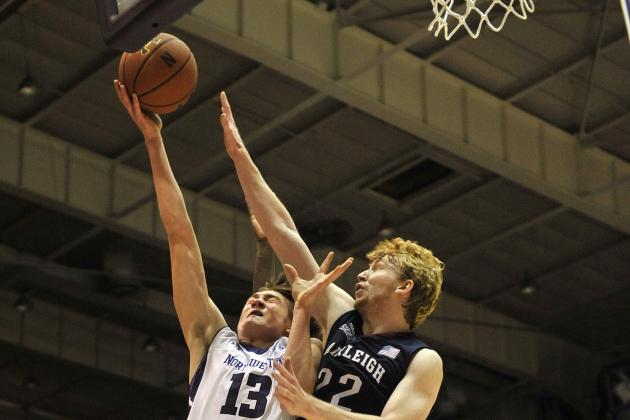 David Banks-USA TODAY Sports

Fairleigh Dickinson started off the 2012-13 campaign by scoring 75 points on a road trip to Xavier. Not bad, right?
Well it is when you give up 117 to a Musketeers squad that was all right at best last year.
The season didn't go much smoother the rest of the way. The Knights finished 7-24 overall and 2-16 in the mighty Northeast Conference largely due to the fact that they couldn't grab a rebound if their lives depended on it and they struggled to come up with stops.
Fairleigh Dickinson gave up at least 80 points 14 times during the campaign. Nevertheless, poor defense doesn't necessarily mean a painful viewing experience because there are points being scored, but the Knights didn't really do that either.
They finished 219th in scoring last year and lose their top two scorers heading into 2013-14. That means this terrible defensive team that couldn't really score either will be even worse on the offensive side. That is a recipe for painful basketball.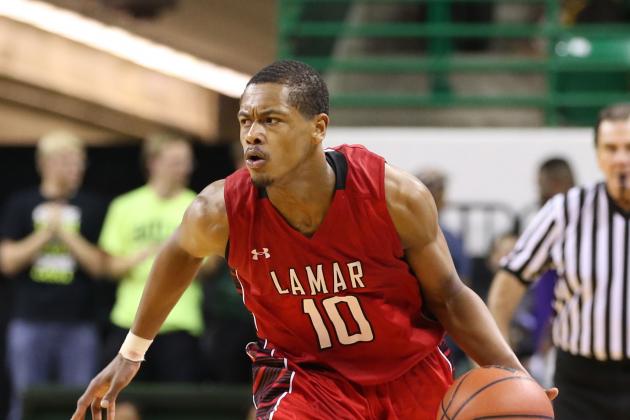 Jim Cowsert-USA TODAY Sports

It almost takes a special type of ability to finish 1-17 in a Southland Conference that saw a 13-18 Southeastern Louisiana squad finish fourth in the entire league.
Alas, Lamar found a way to do just that in a season that saw the Cardinals win a grand total of three games overall. It truly got ugly in a late-November/early-December stretch when they scored 47 points at Alabama and 39 points at Purdue. Even though the competition got a bit easier in conference play, Lamar's style of play was nearly as ugly.
The Cardinals finished 322nd in the country in points per game last year and lose leading scorer Stan Brown going forward. Brown was also the leading rebounder on the team, so things are probably going to get worse before they get better.
Follow college basketball writer Scott Polacek on Twitter @ScottPolacek