Ranking the 10 Greatest Recruiting Coaches in NCAA Basketball History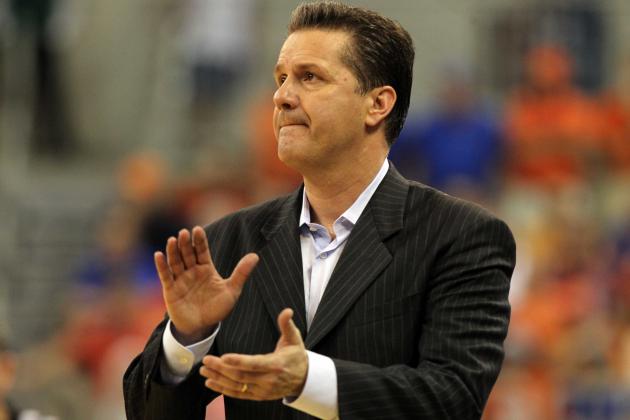 Kim Klement-USA TODAY Sports

Great NCAA basketball coaches have always made their on-court jobs a lot easier by landing the best recruits. The ability to convince top high-schoolers that their road to basketball success leads through your campus is a vital tool in any coach's repertoire.
The current master of that art is John Calipari, whose success at Kentucky has rested predominantly on a string of one-and-done freshman stars. This year's collection of six McDonald's All-Americans is just the latest notch in Calipari's belt when it comes to dominating the recruiting scene.
Herein, a closer look at Coach Cal and his place among history's 10 most effective coaches at bringing the best talent in the country to their collegiate rosters.
Begin Slideshow

»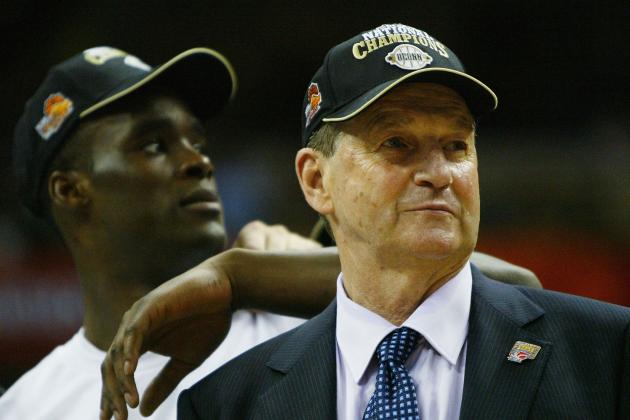 Doug Pensinger/Getty Images

When Jim Calhoun took over as UConn's head coach in 1986, the program had sent seven players to the NBA in 40 years, of whom exactly one (Toby Kimball) lasted more than two seasons.
Despite that grim history, Calhoun managed to lure top-notch recruits to build up a once-unremarkable program in rural Connecticut.
In Calhoun's 26 years at the Huskies' helm, he brought in 27 future pros, including surefire future Hall of Famer Ray Allen and three-time NBA All-Star Rip Hamilton.
That infusion of talent also helped UConn win three national titles with elite talents such as Emeka Okafor and Kemba Walker leading the way.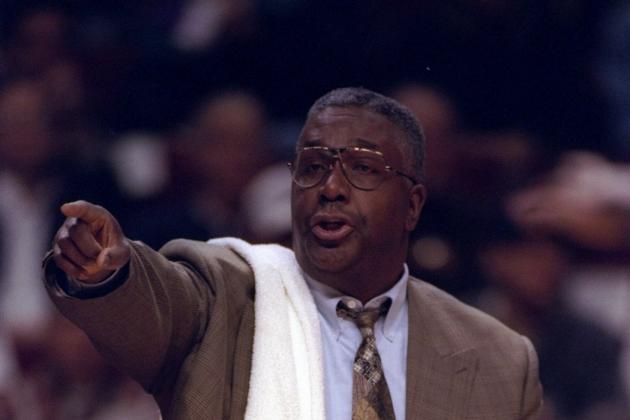 Jonathan Daniel/Getty Images

Size is arguably the most precious commodity to a basketball coach, and no coach could attract top-tier big men like John Thompson.
The man who built the Georgetown program into a national power made his name by winning the epic recruiting battle for Patrick Ewing and never looked back.
In addition to Ewing and his decorated low-post successors (Alonzo Mourning, Dikembe Mutombo), Thompson also snagged one of the most talked-about guards of his generation in Allen Iverson.
Not coincidentally, Thompson's most talented roster was also his most successful, as the 1984 national champs saw Ewing supported by three other future pros—Reggie Williams, David Wingate and Michael Jackson—recruited from nearby Maryland and Virginia.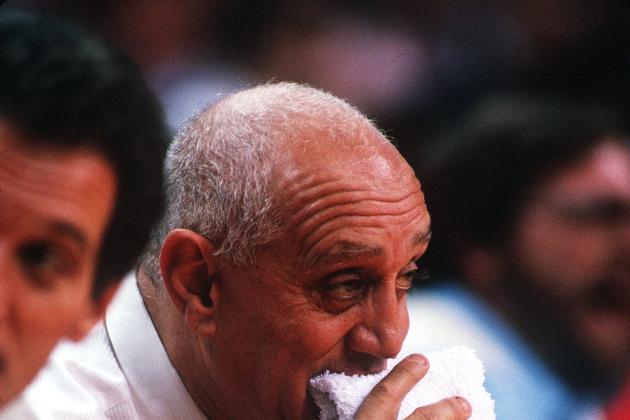 Tim DeFrisco/Getty Images

Jerry Tarkanian put together the 1989-91 UNLV teams—featuring Larry Johnson, Stacey Augmon and Greg Anthony—that are routinely mentioned as two of the greatest college rosters ever assembled.
Even more remarkably, that group wasn't the Shark's only major coup when it came to recruiting.
Tarkanian started his career at Long Beach State, a little-known program that he built into a mid-major power, not least by bringing in two-time All-American Ed Ratleff.
Meanwhile, his UNLV career prior to the 1990 national champs included recruiting such notables as Mark Wade (the Division I record holder for assists in a season) and longtime NBA PF Armon Gilliam.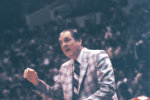 Image from uhcougars.com
A pioneer in recruiting black players in the South, Guy Lewis turned Houston into a major national contender by bringing in Elvin Hayes and Don Chaney in the 1960s.
Only Lew Alcindor and UCLA kept those Cougars from winning two national titles, and Lewis was far from done.
Nearly three decades into his career, Lewis assembled the legendary Phi Slamma Jamma teams at Houston. He recruited Hall of Famers Clyde Drexler and Akeem Olajuwon to lead that group, along with terrific supporting players such as Michael Young.
Even in the relative downturn between his first and second Final Four squads, Lewis managed to bring in super-scorer Otis Birdsong, a four-time NBA All-Star.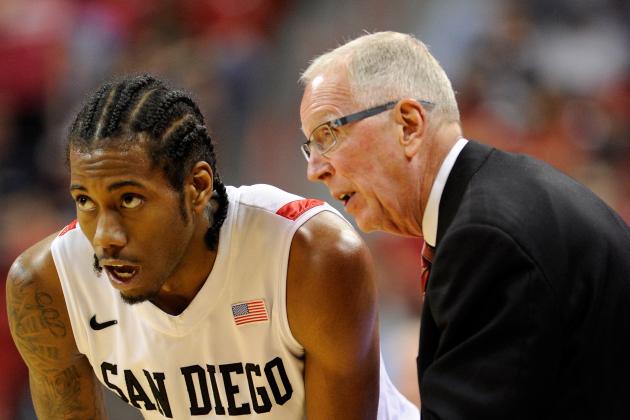 Ethan Miller/Getty Images

No list of recruiting triumphs would be complete without Michigan's Fab Five, the superstar collection of freshmen Steve Fisher brought to Michigan.
Chris Webber and his cohorts changed the recruiting landscape forever by proving that one freshman class could turn a program around as soon as it arrived on campus.
The rest of Fisher's Michigan career was far less successful, though he did land future NBAers Maurice Taylor and Robert Traylor.
However, his more impressive achievement was his career rebirth at San Diego State, where he's turned a perennial bottom-feeder into a national contender by recruiting the likes of Marcus Slaughter, Kawhi Leonard and Jamaal Franklin.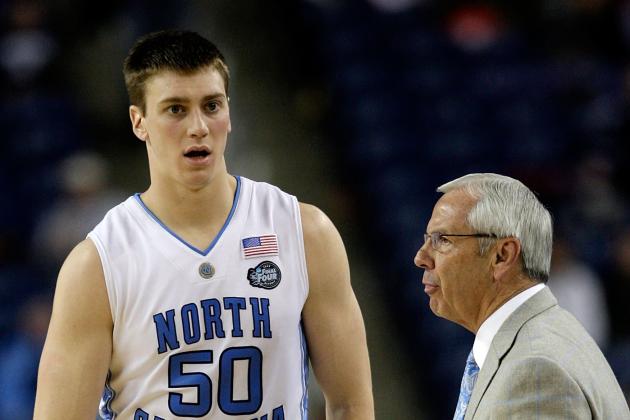 Andy Lyons/Getty Images

At Kansas, Roy Williams developed an unwelcome reputation for faltering in the postseason despite overwhelming talent on his rosters.
Of course, that also meant that he was recruiting overwhelming talent, a portfolio that included Paul Pierce, Raef LaFrentz, Kirk Hinrich and Nick Collison among many others.
Since his move to North Carolina, Williams has shed his NCAA tournament troubles but continued his staggering success on the recruiting trail.
Two years into his Tar Heel career, he brought record-breaking forward Tyler Hansbrough to Chapel Hill, and just one ago he saw four starters drafted in the top 17 picks of the NBA draft.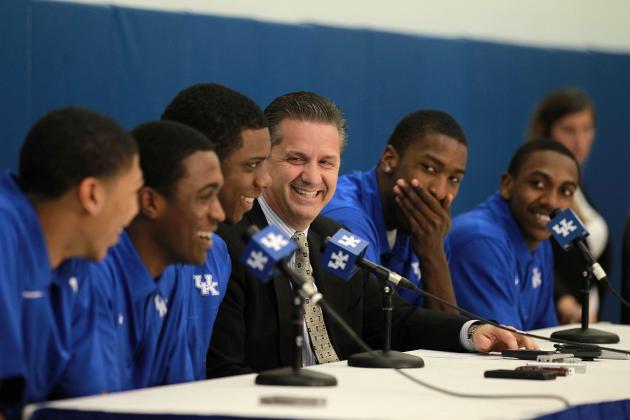 Andy Lyons/Getty Images

In 1993, John Calipari was a rising young coach who convinced superstar center Marcus Camby to play his college basketball at UMass.
That signing—and the Final Four berth to which Camby led the Minutemen—proved to be a sign of things to come as the coach moved on to Memphis and Kentucky.
In the last five NBA drafts, 15 Calipari recruits have been selected, including five who've gone in the first five picks.
The huge majority of those have been one-and-done freshmen, including the trio—Anthony Davis, Michael Kidd-Gilchrist and Marquis Teague—who started for his 2011-12 national champs.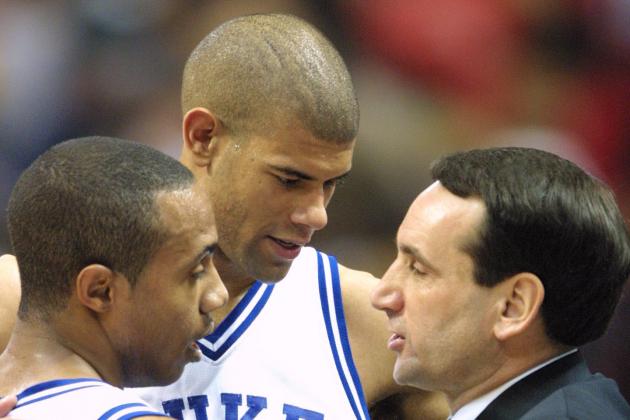 Brian Bahr/Getty Images

Duke's 2000-01 national title team—featuring Jay Williams, Shane Battier, Mike Dunleavy Jr. and Carlos Boozer—had one of the most star-studded rosters in college hoops history.
They also weren't even close to the best collection of talent Mike Krzyzewski has assembled in his time as Duke head coach.
Coach K's back-to-back national champs in 1991 and 1992 featured two of the greatest college players in history in Christian Laettner and Bobby Hurley, plus one of the NBA's all-time greats in Grant Hill.
In all, Krzyzewski's perennially loaded Blue Devils rosters have included 16 consensus All-Americans.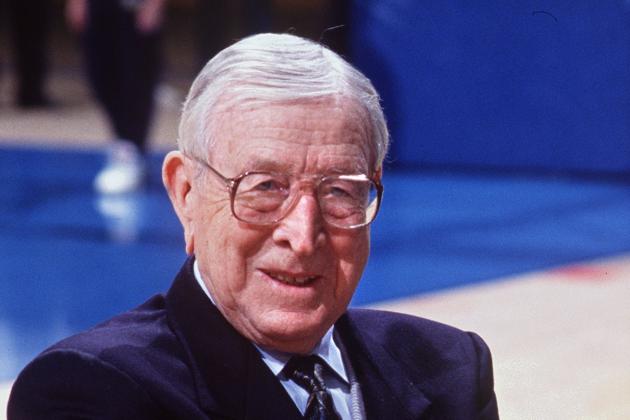 Ken Levine/Getty Images

There's never been a recruit more coveted than Lew Alcindor (the future Kareem Abdul-Jabbar), who merited a profile in Time magazine while he was still a high-schooler.
It came as no great surprise when John Wooden won the battle for Alcindor's services, because the UCLA coach had already established himself as the greatest recruiter of his generation.
In addition to Alcindor, Wooden gave UCLA three more future Hall of Famers: Bill Walton (one of the greatest college players ever), Keith (later Jamaal) Wilkes and Gail Goodrich.
Over his 27 seasons with the Bruins, the Wizard of Westwood totaled 11 recruits who appeared in NBA All-Star games and a dozen who earned consensus All-America recognition.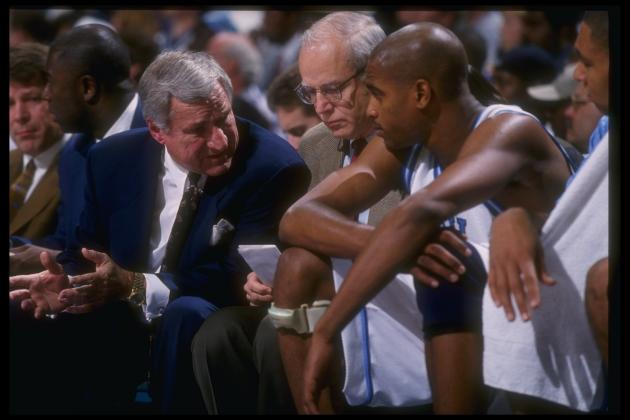 Craig Jones/Getty Images

Dean Smith's first recruiting class at North Carolina included Hall of Fame forward Billy Cunningham. Amazingly, Smith actually managed to improve on that start to his career.
From Cunningham to Bob McAdoo to Michael Jordan to Vince Carter, the UNC icon brought an incomparable parade of stars to Chapel Hill.
Although he never had a player whose college career was the equal of Lew Alcindor's or Bill Walton's at UCLA, Smith earns the top spot here for the depth of his recruiting classes.
In addition to his extraordinary ability to land future pros (including a dozen All-Stars), he saw an astounding 18 Tar Heels earn consensus All-America honors in his career.