The college basketball world continues to wait on Andrew Wiggins and his decision for his next season. Where he signs will have major implications across the college basketball landscape.
The consensus top-ranked prospect (all rankings via 247Sports), has narrowed his choices down to Kentucky, Kansas, North Carolina and Florida State. The 6'7" small forward will be worth the wait for whichever program lands the highly coveted prospect.
While Wiggins' decision will shape the college basketball season for 2013-14, he's likely headed to the NBA after his freshman year. With a highlight tape like this, there's little debating that.
Kentucky has been considered one of the more likely destinations for Wiggins. Doing so would form somewhat of an All-Star team for the Wildcats.
Even if they don't land Wiggins, Kentucky will bring a ridiculous recruiting class to Lexington. The Wildcats have already secured the top-ranked players at point guard, shooting guard, power forward and center. Add Wiggins to the mix and the Wildcats would have the top recruit at every single position.
If Wiggins ends up at Kentucky, they are the definite favorite throughout the season. The new influx of young talent puts them right back among college basketball's elite; Wiggins at small forward just puts them over the top and makes them almost unbeatable.
Should Wiggins decide on Kansas as his school of choice, their recruiting class will be close to Kentucky's. The Jayhawks currently have the third-ranked class led by 7'0" center Joel Embiid and shooting guard Wayne Selden. Given their talented roster, Kansas would be a team to watch with Wiggins at small forward.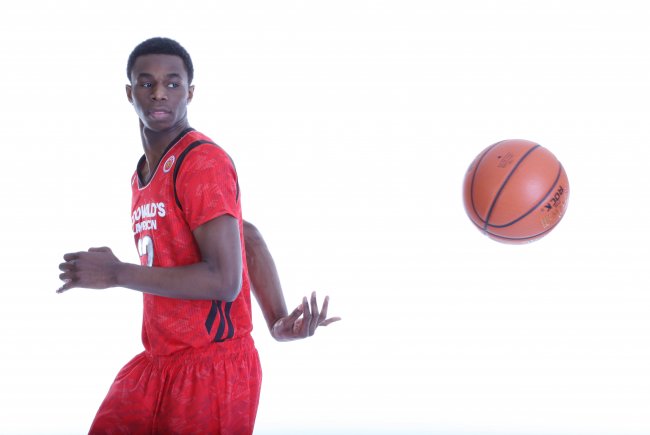 Brian Spurlock-USA TODAY Sports
While those two teams would be considered amongst the favorites in college basketball with Wiggins at their school, North Carolina and Florida State would also improve dramatically and even out the college basketball landscape.
The Tar Heels are coming off a tremendously disappointing season and need a big freshman haul to get them back to the ranks of the elite. Having signed power forward Isaiah Hicks, point guard Nate Britt Jr. and center Kennedy Meeks, North Carolina has the ninth-ranked recruiting class.
Adding Wiggins to form a trio of P.J. Hairston and James McAdoo would make the Tar Heels ultra competitive. Without him, they are in trouble of having another average year.
Where will Wiggins play next season?
Florida State is the wild card here as they have the most to gain and the most to lose when it comes to Wiggins. With the 34th-ranked class, they are in trouble of not having much improvement from last season, when they went 18-16 and struggled in the ACC.
At Florida State, Wiggins would be the ultimate star. On a less talented roster, he would get more attention, both from the media and from opposing defenses. If Wiggins wants to be the singular, big-dog on campus, FSU could be the best option.
Wherever he decides to play his college basketball, Wiggins will be a major story line throughout the 2013-14 season. As soon as he makes his final decision, the picture of the college basketball season will come into focus.