Ranking the 20 Most Offensively Gifted 2013 College Basketball Recruits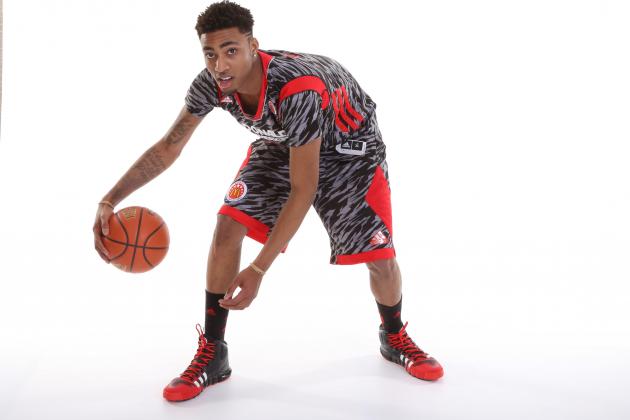 Brian Spurlock-USA TODAY Sports

After consecutive recruiting classes topped by defensive specialists Anthony Davis and Nerlens Noel, it's finally time for offensive players to get their due in the college hoops class of 2013. This year's pool of incoming freshmen features scorers by the bushel, whether they're big men powering the ball in from the low block or guards scorching the nets from beyond the arc.
One player who can do a little of both is Kentucky-bound James Young. The athletic small forward has a well-developed catch-and-shoot game but is also very much at home challenging shot-blockers in the paint.
Read on for more on Young and the rest of the best offensive weapons who will be entering the college ranks next fall.
Begin Slideshow

»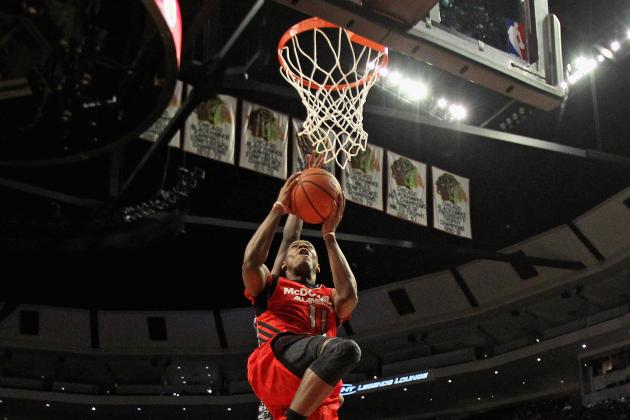 Jonathan Daniel/Getty Images

For pure ball-handling skill, Demetrius Jackson can stand up to any recruit in this class. The 6'1" PG keeps defenders on a string, and his ability to set up the pull-up jumper lets him get the most out of an accurate but limited-range shot.
Jackson's drive-and-kick game is up with the best of them, and his decision-making is outstanding as well. He's a respectable finisher when he gets into the paint, though nothing special compared to some guards in the class.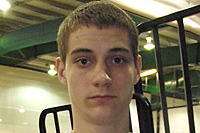 Image from Rivals.com
The traditional back-to-the-basket post scorer is a dwindling breed in today's high-speed college game, but it's not dead yet.
Austin Nichols will need some added muscle to help get post position at the Division I level, but when he gets the ball on the block he's a devastating weapon.
The 6'8" Nichols has a solid collection of post moves and the long arms to use them to full effect. He can face up near the basket (though his shooting range is iffy at this stage), and he's also an outstanding passer out of the post.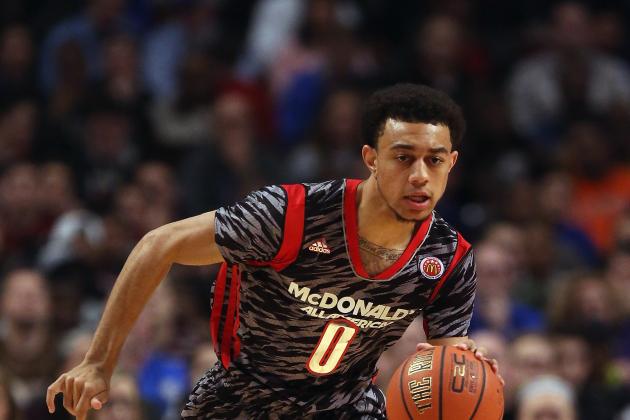 Jonathan Daniel/Getty Images

A classic pass-first distributor at point guard, Nigel Williams-Goss dominates by creating shots for his teammates. He put on a terrific display of those skills at the McDonald's All-American Game, racking up a game-high six assists on the night.
Williams-Goss isn't yet as much of a threat to look for his own shot, though his 6'3" frame helps him finish in the paint. If he develops a serious jump shot, he'll be a frightening weapon at the PG spot.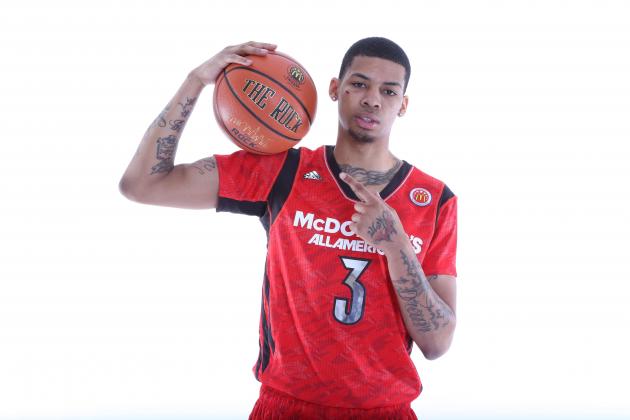 Brian Spurlock-USA TODAY Sports

Keith Frazier is one of the few members of the 2013 class who distinguishes himself with his jump shot above all. He's a serious three-point threat any time he has the ball, and at 6'5", he can get those shots off with regularity.
That's not to say, however, that Frazier can't also get the job done going to the rim. He's a terrific scorer off the dribble, even if he's not a world-class ball-handler (or passer) just yet.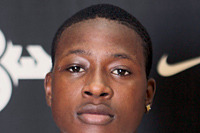 Image from Rivals.com
Originally part of the 2012 class, Terry Rozier took a prep year to get his academics in order and made some major on-court strides in the bargain. The combo guard is a shooter first, with the ability to pull up for a trey or break down his defender off the dribble.
Rozier is an exceptional transition scorer because of his speed, a trait he'll have ample opportunity to display in Louisville's offense (especially if Russ Smith opts to leave for the NBA).
He's a solid passer as well, though at this point in his development his distributor skills are secondary to putting the ball in the basket.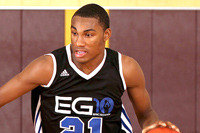 Image from Rivals.com
A pure scorer with a finely honed jumper, Zak Irvin could scarcely be a better fit at Michigan.
He's cut from very much the same mold as returning Wolverines standout Glenn Robinson III, though his jumper might be better compared to that of teammate Nik Stauskas.
Because of Irvin's size (6'6", 185 lbs), he's also dangerous when he gets into the paint. He'll need some more muscle to pull that off in the Big Ten, but his jump shot will give him plenty of scoring opportunities until his body fills out.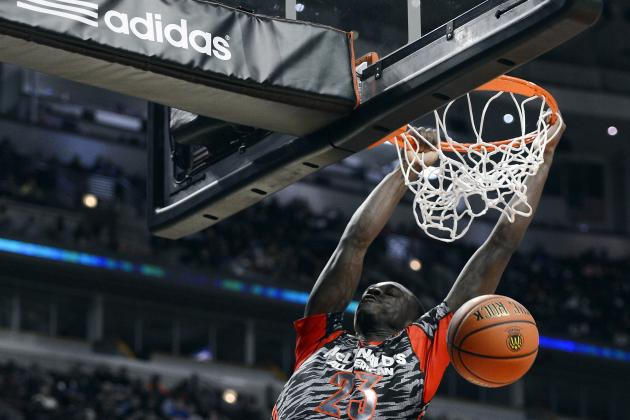 Mike DiNovo-USA TODAY Sports

He's not in the same league as big men such as Aaron Gordon or Chris Walker, but Jabari Bird is as impressive a finisher as any perimeter player in the recruiting class.
The 6'6" SG has the ball-handling skill to get into the paint and the explosion to hammer down eye-opening dunks once he's there.
On top of that, Bird is a terrific jump shooter with legitimate three-point range. His shot selection isn't always ideal, but he makes up for a multitude of sins with the shooting touch to drain the difficult baskets.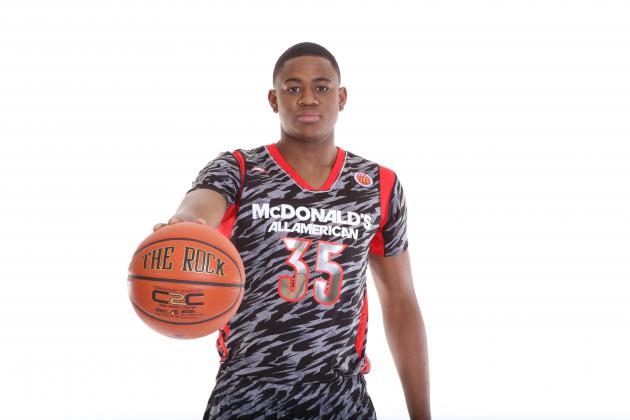 Brian Spurlock-USA TODAY Sports

The Chris Bosh-style face-up 4 man is an increasingly popular archetype among college bigs, and Jarrell Martin is one of the most impressive examples.
He has the size and strength to attack inside at 6'8", 215 lbs, but he's also got a mid-range jump shot that many guards would envy.
Martin's agility lets him attack post players off the dribble, though he's not an elite ball-handler by any stretch.
He does, however, have a knack for getting to the foul line, an often overlooked skill that could really boost his scoring totals as an SEC freshman.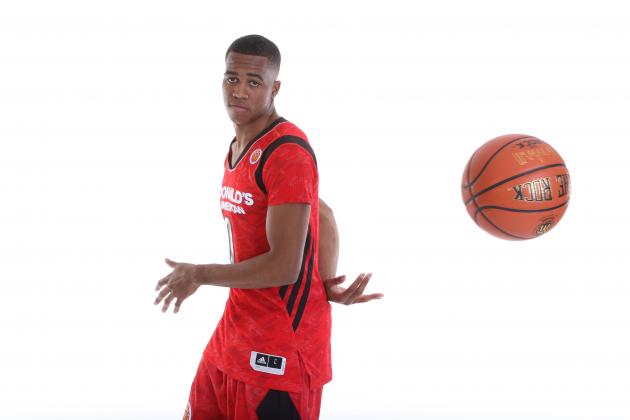 Brian Spurlock-USA TODAY Sports

Kasey Hill isn't likely to put up a lot of gaudy point totals at Florida, but he'll be an offensive force all the same. The 6'0" point guard is a devastating penetrator who can force opposing defenses off balance virtually at will.
Hill is an outstanding passer, especially on drive-and-kick looks, and should rack up bales of assists as a Gator. He's also lightning-fast, an asset that will serve him well in Billy Donovan's transition-heavy system.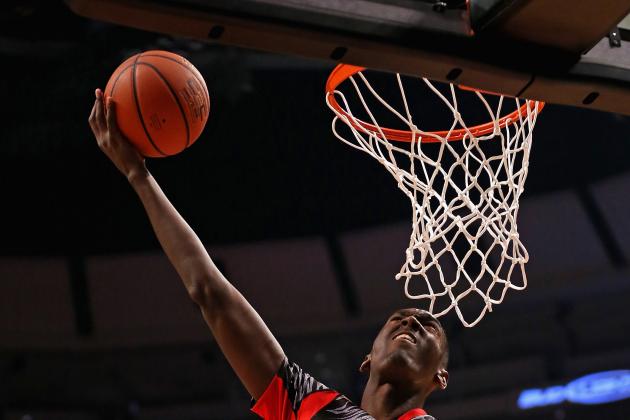 Jonathan Daniel/Getty Images

Arkansas coach Mike Anderson's up-tempo offense demands an enormous amount of mobility and finesse from his big men.
Fortunately for Anderson, he's found a freshman in Bobby Portis who not only brings those qualifications, but can also nail the jump hook.
The 6'9" Portis has the shooting range you expect from one of Anderson's power forwards, but he's also a real threat to score with his back to the basket.
The fact that Portis is an especially aggressive shooter may also work to Arkansas' advantage, considering that B.J. Young's departure leaves a lot of scoring to replace in Fayetteville.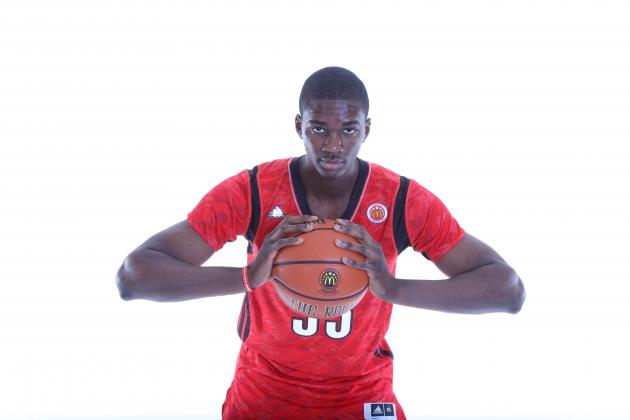 Brian Spurlock-USA TODAY Sports

Even in a class stacked with scoring power forwards, Noah Vonleh stands out. His power game already places him among the best of this year's freshmen, thanks to a highly developed 6'8", 220-lb frame.
On top of that, Vonleh is an outstanding face-up scorer with a solid mid-range jump shot. He's also more adept at breaking down defenders off the dribble than any 4-man in the class.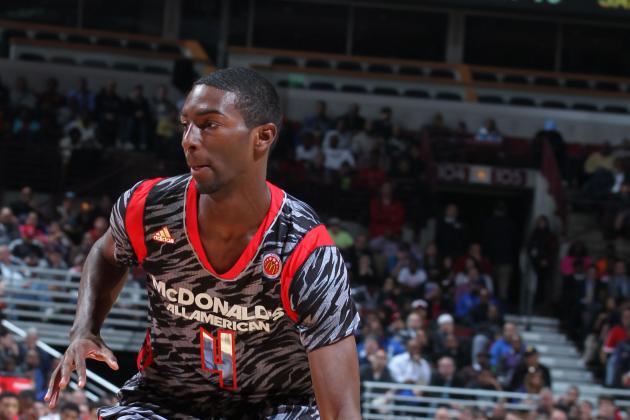 Brian Spurlock-USA TODAY Sports

When Isaac Hamilton gets hot from the outside, there isn't a player in the 2013 class who can match him for scoring. The 6'5" SG has all the shots in his arsenal, from spotting up for a trey to weaving through traffic to power up a runner in the paint.
If he develops a bit more consistency, he'll be well on his way to joining older brother Jordan in the NBA. The younger Hamilton is also an extraordinary passer for a 2-guard, just for good measure.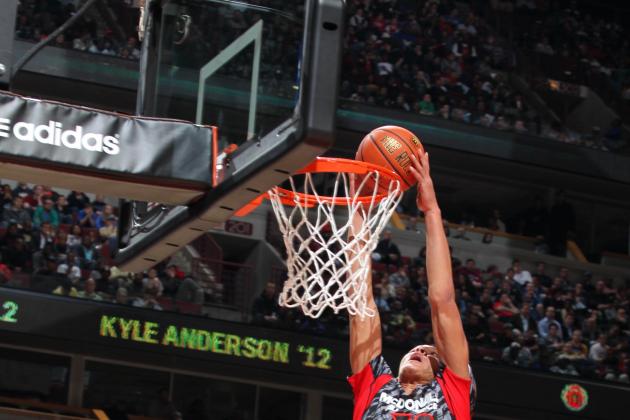 Brian Spurlock-USA TODAY Sports

Sometimes, the key to success isn't so much about having many gifts as about having the right one and knowing how to use it.
Aaron Gordon won the MVP award at the McDonald's All-American Game by hammering home nine slam dunks, and that skill alone will make him a fearsome offensive player next year.
The 6'8", 215-lb Gordon will get his share of jams in the half court as well as in transition.
His jump shot (though not his best weapon) is serviceable, and he also has the dexterity to create some looks for himself in a crowded lane or drop off to teammates from the post.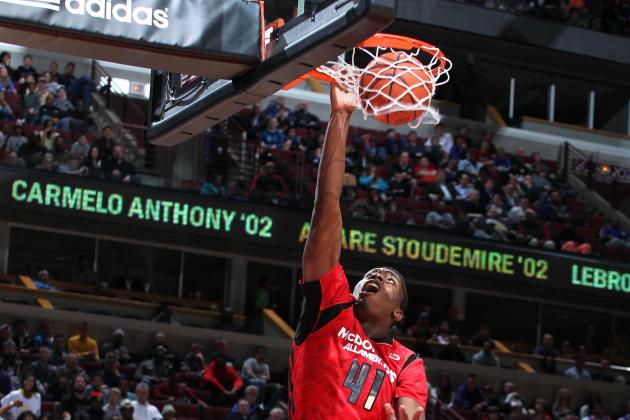 Brian Spurlock-USA TODAY Sports

Where many of his classmates will hope to earn playing time with athleticism until their skill sets develop, Dakari Johnson is on the opposite path.
The 6'10", 250-lb center isn't going to be leading too many fast breaks, but his polished inside game will still keep him on the floor (even for the deep Wildcats).
Johnson has strong hands and can score with either one from the low block, using an enviable variety of moves. His shooting range is very limited, but he's got a nice touch on his close-range attempts.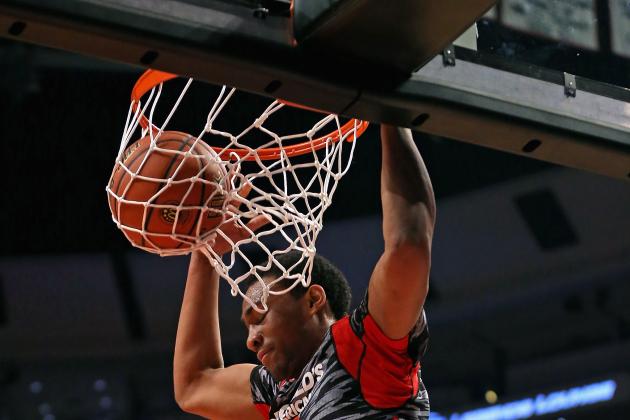 Jonathan Daniel/Getty Images

At 6'8", 220 lbs, SF Jabari Parker has the body to outperform many of his low-post classmates inside. He's also got the skills to go with those physical assets, boasting a versatile offensive toolkit that lets him score inside or out depending on how he's guarded.
Parker has a fine perimeter shot, but he does most of his damage in the lane, where he can power up a basket or pass off to an open teammate.
He's an exceptional ball-handler for a player his size and an exceptional decision-maker for someone who hasn't even stepped on a college court yet.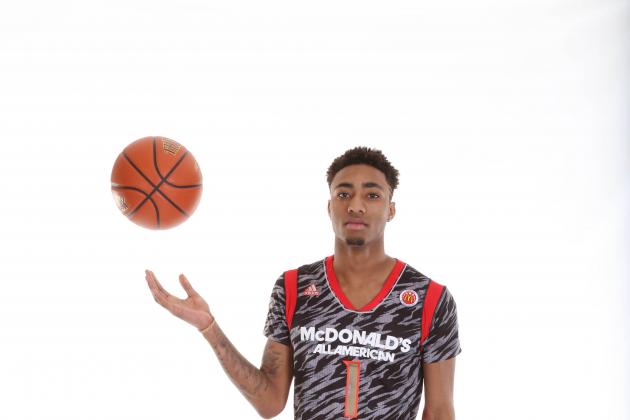 Brian Spurlock-USA TODAY Sports

As a pure scorer, James Young has all the tools. He can finish inside, draw a foul and make his free throws or knock down the jumper if the defense sags.
Young is one of the class' top three-point threats, and he sets up the deep shot with the quickness to beat his man off the dribble. At 6'6", he can overwhelm smaller defenders on the perimeter, and he's even a decent passer to boot.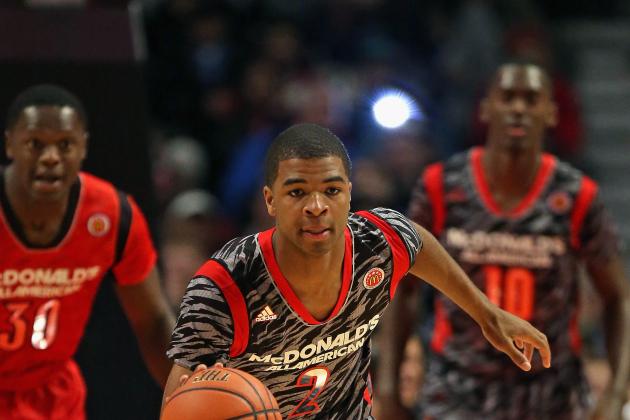 Jonathan Daniel/Getty Images

Aaron Harrison isn't quite as spectacular an offensive weapon as twin brother Andrew, but that doesn't mean that most teams wouldn't be thrilled to have him in their backcourt.
Aaron is the shooting guard of the duo, and his specialty is catch-and-shoot plays off Andrew's passes—frequently from three-point range.
Strong for a 2-guard at 6'5", 205 lbs, Harrison is a productive finisher in the paint. It doesn't hurt matters any that he shares much of his brother's ability to read a defense and find the open shooter in the not-infrequent event that he draws a double-team.
Jonathan Daniel/Getty Images

When Julius Randle gets the ball on the low block, he's the most reliable scorer in the class of 2013. The 6'9" PF is unstoppable down low thanks to a combination of back-to-the-basket and face-up moves that few freshmen-to-be can touch.
Randle's shooting range isn't anything special as of yet, but he rarely needs it to be. He complements his inside game with just enough ball-handling to attack the paint from the mid-range, getting to the rim or the foul line in the process.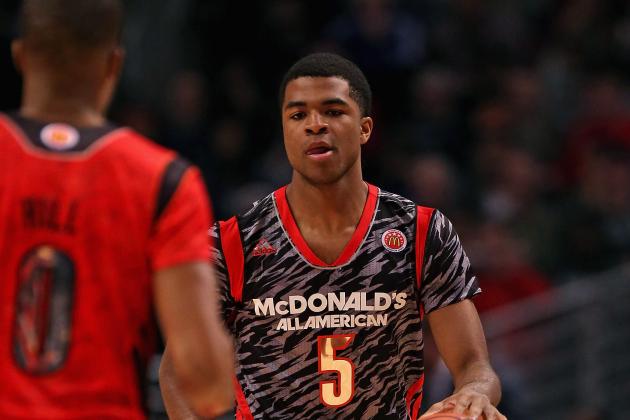 Jonathan Daniel/Getty Images

Hands down, Andrew Harrison is the best point guard in this year's freshman class. Big and athletic at 6'5", 210 lbs, he's a skilled ball-handler and a game-changing passer.
Harrison's shot isn't quite the equal of twin brother Aaron's, but he's got solid range for a lead guard. He has the speed to be lethal in transition (and, conveniently, the perimeter rebounding instincts to start plenty of fast breaks himself).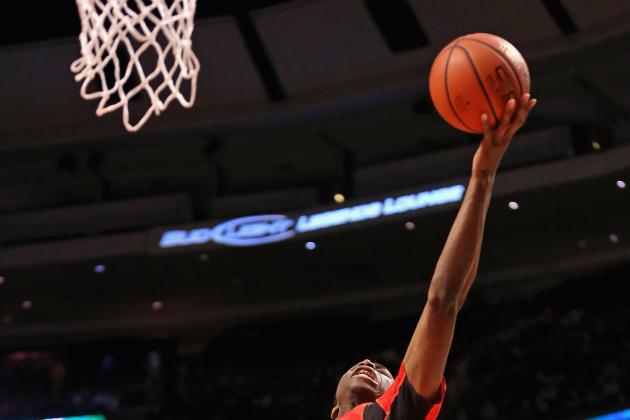 Jonathan Daniel/Getty Images

There's a reason Andrew Wiggins is the most coveted recruit in the class of 2013. There's basically nothing on a basketball court that Wiggins doesn't do at an elite level, and that includes his well-balanced offensive game.
Facing Jabari Parker (a top-flight defender) in the McDonald's All-American Game, Wiggins poured in a team-leading 19 points with an assortment of jump shots, drives and runners.
He's also a fine passer with the first-class instincts you'd expect from a player whose father (Mitchell) spent six seasons in the NBA.