College Basketball Recruiting: Ranking the Top 25 Classes for the 2013 Season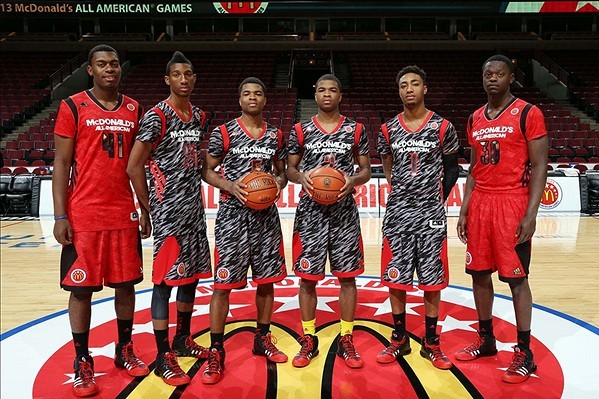 wildcatbluenation.com
The 2013 recruiting class is almost complete.
Strangely, the top player in the class, Andrew Wiggins, is the only elite level recruit who has not announced where he will be playing next season.
Here are the Top 25 recruiting classes for this year.
Individual recruit information comes from ESPN.com.
Begin Slideshow

»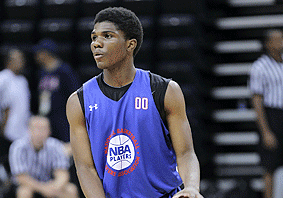 sportsillustrated.cnn.com
Stevie Clark: 5'10" (4 stars): PG
Detrick Mostella: 6'2" (4 stars): SG
Jeff Carroll: 6'6" (3 stars): SF
Leyton Hammonds: 6'8" (3 stars): SF
Gary Gaskins: 6'10" (JUCO): C
Clark may be the shortest player on the court, but he can put up points in bunches. Anything this side of half court is fair game.
Detrick's ESPN.com scouting report says it all:
Easily one of the quickest guards in the south. He's got elite speed dribbling the ball. Very confident player whose primary objective is to drive it down your throat. Always in attack mode.
OSU head coach Travis Ford tells what Gaskins can do:
Gary Gaskins is a player that we saw play this summer and loved his athleticism and his presence around the rim. He's a guy that might be the fastest guy on our court, but can also put his elbows above the rim. He's a really athletic shot blocker that can score around the rim. His best days are ahead of him.
This class adds more weapons to a team that should be favored to win the Big 12 in 2013-14.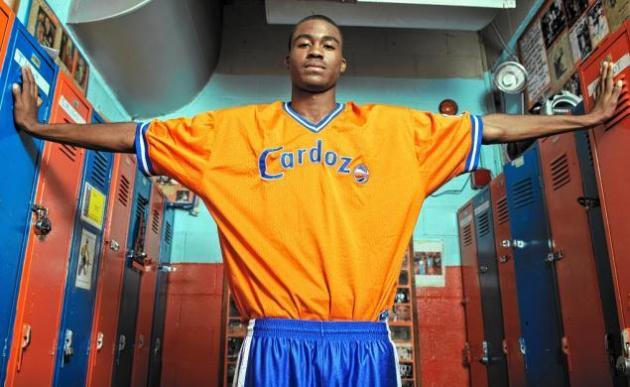 nydailynews.com
Jermaine Lawrence: 6'9" (4 stars): PF
Kevin Johnson: 6'1" (3 stars): PG
Troy Caupain: 6'3" (3 stars): SG
DeShaun Morman: 6'4" (3 stars) SF
Jamaree Strickland: 6'9" (2 stars) C
Watch out for Lawrence (pictured) to become the next Cincinnati star. He can get out on the break and throw down with authority. Johnson is a Russ Smith-type scoring combo guard, able to finish at the rim. Morman is relentless, constantly in assault mode.
The Bearcats restocked an entire lineup with their 2013 recruiting class, getting a player for every position. Give this group a little time, and they will be scary.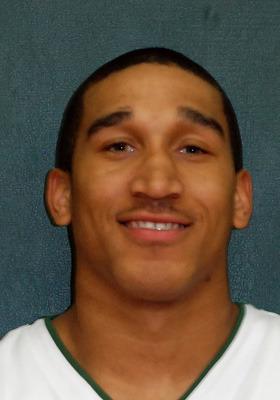 blog.bownce.com
Ishmail Wainwright: 6'6" (4 stars): SF
Dominic Woodson: 6'10" (4 stars): C
Johnathan Motley: 6'8" (3 stars): PF
Kenny Chery: 6'1" (JUCO): PG
Wainwright (pictured) has the ideal size to be an animal on the wing, but he has the skill set to play any of the perimeter positions. Rantsports.com's Dave Daniels declared, "The Wain-train is coming down the tracks and anyone in the way is about to get run over."
Woodson is a big with a capital B. His low-post skills will give Scott Drew yet another elite-level down low dude. More than just a monster in the middle, he will impress with his face up game.
Chery will have the chance to step in immediately to run the Bears attack.
Depending on whether or not Isaiah Austin and Cory Jefferson return to Waco will determine if this recruiting class creates exceptional depth or a talented beginning to a reloading of the Baylor hoops program.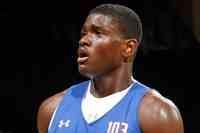 teamnigeriabasketball.com
John Egbunu: 6'10" (4 stars): C
Chris Perry: 6'8" (4 stars): PF
Byron Zeigler: 6'6" (3 stars): SF
Dre'Kalo Clayton: 6'6" (3 stars): PF
Josh Heath: 6'2" (2 stars): PG
Drew Davis: 6'0" (2 stars): PG
Egbunu (pictured) and Perry both have the tools to dominate on both ends of the court. If they learn to play off of each others' strengths, the Bulls will be tough to handle.
Zeigler will do damage on the break as he slashes and gashes to the rim.
After going 12-19 (3-15 in the Big East), South Florida needed a serious infusion of talent and size, and that's exactly what head coach Stan Heath delivered. They may not be ready in Year 1 to take on the world, but if this class develops, they could become one of the best teams in school history.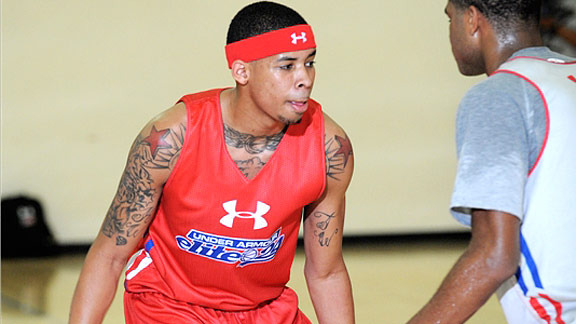 espn.go.com
Keith Frazier: 6'5" (4 stars): SG
Sterling Brown: 6'4" (3 stars): SG
Ben Moore: 6'7" (NR)
Yanick Moreira: 6'10" (JUCO): C
Signing McDonald's All-American Frazier (pictured) is a huge boost to the Larry Brown's rebuilding efforts in Dallas. Frazier is legitimately one of the best SG's in the country.
Brown is a hard-driving wing that loves to take it all the way to the rack.
College Basketball Talk's Raphielle Johnson reported that Moreira was a key contributor on this year's undefeated NJCAA national champions.
SMU not only has this talented group coming in but they also have three Division I transfers (Crandall Head, Markus Kennedy and Nic Moore) who will be eligible to play in 2013-14.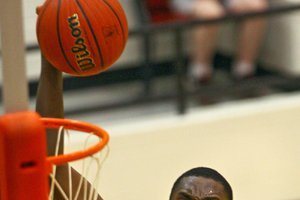 thesportseer.com
Bobby Portis: 6'9" (5 stars): PF
Moses Kingsley: 6'9" (4 stars): C
Portis thrilled Razorback fans everywhere when he decided to stay home and go to U of A. The McDonald's All-American is one of the rare power forwards in this year's class who is just as skilled on the perimeter as he is in the post.
Kingsley does most of his work close to the bucket, which doesn't mean that his game is limited. He simply knows where he's most strong and he can do the most damage.
The Hogs have gone five straight seasons without winning at least 20 games or making it to the NCAA tournament. If this dynamic duo gets it going early next season, Mike Anderson's squad could be ready to jump back into March Madness sooner than later.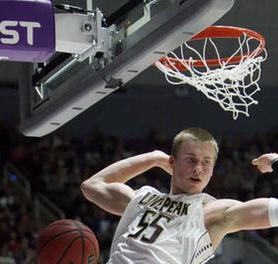 deseretnews.com
Eric Mika: 6'9" (4 stars): C
Nick Emery: 6'2" (4 stars): PG
Luke Worthington: 6'9" (3 stars): PF
Jakob Hartsock: 6'7" (3 stars): PF
Braiden Shaw: 6'8" (3 stars): PF
Mika, a rugged low-post animal, can dish it out and take it. He has an exceptional motor and knows how to use his more than sturdy frame to his advantage.
Emery is a hard-nosed backcourt competitor who does not back down from taking on anyone of any size in the paint.
Worthington, Hartsock and Shaw add length, physicality and athleticism.
If these young Cougs can step in and produce in Year 1, watch out for BYU to win the WCC and make a good run in the NCAA tournament.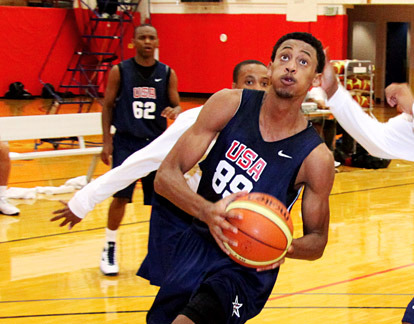 espn.go.com
Jonathan Williams III: 6'8" (4 stars): PF
Wes Clark: 6'0" (4 stars) PG
Torren Jones: 6'7" (3 stars) PF
Shane Rector: 6'1" (3 stars) PG
Keanu Post: 6'11" (JUCO) C
ESPN's scouting report on Williams says that he is "a rare combination of length and skill that reminds many of a young Lamar Odom. At 6'7 and left-handed, Williams possesses a tremendous handle and feel for the game. Like Odom, Williams could be considered a point forward that can initiate offense."
Don't be surprised if Clark, a Motor City marvel, comes in and takes control of the team from Day 1.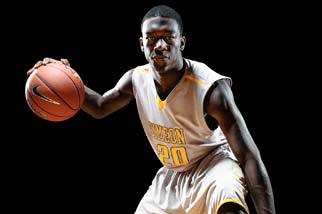 maxpreps.com
Kendrick Nunn: 6'2" (4 stars): SG
Malcolm Hill: 6'6" (4 stars): SG
Austin Colbert: 6'9" (4 stars): PF
Maverick Morgan: 6'10" (3 stars): C
Jaylon Tate: 6'1" (3 stars): PG
Nunn headlines a class that brings in an entire unit in one recruiting haul. He will step right in and be one of the better shooters in the Big Ten.
Hill and Colbert are long, lean scorers that will be counted on early.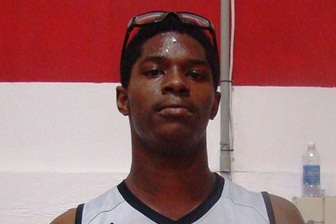 goldandbluezone.com
Devin Williams: 6'8" (4 stars): PF
Elijah Macon: 6'8" (4 stars): PF
Brandon Watkins: 6'9" (3 stars): C
Nathan Adrian: 6'7" (3 stars): PF
The Mountaineers needed length and bulk, and that's exactly what they reeled in through this recruiting class.
Williams does most of his damage from 12 feet in. He is more than capable of putting the ball on the floor and getting to the rim.
Adrian is a combo forward who can step out beyond the arc and knock down shots.
wsbt.com
Demetrius Jackson: 6'1" (5 stars): PG
V.J. Beachem: 6'6" (4 stars): SF
Steve Vasturia: 6'4" (3 stars): SG
Austin Torres: 6'6" (3 stars): PF
Jackson has the whole package. He can score, run the show and distribute like crazy. It will be hard to keep him off the court. The Golden Domers are glad that he stayed home and will be helping the Fighting Irish as they transition to the ACC.
Beachem uses his length and shooting ability to create matchup nightmares for his opponents.
ND head coach Mike Brey knows the kinds of players that fit his system. That's recruiting success.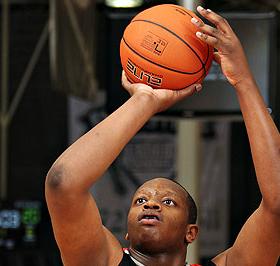 espn.go.com
Anthony Barber: 6'2" (4 stars): PG
BeeJay Anya: 6'9" (4 stars): C
Kyle Washington: 6'9" (4 stars): PF
NC State has a lot of holes to fill, but this second straight exceptional recruiting class should give Wolfpack Mark Gottfried plenty of weapons to deploy in 2013-14.
Barber, a McDonald's All-American, is an explosive floor leader with a crazy-quick first step.
ESPN's scouting report on Anya (pictured) says, "There are big boys and then there are aircraft carriers. Anya is going to be an aircraft carrier. He's turned himself into a player. He's reshaping his body and his game is coming on."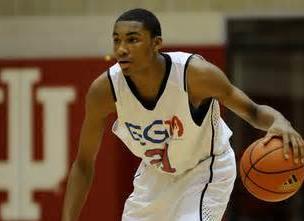 hcsports.com
Zak Irvin: 6'6" (4 stars): SF
Derrick Walton: 6'0" (4 stars) PG
Mark Donnal: 6'8" (4 stars) PF
With the departure of Trey Burke and Tim Hardaway Jr, head coach John Beilein needs to fill some major holes.
Fortunately for Michigan, Zak Irvin and Derrick Walton may be exactly what they need to keep things rolling in Ann Arbor.
Irvin's perimeter skills may be an upgrade over THJ's slash and gash game. Walton doesn't have Burke's ridiculous scoring ability, but he will be ready to run the show.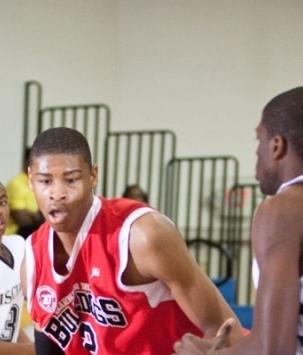 Future150.com
Isaiah Hicks: 6'8" (5 stars): PF
Kennedy Meeks: 6'9" (4 stars): C
Nate Britt: 6'1" (4 stars): PG
Hicks is another in a very long line of athletic and mobile PFs. He will not have to come in and carry the team, but the Heels need Hicks to be ready to play.
Meeks is a legitimate wide body who will clear space underneath the glass on both ends.
Britt will be the primary backup for Marcus Paige, but don't think that means he will be a secondary player on this squad.
Look for UNC to return to being a top-tier team in the ACC and a legitimate deep run team in March Madness.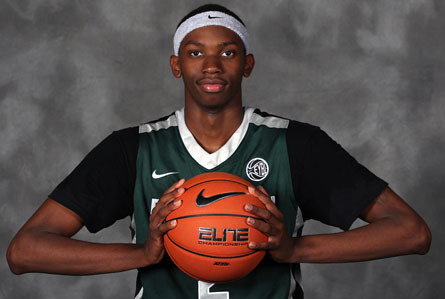 painttouches.com
JaJuan Johnson: 6'5" (4 stars): SG
Deonte Burton: 6'4" (4 stars): SF
Duane Wilson: 6'3" (4 stars): PG
John Dawson: 6'2" (3 stars): PG
Jameel McKay: 6'8" (JUCO): PF
Golden Eagles head coach Buzz Williams has holes everywhere to fill, but bringing in a class like this means that he will be able to run out some serious talent.
Johnson (pictured) brings a very diverse skill set to the wing. He can score points in bunches and do it in so many ways.
Burton is a power wing who looks to get to the rim as much as possible.
Wilson is a long, athletic PG who has the uncanny ability to find teammates in scoring position and get them the ball.
The Golden Eagles will be hard-pressed this coming season to remain at the high level they have occupied over the last few seasons, but Williams will be able to keep fresh legs on the floor throughout any game.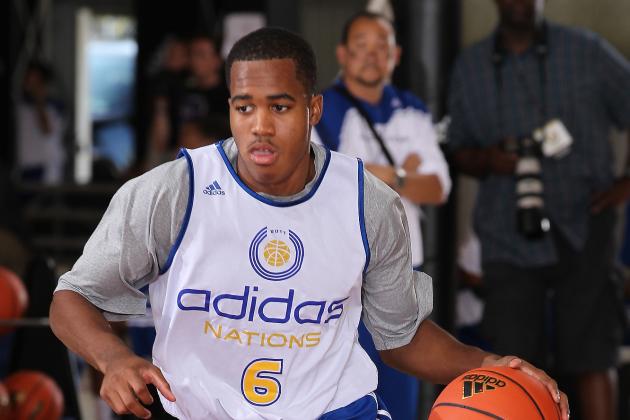 bluedevilnation.com
Kasey Hill: 6'0" (5 stars): PG
Chris Walker: 6'10" (5 stars): PF
Big-time recruiting classes come in all shapes and sizes. The Gators reeled in two mega talents who will instantly be given the opportunity to bring the action in Gainseville.
Hill fits the bill of what head coach Billy Donovan likes in his backcourt players. He is lightning fast and can get his own shots without much help from anyone else.
Walker may be one of the most athletic big in the 2013 recruiting class. If he will effectively team up with Patric Young next season, look out!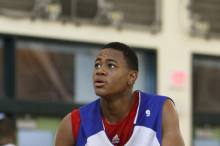 thecardinalconnect.com
Jarrell Martin: 6'7" (5 stars): PF
Jordan Mickey: 6'8" (4 stars): PF
Tim Quarterman: 6'5" (4 stars): PG
Brian Bridgewater: 6'6" (3 stars): PF
John Odo: 6'11" (JUCO): C
Deng Deng: 6'8" (JUCO): PF
Darcy Malone: 7'0" (International): C
Second-year head coach Johnny Jones obviously wanted to shore up his front line. So, he went out and signed seven players who are at least 6'5".
Martin could become the best Tiger player in a number of years. Mickey will use his length to get it done inside and outside.
What Quartermain might lack in bulk, he certainly makes up for with speed and quickness.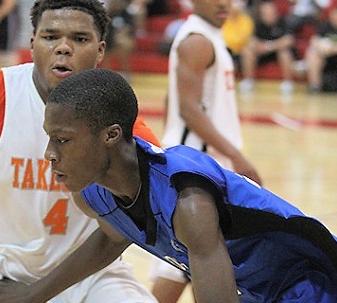 nationofblue.com
Tyler Roberson: 6'7" (4 stars): PF
Tyler Ennis: 6'2" (4 stars): PG
Ron Patterson: 6'3" (4 stars): SG
B.J. Johnson: 6'7" (4 stars): SF
Chinoso Obokoh: 6'10" (3 stars): C
With C.J. Fair returning for his senior season, Orange head coach Jim Boeheim will be able to work his incoming freshmen more gradually.
Roberson is the prototype Syracuse forward: long, athletic and able to get to the rim.
Ennis and Patterson will get a look from the very beginning because of Michael Carter-Williams and Brandon Triche's departures.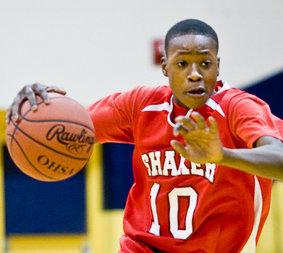 blog.cleveland.com
Terry Rozier: 6'1" (5 stars): PG
Anton Gill: 6'3" (4 stars): SG
Akoy Agau: 6'9" (4 stars): PF
Chris Jones: 5'10" (JUCO): PG
The 2013 NCAA champs are restocking their roster on the fly.
The Cardinals have a lot of their title-winning team returning. Their biggest need moving forward is for someone to come in and take Peyton Siva's place on the team.
Chris Jones is the best candidate to fill Siva's role. Rozier won't just be waiting around for eventual playing time either.
Agau is long and athletic and will become the next rim protector for Louisville.
Brian Spurlock-USA TODAY Sports

Noah Vonleh: 6'8" (5 stars): PF
Troy Williams: 6'7" (4 stars): SF
Luke Fischer: 6'9" (4 stars): C
Stanford Robinson: 6'4" (4 stars): SF
Devin Davis: 6'6" (3 stars): SF
Collin Hartman: 6'5" (3 stars): SF
Indiana loses four of its starting five. Only Yogi Ferrell returns, but Tom Crean's newest recruits are going to help the Hoosiers stay in the mix at the top end of the Big Ten.
Vonleh is a multi-skilled frontcourt force that will give Indiana a different skill set than what it's had with Christian Watford. He is more of a conventional PF, but he can do some damage away from the lane too.
Williams has huge upside and will find more time on the court as he becomes a more consistent outside shooter.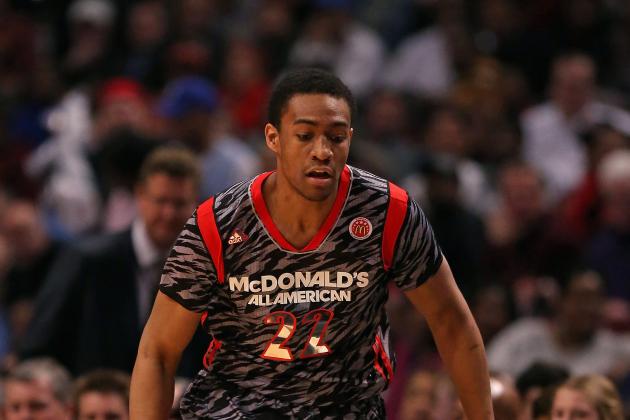 Jonathan Daniel/Getty Images

Jabari Parker: 6'8" (5 stars): SF
Matt Jones: 6'4" (4 stars): SG
Semi Ojeleye: 6'6" (4 stars): SF
Parker's entry into college hoops has been anticipated for a couple of years. The outrageously talented SF will help the Blue Devils move forward after losing Mason Plumlee, Ryan Kelly and Seth Curry. Parker can do so many things well that it will be hard for the other ACC teams to know where to start first in trying to stop him.
Jones gives Coach K another elite level scorer in the Duke backcourt. He can score from anywhere this side of half court and has the physical tools to be a scary defender.
The Blue Devils need to figure out who is going to play down low and defend their opponents' bigs.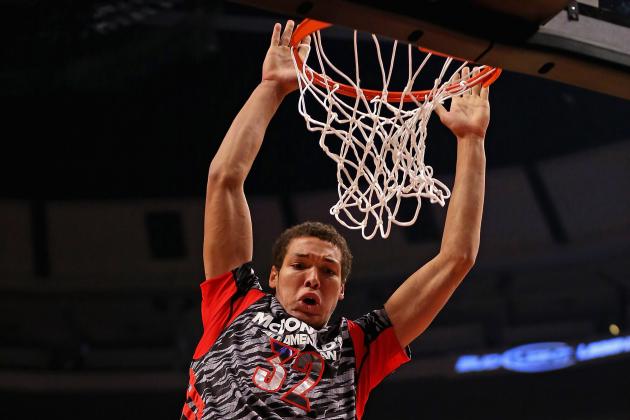 Jonathan Daniel/Getty Images

Aaron Gordon: 6'8" (5 stars): PF
Rondae Hollis-Jefferson: 6'7" (5 stars): SF
Elliott Pitts: 6'5" (4 stars): SG
Arizona's head coach Sean Miller is proving to be one of the top recruiters in the country. This recruiting class shows that he can pull in talent from both coasts.
Gordon is an explosive leaper who can play either forward position and create matchup trouble with his athleticism.
RHJ proved in the Nike Hoops Summit that he has game on both ends of the court. Even if Hollis-Jefferson doesn't start, he will see starters minutes and make a huge contribution to what could be a special 2013-14 Arizona squad.
While Arizona has been known for its offense over the years, the Cats may be one of the best defensive teams in the country next season.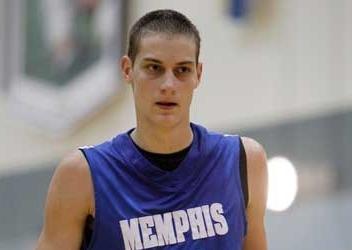 gatorcountry.com
Austin Nichols: 6'8 (5 stars): PF
Kuran Iverson: 6'8" (4 stars): SF
Nick King: 6'6" (4 stars): SF
Rashawn Powell: 6'0" (4 stars): PG
Markel Crawford: 6'4" (3 stars): SG
Memphis head coach Josh Pastner takes a back seat to no one in terms of recruiting, especially in his own backyard.
Nichols is a hard-working, highly skilled player who does so many things right.
Iverson is so versatile that he could legitimate play four different positions this coming season.
King, Powell and Crawford will give the Tigers' insane depth on the perimeter.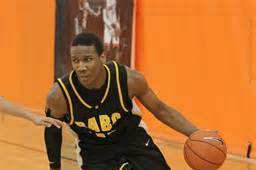 wildcatbluenation.com
Wayne Selden: 6'5" (5 stars): SF
Joel Embiid: 6'11" (4 stars): C
Brannen Greene: 6'6" (4 stars): SG
Conner Frankamp: 6'0" (4 stars): PG
Frank Mason: 6'0" (3 stars): PG
Kansas head coach Bill Self keeps restocking his roster, and his Jayhawks teams just keep on rising to the occasion to win one Big 12 championship after another.
This year's team will need to step up immediately because KU lost all five of its starters.
Selden is a man among boys. His strength creates tons of scoring opportunities for him as he slashes to the basket.
Embiid is raw offensively, but could be a great replacement for Jeff Withey as the team's paint protector.
Greene and Frankamp bring tons of scoring ability and will have plenty of opportunities to shoot it from the perimeter.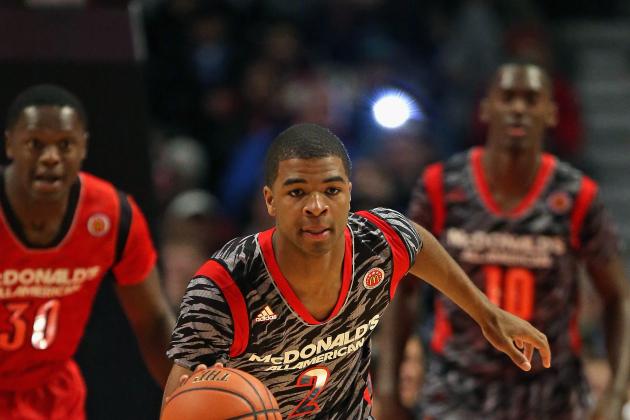 Jonathan Daniel/Getty Images

Julius Randle: 6'9" (5 stars): PF
Andrew Harrison: 6'5" (5 stars): PG
James Young: 6'6" (5 stars): SF
Aaron Harrison: 6'5" (5 stars): SG
Dakari Johnson: 6'10" (5 stars): C
Marcus Lee: 6'9" (5 stars): PF
Derek Willis: 6'9" (3 stars): PF
Dominique Hawkins: 6'1" (3 stars): PG
Wow...can I say it again? Wow!
This is the most talented and deep recruiting classes of all time. It's hard to imagine that the Cats have six 5-star recruits coming to Lexington all at once.
And yet, it is possible that three of those elite-level freshmen will be coming off the UK bench.
Randle is an unbelievably talented PF who can work inside or step out and hit jumpers from range.
Andrew Harrison will use his extremely high hoops IQ and his insane PG skills to keep everyone engaged and involved.
The biggest key to the success of this group will be to what degree everyone accepts their role within the bigger picture of team.