10 College Basketball Role Players Set for Breakout 2014 Seasons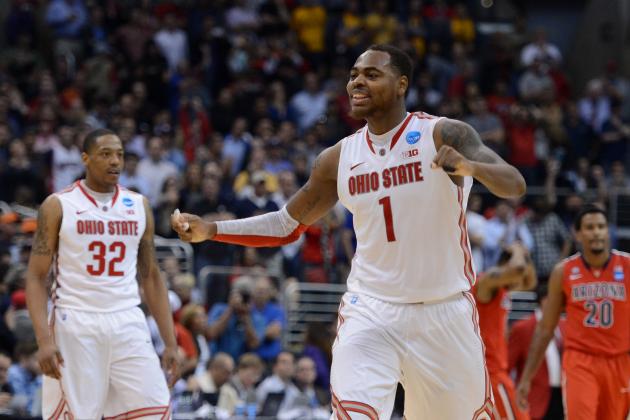 Harry How/Getty Images

Three years ago, Ohio State's Deshaun Thomas came off the bench as a freshman and played only 14 minutes per game.
In those minutes, Thomas got up a lot of shots—almost a third of his team's attempts—and he was surprisingly efficient. So the next season, when Thomas became one of the Buckeyes' go-to scorers and averaged 15.9 points per game, it was not all that surprising to Ohio State fans who watched him chuck as a freshman.
Finding role players who will become stars is not always as easy. Not many get that kind of green light in limited minutes, but they are out there, and a willingness to get up shots in limited minutes is key to evolving into that role. There are others who had the minutes and showed flashes, but a certain circumstance (or teammates...ahem...Russ Smith) prevented them from truly reaching their potential.
This list is 10 players with breakout potential. To make the list, each player had to meet three qualifications:
Had to take at least 20 percent of his team's shots when he was on the floor.

Double-digit scorers from this past season are not eligible.

Has to be room for that player to evolve into a bigger role. (One exception was made and he comes in at No. 10.)
Here are your 2013-14 nominees for the Deshaun Thomas All-Stars.
All advanced statistics used in this piece come from KenPom.com.
Begin Slideshow

»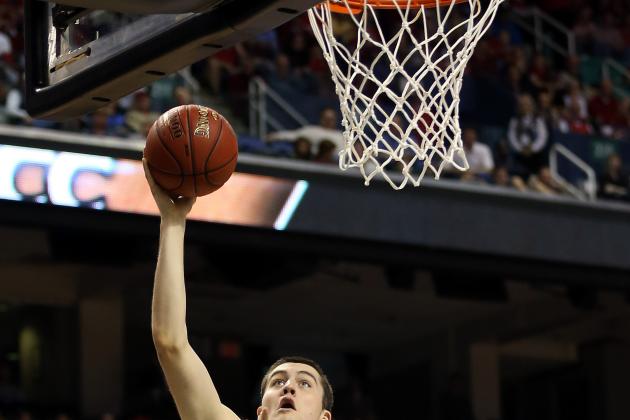 Streeter Lecka/Getty Images

2012-13 Statistics: 6.8 points and 2.9 rebounds in 13.9 minutes per game
Breakout Potential: Mike Tobey is the only player on this list who might have a hard time seeing his minutes increase.
Virginia returns its frontcourt and also adds South Carolina transfer Anthony Gill. It's impossible, however, to ignore Tobey's numbers in limited minutes as a freshman.
Tobey, a 6'11" center, attempted 30.9 percent of Virginia's shots when he was on the floor. In the games when he received 20 or more minutes, which happened five times, he averaged 14.8 points per game.
If Tony Bennett can find a way to increase Tobey's minutes, his numbers suggest he'll break out.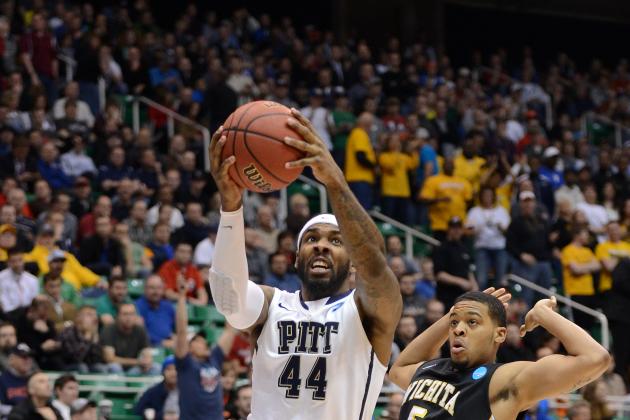 Harry How/Getty Images

2012-13 Statistics: 8.0 points and 3.0 rebounds in 18.7 minutes per game
Breakout Potential: J.J. Moore has been a high-usage player in his three seasons at Pitt, and the minutes should finally be there next season for him to move into more of a scoring role.
Moore could potentially replace one-and-done 7-footer Steven Adams in the starting lineup. This would force Jamie Dixon to go small—Moore is only 6'6"—but that would get his most talented team on the floor, and Moore fits as a stretch 4.
Moore was one of the most efficient scorers on the team as a junior, making 52.4 percent of his twos, 32.9 percent from three and 81.5 percent from the free-throw line. His best game of the season came in the regular-season finale when he went 8-of-8 from the floor, including making all five of his threes, to tie his career-high of 21 points.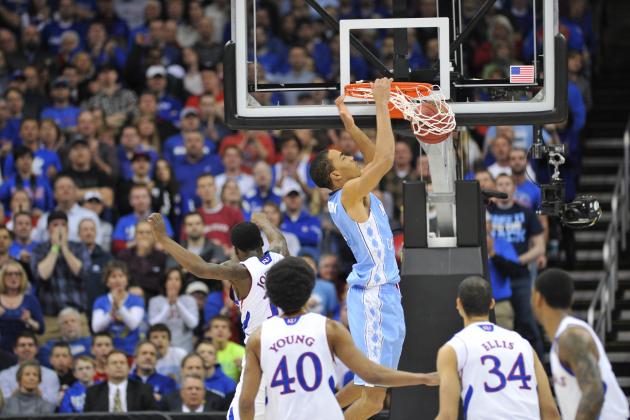 Peter G. Aiken-USA TODAY Sports

2012-13 Statistics: 5.4 points and 3.2 rebounds in 10.6 minutes per game
Breakout Potential: With Dexter Strickland graduating and Reggie Bullock declaring for the NBA draft, the Tar Heels will go back to a more traditional lineup next season. That will open up at least one spot in the frontcourt—it could be two if James Michael McAdoo decides to leave early as well.
Brice Johnson will have to compete with returning big men Desmond Hubert, Jackson Simmons and Joel James along with incoming freshmen Isaiah Hicks and Kennedy Meeks.
If it's a returning big man, Johnson has to be the favorite. He played more minutes than any of the other returnees up front other than McAdoo, and he passes the eye test more than the other returning candidates as well. He is quick for his size and also has a nice mid-range jumper.
Johnson also had unusual usage numbers on a team that included a lot of trigger-happy jump shooters. In his limited minutes, Johnson took 28.8 percent of UNC's shots, which was a higher usage rate than anyone on the team.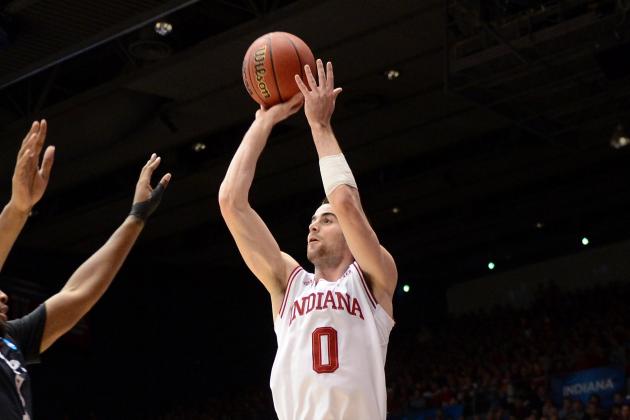 Jason Miller/Getty Images

2012-13 Statistics: 9.5 points in 22.3 minutes per game
Breakout Potential: Will Sheehey would have been a starter on almost any other team in the country this past season. Instead, he was on one of the most talented rosters in the country.
Sheehey will be the Hoosiers' leading returning scorer next season and has the game and experience to take on more of a scoring role. At 6'7", he can shoot over smaller defenders. Sheehey also has a good handle and finishes well around the rim.
With an increased role and increased minutes, I could see Sheehey getting to 15 points per game. Tom Crean will be short on experience, so that only helps Sheehey's cause.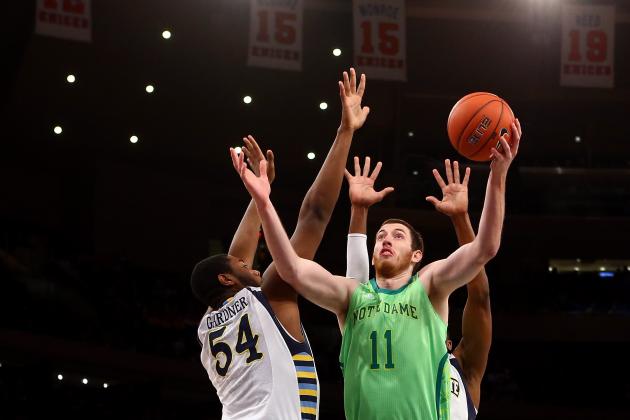 Al Bello/Getty Images

2012-13 Statistics: 7.0 points and 3.4 rebounds in 15.6 minutes per game
Breakout Potential: Garrick Sherman introduced himself to the nation on Feb. 9 when he did not play one minute of regulation against Louisville and then scored 17 points during five overtimes to help Notre Dame pull off the upset, which is the last game Louisville lost.
Mike Brey's offense is big-man friendly. Jack Cooley, like Luke Harangody before him, put up good numbers from the blocks and got plenty of opportunities.
Sherman, who transferred from Michigan State after his sophomore season, replaced Cooley in the Louisville game and will likely do so next year. Cooley averaged 13.1 points and 10.1 rebounds this past year. Don't be surprised to see Sherman put up similar numbers.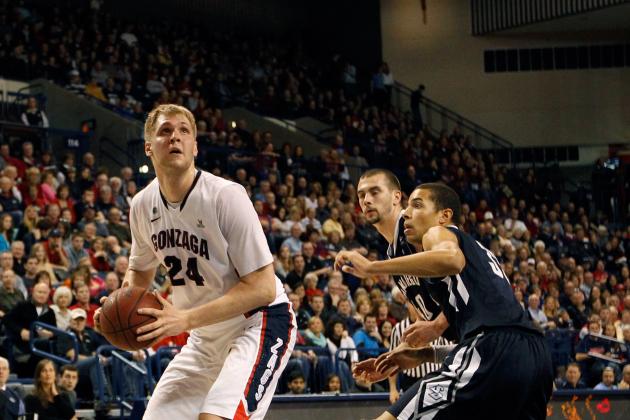 William Mancebo/Getty Images

2012-13 Statistics: 5.4 points and 2.6 rebounds in 10.7 minutes per game
Breakout Potential: How much Przemek Karnowski breaks out depends on whether Kelly Olynyk decides to come back for his senior season.
If Olynyk leaves, Karnowski is expected to be a starter. If Olynyk stays, Karnowski would likely move into Sam Dower's role as the first big man off the bench.
The Polish big man is a load at 7'1" and 305 pounds. He has soft hands, a soft touch and surprisingly good footwork for his size.
When Karnowski was on the court as a freshman, he took 26.6 percent of Gonzaga's shots, and it's understandable why when you watch him play. He's such an easy target because he's so big that defenders can't get around the guy. Really, the only option is to play behind him and try to force him off the block. And good luck moving him.
Karnowski could benefit from some offseason conditioning—his minutes and production dropped later in the season—and he needs to improve at the free-throw line. Karnowski got there often, but he made only 44.4 percent of his freebies.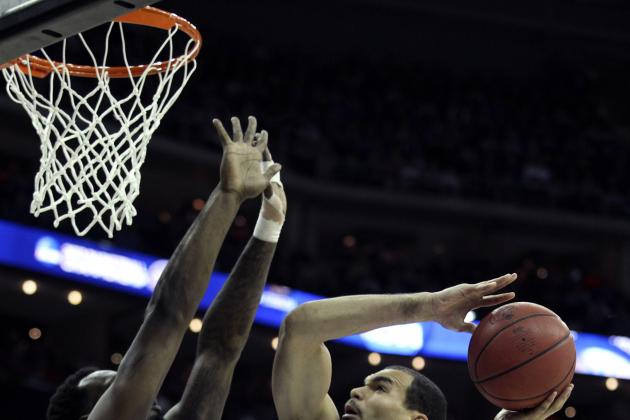 Ed Zurga/Getty Images

2012-13 Statistics: 5.8 points and 3.9 rebounds in 13.6 minutes per game
Breakout Potential: It's just assumed in Big 12 country that Perry Ellis will transform from a freshman player who struggled to finish around the rim to a star next year.
Ellis, who was a McDonald's All-American, started to show his potential late in the year. March hit and he was a different player. He scored 23 points against Iowa State and followed that up with 12 points against K-State in the Big 12 tournament. Those back-to-back performances earned him a spot on the all-tournament team.
Self will essentially start from scratch next season. He has to replace all five starters. The last time he had to do that, Cole Aldrich went from a big man who rarely played as a freshman on the 2008 championship team to a star as a sophomore.
Ellis had more experience as a freshman, and an Aldrich-like ascent is expected.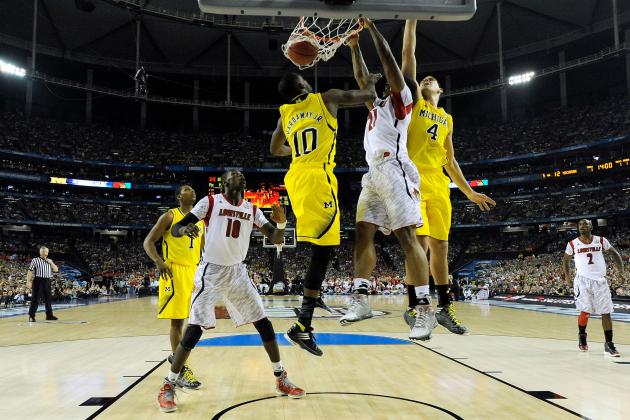 Pool/Getty Images

2012-13 Statistics: 9.8 points and 6.5 rebounds in 26.1 minutes per game
Breakout Potential: Chane Behanan is a beast. His 15 points and 12 rebounds in the national championship game should have convinced everyone watching of that.
Those kind of numbers were not the norm for Behanan however, because often he didn't get enough touches to make it happen. Before the national championship, the last time Behanan had double-digit field-goal attempts was Feb. 9, when he scored 30 points in a five-overtime loss to Notre Dame.
A big man playing with Russ Smith was simply not conducive to becoming a star. Smith is gone now, and Behanan has the national championship game as proof of what can happen when he touches the ball.
If the Louisville guards know what's good for them, they will feed the beast.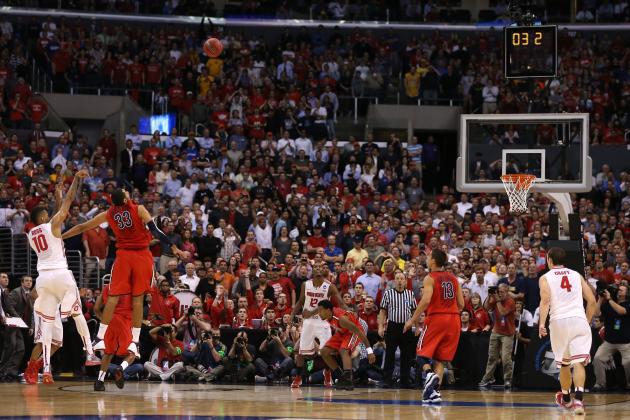 Jeff Gross/Getty Images

2012-13 Statistics: 8.3 points and 2.9 rebounds in 16.9 minutes per game
Breakout Potential: This was an easy pick. Who better to become a Deshaun Thomas All-Star than the man who will replace Thomas in Ohio State's starting lineup?
Like Thomas, LaQuinton Ross has a small forward's game with the ability to play the stretch 4 and be a matchup nightmare. Ross actually has one thing that Thomas does not have, and that's elite speed. Thomas was more about finding shooting angles by using his body; Ross can blow by defenders.
Like Thomas, Ross was not shy of getting his shots up when he was in the game. He attempted 27.1 percent of Ohio State's shots when he was on the floor.
And the last bit of proof that made Ross a really easy selection: Ross scored 17, 17 and 19 in Ohio State's final three tourney games. He was a star for those three games; he'll be a star all season next year.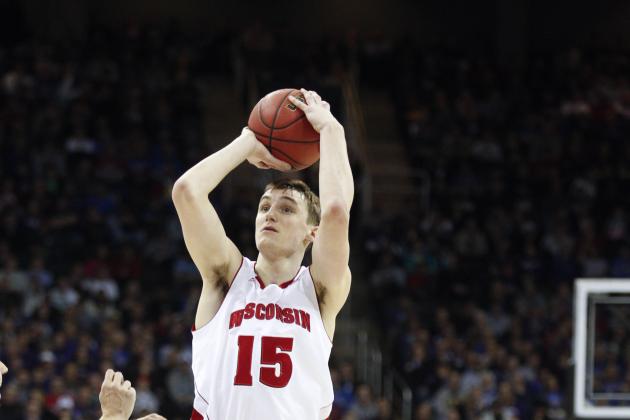 Ed Zurga/Getty Images

2012-13 Statistics: 9.6 points and 3.4 rebounds in 22.3 minutes per game
Breakout Potential: As I sat on press row during Wisconsin's loss to Ole Miss in the NCAA tournament, I said to the guy sitting next to me that Sam Dekker is going to be a stud. Minutes later, I overheard essentially the same conversation from some other reporters.
Dekker just has a scorer's game that's easy to see. He has the ability to make moves out of the post, spot up and shoot from the perimeter or face up and score off the bounce. He's the perfect player in Bo Ryan's system, as Ryan loves to exploit bad matchups, and there are few defenders on the college level with the size and quickness to slow Dekker.
Looking at him, strength would appear to be an issue, but his efficiency numbers as a freshman were not what you expect from a skinny 6'7" kid. He made 57.1 percent of his twos and 39.1 percent of his threes.
Others on this list may not get the opportunities to make the transition from role player to star. With Jared Berggren, Mike Bruesewitz and Ryan Evans graduating, Dekker will become the man in Madison.