10 College Basketball Freshmen Who Should Stay in School Another Year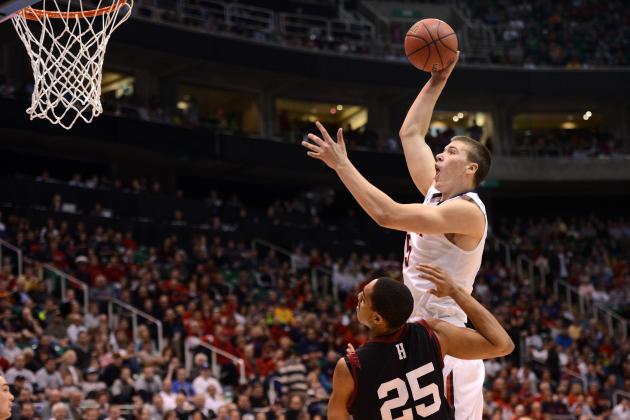 Harry How/Getty Images

These days, almost every top-level recruit expects his college basketball career to be one-and-done. After a year of actual Division I experience, though, some players have good reason to reconsider.
Arizona center Kaleb Tarczewski might well be a first-round pick on size alone. Even so, the seven-footer can help his NBA future substantially with another year of polishing his offensive game in a Wildcat uniform.
Read on for more on Tarczewski and nine more high-profile frosh who would do well to spend another year on campus before declaring for the NBA draft.
Begin Slideshow

»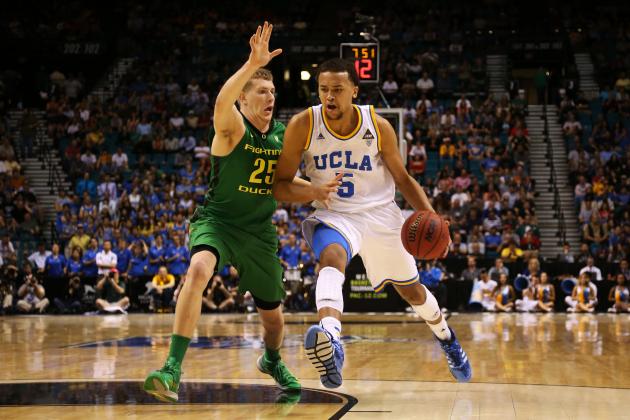 Jeff Gross/Getty Images

Ranked as high as the third-best recruit in the nation (by Rivals.com), Kyle Anderson got off to a glacial start at UCLA.
His scoring never did get off the ground (9.7 points per game), but he did finish as the Bruins' leading rebounder (8.6 boards a night) and added 3.5 assists and 1.8 steals a game.
Versatility is a great thing, but a guard who shoots 8-of-28 from the college three-point line is still a long shot where the NBA is concerned.
A summer full of jump shots will put Anderson in a much better position to impress the pro scouts with his well-roundedness.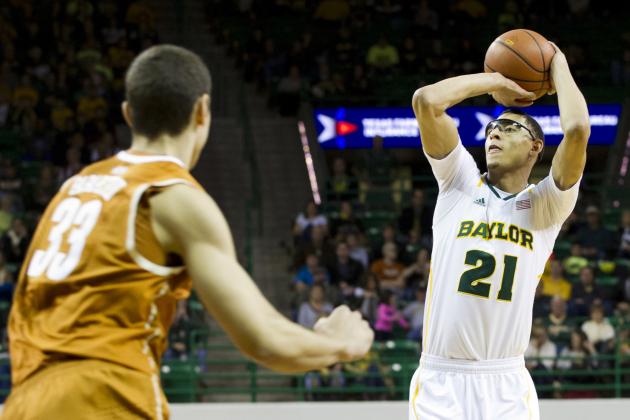 Cooper Neill/Getty Images

Going just by his stats, Isaiah Austin has a better shot at a strong draft position than any player on this list. However, Austin's 13 points, 8.3 rebounds and 1.7 blocks per game are hiding some very real concerns about how he'll hold up in the pros.
The Baylor star weighs just 220 lbs, and his 7'1" length leaves him vulnerable to stronger opponents with lower centers of gravity.
Austin also has an apparent desire to develop into a Chris Bosh-type finesse big man. He needs either to set that approach aside (which seems the wiser course) or, failing that, at least to get better at implementing it than shooting .333 from the college arc.
Michael Hickey/Getty Images

From a productivity standpoint, Semaj Christon left very little to argue with during his freshman season.
He became the instant leader of a Xavier team that had just lost All-American Tu Holloway and responded with 15.2 points, 4.6 assists and 1.5 steals per game.
However, a point guard—more than any other position—is also judged on his ability to win, and Christon showed sadly little of that.
Even with some impressive games from senior Travis Taylor, the Musketeers finished a lackluster 17-14, hardly the kind of performance that will have NBA scouts clamoring for Christon's services.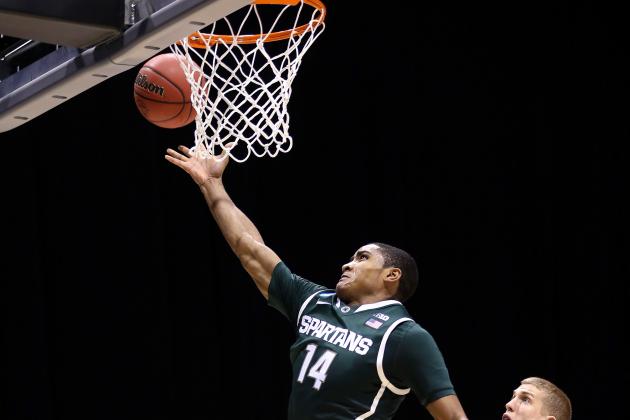 Streeter Lecka/Getty Images

After finishing his senior year as Indiana's Mr. Basketball, Gary Harris didn't disappoint in East Lansing. The physical SG played terrific defense, averaged 12.9 points and 1.3 steals per game, and flashed a lethal three-point stroke (.411 from beyond the arc).
Despite his impressive numbers, Harris has one glaring issue to overcome before he'll benefit from testing the NBA waters.
The youngster was perilously inconsistent all year, as evidenced by his scoring totals over the Spartans' last five games: 13, five, 10, 23 and six points.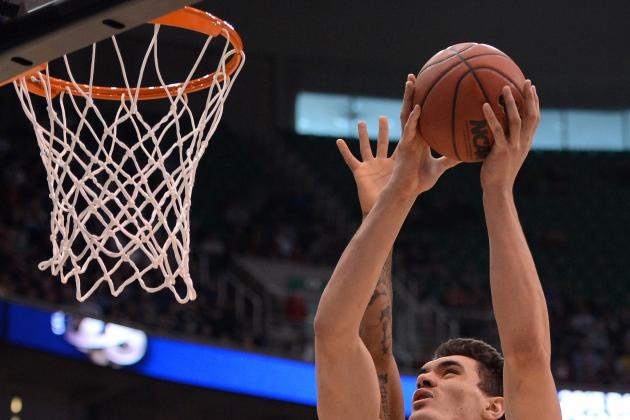 Harry How/Getty Images

The only player on this list who has already announced he's headed for the draft, Steven Adams reportedly has very good off-court reasons for his decision.
From a strictly basketball standpoint, though, the New Zealand import would be a lot better off staying around for Pitt's ACC debut.
Adams showed enormous development over the course of his first college season, and his 6.3 rebounds and 2.0 blocks per game are great signs for his NBA future.
However, scoring just 7.2 points per game in Pitt's high-powered offense is an equally clear sign that Adams doesn't yet have the offensive acumen to keep himself on the court as a pro.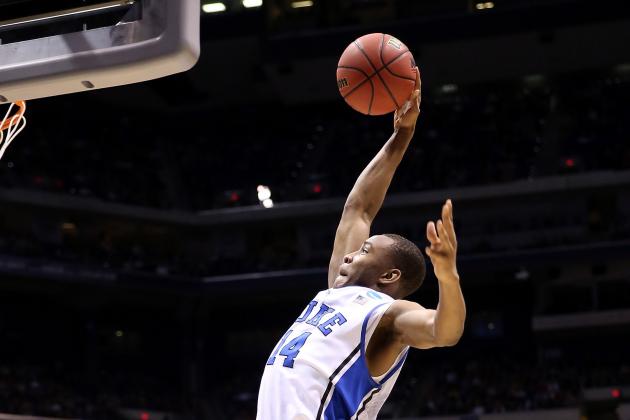 Andy Lyons/Getty Images

Rasheed Sulaimon had his share of brilliant games as a Duke freshman, not least a 21-point, five-rebound effort against Creighton in the NCAA tournament.
Nonetheless, his overall stats for his first college season aren't especially impressive: 11.6 points, 3.4 boards and 1.9 assists per game.
Already a borderline SG prospect physically at 6'4", 185 lbs, Sulaimon needs to establish that he can be a go-to option in the offense now that Mason Plumlee and Seth Curry are gone.
It doesn't hurt his chances any that PG Quinn Cook will be back to set him up during what could be a breakout sophomore campaign.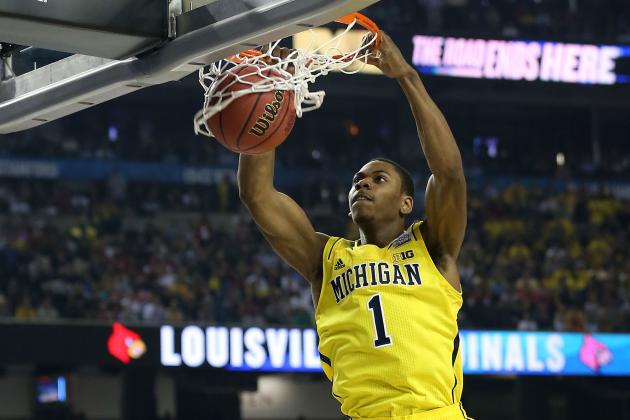 Streeter Lecka/Getty Images

When it comes to putting up highlights, dunk-happy Glenn Robinson III had a magnificent freshman year. When it comes to putting up numbers, he wasn't quite on the same level, averaging a middling 11 points a game.
Robinson clearly got his dad's NBA athleticism, but playing out of position at PF made his defensive job tougher than it needed to be and took a toll on him physically—as facing NBA athletes will.
Of far greater concern for a future small forward, he shot poorly from both the three-point line (.324) and the free-throw line (.676) in his inaugural college campaign.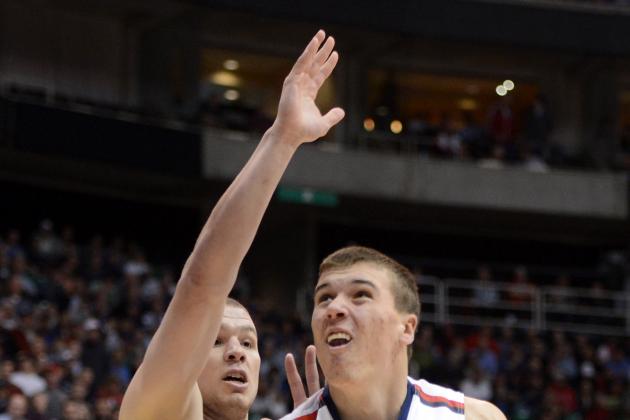 Harry How/Getty Images

At 7'0", 255 lbs, Kaleb Tarczewski would have been a lock to jump to the NBA from high school if the rules permitted it.
Now that he's seen a year of Pac-12 competition, though, the prize of Arizona's recruiting class has shown how much he needs to develop.
Although Tarczewski pulled in a solid 6.1 rebounds a game, he managed just 6.6 points a night thanks to a work-in-progress low-post game.
Even more worrisome, he recorded a paltry 0.7 blocks per contest, a figure he should have been able to reach with his eyes closed against comparatively undersized college scorers.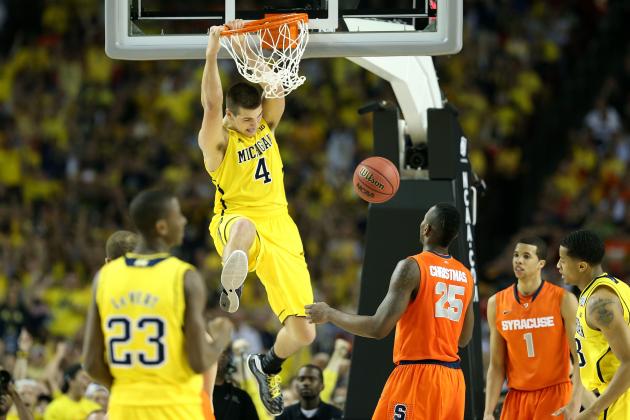 Streeter Lecka/Getty Images

In one sense, Mitch McGary would be foolish not to be considering a jump to the NBA. After all, he'll never look better than he did in posting four double-doubles in six games during Michigan's run to the national title game.
However, that's also the catch with McGary: those six games represent three-quarters of his starts this year. Without A-plus athleticism or size (6'10", 250 lbs), he won't get his best shot in the draft until he shows that he can excel over a full season.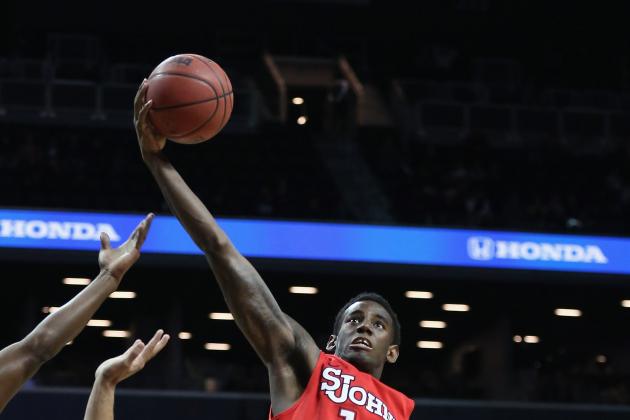 Mike Stobe/Getty Images

The heir apparent to Moe Harkless at St. John's, Jakarr Sampson has no business following his predecessor's one-and-done NBA path.
Sampson led the Red Storm in rebounding (6.7 per game) and finished second in scoring (14.9 points a night), but he's still a long way from being ready for the pros.
At 6'8", Sampson is a tweener by NBA standards, but with no detectable perimeter game he's certainly not a viable small forward.
Meanwhile, if he wants to have a shot at a power forward's role, he'll need to reread the "power" part of the job title and add a lot of muscle to his 204-pound frame.