Richard Pitino to Minnesota: Will the Pitino Family Style Work in the Big Ten?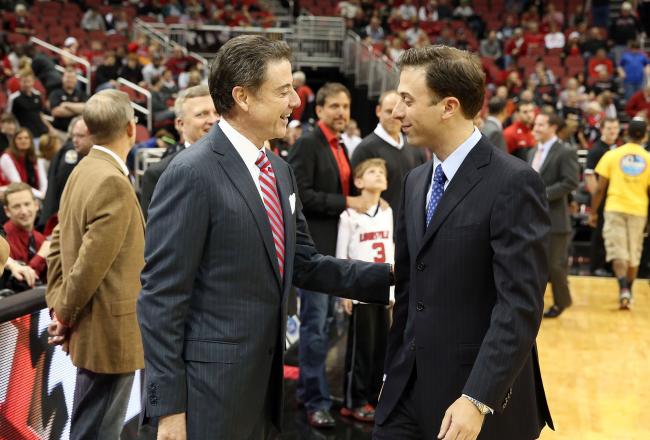 Andy Lyons/Getty Images
When Minnesota tabbed Richard Pitino, 30, as its next head coach on Wednesday, athletic director Norwood Teague seemed to be after two things: the Pitino family name, and the style of play it connotes.
At least we can safely assume that Teague wasn't after experience. The younger Pitino has only been a head men's basketball coach since last April, when he was hired to replace the embattled Isiah Thomas at Florida International.
Pitino had a wonderful debut season at FIU, taking a recently distressed program to within one game of the NCAA tournament. One pretty good year in the Sun Belt, however, doesn't get you a job in the Big Ten. The surname "Pitino" does.
Like pops, Richard Pitino coaches an up-tempo brand of basketball that emphasizes defensive pressure.
This year, Rick's Louisville Cardinals played the fourth-fastest pace in the Big East conference (119th nationally) and boasted the nation's second-best steal percentage.
Son Rick—who also cites Florida coach Billy Donovan as one of his primary coaching mentors—is even more aggressive on those fronts.
In Pitino's lone year at FIU, the Panthers ranked 48th nationally in adjusted tempo. They also posted the country's 11th-best steal percentage, nearly matching Louisville turnover-for-turnover despite a marked athletic disadvantage.
Those numbers are no accident. Upon his hiring at FIU, Pitino told the student newspaper (h/t Minneapolis Star-Tribune) , "Basketball-wise, we're going to bring a new brand; we're going to play up and down and press a lot. We're really going to try and push the pace up offensively as well as defensively."
They did, and it worked.
But it will it work in the Big Ten?
Somewhat akin to its pigskin counterpart, Big Ten basketball has a reputation for slow-paced, defensive-minded tactics. We're painting with broad brushstrokes, but the numbers support the assumption.
The chart below tracks the Big Ten conference leader in adjusted tempo each year since 2003.
| | | |
| --- | --- | --- |
| Year | Conference Leader in Adjusted Tempo | National Rank |
| 2003 | Minnesota | 52nd |
| 2004 | Iowa | 69th |
| 2005 | Iowa | 106th |
| 2006 | Michigan | 102nd |
| 2007 | Purdue | 124th |
| 2008 | Purdue | 112th |
| 2009 | Michigan State | 126th |
| 2010 | Indiana | 96th |
| 2011 | Iowa | 102nd |
| 2012 | Iowa | 60th |
| 2013 | Iowa | 102nd |
In other words, Richard Pitino's 2012-13 FIU Panthers played a faster pace (relative to its peers) than any Big Ten team of the last 11 years.
Now let's run the same chart, but with steal percentage instead of adjusted tempo.
| | | | |
| --- | --- | --- | --- |
| Year | Conference Leader in Steal Percentage | Steal Percentage | National Rank |
| 2003 | Northwestern | 11.1 % | 91st |
| 2004 | Northwestern | 13.5 % | 18th |
| 2005 | Northwestern | 13.6 % | 19th |
| 2006 | Northwestern | 12.7 % | 32nd |
| 2007 | Northwestern | 14.0 % | 5th |
| 2008 | Minnesota | 13.4 % | 7th |
| 2009 | Minnesota | 12.9 % | 12th |
| 2010 | Minnesota | 11.7 % | 41st |
| 2011 | Ohio State | 11.0 % | 58th |
| 2012 | Iowa | 11.0 % | 71st |
| 2013 | Michigan State | 12.5 % | 25th |
To recap, FIU ranked 16th nationally this year with a 13.4 percent steal percentage. That number wouldn't have made the Panthers the single most disruptive defense in recent Big Ten history, but they'd have been firmly in the top five.
Now, I don't expect Pitino's Minnesota teams to play quite as fast or force quite as many steals—at least not at the outset. But as Pitino brings in his recruits and molds the program in his image, the Golden Gophers may begin to challenge the way Big Ten basketball has operated for the past decade.
As someone with no horse in this particular race, that prospect excites me.
I love the idea of Richard Pitino trying to play blur ball against Bo Ryan, Tom Izzo or some similarly recalcitrant Midwestern sage. I love contrast, and I'm curious to see how others will react.
If I were a Minnesota fan, I might harbor a bit more angst.
Perhaps I'd think back to when former Michigan coach Rich Rodriguez tried, and failed, to snap Big Ten football out of its decades-long strategic malaise. Oftentimes, it's better to be the second man in—like Urban Meyer was at Ohio State—than it is to be the renegade newbie that draws everyone's ire.
Then again, Pitino could be on the front end of a strategic sea change. Maybe his forward thinking will allow Minnesota to outflank its traditionally more successful basketball rivals and reestablish some form of national relevance. I don't know.
What I do know is that a Pitino has landed smack dab in the frosty heart of Big Ten country.
He might thrive. He might flop.
The only guarantee is that he won't bore us.
Note: All advanced statistics courtesy of KenPom.com.
This article is
What is the duplicate article?
Why is this article offensive?
Where is this article plagiarized from?
Why is this article poorly edited?