March Madness 2013 Snubs: 4 Talented Teams That Deserved Tournament Bid
Andy Lyons/Getty Images

Every year when the NCAA Men's Division I Basketball Championship bracket is released, a few teams are denied access to the field of 68.
This season, not many teams can make a case for being snubbed from the field of 68.
With every team on the bubble finding a way to lose in the last few weeks of the season, the teams on this list determined their own fate and failed to play their way in.
Here are four teams that did not make the field of 68 but have a good argument for why they should be playing in the NCAA tournament.
Begin Slideshow

»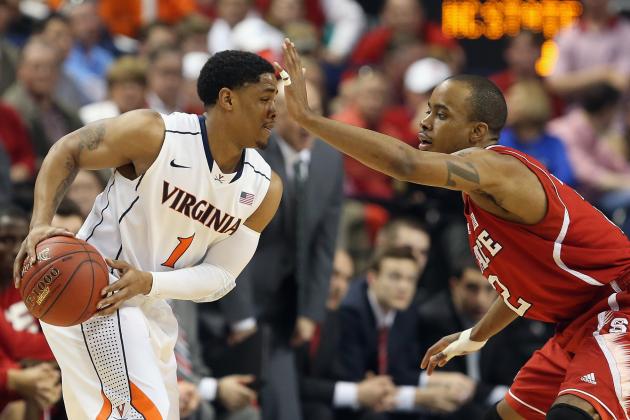 Streeter Lecka/Getty Images

Overall Record: 21-11
Conference Record: 11-7 (ACC)
RPI: 74
After their upset of Duke on February 28, the Virginia Cavaliers seemed like a lock to make the field of 68.
However, the Cavaliers threw away their spot in the NCAA tournament by losing to Boston College and Florida State and barely squeaking out a win over fellow bubble team Maryland to end the regular season.
With a chance to reverse their end of regular season failure at the ACC tournament, the Cavaliers fell short and lost to NC State in the quarterfinal round.
Virginia did have quality wins over Wisconsin, Duke, NC State and Tennessee, but their failure to win at the end of the season eventually killed their NCAA tournament chances.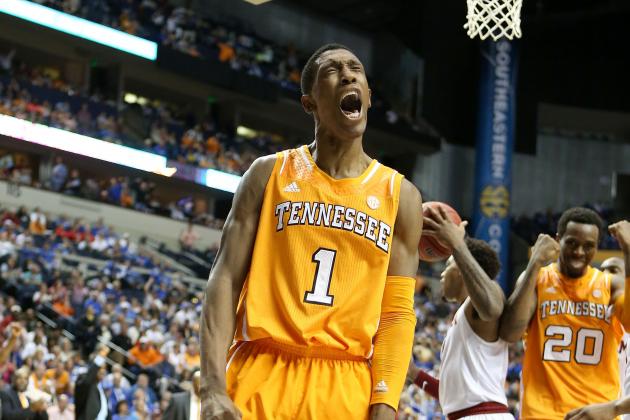 Andy Lyons/Getty Images

Overall Record: 20-12
Conference Record: 11-7 (SEC)
RPI: 58
The Tennessee Volunteers were hurt by the overall weakness of the SEC.
Only three teams from the SEC (Florida, Missouri, Ole Miss) made the field of 68—had the Volunteers won more than one game in the SEC tournament, that total could have been four.
Wins over Florida and Missouri towards the end of the regular season, coupled with a non-conference victory over a then-ranked Wichita State team, boosted the resume of Cuonzo Martin's team.
When the regular season ended, the Volunteers still had some work to do—only beating lowly Mississippi State in the SEC tournament cost Tennessee mightily.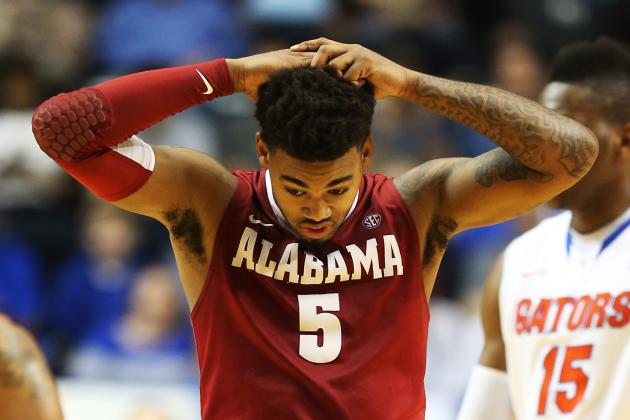 Andy Lyons/Getty Images

Overall Record: 21-12
Conference Record: 12-6 (SEC)
RPI: 60
Another SEC team that did not do itself any favors in the SEC tournament was Alabama.
The Crimson Tide took down Tennessee in the quarterfinals in Nashville, and they had to beat Florida in the semifinals to have a chance to make the field of 68.
Alabama's regular season stretch run hurt their NCAA tournament hopes—they lost three of their last five regular season games, including a triple-overtime loss to LSU.
Alabama's resume also hurt them, as their only quality non-conference win came against Villanova on a neutral court.
If the Crimson Tide had defeated Missouri or Florida in SEC play, and either Cincinnati or VCU in non-conference play, they may have been in the field of 68.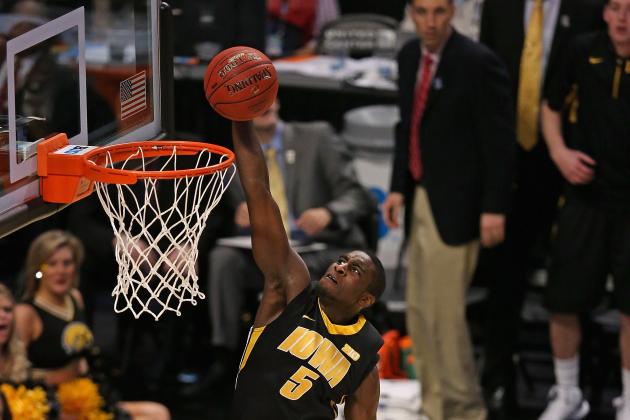 Jonathan Daniel/Getty Images

Overall Record: 21-12
Conference Record: 9-9 (Big 10)
RPI: 79
If the Iowa Hawkeyes had played in any other conference this season, they would have been a sure lock to make the NCAA tournament.
The Hawkeyes went a respectable 9-9 in the very difficult Big 10 Conference.
In conference play, Iowa only upset one of the five Big 10 powerhouses, beating Wisconsin on January 19 at home.
In non-conference play, Fran McCaffrey's team beat Iowa State and fell short against Wichita State—they were beaten badly by Virginia Tech.
If Iowa had beaten Michigan State in the Big 10 tournament quarterfinals on Friday night, we could have been talking about the Hawkeyes a lot more as a potential NCAA tournament team.
Follow me on Twitter, @JTansey90.