The Kansas Jayhawks took it to the Kansas State Wildcats in the Big 12 conference tournament final on Saturday, cruising to a 70-54 victory.
A largely inconsistent regular season, which was especially in dire straits in the midst of a three-game losing streak in early February, has culminated in a convincing finish that should have Bill Self's team poised for a deep NCAA tournament run.
It was an especially impressive display for the Jayhawks due to the lack of production they got out of superstar freshman Ben McLemore. Typically the squad's leading scorer, he struggled mightily, and didn't hit his first shot until midway through the second half.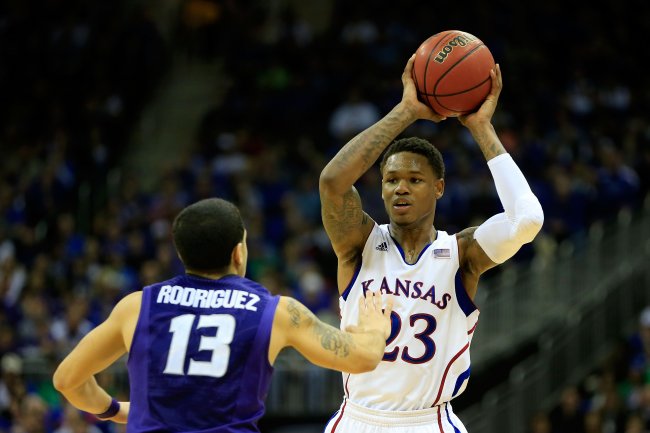 Jamie Squire/Getty Images
Senior staples Jeff Withey and Travis Releford stepped up in a big way, keying a defensive effort that saw the Wildcats go over 10 minutes in the first half without sinking a field goal.
Withey also shined on the offensive end of the court, putting up a team-high 17 points while also grabbing nine rebounds in the Jayhawks' third victory over the Wildcats this season alone.
The most encouraging recent development, though, has been the play of talented freshman forward Perry Ellis off the bench. Against Iowa State in the tournament semifinals, Ellis lit it up with 23 points on 10-of-12 shooting. In the final, he notched 12 points and sank five of his six shots from the field.
When Ellis hit a key three-pointer—just his third attempt from beyond the arc this season—to thwart a KSU rally, Matt Tait of the Lawrence Journal-World was ready to hand him the tournament's MVP award.
That triple and this stretch may have just convinced me to vote Perry Ellis for Big 12 tourney MVP. #KUbball

— Matt Tait (@mctait) March 16, 2013
Getting that type of production out of Ellis in the NCAA tournament would be huge for the Jayhawks. The fact that Ellis was able to string together great performances in the past two games, which were of critical importance suggests that he could do it amidst the madness of March as well.
McLemore probably isn't going to score in single-digits ever again for Kansas, assuming he goes to the NBA after this season.
But even when the Jayhawks' offense isn't quite clicking, they have proven that they can lock things down on defense and remain competitive.
Do you buy Kansas as a Final Four pick?
The big wild card is Elijah Johnson. He is turnover-prone oftentimes but showed he can be explosive in the
final regular-season matchup
against Iowa State, when he poured in a whopping 39 points.
There is just so much talent on this Kansas team, and other than the loss to Baylor in the finale of the regular season, there haven't been many discouraging signs lately. It has simply been a matter of putting things together.
The adversity the Jayhawks were forced to face seems to have paid off.
Setting an ambitious nonconference schedule that featured the likes of Michigan State, Belmont, Saint Louis and Ohio State set the competitive tone early on, and the aforementioned losing streak could easily be labeled the wall the Jayhawks had to hit before emerging stronger.
Kansas seems to be finding synergy at the perfect time, and should be prohibitive favorites for a No. 1 seed and a trip to Atlanta in pursuit of college basketball's ultimate prize.