With conference tournaments coming to a close, our full attention now will turn to Selection Sunday and the subsequent 2013 NCAA tournament that awaits.
Several teams will be in the running for the the title this year, whilst several more will be looking for strong showings in the tournament to cap off a strong season—especially those that recently made a name for themselves in their respective conference tournaments.
Read on to see the teams to keep an eye on heading into the 2013 NCAA tournament following strong showings at various conference tournaments.
Syracuse (2nd place, Big East)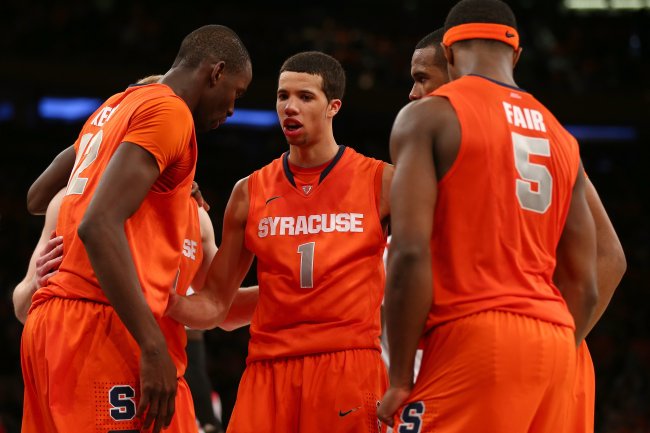 Elsa/Getty Images
It might have ended up with a 17-point loss in the Big East final at the hands of Louisville, but for a moment there, Syracuse looked like a genuine threat.
Having triumphed over the No. 17 Pittsburgh Panthers and the No. 5 Georgetown Hoyas, the Orange led the No. 4 Louisville by 12 points at halftime in the final, before a second-half demolition ended any chance that Syracuse had at claiming the title.
Still, the Orange showed that they can mix it with the best in the country this year and that they'll be a genuine top-four threat in the tournament this year.
Their athleticism and ability to dominate on the boards make them a very tough team to stop. As a result, Syracuse appear primed for a strong showing later on in March.
UNLV (2nd place, Mountain West)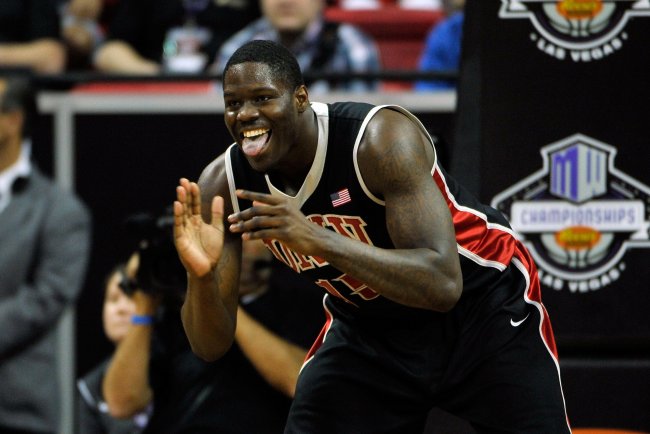 Jeff Bottari/Getty Images
Led by Anthony Bennett, UNLV came close to triumphing in the Mountain West—going down in the final to No. 15 New Mexico by seven points. Yet regardless of that, this team looks like a very strong contender later in the month, and it should challenge several of the top teams if drawn together.
The Rebels rank sixth in the country for rebounds per game, and their tough defense continues to cause havoc on opposing offenses regularly.
If they can continue that in the NCAA tournament and continue to develop good, effective offensive production at the other end, expect UNLV to go a long way in March—perhaps even taking out some of the big-name teams in the process.
LIU Brooklyn (1st place, Northeast)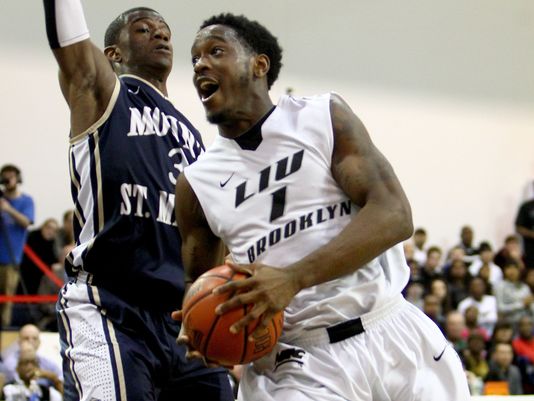 Finishing the regular season at 12-6 in the Northeast Conference, Long Island University-Brooklyn showed just how dominant it can be on offense this postseason—running away with the conference title over Mount St. Mary's 91-70 as a result.
LIU Brooklyn boasts a prolific offense that is one of the best in the country—ranked 11th in field-goal percentage and fifth in average points per game.
Both of those were evident throughout the conference tournament and will likely come to the fore once more during the NCAA tournament. Only one of the Blackbirds' last 11 games has seen them fall below 80 points per game, and they ended up winning that one anyway.
Expect their dominant point-scoring to continue in the postseason and cause some real problems for opposing teams as a result. And if they can start to make big plays on defense as well, expect them to definitely move through the opening rounds of competition later this month.
Which teams most impressed you in their conference tournaments?
Comment below or hit me up on Twitter: Follow @dantalintyre