The 2013 Big Ten Tournament is off to a fast and furious start, highlighted by Brandon Paul's buzzer-beater to help Illinois down Minnesota in the opening game of the day.
Michigan cruised past Penn State, Nebraska held on for a nail-biting win against Purdue and Iowa continued its quiet pursuit of an NCAA tournament bid with a big win over Northwestern on Thursday night, capping an exciting day in one of the country's most action-packed tournaments.
Now the real fun begins, as the top four seeds of the tournament now await in the quarterfinals, headlined by Big Ten regular season champion Indiana and rapidly rising Ohio State.
Michigan State and Wisconsin round out those four seeds, and the Big Ten will enter its most crucial stretch of the season on Friday—interesting, since the conference has been riddled with upsets and big games for the past three months.
That being said, it's prediction time. There are only six games left in the Big Ten this season before we transition to the NCAA Tournament and March Madness, so here's three final bold predictions for the final three days of Big Ten tournament play.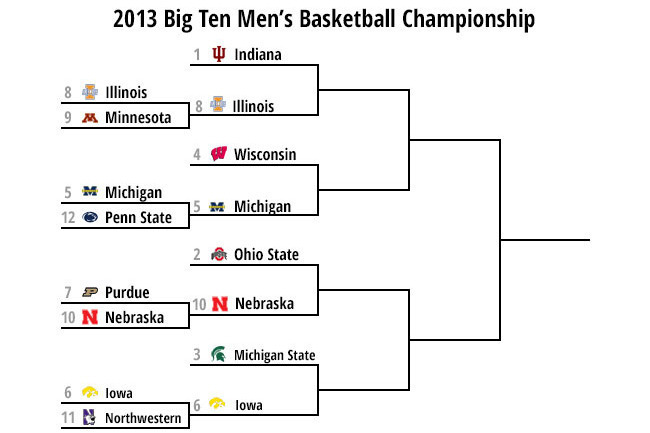 Michigan Goes Down in the Quarterfinals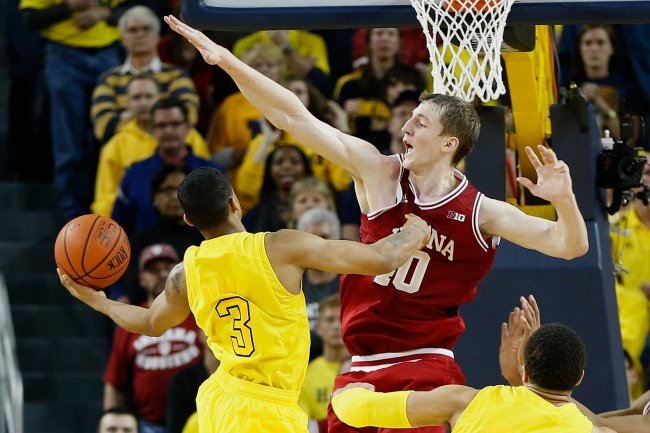 Gregory Shamus/Getty Images
Michigan came away with a big victory over Penn State on Thursday, erasing some of its past demons after a regular-season loss to the Nittany Lions helped put some serious doubt in our belief in the Wolverines.
Waiting in the quarterfinals will be Wisconsin, a team that also upset the Wolverines behind the heroics of guard Ben Brust, who hit a half-court shot desperation three-pointer to send a game into overtime that the Badgers eventually won.
Is Michigan a legitimate title contender?
Michigan certainly has revenge on the mind, but history will repeat itself in the quarterfinals.
Glenn Robinson had a horrible game in the first meeting between these two teams, while the Wolverines struggled to contain the Badgers from three (10-of-24 on the night). Wisconsin presents a difficult matchup for the Michigan guards, particularly because any type of penetration leads to open three-pointers for Wisconsin.
Because Michigan is a Top 10 team, has already cemented its place the NCAA tournament and been prone to the upset this year, this is a good time for Big Ten player of the Year Trey Burke and the Wolverines to go down.
Victor Oladipo Wins Player of the Year Honors With His Play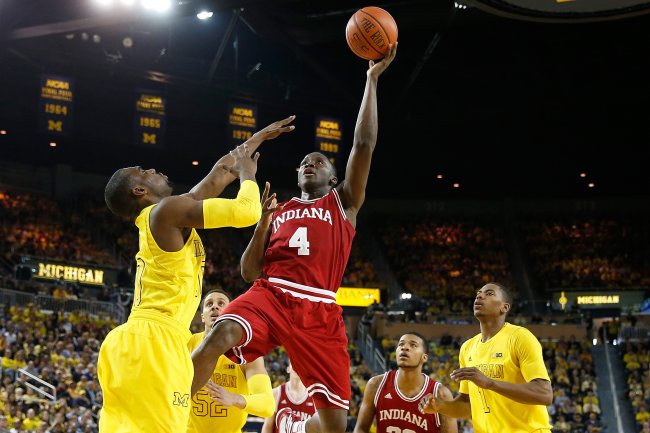 Gregory Shamus/Getty Images
With Burke heading home early and Otto Porter playing on Friday in the Big East tournament, the race for the Naismith Player of the Year Award could come down to how Indiana's most versatile player performs in this tournament.
Yes, we're talking about Victor Oladipo.
The guard doesn't have huge numbers, but his field goal percentage and impact on games continue to blow us away every game; the guy is as close to the definition of X-factor as there is in sports right now.
ESPN and Sporting News made Oladipo's case as a POY candidate with recent articles about why there are more important things to consider than stats when making the case for the best player in the nation, noted by Mike DeCourcy in the latter article:
We'll tell you Oladipo didn't even match Davis' scoring total. He produced only a little more than half what Kevin Durant of Texas or J.J. Redick of Duke managed in their player-of-the-year seasons. But it feels almost wrong to present Oladipo's numbers in support of his selection by Sporting News. It's like trying to put a mathematical value on the beauty of Jennifer Aniston. Whatever it is, it's not to be found in her height, weight or measurements.
That second to last sentence says it all, because the beauty of Oladipo's game is certainly hard to describe. However, he's integral to what Indiana does, and more important than any other component that the team employs—even Cody Zeller.
Even if Indiana does not win the tournament (something we'll discuss in the next section) Oladipo's contributions as a spark plug, efficiency monster and an improving offense player all jump-start everything Indiana does.
Ohio State Wins a Share of the Conference Title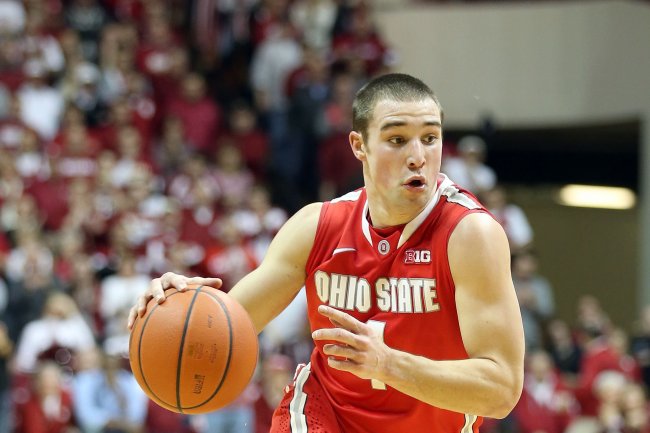 Andy Lyons/Getty Images
There are few teams playing better than Ohio State right now.
Aaron Craft is the peskiest defender and an improving player on offense; his contributions against Michigan State almost single-handedly ended in a Buckeyes win.
The Buckeyes don't jump off the page and do anything particularly great. However, they do create opportunities on offense because of outstanding defense, and the last loss (a 71-49 decision to Wisconsin) has clearly upped the bar for these kids heading into the final part of the season.
Ohio State is 5-0 since, and the closest game was an eight-point win. Don't forget, that streak includes a win over Indiana at Assembly Hall—something that can't be overstated as the two teams try to get to the tournament final for a potential rematch.
No matter the opponent, Ohio State is ready for the challenge. Nebraska awaits on Friday, but the competition will be too fierce for one of the hottest teams in college basketball en route to a share of the Big Ten 2012-13 title.