Pac-12 Tournament 2013: Predictions for Each Game of the Tournament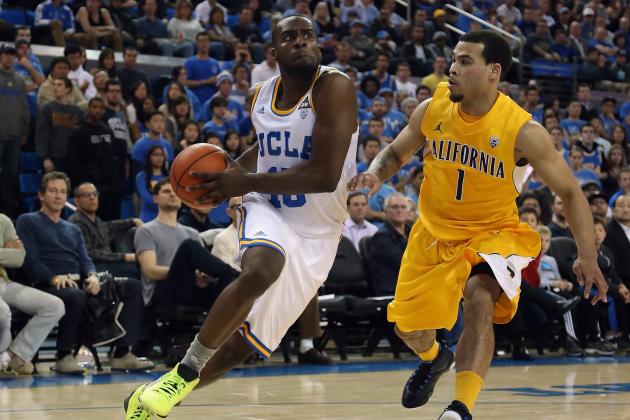 Jeff Gross/Getty Images

The Pac-12 was certainly an interesting conference to watch this season.
The conference is full of very average basketball teams that struggled in nonconference play, but it made for some very exciting conference games.
The conference tournament should be no different.
If a Cinderella is going to come out of any power-conference tournament, then this is the tournament that we are most likely to see that happen in.
Here are predictions for each game of the 2013 Pac-12 Tournament.
Begin Slideshow

»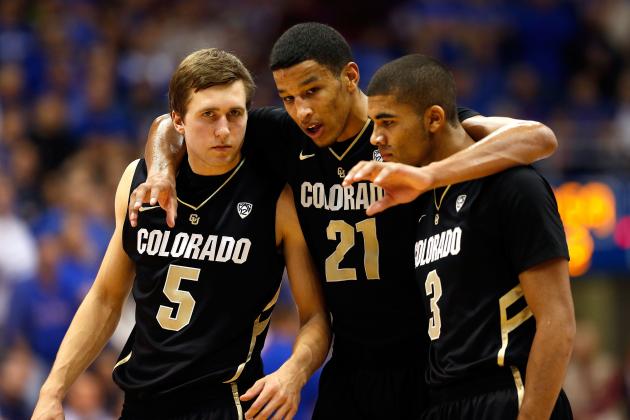 Jamie Squire/Getty Images

Stanford vs. Arizona State
The Cardinals were able to escape Arizona State with a three-point victory in February, and another close contest is expected when the two teams open up play in the Pac-12 Tournament.
Arizona State was in competition for the conference title for much of the season, but dropped its final four games, falling all the way down to the eighth seed in the conference.
Expect a tight game throughout, but the Sun Devils will once again have problems, and they will cost them the game.
Pick: Stanford
Colorado vs. Oregon State
Colorado should be in the NCAA Tournament, but that could all change if they lose to Oregon State. The Buffaloes already lost to the Beavers in their season finale four days ago, and if they add another loss to them to their resume, then they could find themselves out of the tournament.
Colorado is much better then Oregon State and really should not have any problems. Expect them to be ready to bounce back from their last week's loss and lock up a spot in the big dance next week.
Pick: Colorado
Washington vs. Washington State
Rivalry games are always great, especially when they occur in a conference tournament. The Huskies managed to win both matchups this season against their rivals from Washington State, but the Cougars will be looking for revenge.
If any team from the Pac-12 can make a magical run into March, then it's the Huskies.
Pick: Washington
USC vs. Utah
USC has really shown us how mediocre this conference is this season.
The Trojans were absolutely dismantled in their nonconference schedule, yet they have been able to go 9-9 in conference play and won a few games against some of the league's top teams.
The Utes have not really been competitive this season. They managed to win their final two games of the year and are hoping to take that momentum with them into the conference tournament, but they were smashed in their only matchup with USC this season.
Pick: USC
Christian Petersen/Getty Images

UCLA vs. Stanford
Even though the Bruins totally choked against Washington State last week, they were still able to win the outright conference title by beating Washington in their final game of the season.
The Bruins won each game against Stanford by eight points this year, and the score will look the same in their quarterfinal showdown.
Stanford is just not quite on the same level as the conference champions.
Pick: UCLA
Arizona vs. Colorado
Arizona was unbelievable in nonconference play this season, but they had some struggles on the road against mediocre conference opponents.
Colorado was one of those opponents.
The Wildcats and Buffaloes split the season series this year, with each team winning on their home court. Now, they meet at a neutral site. Expect Arizona to finally play like they did during the nonconference schedule and take care of business.
Pick: Arizona
Oregon vs. Washington
Oregon used some big wins early on to get ranked in the Top 25, but since then they have had a monumental collapse. They have 5-6 in conference play and certainly have not played at all like a team that belongs in the Top 25.
The Ducks were able to beat Washington both times this season, but that will not hold true in the conference tournament. The Huskies get the win this time.
Pick: Washington
California vs. USC
California has played extremely well down the stretch and had a shot at getting a share of the conference title if they could have beaten Stanford in their season finale.
USC could not really match the Golden Bears offense in either of their first two meetings, and the same will hold true in their quarterfinal meeting.
Pick: California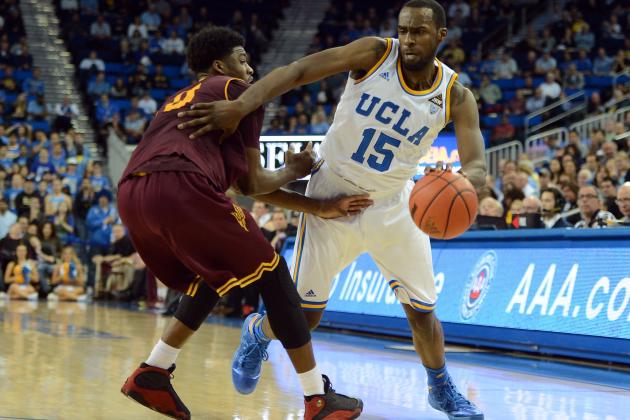 Harry How/Getty Images

UCLA vs. Arizona
Many people believed coming into Pac-12 play this season that the Wildcats were the team to beat. The Bruins thought otherwise though and are now 2-0 against Arizona this season.
The Bruins better be ready to go against Arizona this time around, because the Wildcats certainly are not happy about those two previous losses.
The Arizona offense is explosive at times, and one of those times will be against UCLA on Friday.
Pick: Arizona
Washington vs. California
Washington defeated California when the teams met up in January, and they will once again give them a great battle.
Both teams played solid basketball to close out the season and are two of the hotter teams coming into the conference tournament.
Washington has a great chance to make a run all the way into the NCAA Tournament, but they are going to have some trouble against California.
Outside of their loss to Stanford, the Bears are playing great right now and will be very tough for anyone to knock out.
Pick: California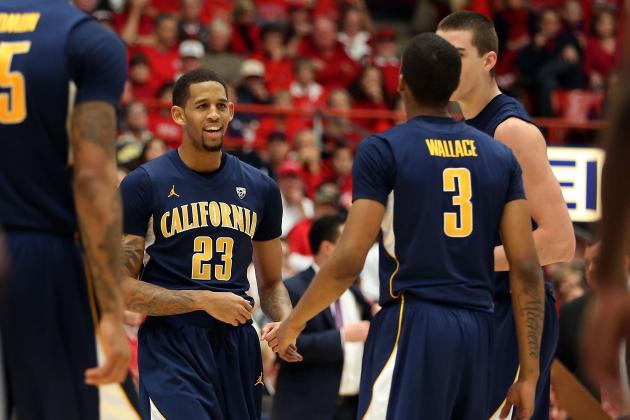 Christian Petersen/Getty Images

Arizona vs. California
California started off their season-high, seven-game winning streak by getting a big road win against then No. 7 Arizona. The Bears will be looking to close out the conference title with a win over that same Arizona team, but it certainly will not be easy.
If Arizona plays like they did at the beginning of the season, then they are more then capable of winning the Pac-12 Tournament. The key word being, "if."
Simply put, Arizona has not played like it did during their nonconference schedule, and although it is playing good basketball, it is not playing good enough to beat California.
The Golden Bears have come together and are playing really well right now. They will show that by winning the 2013 Pac-12 Tournament.
Pick: California