15 NCAA Basketball Teams Hitting Panic Button as Conference Tournaments Begin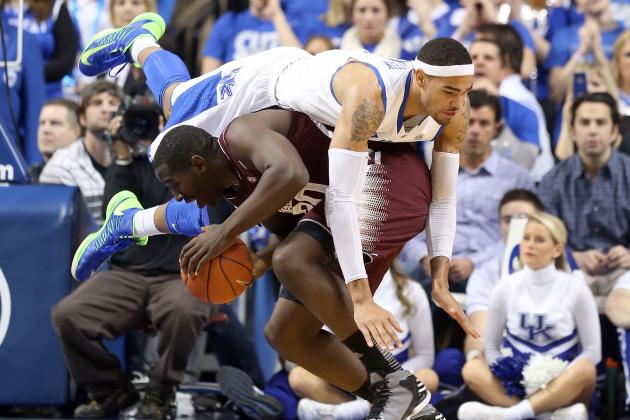 Andy Lyons/Getty Images

Pressure is mounting on a number of teams.
A lot of teams know they need to fare well in their conference tournament to reach the NCAA tournament, but not all of them are in panic mode. Many are satisfied just to be in position to get in.
To be hitting the panic button, a team must meet at least one of three criteria:
1. Expectations were high for the team and failing to make the NCAA tournament would be a huge disappointment for the team and its fan base.
2. The team had things going in its favor earlier in the season, but recent developments have put either an NCAA tournament berth or its postseason prospects in great peril.
3. An aspect of the team or its season, such as a coach's job security, is putting additional pressure on the team.
We rely heavily on the bracketology of ESPN.com's Joe Lunardi and CBSSports.com's Jerry Palm to determine whether a team is on the NCAA tournament bubble or what its seed might be.
Here is our countdown of the 15 teams that may hit the panic button, ending with the team that has the most reason to panic.
Begin Slideshow

»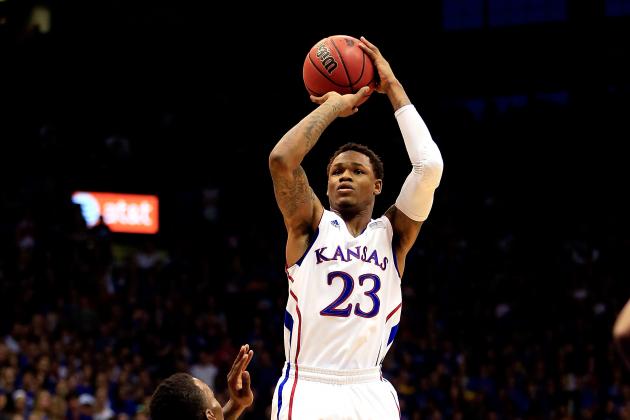 Jamie Squire/Getty Images

Neither Kansas nor Florida has its finger on the panic button yet. However, recent results will make them awfully edgy if they flounder in their conference tournaments.
Kansas was rolling along toward a No. 1 seed until it collapsed in its final game before the Big 12 tournament. The Jayhawks suffered their most lopsided loss in seven years, losing 81-58 to a Baylor team that had lost five of its previous six games. Maybe it was a fluke, but it brings to mind the earlier loss to last-place TCU.
Florida also had a No. 1 seed in hand about a month ago. But its only win in its last five road games came against last-place Auburn.
Kansas is a No. 2 seed and Florida No. 3 in Jerry Palm's current NCAA tournament projections. But an early loss by either in its conference tournament could knock it down another seeding peg. That would create a legitimate first-round NCAA tournament challenge. It also might cause the team to panic at a time when teams need to be stress-free.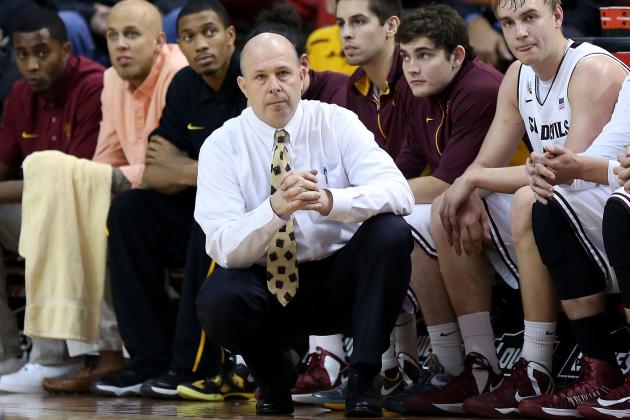 Christian Petersen/Getty Images

A team picked to finish 11th in the Pac-12 by the media, as Arizona State was, can't feel too much pressure at this point.
However, when the Sun Devils beat Cal on February 7, they were 18-5 overall and 7-3 in the Pac-12. An NCAA tournament berth seemed to be in the bag.
Arizona State then proceeded to lose six of its last eight games, including the last four in a row. The certain NCAA berth has dissolved into a state of desperation.
The Sun Devils are not projected to be in the NCAA field by either Joe Lunardi or Jerry Palm. The Sun Devils probably have to win the Pac-12 tournament to get in. They have to win at least two games just to get into the discussion for an at-large berth.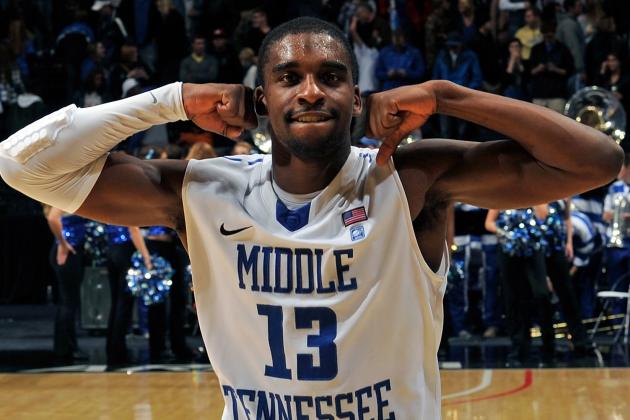 Frederick Breedon/Getty Images

Middle Tennessee has to endure a helpless week.
The Blue Raiders lost in the Sun Belt tournament semifinals to Florida International. As a result, they will suffer a panic attack every time an upset occurs in another conference tournament that could knock them out of the at-large picture.
Middle Tennessee (28-5) had won 17 straight games and had an RPI ranking of 25 before its loss. Its RPI ranking is still No. 29, and that typically guarantees a team an NCAA berth.
But the Blue Raiders don't have a single win over a team ranked in the RPI top 50 and are just 1-1 against teams in the top 100. That typically disqualifies a team from consideration.
Joe Lunardi lists them as one of the first four teams out, placing them squarely on the fence.
Middle Tennessee is left to fret about how the selection committee will view its results. By Sunday, as the upsets mount elsewhere, the Blue Raiders could be pressing the panic button.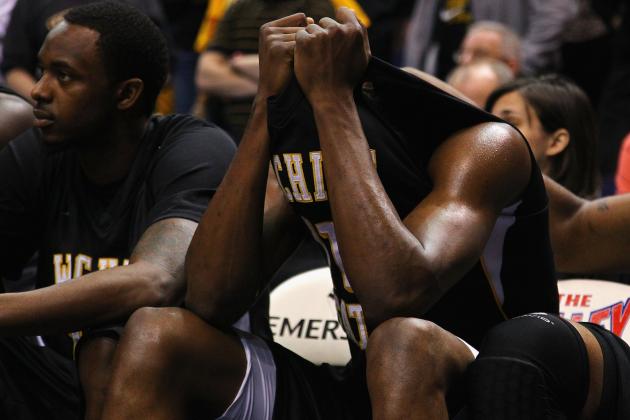 Dilip Vishwanat/Getty Images

Wichita State (26-8) is in much the same helpless situation as Middle Tennessee. The difference is, the Shockers could have prevented it in the regular season.
They were alone in first place in the Missouri Valley Conference with two games left. An NCAA berth was seemingly assured. But they lost both games to finish second, and lost to Creighton in the MVC tournament finals.
Palm still has the Shockers in the NCAA tournament. However, he has them seeded 11th, leaving them vulnerable if upsets in other conference tournaments shrink the bubble.
Panic may set in for Wichita State whenever a team not expected to make the NCAA tournament pulls an upset in another conference tournament.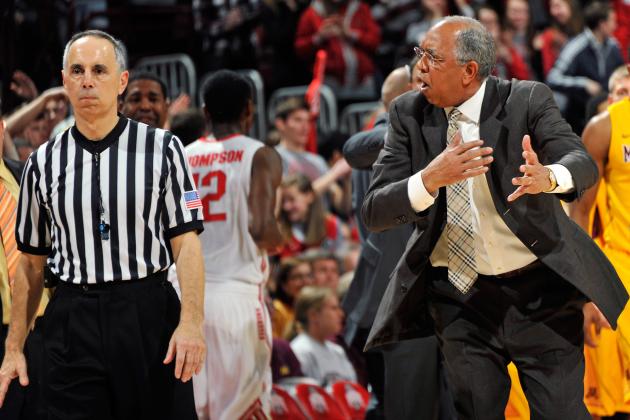 Jamie Sabau/Getty Images

Minnesota presumably will make the NCAA tournament no matter how it fares in the Big Ten tournament. Jerry Palm has the Gophers safely in as a No. 9 seed.
However, they have to be experiencing some high anxiety heading into the Big Ten tournament.
The Gophers were riding high with a 15-1 start, including 3-0 in the conference. But they lost six of their final nine games. They beat Indiana to restore hope, but then lost their final two games to teams with losing records, Purdue and Nebraska.
Coach Tubby Smith must have his finger close to the panic button because his erratic team seems to be crumbling at the wrong time. A conference tournament flop would mean a first-round NCAA game against a team seeded considerably higher than Minnesota.
Nate Shron/Getty Images

Beating Georgetown in its final game before the Big East tournament may have eased the anxiety a bit for Villanova.
But the Wildcats must be fretting a lot more than they were in the final week of January, when they beat Louisville and Syracuse in consecutive games. That seemed to assure the Wildcats an NCAA tournament spot.
A late-season loss to Seton Hall removed Villanova's secure spot in the NCAA tournament and added pressure heading into the Big East tournament.
Jerry Palm and Joe Lunardi both have the Wildcats projected as a No. 11 seed, a precarious position. The Wildcats may need to win at least one game in its conference tournament to get in.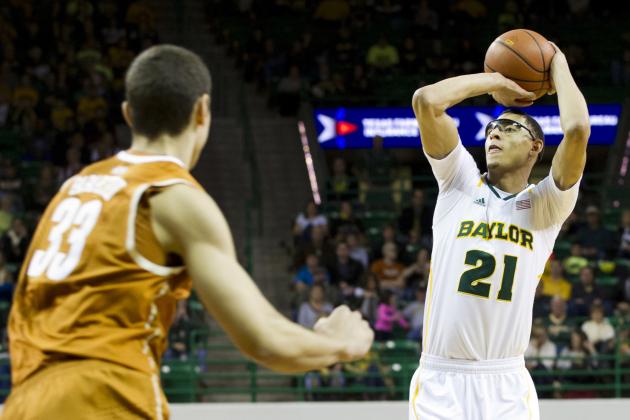 Cooper Neill/Getty Images

Baylor has been in panic mode for the last few weeks.
The talented Bears were picked to finish second in the Big 12 by the conference coaches, and they looked like an NCAA tournament team when they started 14-5 overall and 5-1 in the conference.
Things then began to unravel for coach Scott Drew's squad. Baylor lost eight of its next 11 games, taking it out of the NCAA tournament picture. A huge 23-point victory over Kansas in the final regular-season game got the Bears back into the at-large discussion.
However, Joe Lunardi and Jerry Palm still do not have the Bears in their projected NCAA tournament field. Lunardi has them among the first four out, but Palm does not have them even that close.
Baylor needs to come up with wins over top-flight teams in the Big 12 tournament to have a shot at an NCAA berth. It may need to win the tournament.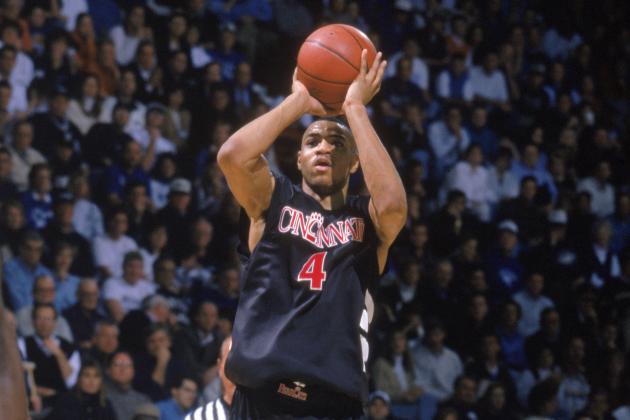 Andy Lyons/Getty Images

Getting an NCAA tournament berth is not the issue for Cincinnati (21-10). Joe Lunardi and Jerry Palm both have the Bearcats safely in the field.
However, the Bearcats and coach Mick Cronin have to be freaking out about their play over the last nine games, of which they lost six.
In their final game, they had to rally from an eight-point deficit with less than four minutes left to win in overtime at home against South Florida, which went 3-15 in the Big East.
Cincinnati's projected seeding has been sliding in recent weeks. Had Cincinnati lost to South Florida, it might be fighting for its NCAA tournament life in the Big East tournament. As it is, that last performance and the recent setbacks have to have the Bearcats on edge for its first conference tournament game.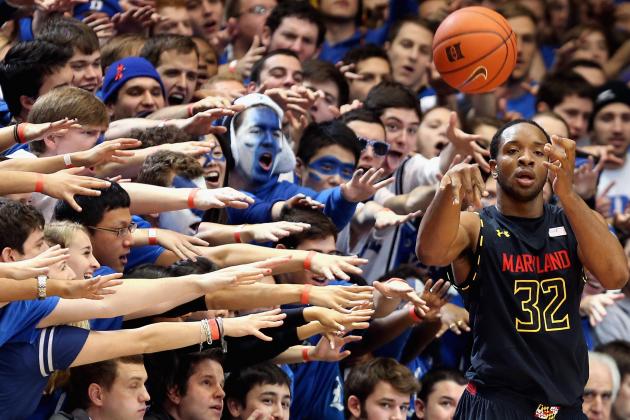 Streeter Lecka/Getty Images

Mark Turgeon did not make the NCAA tournament in his first season as Maryland's coach. If the Terps don't do something spectacular in the ACC tournament, they won't make it in his second season either.
Maryland fans are not used to being left out of the NCAA tournament field, and Turgeon is on the verge of being 0-2.
Maryland seemed like a shoo-in for a berth when it beat then-No. 14 North Carolina to improve to 14-3. But the Terps dropped five of their final eight games, including their last two. Now they are in panic mode.
Neither Jerry Palm nor Joe Lunardi has the Terps even on the fringe of the bubble. They may need to win the ACC tournament to get in.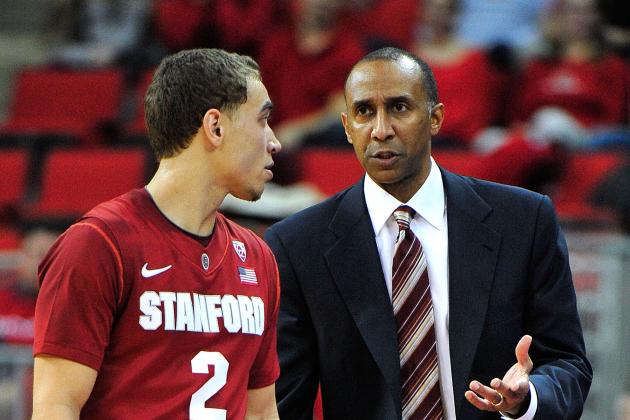 Grant Halverson/Getty Images

If Stanford coach Johnny Dawkins is not pushing the panic button, he should be.
The Cardinal were picked to finish fourth in the preseason Pac-12 media poll after returning many of the players from their NIT championship team.
Stanford looked like it might surge into the NCAA tournament when it beat Arizona State on the road to improve to 15-9. Then it proceeded to lose four of its next five games to take itself out of the discussion.
Blowout wins over Oregon and Cal demonstrate that Stanford has the necessary talent to be an NCAA team. But the Cardinal were just 2-5 in games decided by five points or less.
If the Cardinal do not win the Pac-12 tournament, they probably will be left out of the NCAA tournament for the fifth time in Dawkins' five seasons as coach. That would look bad for Dawkins for two reasons: Stanford got to the NCAA tournament in 13 of the 14 seasons before he arrived, and Stanford hired a new athletic director (Bernard Muir) last summer.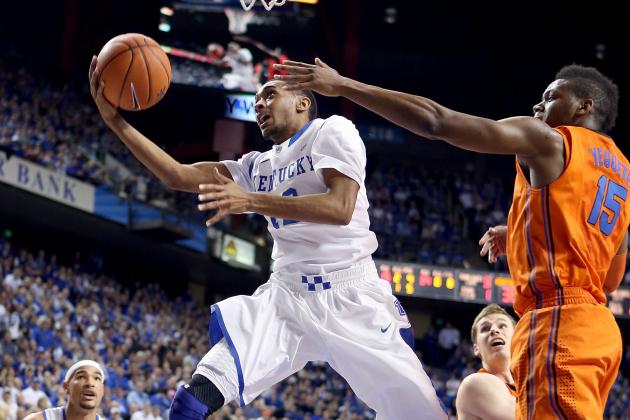 Andy Lyons/Getty Images

If Kentucky hadn't beaten Florida in its final regular-season game, it would be No. 1 on the list.
Beating the Gators relieved some of the pressure, as Joe Lunardi and Jerry Palm both have the Wildcats in the NCAA tournament field for now.
But the pressure is far from gone. Lunardi and Palm both have the Wildcats among the final teams in. A bad loss in the Southeastern Conference tournament could push Kentucky out of the field.
Kentucky fans are tough. They not only expect the Wildcats to get into the NCAA tournament every year, they expect them to go far once they get there.
Failing to reach the field with a team that was ranked No. 3 in the preseason and has three players (Archie Goodwin, Alex Poythress, Willie Cauley-Stein) projected as first-round NBA picks this year or next by DraftExpress.com, would be difficult to accept.
Following a national championship season with an NIT berth is not what Kentucky supporters had in mind for John Calipari.
Kentucky's fans have been panicking for a few weeks. And they still are.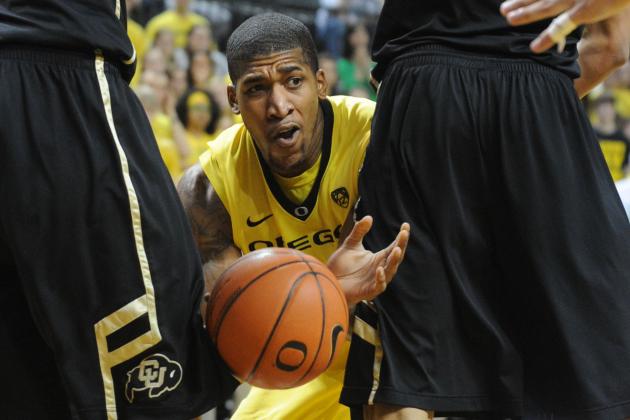 Steve Dykes/Getty Images

Oregon heads into the Pac-12 tournament on a downward spiral that has set off a panic alarm.
The Ducks were once 18-2, including 7-0 in the conference, with wins over Arizona and UCLA. Then point guard Dominic Artis got hurt, and they went into a tailspin, losing six of their final 11 games.
Artis returned for the last three games, but Oregon lost two of those, including a demoralizing 10-point loss to 10th-place Utah in the finale.
Oregon will make the NCAA tournament, but the Ducks could slip to a double-digit seed if its slump continues with a bad loss in the conference tournament. That would raise anxiety further for a team that was ranked No. 10 in the country on January 28.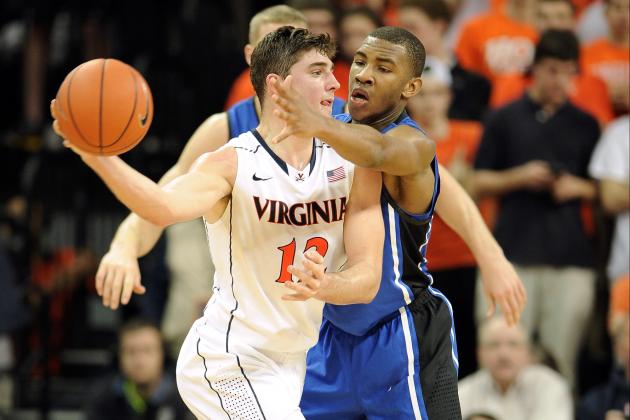 Lance King/Getty Images

Virginia (21-10) is an example of how quickly things can change.
When the Cavaliers beat Duke decisively on February 28, they seemed to have locked up an NCAA tournament berth. The crowd swarmed the court, Joe Harris was hailed as a candidate for ACC player of the year, and the previous victories over North Carolina State, North Carolina and Wisconsin were lauded.
Virginia then lost to Boston College and Florida State, and panic set in.
A victory over Maryland in the final regular-season game has the Cavaliers in the NCAA tournament according to Joe Lunardi, but not according to Jerry Palm.
The good wins accompanied by bad losses to Old Dominion, George Mason, Wake Forest and Delaware make it difficult to assess Virginia's postseason prospects. That's why Palm and Lunardi disagree on Virginia's status and why the Cavaliers are fretting about how the selection committee will perceive them.
The Cavaliers must win at least one ACC tournament game, and perhaps two, to get into the NCAA tournament.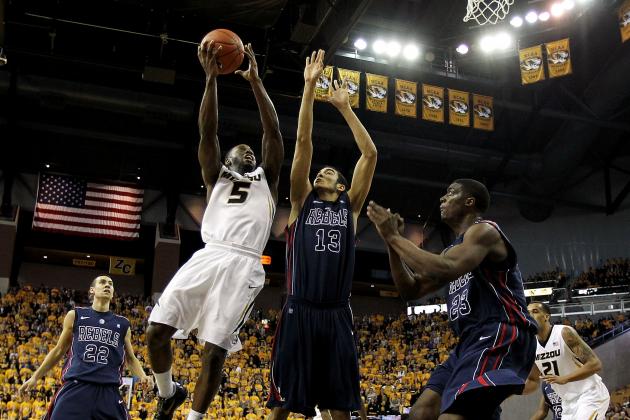 Jamie Squire/Getty Images

When Mississippi was 17-2 overall, 6-0 in the Southeastern Conference and ranked No. 16, it looked like a team that would ease into the NCAA tournament and do some damage once it got there.
Then things fell apart. The Rebels lost six of their next 10 games, a stretch that ended with a loss to Mississippi State, which is 9-21.
The Rebels have been in extreme panic mode ever since. They know one more loss might eliminate their chances of landing an NCAA berth despite the encouraging start.
The Rebels won their final two games to get back into the NCAA tournament discussion. But neither Joe Lunardi nor Jerry Palm has the Rebels in his projected tournament field. Both have Ole Miss among the first four teams left out, leaving it in a vulnerable, anxiety-ridden position
Mississippi and controversial star Marshall Henderson need to win at least a few games in the SEC tournament to get in.
Knowing that its outstanding start has dissolved into such a desperate situation has Mississippi reaching for the panic button.