10 Things Iowa Basketball Must Do to Make a Big Ten Tourney Run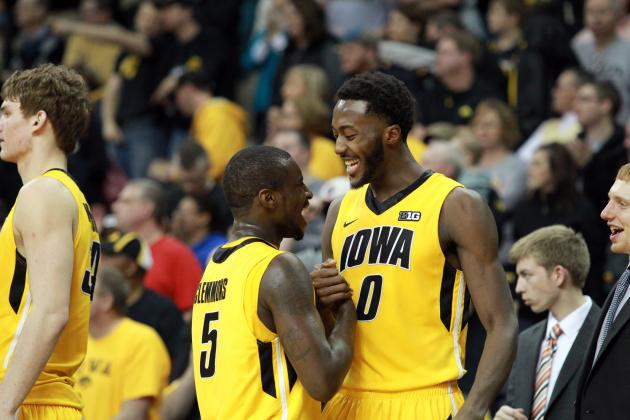 Reese Strickland-USA TODAY Sports
Anthony Clemmons and Gabriel Olaseni celebrate after Iowa defeats Nebraska 74-60 on Senior Day.
If the Iowa Hawkeyes want to go dancing for the first time since 2006, they will need to make a Big Ten Tournament run to sharpen their resume.
It's been a season filled with tough Big Ten losses for Iowa. The Hawkeyes lost six of their nine conference games by four points or less.
However, Iowa has won six of its last eight, is playing its basketball of the season and carries a lot of momentum into the Big Ten Tournament.
Historically, there are trends that favor the Hawkeyes. In the 15 years of the tournament, a No. 6 seed has only lost once to a No. 11 seed. Furthermore, a No. 6 seed has advanced to the semifinals eight times.
If the Hawkeyes are going to make a run in Chicago, this is what they need to do.
Begin Slideshow

»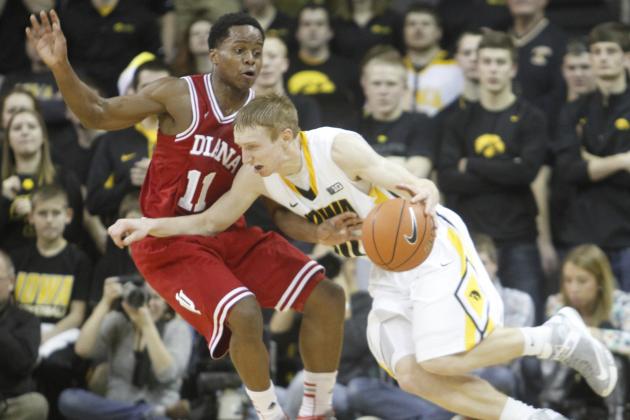 Matthew Holst/Getty Images
Mike Gesell drives to the basket against Indiana's Kevin Ferrell on December 31.
According to Scott Dochterman of The Gazette, head coach Fran McCaffery believes Mike Gesell will return for the Big Ten Tournament. The starting point guard has missed the last four games with a foot injury.
While it's unclear how healthy Gesell will be, it's critical that he doesn't push his luck. He's only a freshman and playing his average of 27.5 minutes a game against a struggling Northwestern team would be a mistake.
Iowa uses a 10-man rotation and has shuffled its starting lineup multiple times this season. Since Gesell was sidelined, the Hawkeyes have won three of their last four games.
To be clear, this isn't a suggestion that Gesell isn't an important piece to the puzzle for Iowa. He brings a lot to the table on both ends of the floor and is the Hawkeyes' best player pushing the ball up the floor.
Nonetheless, for Thursday's matchup with the Wildcats, Gesell should see no more than 15 minutes.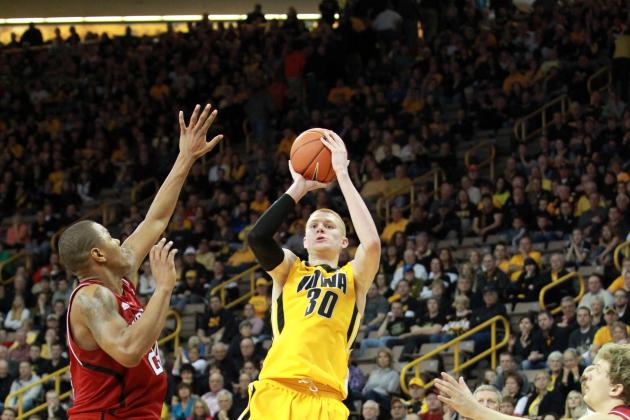 Reese Strickland-USA TODAY Sports
Aaron White scored 19 points against Nebraska in Iowa's regular-season finale.
As the leader on the team in free-throw attempts, Aaron White has done a fantastic job pump faking and attacking the basket from the perimeter. It's a tough task for a defense to guard a 6'8" small forward that has that capability along with creating mismatches in the post.
In the beginning of the Big Ten season, White was playing the 4 because Melsahn Basabe was coming off the bench. As a result, he only attempted three shots from behind the arc in his first six Big Ten games.
Now that Iowa is going with its bigger lineup, White has started pulling the trigger more often from 3-point range. He averages 1.6 attempts a game on the season, but has fired 12 3-pointers in the last five games.
This is an excellent move because he stretches the defense away from the paint and creates easier opportunities for Basabe and Adam Woodbury in the post.
By no means should White stop attacking the basket since that's one of his greatest strengths. He just needs to keep shooting from long range three times a game to benefit the rest of the team.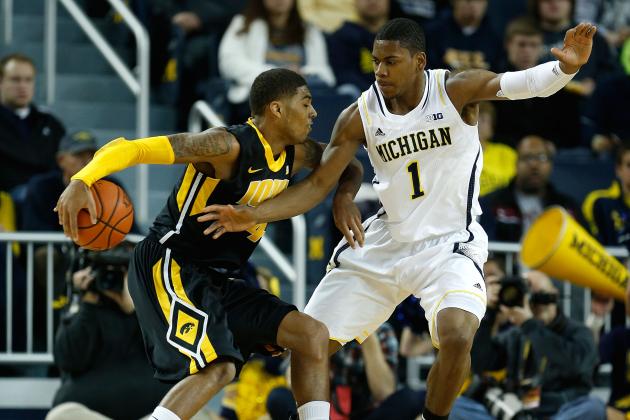 Gregory Shamus/Getty Images
Roy Devyn Marble leads Iowa in scoring with 14.1 points a game.
It's clear that Roy Devyn Marble is the playmaker. What Marble particularly needs to do is continue to push the ball.
Between Marble's ability to pass in transition, shoot from the outside and finish at the basket, he must force the opposition to run with him. With Anthony Clemmons behind him and Gesell likely coming back, Marble will have additional support to make this happen.
The rest of the Hawkeyes' roster is built for an excellent transition game. Eric May can explode and play above the rim. White and Basabe can finish at the basket. Woodbury and Gabriel Olaseni will trail and attack the offensive glass. Josh Oglesby and Zach McCabe will float to the wing for a 3-pointer.
This will be particularly effective against the potential opponents Iowa has in Chicago. In the bottom half of the bracket with the Hawkeyes are Northwestern, Michigan State, Ohio State, Purdue and Northwestern. All five of those teams generally like to play at a slower pace.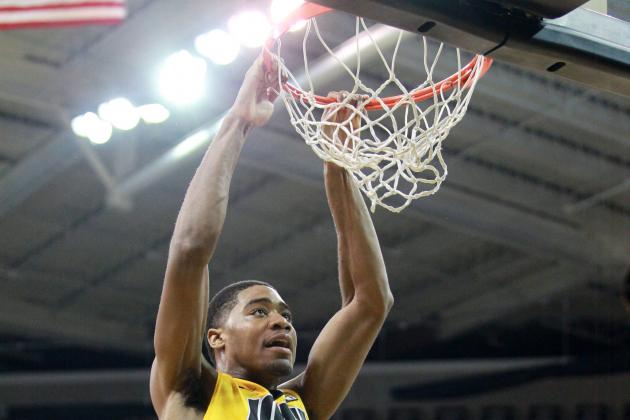 Reese Strickland-USA TODAY Sports
Melsahn Basabe posted 11 points and 13 rebounds against Nebraska.
Despite only being 6'7" at power forward, Melsahn Basabe is the best finisher at the basket in the post for Iowa. He has a strong upper body, can lean into the defender's chest and use great touch off the glass to convert.
Basabe started off the season coming off the bench, but made the starting lineup on January 31 against Penn State. He recorded his first double-double of the season with 10 points and 10 rebounds. Then on Saturday against Nebraska, Basabe posted 11 points and 13 rebounds in just 21 minutes.
While he isn't the tallest guy on the team, Basabe's aggressive nature is vital to Iowa's success. The Hawkeyes have height, but other than White, they don't have another player that can finish down low in contact. Adam Woodbury is making progress, but he's still getting used to the physical beating of the Big Ten.
Additionally, Basabe shoots 54.3 percent from the field (best on Iowa) and has shot 50 percent or better in 13 of 18 Big Ten games this season. He needs to apply that percentage as much as possible when given the opportunity.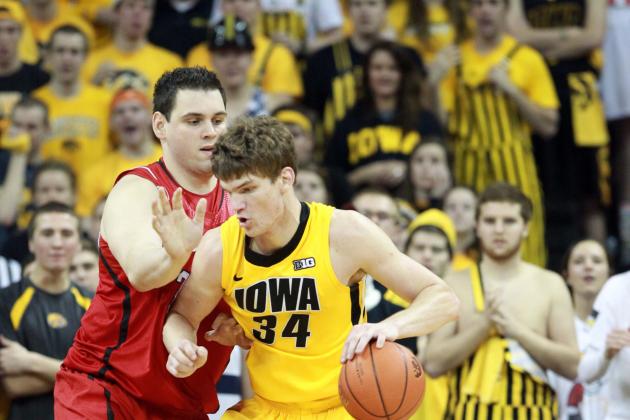 Reese Strickland-USA TODAY Sports
Adam Woodbury was a perfect 6-6 from the field against Nebraska.
There's been some growing pains, but Adam Woodbury is starting to find a groove late in the season. He's 10-13 in his last two games and is beggining to see the floor more clearly.
Woodbury has done this through the pick and roll.
After setting the high-ball screen, Woodbury will never pop for an outside shot since that isn't part of his game. Therefore, he rolls to the basket just about every time.
What makes this difficult for a defense is that switching is a bad option. If the defense does elect to switch, Woodbury can clear space in the paint against someone who is a foot shorter than him.
Since the defense normally likes to hedge the screen, if the timing is right, the point guard can find Woodbury in the passing lane as he rolls to the basket. Woodbury's best scoring ability is when he catches the ball on the move, turns to the basket and uses his wingspan to lay it in.
This is part of the reason why Iowa leads the Big Ten in assists with 15.3 per game (per BTN.com).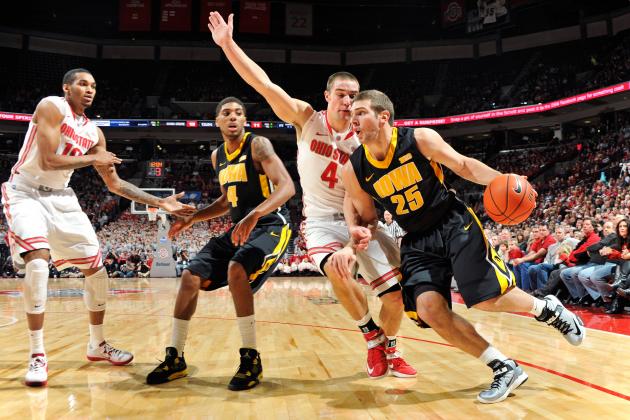 Jamie Sabau/Getty Images
Eric May drives past Ohio State's Aaron Craft in Iowa's 72-63 loss.
As the only senior on the team who gets any significant playing time, Eric May has transformed into the most improved player for the Hawkeyes.
He knows how to contribute on a consistent basis. One game he scores 10 points and pulls down seven rebounds in a 72-51 win against Minnesota, the next he only scores two points on Senior Day against Nebraska, but adds six rebounds and six assists.
May is also the spark for this Iowa team. He has a sneaky, yet, superb vertical jump where he can swat away shots at the rim and throw down the rock.
Through his senior leadership, May has a great understanding of the game. His balanced play and ability to energize the rest of the team will be needed for success each game this week.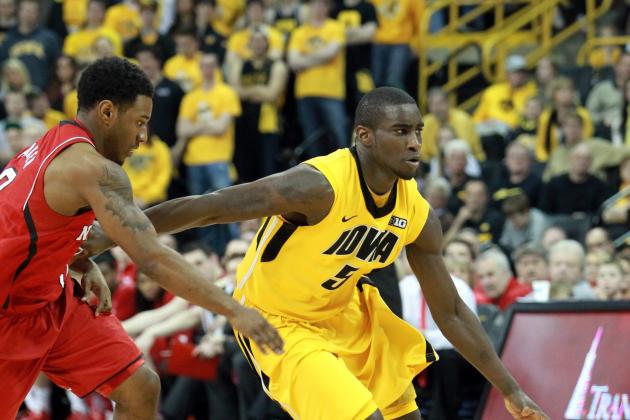 Reese Strickland-USA TODAY Sports
Anthony Clemmons averages a team-high 3.1 assists as a freshman off the bench.
One of Iowa's biggest issues when it goes on a scoring drought has been the inability to get the ball in the middle of the floor and making the defense collapse.
Anthony Clemmons has the speed and ball handling to do this. He's started seven games this year and has had to step up in this role while Gesell has been sidelined.
If Clemmons is in the game without Gesell, Marble and White, it's especially important that he gets penetration off the dribble. If he doesn't, the Hawkeyes are forced to take a contested jumper that will end up in a miss more often than not.
Clemmons might only average 17.5 minutes a game, but he leads the team in assists at 3.1 a game. He is a huge key in generating easy baskets.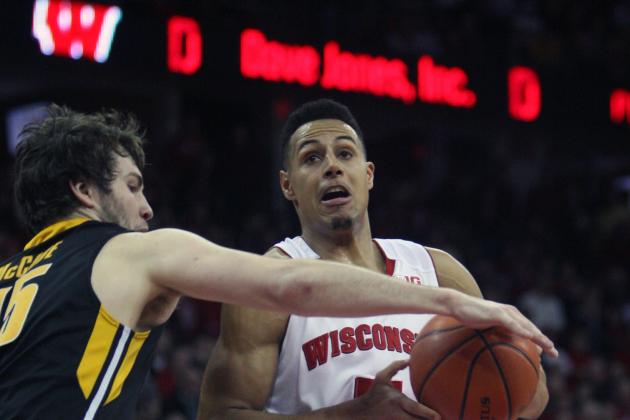 USA TODAY Sports
Zach McCabe strips Wisconsin's Ryan Evans in Madison.
The man who does a lot of the dirty work. He sets screens, rebounds and hustles for loose balls.
While this generally leads to him getting into foul trouble, Zach McCabe must continue to rise against the bigger power forwards in the Big Ten.
Many times when McCabe comes off the bench, he plays the 4 with a smaller lineup on the floor. Pending what the opposition does, McCabe can be left guarding someone who has two or three inches on him.
Even though he can have that disadvantage, McCabe is a physical and solid defender. With the depth Iowa has, he should never back down.
Furthermore, he is efficient on the glass. McCabe averages 3.6 rebounds a game in just 16.2 minutes. Considering that he is only 6'7" and playing in the Big Ten, that is a contributing factor to why Iowa leads the conference with 26.5 defensive rebounds (via BTN.com).
McCabe must bring this in Chicago.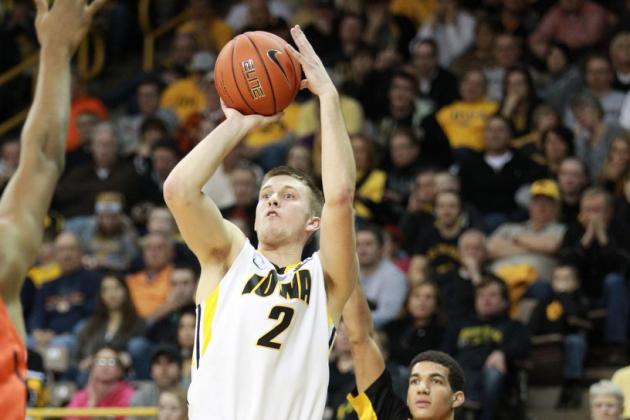 USA TODAY Sports
Josh Oglesby hits one of his two three-pointers against Illinois.
It's been a struggle for Josh Oglesby from 3-point range this season. He's 36-138 (26.1 percent) and 19-81 (23.5 percent) in Big Ten play.
However, it's important that Oglesby doesn't stop shooting. He's made several clutch shots for the Hawkeyes coming off screens away from the ball, and wears down whoever is guarding him for how much he moves. Oglesby hit back-to-back 3-pointers to ice the game against Illinois last week.
It's not like he's a bad shooter either. Oglesby has excellent rhythm, doesn't take bad shots in the offense and several of his misses have been halfway down and popped out. Iowa fans most remember the shot he had to beat Wisconsin in Madison at the buzzer.
Oglesby is simply going through a slump. He shot 37.2 percent from behind the arc last season and led the state of Iowa in 3-pointers made with 87 his senior year at Cedar Rapids Washington High School (via HawkeyeSports.com).
The shots will drop more consistently soon enough.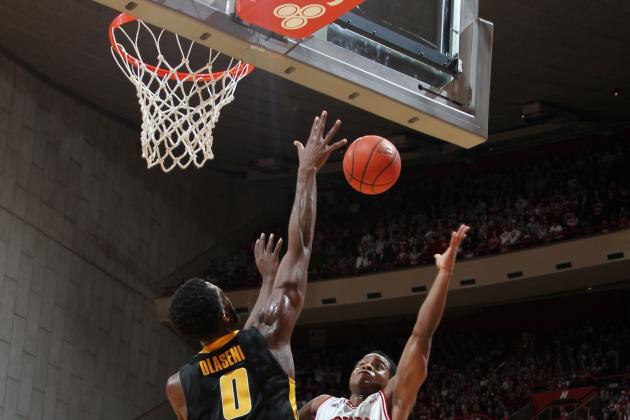 Brian Spurlock-USA TODAY Sports
Gabriel Olaseni has seen his minutes increase the last two weeks.
Gabriel Olaseni has made a huge impact protecting the basket toward the end of the regular season. As someone who had minimal playing time for most of the season, he's averaged 18 minutes his last four games.
Olaseni has particularly made good use of those minutes in his last two games. He blocked 10 shots combined in the Hawkeyes' victories over Illinois and Nebraska.
If Iowa wants to help its chances at making the NCAA tournament, beating Michigan State on Friday will certainly help its odds. Between the Spartans' Adreian Payne, Branden Dawson and Derrick Nix, Olaseni's rejections will certainly be needed to get a win.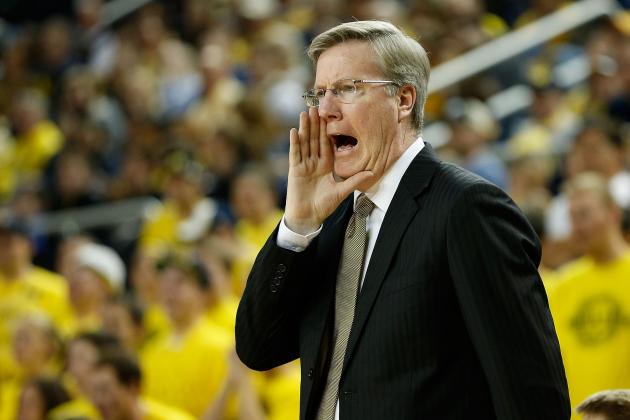 Gregory Shamus/Getty Images
Fran McCaffery will try and lead Iowa to its third Big Ten Tournament title this week.
Outside of free-throw shooting in the final minute, one of the main reasons why Iowa has failed to finish Big Ten games has been its ball movement in the second half.
The Hawkeyes have been outscored by a total of six points against Big Ten opponents after halftime (includes overtime periods). They are plus-37 in the first half.
This was especially true in Iowa's loss at Nebraska. After having a 41-25 lead at halftime, the Hawkeyes only scored 19 points in the second half and lost 64-60. Iowa didn't attempt a free-throw in the final 9:43 of the game.
The Hawkeyes have improved on this since that loss over two weeks ago. If Iowa is going to make a run in the Big Ten Tournament, it can't get too comfortable on the perimeter late in the game.
Bottom line: Iowa must attack for 40 minutes.