Southern Conference Tournament 2013: Day 2 Afternoon Session Previews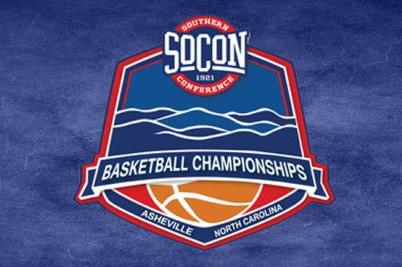 The Southern Conference tournament is officially underway in Asheville, N.C. Friday's afternoon games saw three of the four lower-seeded teams get victories, as No. 9 Georgia Southern, No. 12 Furman and No. 10 UNC Greensboro advanced, setting the quarterfinal slate for Saturday.
In the nightcap, No. 6 Western Carolina became the first higher-seeded team to record a victory, beating The Citadel.
Saturday's afternoon session will see Davidson open its bid for a 12th Southern Conference title when it plays upstart Georgia Southern, while Appalachian State and Furman meet in a conference tournament in Asheville for the first time since 1995.
Friday's Opening Round Scores:
No. 9 Georgia Southern 60, Wofford 44
No. 12 Furman 55, No. 5 Samford 51
No. 10 UNC Greensboro 87, No. 7 Chattanooga 81
No. 6 Western Carolina 76, No. 11 The Citadel 61
Begin Slideshow

»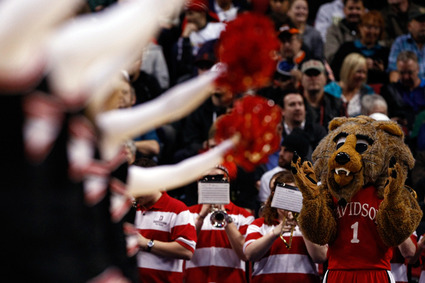 When you think of tradition in Southern Conference basketball, you think of the Davidson Wildcats. It's a program synonymous with championship-pedigree players and teams.
Davidson will be looking to win its seventh conference crown since re-entering the league in 1993. The Wildcats were once considered a major basketball power under the likes of Terry Holland and Lefty Driesell. But now, with the changing dynamics of college basketball and college athletics in general, Davidson has become one of the nation's top mid-major college basketball programs.
Some might even look at Davidson as a "poor man's Gonzaga." But you would be hard-pressed to find Davidson coach Bob McKillop referring to his program as a "poor man's anything." He has built upon a basketball foundation already rich in tradition.
It's hard to believe that McKillop's Wildcats went 4-24 in the 1990-91 season, his first on the job.
But while that may have been difficult for McKillop, his Wildcats have become one of the most consistently successful programs in all of college basketball over the past 15 to 20 years.
McKillop led his Wildcats to the "Elite Eight" in 2008, becoming one of only three SoCon schools to advance that far, joining West Virginia and VMI in that respect. It was a team that included Stephen Curry, one of the school's all-time greats.
Curry and Jason Richards helped propel the program back into the major college basketball limelight with that tournament run in 2007-08 before bowing out in a 58-56 loss to eventual national champion Kansas one win short of the Final Four.
And again this year, the Wildcats are considered the favorites to win the league tournament title.
The Wildcats and McKillop have also experienced their share of heartbreaks during the SoCon Tournament. Few will forget the 1996 team, which featured one of the most experienced clubs in McKillop's tenure, with the likes of point guard Chris Alpert, forward Quinn Harwood, forward Brandon "Ozone" Williams, guard Ray Mineland and forward Narcisse Ewodo. That team went 17-0 against Southern Conference foes heading into the tournament championship game against Western Carolina.
The Wildcats, who were 25-3 and on an 18-game win streak, were heavy favorites to earn McKillop his first Southern Conference Tournament titles. However, the upstart Catamounts, led by Anquell McCollum, were able to bring Davidson's dreams of an NCAA Tournament ticket to an end, defeating the Wildcats 69-60 at the Greensboro Coliseum, completing one of the biggest upsets in SoCon tournament history.
In 2005, the Wildcats finished 16-0 in the conference and were the heavy favorites to take the Southern Conference crown once again. After taking a 67-53 quarterfinal win over Elon, the Brendan Winters-led Wildcats once again fell in their bid to win their 18th straight game against Southern Conference competition, losing 73-68 to UNC Greensboro in Chattanooga.
Having lost only one game to Southern Conference competition heading into the conference tournament this season, the Wildcats are once again heavy favorites to win the crown, especially with all five starters returning from the club that defeated Western Carolina, 93-91, in double-overtime in the title game last season.
There's no better frontcourt tandem in the conference than Jake Cohen (14.9 ppg, 5.7 rpg and De'Mon Brooks (13.4 ppg, 6.3 rpg, who were the SoCon co-Players of the Year last year. Both have played exceptionally well down the stretch, especially Cohen. He is becoming unstoppable in the post.
A backcourt that features Nik Cochran (9.8 ppg, 2.3 rpg, 95 assists) and J.P. Kuhlman (8.0 ppg, 3.7 rpg) has a combined 175 starts coming into the tournament. No other SoCon team has that kind of backcourt experience.
Chris Czerapowicz (9.2 ppg, 5.1 rpg), who is a tremendous outside shooter and athlete in general, rounds out the starting five for the Wildcats.
Davidson's lone Southern Conference loss during the regular season came at Georgia Southern, with the Wildcats dropping a 70-57 decision. The Wildcats are 36-3 against SoCon foes over the last two seasons, and that mark includes last year's conference tournament.
In Davidson's last consecutive tournament-winning years, which were 2006-08, the Wildcats won three SoCon Tournament titles in a row, going 43-1 against SoCon foes and in the tournament in the final two championship teams, which also featured Stephen Curry's first two seasons in a Davidson uniform.
Should McKillop's Wildcats successfully complete the three-game SoCon tourney run this season, Cohen, Kuhlman and Cochran would go out with a 39-3 mark against conference foes, which would mark the second-best two-year run by a Davidson team in program history.
That would be something special, considering Curry's 'Cats are considered one of the best mid-major basketball teams in college basketball history.
It remains to be seen if the Wildcats are able to live up to the expectations this weekend. But one thing is for sure, the Wildcats are the heavy favorites to take home a league-leading 12th SoCon title this weekend.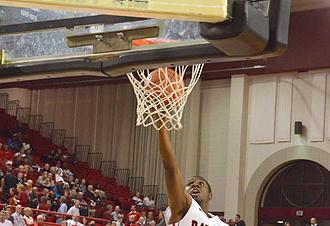 Davidson Forward De'Mon Brooks
The Game: No. 1 Davidson (23-7, 17-1 SoCon) vs. No. 9 Georgia Southern (14-18, 7-11 SoCon)
The Round: Quarterfinals/2013 Southern Conference Basketball Tournament
The Place: Asheville, N.C., U.S. Cellular Arena (7,826)
The Date and Time: Saturday, March 9, 2013, 12:00 p.m. (EST)
Quick Preview: Top-seeded Davidson opens up its bid to claim its 12th Southern Conference title and subsequent NCAA ticket on Saturday afternoon when the Wildcats face the No. 9 seed Georgia Southern in the first of four semifinal games on Saturday afternoon.
Georgia Southern was able to get to the second day of the tournament and afforded the opportunity to face the Wildcats as a result of the Eagles' opening round, 60-44 win over No.8 Wofford in Friday's opening tournament game.
The Eagles had three players score in double figures, led by junior forward Eric Ferguson, who posted 17 points and five rebounds. He was joined in double figures by Tre Bussey and Sam Mike, who added 12 and 10 points, respectively.
Sparked by its defense, Georgia Southern used a 16-0 run, which extended from just past the midway point in the first half and into the early portions of the second half, to turn a two-point deficit into a 14-point lead.
Davidson and Georgia Southern played last week, with the Wildcats putting together a masterful performance en route to an 83-48 win on Senior Night at Belk Arena, helping avenge a 70-57 loss on Jan. 15 in Statesboro.
The Wildcats were 61-45 all time in Southern Conference tournament play entering Saturday's first quarterfinal matchup of four on the day.
Davidson continues to be led by Southern Conference two-time and reigning Player of the Year Jake Cohen (14.9 ppg, 5.7 rpg), and he will team with De'Mon Brooks (13.4 ppg, 6.3 rpg) at forward.
The Wildcats' trio in the backcourt rivals any in the SoCon, with Nik Cochran (9.8 ppg, 3.2 apg), Chris Czerapowicz (9.2 ppg, 5.1 rpg and J.P. Kuhlman (8.0 ppg, 3.7 rpg).
Georgia Southern counters with its own talented version of frontcourt production in Eric Ferguson (13.9 ppg, 6.3 rpg) and Sam Mike (1.2 ppg, 1.4 rpg). C.J. Reed (13.2 ppg, 121 assists), Tre Bussey (8.8 ppg, 3.4 rpg) and Cleon Roberts (8.5 ppg, 2.5 rpg) form an experienced, athletic backcourt trio.
Georgia Southern has the athletes to challenge Davidson, but it's playing a team that is much improved from the one that the Eagles defeated in Statesboro in January. However, I thinl Georgia Southern will keep this close for a while before the Wildcats find their game and move on to the SoCon semifinals.
Final Score Prediction: Davidson 77, Georgia Southern 64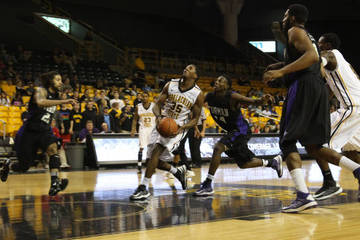 Appalachian State Forward Jay Canty
The Game: No. 4 Appalachian State (14-15, 10-8 SoCon) vs. No. 12 Furman (7-23, 3-15 SoCon)
The Round: Quarterfinals/2013 Southern Conference Basketball Tournament
The Place: Asheville, N.C., U.S. Cellular Arena (7,826)
The Date and Time: Saturday, March 9, 2013, 2:30 p.m. EST
Quick Preview: No. 4 Appalachian State commences play in the quarterfinal round in the Southern Conference tournament for the first time since the 2010 season, which was the last time the Mountaineers found themselves battling it out for a Southern Conference title in a championship matchup with Wofford, only to drop a 56-51 decision.
The Mountaineers' opening-round opponent in Saturday's second quarterfinal matchup provided the shocker of the tournament so far, as the injury-riddled and No. 12-seeded Furman Paladins snapped a 10-game losing streak and got a 55-51 opening-round win over Samford in the second opening-round matchup of the tournament on Friday.
The Mountaineers and Paladins have met on 13 previous occasions in the Southern Conference tournament, with Appalachian State holding a 9-4 edge.
Saturday's meeting will be their first since the 2001 tournament. That year, a Donald Payne buzzer-beater propelled a defending champion Appalachian State club to a 58-56 win at the Bi-Lo Center in Greenville.
Just a year earlier in the same venue, the Paladins and Mountaineers engaged in one of the more thrilling Southern Conference semifinal matchups in recent memory, as it was Tyson Patterson's six points in the waning moments that helped the gritty Apps overcome a late-game deficit to win, 60-56.
It would be the fuel the Apps needed to get by College of Charleston in the title game, producing ASU's first NCAA tourney appearance since the Bobby Cremins era.
ASU and Furman have also met in Asheville in a couple of memorable games, with a first-round matchup that saw the lower-seeded Mountaineers take a 78-73 win over Furman in 1995. That night saw the Apps get monster games from their frontcourt tandem of Chad McClendon and SoCon Freshman sensation Kareem Livingston en route to an upset win over the Joe Cantafio-led Paladins.
Perhaps the loss that stings Furman fans the most was that 1991 Southern Conference semifinal clash, which saw the Mountaineers upset the Paladins, the pre-tournament favorites, 100-82.
That Paladin club, led by Butch Estes, won 20 games and tied for the SoCon regular-season title. That team also knocked off 10th-ranked East Tennessee State during the regular season. But big nights from Tim Powers (17 points) and Steve Spurlock (13 points) propelled the Apps into a title-game date with East Tennessee State—where the Apps fell, 101-82.
A year earlier, Furman met ASU in the SoCon semifinals, but the Paladins were playing with heavy hearts on that particular afternoon. Furman point guard Neil Garrison lost his father to a heart attack in the previous evening's thrilling finish in Furman's 82-77 overtime win over former SoCon member Marshall.
The only matchup between the two in the regular season saw Appalachian State post a 72-66 win in Boone in a game in which Furman hung around despite falling behind by as many as 18 points in the first half.
For Furman, in its seven wins this season, Bobby Austin (7.2 PPG, 2.9 RPG) has usually played a major role. He posted a team-leading 17 points in the win over Samford in Friday's opening-round upset.
Furman, which gained the services of previously injured Stephen Croone (9.9 PPG, 3.9 APG) and Charlie Reddick (9.4 PPG, 5.4 RPG) in Friday's win over Samford, was certainly helped by their return. Colin Reddick (12.5 PPG, 6.3 RPG) enters the contest as Furman's lone player averaging in double figures.
The Mountaineers have fought tooth and nail to acquire that final bye for the tournament, as the Apps had to wait until the final day of the regular season to garner that No. 4 seed.
ASU played a school-record five overtime games during the 2012-13 season. The Mountaineers went 3-2 in those games, and a late-season double-overtime 70-67 win over Samford proved to be absolutely huge in helping the Apps qualify as the No. 4 seed heading to Asheville.
Canty, Baskin and Hamilton are just part of that strong cast of characters that fourth-year head coach Jason Capel brings into the 2013 tournament. Versatility-wise, the Mountaineers offer some of the toughest matchups of any of the tourney's 12 teams.
One of those tough matchups has been Nathan Healy (14.6 PPG, 7.9 RPG), who has come into his own during his senior campaign. Healy is the consummate team player and hard worker on both ends of the floor. Healy, an All-SoCon performer, will team with Canty in the paint for the Mountaineers, and it will be Michael Obacha (5.3 PPG, 4.6 RPG) rounding out that talented trio underneath for the Appalachian State.
The Mountaineers suffered through the first eight games of the season, going just 1-7 without their starting point guard Mike Neal (8.8 PPG, 3.2 RPG, 77 assists). But when he came back to the team in December, Neal and the Mountaineers became an instant contender.
One of the players that came up big down the stretch as a part of that Mountaineer backcourt was Jamaal Trice (6.9 PPG, 2.1 RPG). After battling a stomach illness for much of the early portion of the season, he seems to have rebounded to find his scoring touch in the latter portion of the campaign. His 18-point performance against Samford, including eight straight points down the stretch to help the Mountaineers to force overtime, showed his importance to this Capel-coached club.
This one has the potential to be a close quarterfinal matchup. If the Paladins play as well as they did in Boone, they could make this one interesting. However, I suspect Cinderella's slipper no longer fits. I expect the Mountaineers to move on to the semifinals Sunday.
Final Score Prediction: Appalachian State 66, Furman 58