Big East Basketball: NBA Comparison for 10 Top Stars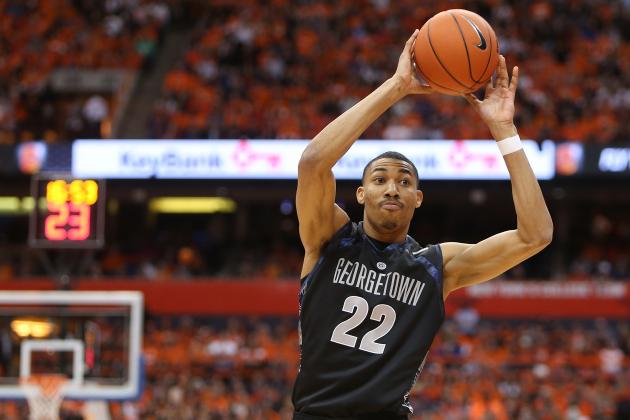 Nate Shron/Getty Images

Star Big East players carrying the load for their respective squads are currently focused on finishing the regular season strong and carrying momentum into postseason action. Once all tournament trophies have been handed out, that focus will turn to the the NBA draft for some.
Many of the conference's star players can expect to hear their names called this June on draft night. Others are destined for professional opportunities as undrafted free agents.
When evaluating the Big East's premier NBA prospects, comparisons to current and past professional players become apparent. Here's a collection of those comparisons, based on size, skills and performance.
Begin Slideshow

»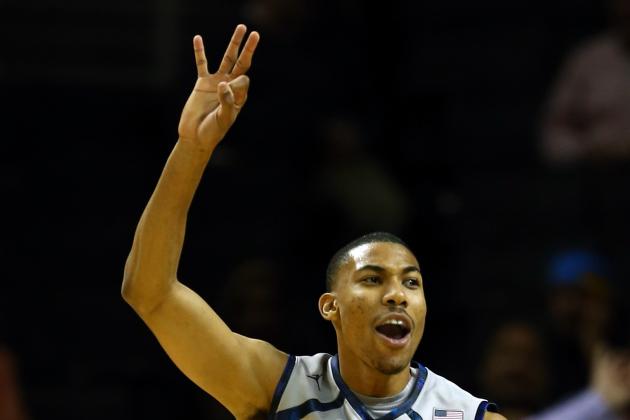 Elsa/Getty Images

NBA comparison: Tayshaun Prince
Porter is a long, rangy small forward who can make a special impact as a defender with a 6'8" frame and exceptional wingspan. His three-point shooting has improved tremendously as a sophomore, ballooning from 23 percent last year to 44 percent this season, and few forwards are more tenacious inside.
Prince carved out a role as a jack-of-all trades utility player on the Detroit Pistons 2004 NBA championship squad. Porter provides similar attributes in his ability to contribute greatly on both ends of the court and underneath as a strong rebounder.
His leadership skills and prime time persona have become apparent during Georgetown's surge to the top of Big East standings.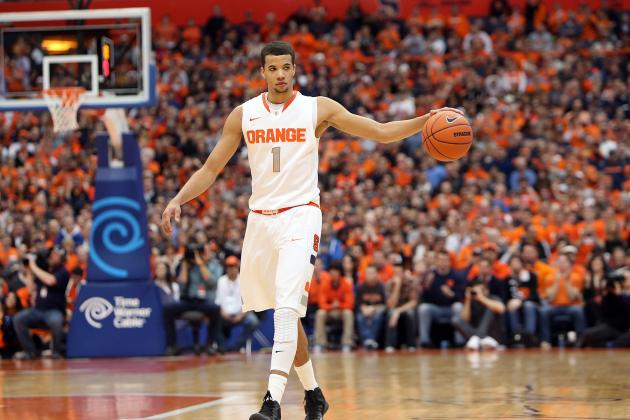 Nate Shron/Getty Images

NBA comparison: Shaun Livingston
Carter-Williams continues to emerge as a compelling professional point guard prospect since breaking into Jim Boeheim's lineup at Syracuse. The 6'6" sophomore struggles at times connecting on shots from the floor, particularly from the perimeter, but provides the Orange with a scintillating ball distributor and underrated rebounder.
When lanky point guard prodigy Shaun Livingston leaped into the 2004 NBA draft out of high school (selected fourth overall by Los Angeles Clippers), there were questions about his shooting consistency. Carter-Williams converts 38 percent of his field-goal attempts, hitting only 28 percent of his shots from beyond the three-point arc.
His court vision and size help scouts look past shooting deficiencies. Carter-Williams leads the Big East in assists and steals, while playing stout defense in spurts.
Point guards continue to get larger in the NBA and this Syracuse star seems to fit the bill as a top prospect following a long line of hybrid guard projects. Livingston was expected to excelerate the league's transformation toward rangier backcourt tandems but his skills were limited by a devastating 2007 knee injury.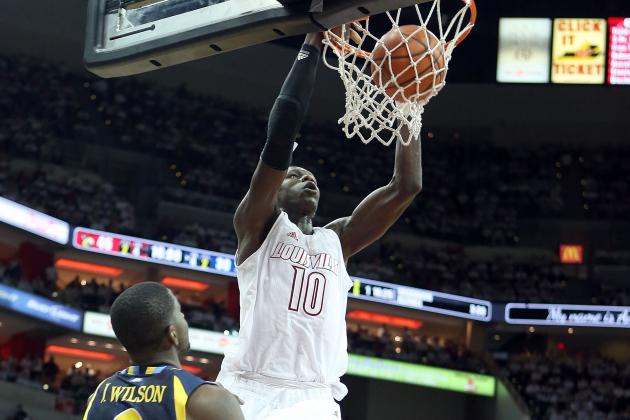 Andy Lyons/Getty Images

NBA comparison: Theo Ratliff
The 6'11" center is already a polished product on the defensive end. Dieng, a 23-year-old junior, is expected to enter the NBA draft after this season.
Much like Ratliff, Dieng runs the court well and doesn't try to extend himself beyond his capabilities as a scorer. He anchors the post and provides a formidable presence on the glass.
Dieng is second in rebounds among Big East players. The Senegal native is currently the conference's third-ranked shot-blocker.
He posted 11 points, 14 rebounds and two blocks in a March 2 victory at Syracuse. Dieng exploded for 23 points and 10-of-11 shooting during a February win over Seton Hall.
Ratliff averaged 10 points, eight rebounds and more than three blocks per contest during his career, which featured an All-Star nod in Philadelphia. Dieng appears to possess the necessary poise to earn early playing time at the next level.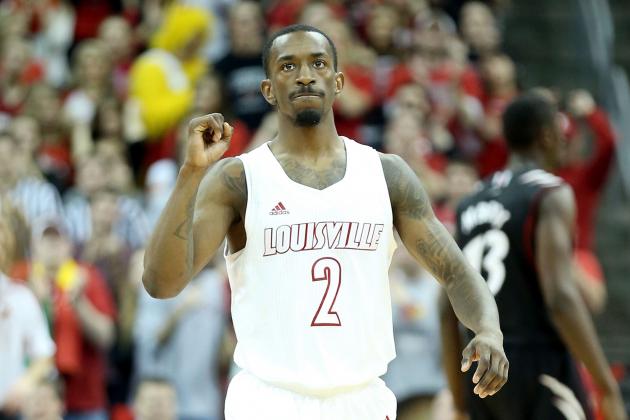 Andy Lyons/Getty Images

NBA Comparison: Kemba Walker
Smith is small in stature when measured against the NBA's elite guards. The 6'1" junior doesn't necessarily have a set position on the court and it remains to be seen whether he will be asked to play point guard at the next level.
Walker was also a combo guard prospect with questionable size. Smith is a streaky shooter, but he can carry a team when connecting from outside.
Against some of his most highly touted contemporaries, the Louisville leader has proven his worth as a productive scorer. Smith has scored 17 or more points in eight of the last 10 games, including a pair of 18-point performances in pivotal conference wins over Cincinnati and Syracuse.
Smith shines bright on a big stage, just as Walker did while playing for Jim Calhoun at UConn. Smith would improve his draft status with a strong postseason run, something Walker did in 2011 on his way to becoming a lottery pick.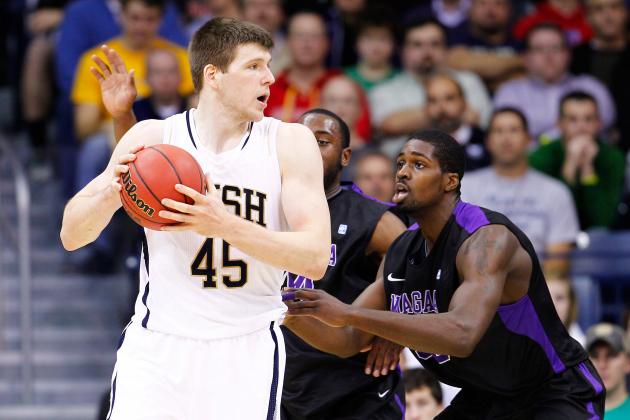 Michael Hickey/Getty Images

NBA comparison: Jared Sullinger
Though Cooley lacks the elite athleticism NBA scouts drool over, he has the makeup of a productive rotational post player. The 6'9" senior has collected 18 double-doubles this season and overcomes his shortcomings with a high motor.
Prior to suffering a season-ending back injury, Sullinger provided the Boston Celtics with a serviceable backup at power forward and elevated the team's energy with each appearance by chasing down lose balls and battling for boards.
Cooley, the Big East's leading rebound, is a polished veteran at Notre Dame and has played in plenty of pressure-packed games. His lack of upside should ensure he falls deep into the second round, but whoever picks up Cooley is getting a known commodity rather than a boom-or-bust project.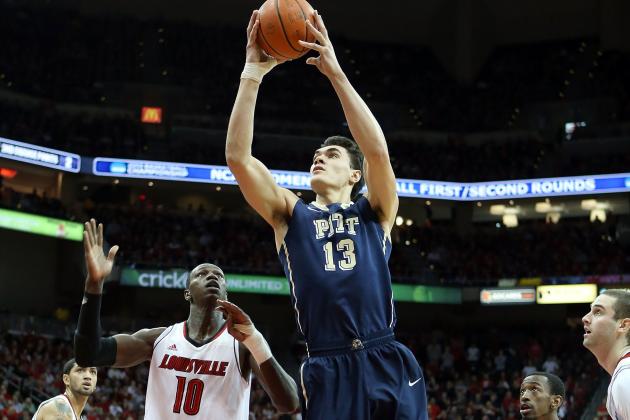 Andy Lyons/Getty Images

NBA comparison: Byron Mullens
Adams could become one of college basketball's most versatile big men but that seems unlikely at this point. The seven-foot freshman is considered a one-and-done candidate at Pittsburgh.
He averages just five shot attempts in 23 minutes per contest, so there are a lot of unknown commodities to consider when analyzing Adams as a pro prospect. Much like Mullens, he can move with more fluidity than most centers.
Adams, a New Zealand native, can keep up on the fast break and is rarely overmatched from an athletic standpoint. He is a 57 percent shooter and has a variety of moves that help him finish at the rim.
If he can develop a consistent mid-range jumper, Adams immediately becomes a dangerous offensive weapon.
Mullens, who played just one season at Ohio State, has become a quality scorer in Charlotte. However, his talent remains relatively untapped on the defensive end.
Adams regularly pulls down rebounds (six per game) but is just scratching the surface as a post defender. It may take him a few years to find his way in the NBA but that path worked for Mullens (numbers have improved in each of his four pro seasons).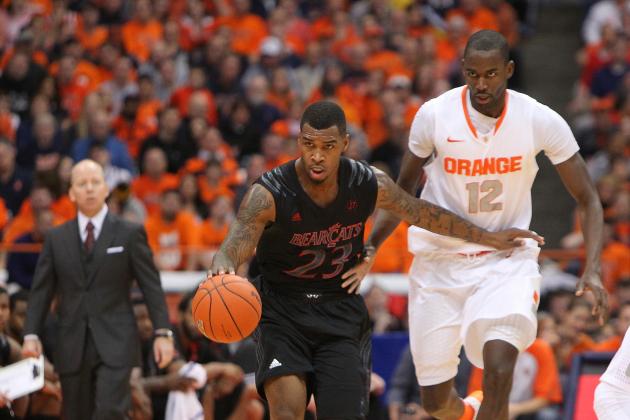 Nate Shron/Getty Images

NBA comparison: Raja Bell
Kilpatrick is among the Big East's most physically mature NBA prospects. He is a fundamentally sound defender and adept outside shooter, although his field-goal percentage has dipped this season.
The 6'4" junior guard isn't a great creator with the basketball but can drill open jump shots and approaches the game with aggression. Kilpatrick plays with a chip on his shoulder and refuses to give up on the glass.
Bell has earned a living in the pros as a savvy defender and relentless worker who occasionally knocks down key shots from long distance. Kilpatrick is likely to begin his NBA career at the bottom of an NBA backcourt rotation but is the type of player who demands time on the court because his steady demeanor and defensive pursuit.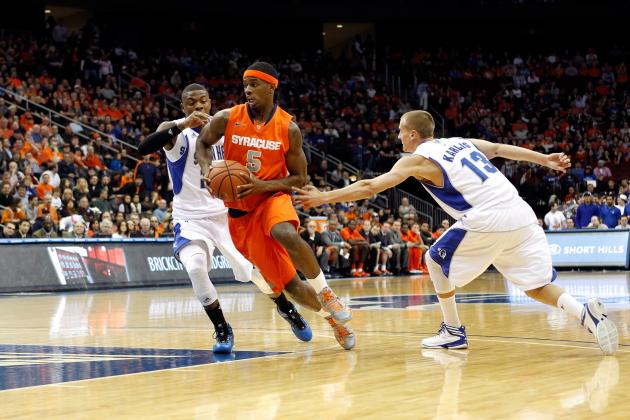 Chris Chambers/Getty Images

NBA comparison: Nick Young
Fair's stats have skyrocketed during his junior season as he's grown into a key scoring option atop Syracuse's deep rotation. The 6'8" forward has improved his perimeter game, which is key since he is sure to move outside in the NBA.
Young, an oversized guard, will put up points in bunches but the rest of his game can be an enigma. He is particularly criticized for being outworked on the glass and a liability on defense.
On nights when he pours in 30 points, those issues go out the window. But those performances aren't frequent enough to validate him as a go-to guy.
Fair will struggle defensively against speedier small forwards and shooting guards. His ability to create quick points should keep him on the court for stretches as a substitute.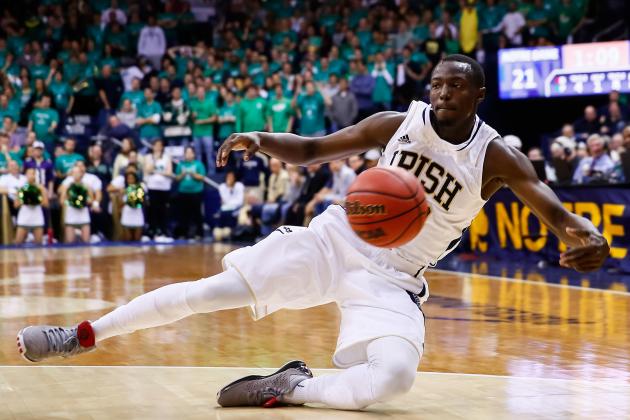 Michael Hickey/Getty Images

NBA comparison: John Salmons
Grant is probably better off returning to Notre Dame for another season before entering the 2014 NBA draft, but he may be unable to resist the lure of professional hoops.The Fighting Irish point guard displays some of the best court awareness in the Big East, orchestrating the offense to a strong season.
His shooting is substantially better than last year, jumping from 38 percent to 43 percent. Grant's highest valued asset is his ability to assess and exploit a defensive game plan.
He ranks seventh in the conference in assist-to-turnover ratio and is clearly a high basketball IQ guy. Grant could fit in nicely as a combo guard in the pros.
Salmons, who was an excellent point guard at the University of Miami, has carved out his niche in the NBA as a versatile backcourt piece that executes when called upon. Neither player is flashy but that isn't a quality coaches look for in bench players.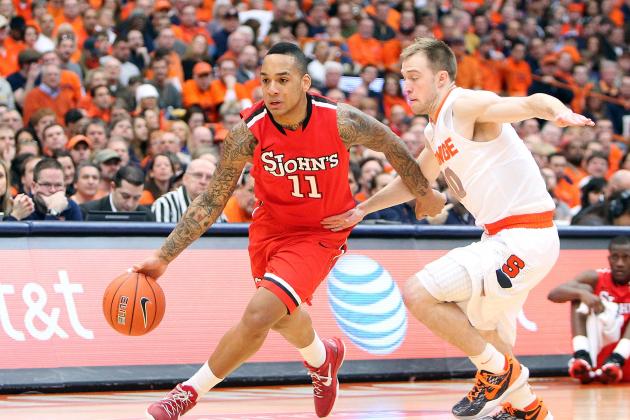 Nate Shron/Getty Images

NBA comparison: Jamal Crawford
You have to think Harrison's recent season-ending suspension increases the likelihood that St. John's sophomore star bolts for the NBA. The 6'3" guard, who ranks third on the Big East scoring leaderboard, is a streaky high-volume shooter and would be best utilized in the NBA as a spark off the bench.
Before he was shut down for the year, Harrison averaged about 18 points on 15 shot attempts per game. His 32 percent shooting mark from beyond the arc leaves a lot to be desired for a player who hoists up nearly seven three-pointers each contest.
The 6'3" guard isn't suited for the point guard position and is a defensive liability against physical shooting guards. He could flourish in a reserve role, counted on to provide instant offense when utilized off the bench.
Crawford is in line to win the NBA Sixth Man of the Year Award this season. He plays less than 30 minutes per game but still averages nearly 14 shot attempts.
The Clippers guard spent much of his career as the best scorer on bad teams but the new scenario highlights his abilities in a more effecient manner.