The Best 5 College Basketball Games This Year That You've Never Heard of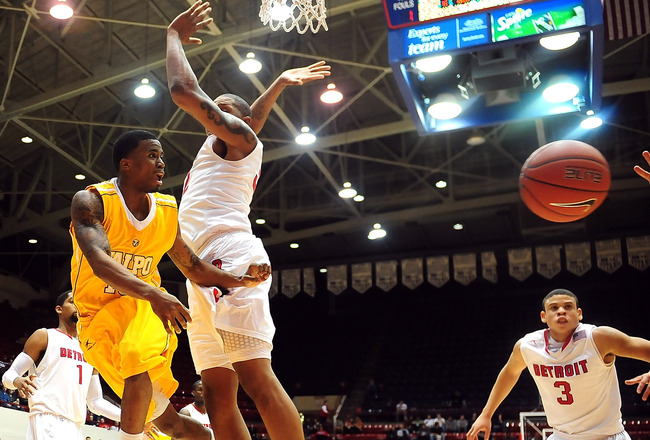 Andrew Weber-USA TODAY Sports
Most of the best college basketball games this season have received loads of publicity.
Louisville and Notre Dame's battle that lasted five overtimes was continuously discussed and highlighted on various sports shows throughout the weekend when it took place.
Last weekend, the SEC's multiple-overtime games nearly caused the Twitterverse to explode.
Butler's buzzer-beater win over No. 1 Indiana at the Crossroads Classic is already being considered an all-time classic.
But for every one of these amazing games between the big-time schools, there are thrilling games that take place among the mid-majors that do not receive as much publicity.
Here are the five best games of the 2012-13 season that have flown under the radar.
5. Oakland 88, South Dakota State 83 (February 9)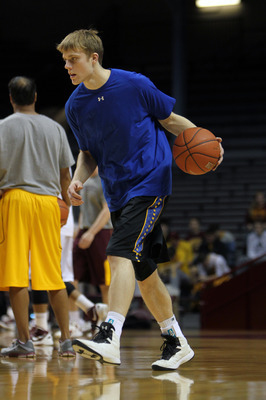 Two days after scoring 53 points against IPFW, Nate Wolters posted 36 points, six rebounds and seven assists against Oakland.
Brace Hemmelgarn-USA TODAY Sports
I'm sure you know about Nate Wolters by now. Wolters, South Dakota State's star point guard, is No. 3 in the nation with 22.9 points per game, and he is the only player averaging more than 20 points, five rebounds and five assists. (This is the second straight season where he has achieved that.)
But the man you may not know who played in this game is Oakland's Travis Bader. Bader is one of the top shooters in the nation with 4.3 made three-pointers per contest. He is also averaging 22.3 points per game.
When South Dakota State came into Oakland on Feb. 9, Wolters was coming off a 53-point effort in a win at IPFW and Bader was a few games removed from a 47-point performance against IUPUI. The two stars did not disappoint in what will be their final head-to-head meeting if they do not meet in the Summit League tournament.
Oakland would ward off the first-place Jackrabbits with great execution down the stretch and impeccable shooting from the charity stripe. Wolters recorded 36 points, six rebounds and seven assists and Bader scored 31 points while making nine three-pointers. In the first 13 minutes of the game, Bader shot 6-of-7 from beyond the arc.
Duke Mondy proved to be a hero for Oakland off the bench with 26 points, six rebounds, six assists and four steals. Mondy scored eight of his points in the final five minutes to erase any chance of a South Dakota State comeback.
4. Manhattan 74, Iona 73 2OT (February 15)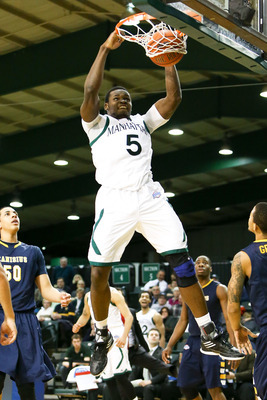 Rhamel Brown recorded 21 points, 17 rebounds and seven blocked shots in Manhattan's thrilling, double-overtime win over Iona.
USA TODAY Sports
This game had everything a good mid-major fan likes: contenders for conference player of the year in Iona's Momo Jones and Manhattan's Rhamel Brown, a rivalry between two teams separated by only nine miles, a packed and rowdy student section and a result that would significantly alter the conference standings, regardless of who won.
The game was close throughout the second half, with no team leading by more than two possessions, but an Iona three-pointer with 3:23 left gave the Gaels a two-point lead and seemed to suck the air out of the Jaspers. But they rallied as Emmy Andujar, who hit a game-winning three-pointer against Iona last season, made a pair of layups to force overtime.
After each team scored seven points in the first overtime, Iona took a two-point lead in the final minute of the second overtime.
Mike Alvarado went to the foul line for Manhattan and made the first shot but missed the second. But Brown skied for the offensive rebound and kicked the ball out to Andujar, who drove in for the game-winning layup with three seconds remaining. Iona's desperation heave fell short, and the Jaspers shocked the Gaels at the buzzer for the second straight year.
Brown, who ranks in the top 10 nationally in blocks, exploded out of the gate with 12 points, five rebounds and five blocks in the first nine minutes of the game. There was a two-minute stretch where Brown blocked shots on three consecutive Iona possessions and then went to work on the offensive end with three straight field goals.
Brown would finish 21 points, 17 rebounds and seven blocks in the thrilling win for Manhattan.
3. Marist 105, Iona 104 2OT (February 7)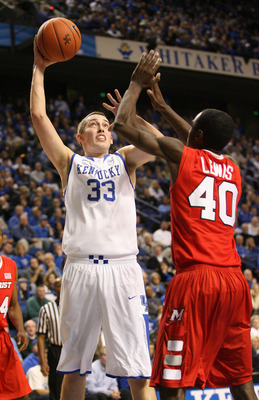 Chavaughn Lewis posted 21 points, 10 rebounds, eight assists and four steals and also drained a shot from beyond half court in Marist's win at Iona.
Mark Zerof-USA TODAY Sports
Welcome back, Iona!
The loss to Manhattan was the Gaels' second double-overtime loss of the season. Two games earlier, they had lost to Marist in a similar game.
Iona forced the first overtime as Momo Jones tied the score with a layup with 19 seconds left. The Gaels built a five-point lead in the extra period but left the door open with a couple of missed free throws in the final minute.
Trailing by three points with three seconds left, Marist's Chavaughn Lewis let it fly from beyond half court and drained it to force another extra period.
Marist led by three points in the final seconds of the second overtime, but Jones nailed what was initially ruled a three-pointer to tie the game with 3.2 seconds on the clock. But when the referees reviewed it, they found that Jones' foot was on the line, putting Marist ahead, 105-104.
The Red Foxes then turned the ball over, giving the Gaels one last shot for the win, but Sean Armand's three-point attempt missed.
2. Valparaiso 89, Detroit 88 (January 17)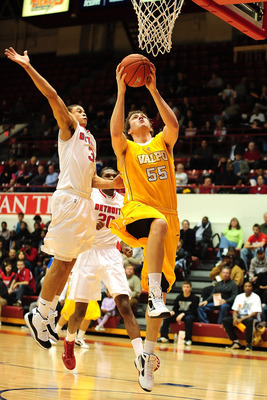 Kevin Van Wijk led Valparaiso with 31 points as the Crusaders came from behind to beat Detroit on the road.
Andrew Weber-USA TODAY Sports
Valparaiso and Detroit are by far the two most talented teams in the Horizon League this season. That is why it was so crucial for Detroit to open up a 21-point lead in its first meeting with the Crusaders.
With the game being at home for Detroit, where they had won 17 games in a row entering Jan. 17, the chances of a loss were slim.
But starting around the 16-minute mark of the second half, Valparaiso began to chip away. The lead was down to 14 points, 67-53, at the under-12 media timeout. Then it was 76-67 at the under-eight timeout.
But still, at the under-four timeout, Detroit led by nine points. The lead jumped up to 11 after Juwan Howard Jr.'s jumper out of the timeout.
Then, with 2:37 remaining, the real run began for Valparaiso. Matt Kenney hit a three-pointer to cut the lead back to single digits, and after a defensive stop, Kenney hit another trey on the next possession.
Detroit came up empty once again on the next possession, and the Crusaders capitalized with a layup by Kevin Van Wijk, cutting the lead to 88-85.
Detroit's Jason Calliste then committed a turnover, and Van Wijk drew a foul and made both free throws on the other end, making it a one-point game. Star point guard Ray McCallum turned the ball back over to the Crusaders, and then Ryan Broekhoff made two foul shots after Howard Jr. committed a foul.
Suddenly, and against all odds, Valparaiso held its first lead of the game at 89-88 with fewer than 20 seconds on the clock. The Crusaders got the defensive stop they needed, as Evan Bruinsma and Nick Minnerath both missed three-pointers for the win, and they escaped with a victory that gave them first place in the Horizon League.
The individual efforts in this game were also quite notable. Van Wijk scored 31 points and Broekhoff had 18 points, nine rebounds and five assists for Valparaiso. Minnerath posted 36 points for Detroit on 12-of-17 shooting, and Calliste and Doug Anderson combined for another 31 points.
1. Longwood 102, Liberty 101 (February 19)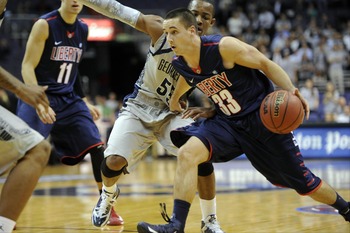 John Caleb Sanders posted 24 points, seven rebounds and 10 assists in Liberty's 102-101 loss at Longwood.
Rafael Suanes-USA TODAY Sports
This game was between the two worst teams in the North Division of the Big South standings, but nonetheless, it was a fantastic game.
In the barn-burner that combined for 203 points, seven players scored in double figures. Longwood's Tristan Carey scored 40 points on 12-of-22 shooting, including eight three-pointers, and Liberty's Davon Marshall posted 31 points on 11-of-17 shooting and made six treys. Liberty point guard John Caleb Sanders also had a great game with 24 points, seven rebounds, 10 assists and two steals, and Longwood point guard Lucas Woodhouse recorded 10 assists as well.
The most impressive part about the scoring in this game was how it picked up in the final minutes. At the under-four media timeout, Longwood led 80-68. In those final four minutes, 55 points were scored between the two teams. Thirty-four points were scored in the final two minutes.
In the last four minutes, Liberty made seven three-pointers, but it was not enough, as Longwood, despite missing three free throws in the final 10 seconds, held on for the 102-101 win.
Jesse Kramer is the founder of The Catch and Shoot, a blog dedicated to college basketball news, observations and insights on nationwide topics. You can follow Jesse on Twitter at Jesse_Kramer, and you can follow The Catch and Shoot at Catch_N_Shoot.
Keep Reading