Ranking the 10 Biggest Disappointments in SEC Basketball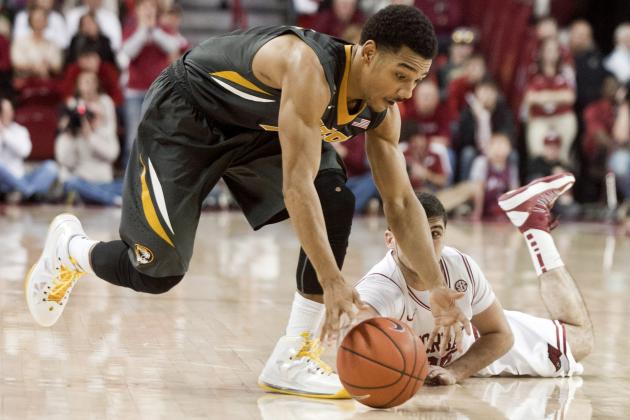 USA TODAY Sports

A year after sending national champion Kentucky and three other teams to the NCAA tournament, the SEC has fallen on some very hard times. No. 5 Florida is the only ranked team in the conference, even in spite of this season's expansion to 14 teams with the additions of Missouri and Texas A&M.
The newly arrived Tigers brought preseason SEC Player of the Year Phil Pressey with them, but the standout point guard has hardly lived up to his billing. Even as he leads the conference in assists, his other numbers have uniformly disappointed—just like Mizzou's loss totals.
Read on for more on Pressey's troubles and the rest of the worst underachievers in the SEC this season.
Begin Slideshow

»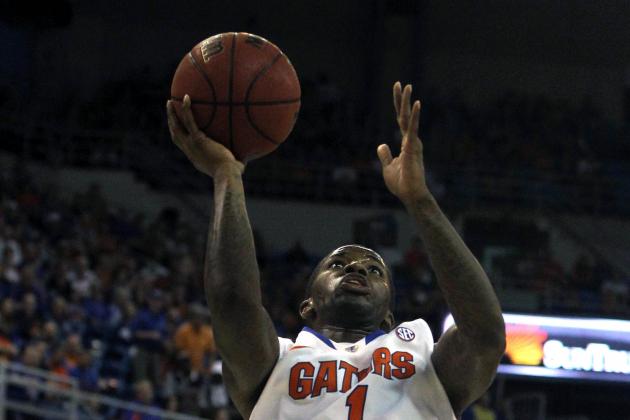 Kim Klement-USA TODAY Sports

For all Florida's runaway success this year, the Gators have not impressed at all on the individual-stats front. Nowhere is that deficiency more obvious than in the performance of scoring leader Kenny Boynton.
The senior star is averaging a mere 13 points per game, a career low for one of the greatest pure scorers in UF history.
Even in a down year, he's still risen to third on the Gators' all-time points list with 1,913, but with Bradley Beal and Erving Walker gone, it's astounding that Boynton is putting so few points on the scoreboard this season.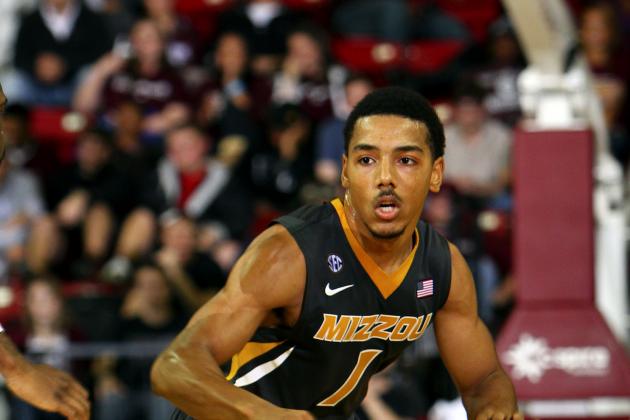 Spruce Derden-USA TODAY Sports

Picked as the SEC's preseason Player of the Year, Phil Pressey has barely been Missouri's best player this season. The junior PG is averaging a career-best 6.9 assists per game, but those numbers have been offset by a host of other problems.
Pressey's scoring touch has vanished after a hot start, leaving him at a forgettable 11.8 points per game.
He's posting career lows in steals (1.8 per game) and three-point shooting (.297), and—worst of all—he hasn't been able to make a talent-rich Tigers squad a factor in this year's unimpressive SEC.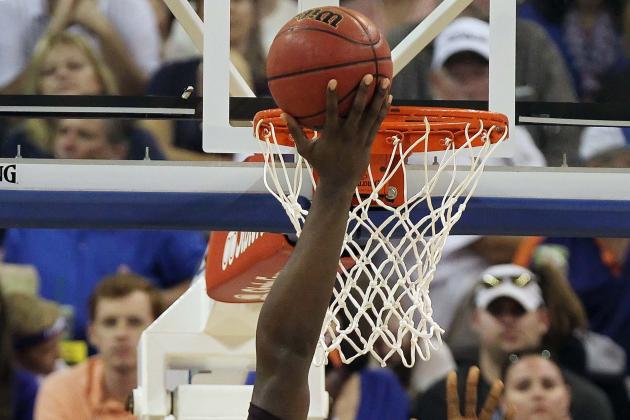 Kim Klement-USA TODAY Sports

Just because a team is expected to be bad doesn't entirely excuse it from being a disappointment. Rebuilding Mississippi State has hit some embarrassing lows in a 7-17 last-place performance.
At the prestigious Maui Invitational in November, the Bulldogs lost consecutive games by more than 25 points, the first two of their six such defeats this year.
They've lost 10 consecutive SEC games, and while their team average of 9.8 assists per contest isn't the absolute lowest in Division I, only 15 of the nation's 347 teams are doing worse in that category.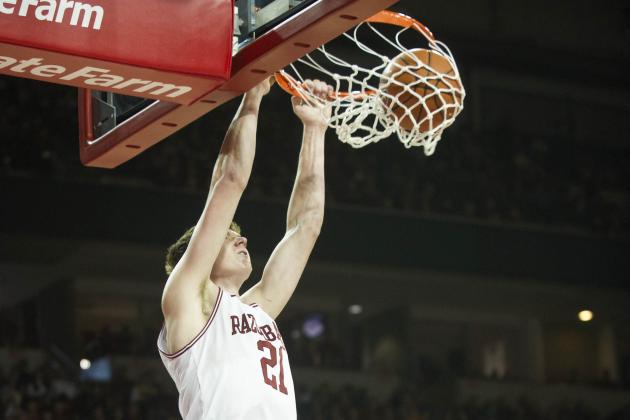 USA TODAY Sports

Plenty of things have gone right for the Arkansas Razorbacks this season, starting with their titanic upset of Florida in Fayetteville.
It hasn't been all good news for the Hogs, though, and one of the team's least impressive performances has come from promising sophomore Hunter Mickelson.
As a freshman, the 6'10" PF had played sparingly but shown exceptional defensive instincts, blocking 2.3 shots per game.
He's getting similar minutes this season, but he's shown no improvement in his all-around game and his rejections have plummeted to an unremarkable 1.3 per contest.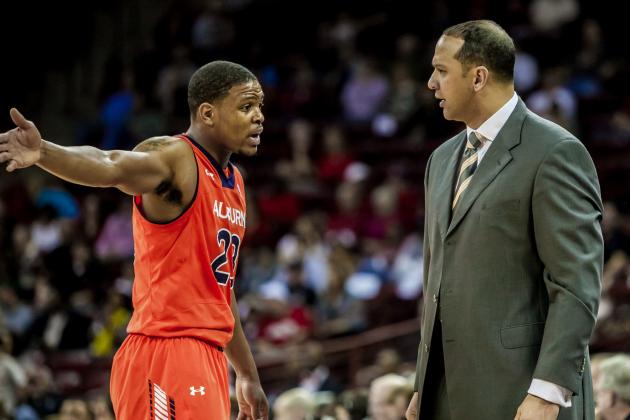 Jeff Blake-USA TODAY Sports

Give Auburn coach Tony Barbee credit for courage, anyway.
He gave his veteran Tigers one of the SEC's toughest nonconference schedules—including Murray State, Dayton and road games at Boston College and Illinois—in the reasonable hope that the gauntlet would leave them better able to survive in conference play.
Sadly, it hasn't worked out that way.
Not only did Auburn post an iffy 6-7 record out of the league, but now the Tigers are a wretched 3-9 in the SEC. Small consolation though it may be, fans were at least grateful to see one of those conference wins come at home against archrival Alabama.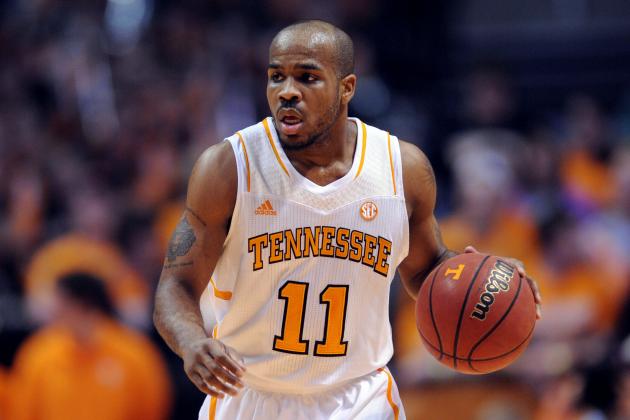 Randy Sartin-USA TODAY Sports

Cuonzo Martin's debut as Tennessee coach sparked a breakout 2011-12 season for sophomore PG Trae Golden. In attempting to build on that success, however, Golden has been regrettably leaden.
Although teammates Jordan McRae and Jarnell Stokes are both turning in fine seasons, Golden's assist numbers have actually dropped (from 4.5 to 4.1 per game).
His stats are down across the board, in fact, especially his three-point shooting, which has plummeted from .388 (when he led the Vols in scoring a year ago) to .268.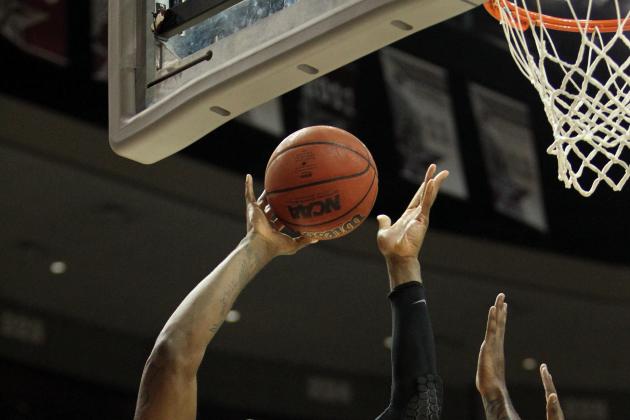 USA TODAY Sports

Ranked at No. 15 nationally in the preseason, Missouri entered the year hoping that an array of athletic transfers would offset its severe graduation losses.
The newcomers have played some impressive ball, but the Tigers have been far less than the sum of their parts.
After a solid 11-2 nonconference showing, Mizzou has imploded in the SEC, falling to 8-5 in the league and disappearing from the national rankings.
The culprit isn't hard to find: Despite the presence of Phil Pressey and a host of other veteran leaders, the Tigers have been awful when playing in someone else's gym.
Last Wednesday's win at dismal Mississippi State was their first true road victory of the season, as compared with six losses, most of them upsets.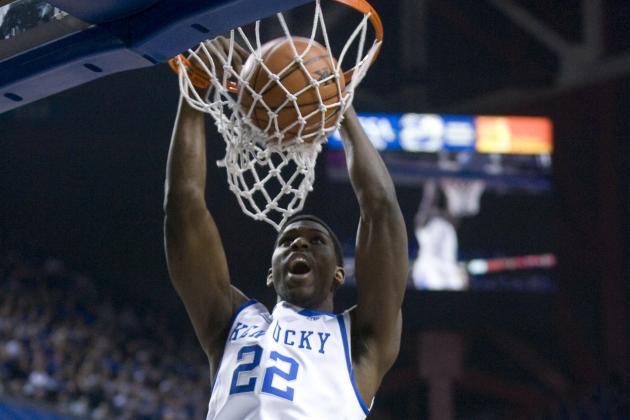 Mark Zerof-USA TODAY Sports

Alex Poythress could certainly be playing worse in his freshman campaign. The 6'7" combo forward is pulling down 6.2 rebounds a game, the best mark on Kentucky's roster now that Nerlens Noel is out of commission.
Still, for ESPNU's 13th-best recruit in the country, Poythress hasn't even remotely impressed this season.
He's not making any impact on defense, and despite Kentucky's serious need for scoring punch, he's managed a meager 11.7 points per game (third on the roster).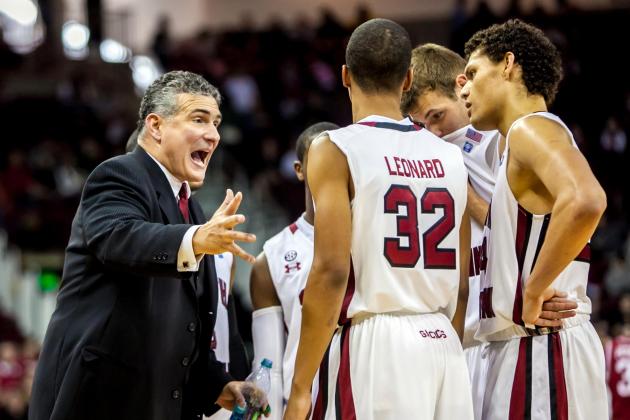 Jeff Blake-USA TODAY Sports

Frank Martin's debut season as Gamecock coach looked like it might trigger a miraculous turnaround for moribund South Carolina.
Martin's team jumped out to a 10-3 record in nonconference action, and even if all the wins were at home, it was still a clear improvement over last year's debacle.
Unfortunately, the arrival of conference play has torpedoed any promise the team had shown. The Gamecocks are 2-10 in the league, tied with woeful Mississippi State for last place, and their current six-game skid is the longest of their coach's career.
A sleepwalking home loss to LSU even prompted Martin to say (via WSITV.com), "I've never been more embarrassed to call myself a basketball coach than I am today."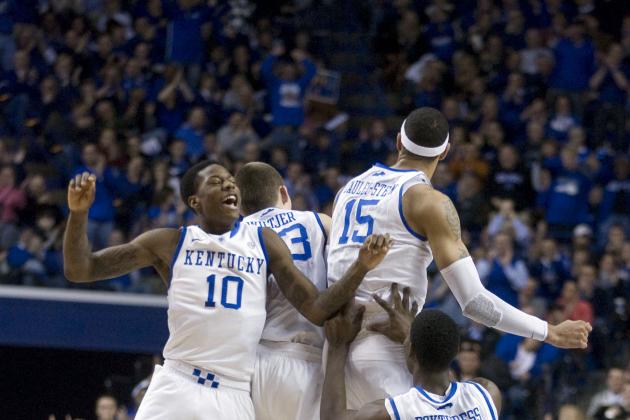 Mark Zerof-USA TODAY Sports

Given Kentucky's lack of either veteran leadership or a top-drawer point guard, it's safe to say that the Wildcats' No. 3 preseason ranking was unrealistic to begin with.
Even if expectations had been a little more moderate, though, John Calipari's squad—seen here celebrating a win over lowly Vanderbilt—would certainly have fallen short of them.
A shocking home loss to Baylor was bad enough, but spending most of the season outside of the Top 25 is a long way for the defending national champs to fall.
Now that Nerlens Noel (who had been, as advertised, the best of the Wildcats freshmen) is done for the year, things will only get worse in Lexington.
The scary part is that last Saturday's 30-point loss at Tennessee might not turn out to be the low point of the season.