Who's Hot and Who's Not in College Basketball at Week 16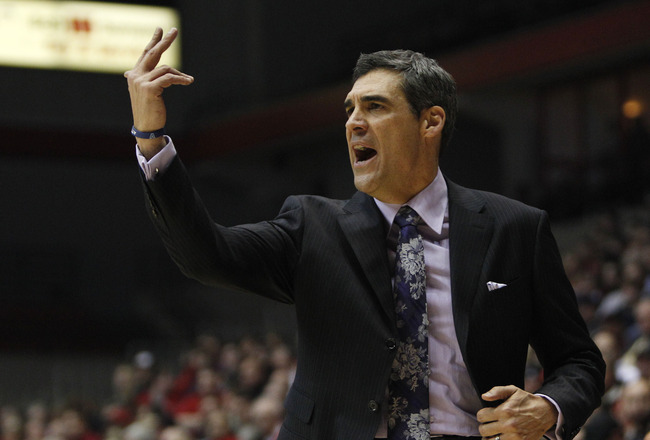 Frank Victores-USA TODAY Sports
In a little over a week, the calendar flips to March.
The consequences of that impending change should be readily apparent to college basketball fans. The time for positioning and projecting is fading fast.
Time to go with what you got.
So, who has got hot?
And who has got cold?
Find out in the slides ahead.
Note: All tempo-free statistics courtesy of KenPom.com.
Hot: Allen Crabbe, California
USA TODAY Sports
Crabbe, the Pac 12's leading scorer, has averaged 23.3 a game during Cal's current three-game winning streak. Thanks to the junior's play, the Golden Bears have gone from 10-6, 1-2 (Pac 12) to 16-9, 8-5, and were recently added to ESPN bracketologist Joe Lundardi's mock tournament field.
You might have also heard Crabbe's name attached to a bit of controversy. For that, we go to the next slide.
Not: Mike Montgomery, California (Coach)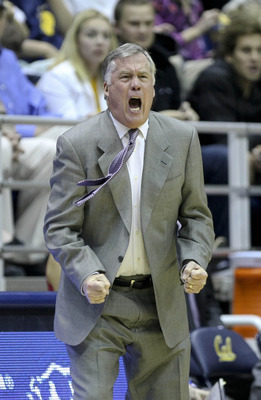 USA TODAY Sports
In the on-court confrontation between coach and player, the coach never wins. Never.
Doesn't matter if the player is acting sullen. Doesn't matter if the player is acting out. Doesn't matter if the player is hurling verbal epithets at a group of orphans.
The coach never wins.
Maybe it isn't fair, but our society expects the coach (the adult, the superviser, the teacher) to present himself in a manner befitting his rank, to display a level of poise and perspective that extends beyond whatever petty differences arise over the course of a basketball game.
Mike Montgomery knows this. He's been in the coaching business too long to not
know it. But for whatever reason, his rising anger at a visibly indifferent Allen Crabbe during Sunday's game against USC caused him to disobey better judgment and shove Crabbe in the chest.
Right or wrong is a topic for some other column.
For now, we'll simply point out that Montgomery has been publicly scolded by his school and conference.
Hot: Wichita State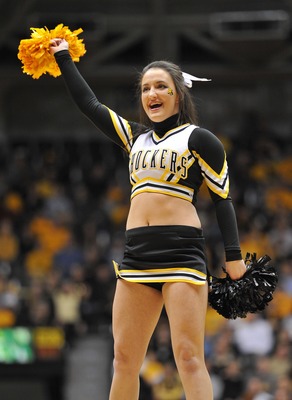 USA TODAY Sports
A three-game losing streak in early February caused the Shockers to tumble from 15th in the AP to un-ranked.
And while their sole vote in the most recent poll suggests they won't be rejoining the top 25 anytime soon, Gregg Marshall's team has won three in a row to claim sole possession of first place in the Missouri Valley Conference.
A gutty win last Sunday at Illinois State suggests Wichita State could be rounding back into form just in time for another tournament push. With wins at VCU and at Air Force already on their resume, the Shockers feel like a team that could do some serious bracket busting.
Not: Pittsburgh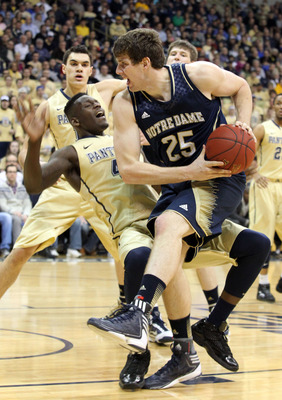 Charles LeClaire-USA TODAY Sports
Just when you thought Pittsburgh and its stellar efficiency ratings were ready for a run at the Big East crown, Jamie Dixon's crew throws out two straight clunkers.
The road loss at Marquette was defensible if only because any road loss is defensible and the Golden Eagles are a really good team. But don't let the 79-69 final fool you, Pitt was never really competitive.
And a home loss to Notre Dame after surging ahead 19-3 in the game's first seven minutes, how the heck do we explain that?
The Panthers have a pretty soft remaining schedule, and could get to 12 Big East wins. But even that won't silence the questions surrounding this team.
Hot: Ray McCallum, Detroit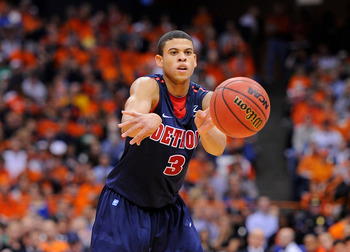 Rich Barnes-USA TODAY Sports
McCallum, the Horizon league's leading scorer, has been an iron man for his team over the last seven games, resting a total of nine minutes and scoring 20.1 per.
As a team, Detroit is 6-1 in those contests, including a Saturday win at Valparaiso that pulled the Titans within a half-game of the Crusaders for the league lead.
Detroit's upcoming bracketbuster showdown with Wichita State should be a dandy, and if the Titans can score a tournament bid, it'll be fascinating to see how their high-powered offense—19th in adjusted efficiency—fares against the NCAA field.
Not: Arizona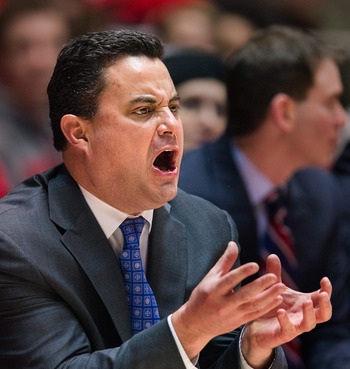 Douglas C. Pizac
We're thirteen games into the Pac-12 season and Arizona still hasn't separated itself from a fairly toothless field.
With consecutive setbacks against California and Colorado, Sean Miller's Wildcats (21-4, 9-4) have now lost to each of the other five teams in the conference's top half with the exception of Arizona State.
Even a bounce-back win at Utah (3-10 in conference) looked a lot more difficult than it should have.
Arizona is scoring more per possession than any other team in the Pac 12, so offense isn't the problem. On defense, one wonders if the Wildcats' abysmal 37.7 percent three-point field goal percentage against is a fluke or a symptom of porous perimeter defending.
We should find out in the weeks ahead.
Hot: Villanova
Kim Klement-USA TODAY Sports
After a period of up-and-down play—highlighted by back-to-back wins over Louisville and Syracuse and lowlighted by the two-game losing streak that followed—Villanova seems to have settled into position as a legitimate NCAA bubble team for the season's duration.
Jay Wright's team has won four of its last five, taking care of business through what was easily the softest part of its conference schedule. A home date with Marquette on Saturday looms large. Win that, and the Wildcats assure themselves of at least a .500 Big East mark.
Lose, and 'Nova has just eight wins heading into a season-ending stretch where it plays at Seton Hall, at Pittsburgh and home versus Georgetown.
Not: Myck Kabongo, Texas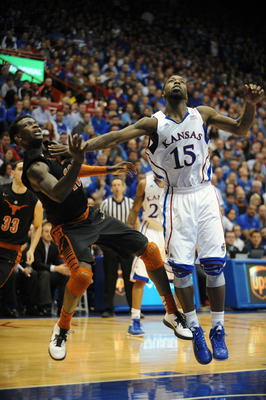 USA TODAY Sports
Texas' season has been over for months, but there was some hope that the return of suspended sophomore guard Myck Kabongo on February 13 would help the Longhorns muster some late-season momentum—perhaps even put them in discussion for a preseason poll position next season.
And while Texas is 1-1 since Kabongo's return, the loss was a 73-47 thrashing at Kansas that wiped whatever shine was left off a miserable season in Austin.
Kabongo himself is just 7-of-20 from the field since returning, with seven turnovers to go against seven assists.
That's not an indictment against Kabongo—who still has a chance to be a special player—but an acknowledgement that the play-making guard probably won't round back into form quick enough to lift this Texas team out of the muck.
Hot: Alabama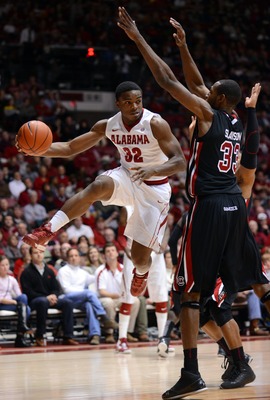 USA TODAY Sports
With Kentucky's mighty fall looking mightier by the day, the SEC has new secondary challenger: the Alabama Crimson Tide.
Anthony Grant's team has bounced back from a 7-5 start—which included consecutive losses to Mercer and Tulane—to win three in a row and five of six, taking over sole possession of second place in the SEC.
The Tide's remaining schedule has a Jekyll-and-Hyde sort of feel, with home games against Mississippi State, Auburn and Georgia alongside roadies at Ole Miss and Florida. If Alabama can couple three home wins with a road victory over tournament-level competition, the Crimson Tide should jump from Joe Lunardi's "Last Four Out" to a spot in the field of 68.
A quick note on the SEC before we go.
According to Lundari's latest mock bracket, only three SEC teams—Florida, Missouri and Ole Miss—are slated to make the tournament. If that number holds, it would tie 2008-09 as the conference's smallest yield since it expanded to 12 teams in 1991.
Oof.
Not: Laurence Bowers, Missouri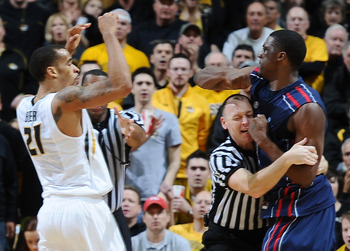 Dak Dillon-USA TODAY Sports
Bowers, a 6'8" forward with NBA potential, landed on the midseason Wooden Award watch list thanks to some impressive early-season performances (23 and 10 against Illinois comes to mind).
But since missing five games with a knee sprain in January, the oft-injured Bowers has looked like a shell of his former self. In the six games since returning, Bowers is averaging just 7.6 points a contest, punctuated by a two-point, 1-of-10-shooting no-show against Arkansas last Saturday.
Oh and he got in an on-court scuffle with Ole Miss forward Reginald Buckner the Saturday prior, a game in which he tallied just four points.
Not a weekend man, I guess.
Hot: Tom Konchalski
In his 66 years on this earth, Tom Konchalski has never owned an answering machine or driven a car.
Since 1979, his lone occupation has been scouting high school basketball players, a job he does by pen, paper and typewriter.
Outside East Coast basketball circles he is anonymous, and yet in the last month two major media outlets have shined their light on the legendary New York-based scout.
First the New York Times composed a tidy profile of Konchalski's career. Then this week, Grantland documentarian Jonathan Hock released a short-but-brilliantly-open-ended film (see above) about Konchalski's work that maybe, sorta, kinda doubled as a paean to Hock's father.
I'm 95 percent sure I saw Konchalski about six months ago at an All-Star game between the best players in New York City and Philadelphia. Either that, or there's another tall, white, aging scout who sits in the back row of East Coast gyms.
I had no idea who the guy was. Wish I would have said "hi."
Either way, it's nice to know that if you do what you love and you do it well, a few folks might pat you on the back some day.
Oh and if you're curious about what happened at the Philly-NYC All-Star game, I do recall that Rysheed Jordan, the fourth-best unsigned player in the class of 2013, dropped about 28 points in the first half.
Not: Indiana State
Marco Garcia-USA TODAY Sports
It's teams like Indiana State that make me thankful I don't sit on the NCAA selection committee.
The 16-10 Sycamores have wins over Miami, Ole Miss, Creighton and Wichita State. But consistency continues to elude them, as evidenced by consecutive losses to Missouri State and Bradley.
An upcoming home date with Wichita State offers a chance to turn things around, but more than likely, Greg Lansing's team will enter the Missouri Valley tournament with work to do.
Keep Reading