Ranking the 10 Must-See Players in Big 12 Basketball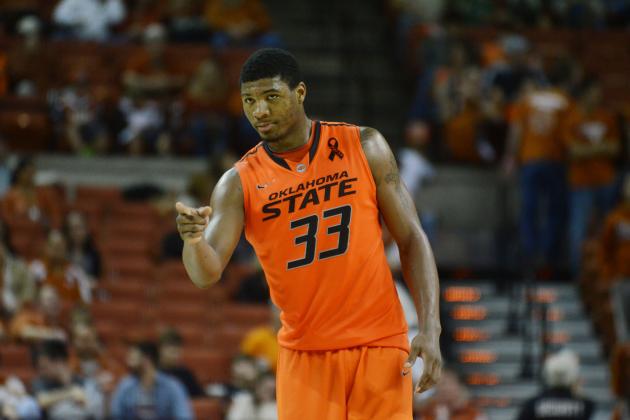 Brendan Maloney-USA TODAY Sports

With about a third of the conference schedule still to be played, Big 12 basketball has been entertaining thus far, and the regular-season league title is far from being decided.
While the conference race is must-see, there are numerous players across the league who make jaws drop and gain the appreciation of basketball junkies. The list includes talented freshmen like Oklahoma State's Marcus Smart and Baylor's Isaiah Austin, as well as seasoned veterans like Kansas State's Rodney McGruder and Kansas's Jeff Withey.
Here are the 10 must-see players in Big 12 basketball.
Begin Slideshow

»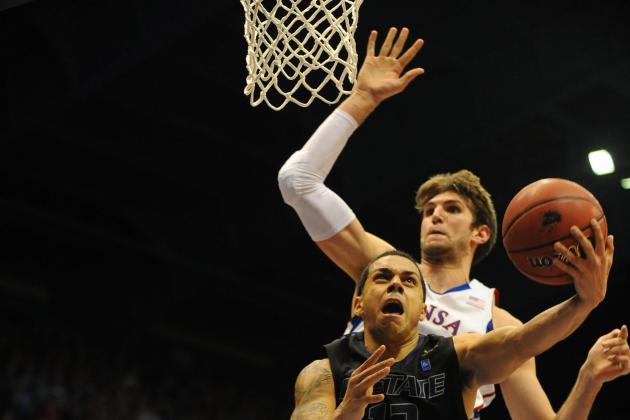 Denny Medley-USA TODAY Sports

Angel Rodriguez definitely is not one of the most physically gifted players in the Big 12. He is 5'11", 180 pounds, and he can't jump out of the gym. However, Rodriguez is relentless and unafraid to have the ball in his hands at crucial times.
Rodriguez is second on the team in scoring at 10.7 points per game and fourth in the Big 12 with 5.0 assists per game. While he is only shooting 35.8 percent from the field, Rodriguez has done a better job taking care of the ball his sophomore year, averaging 2.0 turnovers per game compared to 2.7 last year when he was playing five fewer minutes per contest.
Will Clyburn is a 6'7" wing who has made a big impact for Iowa State in his lone season on campus. A senior transfer from Utah, Clyburn has been one of the main reasons the Cyclones are in contention for their second straight NCAA tournament berth.
Clyburn is fourth in the Big 12 in scoring, averaging 15.1 points per game, and he is a really good rebounder for his position, pulling down 7.2 boards per game, which is fifth in the Big 12.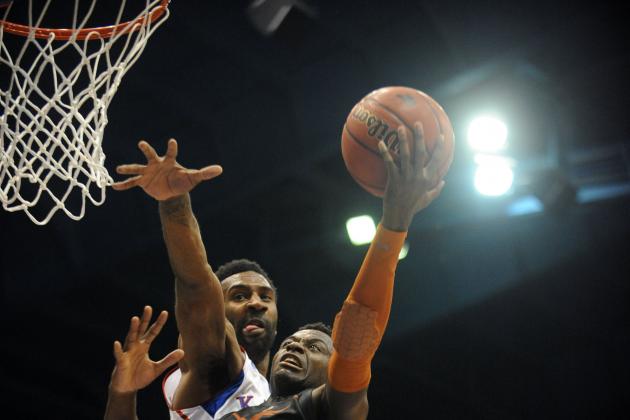 USA TODAY Sports

Myck Kabongo was suspended the first 23 games of the season by the NCAA due to accepting impermissible benefits, but Kabongo is a potential first-round NBA draft pick.
Texas was dreadful offensively without Kabongo, and he made a big impact in last week's overtime win over Iowa State with 13 points and seven assists. In his first two games back, Kabongo is averaging 13.0 points and 3.5 assists while playing 36.5 minutes per contest.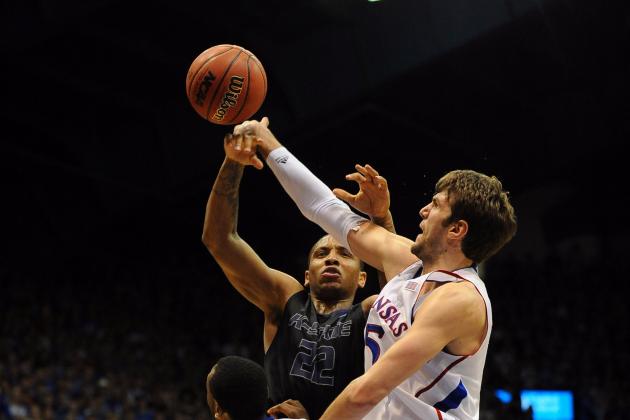 Denny Medley-USA TODAY Sports

Over the last two seasons, Jeff Withey has proved to be one of the elite centers in all of college basketball, and while his offensive game is pretty good, it's Withey's elite defensive skills that make him a must-watch in college basketball.
Withey is averaging a league-best 4.0 blocks per game, and he is part of a defense that is allowing opponents to shoot just 38.2 percent from inside the three-point line, according to KenPom.com. He had a season-high 12 blocks against San Jose State on Nov. 26.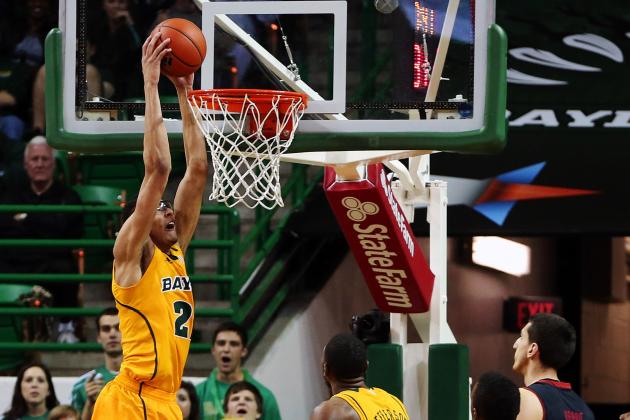 Kevin Jairaj-USA TODAY Sports

Isaiah Austin was one of the highest-ranked recruits in the country coming out of high school, and he has not disappointed in his freshman year at Baylor.
At 7'1", Austin is extremely long and can impact the game on both ends of the floor. He can play inside and out, averaging 13.6 points and 9.2 rebounds per game while shooting 32.8 percent from three.
Austin can be a little inconsistent at times, which was on display in last week's win over West Virginia when he had just five points and one rebound in 23 minutes.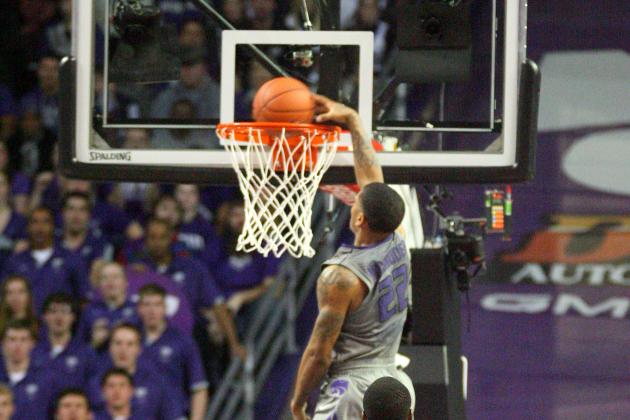 Scott Sewell-USA TODAY Sports

Rodney McGruder won't be on many highlight reels, but his success in college basketball comes from his toughness.
First-year coach Bruce Weber can count on McGruder to score points game in and game out. He is fifth in the Big 12 in scoring at 15.0 points per game, and he has scored at least 17 points in seven of Kansas State's 12 conference games.
Markel Brown is one of the more underrated players in the country. He has great athleticism and has put together quite a highlight reel in Stillwater. Brown certainly showed his playmaking ability on Feb. 6 against Baylor when he went the length of the floor in less than five seconds for the game-winning layup.
Brown has gotten better every year since he has been at Oklahoma State. He is third in the Big 12 in scoring, averaging 15.8 points per game, and Brown is shooting 44.4 percent from the field while making 39.0 percent from three.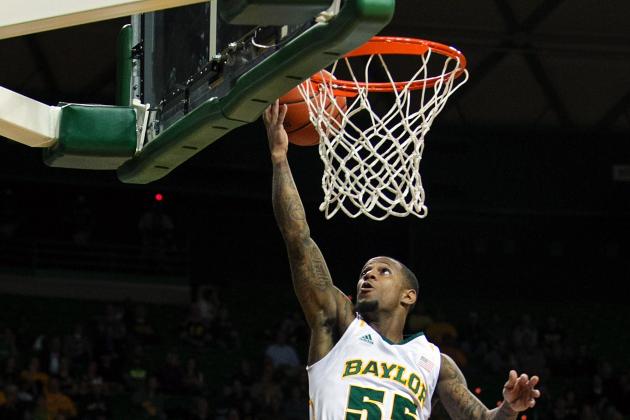 Kevin Jairaj-USA TODAY Sports

Pierre Jackson has been one of the most exciting players in the conference the last couple years. He is only 5'10", but Jackson is a threat to make a jaw-dropping play whenever he has the ball in his hands.
This year, Jackson is leading the Big 12 in scoring with 18.4 points per game. He is averaging seven three-point attempts per game, and he has scored in double figures in 23 of the 24 games in which he has played.
Marcus Smart has all the qualities any coach would want in a point guard. He provides leadership one wouldn't expect from a true freshman and makes winning plays at critical times.
That was on full display during Oklahoma State's 84-79 overtime win over Oklahoma. Smart had 11 points in the final 6:44 of regulation to force the extra period, where the Cowboys eventually won.
Ben McLemore has burst onto the scene in college basketball this season. He is incredibly athletic and is almost automatic to provide a highlight when he gets out in transition.
While all the flash is nice, McLemore is also efficient. He is averaging 16.7 points per game while shooting 51.1 percent from the floor and 43.4 percent from three.
McLemore is a big reason the Jayhawks could make a deep run in the NCAA tournament, and he could also be the No. 1 pick in the 2013 NBA draft.