Who's Hot and Who's Not in College Basketball at Week 15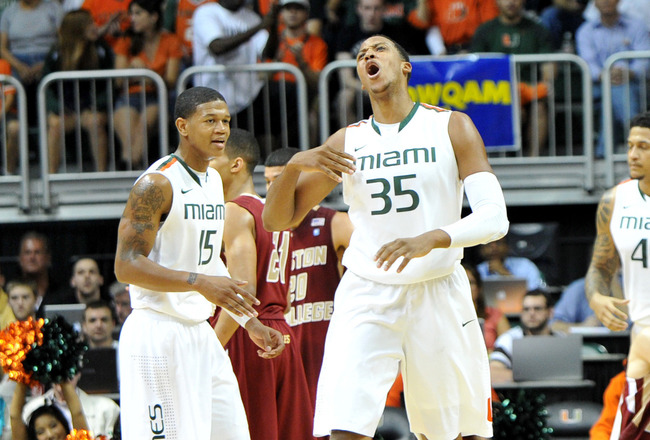 USA TODAY Sports
There's only one possible explanation for the 2012-13 college basketball season: pixies.
Maybe they're cartoon pixies. Maybe they're horse flies painted in glitter. Maybe they have names like "Petra" or "Galinda" or "Bob the Pixie."
I couldn't tell you. I've never met them.
All I know is that they're undetectable, puckish little beings and, for reasons unknown to us, they're doing everything in their pixie power to upset the established hierarchy of college basketball. And it's working.
Thanks to their devilry, every single Hot/Not list produced during the course of this season has been obsolete within hours of publishing. Every one. Useless. Out of date. Corrupted by unfolding events.
I see you pixies, but I won't back down.
Here it is: Hot/Not for Week 15.
Do your worst.
Hot: Illinois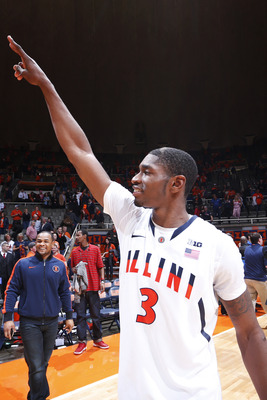 Joe Robbins/Getty Images
It'll be long time before they forget this week in Champaign.
Teetering on the precipice of Big Ten (and NCAA) irrelevance, Illinois staged a dramatic home comeback against top-ranked Indiana on Thursday and followed up with a lower-profile (but equally shocking) road win over Minnesota.
The Illini are still just 4-7 in Big Ten play, but even if they finish 8-10 in league, nonconference wins over Butler and Gonzaga combined with the Big Ten's rugged reputation should be enough to get John Groce's club into the field of 68.
And even if the season ends in some lesser tourney, the Illini and their fans will always have fond memories of the night Tyler Griffey turned Cody Zeller into a pillar of salt.
Not: Cincinnati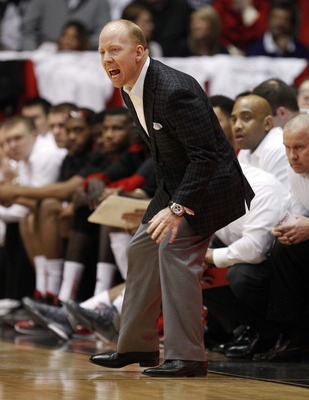 Frank Victores-USA TODAY Sports
If we include a near-collapse against Seton Hall on February 2, it's been three tough games in a row for Mick Cronin's Bearcats. The latter two resulted in losses, one on the road against Providence and another at home against Pittsburgh.
The common thread in all three has been Cincinnati's inability to keep foes off the free-throw line. Pitt managed 27 attempts from the charity stripe, ultimately needing just 44 field-goal attempts to knock off the Bearcats in Cincy.
Fouling hasn't been a season-long problem for Cincinnati, but it's worth monitoring as the season progresses.
Hot: TCU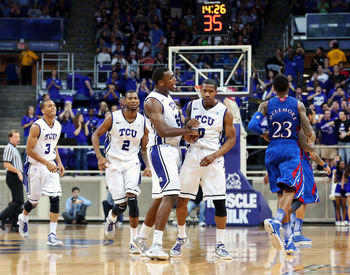 Kevin Jairaj-USA TODAY Sports
OK, so it was only one win.
But it's hard to overstate just how brain-shakingly improbable TCU's Wednesday victory over then-No. 5 Kansas really was.
TCU (No. 243, BPI) had never won a Big 12 game. In their first eight conference contests, the Horned Frogs had lost by double digits all but once. And that one was a nine-point defeat to Texas Tech.
And then they go ahead and beat Kansas, eight-time defending Big 12 champion. Pretty handily, I might add.
TCU has since lost two games by more than 20 points each.
But who cares?
Heck, I might put the Horned Frogs back in this list next week—just to prove that hotness, at its greatest extremes, has no defined statute of limitations. Especially not when TCU beats freaking Kansas.
Not: Alex Len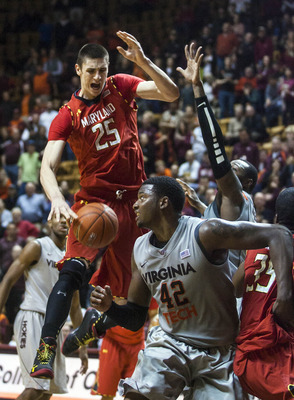 USA TODAY Sports
You need only watch Maryland center Alex Len for a half or so to realize that he's one of the two or three most talented bigs in college basketball. Athleticism at the rim, face-up game, shooting touch—the 7'1" Ukrainian has it all.
With that, it's hard to justify why Len has been such a non-factor for the Terps during crucial stretches of conference play. I understand Maryland's guards are struggling to feed Len the ball, but at this level, he should be able to catch and score from anywhere within 15 feet of the basket.
Instead, Len has scored just 19 points on 12 shots in Maryland's most recent two games, the latter of which was a critical home loss to rival Virginia. At 17-7, 5-6, the Terps likely need a win over Duke on Friday to stay on the bubble.
Hot: Miami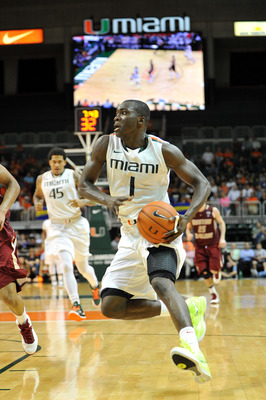 USA TODAY Sports
If you're a Miami fan still stewing over the fact that the Hurricanes checked in behind Duke in the latest AP poll, here's some consolation: Polls don't matter.
What does matter is the substance of a team's play, and no group in America has been better than Miami since the calendar changed to 2013.
With a healthy roster at his disposal, coach Jim Larranaga has guided the 'Canes to wins over Duke (by 27), La Salle (by 17), UNC (by 26) and NC State (by one...but it still counts). At 10-0 in the ACC and 19-3 overall, Miami is ranked third in the country (its highest ranking ever) and looking like a two-way force behind the play of forward Kenny Kadji and guard Shane Larkin.
If Miami can stay perfect through its next five conference games, a March 2 rematch with Duke could rate as the most anticipated non-Big Ten game of the year.
Not: Minnesota
Mike Carter-USA TODAY Sports
It was a near-certainty that the Big Ten schedule in all its meat-grinding glory would at some point destroy a talented basketball team—to the point where we might even start to question said team's talent.
For a while Illinois looked like the sacrificial lamb, but John Groce's Illini bounced back with monster wins over Indiana and Minnesota.
And now it's Minnesota that looks like the odd team out. Tubby Smith's squad ranks 13th nationally in Ken Pomeroy's Pythagorean winning percentage metric, and yet has lost six of its last eight.
The Golden Gophers (17-7, 5-6) have a relatively easy go of it in their final eight conference games, but in the Big Ten, that still means games against Wisconsin, Ohio State and Indiana.
Hot: Nate Wolters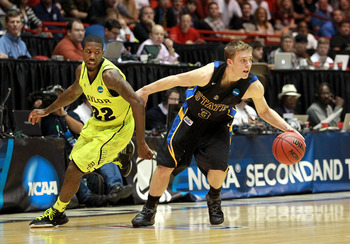 Ronald Martinez/Getty Images
In case you missed the SportsCenter highlights and newspaper clippings and bold-lettered Internet links, let me fill you in:
South Dakota State standout Nate Wolters scored 53 points in a basketball game against IPFW last Thursday.
5-3. Points.
Wolters attempted exactly half of his team's 56 shots and connected on nine three-pointers en route to setting the 2012-13 season mark for points in a Division I game. It was such a flawless offensive performance, that it corrupted a wins-added metric created by SB Nation blogger Benjamin Miraski.
For his encore two days later, Wolters notched 36 points against Oakland in a losing effort. Fellow gunner Travis Bader—who earlier this year scored 47 against IUPUI—netted 31 for the Golden Grizzlies.
Not: Antoine Mason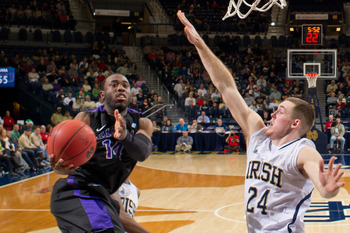 USA TODAY Sports
Antoine Mason—leading scorer for the Niagara Purple Eagles and son to former Knicks forward Anthony Mason—has missed his team's last two games with an ankle sprain.
Niagara dropped both contests, falling to 10-4 in MAAC play. Mason's team still has a tenuous hold on first place, but Loyola (Md.), Canisius and Iona (all 9-5) are lurking.
An NCAA tournament berth would be Niagara's first since 2007, but its hard to imagine the Purple Eagles making it that far without a healthy Mason in the fold.
Hot: Colorado State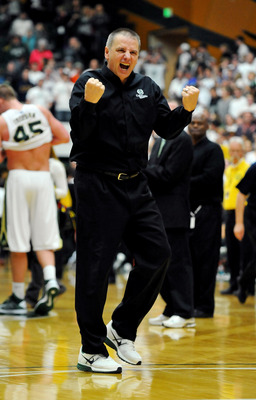 Ron Chenoy-USA TODAY Sports
I'm a not-so-closeted history nerd. And as a not-so-closeted history nerd, I live for "the last time such and such happened" game.
So indulge me.
The last time Colorado State was ranked in the AP Top 25...
—Elvis Presley was an out-of-work musician driving trucks;
—The polio vaccine was in its first months of public consumption;
—Marilyn Monroe and Joe DiMaggio were married;
—Elvis Costello, David Lee Roth and Dennis Eckersley were all yet to be born.
The year was 1954. The month March.
Almost 60 years later, the Rams (19-4) have reassumed a place among the nation's best 25 teams. They are ranked 24th.
Not: Kaleb Tarczewski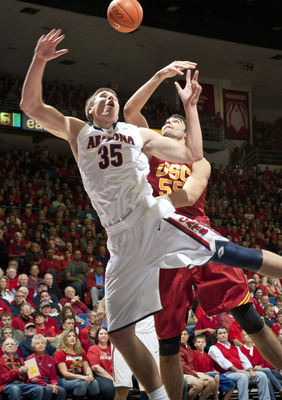 Casey Sapio-USA TODAY Sports
The 2012-13 season has been a slow-developing disappointment for blue-chip recruit Kaleb Tarczewski (ESPN 100, No. 4).
While other highly touted freshman bigs like Kentucky's Nerlens Noel, Baylor's Isaiah Austin and Pittsburgh's Steven Adams have seen their roles expand as the season winds on, Tarczewski appears headed in the opposite direction.
In a recent homestand against Stanford and Cal, the seven-footer played 29 minutes combined, grabbed four boards and attempted just three shots.
That's not to say the future isn't bright for Tarczewski, just that he's taking longer to adjust than some of his peers.
Hot: Mason Plumlee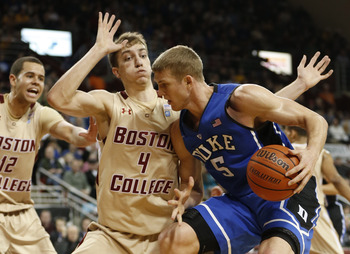 Greg M. Cooper-USA TODAY Sports
Among the leading POY candidates, no one had a better week than Duke's Mason Plumlee.
The senior forward dropped 30 on NC State last Thursday, avenging an earlier loss to the Wolfpack. Plumlee shot 9-of-11 from the floor while playing all 40 minutes of a fast-paced game.
Three days later, the Indiana native sank three free throws in the final 47 seconds of regulation to help Duke erase a late five-point deficit and notch a close road win over Boston College. And he's doing it all without frontcourt mate Ryan Kelly, who remains sidelined with a foot injury.
For his efforts, Plumlee was named the USBWA's National Player of the Week.
Not: Doug McDermott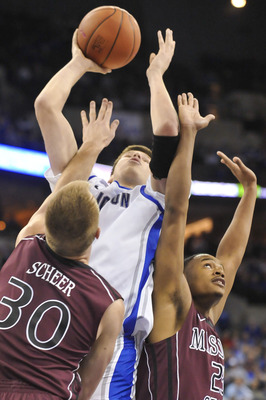 USA TODAY Sports
Doug McDermott's stat line in Creighton's blowout loss to Indiana State last Wednesday defies easy explanation:
Eight points, six rebounds, 3-of-10 shooting, zero free throws
For McDermott, the performance broke a streak of 21 consecutive games with 15 points or more and put a serious damper on the junior forward's POY hopes. His zero free throws marked the first time since a 20-minute outing on November 13, 2011, against Chicago State that McDermott didn't attempt a single shot from the line.
The 6'7" All-American rebounded with a 24-point effort against Illinois State, but it wasn't enough to stop his Bluejays from dropping their second game in a row.
Hot: St. Louis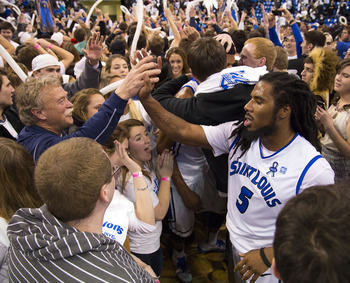 USA TODAY Sports
Since throttling Butler on January 31, the St. Louis Billikens have been the Atlantic 10's hottest team.
With six consecutive wins under its belt—and senior guard Kwamain Mitchell back in its lineup—St. Louis sits atop the A-10 standings alongside Butler (whom it's already beaten) and VCU.
In a season that started with the death of head coach Rick Majerus, the Billikens have made the quick transition from good story to good team.
Under new head man Jim Crews, St. Louis is a stingy 22nd in adjusted defensive efficiency (per KenPom.com). Just as Majerus would've coached it.
Not: Buzz Williams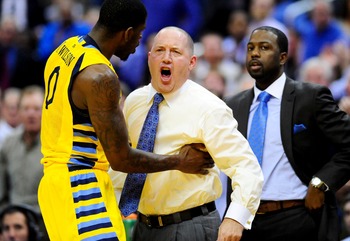 USA TODAY Sports
I've always found the coaching technical hard to rationalize.
Say your a coach and you want to motivate your players. You can do this in any number of ways: yelling at them, yelling at your assistants, yelling at the crowd, yelling at God for his cruel indifference to your suffering.
But only one of the options at your disposal might result in you giving the other team two uncontested points: yelling at the ref.
Of all the possible motivational tactics, only this one can have a directly adverse effect on your chances of winning the game.
Unless you truly can't control yourself—in which case perhaps you should try another line of work—why would you, as a coach, ever make a demonstrably angry gesture toward a referee? It's an obvious risk, with only hypothetical, intangible benefit.
My guess is that when coaches play these psychological games with officials they're only doing it to convince themselves that it works—in essence to exercise some control over (and insert their ego into) a part of the game they in no way control.
See that last foul call? If I hadn't called the ref a smoldering pile of human refuse that totally would've been a block. I'm an emotional genius.
Of course, it's not true. Refs are autonomous beings who have been specifically trained to withstand this kind of abuse. But coaches rail on regardless.
Anyway, Marquette coach Buzz Williams picked up a tech with his team down three against Georgetown on Monday. The Hoyas scored four points on the ensuing possession and the Golden Eagles never threatened from that point on.
With the loss, Marquette (17-6, 8-3) drops into a second-place tie in the Big East standings alongside—you guessed it—Georgetown.
Keep Reading