Big Ten Basketball: Predicting the Final Standings in Wild B1G Season
The Hoosiers are well aware of how crazy the Big Ten has been this season.
Jamie Sabau/Getty Images
No team is safe. At least that's what we learned this past week.
Just when we thought Indiana and Michigan were beginning to separate from the pack, the Hoosiers were upset by an unranked Illinois team, while the Wolverines were the victims of a court-storming loss in Madison.
There's a clear divide between the top five teams in the conference and it's just a matter of which teams can maintain their momentum down the stretch. Most of the contenders have already played each other once, but plenty of rematches loom, waiting to send the conference standings into more chaos.
With only a few weeks left in the regular season, here's our prediction for how the Big Ten will ultimately shake out.
12. Penn State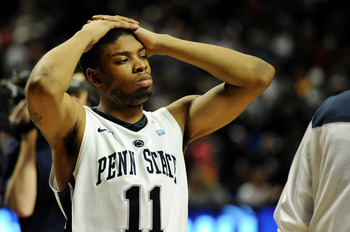 Nothing's been easy for Penn State G Jermaine Marshall this season.
Patrick Smith/Getty Images
Nothing has gone right for the Nittany Lions this season after their best player, Tim Frazier, tore his ACL just four games into the season.
Penn State has struggled mightily on both ends of the court, particularly on the offensive end where Frazier had contributed more than 16 points per game before the injury occurred. Guards D.J. Newbill and Jermaine Marshall have done everything they can to pick up the slack, but neither can handle the point guard responsibilities.
The Nittany Lions, currently 0-11 in conference play, are also in serious danger of becoming the first Big Ten team to go 0-18. The last winless conference team was Northwestern in 2000, when the Wildcats lost all 16 of their league games. After losing 67-53 to Nebraska on Saturday night, there are only two realistic wins left for Penn State to grab: at home vs. Iowa this week and then at Northwestern on March 7.
11. Nebraska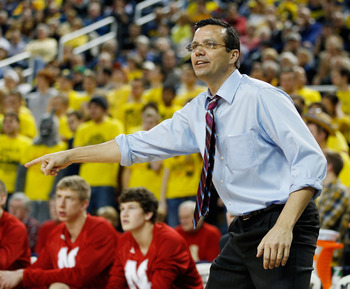 First-year coach Tim Miles has a long way to go with the Huskers.
Gregory Shamus/Getty Images
Tim Miles' first year as the head coach at Nebraska has gone about as well as it possibly could have in the ultra-competitive Big Ten. Miles got a taste of Big Ten basketball, but frankly, the Huskers don't have the horses to compete this year.
Nebraska's only conference wins have come over the aforementioned Penn State (twice) and at home against Northwestern. If the Huskers can scrap out two more wins in two upcoming games against Iowa or games at Wisconsin and Illinois, it will manage to improve on its 4-14 conference record from a season ago.
Junior guard Ray Gallegos has been one of the lone bright spots throughout the difficult season, averaging 13.3 points a game in 37 minutes of action.
10. Northwestern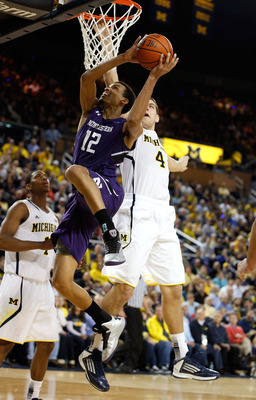 Swopshire has seen an increased role this season for the Wildcats.
Gregory Shamus/Getty Images
The Wildcats have dealt with some adversity as their leader, Drew Crawford, aggravated a shoulder injury in early December and was forced to miss the rest of the season.
Without him, Northwestern—currently 4-7 in conference play—has still managed to fight for a few unexpected wins, including victories in Champaign and at home against Minnesota.
Sophomore guard Dave Sobolewski has helped share the backcourt responsibilities with Reggie Hearn, while freshman guard Tre Demps has recently been given a bigger role at point guard. Louisville-transfer Jared Swopshire leads Northwestern with 6.7 rebounds per game and gives them a decent scoring option in the post.
Coach Bill Carmody has no reason to be ashamed as his team has never quit on him. Northwestern still can't compete with the top-tier teams in the Big Ten, but seven conference wins isn't inconceivable.
9. Purdue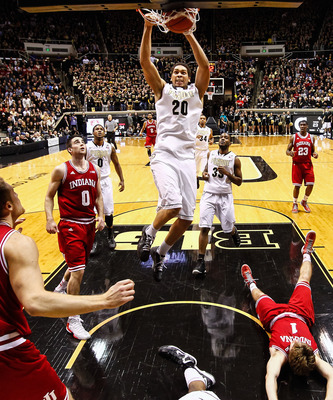 Freshman C A.J. Hammons has a big-time future ahead of him.
Michael Hickey/Getty Images
The Boilermakers have benefited from a softer early portion of the conference schedule, but the final seven games are going to test coach Matt Painter's extremely young team. Purdue, at 5-6 in conference play, still has trips to Illinois, Indiana, Iowa and Wisconsin while it also has yet to host Michigan and Minnesota.
Still, given the amount of production that Painter lost last season in Robbie Hummel and Lewis Jackson, sitting at five Big Ten wins is definitely a feat. There is reason to be optimistic for next season, too.
Freshman center A.J. Hammons is a budding star who has excellent mobility for a big man, and freshman guard Ronnie Johnson has averaged nearly 10 points a game with four rebounds and four assists. The growing pains Painter is enduring this season will ultimately benefit the Boilermakers in the long run.
8. Illinois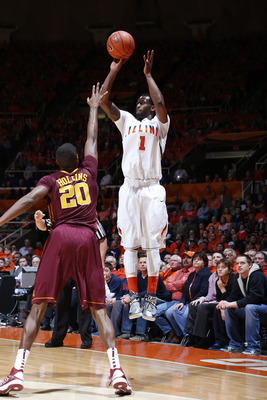 D.J. Richardson leads the Illini with 57 threes this season.
Joe Robbins/Getty Images
No team has had higher highs and lower lows. They started 12-0, and then dropped eight of their next 11 before shocking No. 1 Indiana on Thursday. Then on Sunday, the Fighting Illini went on the road and dropped No. 18 Minnesota to cap off an impressive week.
Illinois is right there with Indiana and Wisconsin in a contest for the best collection of victories this season, but it remains to be seen how much the losses to Purdue and Northwestern will impact the final standings. Fortunately, the Illini have already been through the toughest part of their schedule and it should get easier from here on out.
Illinois has good scorers in Brandon Paul (17.6 points) and D.J. Richardson (12.3) and their frontcourt size is adequate as well. A win or two in the conference tournament should be enough to get them into the Big Dance, even if they finish with a sub-.500 conference record.
7. Iowa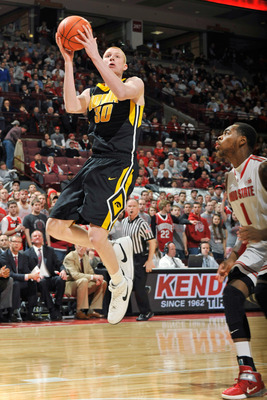 Forward Aaron White leads the Hawkeyes in both points and rebounds.
Jamie Sabau/Getty Images
The Hawkeyes have basically done what every other Big Ten team has done: lose to the elite Big Ten teams and feast on the lower rung.
As of now, the Hawkeyes' best win is at home against Wisconsin. A solid win for sure, but nowhere near a marquee victory. In fact, the Hawkeyes, who sit at 4-7 in the conference, haven't beaten a ranked team all season.
The interesting thing about Iowa is that their non-conference schedule is so weak, that even if they finish ahead of Illinois by a game or two in the conference standings, it likely won't matter to the NCAA committee unless Iowa has a strong showing in the conference tournament.
Circle the date for the March 5 matchup at home against Illinois. It may well be a deciding factor in which of these two teams makes the tournament.
6. Minnesota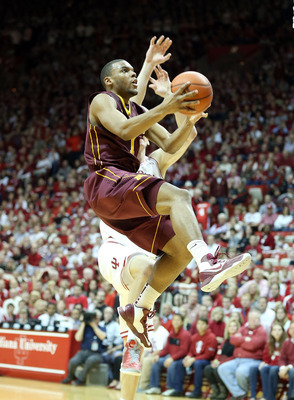 Andre Hollins has been the Gophers' go-to scorer this season.
Andy Lyons/Getty Images
The Gophers are 5-6 in conference play but have a very manageable schedule throughout the final seven games, aside from back-to-back games at Ohio State and then at home against Indiana.
Minnesota can still overcome a four-game losing streak in mid-January to finish in the top half of the Big Ten, a huge improvement from the last two years when the Gophers finished 6-12 in the Big Ten.
Given that the Gophers lost just one game throughout the first two months of the season, they're still in good shape to make the tournament. The recent wrist injury to forward Trevor Mbakwe could play a factor down the stretch as the Gophers vie for position amongst the Big Ten's best.
5. Ohio State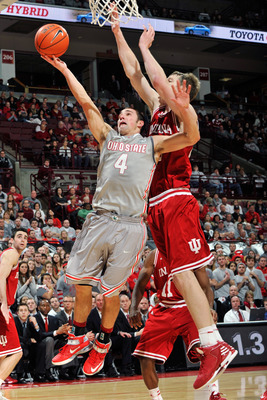 The Buckeyes need Craft to emerge as a scorer down the stretch.
Jamie Sabau/Getty Images
Take away Ohio State's win over No. 2 Michigan and their resume looks pretty bare. The Buckeyes are 1-6 against ranked teams this season, and following Sunday's home loss to Indiana, suddenly look somewhat vulnerable.
Deshaun Thomas is still a volume scorer, but it's the same storyline as it's been all season for Ohio State. Aaron Craft, LaQuinton Ross, or Lenzelle Smith need to contribute on a more consistent basis.
Ohio State, currently 7-4, is facing a relatively modest final seven-game stretch by Big Ten standards. Two games against Northwestern should be locks as well as a regular season finale against Illinois, but the Buckeyes will need to beat Minnesota, Wisconsin or Michigan State in order to crack the top four and earn a bye on the first day of the Big Ten tournament.
Save the date for the Feb. 17 tilt against Wisconsin at the Kohl Center because the Buckeyes could leapfrog the Badgers with a victory.
4. Michigan State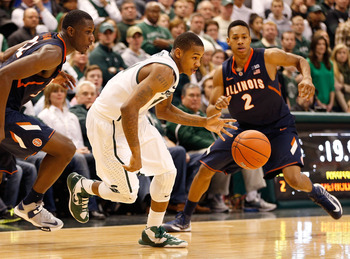 Keith Appling leads the Spartans with 14.1 points and 4.1 assists per game.
Gregory Shamus/Getty Images
At 20-4 overall and 9-2 in conference play, the Spartans are undoubtedly the surprise team in the Big Ten this season. By now, you'd think we'd just accept that a Tom-Izzo-coached team will rise to the top, regardless of his roster.
The problem for the Spartans, unlike the rest of the conference's elite teams, is that it's yet to run the gauntlet of the Big Ten. And by gauntlet I mean, face Michigan (twice), host Indiana and Wisconsin and travel to Columbus, all in the next six games. The only reprieve from a ranked team that the Spartans are going to see within the next stretch will be a trip to Nebraska this week.
Making matters worse for Izzo and the Spartans is that the team is dealing with a rash of injuries to a number of key players. Freshman guard Gary Harris has recently been plagued by back spasms, while Appling had to leave a game this past week against Minnesota when his shoulder popped in and out of place. Backup guard Travis Trice has been sidelined with a head injury as well.
As unlikely as it seems that the Spartans can make it through this daunting stretch, we should know better than to doubt an Izzo-led team.
3. Wisconsin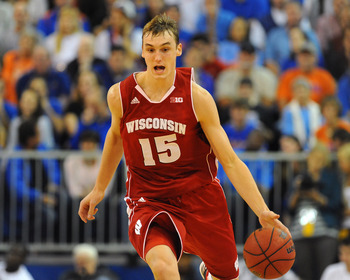 Sam Dekker played a pivotal role in the Badgers' upset win over Michigan.
Al Messerschmidt/Getty Images
As surprising as it may be, Wisconsin owns the best two wins in the conference this season.
After upsetting Indiana on its home court, Badger guard Ben Brust stunned the college basketball world on Saturday when he swished a half-court buzzer-beater to send the game to overtime. The Badgers (in no small part due to another Brust three in OT) wound up handing Michigan its third loss of the season.
The Badgers have as easy of a schedule as any team in contention, and they avoid the top two teams in the conference over the final seven games. Freshman Sam Dekker has been gutsy all season and his 12 points helped the Badgers spring the upset over the Wolverines.
2. Michigan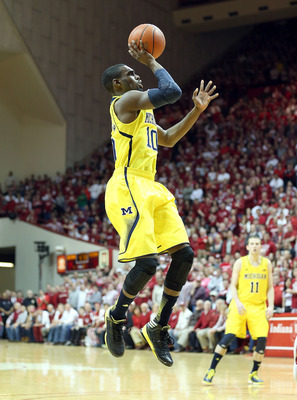 Tim Hardaway Jr. has scored in double figures in 12 of his last 13 games.
Andy Lyons/Getty Images
Despite Saturday's shocking loss to Wisconsin, the Wolverines are still in excellent position to make a run at the conference title.
Michigan's home stretch begins on Tuesday night when it travels to East Lansing to take on the in-state rival Spartans. The Wolverines are fortunate in that Michigan State isn't fully healthy, and if they can swing the road victory, Michigan may take the inside track to the league title.
The Wolverines still have two games against Penn State, one versus Illinois and another on the road against Purdue which should help bolster their conference record. It may well come down to the regular season finale, when the Wolverines get a chance to exact some revenge on the Hoosiers, who knocked the Wolverines from their No. 1 perch earlier this month.
Junior forward Tim Hardaway Jr. has had as much to do with Michigan's potent offense as has potential Player of the Year Trey Burke. Hardaway Jr. has proven lethal from the perimeter (49 three-pointers) but he's still adept enough to penetrate and finish near the rim. Together, they form the most dangerous backcourt in the Big Ten.
1. Indiana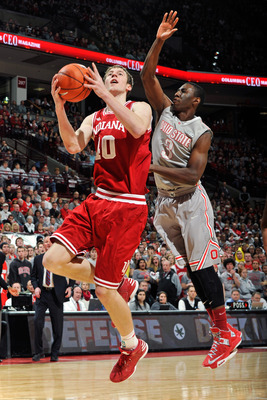 Zeller tied a season-high with 24 points in Sunday's win.
Jamie Sabau/Getty Images
Indiana had already proven that it could win on a big-time stage against one of the elite teams in the country (Michigan).
The lone question that still remained about the Hoosiers was whether they could win on the road. Last Thursday, the Hoosiers proved they weren't flawless when they blew an eight-point lead with just over three minutes remaining on the road against Illinois. Not only did the loss likely cost the Hoosiers their No. 1 ranking, but it gave life to a flailing Illini team.
On Sunday, the Hoosiers proved that the flop to Illinois was an aberration by stomping Ohio State, 81-68 in Columbus. Three Hoosiers scored at least 20 points as the Buckeyes' offense floundered without any options besides Deshaun Thomas. Indiana was too balanced and their outside shooting was too crisp.
Indiana has already proven it can beat the Michigan schools in Assembly Hall, but it will have to face both the Spartans and the Wolverines each one more time on the road before the Hoosiers can lay claim to the Big Ten title.
Keep Reading