Louisville vs. Notre Dame: Twitter Explodes as Irish Sink Cardinals in 5 OT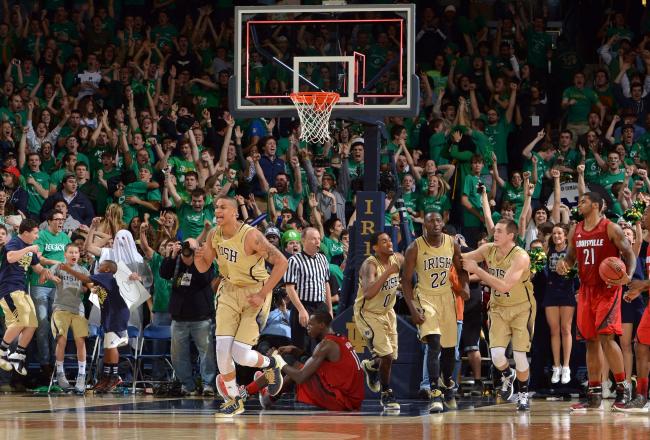 USA TODAY Sports
When the Louisville Cardinals and Notre Dame Fighting Irish checked the schedules and saw each other on the schedule for Feb. 9, I'd wager to bet neither thought the game would be the most entertaining one of the 2012-13 college basketball season so far.
Notre Dame hung on in a five-overtime thriller, 104-101, and picked up a huge win in Big East play against a rival in an exhausting game for both sides. The game lasted over three-and-a-half hours and featured eight players fouling out and 158 shots from both teams.
From Jerian Grant's end-of-regulation explosion to big shots down the stretch from both teams, this game was an instant classic and will be one of those collegiate showdowns that people talk about for years to come.
Twitter exploded with comments during and after this unbelievable game on Saturday night, and we are here to bring you the highlights.
Twitter Reaction
ESPN's Holly Rowe gets us rolling with what most of the country was thinking after the fourth OT ended in vain for both teams:
HOLY 5 OT's. Notre Dame and Louisville game is crazy on #ESPN

— Holly Rowe (@sportsiren) February 10, 2013
According to ESPN's Stats & Info, we shouldn't have been surprised that this game went into five OTs:

5 of the last 6 games between Notre Dame and Louisville have gone into OT. 3 of those have gone multiple overtimes.

— ESPN Stats & Info (@ESPNStatsInfo) February 10, 2013
ESPN's Andy Katz was loving the action, but he took a different approach to his analysis:
See? 100 points in a Big East game. But seriously, this kind of game just shows how disappointing it is that the Big East is breaking up.

— Andy Katz (@ESPNAndyKatz) February 10, 2013
If you weren't watching this game on Saturday night, what the heck were you doing? Even San Francisco 49ers star Aldon Smith tuned in, and he couldn't turn it off until it was over, it seems:
Yo somebody just win!

— Aldon Smith (@AldonSmith) February 10, 2013
Notre Dame made sure the game ended, but CBS Sports' Bruce Feldman wasn't sure where the Irish were going to go next if it went to a sixth OT:
If this game goes another OT, Notre Dame may need to get a hoops uni for Everett Golson.

— Bruce Feldman (@BFeldmanCBS) February 10, 2013
Brett McMurphy got in a classic burn—Notre Dame style:
This game has now gone on longer than a Manti Te'o-Lennay Kukua phone conversation

— Brett McMurphy (@McMurphyESPN) February 10, 2013
Stephen A. Smith joined in, wasting no opportunity to get a dig in at the Te'o hoaxing scandal:
Notre Dame hasn't played a game with so much heart since Manti Teo's girlfriend died.

— Stephen A Smith (@stephenasmth) February 10, 2013
Jerian Grant got all kinds of comparisons on Saturday night, and from Reggie Miller to Tracy McGrady, he deserved it after that fourth quarter. The Associated Press had the tweet:
... not to mention a 3-pt play. #NotreDame G Jerian Grant scored 12 points in 45 seconds. Somewhere, @reggiemillertnt is smiling.

— AP_Top25 (@AP_Top25) February 10, 2013
Garrick Sherman, who didn't play in four of the last six Irish games, had a huge finish to help bring this one home. Darin Pritchett has his new nickname:
Garrick Sherman from here on out will be known as the Sherm-inator after the character in the American Pie Series. #Clutch

— Darin Pritchett (@Sportsbeat960) February 10, 2013
Eamonn Brennan had a tweet with the ire that Louisville fans felt during the end of these OTs:
If you've always wanted to see a coach strangle one of his favorite players between overtimes I'd keep watching Rick Pitino and Russ Smith

— Eamonn Brennan (@eamonnbrennan) February 10, 2013
Pete Thamel of Sports Illustrated shared that pain, and he noted that Louisville had several chances to win this game outright, but it couldn't capitalize:
ND wins in 5OT. Louisville had consistently awful late-game execution. ND had no business winning like 4 times.

— Pete Thamel(@SIPeteThamel) February 10, 2013
Tim Wilkin felt bad for the band during this one:
Has to be a record for number of times ND fight song has been played at one sporting event.

— Tim Wilkin (@tjwilkin) February 10, 2013
Kirk Bohls, who covers the Texas Longhorns in Austin, felt bad for Texas students who had to watch the display of pride in South Bend:
So this is what it's like when students care. What a scene. Take note, Texas.

— kbohls (@kbohls) February 10, 2013
ESPN College BBall will close out our reaction, with a simple message that describes the entire night for most fans of the game:
This is why college hoops are AWESOME. #ULvsND

— ESPN College BBall (@ESPNCBB) February 10, 2013
This article is
What is the duplicate article?
Why is this article offensive?
Where is this article plagiarized from?
Why is this article poorly edited?