Who's Hot and Who's Not in College Basketball at Week 14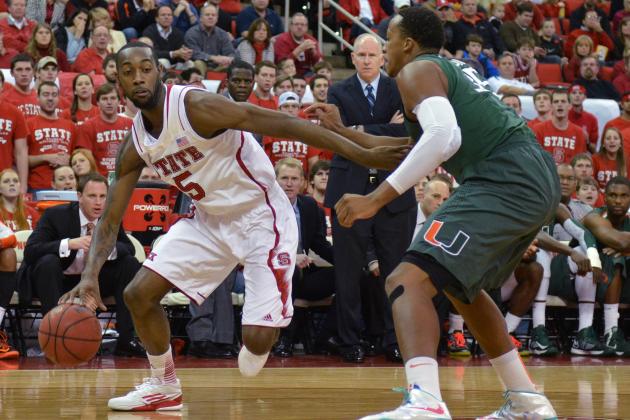 Rob Kinnan-USA TODAY Sports

In a college basketball season where Florida can go from winning every SEC game by 15 points to losing by double digits at Arkansas, staying hot over a long stretch can make the difference between a conference championship and an also-ran finish. While some top teams and players have excelled under the pressure of conference play, others have hit the skids just when they need to be at their best.
One squad that finds itself firmly in the latter category is the N.C. State Wolfpack. Four losses in their last six ACC games have knocked the preseason conference favorites out of the Top 25 altogether.
Read on for more on N.C. State's troubles and the rest of the coldest (and hottest) teams and players in the country in early February.
Begin Slideshow

»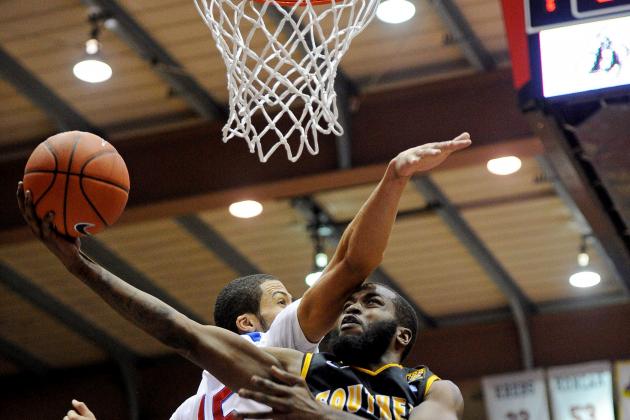 USA TODAY Sports

For a rarity, Memphis has to share its accustomed position on top of the Conference USA standings.
The perennial-favorite Tigers are 7-0 in conference play, but so too is surprisingly Southern Miss, which has raised its own mark to 18-4 overall on the season.
Although Dwayne Davis' unremarkable 13 points per game lead the team, the Golden Eagles are winning on the strength of an exceptionally efficient offense.
Southern Miss is tied for No. 8 in the country in field-goal shooting (.492), including a blistering .397 from beyond the arc.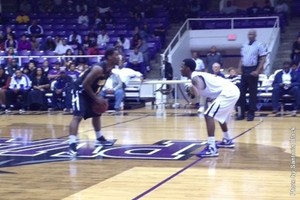 Image from gsutigers.com
It doesn't get much colder than 0-20, and that's where Grambling State stands with two-thirds of its season gone. The Tigers are the only winless team remaining in Division I, and a season without a victory is looking like a distinct possibility.
The Tigers offense is the worst in the country, averaging a microscopic 48.8 points per game.
With Grambling State's weakest remaining opponents (Jackson State and Mississippi Valley State) getting to host the woeful Tigers, it's not looking good for Terry Rose and his mates to erase that zero in the win column.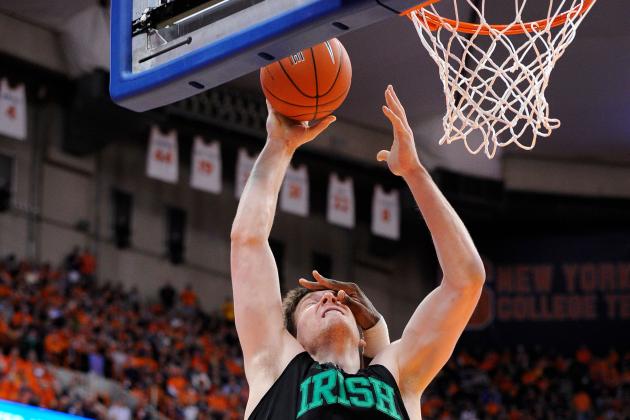 Rich Barnes-USA TODAY Sports

Even in Monday's loss at No. 9 Syracuse, Notre Dame's Jack Cooley piled up 10 points, 11 rebounds and three blocks. Against the Big East's less-imposing teams, Cooley has been an even more devastating weapon inside.
The senior forward has now recorded five double-doubles in his last six games, highlighted by his 26-point, 16-rebound, three-block exhibition against DePaul.
He also hammered Villanova for 17 points and 16 more boards in another Fighting Irish win last week.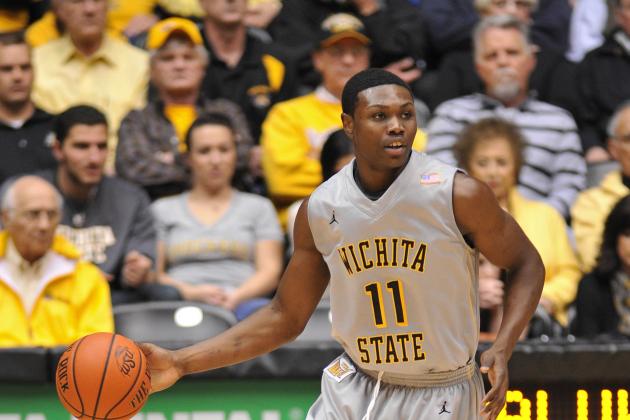 USA TODAY Sports

So much for the Missouri Valley Conference hoping to get three teams into the NCAA tournament.
Wichita State, a Top 25 squad for much of this season and one of the MVC's leading lights, has collapsed so severely over the last two weeks that the Shockers might be playing themselves out of a spot in the Big Dance.
Three straight MVC losses (to unranked Indiana State, Northern Iowa and Southern Illinois) have the Shockers out of the national rankings and a game-and-a-half behind Creighton for the conference lead.
Tuesday's loss to the Salukis is especially galling. SIU is a dismal 2-10 in league play, but they still held Cleanthony Early to less than half of his 15 point-per-game season average in a two-point win.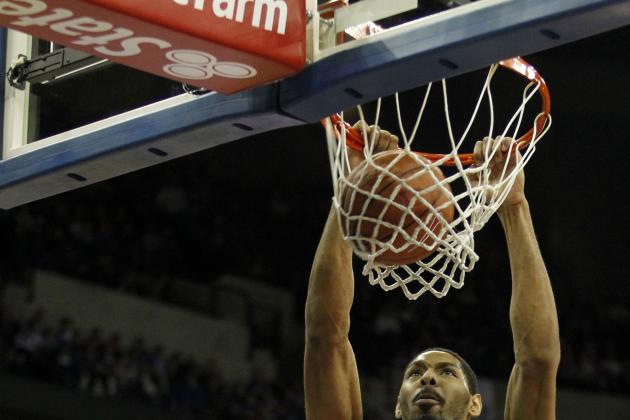 Matt Ryerson-USA TODAY Sports

Akron has been kind of a mid-major equivalent of Miami, discounted after a bad early loss (for the Zips, at Coastal Carolina) before tearing it up in conference play.
The Zips' win over Central Michigan on Tuesday raised them to 9-0 in MAC action and 18-4 overall, and they'll be one of the top bracket-busting candidates in March.
It all starts with seven-foot senior Zeke Marshall, who is second in the country in shooting percentage (.695) and ranks fifth in shot-blocking (3.5 a night). Junior PG Alex Abreu deserves plenty of credit as well, as he's dishing out six assists per game.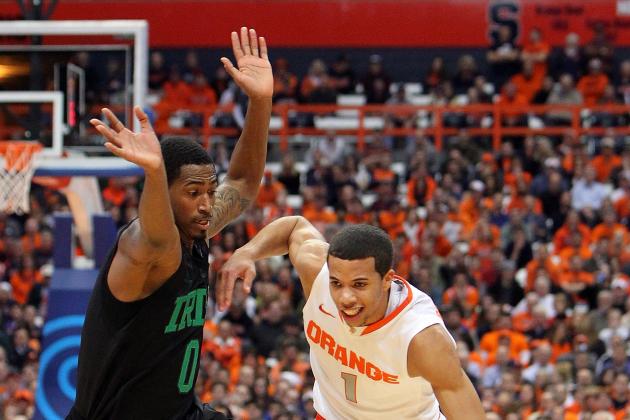 Nate Shron/Getty Images

Not that most point guards in the country wouldn't still be thrilled to trade places with Michael Carter-Williams, but the national leader in assists has had a rough couple of weeks.
His Syracuse squad has dropped two of three in Big East play, and his own numbers have suffered in the process.
In an overtime loss to Villanova, Carter-Williams was held to four assists and (for the first time all year) zero steals, and even his 17 points came on terrible 4-of-17 shooting.
In two games since, he's dished out a season-low two assists against Pitt (another loss) and managed all of five points in beating Notre Dame.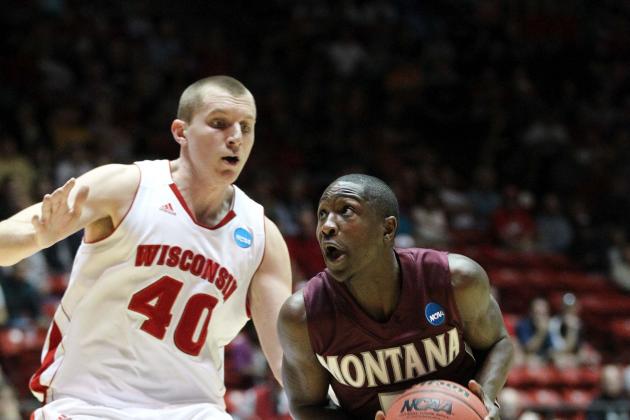 Nelson Chenault-USA TODAY Sports

Say what you want about the level of competition in the Big Sky conference, but no team in the country has a better league record than Montana.
The Grizzlies haven't lost since a double-overtime thriller against South Dakota State on December 15, and they're now 12-0 in the Big Sky.
Unsurprisingly, Montana's success has come on the backs of its upperclassmen.
Senior PG Will Cherry is averaging 4.8 assists and 1.8 steals a night, senior Mathias Ward is the team's top scorer at 15.2 points per game, and junior Kareem Jamar is chipping in with 13.7 points and a team-high 5.9 boards per contest.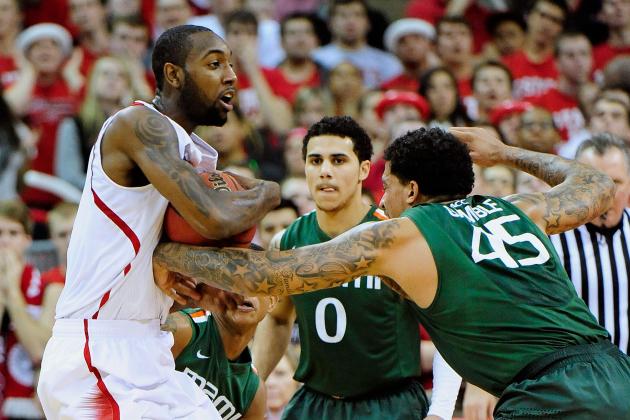 Grant Halverson/Getty Images

Since beating Duke on January 12, N.C. State has lost four of its last six games. That slump includes Saturday's home heartbreaker against first-place Miami, but that buzzer-beating defeat is far from the Wolfpack's biggest problem.
C.J. Leslie and company have lost their last three road games, falling to Virginia, Maryland and sub-.500 Wake Forest. With visits to Duke and North Carolina still on the schedule, N.C. State will have to improve fast if it wants to climb back into the Top 25.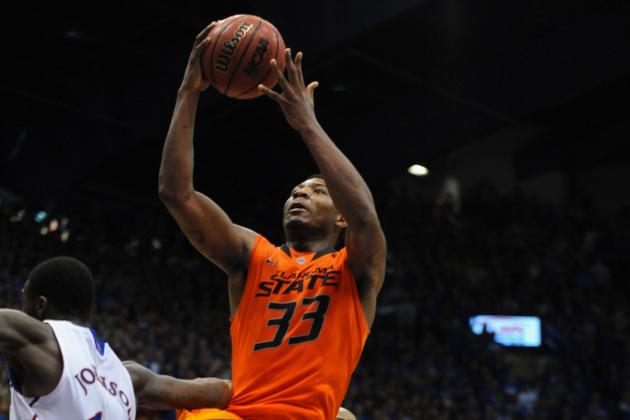 Denny Medley-USA TODAY Sports

Oklahoma State has finally built some momentum in the Big 12, winning three straight, and star freshman Marcus Smart deserves a huge share of the credit.
The do-everything point guard has looked even better than his daunting averages—14.2 points, 5.8 rebounds, 4.6 assists and 2.9 steals per game—in carrying the Cowboys back into the Top 25.
Smart's hot streak started in a loss to Baylor, when he made a run at a triple-double with 12 points, 10 boards and seven assists.
Since, he's ripped Iowa State for 21 points, six rebounds and seven assists, and that was just a warm-up. Smart keyed the Cowboys' biggest win of the season by going off for 25 points, nine rebounds (eight offensive) and five steals in a massive road upset of then-No. 2 Kansas.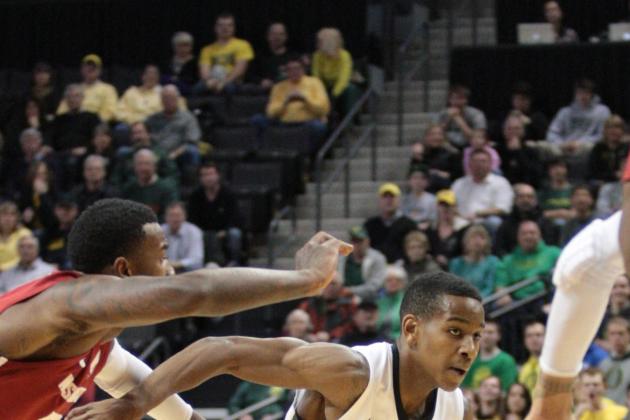 USA TODAY Sports

Dominic Artis has missed Oregon's last three games, and there's no light at the end of that tunnel yet. He's expected to be out at least another week, possibly longer, with a foot injury that was initially supposed to last only a couple of games.
Every game Artis sits makes his job that much tougher when (and if) he does return to the Ducks' lineup.
Oregon has suffered its first two Pac-12 losses in his absence, and every defeat by a subpar conference foe does that much more damage to the team's NCAA tournament seeding prospects.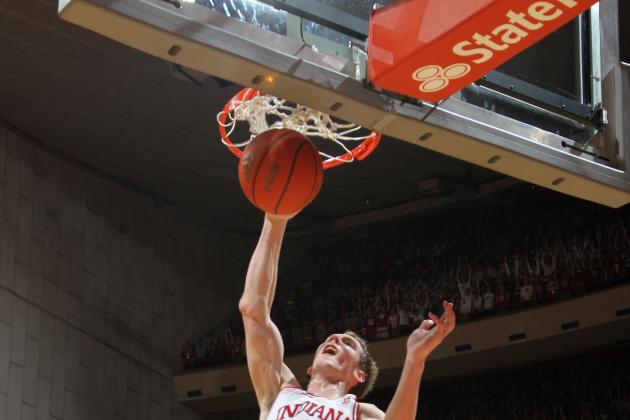 Brian Spurlock-USA TODAY Sports

An 8-1 record in any of the Power Six conferences would be an impressive achievement, but it means even more in the loaded Big Ten.
The Hoosiers have recaptured the No. 1 ranking in the nation behind wins over three of the conference's four other Top 25 teams: Minnesota, Michigan State and Michigan.
That last win, of course, came in one of the year's highest-profile and hardest-fought games, an 81-73 IU victory in Bloomington that allowed Tom Crean's squad to dethrone the then-top-ranked Wolverines.
The Hoosiers won't have to wait long to prove they deserve to be No. 1. They play their biggest road game yet at No. 10 Ohio State on Sunday.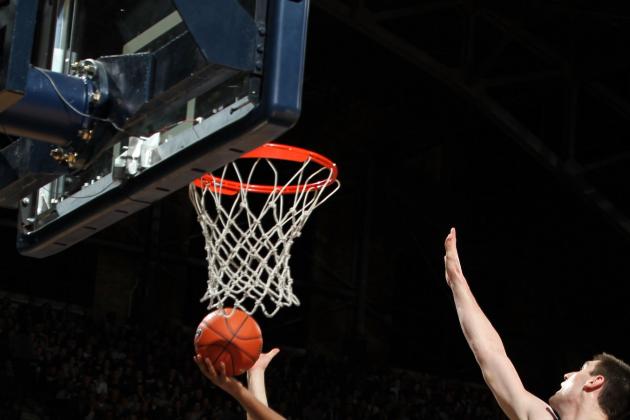 Brian Spurlock-USA TODAY Sports

A non-conference upset of mighty Syracuse had announced Temple as a potential contender, even in a stacked Atlantic 10. The reality, though, has seen the Owls start a disappointing 3-4 in conference play.
The latest ignominy is a one-point loss at St. Joseph's that dropped the Owls to 14-7 overall. With 10 teams ahead of them in the A-10 standings, Khalif Wyatt and his mates will need a terrific finish just to make the NCAA tournament.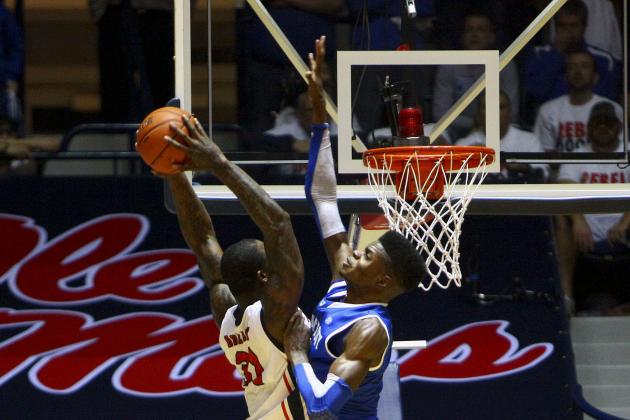 Spruce Derden-USA TODAY Sports

SEC competition appears to have lit a fire under Nerlens Noel. The freshman center was already an intimidating defender in non-conference play, but he's become one of the most unstoppable forces in the country against league foes.
Noel set a school record with 12 blocks at Ole Miss, an effort that helped propel him into the national lead in that category.
Texas A&M, though, is the team that's really seen Noel at his best. In two games against the Aggies, he's combined for 34 points, 25 rebounds, nine assists, nine blocks and five steals.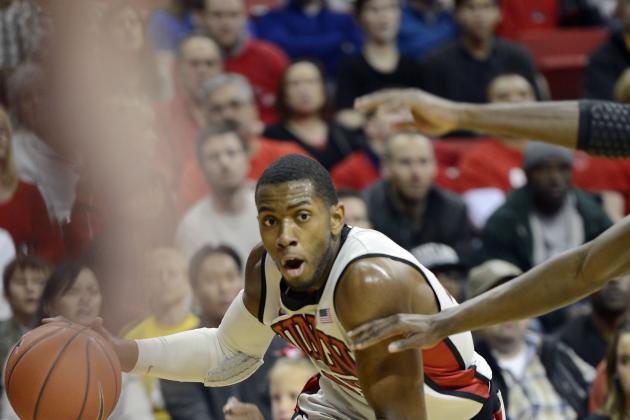 Jeff Bottari/Getty Images

Getting tossed from Saturday's loss to Boise State after a flagrant foul was only the lowest point of what's been a massively disappointing season for Mike Moser.
A breakout star for UNLV last year, Moser has been all but invisible with freshman Anthony Bennett monopolizing the spotlight in the Rebel frontcourt.
With Bennett taking most of the shots, Moser's scoring average has been cut almost in half, from 14 points to just 7.9 points per game.
Not only has Moser failed to score in double digits since January 12, but his vaunted rebounding is way down as well—he's been held to five boards or fewer in five of his last eight games.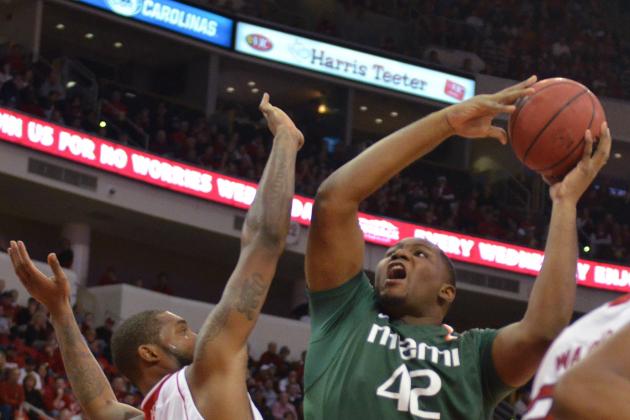 Rob Kinnan-USA TODAY Sports

The only Power Six team without a conference loss, Miami is unbeaten since Christmas. No win in that span has been bigger than a staggering blowout of then-No. 1 Duke, 90-63 in Miami.
Of course, the 'Canes have also shown an ability to come through in close games, edging Boston College at Chestnut Hill by a point and stunning N.C. State (also on the road) on Reggie Johnson's buzzer-beating tip-in.
With Johnson healthy again alongside Kenny Kadji and Julian Gamble, there isn't a better frontcourt in all of college hoops.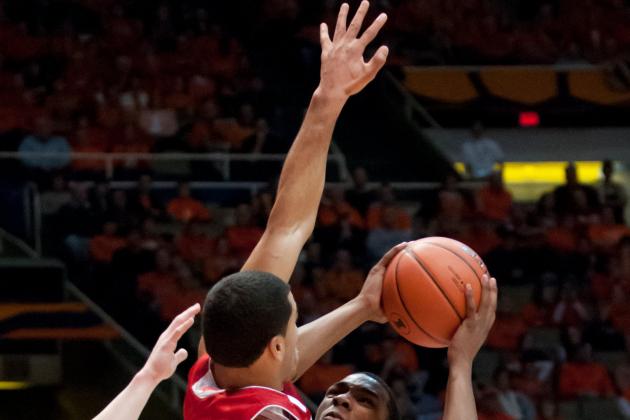 Bradley Leeb-USA TODAY Sports

After a brilliant non-conference performance and an early blowout of then-No. 8 Ohio State in Champaign, Ill., the Illini looked like a potential sleeper to contend in the mighty Big Ten.
Since that win over the Buckeyes, though, it's been all downhill for Brandon Paul and company.
Illinois has dropped six of its last seven, with the lone win coming against sub-.500 Nebraska. The Illini are now 2-7 in conference play, and the road doesn't get any easier when No. 1 Indiana visits Champaign on Thursday night.