ACC Basketball: Midseason Report Card for Every Team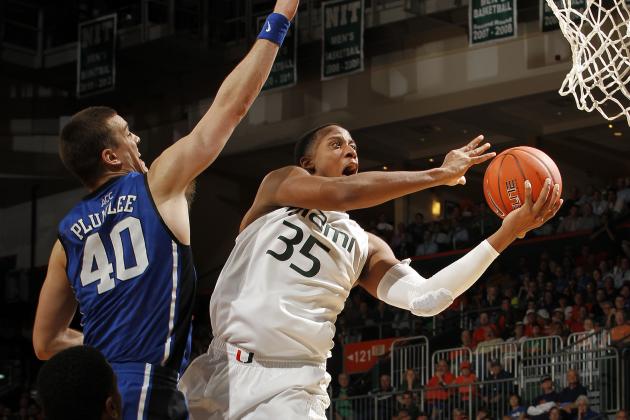 Joel Auerbach/Getty Images

On the eve of major realignment shifts, it seems the Atlantic Coastal Conference is already in a bit of a shakeup.
Carolina, down.
Miami, up.
North Carolina State, every which way.
Outside of Duke, the league's traditional powers and preseason darlings have struggled, opening the door for unlikely potential champions and creating a morass of mediocrity in the conference's middle tier. Reflections on that and more in the slides ahead.
Note: All stats courtesy of KenPom.com unless otherwise noted.
Begin Slideshow

»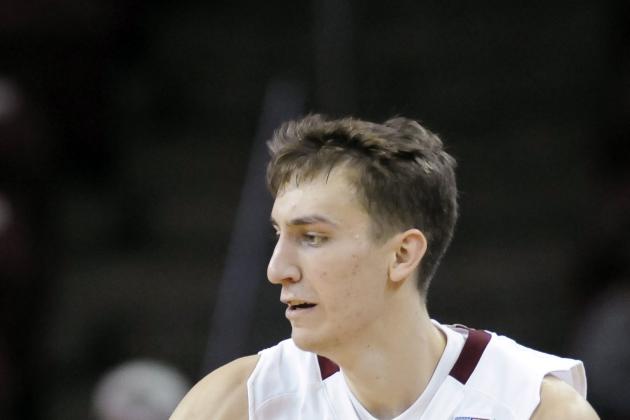 USA TODAY Sports

Record: 10-12 (Overall), 2-7 (Conference)
It's been a bad season for Boston College, but really no worse than expected.
The Eagles were picked to finish last in the preseason coaches poll, and they've lived up to that billing so far with a 2-7 conference start. At least they've got company in the basement alongside Georgia Tech and Virginia Tech.
And while we're fishing for silver linings, let it be noted that BC's offense has made major strides since last season. Freshman Olivier Hanlan and Ryan Anderson lead a unit that has gotten to the free-throw line at a better rate in conference play than any of its ACC foes. Compare that to last year, when SSteve Donahue's team ranked 244th nationally and eighth in conference.
The defensive end is another story entirely. BC can't defend the three-point line, the paint or really any area worth defending. That combined with a crippling inability to force turnovers has the Eagles in a bind.
But where there is youth, there is hope, and Boston College is one of the greenest teams in the nation. The Eagles don't have a single upperclassman playing more than 25 percent of available minutes and should continue to mature as the season progresses.
Already in ACC play, they've had competitive games against North Carolina State, Wake Forest, Maryland and Miami, signs that this program is finally on the upswing.
Grade: C-, improving with a long way to go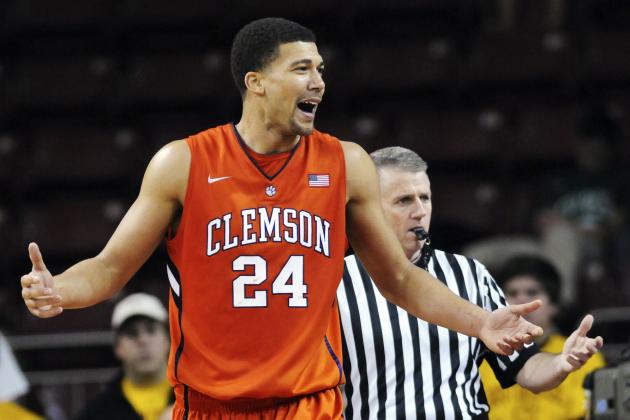 USA TODAY Sports

Record: 12-9, 4-5
Clemson isn't a particularly big team, but it excels in the painted area. When seniors Devin Booker and Milton Jennings are on their game, the Tigers combine rugged interior play with the kind of deathly slow pace that can trip up more talented teams.
But the above stars haven't aligned often enough for Clemson this year, and the same team that held second-half leads over Arizona and Gonzaga has also suffered double-digit losses to Purdue and Coastal Carolina. Much of the blame falls on Clemson's offense, which doesn't feature much in the way of guard play or outside shooting.
In conference play, Brad Brownell's team has been competitive in all nine of its games with the exception of a road loss at Duke. That's about what we expected from a team expected to finish somewhere just south of .500 in league play.
Last year's 16-15 record seems like a reasonable target for this year's group.
Grade: C, idling at average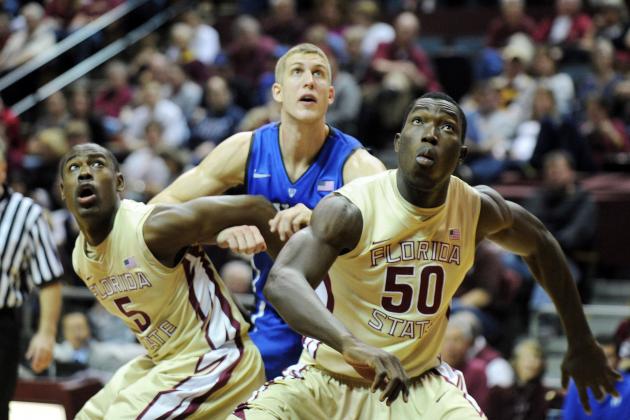 USA TODAY Sports

Record: 19-2, 6-2
No team in the country had a better non-conference run than the Blue Devils. And while an injury to senior forward Ryan Kelly coupled with two early conference losses had the Cameron faithful on edge, Duke has righted the ship in recent days. As usual, it seems Coach K's team will have a say in who wins the conference crown.
The most significant difference between this Duke team and the one that fell to Lehigh in the first round of last year's NCAA tournament is defense. The Blue Devils have jumped from 70th to 14th in adjusted defensive efficiency thanks in large part to the increased role of sophomore point man Quinn Cook and the addition of freshman guard Rasheed Sulaimon.
That Duke has managed that transition without taking a step back on offense is largely thanks to senior forward Mason Plumlee, who has emerged as a leading POY candidate. That and better ball movement has the Blue Devils operating just as efficiency as they did last year with lottery pick Austin Rivers in the fold.
Looking forward, the biggest question mark for this team is in the frontcourt.
Will Kelly return?
Can freshman Amile Jefferson step into his role?
If no to both of the above, does this team have the chops to make a tournament run?
All that will be answered in the weeks ahead. For now, Duke fans will have to be content with another year in the ACC's upper tier.
Grade: A-, balanced and dangerous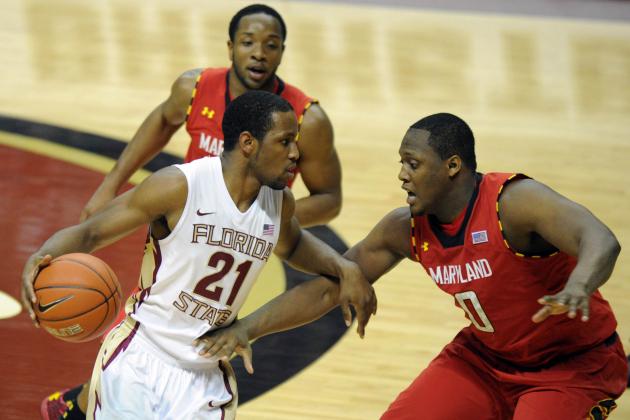 USA TODAY Sports

Record: 13-9, 5-4
Clutch shots aside, 2012-13 has been a disappointing year for Florida State star Michael Snaer.
The preseason all-conference selection and self-proclaimed "best 2-guard in the country" hasn't emerged as the dominant offensive force folks expected. His scoring has plateaued, his shooting has regressed and he's turning the ball over far too often for a player that touches the ball on a quarter of his team's possessions.
Granted, his game-winning shots against Clemson and Maryland have kept Florida State afloat in the ACC. But we expected more from Snaer and the rest of his Seminole teammates. And the peripheral numbers suggest things will only get worse for Leonard Hamilton's team as the season wears on.
Grade: C-, underachieving and trending down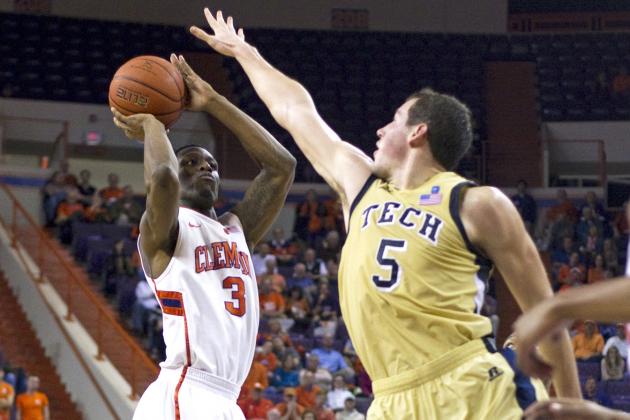 USA TODAY Sports

Record: 12-9, 2-7
Georgia Tech is a classic split-personality case.
Under second-year coach Brian Gregory, Tech's defense is stout. Led by freshmen starters Marcus Georges-Hunt and Robert Carter, the Yellow Jackets are one of the most improved defensive teams in the country.
Part two of the rebuilding process is identifying somebody—anybody—capable of putting the ball in the hoop. The Yellow Jackets are dead last in offensive efficiency during conference games, and turnovers, while down from a year ago, continue to plague this young team.
At the very least, it appears Georgia Tech is heading in the right direction. Recent wins over Wake Forest and Virginia have restored some small sense of optimism to a program in desperate need of good news. The trick is turning those small steps into major recruiting gains.
Grade: C+, showing signs of life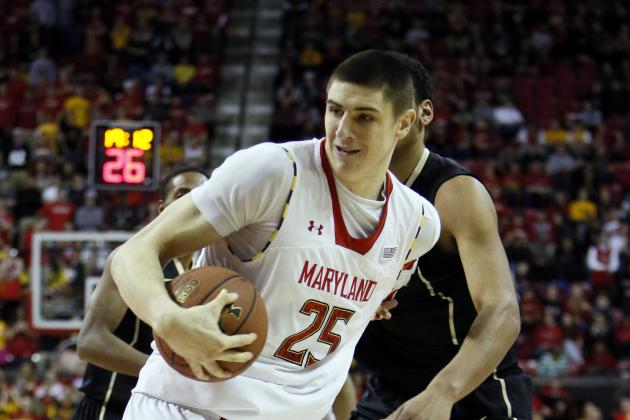 Mitch Stringer-USA TODAY Sports

Record: 16-6, 4-5
Where Gary Williams worked magic with unheralded recruits, his successor, Mark Turgeon, seems stuck in a reverse cycle. Between Alex Len, Dez Wells and Shaquille Cleare, Maryland has more than enough talent to make noise in a down ACC, but close losses and poor guard play have the Terps struggling to stay on the bubble.
If Maryland can find some stability on the perimeter, it instantly becomes one of the more dangerous teams in the conference. But that's a big if for a group that seems incapable of getting the ball to Len without turning it over.
There's time left to rewrite the script, but right now, Maryland's season has been a letdown.
Grade: C+, window closing on a promising team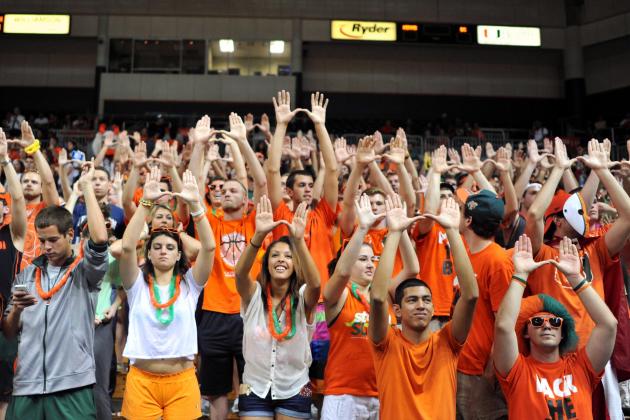 USA TODAY Sports

Record: 18-3, 9-0
It took a while to get all the parts in place, but since Miami got healthy around the quarter-pole, there hasn't been a better team in college basketball.
Shane Larkin and Durand Scott form one of the nation's best backcourts, and Miami's front line is holding opponents to just 41.6 percent shooting from inside the three-point line. Reggie Johnson (6'10"), Julian Gamble (6'10") and Kenny Kadji (6'11") haven't allowed an opposing center or forward to score more than 18 points in a game since Detroit's Nick Minnerath dropped 22 in the fourth game of the season.
Most of that good work went unnoticed until a 27-point blowout of then-No. 1 Duke catapulted Miami onto the national stage. Since then, they've risen steadily up the polls, peaking this week at No. 8 overall.
That ranking ties the highest ever for a Miami team.
Grade: A, soaring at historic highs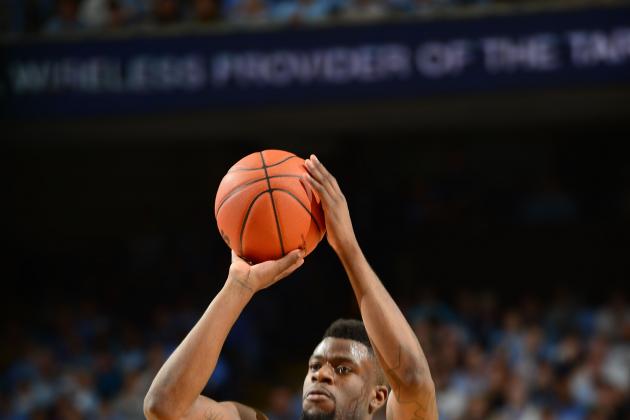 USA TODAY Sports

Record: 16-6, 6-3
Evaluating North Carolina is in part a question of the credence one lends to preseason polls.
The Tar Heels lost four starters from last year's team, yet entered the season ranked 11th overall.
Is that pollster error? Or has Carolina simply underachieved?
I'd say it's a combination of the two.
It's fair to say that sophomore James Michael McAdoo hasn't been nearly as efficient as his talent would suggest. It's also fair to say that top recruit Marcus Paige hasn't been as good as some of the other players in his class.
But Reggie Bullock and P.J. Hairston have both played fairly well, and, with the exception of the Texas game, Carolina has beaten every team it was supposed to beat.
If Roy Williams' group can steal a game at Miami or at Duke, the entire outlook of this season changes. For now, the 'Heels are in position to finish somewhere in the 10-11 win range, and that should be enough for a tournament berth.
Grade: B-, a failure only if you're blinded by the name on the jersey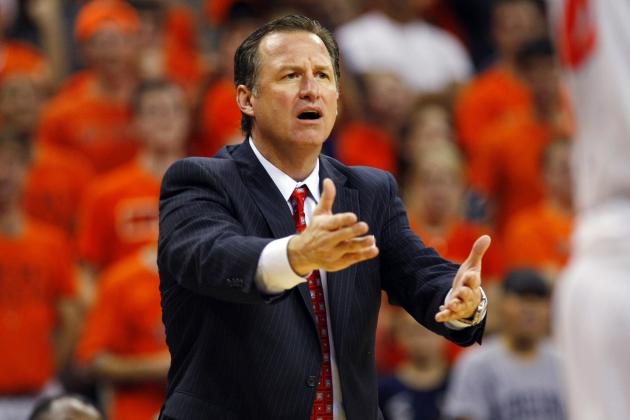 Geoff Burke-USA TODAY Sports

Record: 16-6, 5-4
The ACC coaches picked North Carolina State to win the league this year, and with good reason.
The Wolfpack, fresh off a Sweet 16 appearance, were adding stud recruits Rodney Purvis and T.J. Warren to a talented upperclassmen core comprised of Lorenzo Brown, Richard Howell and preseason ACC POY C.J. Leslie.
At times, we've seen the team we expected, like when State topped Duke and Carolina in the span of two weeks. Sandwiched between those wins, however, were losses to Maryland and Wake Forest. And it's been like that since Week 1.
The problems for Mark Gottfried's squad are obvious. They don't defend and they aren't deep. The latter is particularly troubling since North Carolina State plays at the sixth-fastest tempo in the country.
Until the Wolfpack fix their defense and adjust their approach, it's hard to see how a team with just one double-digit conference win will make a serious run at the ACC title.
Grade: C, dangerous but underwhelming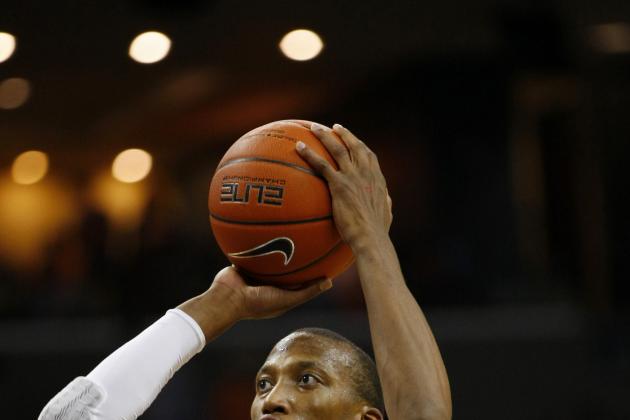 Geoff Burke-USA TODAY Sports

Record: 15-6, 5-3
Virginia is in a tough spot.
The Cavaliers profile as a tournament team, particularly on defense, where they match up with just about anybody in the country. And if they get into the bracket, Tony Bennett's team could be a mighty tough out.
But two early losses in a dreadful non-conference schedule torpedoed Virginia's RPI and left the Cavs in a position where they likely need 12 or more conference wins to have a legitimate tournament case. Making matters worse, Virginia only has one game each against Duke and Miami, the conference's only two ranked teams.
In most years that would be a welcomed reprieve, but for a team in desperate search of resume-building wins, it means the Cavs will have limited opportunities.
The season could end with the Cavaliers playing much better ball than anyone expected, but falling short of the ultimate validation. That shouldn't obscure the fact that this team has coped well with the departure of Mike Scott, but it more than likely will.
Grade: B, flawed scheduling masks good season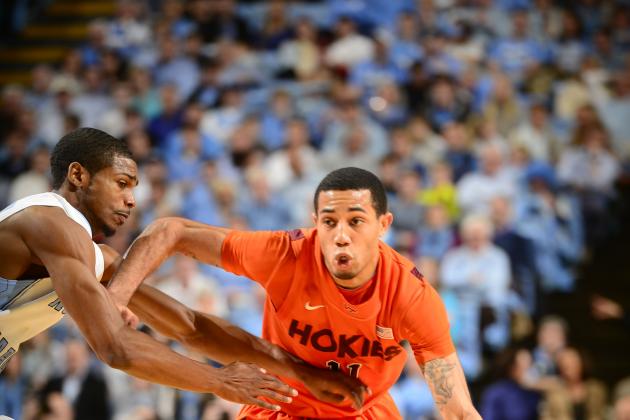 USA TODAY Sports

Record: 11-10, 2-6
The scoring exploits of senior Erick Green have kept Virginia Tech relevant, but they haven't saved the Hokies' season.
Which is perhaps a more polite of saying: If you're going to suck, you might as well do it with some flare.
Green leads the nation in scoring almost out of necessity. Outside him, Virginia Tech doesn't have a single rotation player with an offensive efficiency rating north of 110. Duke, by contrast, has six.
And that's not to mention Tech's defense, which has been by far its weakest unit. The Hokies have the ACC's worst in-conference defensive efficiency rating and rank 339th nationally in steal percentage.
With Green set to graduate, one wonders where this program heads next under new head coach James Johnson. Signing ESPN 100 recruit Donte Clark is nice first step, but Tech's immediate future could get ugly if guys like C.J. Barksdale and Robert Brown can't fill Green's shoes.
Grade: D+, fun to watch but miserable to follow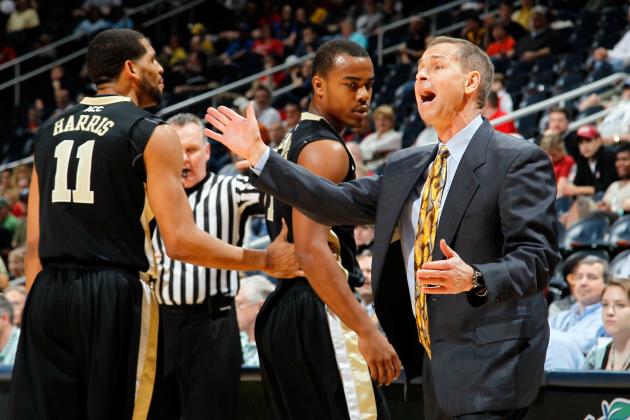 Kevin C. Cox/Getty Images

Report: 10-12, 3-7
When the most newsworthy item from your season is a head coach's obtuse attempt to silence his critics, it's been a tough year. Even a noisy win over North Carolina State is little solace for a once-proud programming likely headed to its third consecutive losing season.
There's plenty of blame to go around, starting with an offense that's been downright wretched outside the contributions of upperclassmen C.J. Harris and Travis McKie. That's about what you'd expect with five freshmen getting rotation minutes, but it begs the question: Why are five relatively unheralded freshmen getting rotation minutes in coach Jeff Bzdelik's third season at the helm?
In the context of this season alone, the team seems to have gotten better as conference play has progressed. Consecutive close losses to Duke and Maryland offer a small dose of encouragement. Big picture, however, it's hard to see where Wake Forest is headed right now.
Grade: D, bad and bland