College Basketball Conference Power Rankings at Week 14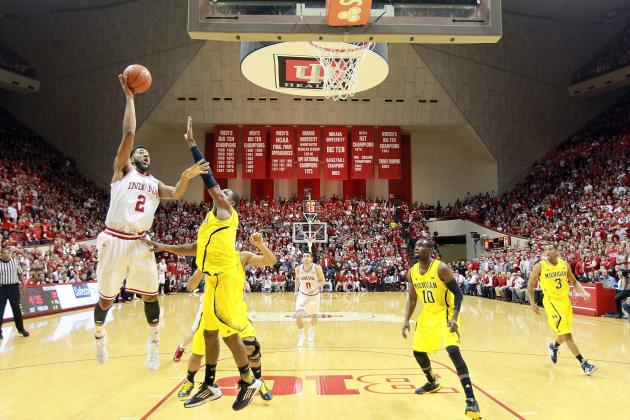 Andy Lyons/Getty Images

The past week of college basketball featured perhaps the best game on paper of the season (Indiana vs. Michigan) and another slew of upsets that knocked off top-ranked teams. Saturday alone saw eight Top 25 squads fall.
Now that the calendar has officially flipped to February, the battles for conference crowns and No. 1 seeds in the NCAA tournament are beginning to take shape. Throw in the fact that the bubble is as slippery as ever with a handful of blue blood programs, and fans should have plenty to tide them over until March.
Read on to see where the conference power rankings stand heading into the final full month of the regular season.
Begin Slideshow

»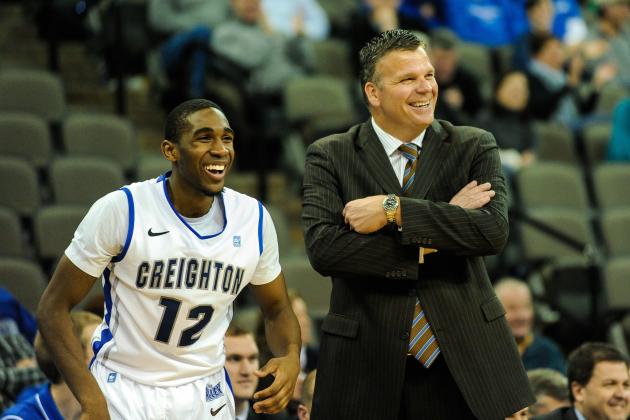 Eric Francis/Getty Images

The race between Creighton and Wichita State took an unexpected turn this week. The Shockers lost their one-game lead over the Bluejays by losing not once but twice against the likes of Indiana State and Northern Iowa.
Creighton took advantage by knocking off Missouri State and Bradley to take a one-game lead of its own.
Indiana State, who is trying its best to make this a three-team race, was unable to maintain its momentum from the upset over Wichita State and fell to Drake on Saturday in overtime. It was the type of loss that could come back to haunt the Sycamores come Selection Sunday.
For now the Missouri Valley looks like a two-bid league in terms of the NCAA tournament, but there are still plenty of opportunities for Indiana State in February.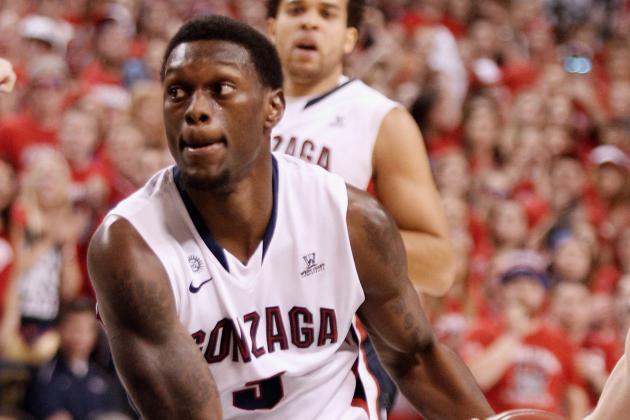 William Mancebo/Getty Images

If the Missouri Valley is a two-team race with a potential third squad lurking, then so is the West Coast Conference. However, the third- and fourth- (Santa Clara: 17-7 after splitting two games this week) place teams in the WCC are a bit stronger than those in the MVC, hence the No. 9 ranking.
Gonzaga is still undefeated in league play after a two-win week, but it got a real scare at San Diego on Saturday in a two-point victory. The Zags are definitely the cream of the crop in this conference (and perhaps the whole west coast), but road games are never layups in league play.
Saint Mary's kept pace with a two-win week of its own that included a 67-63 nail-biter at San Francisco. The Valentine's Day showdown against Gonzaga looms.
Speaking of looming, BYU stretched its winning streak to three this week and sits within striking distance of both the Bulldogs and Gaels. The problem for the Cougars right now is they really don't have any quality wins on their resume, so while they compete for the WCC they also have to worry about the bubble.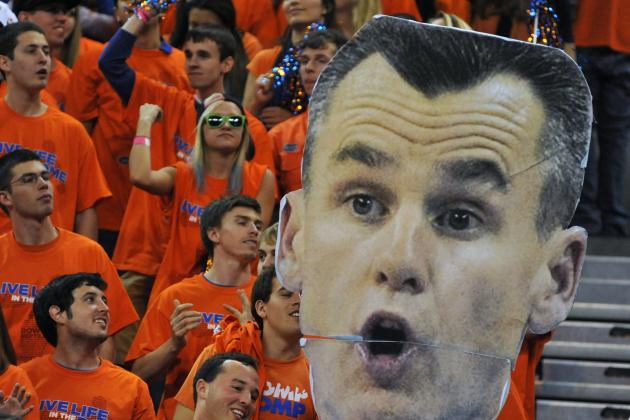 Al Messerschmidt/Getty Images

Regardless of the quality of the SEC this year, the fact that Florida is treating its conference foes like Division III exhibition opponents is rather impressive. The Gators beat Mississippi by 14 and South Carolina by 39 (more points that the Gamecocks scored in the game) this week to stretch their conference record to 8-0.
They have won those eight games by an average of 26.5 points.
Elsewhere, Ole Miss took a major step back with losses to Kentucky and Florida, proving that the Rebels are dangerous but not a legitimate threat for a conference crown.
Alabama hung around the bubble for another week with two close wins against Arkansas and lowly Vanderbilt, and Missouri lost another game it shouldn't have at LSU. Laurence Bowers is healthy once again, and the Tigers should not be struggling this much on the road in a bad SEC.
As for Kentucky, Big Blue Nation can breathe a little easier after the Wildcats had perhaps their best week of the season with two road wins over a ranked Mississippi squad and Texas A&M. It would take a late-season collapse at this point to miss the tourney.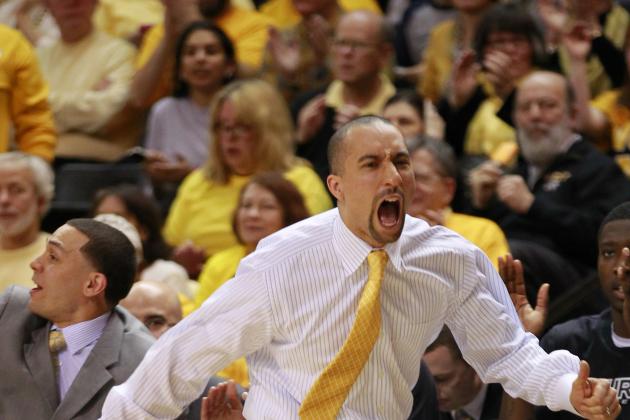 Geoff Burke-USA TODAY Sports

The Atlantic 10 standings are a jumbled mess right now. VCU, Butler, Charlotte, Saint Louis, La Salle, Xavier, Massachusetts, Saint Joseph's and George Washington are all within one game of each other in the loss column.
There may not be another conference in the country with as much to sort out in February. There are potential March threats and perilous bubble teams all crammed into that list.
VCU bounced back this week with two much-needed victories, Charlotte squeaked out a one-point win against UMass, preseason favorite Saint Joe's reentered the picture with two wins and La Salle split games against George Washington (win) and UMass (loss).
Temple lost a heartbreaker to Saint Joe's and has fallen by the wayside a bit (3-4 in league play), and Xavier is hanging on by a thread when it comes to the bubble after beating Dayton but falling to Richmond.
But the team of the week in the A-10 was Saint Louis, who threw its name into the crowded league race by knocking off Butler (who also beat Rhode Island this week) and Dayton by 17 and 29 respectively. They were the type of dominating wins that can catch the eye of the selection committee.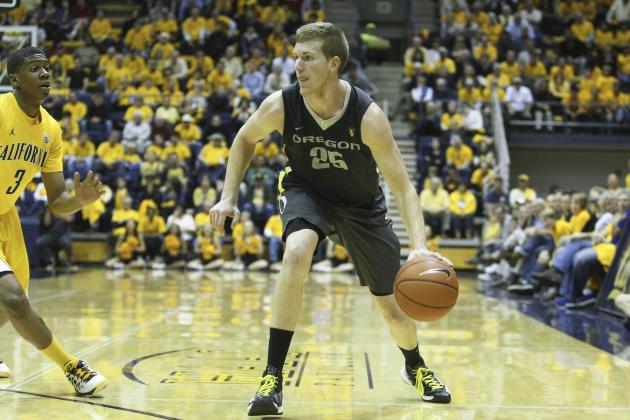 USA TODAY Sports

The Pac-12 race is much more interesting today than it was a week ago, but partially because of Oregon's tumble the conference also fell a notch in the power rankings (live by the Ducks, die by the Ducks).
Oregon lost both of its road games this week at Stanford and at California, bringing it to a first-place tie with Arizona. The Wildcats beat the two Washington schools during a nice sweep through the Pacific Northwest.
While the Ducks did lose both of their games, the roughest week in the Pac-12 belonged to preseason darlings UCLA.
Things seemed to be turning around for the Bruins after a 10-game winning streak and an upset win at Arizona, but a blowout loss to Arizona State last week and an inexplicable defeat at the hands of a terrible USC team has brought that momentum to a screeching halt.
Elsewhere, the Sun Devils lost to Washington, meaning they sit a game behind the Arizona and Oregon duo.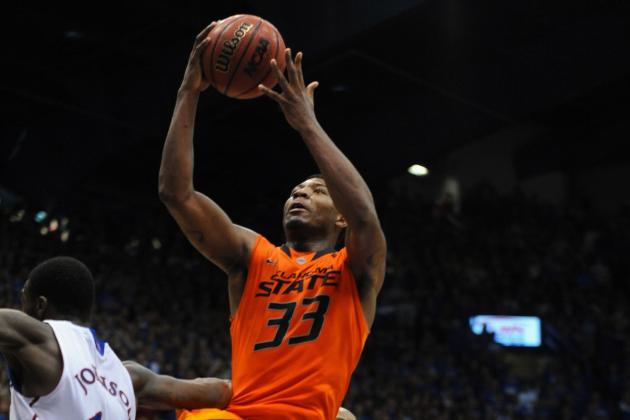 Denny Medley-USA TODAY Sports

Welcome back to the party, Oklahoma State.
The Cowboys received some preseason love but faltered early on in conference play. But picking up your first road win of the season at Allen Fieldhouse to cap off a week that included an impressive victory over Iowa State can quickly change some perspectives.
The Jayhawks are still the definitive favorite in the Big 12, but a tight game at lowly West Virginia and the loss to the Cowboys are at least worth noting. Kansas State sits a game behind Kansas after a two-win week, and Oklahoma State is still within striking distance.
Iowa State and Oklahoma are also still within striking distance. Both teams went 1-1 this week by knocking off Baylor and losing to Oklahoma State and Kansas State, respectively. The Cyclones and Sooners play each other tonight.
As for those Baylor Bears, a two-loss week will be tough to bounce back from, but they have the talent necessary to at least make a late run.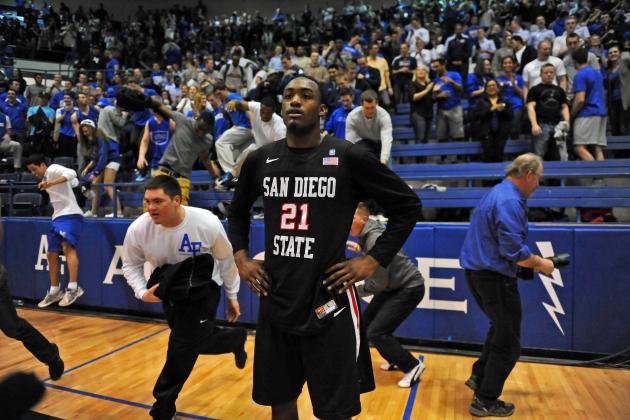 Ron Chenoy-USA TODAY Sports

The Mountain West is not well represented in the Top 25 because it continues to eat its own thanks to the overall parity in the league.
Conference leader New Mexico held serve this week with two wins over struggling Wyoming and Nevada.
Colorado State and Air Force, who are both one game behind the Lobos, also won twice in impressive fashion. The Rams defeated Boise State and Wyoming, while the Falcons knocked off Fresno State and stunned San Diego State.
As for Boise, the Broncos' conference crown prospects have become rather bleak, and they will probably begin to turn their attention to the NCAA tournament's bubble. The notable win over UNLV will certainly help.
The two preseason Mountain West favorites (San Diego State and UNLV) both suffered losses this week, with the Aztecs losing at Air Force and the Rebels falling at Boise. Each is 4-3 in the league and sitting two games behind New Mexico with plenty of work left to be done.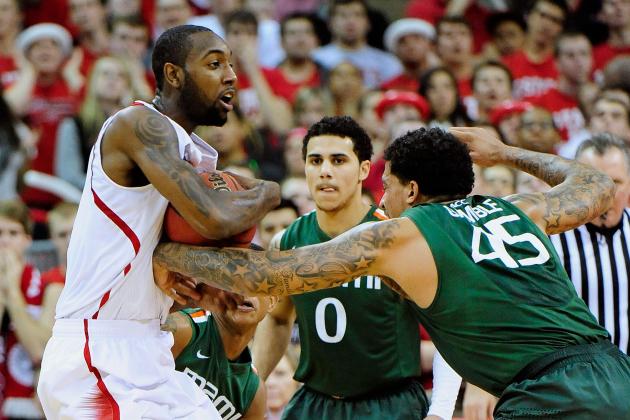 Grant Halverson/Getty Images

Raise your hand if you had Miami holding a two-game lead in the ACC and head-to-head wins against the likes of North Carolina State, Duke and North Carolina heading into the teeth of February.
Not many hands shot up.
The Hurricanes stunned NC State on a tip-in during the final seconds, meaning the ACC is theirs to lose. The upcoming week features two home games, so don't expect things to change for the time being.
Duke took care of business against Wake Forest and Florida State, but the game against the Demon Deacons was much closer than Coach K would have liked. Archrival Carolina also won twice this week against Boston College and in overtime against Virginia Tech.
The worst week award for the ACC goes to NC State, who lost to Miami and Virginia. There is no more inconsistent team in the entire nation, which could feasibly spell trouble or glory in March. Stay tuned.
Elsewhere, Virginia split its two contests, but that loss to Georgia Tech could come back to bite the Cavaliers on Selection Sunday.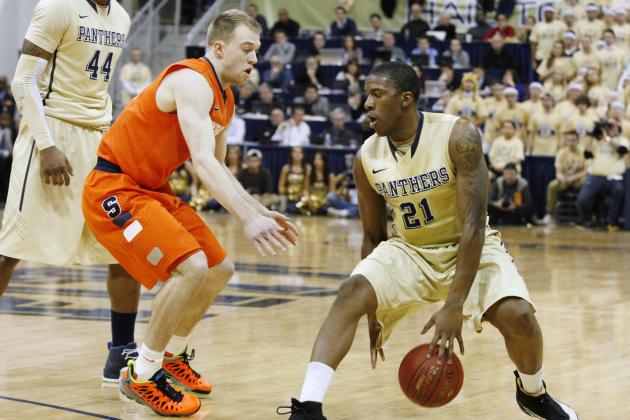 Charles LeClaire-USA TODAY Sports

The Big East is like the more evolved version of the Atlantic 10—a convoluted mess on the top half of the standings, only at a power league level. Eight teams are tied with six wins apiece, and Connecticut is right there with five.
Syracuse needed to bounce back from a loss to Villanova but failed to do so in its only game of the week against Pittsburgh. However, Marquette was unable to seize control and fell to Louisville on Sunday.
Notre Dame, Georgetown, Louisville and Cincinnati all reentered the picture with two-win weeks, meaning the race for the Big East crown will be as entertaining as ever in its final year as currently constructed.
Elsewhere, St. John's lost to Georgetown for the second time this season, and Pittsburgh split a difficult week against the Cardinals and Orange.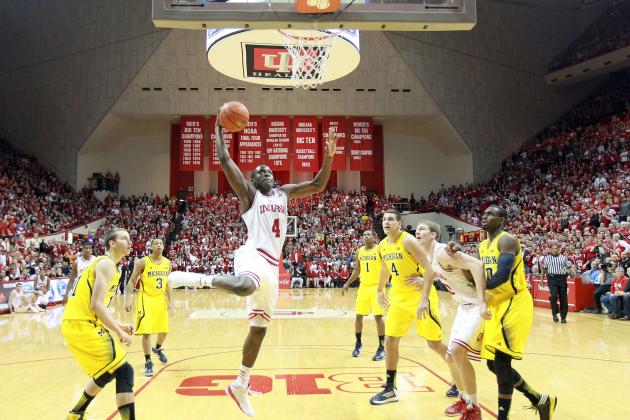 Andy Lyons/Getty Images

Assembly Hall was rocking Saturday night, and the Hoosiers did not disappoint. Indiana capped off an impressive week that included a blowout victory over rival Purdue with an eight-point win in a thriller against Michigan (who beat Northwestern in preparation).
The game was of such high-quality that it's not difficult to envision a Final Four rematch down the line (they also conclude the regular season against each other in Ann Arbor).
Part of what makes the Big Ten so impressive this season though is the fact that the "second-tier" teams are still Top 15-quality squads.
Michigan State defeated Illinois in its only game of the week and remains very much alive in the conference race. Ohio State held serve at home against Wisconsin and then fended off a pesky Nebraska team at Lincoln. A daunting week against Michigan and Indiana looms for the Buckeyes.
Minnesota did what it absolutely had to do and picked up victories over Iowa and Nebraska, and Wisconsin split games against the Ohio State and Illinois.
The only real concern from a Big Ten perspective is the Illini are firmly entrenched in another second-half nosedive. Illinois is now an abysmal 2-7 in conference play and appears primed to miss the NCAA tournament completely if things don't turn around soon.