Wooden Award Watch: Ranking the Top 10 Candidates at Week 8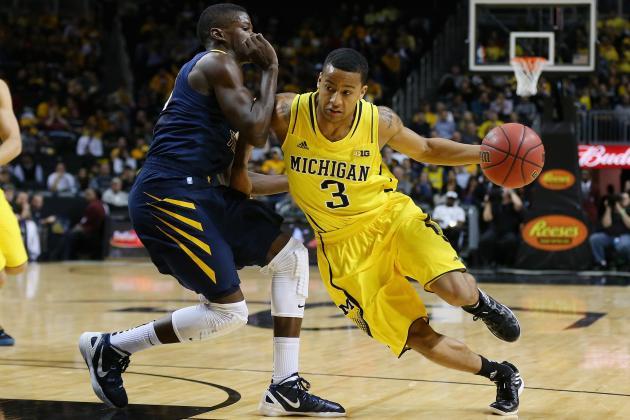 Mike Stobe/Getty Images
Trey Burke
It was a fairly light week in college basketball, but we had three undefeated teams go down. Two of those games directly impacted the Wooden Award race as we approach the new year.
In the Week 9 rankings, we have one new player jumping into the rankings. The biggest riser jumped six spots, while the steepest faller fell four spots.
Here is the second edition of our Wooden Watch rankings, led by a familiar face at the top.
Begin Slideshow

»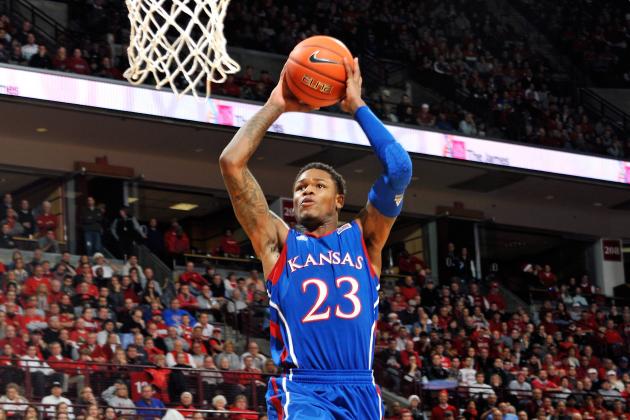 Jamie Sabau/Getty Images
Ben McLemore
This will serve as somewhat of an honorable mentions list. The following players (in alphabetical order) were considered but ultimately failed to make the cut:
Isaiah Canaan, PG, Murray State
Jamaal Franklin, SF, San Diego State
Alex Len, C, Maryland
C.J. McCollum, SG, Lehigh
Ben McLemore, SG, Kansas
Brandon Paul, PG, Illinois
Durand Scott, SG, Miami
Deshaun Thomas, PF, Ohio State
Nate Wolters, PG, South Dakota State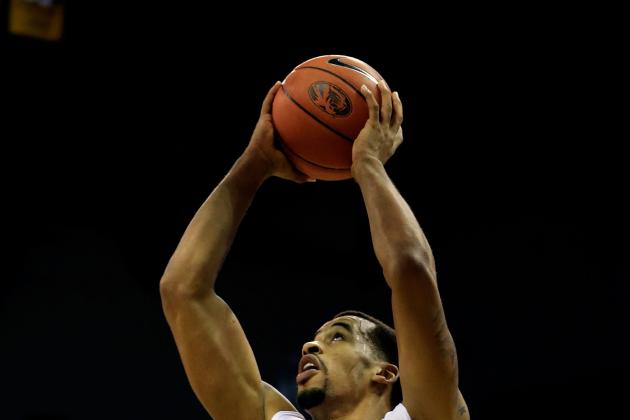 Jamie Squire/Getty Images

Key Stats: 16.9 PPG, 6.7 RPG, .574 FG% .565 3P%

Top Performance: 23 points, 10 rebounds, four assists vs. Missouri (12/22/12)

Last Week's Ranking: NR

Bottom Line: Bowers, who missed all of last season with a torn ACL, has returned with a bang and makes his season debut in the rankings. He edged out Illinois' Brandon Paul to make the rankings by outplaying him this weekend. Bowers' play made up for Tigers' star Phil Pressey's poor shooting performance.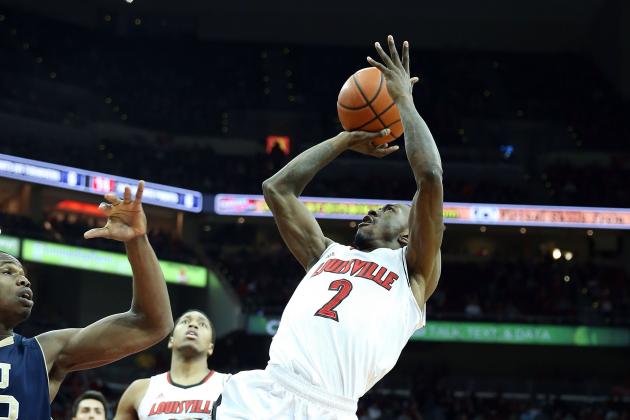 Andy Lyons/Getty Images

Key Stats: 19.7 PPG, 3.1 RPG, 2.8 SPG

Top Performance: 31 points, seven rebounds, five assists, five steals, 12-18 FG vs. UMKC (12/8/12)
Last Week's Ranking: 5

Bottom Line: Louisville's top scorer fell a few spots in the rankings after two subpar shooting displays this past week, but Russ Smith's overall body of work keeps him inside the top ten. He's been the Cardinals' top defender with Gorgui Dieng still sidelined and is scoring at an elite rate.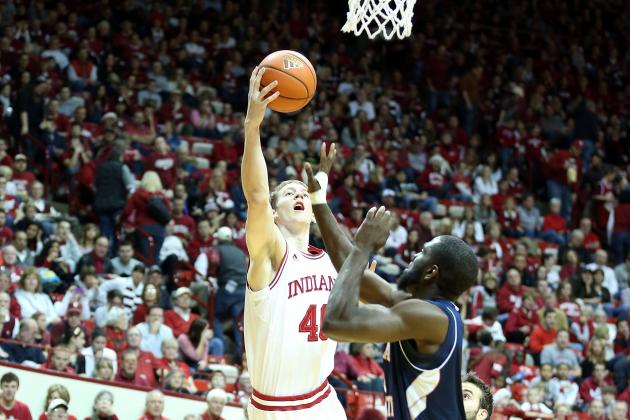 Andy Lyons/Getty Images

Key Stats: 16.4 PPG, 8.1 RPG, .626 FG%

Top Performance: 19 points, 19 rebounds vs. Central Connecticut State (12/8/12)

Last Week's Ranking: 8

Bottom Line: Thus far, Indiana's poster boy hasn't quite lived up to his preseason hype, which suggested he would be the favorite for this award. Still, Zeller's stats are far from underwhelming, and two sufficient outings last week keep him sturdy at No. 8.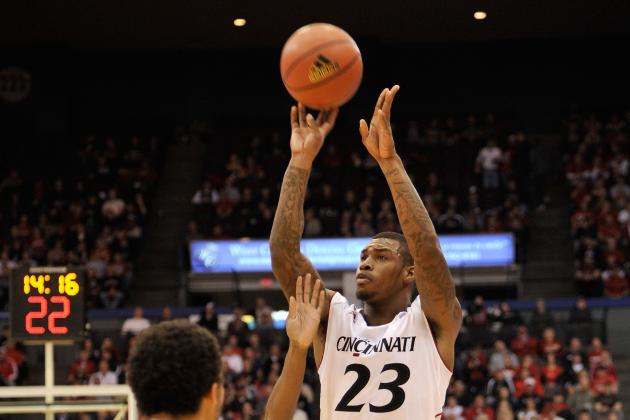 Jamie Sabau/Getty Images

Key Stats: 19.2 PPG, 6.3 RPG, 1.8 SPG

Top Performance: 32 points, five rebounds, five steals, 16-16 FT vs. Iowa State (11/23/12)
Last Week's Ranking: 6

Bottom Line: Kilpatrick is the unquestioned leader of an unbeaten Cincinnati team that will surely find its way into the Top 10 next week. Last week, after inefficiently dropping 25 points on 27 attempts in a win against rival Xavier, Kilpatrick settled down with just 12 points on nine attempts against Wright State.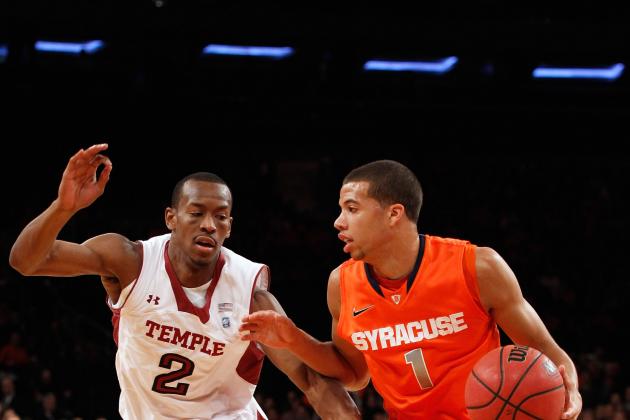 Mike Stobe/Getty Images

Key Stats: 12.4 PPG, 4.9 RPG, 10.3 APG, 3.4 SPG

Top Performance: 15 points, three rebounds, 16 assists, five steals, four blocks, 6-10 FG vs. Monmouth (12/8/12)
Last Week's Ranking: 3

Bottom Line: There's no beating around the bush. Carter-Williams' shooting deficiencies—3 of 17 from the field, 7 of 15 from the free-throw line—cost Syracuse a win against Temple. Despite his struggles last week, which drop him four slots, MCW's nine games (eleven total) with at least nine assists keeps him afloat in the rankings.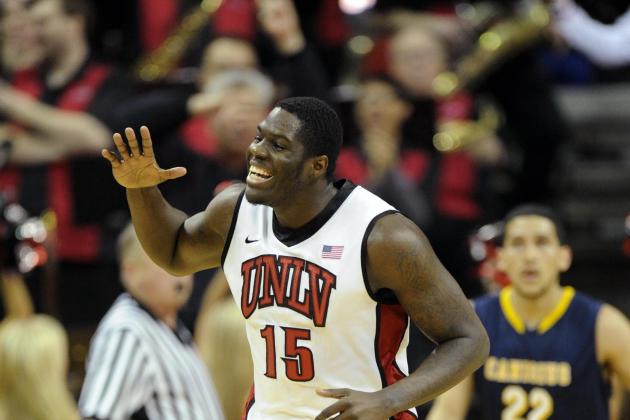 Josh Holmberg-USA TODAY Sports

Key Stats: 19.5 PPG, 8.5 RPG, .557 FG%

Top Performance: 25 points, 13 rebounds at California (12/9/12)
Last Week's Ranking: 7

Bottom Line: Bennett's wildly overachieving performance this season can't be explained with statistics. With Mike Moser injured and Khem Birch just returning this week, Bennett has carried the load and then some for the Rebels. He registered two consecutive 20-point games last week against tough opponents in Northern Iowa and Canisius.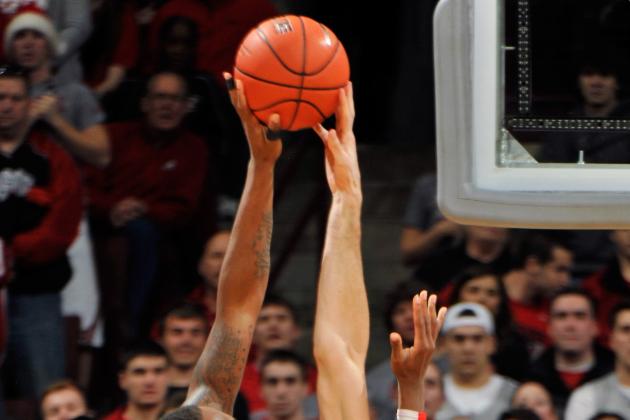 Jamie Sabau/Getty Images

Key Stats: 14.1 PPG, 8.3 RPG, 5.0 BPG

Top Performance: 16 points, 12 rebounds, 12 blocks vs. San Jose State (11/26/12)
Last Week's Ranking: 10

Bottom Line: Withey may have only blocked one shot against Ohio State, but he altered dozens and made the lane non-penetrable for the Buckeyes. He's second in the nation in blocks per game, and his offensive game continues to expand. Withey is the primary reason Kansas is enjoying a nine-game win streak.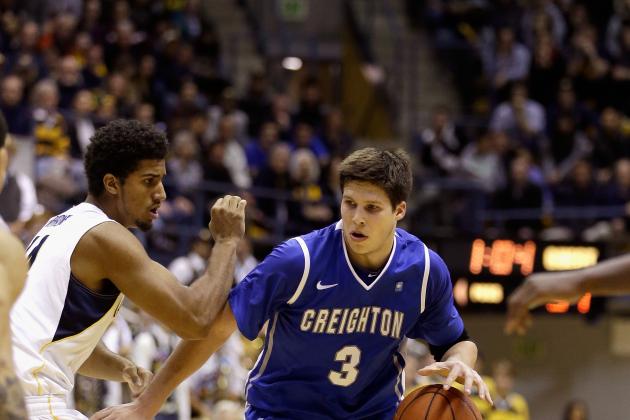 Ezra Shaw/Getty Images

Key Stats: 23.1 PPG, 6.8 RPG, .509 3P%

Top Performance: 34 points, nine rebounds, 10-17 FG, 4-7 3P, 10-10 FT at California (12/15/12)
Last Week's Ranking: 2

Bottom Line: McDermott and the Bluejays played just one game last week, in which it blew out Tulsa. McDermott only scored 16 points on nine shots and was ultimately leapfrogged in the rankings. The junior combo forward is having another All-American season, as he ranks third nationally in scoring.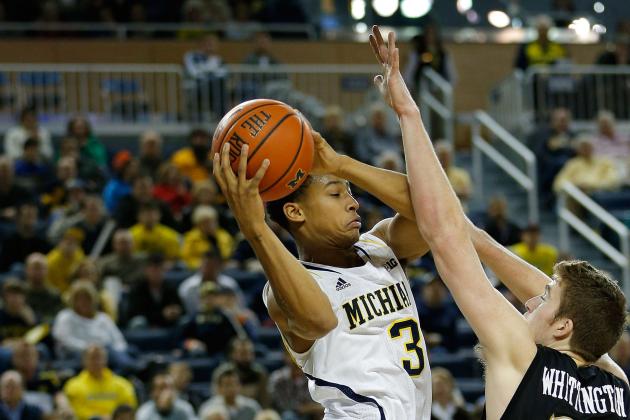 Gregory Shamus/Getty Images

Key Stats: 17.4 PPG, 7.1 APG, 1.3 SPG

Top Performance: 27 points, five rebounds, eight assists, three steals, 12-16 FG vs. West Virginia (12/15/12)
Last Week's Ranking: 4

Bottom Line: Like McDermott, Burke also had one quiet game last week. Michigan's leader did dish out eight assists in a thrashing of Eastern Michigan. He's displayed incredible quickness and an ability to masterfully orchestrate the tempo of his offense, which put Trey Burke as the current runner-up.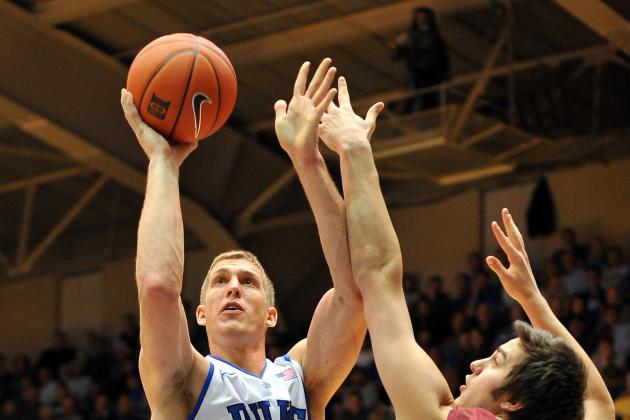 Lance King/Getty Images

Key Stats: 19.3 PPG, 11.5 RPG, 1.6 BPG, .641 FG%

Top Performance: 21 points, 17 rebounds vs. Ohio State (11/28/12)
Last Week's Ranking: 1

Bottom Line: Plumlee has continued to widen the gap between him and his competitors as the front-runner for the Wooden Award. He averaged 20 points and 12 rebounds in two games last week—numbers similar to his season stats.
Duke's No. 1 ranking and Plumlee's wildly impressive showings against top-tier squads make him an easy pick as the front-runner. Check back next week for Week 9 rankings.