Diamond Head Classic Preview: Miami Could Steal Show from Top West Teams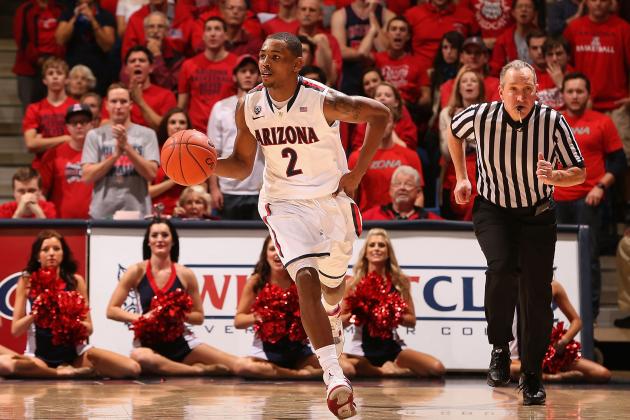 Christian Petersen/Getty Images

It may be the last of the preconference tournaments, but it won't be the least exciting.
One team is undefeated and looking to further strengthen its claim as a Top Five team. Another is ready to make yet another statement for the Mountain West Conference and assert its recent dominance over Pac-12 competition.
These two teams—Arizona and San Diego State—will headline this year's Diamond Head Classic in Honolulu, Hawaii. Both come in as Top 20 teams, and with each on opposite sides of the bracket, are poised to meet in the tournament final on Christmas Day.
However, a third team plans to disrupt those Christmas night plans. They come in a bit under-the-radar but, as a result, could be the most dangerous team in the tournament.
Which team is this—and just how good are its chances of turning some heads in Hawaii? Are any dark-horse teams capable of surprising in this tournament?
The following slides will show each team's projected finish in the Diamond Head Classic, starting with the eighth-place team (losing all three games) and ending with the champion.
Begin Slideshow

»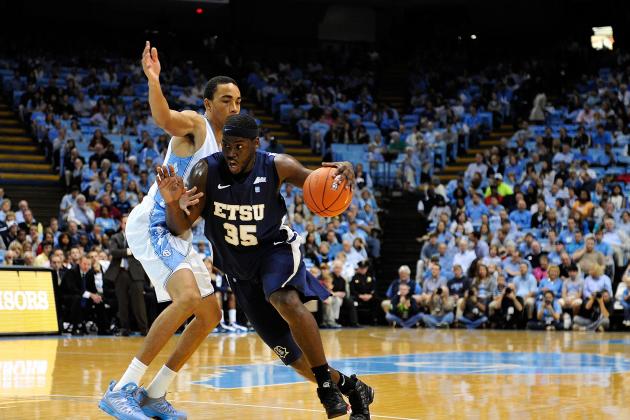 Grant Halverson/Getty Images

Opening game: vs. No. 4 Arizona
Record: 2-7
Player to Watch: Lester Wilson, G/F
It's been a pretty rough first month-plus of the season for East Tennessee State.
The Buccaneers have just one win against Division I competition—and don't expect them to add to that total in Hawaii.
After a respectable 17-14 season a year ago, ETSU now finds itself in a real uphill battle the rest of the season. The main reason for that was the dismissal of two of the Bucs' top players in Marcus Dubose and Sheldon Cooley just two games into the season for violation of team rules.
With them out of the lineup, ETSU has relied heavily on freshman swingman Lester Wilson to try to stay Bucs competitive. Through nine games, Wilson is averaging nearly 18 points and seven rebounds a game—the latter made all the more impressive considering he's just 6'4".
The problem is that Wilson isn't getting a whole lot of scoring help around him. The Bucs are averaging just 58 points a game—putting them in the bottom 10 percent of all Division I teams. They have yet to break 62 points in a single game against D-I foes.
That does not bode particularly well for ETSU heading into its game against Arizona on Saturday night. The silver lining in that matchup will be getting to see how Wilson does against one of the nation's top teams.
There's a chance ETSU could see Ole Miss—a team it just faced last Friday—in one of the consolation games on the tournament's final day. The Bucs lost by 22 to the Rebels down in Oxford and a similar outcome should be expected should they meet again.
Projected Results: Losses to Arizona, Hawaii and San Francisco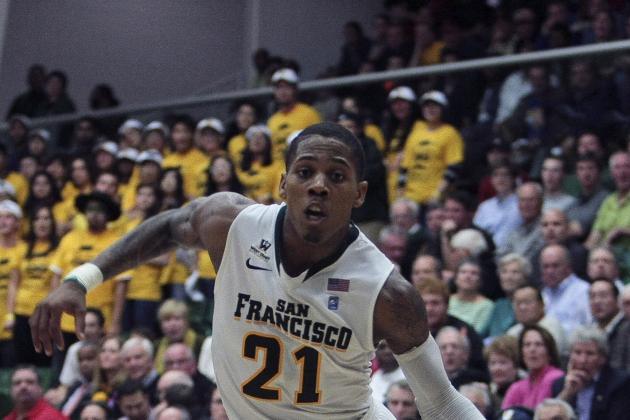 USA TODAY Sports

Opening game: vs. San Diego State
Record: 5-4
Player to Watch: Cole Dickerson, F
Want to see the nation's top rebounder? You'll have a chance in the Diamond Head in the form of Cole Dickerson of San Francisco.
A junior, Dickerson is having a breakout season for USF. He is averaging 13 boards a game, after tallying four a game last season. He has put together a couple Mason Plumlee-like games recently, with a 19-point, 20-rebound effort in a win over Montana. He also had 17-and-17 in the Dons' last game against Holy Cross.
The complement to Dickerson's skills on the glass is junior guard De'End Parker. The transfer from UCLA and Dons' current leading scorer, Parker came up big in the biggest win of the season for USF. He scored 21 against St. John's in an 81-65 win in San Fran.
If USF hopes to have a shot at an upset against in-state foe San Diego State, both Dickerson and Parker will need to be outstanding. It will also help if they can get a big effort from guard Cody Doolin, who played a key role in the Dons' upset over Gonzaga last year.
Assuming it doesn't knock off San Diego State, USF would still be capable of winning a couple games to close out its trip to Hawaii. A potential matchup with the loser of Ole Miss and Indiana State could be tricky though.
Projected Results: Losses to San Diego State and Indiana State, Win over ETSU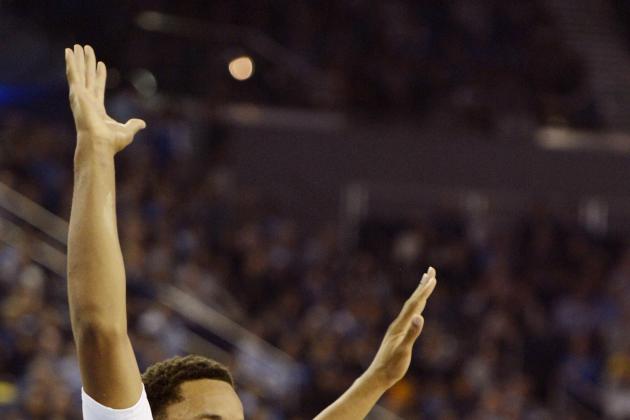 Richard Mackson-USA TODAY Sports

Opening game: vs. Ole Miss
Record: 5-3
Player to Watch: Manny Arop, F

Just ask New Mexico—playing Indiana State is not a particularly fun task.
The Lobos, who are still undefeated at 11-0, nearly lost their first game to the pesky bunch from the Missouri Valley. New Mexico lost a 19-point lead and was forced into overtime before ultimately escaping with a win over the Sycamores.
Given the fierce challenge it gave the Lobos, it might be wise for another of the Mountain West's best teams to keep an eye on Indiana State. A matchup with No. 17 San Diego State in the semifinals of this tournament is very much a possibility for the Sycamores.
However, they will need to get past Ole Miss, Indiana State's opening-round opponent, first.
Jake Odum, the Sycamores' leading scorer, has some experience beating SEC teams. He was a big part of last year's team that won at Vanderbilt. Yes, that same Commodores team that upset the eventual national champion, Kentucky.
Odum will certainly have to step up if Indiana State is to beat Ole Miss, and if it is to have any chance at a significant upset in the following game. However, another key piece for this year's Sycamore team is Gonzaga transfer Manny Arop.
Arop is starting to excel in his first season in Terre Haute after seeing decent minutes in his first two years at Gonzaga. He had a bit of a breakout game against New Mexico, scoring 17 points to go with 10 rebounds. That effort has been nicely followed with 19 and 18 point efforts against Morehead State and IUPUI, respectively.
Similar production will likely be mandatory from Manny if Indiana State wants to win a couple games in Hawaii.
Projected Results: Loss to Ole Miss, Win over San Francisco, Loss to Hawaii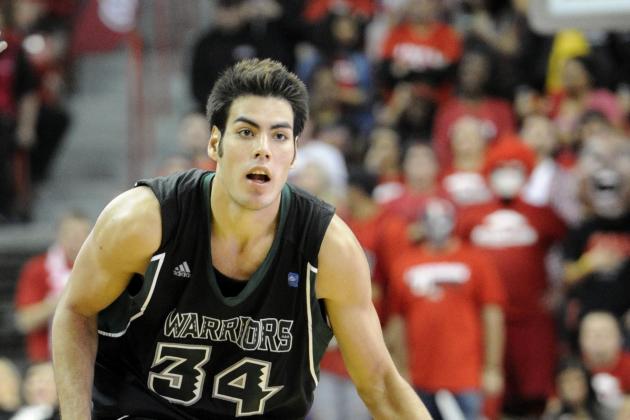 Josh Holmberg-USA TODAY Sports

Opening game: vs. Miami
Record: 5-3
Player to Watch: Christian Standhardinger, F
Quick, which team has come closest to beating No. 10 Illinois this season?
Butler, which just knocked off No. 1 Indiana? Nope. Gonzaga—a Top 15 team whose only loss came to the Illini? No again.
Try Hawaii.
Prior to Illinois' run to the Maui Invitational championship, Hawaii took the Illini to overtime, losing by one in Honolulu.
Can the Warriors come up with a similar effort on the same court where this tournament will be played? It may need one to get past its first opponent.
Hawaii closes out the first day of the Diamond Head Classic, against Miami. Though the Hurricanes aren't ranked, like Arizona or San Diego State, they certainly look like a Top 25 team. That has been especially true over the last couple games—blowout wins over solid teams in Charlotte and UCF.
Led by its frontcourt tandem of Vander Joaquim and Christian Standhardinger, Hawaii may have enough size to make things a little tougher for Miami.
Joaquim in particular was outstanding in the near-upset of Illinois with 22 points and 11 rebounds. As good as Joaquim was against the Illini, Standhardinger, a Nebraska transfer, has been the Warriors' leading scorer and rebounder on the season.
If those two can stay on the floor (and perhaps get Reggie Johnson off the floor) Hawaii could find itself advancing to a potential clash with Arizona.
It's certainly an uphill battle for the hosts if they wish to challenge for the title. Even with a loss to start off the tournament however, Hawaii could very likely win its next two and feel pretty good about itself heading into conference play in its new league: the Big West.
Projected Results: Loss to Miami, Wins over ETSU and Indiana State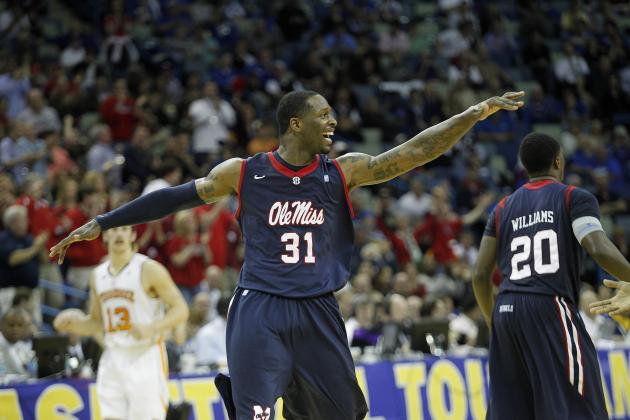 Crystal LoGiudice-USA TODAY Sports

Opening game: vs. Indiana State
Record: 8-1
Player to Watch: Marshall Henderson, G
The great thing about these early-season tournaments is we get a chance to see teams play multiple opponents. They can give us a much better feel of how good a team may actually be.
One such team is Ole Miss. The Rebels have only been beaten once so far, but their schedule has been free of any really significant challenges. Their two top opponents— Rutgers and Middle Tennessee, the only team to beat Ole Miss—are solid teams, but not quite the caliber of nearly half of the Diamond Head's field.
If they can get past Indiana State—which is certainly not a given—in the tournament's opening game, Ole Miss would likely face its toughest test to date in No. 17 San Diego State.
The Rebels can certainly score; They are currently ranked No. 11 in the country at 81.6 points per game. Remember, though, most of those point totals have been racked up against the kind of competition they won't see in the SEC, and may not see much of in Hawaii.
For Ole Miss, any chances of an upset in this tournament could rest on the long-range potential of Marshall Henderson.
A JUCO transfer by way of Utah, Henderson has quickly emerged as the Rebels' leading scorer at nearly 18 points a game. He does most of his damage from behind the three-point line, averaging four three-pointers a game, though he takes quite a bit of shots to do so.
If Henderson can get himself good looks and capitalize on them, it's not out of the question we could see Ole Miss make its way into the Diamond Head championship game. In either case, we'll know a bit more about the Rebels after this tournament, and where they may stand within the SEC.
Projected Results: Win over Indiana State, Losses to San Diego State and Arizona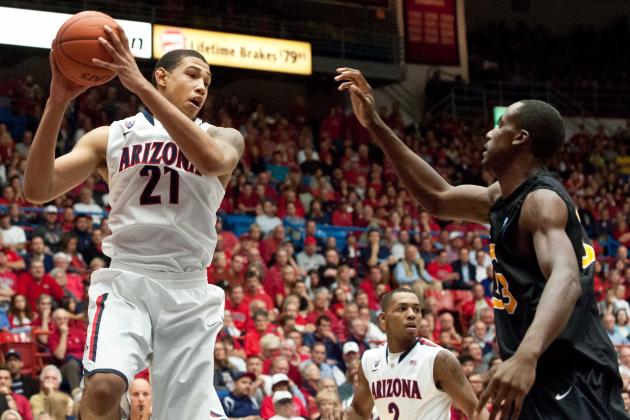 Casey Sapio-USA TODAY Sports

Opening game: vs. East Tennessee State
Record: 9-0
Player to Watch: Brandon Ashley, F
At 9-0, Arizona is off to its best start in 25 years. Despite the outstanding start, there have been a few bumps in the road, especially of late.
The most recent came in last weekend's epic game against Florida. The Gators held the Arizona to just 58 points in the game's first 39 minutes, before the Wildcats stole the game with seven unanswered points in the final minute.
The two games leading up to the matchup with Florida didn't come particularly easy for the Arizona, either. Both Southern Miss and Clemson made deliberate attempts to slow down the game on both ends of the floor and, as a result, brought forth some frustration from the Wildcats.
Arizona should be on cruise control upon arriving in Hawaii. The Wildcats opener against East Tennessee State shouldn't pose any real problem. The second game, however, should be a very different story.
Assuming it wins its opener against the host Hawaii, Miami would await Arizona in the second semifinal of the Diamond Head Classic. The Hurricanes should be able to pose the same kinds of problems defensively that Florida, Clemson and Southern Miss did.
This game should be a serious test for a Wildcats team that is still maturing and learning how to play together with their new pieces, including point guard Mark Lyons and freshman forward Brandon Ashley.
Looking at his overall stats thus far—about nine points, six rebounds and 1.4 blocks per game—Ashley appears to be adjusting to the college game reasonably well. However, he has also shown the tendency to disappear a bit times. He did not score at all in the Florida game and had just one point against Southern Miss.
If Arizona wants to assert itself as a true Top 5 team and take home a tournament title, Ashley will have to be a consistent presence inside. Otherwise, the Wildcats could easily find themselves playing for third place.
Projected Results: Win over ETSU, Loss to Miami, Win over Ole Miss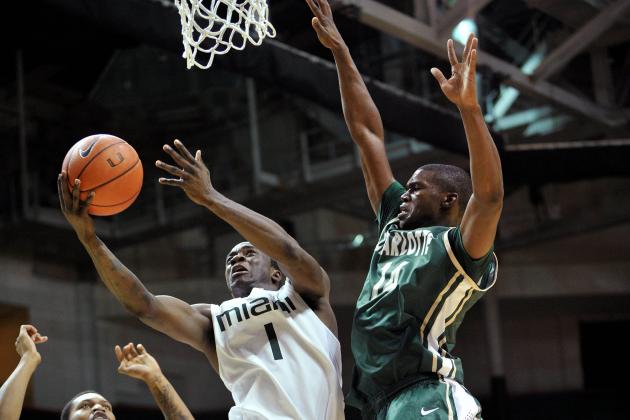 USA TODAY Sports

Opening game: vs. Hawaii
Record: 7-1
Player to Watch: Durand Scott, G
It only happened a little over a month ago, but it might as well have been last season.
On November 13, Miami lost to Florida-Gulf Coast. It was a shock to some despite the fact the Eagles reached the Atlantic Sun conference championship game last March.
However, considering the fact that Durand Scott did not play in that game, the loss is a bit less inexplicable. Scott was serving the latter half of a six-game suspension which began last March.
Since his returning to the court, Miami has looked like a brand new basketball team. The Canes have won all five games he's played in, which includes the likes of Michigan State, Charlotte and UCF. They have won those games—the other two opponents being Detroit and UMass—by an average of 18 points. Over that same time, Scott has led the team in scoring, averaging 15.6 points a game.
Prior to Scott's return, Miami was playing very good defense and not scoring. With Scott now in the mix, the Canes are doing both—very well. It has proved to be a scary combination that should travel well to Hawaii.
Miami will look to make a huge splash in this tournament, with the combination of Scott's scoring ability and the team's defensive intensity—led by Scott's backcourt mate, Shane Larkin. The two have worked very well in tandem on both ends of the floor, with Larkin's defense helping to create good looks on the offensive end.
If it gets by Hawaii Saturday night, an excellent matchup with No. 4 Arizona would likely await Miami. The Canes will look to pressure the Wildcats' Nick Johnson and force him into some turnovers.
If that happens—and if they can neutralize the impact of Arizona's talented freshmen frontcourt—Miami could take down one of the handful of unbeaten teams remaining. It would also earn a signature win that could make everyone stand up and take notice of how good this team can be.
Projected Results: Wins over Hawaii and Arizona, Loss to San Diego State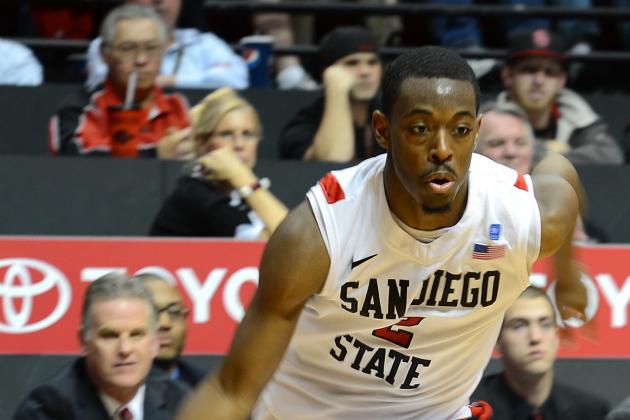 Jake Roth-USA TODAY Sports

Opening game: vs. San Francisco
Record: 9-1
Player to Watch: Xavier Thames, G
Since the delayed start to the season on the USS Midway, San Diego State has seen little resistance on its path to Hawaii.
After struggling in that season-opening loss to Syracuse, the Aztecs have won nine straight. That streak does include two Pac-12 teams in USC and UCLA, but neither has been overly impressive thus far. Overall, SDSU hasn't seen the level of competition it should see regularly in the Mountain West.
That could change within a few days if the matchup between SDSU and Arizona materializes. But first, the Aztecs will have to contain the nation's top rebounder, Cody Dickerson of San Francisco.
The undersized Aztecs could have some problems keeping Dickerson off the glass, especially if they are not hitting outside shots. That's where Xavier Thames will need to step up.
Thames is the team's third-leading scorer, and shoots about 43 percent from long range. However, Thames can be a bit streaky at times. He hit 5-of-6 from deep against UCLA, and 3-of-4 against UC-Santa Barbara. However, he's also had four games this year where he hasn't hit a single three.
For SDSU to avoid a potential upset against either USF or the winner of Ole Miss/Indiana State in the semifinals, Thames will need to be a bit more consistent over the weekend. If he does knock down some shots, the Aztecs should have enough to get to the title game.
Should Miami knock off Arizona, as I boldly predict, San Diego State and its guards may have a little more left in the tank than the Canes.
If Thames can help control the flow, while, minimizing turnovers and bad shots against the Canes' backcourt pressure, then expect the Aztecs to return home with the Diamond Head Classic title trophy.
Projected Results: Wins over San Francisco, Ole Miss and Miami