Winners & Losers from College Basketball's AP Top 25 Rankings in Week 7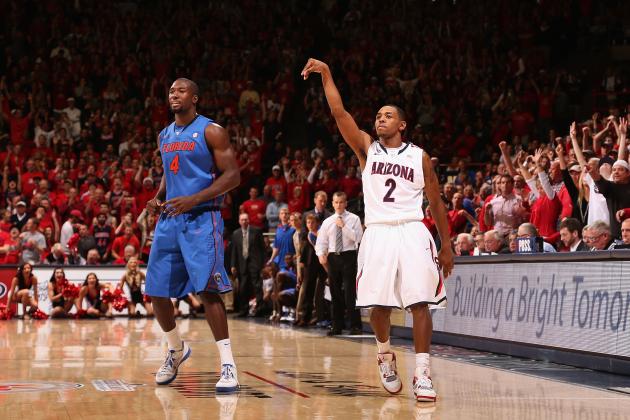 Christian Petersen/Getty Images

As I said last week, the first half of December can be a somewhat tame period amid the craziness of the college basketball season.
Saturday was not a particularly tame day. Two games—one early and one late—made certain of that.
During the day, we saw arguably the game of the year in Indianapolis, an in-state clash between Butler and top-ranked Indiana. The game, and plenty of bragging rights, went to the nation's favorite underdogs (excuse the oxymoron).
It may not have topped the classic in Indy earlier on, but Florida and Arizona certainly did their best to match the earlier dramatics. In a matchup between the fifth- and eighth-ranked teams, both undefeated coming in, the game came down to the final seconds. Despite trailing virtually the entire game, the Wildcats pulled out a stunner at home.
The two games were thrilling to watch, and the results of each had a fairly dynamic effect at the top of this week's new AP Top 25.
Two of the teams that saw the biggest gains should be fairly obvious, but who were some of the others who experienced the effects of the weekend's showstoppers?
Begin Slideshow

»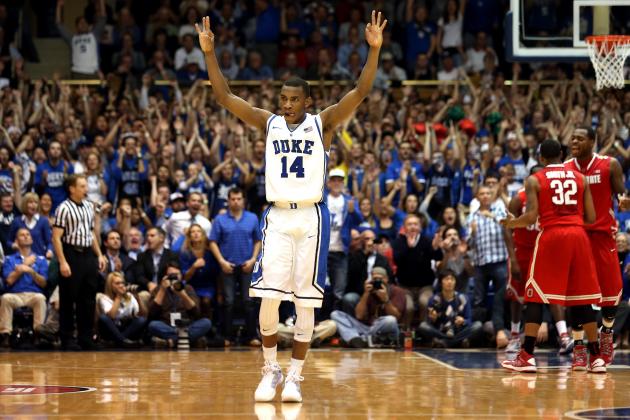 Streeter Lecka/Getty Images

Winner: Duke
This week: 1, Last week: 2
Last week's results: None
Once Jordan Hulls' desperation shot from near half court fell short, it was pretty easy to figure out who would take Indiana's place at the top of the poll.
Duke becomes the first team to move into the No. 1 spot since the season began. The Hoosiers held the AP's top spot for each of the first six weeks.
After about a third of voters had Duke at No. 1 prior to this week, all but three voted Duke as the top team after Indiana's loss. The remaining three votes all went to Michigan, which now checks in as the No. 2 team.
Duke clearly has the best set of wins among any of the top teams. The Blue Devils have already defeated Louisville and Ohio State—ranked fifth and seventh, respectively, this week. They have also earned very good wins over Minnesota (No. 13), VCU and Kentucky. All five of those wins came before the end of November.
With that brutal November slate now further in the rear-view mirror, it is likely Duke holds on to the nation's top spot heading into the new year. The only potentially tricky game left in the nonconference schedule is a matchup with Davidson on Jan. 2, in Charlotte, N.C.
After that game, it's on to ACC play for Duke. The Blue Devils' biggest test in league play may come fairly early, when they play at NC State on Jan. 12.
With that game still four weeks away, expect Duke to be a fixture at No. 1 for about the next month.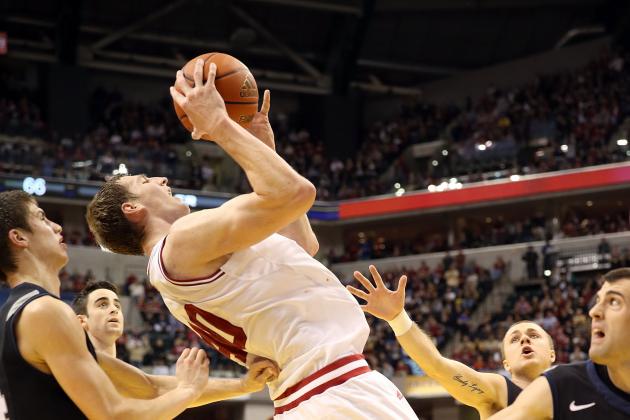 Andy Lyons/Getty Images

This week: 6, Last week: 1
Last week's results: Lost to Butler 88-86
It was clear Duke would overtake Indiana for No. 1. What wasn't as clear was just how far the Hoosiers might fall after the loss to Butler.
As it turns out, they fell out of the Top Five entirely. Indiana fell five spots to No. 6, one spot behind Louisville—another team with one loss. It's perhaps a bit harsh for just one loss, but not a totally unreasonable drop.
The case to keep Indiana in the Top Five would be that Butler is a really good team, as previously evidenced by a pretty dominant win (before the last two minutes) over North Carolina. Losing to the Bulldogs should carry little shame, as they could very well be in the Top 25 for much of this season.
It's also worth noting that after Kentucky lost to unranked Indiana last year, the Wildcats only fell to No. 3. That actually occurred one week earlier in the season, too.
The case against keeping Indiana in the Top Five—and supporting the actual drop—would be the somewhat unimpressive play by the Hoosiers away from home.
While it has dominated in Bloomington, Indiana hasn't shown it is the same team on neutral courts. With an overtime win over No. 15 Georgetown, in Brooklyn, and now a loss to Butler in Indianapolis, the uncertainty among some voters about leaving Indiana in the top three or four is more justified.
With Big Ten play now only a couple weeks away, Indiana will have some chances to dispel the notions and play its way right back near the top.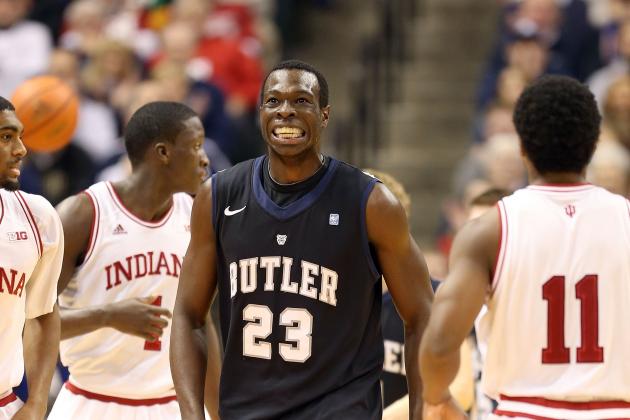 Andy Lyons/Getty Images

Last week: NR, This week: 19
Last week's results: Beat No. 1 Indiana 88-86
The only new member of this week's Top 25 couldn't have done much more to earn its place.
Butler's win over No. 1 Indiana launched the Bulldogs from the bottom of the "others receiving votes" category all the way up to No. 19. Interestingly, Butler just barely cracked the Coaches Poll, checking at No. 25. However, discussing that disparity is a bit outside my scope here.
With two losses on the season, Butler is now ranked the highest of any teams with more than one loss. That honor is certainly deserved, and it is not just a product of beating Indiana.
Butler has earned other praiseworthy wins, including two in Maui over North Carolina and Marquette. The Bulldogs also beat another Big Ten team, Northwestern, on the road.
It's also worth noting one of Butler's losses is to No. 10 and still-undefeated Illinois. That shouldn't count much against the Bulldogs, and it helps to paint the full picture on how good this team actually is.
In other words, Butler is far from a one-hit wonder and could do plenty more damage before March. The quality and depth of teams in the Atlantic 10 will provide ample opportunities for the Bulldogs to further prove themselves—if that's necessary.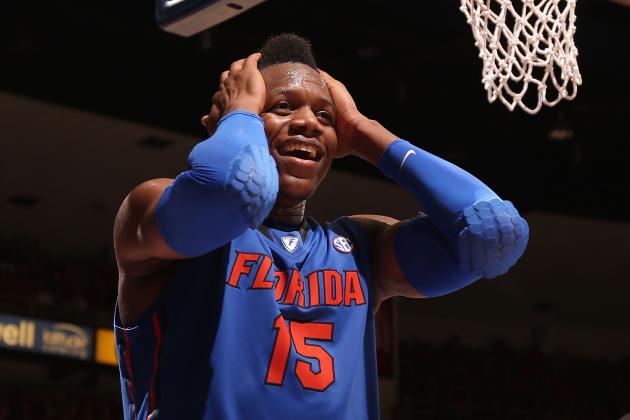 Christian Petersen/Getty Images

This week: 8, Last week: 5
Last week's results: Lost to No. 8 Arizona 65-64
The stage was set for Florida to prove it was among the nation's elite teams. The Gators had dominated against everyone on their schedule prior to their trip to Tucson to face fellow undefeated Arizona.
For 39 minutes on Saturday, Florida was the better team. It appeared to be on the way to wrapping up a huge win over a Top 10 team on the road—something only a couple teams have managed to pull off this season.
However, it all unraveled in the blink of an eye. The Gators coughed up the ball on back-to-back possessions. Even after that, they had a chance to likely hold on to a win, until Kenny Boynton—a 90 percent shooter—missed the front end of a one-and-one.
A driving layup by Mark Lyons on the ensuing possession put Arizona ahead, and just like that, Florida had lost the game.
As a result of the loss, Florida fell to No. 8 in the rankings. The Gators sit behind fellow one-loss teams Indiana, Louisville and Ohio State. Not an unfair drop, but still a bit of a tough pill to swallow after a game that was at least a toss-up—and one where Florida was the better team overall.
Florida's quest to return to the Top Five will likely depend more on the teams ahead of it losing than its own high-quality wins. Other than a game against No. 12 Missouri in January, the Gators may not see any more ranked teams until late in SEC play.
For the weeks to come, Florida can just win—and wait.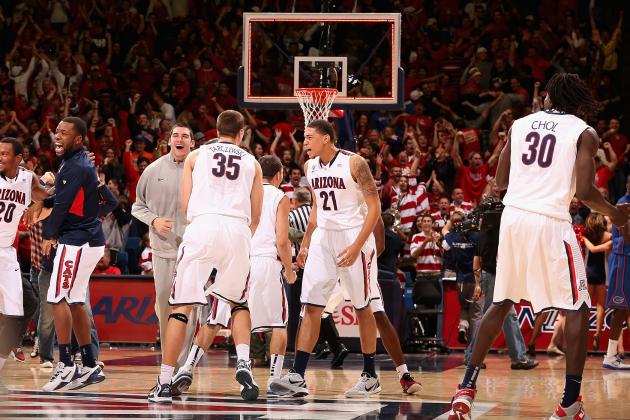 Christian Petersen/Getty Images

This week: 4, Last week: 8
Last week's results: Beat Florida 65-64
Arizona stole the game from Florida—as well as its previous spot in the Top Five. The Wildcats climbed up to No. 4, leaping over one-loss teams Louisville, Ohio State and Indiana.
Though it has not played a number of quality teams outside of Florida, Arizona's new ranking can be somewhat justified based on that win alone.
Of the teams in the newest Top Five, Duke is the only other one with a win over a Top 10 team. Granted, Michigan and Syracuse (now No. 3) haven't played a team ranked that high, but that's not any fault of the Wildcats.
Arizona will soon get the chance to further validate its new elevated status. The Wildcats will head out to Hawaii for the Diamond Head Classic, where a couple tough matchups could await.
Arizona will open the tournament against East Tennessee State and then potentially face Miami in the semifinals. The Hurricanes—as will be discussed in a coming slide—have played really well in a couple quality wins thus far. The Wildcats could be in for quite the test there.
Another Top 20 team, San Diego State, may lie in wait on the other side of the bracket. The game would give Arizona another chance at a high-quality win, while giving the Pac-12 a much-needed win against a quality Mountain West team.
Needless to say, Arizona has done its part to carry the Pac-12 in the season's early going.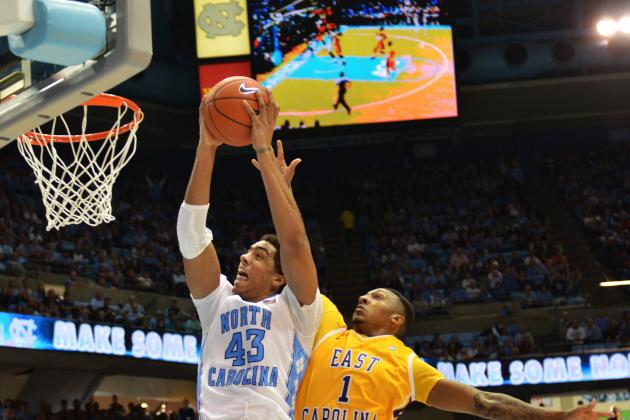 Rob Kinnan-USA TODAY Sports

This week: 23, Last week: 21
Last week's results: Beat East Carolina 93-87
The ACC may now hold the top-ranked team, but another ACC team may find itself a bit short-changed in the new rankings.
North Carolina, which dealt in-state challenger East Carolina just its second loss of the season on Saturday, fell two spots this week despite the win.
It was actually the second straight week in which UNC dropped despite not losing. Last week, the Tar Heels fell from No. 20 to 21.
Half of the Heels' two-spot fall could be explained by Butler—which deservedly leapfrogged several teams after beating No. 1 Indiana. The other spot is a little tougher to justify.
UNC essentially switched spots with Notre Dame, which beat Purdue in the undercard game of the Crossroads Classic in Indianapolis. Purdue, at 4-6, isn't exactly overwhelming anybody thus far. Beating an in-state rival like the Boilermakers is always nice, but it shouldn't really deserve any real credit with poll voters.
It appears voters are placing a bit higher standard—and perhaps deservedly so—on the Tar Heels despite their major personnel turnover. It may take a little more time for them to ultimately meet those higher expectations.
A road win over Texas this week might help that cause a bit—despite Texas' ongoing struggles without Myck Kabongo. The bigger opportunity prior to ACC play will come on Dec. 29, when UNC will host No. 21 UNLV.
A win there could finally get the Tar Heels back on an upward trajectory in the polls, heading into ACC play.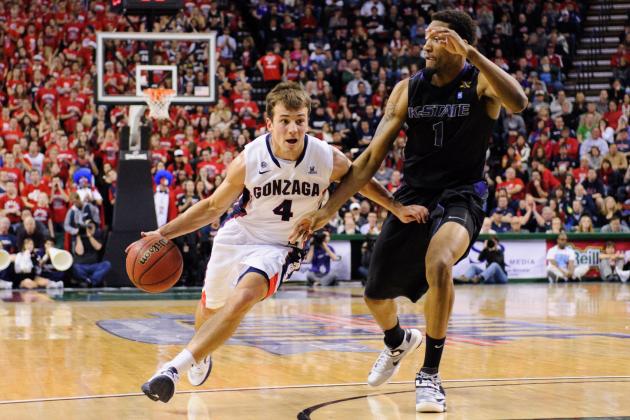 Steven Bisig-USA TODAY Sports

The Top 10 is dominated by the Big Ten, which owns four of the teams.
The next set of teams is dominated by—well, not the other power (BCS) conferences. The Big Ten and the Big East each have two teams between No. 11 and No. 20, but this stretch currently belongs to the "best of the rest."
Starting with Gonzaga at No. 14, non-power conferences control six of the next eight spots in this week's Top 25. Butler, of course, is the newest entry, in at No. 19.
The Mountain West is the winner within the non-power leagues, with three teams—New Mexico at No. 16, San Diego State at No. 18 and UNLV at No. 21.
Creighton, at No. 17, has represented the Missouri Valley quite well. It's possible the Bluejays could have been joined by conference foe Wichita State in the Top 20. However, the Shockers lost for the first time this season last Thursday, at Tennessee. A win there would have made the non-power representation in the rankings even stronger still.
In any case, these teams have proven themselves on numerous occasions early this season and deserve to not only be ranked now, but remain so even after a couple setbacks in their respective conferences.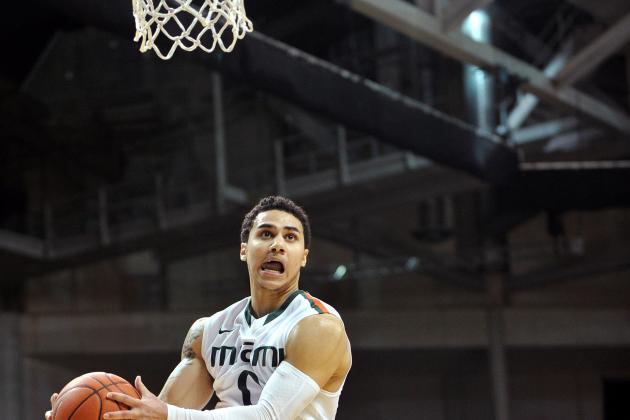 USA TODAY Sports

This week: NR, Last week: NR
Last week's results: Beat Charlotte 77-46
As touched on before, Miami has a couple of pretty nice wins in its pocket. Considering the Hurricanes also have just one loss thus far, you might expect Miami to have a little more support for the Top 25.
However, that is not the case, despite a recent blowout of a previously undefeated team.
Miami stormed over Charlotte this past Friday in a 31-point romp, dealing the 49ers their first loss of the season. As impressive as that was, it is probably not Miami's best win to date.
In November, the Hurricanes knocked off then-No. 13 Michigan State in the ACC/Big Ten Challenge. As the signature win in Miami's 6-1 start, it doesn't seem to have resonated with voters as much as you might think.
Currently, Miami has just three points for Top 25 consideration. That puts the Hurricanes below two three-loss teams—Kentucky and VCU—among others receiving votes. It also has them behind two-loss teams Pittsburgh and Marquette—neither of which own a win as good as Miami's over MSU.
Two points may be keeping Miami from gaining additional voter support. One is that the Hurricanes lost to Florida-Gulf Coast—a relative unknown to the actual casual voter. However, that is a team that could find itself in the NCAA tournament this year as champions of the Atlantic Sun.
The other knock may be that Miami has played just seven games thus far. Many other teams have already played 10 or more games, so there may be a bit of a sample-size issue working against the Hurricanes there.
In any case, Miami—like Butler a week ago—has the look and feel of a Top 25 team without nearly enough support behind it. Time will tell if that sentiment changes, as it certainly did with Butler.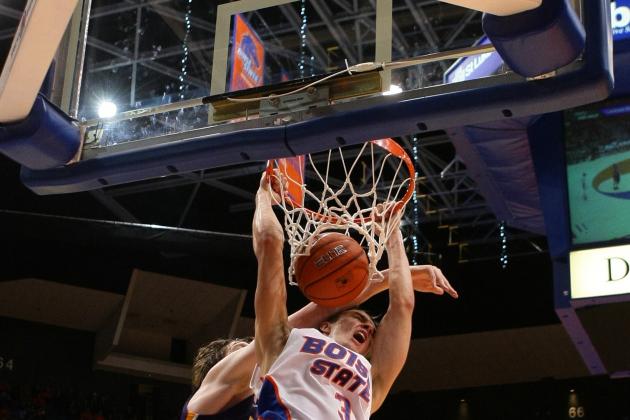 Brian Losness-USA TODAY Sports

This week: NR, Last week: NR
Last week's results: Beat LSU 89-70
Maybe it's because they play out west. Maybe it's that the Broncos have little basketball tradition or track record of past success. Or maybe it's because they don't play on a blue basketball court, a novel point of attention.
For one reason or another, poll voters seemed to have completely ignored what Boise State has accomplished thus far.
Like Miami, Boise State dealt an unbeaten team a rather severe blow on Friday. The Broncos rolled over LSU, winning by 19 at home in Boise. With the win, they improved to 7-2 on the season.
Despite that mark—and an excellent win to back it up—Boise State has absolutely no votes for the Top 25. Creighton coach Greg McDermott would probably take issue with that.
His team—No. 17 this week—was victim to Boise State a couple weeks back, falling 83-70 to the Broncos on its home court in Omaha. In front of a crowd of 17,000-some, that win is quite the accomplishment for a BSU program that has rarely earned wins of that caliber in the past.
Just before knocking off Creighton, Boise State nearly knocked off another big-time team on its home court. The Broncos went up to Michigan State and lost by only four points. Despite the loss, it should provide additional evidence that Boise State is capable of being a major player in the Mountain West this season.
The one blemish on Boise State's resume is a 76-55 loss at Utah—a team projected to be near the bottom of the Pac-12.
Despite that loss, the Broncos have a much stronger case for rankings consideration than their complete lack of AP votes would suggest.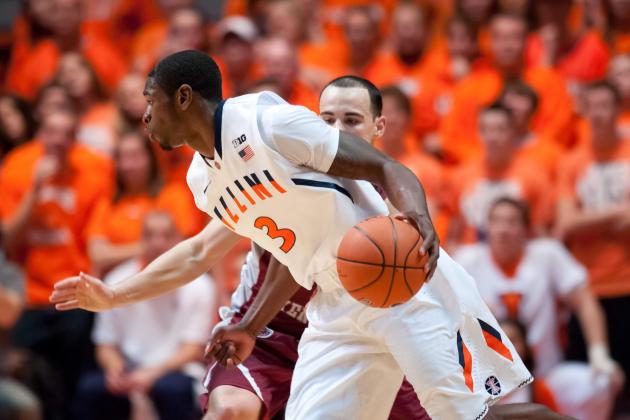 Bradley Leeb-USA TODAY Sports

This past weekend saw the number of undefeated teams cut down by over one-third, from 13 down to just eight. The casualties included three unranked teams (Charlotte, LSU and Eastern Kentucky), but also two Top Five teams: Florida and Indiana.
As a result, teams that survived the weekend and remained unbeaten, like Arizona, enjoyed a bit of an additional boost by poll voters.
Four of the nation's eight unbeatens now occupy the first four spots of this week's rankings. Duke, Syracuse and Michigan all moved up a spot to take the top three slots. Arizona made a notable jump from No. 8 to No. 4 with its last-second win over Florida, previously ranked fifth.
Another of the undefeated teams rounds out the Top 10, with Illinois coming in at No. 10 after handing Eastern Kentucky its first loss of the season on Sunday.
Right on the heels of the Illini is Cincinnati, which remained perfect after a win over Marshall in Charleston, W.Va.
The seventh of the eight unbeatens is New Mexico, which checks in at No. 16 after beating in-state rival New Mexico State on Saturday.
The only team without a loss that also is without a spot in the poll: Wyoming. The Cowboys did not play this week and thus did not have any chance to rise out of the "others receiving votes" category, where they come in fourth behind Oregon, Pittsburgh and Kentucky.
Overall, the undefeated teams make up nearly half of the first 16 teams in the rankings, and at this point in the season, that is probably how it should be.