50 Things We Learned from Week 6 in College Basketball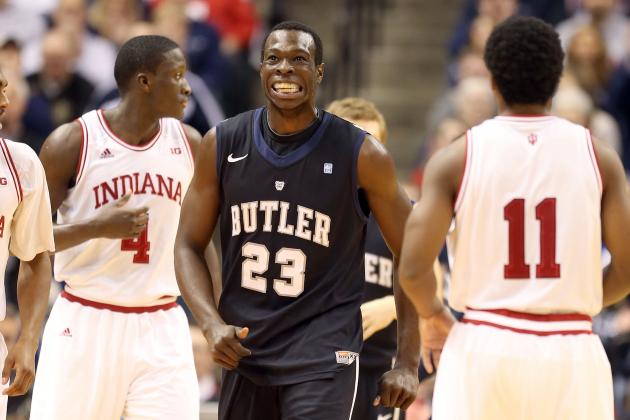 Andy Lyons/Getty Images

Week 6 of the college basketball season brought a boatload of surprises with it.
Highlighted by a Top 10 matchup between the Florida Gators and the Arizona Wildcats, and the Butler Bulldogs pulling off another huge upset, it was a week to remember.
From this exciting week in the college hoops universe, these are the 50 lessons we learned.
Begin Slideshow

»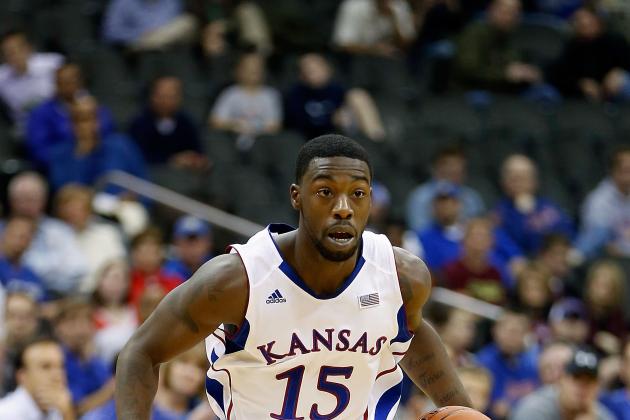 Jamie Squire/Getty Images

Elijah Johnson was a beast in Kansas' only game this week. Against Belmont, he only went for seven points and five boards, but he played the role of a point guard well.
With a season-high nine assists in the game, he nearly doubled his season average, and only turned the ball over once for a staggering nine-to-one assist-to-turnover ratio on the night.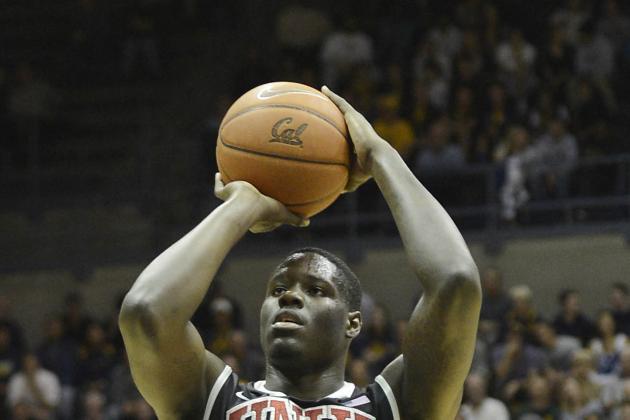 Bob Stanton-USA TODAY Sports

Last week I talked about how Anthony Bennett is the favorite for Freshman of the Year by a mile, but he could also be named the Naismith College Player of the Year, just like Anthony Davis did last season.
Bennett played just once this week, going for 27 points, 14 rebounds and three blocks in a measly 24 minutes. He was dominant, and is now averaging 20.3 points, 8.9 rebounds and 2.0 blocks per game this season.
Bennett has been tearing it up all year, and with Khem Birch yet to become eligible after his transfer from Pitt (he has to wait until the spring semester) and Mike Moser out for four to six weeks, Bennett is going to be featured even more prominently in the coming games.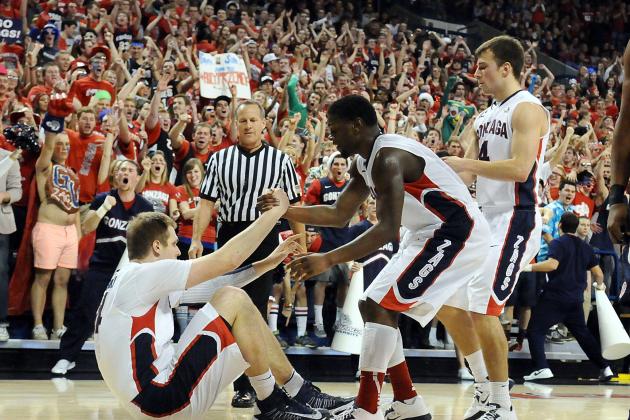 James Snook-USA TODAY Sports

Gonzaga suffered its first loss of the season last week to an Illinois team that now ranks No. 10 in the country, but it bounced back this week.
With a 16-point rout of Kansas State, the Bulldogs proved that they are going to be fine, and will likely still be a Top 10 team at the end of the season.
The team held elite scorer Rodney McGruder to just four points after he was expected to help Kansas State be a Top 25 team.
The Bulldogs received major contributions from the usual suspects, but also had a breakout performance from Kelly Olynyk, who went for 20 points on 10-of-13 shooting from the floor.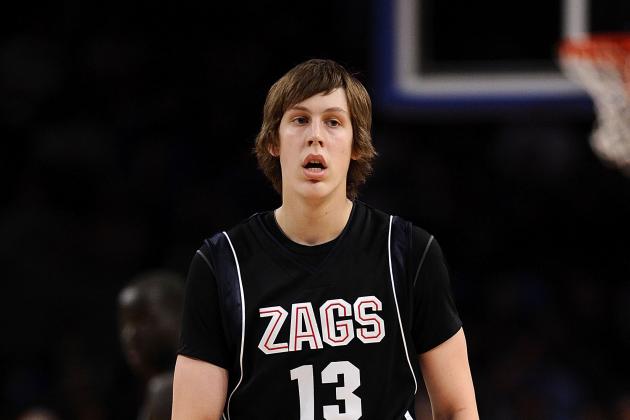 Jeff Zelevansky/Getty Images

Gonzaga has one of the best offenses in the country, and that is because the team can rely on someone new every night.
This week it was Olynyk, but it could also be Kevin Pangos, Gary Bell Jr., Guy Landry Edi, Elias Harris or even Przemek Karnowski.
Anyone can be a star for this team, and it simply feeds whoever has the hot hand.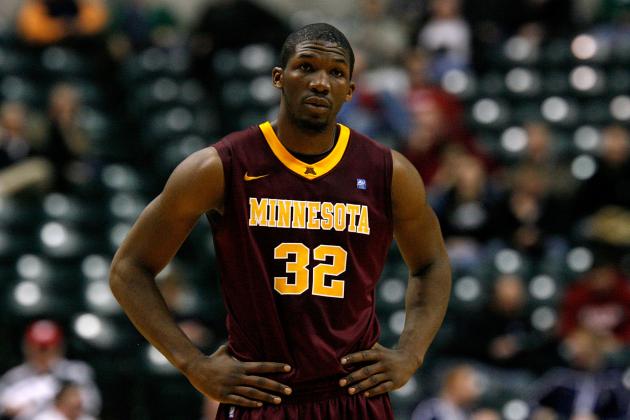 Chris Chambers/Getty Images

Trevor Mbakwe had a horrible start to his sixth year in college basketball, but he finally had a big game this week.
After losing his starting spot, Mbakwe came off the bench to go for 14 points and 18 rebounds on 5-of-6 shooting from the floor.
This is just his second double-double of the season, but it could start a bit of a hot streak for the former star.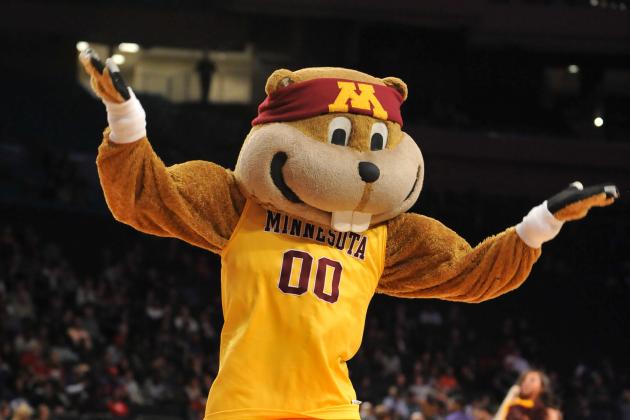 Jason Szenes/Getty Images

I had Minnesota ranked No. 25 in the country to start the season, but despite Trevor Mbakwe's slow start the team has been on fire.
Other than a loss to Duke (and let's be honest, who hasn't lost to the Blue Devils?), the team has won all 11 other games, including nine-point wins over No. 19 Memphis in the Battle 4 Atlantis tournament and at Florida State.
With an intimidating Big Ten schedule coming up, as of now it looks like the Gophers could make a big impact during March Madness.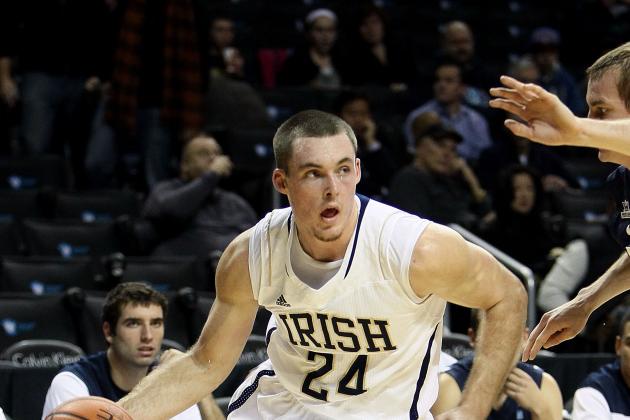 Alex Trautwig/Getty Images

After a 13-point beatdown of Purdue, Notre Dame is one of the hottest teams in the country.
Pat Connaughton, Eric Atkins and Jack Cooley went for 16, 17 and 18 points, respectively, as the team rolled to its seventh straight victory.
After an overtime loss to St. Joe's in the third game of the season, the Irish have been playing excellent basketball, beating BYU, No. 8 Kentucky and now Purdue during this seven-game streak.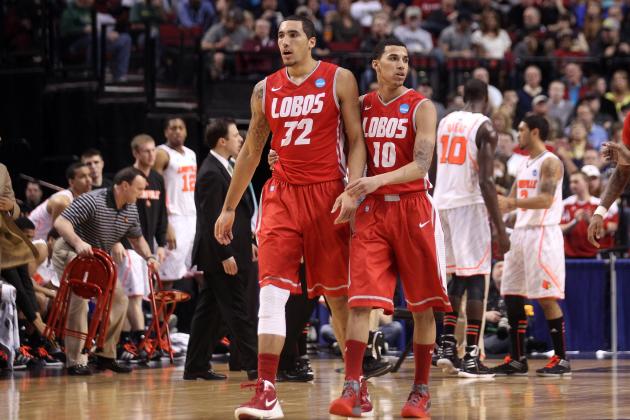 Jed Jacobsohn/Getty Images

New Mexico has been unstoppable this season, going 10-0 after beating up on rival New Mexico State in the first of two games between the foes this year.
Alex Kirk, Chad Adams and Kendall Williams led the way for the Lobos as they demolished the Aggies, winning by 15 points.
The two will play the second game on Dec. 19, and I fully expect the Lobos to sweep one of the bigger rivalries in college basketball.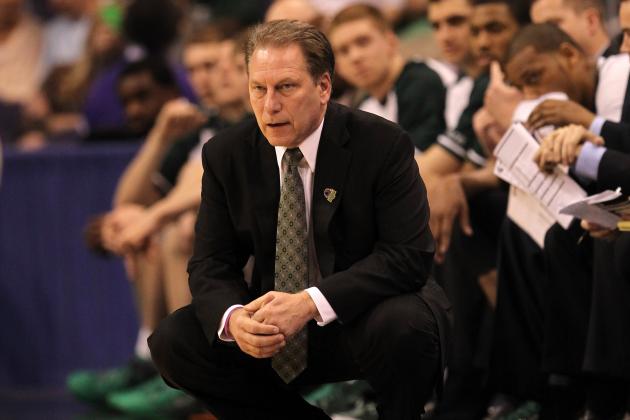 Jamie Squire/Getty Images

Tom Izzo's bunch should finish its non-conference schedule 11-2 without much of a problem, as a home game against a struggling Texas team is the toughest game left on that portion of the schedule.
However, the Spartans start their Big Ten schedule on Dec. 31 with a tough game at Minnesota, which is the last test the team will face before the new year.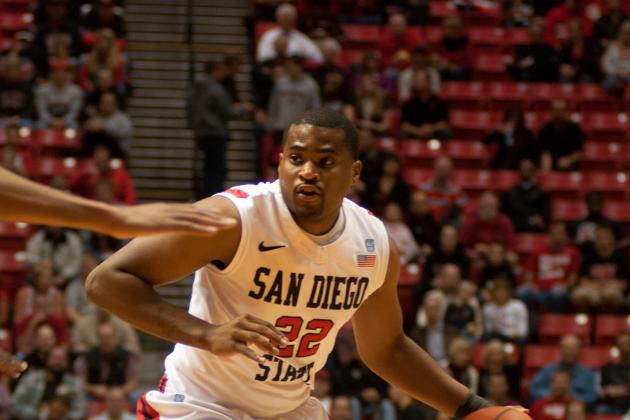 Kent Horner/Getty Images

Chase Tapley was supposed to be one of the top guards in the country, but after a slow start he looked like just another guy on a deep San Diego State team.
However, in his last three games Tapley is averaging 18.0 points and 3.3 assists per game. He is finally hitting his stride, and when he and Jamaal Franklin are hot, the Aztecs are one of the best in the country.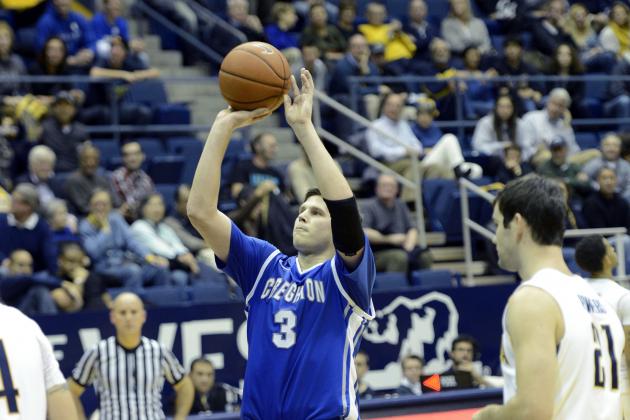 USA TODAY Sports

Creighton had its first real road test of the season this week against California. Doug McDermott led the team with 34 points, pouring in nearly half of the team's 74 points.
He is now averaging 30.5 points per game on the road this season, and is shooting 20-of-36 from the floor and 15-of-17 from the stripe.
He has been on fire when the team needs him to step it up on the road.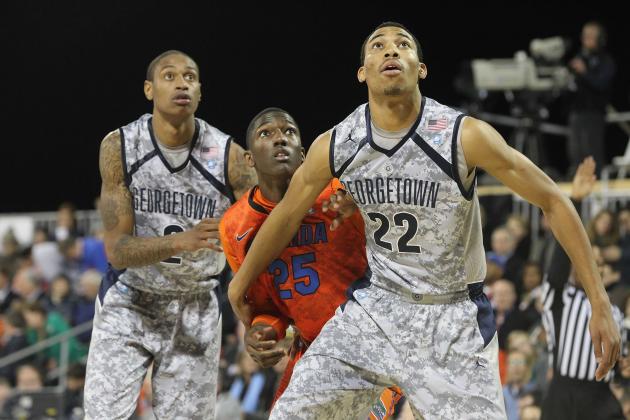 Kim Klement-USA TODAY Sports

Entering the season, we expected Georgetown to be led by Otto Porter, but Greg Whittington has been just as good.
With his 25 points and 11 rebounds on Saturday, he is now averaging 12.5 points (second on the team) and 7.7 rebounds (first on the team) per game.
His numbers are just as good as Porter's, and he is proving to be a very valuable asset.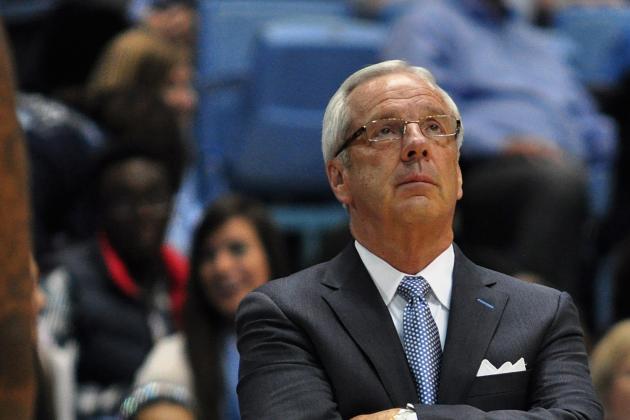 Rob Kinnan-USA TODAY Sports

North Carolina played just one game this week, beating East Carolina. However, a 16-point halftime lead almost disappeared, as the team was outscored by 10 in the second half and barely hung on to win by six.
The team now goes on the road to take on a streaky Texas team on Dec. 19, and if it struggles again it could be shocked by the Longhorns.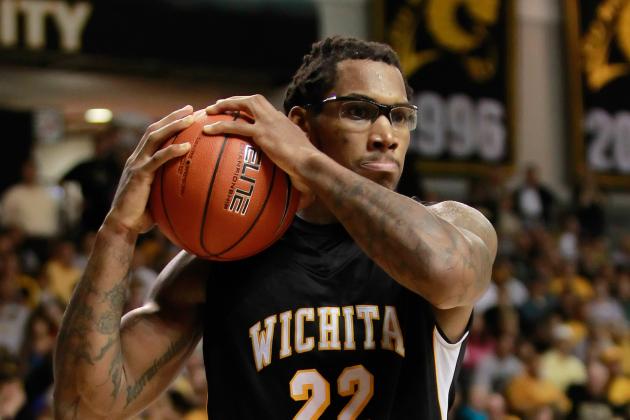 Geoff Burke-USA TODAY Sports

Wichita State was in just its second AP Top 25 of the season this week, and had yet to crack the USA Today poll.
Well, that was fast.
The team lost to Tennessee in a horrible performance on Thursday, shooting just 38.2 percent from the floor while suffering from 16 turnovers and 28 fouls in a 69-60 loss.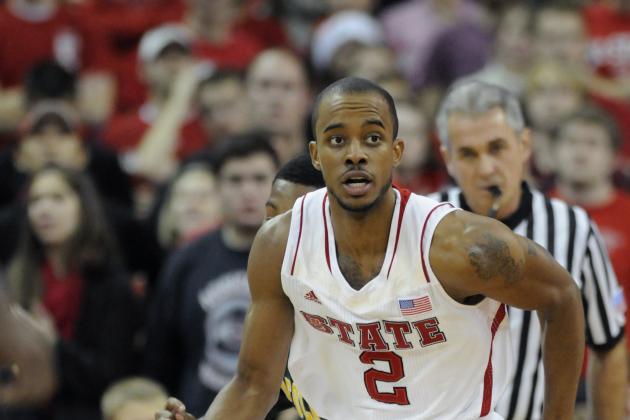 Liz Condo-USA TODAY Sports

Who has the most efficient offense in the country? North Carolina State.
The Wolfpack have the best shooting percentage of any team in the country, ranking first with a 52.7 percent average.
The team impressed once again this week by shooting 57.4 percent in its win over Norfolk State, as that average continues to rise.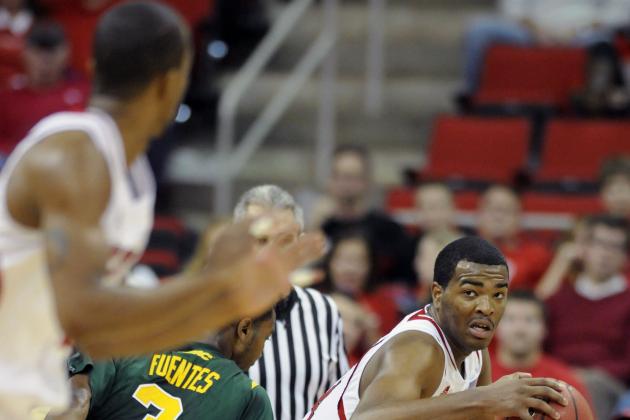 Liz Condo-USA TODAY Sports

T.J. Warren had another great game this week, going for 21 points on 8-of-11 shooting and helping that No. 1 offense in efficiency.
Warren has now scored 20-plus points in three of nine games and 15-plus in six of nine, despite coming off the bench for most of the games.
If Warren continues to light it up, he could be a dark-horse challenger to Anthony Bennett for Freshman of the Year honors.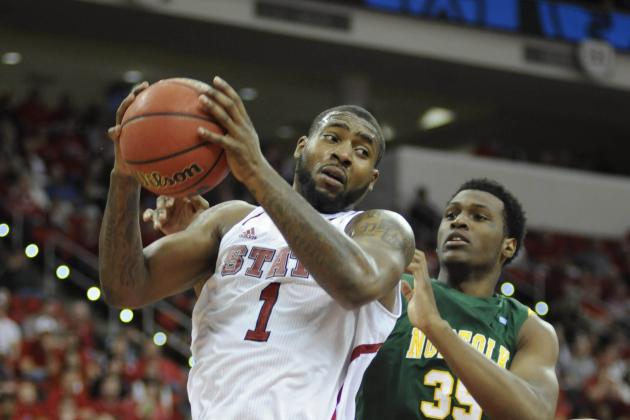 Liz Condo-USA TODAY Sports

Richard Howell had another big game this week, absolutely owning the boards against Norfolk State.
Howell went for 12 points and an incredible 19 rebounds. That is his fifth double-double of the season, and his third in a row.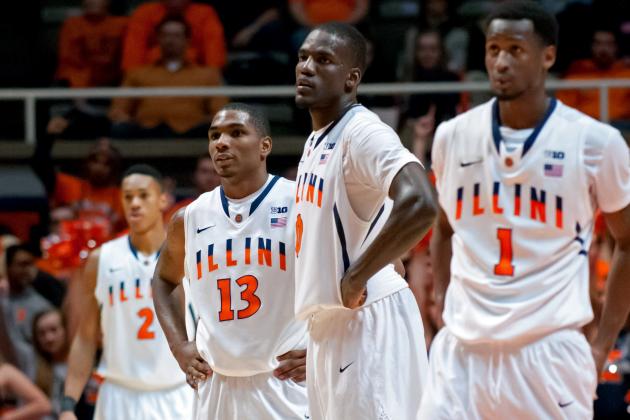 Bradley Leeb-USA TODAY Sports

Illinois has been amazing this season. After starting off out of the Top 25, the team has won 11 straight to rank No. 10 in both the AP and USA Today/ESPN polls.
The Fighting Illini were able to beat No. 10 Gonzaga on the road last week, and in this coming week they have another difficult road test, playing against No. 12 Missouri.
The team will try to ace its last test of the non-conference portion of its schedule with a victory, and I fully expect it to do so.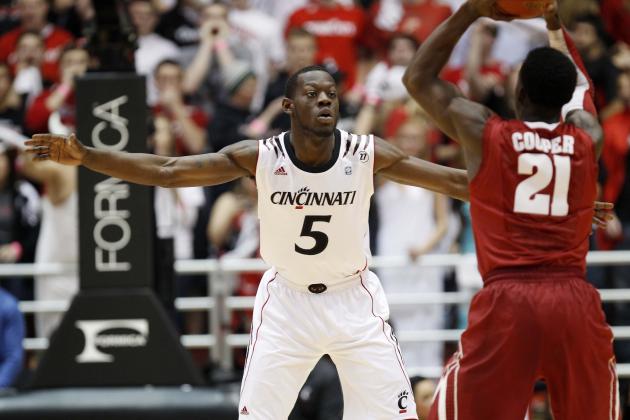 Frank Victores-USA TODAY Sports

I just don't get it.
Cincinnati's biggest weakness this season was supposed to be its failure to secure rebounds without a good big man like Yancy Gates, but it has become the team's biggest strength.
The Bearcats rank first in the nation in rebounding, and that is what has this team doing so well through the early stages of the season.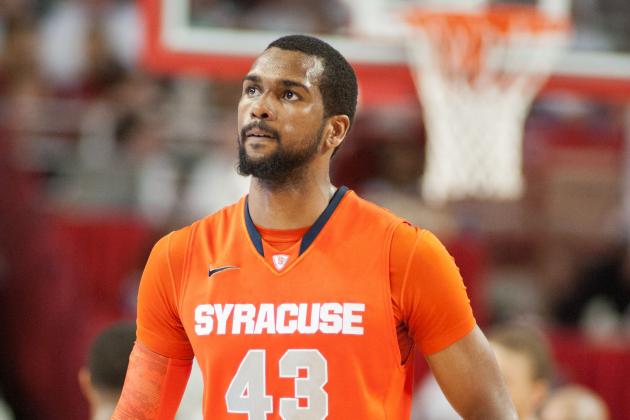 USA TODAY Sports

Remember when James Southerland was shooting 57 percent from three? It was about two weeks ago.
Well, this week he showed flashes of brilliance once again for Syracuse, scoring 21 points off the bench on 9-of-14 shooting from the floor, including 3-of-6 from three.
If Southerland remains a threat for this team off the bench, the Orange could win it all this year.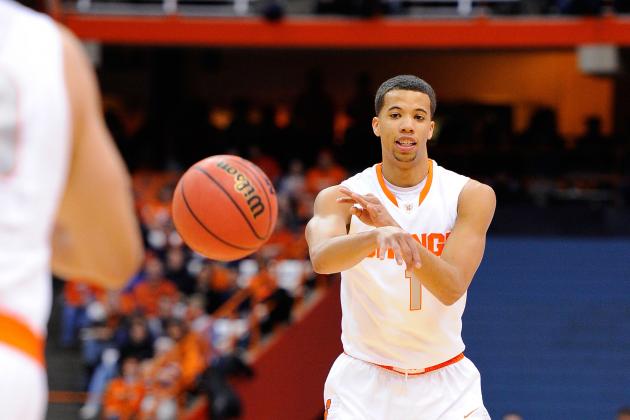 Rich Barnes-USA TODAY Sports

Syracuse point guard Michael Carter-Williams is emerging as one of the best players in the country, but he was caught shoplifting this week.
However, he played on Saturday and it looked like the drama off the court did not affect him at all. He went for 12 points and 14 assists as Syracuse won big.
The game gave MCW five consecutive double-doubles, and he has averaged 12.8 assists per game in his last four.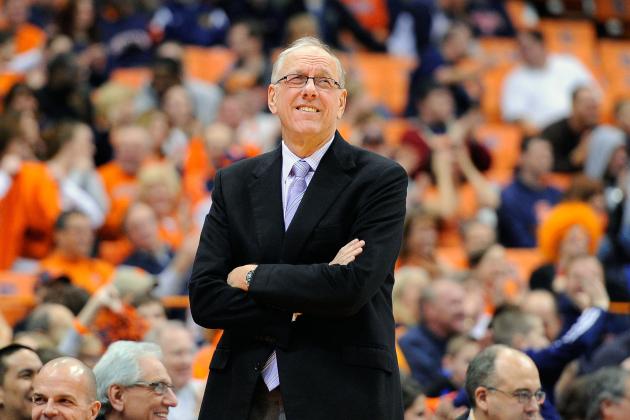 Rich Barnes-USA TODAY Sports

This is a weird one, but if you've read my work you know that I'm a huge nerd when it comes to statistics.
Syracuse ranks third in the country in three major categories, including scoring, assists and rebounds.
Just one of the many things that I find interesting in this crazy season of college hoops.
Jamie Rhodes-USA TODAY Sports

Chane Behanan has been absolutely incredible for Louisville in Gorgui Dieng's absence. He went for another 22 points against Memphis, leading the team.
Behanan is making up for Dieng while he recovers from an injury, and did so in a big way this week.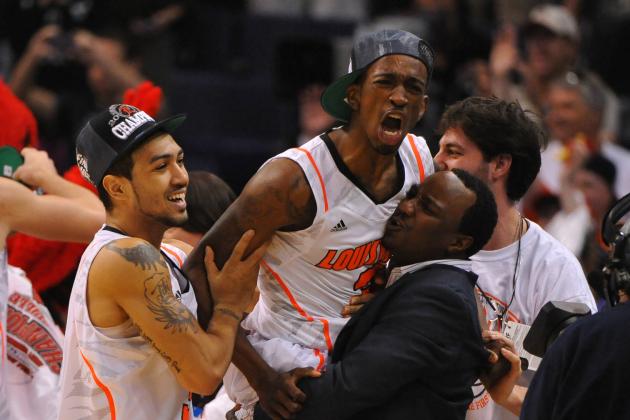 Christopher Hanewinckel-USA TODAY Sports

Peyton Siva and Russ Smith make up one of the most electric backcourts in the country for the Cardinals, and that's saying a lot since there are so many good duos in college basketball this season.
The two did it again this week, combining for 38 points, 11 assists and seven boards against Memphis.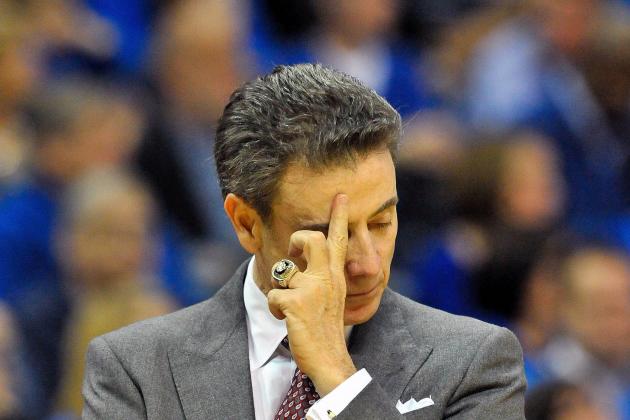 USA TODAY Sports

As much as I'm talking up Louisville, we have to keep in mind that this team is far from perfect.
Louisville was down seven going into the half against Memphis—this coming just weeks after a scare against Illinois State and a loss to Duke.
The Cardinals look shaky and could be toppling down the Top 25 rankings during the Big East schedule.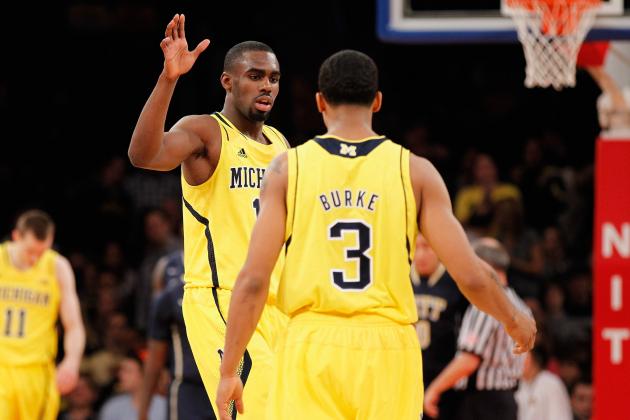 Mike Stobe/Getty Images

Michigan has all the tools to win it all in March.
You need good guard play to win the NCAA tournament, and this team has the best backcourt in the country in Trey Burke and Tim Hardaway Jr.
You need experience and leadership, and Hardaway Jr. helps provide that.
You need talent to win it all, and this team has it in truckloads.
What else does this team need?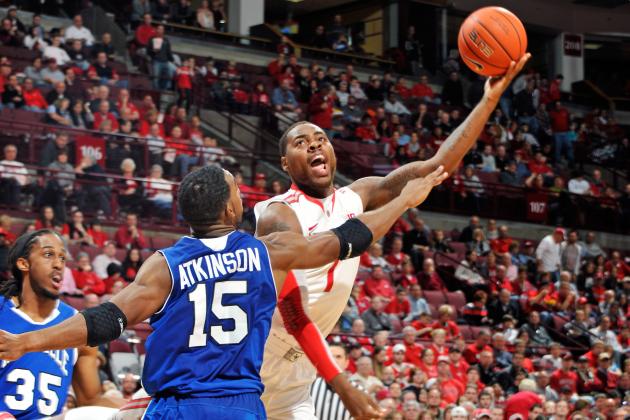 Jamie Sabau/Getty Images

DeShaun Thomas was once averaging over 24 points this season, but he has not been as good lately.
Sure, he went for a double-double and gave a 22-point effort in Ohio State's two games this week, but he is down to just 20.3 points per game (the same as Anthony Bennett) and is not making up for it in the other categories.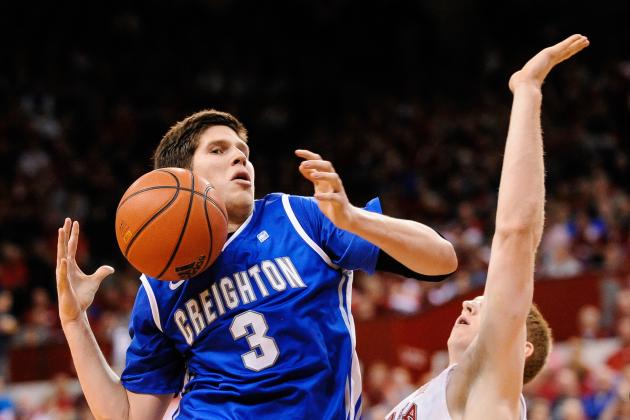 Eric Francis/Getty Images

Doug McDermott had another big week, averaging 32.0 points and 7.5 rebounds in Creighton's two victories.
McDermott has been impressive, now averaging 23.7 points and 6.9 rebounds this year—numbers that are helping him climb in the rankings for National Player of the Year honors.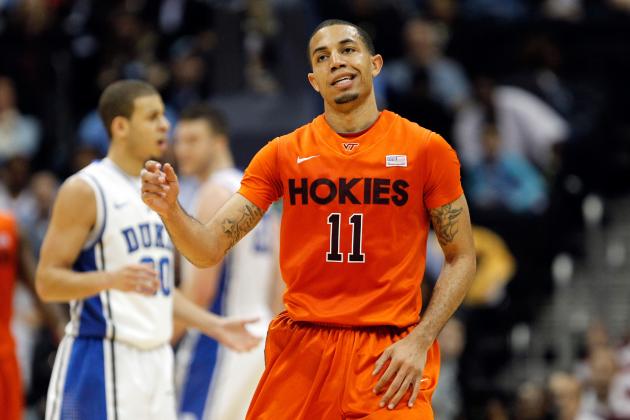 Streeter Lecka/Getty Images

Erick Green is having a monstrous season for Virginia Tech, leading the Hokies to an impressive start.
His 24.8 points, 4.4 rebounds and 5.0 assists averages make him one of the best players in the country, and he could potentially steal a spot as a finalist for the Naismith, or even take the award himself.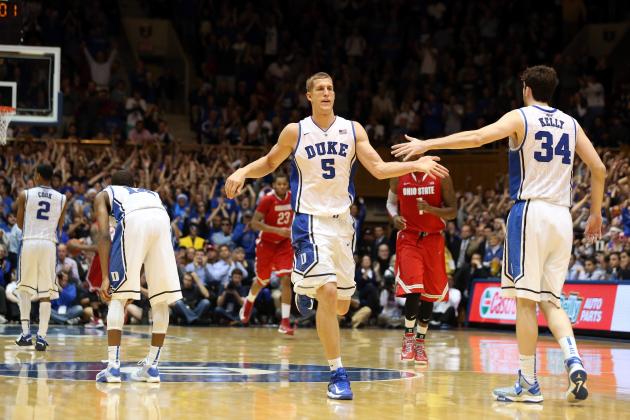 Streeter Lecka/Getty Images

Mason Plumlee remains the leader when it comes to the Naismith award. He didn't play this week, but he really didn't have to.
With 19.2 points and 11.3 rebounds per game this season, he has led Duke to three victories over Top Five teams, and has helped Duke become arguably the best team in the country.
Streeter Lecka/Getty Images

Ohio State has been very impressive behind Aaron Craft and DeShaun Thomas.
The Buckeyes have lost only once, with that sole loss coming to Duke in a five-point contest (the closest game Duke has been in all season), and Ohio State could have won.
The team has gone 8-0 in convincing style outside of that loss, and I will be ranking it No. 5 ahead of both Florida and Louisville.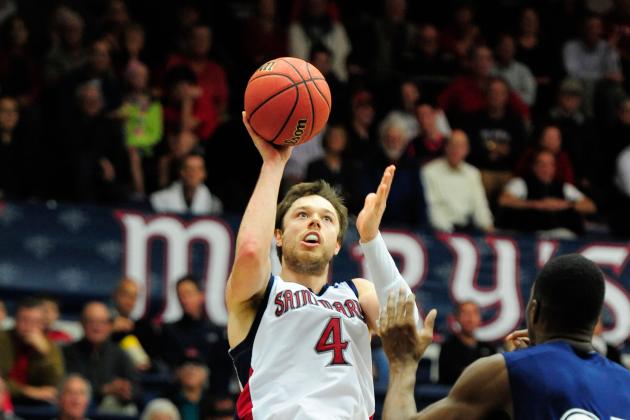 USA TODAY Sports

Matthew Dellavedova just confuses me more and more every week.
He is averaging 19.8 points and six assists, but he has been freakishly streaky. In nine game he has scored more than 30 points three times, and in single digits twice.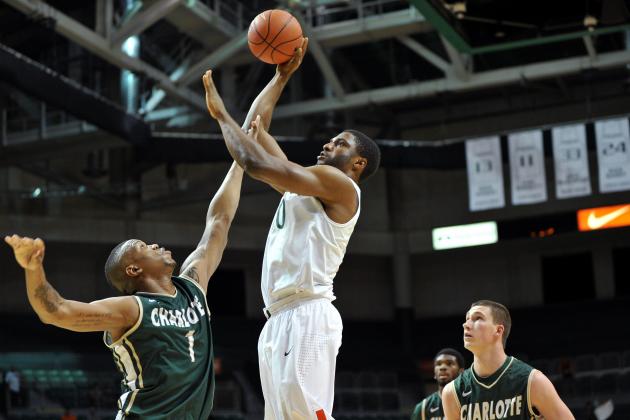 USA TODAY Sports

Miami continued to roll this week, bowling over a 9-0 Charlotte team that could have challenged the Hurricanes.
Led by Durand Scott's double-double, the team blew out the 49ers by 31 points.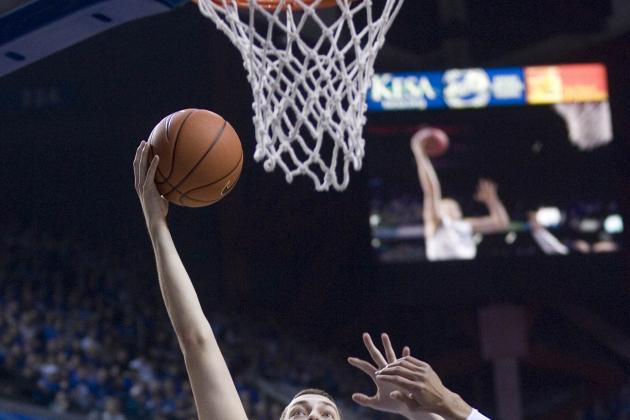 USA TODAY Sports Images

Kyle Wiltjer was supposed to lead Kentucky this season, but he has been so streaky that he lost his position in the starting lineup.
However, Wiltjer reassured UK fans that he can still be a lights-out shooter this week, dropping 23 points on 8-of-12 shooting, including 7-of-9 from three, against Lipscomb.
Wiltjer is still hit-or-miss, but at least he can still stroke it from distance.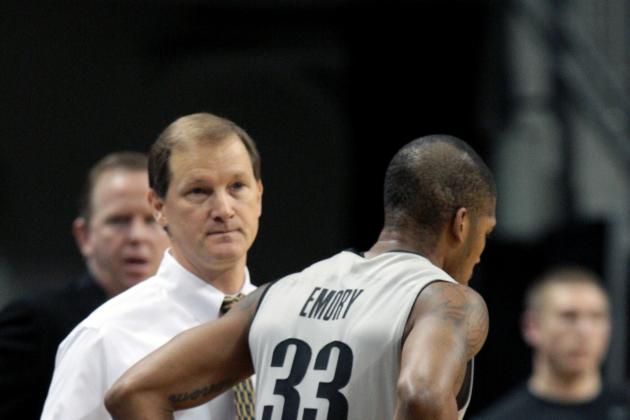 USA TODAY Sports

I was legitimately upset when Oregon was not ranked in the Top 25 this week.
The Ducks were 8-1 heading into the week and deserved to be ranked No. 23 or No. 24. Now the team is 9-1, and after Wichita State lost the Ducks absolutely must be ranked in the polls.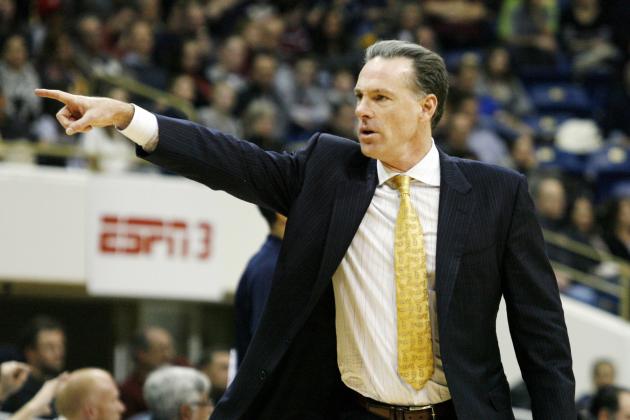 USA TODAY Sports

Pittsburgh is another team that was snubbed last week. The Panthers are 10-1, with that sole loss coming against a top Michigan team.
Pitt has been on fire and should be in the Top 25 this week.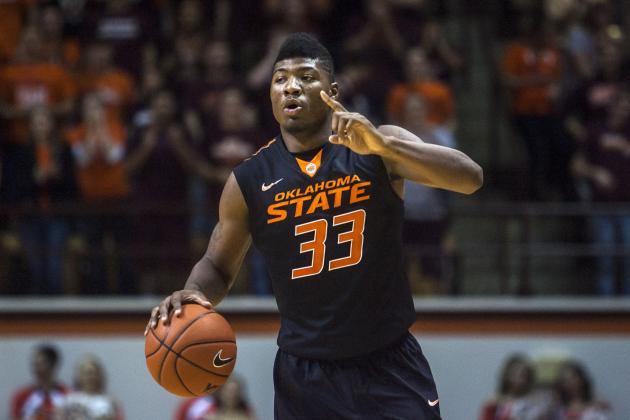 USA TODAY Sports

Marcus Smart and Le'Bryan Nash made Oklahoma State a great team, but it lost to Virginia Tech on the road because of a heroic effort from Erick Green.
The team should still be feared, however, as that remains the team's only loss of the year.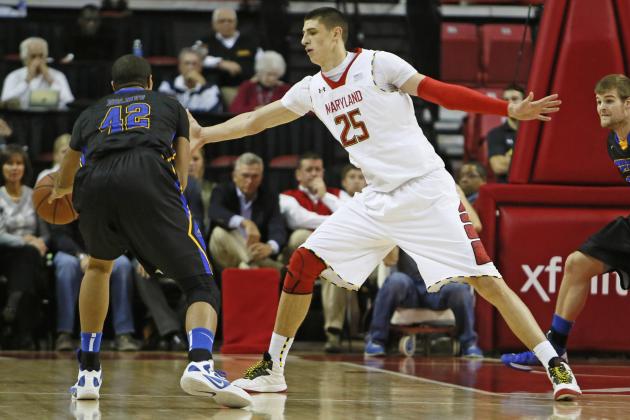 Mitch Stringer-USA TODAY Sports

Alex Len has practically become a regular on this list, and this week his stock is rising.
He went for a double-double against Monmouth, also blocking five shots, so naturally I'm high on him again this week.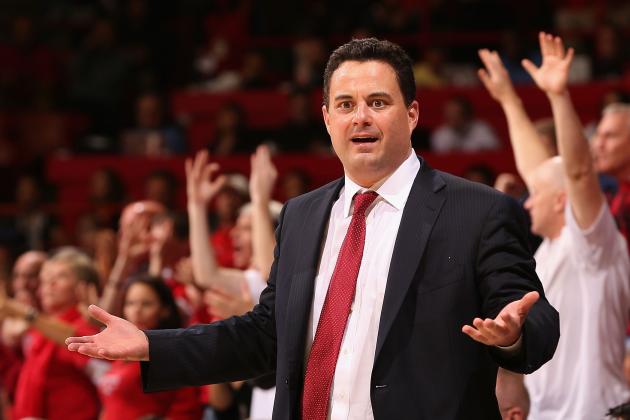 Christian Petersen/Getty Images

I have not been very kind to Arizona on this list in recent weeks. After singing its praises early in the season, I have been calling this team unproven and sloppy.
My bad.
I had to eat a piece of humble pie after the team proved just how good it is against Florida, beating the No. 5 team in the country in a thriller.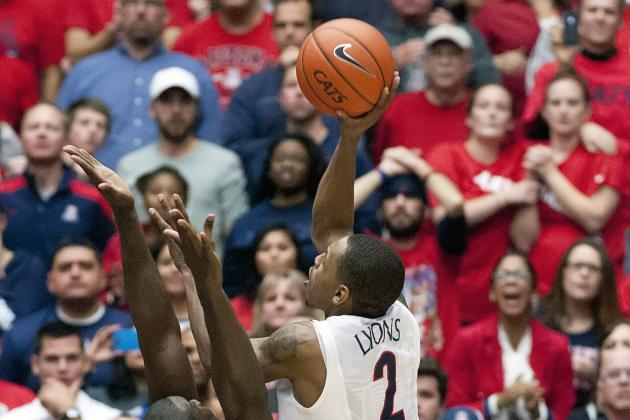 Casey Sapio-USA TODAY Sports

Mark Lyons is one of those guys who I've been ripping. I've been citing his failure to play the role as a prototypical point guard, but he was still huge on Saturday.
Lyons hit the game-winning shot with seven seconds left, putting Arizona up by one and clinching the victory for the Wildcats.
He's got ice in his veins.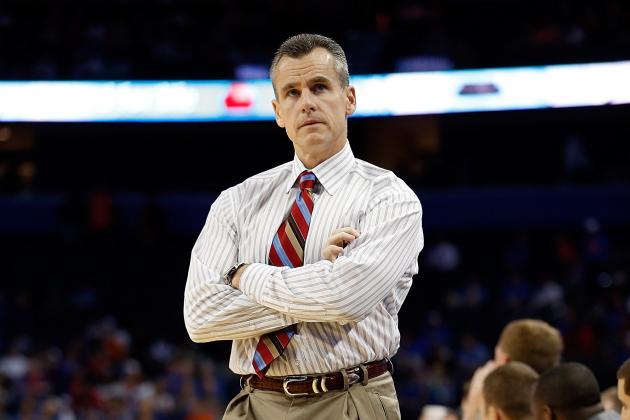 J. Meric/Getty Images

Florida looked great on the road against Florida State, but now I'm starting to think that that is because the Seminoles are pretty bad this season and the team didn't have to travel very far from Gainesville.
The Gators looked uncomfortable on the road against Arizona, and the team failed to maintain its big leads throughout the game.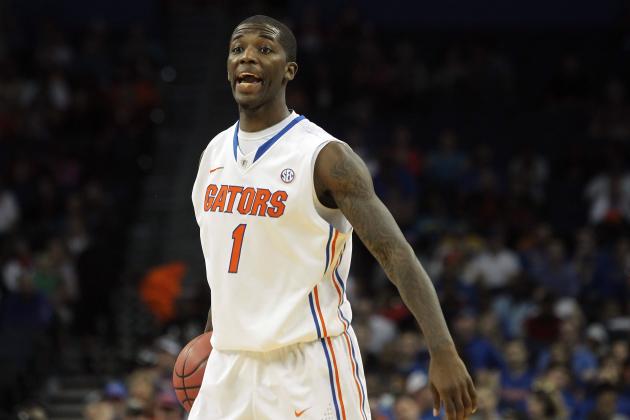 Kim Klement-USA TODAY Sports

Kenny Boynton might have to take the most blame for Florida in their loss. He scored just five points in the game on 2-of-10 shooting from the floor, including 1-of-7 from three.
Boynton is usually an elite scorer, but he struggled to make shots against Florida State and simply couldn't do anything against Arizona.
He needs to be better for this team in the future.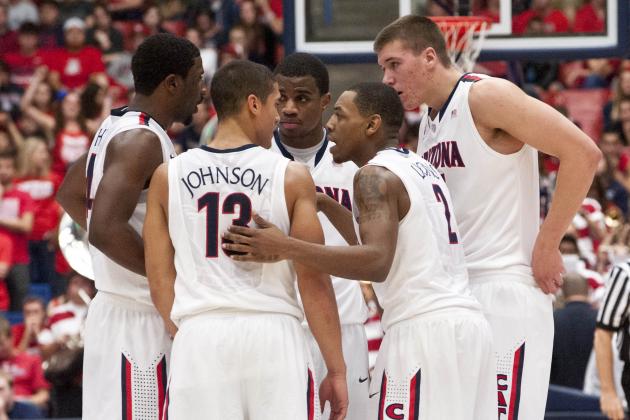 Casey Sapio-USA TODAY Sports

Who were the leaders for Arizona in this clutch come-from-behind victory? The players who have been around the block once or twice in college basketball.
Despite having one of the best recruiting classes in the country, it wasn't the freshmen who were relied upon.
Returning players Solomon Hill and Nick Johnson were two of the three players to hit double-digit points in this one, with the other being transfer Mark Lyons, who is a senior.
These three were the top guns for the team Saturday, proving that Sean Miller and the Wildcats are still relying on the upperclassmen.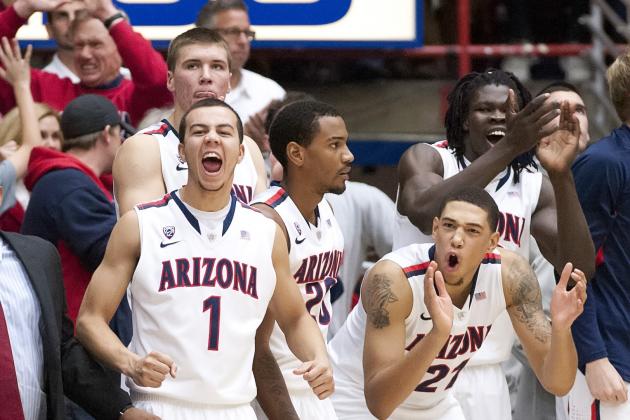 Casey Sapio-USA TODAY Sports

There are a lot of good teams who would have folded against Florida. The Gators had a lot of big leads, including 11 points with less than two minutes left in the first half and a 64-58 lead with 2:44 left in the game.
However, the Wildcats proved their resiliency by finishing the game on a 7-0 run to win by a single point.
Incredible.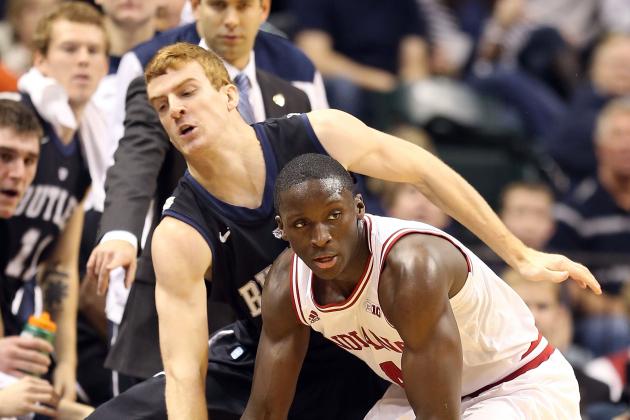 Andy Lyons/Getty Images

It's been looking like Duke might deserve the No. 1 ranking in college basketball for a while, but now it will be official.
Indiana suffered its first loss of the season to an unranked Butler team in overtime, after trailing for the last four minutes and giving up a four-point lead in the extra session.
The team will lose the No. 1 ranking that it has held all season, and it's clear that the Hoosiers are not the best team in the country.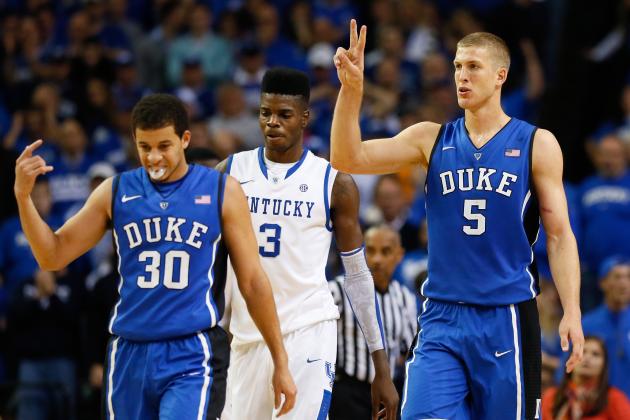 Kevin C. Cox/Getty Images

Duke didn't even have to do anything this week to earn the No. 1 ranking.
The Blue Devils have beaten three Top Five teams already and have taken down dangerous teams like Minnesota, VCU and Temple.
The team absolutely deserves the top ranking, and it will be interesting to see who is able to conquer Duke.
Andy Lyons/Getty Images

Indiana struggled to crash the boards against Butler, and that is a big reason why the team lost.
After giving up 17 offensive rebounds and losing the rebounding battle, 37-31, the team simply gave up too many extra chances and didn't create enough to win out.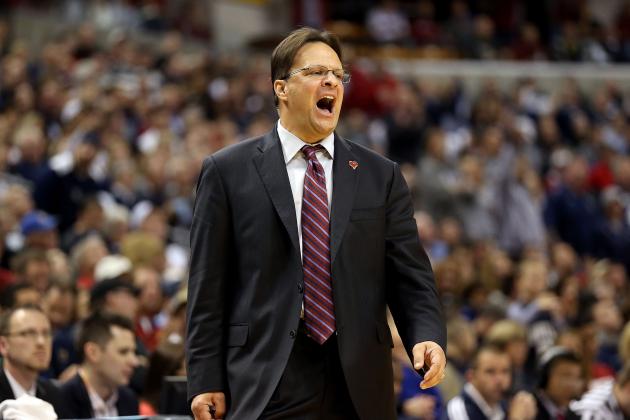 Andy Lyons/Getty Images

Tom Crean's Indiana Hoosiers have to be worried after this loss. The team was out-rebounded by a much smaller Butler team, and allowed the Bulldogs to make 11 threes on 45.8 percent shooting from behind the arc.
If the Hoosiers run into a team that can rebound well or can stroke it from distance, they need to play their best basketball.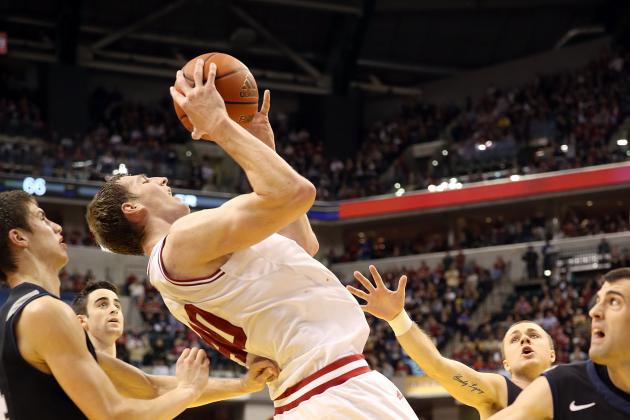 Andy Lyons/Getty Images

After returning all five starters from last year's Sweet 16 team and bringing in one of the top recruiting classes in the country, we expected Indiana to be the nation's best team.
However, we now know that this is not the best team in the country. We also know that it won't win it all.
The team has too many weaknesses that can be easily exploited, and I have not been impressed.
If the season ended today, I wouldn't even put this team past the Sweet 16.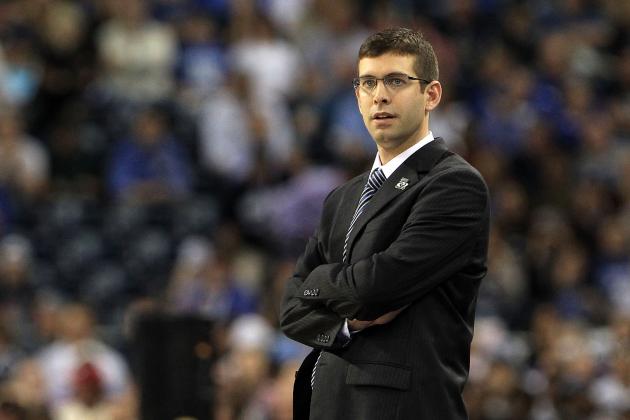 Streeter Lecka/Getty Images

Butler made its way onto the college basketball scene by making it to back-to-back NCAA tournament finals, losing against Duke and UConn in 2010 and 2011, respectively.
The team proved that it is still going to be a Cinderella this season after taking down the No. 1 team in the country.
This is the team's second big win of the season, as it also took down No. 9 North Carolina at the Maui Invitational.