Predicting the First Loss for Each Undefeated Team in College Basketball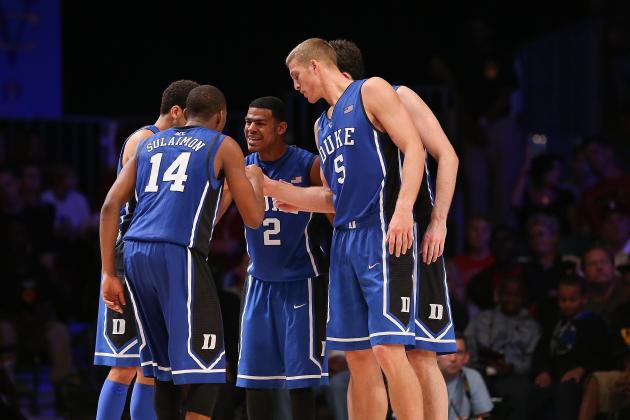 Kevin Jairaj-USA TODAY Sports

Now more than a month into the season, we are gradually whittling down the unbeatens in college basketball.
As of now, we have 12 unbeaten teams, and many will have those marks put to the test within the next 48 hours. Several key games this weekend, including a marquee matchup of two of the unbeatens, could potentially cut that number nearly in half by early next week.
So, which teams will go down for the first time in the upcoming days, and which may see their unbeaten streaks carry into the new year? Read on to find out.
Teams' records listed are current through games on Dec. 13. The SOS to date is measured on a scale of 1 to 10, based on the overall combination of opponents played.
Begin Slideshow

»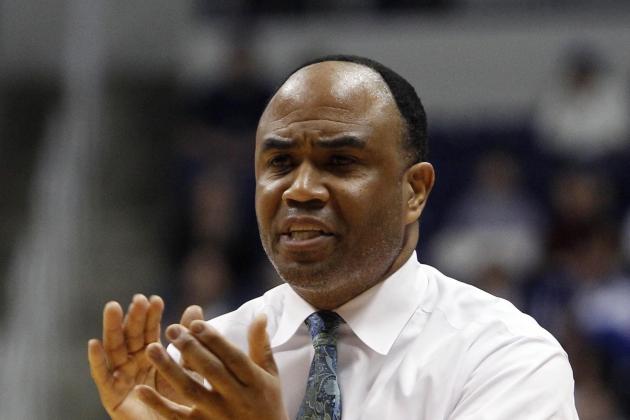 Frank Victores-USA TODAY Sports

9–0
SOS to Date: 3.5, Best win: at Davidson
Speed Bumps Ahead: at Miami (Dec. 14), Florida State (Dec. 22)
There may be a Major turnaround going in Charlotte.
After a combined record of just 23-37 the past two seasons, Coach Alan Major has helped bring some respectability to the Charlotte program this year. With a 9-0 start, Major's 49er team is the only remaining unbeaten in the Atlantic 10.
It's fair to say Charlotte hasn't been brutally tested yet. Its wins of note have come against Oral Roberts, in Alaska, East Carolina and last week at Davidson. While those are all decent teams—ORU and Davidson are favored to win their conferences and ECU is 6-1 thus far—beating them won't give us a full snapshot of how strong this 49ers team is.
We may get a bigger piece of the picture within the next couple weeks, however. Charlotte has two upcoming games against quality ACC teams: Miami and Florida State.
The 49ers travel to Miami for a game on Friday. Miami already owns a win over No. 19 Michigan State on its home court, so the Hurricanes are already battle-tested. If it can win pull out a win down there, we may have to start taking Charlotte pretty seriously heading into A-10 play.
Should it survive Miami, Charlotte will again put its unbeaten mark to the test, against Florida State next weekend. The Seminoles may only be 4-4, but they have fared pretty well away from their home court. They have already defeated BYU and Saint Joseph's in an early tournament in Brooklyn.
While Miami and Florida State are certainly beatable, I don't see Charlotte escaping both games with "W"s.
In fact, the undefeated run will come to an end shortly, as Reggie Johnson, Shane Larkin and company will be a bit too much too handle for a 49er team that has faced few players of that caliber thus far.
First Loss: Friday, at Miami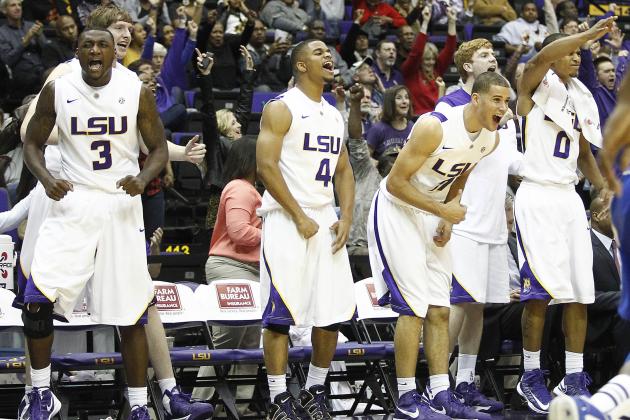 Crystal Logiudice-USA TODAY Sports

6–0
SOS to Date: 2.0, Best win: Seton Hall
Speed Bumps Ahead: at Boise State (Dec. 14), at Marquette (Dec. 22), Florida (Jan. 12)
LSU is one of two unbeatens from the SEC, with Florida the other. While the Gators have earned some impressive blowout wins against solid competition, the Tigers have yet to beat anyone of major significance.
After winning its first five games, all in November, LSU went on an early break for final exams. The Tigers capped off its initial stretch of games with a win over Seton Hall in the Big East/SEC Challenge. It came back from the 12-day absence to beat Chattanooga at home on Tuesday.
Playing just six games in the season's first five weeks is one possible reason to question how legit LSU is. A second would be the fact the aforementioned win over Seton Hall is its toughest game thus far. If a third reason is necessary, it would be that the Tigers have yet to play a game outside of Baton Rouge.
The second and third points will change on Friday, when LSU finally leaves its campus and heads all the way out to Idaho. The Tigers will face an upstart Boise State squad that already owns an extremely impressive win at Creighton, a Top 15 team.
BSU has lost just one game thus far, and it will be anxious to earn a win against a power-conference team on its home court. With a potential game-changer in Derrick Marks—who scored 35 against Creighton—the Broncos have a new-found confidence that they can play with almost any team in the country.
Should it get out of Boise with a win, LSU has another tough road game prior to SEC play. The Tigers will head to Marquette next weekend, where Buzz Williams' team will be out for revenge after going down in Baton Rouge last December.
With two tough road games in the very near future, it wouldn't be wise to bet that LSU will remain undefeated when it begins SEC play. If they somehow do, the Tigers will really be in for a test when Florida visits in the first half of January.
First Loss: Friday, to Boise State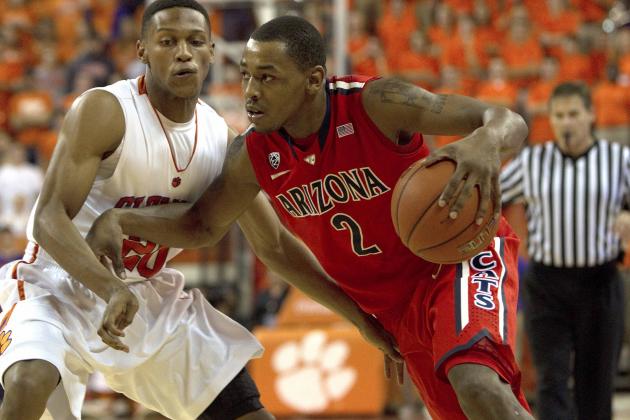 USA TODAY Sports

7–0
SOS to Date: 4.0, Best win: at Clemson
Speed Bumps Ahead: Florida (Dec. 15), Colorado (Jan. 3), at Oregon and Oregon State (Jan. 10, 12)
Arizona came into the season with extremely high expectations thanks to the arrival of three terrific freshmen and an explosive transfer.
Thus far, those players have held their own, helping Arizona win its first seven games. However, they are about to face what figures to be their toughest test of the regular season.
On Saturday, Arizona will play host to No. 5 Florida in one of the marquee matchups of the entire nonconference slate in college basketball.
Coming off fairly close wins over Southern Miss and Clemson last week, Arizona will need to kick its game into another gear if it hopes to take down Florida. The Gators have stomped on everyone that's crossed their path, which includes Wisconsin, Marquette and Florida State.
Florida comes in to this game with the edge in experience, an asset that can't be ignored in a tough road matchup like this. The Gators' rotation includes three seniors and four juniors, helping to create a level of cohesion rather rare for even the top teams in college basketball at this point in the season.
If Arizona wants to pull out the win in this one, it will need its talented freshmen forwards—Kaleb Tarczewski and Brandon Ashley—to step up for sure. However, the Wildcats will probably also need an excellent performance out of Mark Lyons, the Xavier transfer.
Lyons was a key in helping Arizona escape Clemson with a win, scoring a season-high 20 in that game. If he can generate consistent scoring chances against Florida's tough perimeter defense, then the Wildcats may just keep their undefeated streak intact.
Should it emerge with an enormous win over Florida, Arizona will then look to keep its undefeated mark intact out in Hawaii in the Diamond Head Classic (assuming it gets by Oral Roberts first). After on opener against East Tennessee State, the Wildcats could see a dangerous Miami team in the semifinals. If they get by the Hurricanes, a possible date with No. 17 San Diego State in the final would be really interesting to watch.
After its trip to Hawaii, Arizona will return home to start Pac-12 play, with a game against Colorado, which is certainly no gimme. That will be followed by a trip to Oregon the following weekend to face Oregon and Oregon State, which won't be particularly fun either.
First Loss: Saturday, to Florida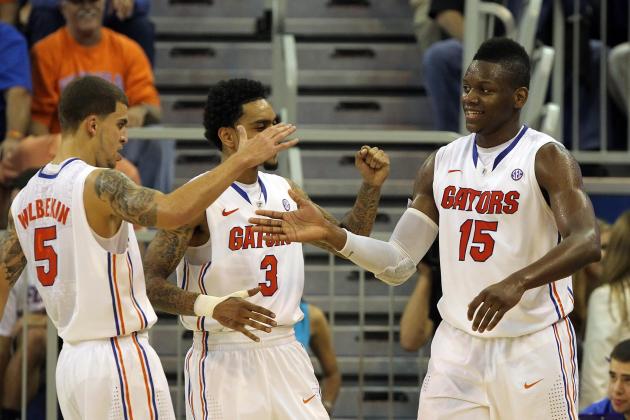 Kim Klement-USA TODAY Sports

7–0
SOS to Date: 6.0, Best win: Marquette
Speed Bumps Ahead: at No. 8 Arizona (Dec. 15), vs. Kansas State (Dec. 22), No. 12 Missouri (Jan. 19)
Florida has looked as strong as any team in the country thus far.
The Gators have won all seven of their games by double digits, while holding five of their seven opponents to under 50 points. That looks even better when you consider that two of those five are Marquette and Florida State—not exactly a couple cupcakes.
Florida will put those excellent defensive accolades to the test on Saturday in the aforementioned battle against No. 8 Arizona.
While I believe Florida will prevail in its titanic clash with Arizona this weekend, it must be careful about a tricky matchup that lies just beyond the one in Tucson.
Florida will travel to Kansas City next Saturday, to face Kansas State. The Wildcats are currently 7-1, with their lone loss coming to No. 3 Michigan in the NIT Season Tip-Off championship game.
In addition to having the crowd behind them—KC is less than two hours from the K-State campus—the Wildcats have the kind of personnel that can match up well with the hard-nosed defense of Florida.
K-State's frontcourt, led by Jordan Henriquez and Thomas Gipson, will make it tough for Patric Young to assert himself down low. If they can get Young into foul trouble and minimize his impact down the stretch, the Gators could have trouble securing a win.
Also, the emergence of freshman DJ Johnson has provided K-State with yet another strong presence on the boards, particularly on the offensive end. If he can help clean up his team's missed shots, it will minimize Florida's transition potential.
Point guard Angel Rodriguez, averaging 4.5 assists and only two turnovers a game, is off to a pretty good start in his sophomore campaign in Manhattan. Provided he can remain under control amidst the Gators' tight perimeter defense, it could spell a modest upset for his Wildcats in this one.
If it can endure this upcoming pair of tests away from the comfort of the "O-Dome," Florida has only a couple potential trap games at LSU and Texas A&M before its big SEC showdown against Missouri.
First Loss: Dec. 22, to Kansas State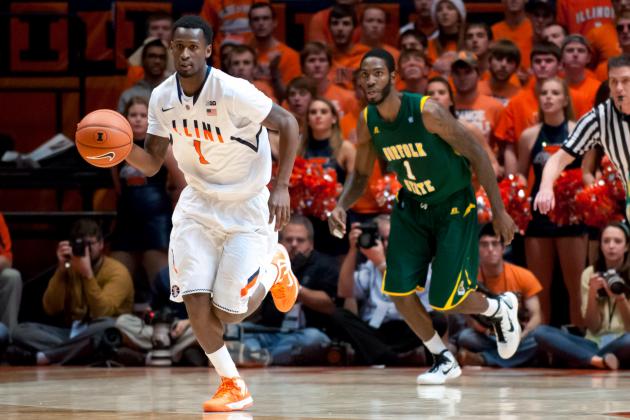 Bradley Leeb-USA TODAY Sports

11-0
SOS to Date: 5.5, Best win: at No. 10 Gonzaga
Speed Bumps Ahead: vs. Missouri (Dec. 22), Ohio State (Jan. 5), Minnesota (Jan. 9)
Last weekend, Illinois did as much to prove its credibility as any team in college basketball has done in any one game this season.
Going into Spokane with a 9-0 record, mostly against lower-major conference teams and a couple lower-tier teams from power leagues, Illinois answered the bell in a huge way. The Illini beat a Gonzaga team everyone was extremely bullish on, and with good reason.
It is also with good reason—and the fact it only plays one more challenging nonconference game—that Illinois could enter Big Ten play with its undefeated record in tow. After all, the road win over Gonzaga was the toughest of the Illini's pre-conference slate.
As big as that game was, particularly for Illinois, it doesn't quite compare to the stakes at play in the upcoming Bragging Rights game against border-rival Missouri. While both teams have gone into the game ranked each of the past two years, this year's matchup seems to have even more at stake, with both teams ranked the highest collectively (No. 10 and 12) in 10 years.
This annual rivalry has been one of streaks over the past 15 or so years. Illinois took the game nine straight years, from 2000 to 2008. Since then, Missouri has come back by winning the last three times, including a 78-74 win over the Illini last year.
Mizzou has a great chance to extend that streak to four despite the fact the Tigers are playing with just one key player (Phil Pressey) from last year's 30-win team. Laurence Bowers has come back incredibly strong after missing all of last year with an ACL injury, and three key transfers—led by UConn transfer Alex Oriakhi—have kept the Tigers playing at a high level. They will also welcome another transfer, guard Jabari Brown from Oregon, into the fold this week as he becomes eligible.
To beat Missouri, Illinois will need to shoot the ball very well from long-range—like it did against Gonzaga. Pressey will certainly do his part to make that a tougher job. On the defensive end, stopping him and Bowers—who can step out and hit shots from deep himself—will be no easy task for the Illini either.
In the end, the Bragging Rights may once again stay in the state of Missouri.
First Loss: Dec. 22, to Missouri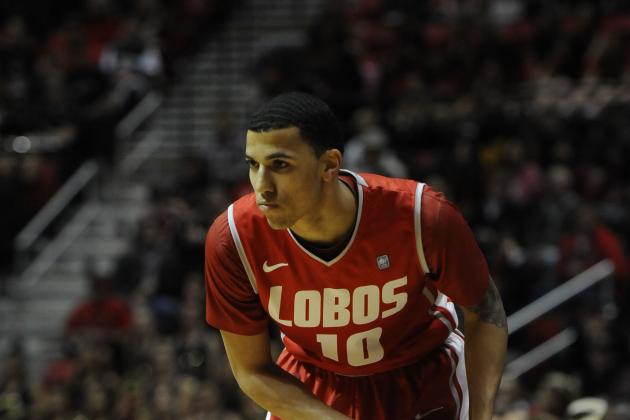 Christopher Hanewinckel-US PRESS

10–0
SOS to Date: 5.5, Best win: vs. Connecticut
Speed Bumps Ahead: at Cincinnati (Dec. 27), at Saint Louis (Dec. 31), UNLV (Jan. 9)
New Mexico has managed to get to this point without a loss, despite several extremely close calls.
In their late-night season opener, the Lobos shook off a 14-point halftime deficit and rallied to knock off Davidson.
Later that week, the Lobos went down to the US Virgin Islands and won the Paradise Jam, despite winning all three games by a combined 14 points. The second of those wins was an improbable, last-second robbery of a win over George Mason, which led by five with less than 15 seconds to play.
In the MVC/MWC Challenge game at Indiana State, UNM blew a big lead of its own. After holding a 19-point second-half lead, the Lobos rallied to beat the Sycamores in overtime.
Such a high number of close games may suggest the Lobos have been a bit lucky, and they are due for a reversal of fortune. However, the ability to win these games consistently should be more a credit to the team's experience, particularly in the backcourt.
Junior guards Tony Snell and Kendall Williams—the team's leading scorers—have stepped up when necessary for UNM. Additionally, the emergence of seven-footer Alex Kirk—averaging about 12 points and eight rebounds a game—has helped to diminish the impact of the loss of Drew Gordon from last year's team.
This coming week, UNM will play a home-and-home with its lone in-state rival, New Mexico State. The first will be at The Pit in Albuquerque, with the second to be played on the road just four days later. That second game could certainly be a pitfall (pun intended) for the Lobos, especially with a big-time test looming at the end of December.
That test will come in the form of the Cincinnati Bearcats, currently ranked eleventh in the nation. The game will be in Cincy, making it the toughest game UNM will play not only in the nonconference schedule, but perhaps the entire regular season.
Though they have already beaten one Big East foe in UConn, the Lobos will face a significantly tougher team from that league this time around. Expect a fairly close game—as always seems to be the case with New Mexico—but a win might be just a bit out of reach here.
First Loss: Dec. 27, at Cincinnati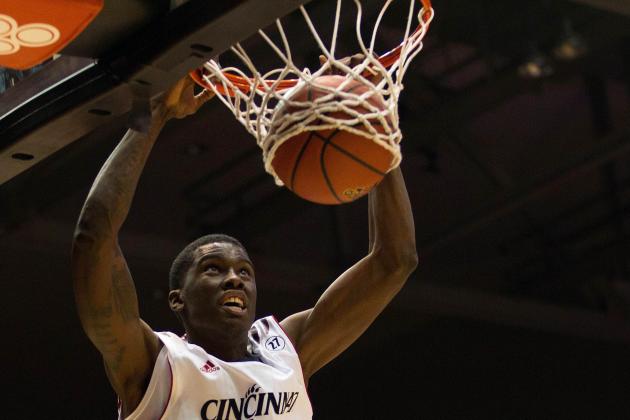 Rob Leifheit-USA TODAY Sports

9–0
SOS to Date: 4.5, Best win: vs. Oregon
Speed Bumps Ahead: vs. Xavier (Dec. 17), New Mexico (Dec. 27), at Pittsburgh (Dec. 31)
Cincinnati typically does not challenge itself to an extensive degree in the November and December portion of its schedule.
Like Syracuse—the lone other unbeaten currently left in the Big East—Cincinnati generally plays most of its nonconference games at home, with a modestly tough opponent or two mixed in, perhaps one on a neutral court.
For the most part, that is the case again with the Bearcats this season. However, they did pick up a couple decent wins in Las Vegas—Iowa State and Oregon. Add in a buzzer-beating win at home over Alabama a couple weeks ago, and Cincinnati's current 9-0 record looks a bit more respectable than it might in prior years.
Xavier will attempt to do what Alabama almost did—be the first to knock off Cincinnati this season. The bitter rivalry will resume this Monday, at US Bank Arena (a neutral site). The Bearcats will certainly head in to the game the better team, but that fact takes a back seat in this rivalry. The one that may not is the score of last year's game—a 76-53 loss on Xavier's home court.
If Cincinnati can indeed earn redemption in the Crosstown Shootout, it will then put its streak to the test against fellow-unbeaten New Mexico 10 days later. Lucky for the Bearcats, they get the Lobos at home. That could be the decisive edge in what shapes up to be a very intriguing late-December matchup.
The game with New Mexico is the last for Cincinnati before starting Big East play. The Bearcats' conference slate kicks off on New Year's Eve with a trip to Pittsburgh. After a dismal season—at least by Jamie Dixon-era standards—a year ago, Pitt is off to a solid start at 9-1, with its lone loss coming to No. 3 Michigan.
Pittsburgh, with no other really tough nonconference games left, should be really excited and ready for this game. Look for the Panthers to come out strong in their first Big East game and make a serious statement that they are indeed back to the team we have grown so accustomed to over the years.
Cincinnati is a really good team, but it may not have quite enough to overcome the energy and excitement Pitt should bring to that game at the Petersen Center.
First Loss: Dec. 31, at Pittsburgh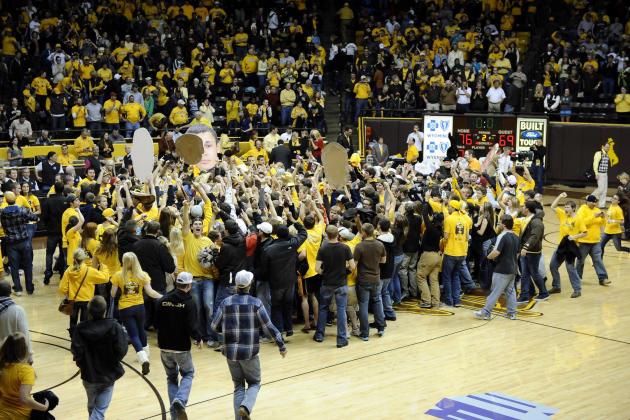 Ron Chenoy-USA TODAY Sports

10–0
SOS to Date: 3.0, Best win: Colorado
Speed Bumps Ahead: at SMU (Jan. 2), San Diego State (Jan. 19), at UNLV (Jan. 24)
Like a couple of the other teams earlier in this piece, it's OK to be skeptical about Wyoming.
Thus far, the Cowboys' schedule has consisted of predominantly home games, many of which have been against either teams near the bottom of Division I—or not in D-I at all. Such examples would include North Carolina Central, Cal State-Bakersfield and the perennial power Panhandle State, a D-II team.
That's often the norm for schools like Wyoming, which due to its combination of conference and geography has a tough time getting an abundance of quality power-conference—or even quality mid-major—teams on its schedule.
However, thanks to its neighbors to the south, and a quality draw in an inter-conference challenge, the Cowboys have a couple points of evidence to show they should perhaps be taken more seriously.
Wyoming earned back-to-back wins over Colorado and Illinois State, respectively, in early December. The win over the Buffaloes—then undefeated and ranked No. 19—was one of the biggest for the Cowboys since they beat Gonzaga in the 2002 NCAA tournament.
Following that win, Wyoming made sure to disprove any notions that it could only beat decent teams on its home court. The Cowboys went on the road and took care off an Illinois State team that many believe can hang with Creighton and Wichita State in the MVC.
With those two key wins in tow, and its undefeated mark still intact, Wyoming has a couple weeks to catch its breath before MWC play begins, with only two home games against Denver and UC-Santa Barbara left in December.
However, there is one game in between those and the start of league play that could prove to be tricky—a trip to Dallas to face SMU. In his first year there, Larry Brown has the Mustangs off to a solid 6-1 start, though most of their schedule has been against mediocre competition.
The winner of that game should further its case to be taken seriously this season. If Wyoming can come back from that trip still unbeaten, it opens conference play at home against Boise State. That will be followed by a pair of road games against MWC-newcomers Nevada and Fresno State. Should it survive all three of those, UNLV and San Diego State lurk around the corner.
In a conference with absolutely no pushovers—and a bunch of teams who play particularly well at home—it could be pretty tough for Wyoming to go too deep into their MWC slate before suffering a setback.
That doesn't mean the Cowboys still can't be a very dangerous team this year, however.
First Loss: Jan. 12, at Nevada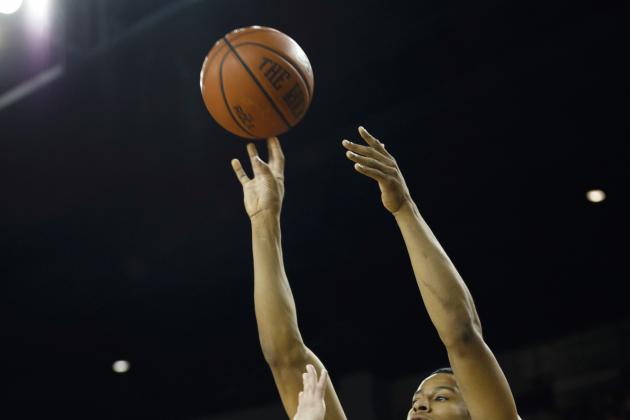 USA TODAY Sports

10–0
SOS to Date: 6.5, Best win: NC State
Speed Bumps Ahead: vs. West Virginia (Dec. 15), at Ohio State (Jan. 13), at Minnesota (Jan. 17)
Michigan has done an excellent job dealing with the incredibly high expectations placed upon it heading into this season. The Wolverines, ranked No. 5 in the preseason, have won their first 10 games, by an average of over 20 points per game.
While many of those wins have come, as you might expect, against lesser competition, Michigan also has quality wins over Pittsburgh, Kansas State and NC State (who was No. 6 preseason). While the Pitt game was very much in doubt until the final 30 seconds, the Wolverines' ability to prevail in the kind of physical test that game provided shows the team's progression and maturity over the past year.
The experience gained from that win over Pittsburgh should come in handy this weekend, as Michigan gets set to return to New York City, to face West Virginia. Their first trip saw them play two physical teams (Pitt and Kansas State) at Madison Square Garden, and the Wolverines should expect more of the same this time around in Brooklyn.
It won't be an easy game for sure, but Michigan should have enough firepower—thanks to the breakout freshman season of Nik Stauskas—to get by the Mountaineers. If they prevail, the Wolverines should have their undefeated record intact heading into Big Ten play.
Michigan's conference opener, at Northwestern, could be tricky if the Wildcats can hit shots from outside, like they did in beating Baylor last week. However, it appears the first true test will come a couple weeks later, at No. 7 Ohio State.
The Wolverines will look to avenge a 15-point loss in Columbus a year ago, in which they failed to break 50 points. That may not be an issue this year, as Michigan has scored at least 67 in every game. However, the key defensive piece for the Buckeyes, Aaron Craft, will once again be around to cause problems for Michigan and point guard Trey Burke.
Despite a few challenging games out of conference, the game at Ohio State should be by far the toughest for Michigan on the season to that point. If the Wolverines are going to lose a game—which they will—doing it in Columbus isn't the worst place to do so, rivalry aside.
First Loss: Jan. 13, at Ohio State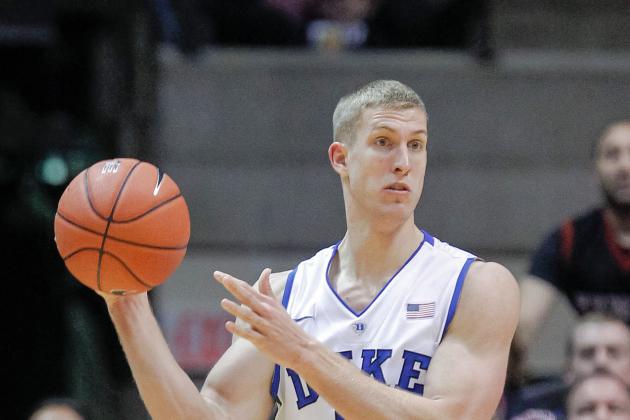 Jim O'Connor-USA TODAY Sports

9–0
SOS to Date: 9.0, Best win: vs. Louisville
Speed Bumps Ahead: at NC State (Jan. 13), at Miami (Jan. 23), Maryland (Jan. 26)
There is certainly a sound logical argument to make that Duke could be the one team that finishes the regular season undefeated. Basically, it is grounded in the fact that the Blue Devils have already played, and won, their toughest games of the season.
With wins over Minnesota (No. 13), Louisville (No. 6) and Ohio State (No. 7) already under its belt, Duke clearly has had the toughest road to date of any of the undefeated teams out there. Only Illinois—with a win over No. 10 Gonzaga, has even one win over a team ranked in the Top 15. Duke actually has four, if you count its win over then No. 3 Kentucky in the season's first week.
Besides Duke of course, there is no other team in the ACC currently ranked as high as any of the three the Blue Devils have already defeated. That said, the rigors of conference play—not to mention the potential media pressures of staying unbeaten—will make the task of going unbeaten quite the challenge.
The first, and perhaps the toughest, test Duke will face within the ACC schedule comes pretty early on. The Devils will face NC State—the preseason pick to win the league, remember—in Raleigh. While the Wolfpack have disappointed slightly thus far, it certainly has the athleticism and talent at all positions to match up with Duke. In addition, there is the whole matter of NC State blowing a big lead in Durham a year ago, only to lose in overtime. That should add a bit of fuel to the Wolfpack's fire.
Coach K may actually want his team to lose a game—without trying to lose of course—before going too deep into the season unbeaten. To invite additional pressures over something that could be fairly trivial, given Duke's already impressive overall profile, is probably not something he and his team would welcome.
First Loss: Jan. 13, at NC State
USA TODAY Sports

8–0
SOS to Date: 4.0, Best win: vs. San Diego State
Speed Bumps Ahead: vs. Temple (Dec. 22), at Louisville (Jan. 19), Cincinnati (Jan. 21)
The traditional Jim Boeheim scheduling model—playing mostly home games against regional, lower-conference competition—is in effect again this season. With a couple notable exceptions—mainly the one game played on an aircraft carrier, against San Diego State—that has helped Syracuse remain amongst the ranks of the unbeaten.
It also helps that the Orange are playing extremely well, perhaps exceeding most expectations after losing four of its key players from a year ago. The biggest reason for that has been the terrific play of point guard Michael Carter-Williams.
A sophomore, Carter-Williams has put up Kendall Marshall-like numbers thus far, leading the nation in assists with over 10 assists a game. He is also averaging over 12 points a game, but his scoring is somewhat secondary. His ability to get looks for guys like CJ Fair and James Southerland, who have each stepped up in a big way this year, is far more important to the team's success.
Having piled up very impressive assist numbers against largely inferior competition, Carter-Williams will start to be tested more by better teams and better defenses. The first test will come next weekend, when the Orange face Temple in Madison Square Garden.
MSG has been the home-away-from-home for Syracuse for quite a while now, so the Orange should have a decent home-crowd advantage there, despite the fact Temple is much closer to Manhattan in proximity. However, the Owls are certainly familiar with the 2-3 zone, and their ability and willingness to play it and against it should make this an interesting matchup at the Garden.
Syracuse should have the edge against Temple, but it won't be a huge one. This could wind up being the toughest nonconference game for the Orange, and that includes the game against SDSU.
Assuming it does come out of that with a win, Syracuse could remain undefeated well into January. The Orange start Big East play with four very winnable games; the game at South Florida is the only potentially tricky one.
After that, Syracuse has a real test when it heads to Louisville in what could be a showdown of Top Five teams. It will be an extremely tough contest either way, but if Giorgui Dieng is back in the lineup for the Cardinals by that point, Louisville and its pressure defense may be just a little too much too handle for Carter-Williams and the Orange.
Regardless, it should be a nice run to 18-0 for Syracuse before finally going down.
First Loss: Jan. 19, at Louisville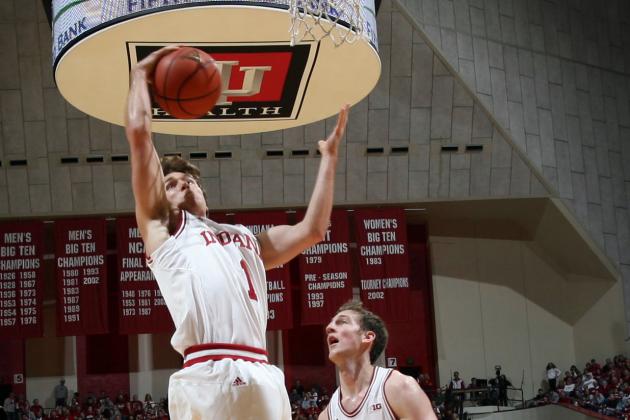 Brian Spurlock-USA TODAY Sports

9–0
SOS to Date: 5.0, Best win: vs. Georgetown
Speed Bumps Ahead: vs. Butler (Dec. 15), Minnesota (Jan. 12), Michigan State (Jan. 27)
Indiana has done everything it can to prove what most already knew coming into this year—that it is the premier offensive team in college basketball. Most coaches in college basketball can only dream of having the kind of refined, well-oiled machine that Indiana has engineered.
The Hoosiers lead the nation in points per game average (89.6), and are sixth in the nation in field-goal percentage (51.5 percent). However, those numbers may be a bit inflated, with most of their games thus far coming against teams who, to put it nicely, aren't exactly Big Ten-caliber.
That's not to say Indiana will continue to be the dominant offensive team we all expected. It's just that we'll have to wait a bit to get a better handle of just how good the Hoosiers really are.
We've already seen that Indiana isn't invincible, based on its two games in Brooklyn. Georgia did a good job of slowing down the Hoosiers for about 25 minutes before Jordan Hulls helped them take control. The next night, Georgetown gave Indiana all it could handle for 40 minutes—and nearly having Indiana beat—before running out of gas in overtime.
This weekend, Indiana gets ready to play its first game away from Assembly Hall since that scare in Brooklyn. The Hoosiers will face Butler on Saturday, in Indianapolis, as part of the Crossroads Classic (which also features Notre Dame and Purdue). The atmosphere should be terrific for the game, and you can bet anyone not wearing red will be rooting hard for the Bulldogs.
Butler already owns a win over a Top 10 team this season, a convincing victory over then No. 9 North Carolina in the Maui Invitational. Both teams may have helped to prove UNC is not quite as strong as their early ranking, but the Bulldogs' win should remind everyone that it can play with just about anyone in the country.
While this game may be a bit too tough a test, expect Butler to keep this game a lot closer than many might expect. It could end up being something between what we saw from Indiana in the Georgia and Georgetown games.
If it prevails as expected this weekend, Indiana has a pretty favorable schedule over the next month or so. The Hoosiers go back to their punching-bag nonconference schedule after facing Butler and open Big Ten play with games against Iowa and Penn State. They do face a couple tougher teams in January—namely Minnesota, Wisconsin and Michigan State—but all three are at home.
The first really tough test may not be until early February, when Indiana has back-to-back road games at Illinois and Ohio State. The Illini are capable of knocking off the Hoosiers if they can exploit Indiana's somewhat vulnerable perimeter defense. If they can survive that game, the game in Columbus that follows may finally wear down Indiana just enough where it may finally go down in defeat.
First Loss: Feb. 10, at Ohio State