Kentucky Basketball 2012-13: Kentucky's 5 Keys Against Portland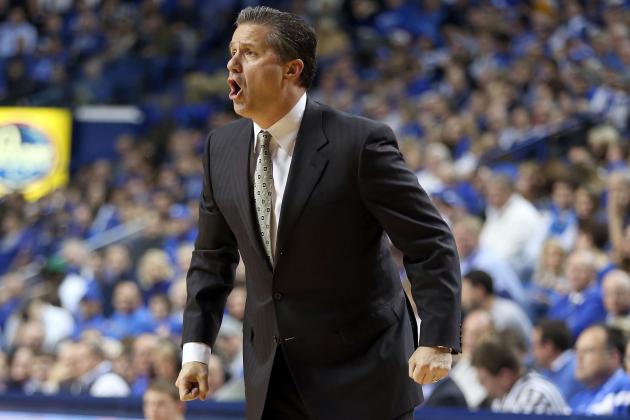 Andy Lyons/Getty Images
Kentucky's head coach John Calipari
Many of the nation's top teams use the beginning of the year to chalk up wins against inferior opponents as well as learn more about their team. No team needs to do that right now more than Kentucky.
The Wildcats currently sit at 5-3 with losses to Duke, Notre Dame and Baylor. They have three more games—all at home against Portland, Lipscomb and Marshall—before their December 29 rivalry game at Louisville.
There have been numerous questions about this young batch of 'Cats so far this season, but these are the five most important things to watch during their game against Portland today.
Begin Slideshow

»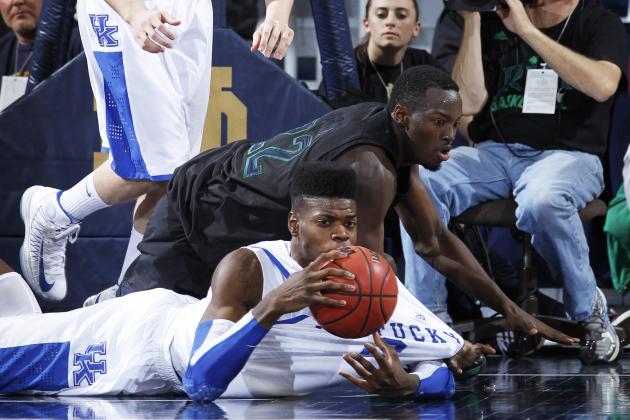 Joe Robbins/Getty Images
Nerlens Noel is averaging 30 minutes a game
Nerlens Noel had the unfair expectation to be the next Anthony Davis at Kentucky. While, he isn't putting up the gaudy stats in blocks and points, Noel has done more than his fair share on the defensive side.
During the first couple of games this season Noel would often find himself leaving his feet, trying to block every shot that came his way. Lately, he's learned to hold his ground, use his length and play solid defense averaging three blocks and 2.5 steals per game in the last four contests.
Something to watch when Noel's on defense, which he may be the best at in the country, is how he is able to poke the ball away from another post player. He has an uncanny ability to force whomever he's guarding to take a dribble away from his body where Noel uses his length to jar the ball loose.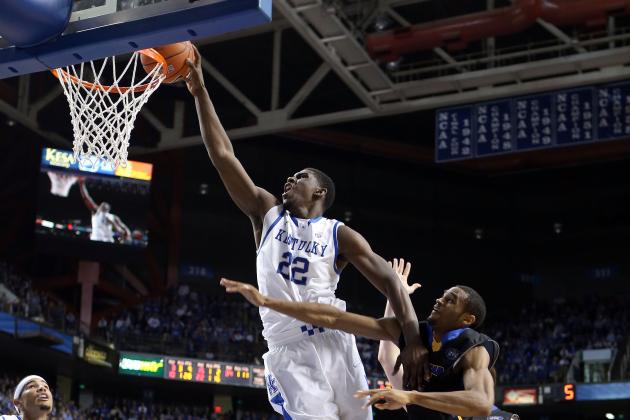 Andy Lyons/Getty Images
Kentucky freshman forward Alex Poythress
Kentucky's freshman forward Alex Poythress has shown glimpses of greatness during his first eight games into the season. At the same time he's battled inconsistency on both ends of the court.
For anyone that has watched UK basketball over the past couple of years, Poythress' season can be compared to Darius Miller's as a freshman. Both came in with high expectations but battled not being the first option on the court in the first time most likely in their lives.
Miller eventually blossomed into a three-year starter for the Cats and a sixth man on a national championship team. It is highly unlikely Poythress will remain in Lexington after this season, so it is vital that he starts to become consistent now.
This is an ideal game for Poythress to break out against weaker competition and get into a rhythm before Louisville. Keep an eye on Poythress getting more inside looks against Portland as he is an extremely athletic 6'7" mismatch.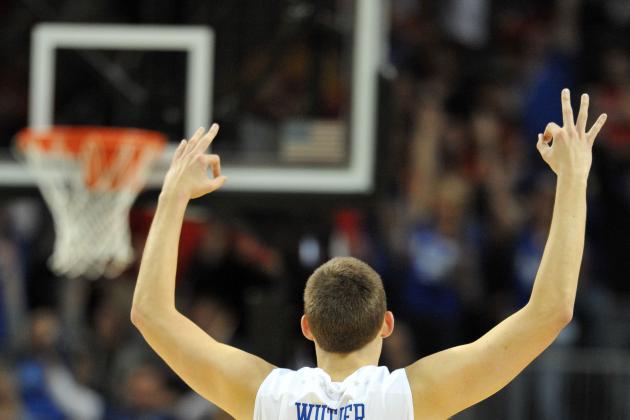 Jason Szenes/Getty Images
Sophomore Kyle Wiltjer hasn't had much to celebrate this season
It's been no secret this is the the hot topic for Kentucky recently. After hitting 35 three-pointers last year as a freshman, Wiltjer was expected to continue his hot shooting streak into his sophomore campaign.
That hasn't come close to happening as Wiltjer is shooting 34 percent from behind the arc this year and some of his misses haven't been close to hitting the rim.
Some chalk up last year's excellent shooting to teams concentrating on guarding the post and drive when playing UK, which left Wiltjer alone on the outside to hit open looks. The same is happening this year for the most part, Wiltjer is just missing.
Wiltjer hasn't been able to get his own shot off—his biggest knock besides his defense—but he has had open looks with teams helping on Archie Goodwin and Alex Poythress' drives. Shooting is all about muscle memory and confidence. Right now I think Wiltjer is just lacking some confidence.
If there is a time to see the ball start going through the hoop this is the stretch of the season when it needs to happen. And if it does happen then this Kentucky team can vault itself right back to where it was in the preseason.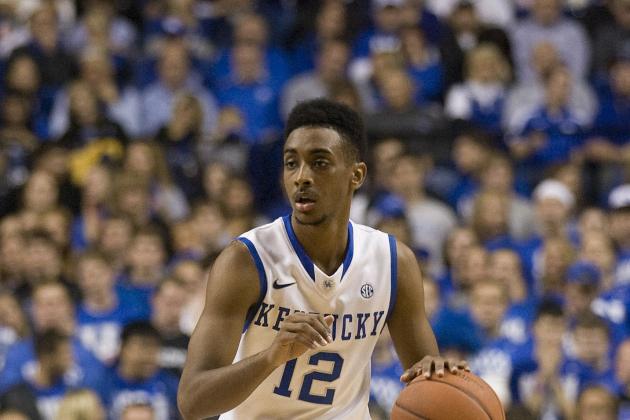 Mark Zerof-USA TODAY Sports
Sophomore Ryan Harrow
If Big Blue Nation isn't talking about Wiltjer's shooting slump they are talking about the play of point guard Ryan Harrow.
After missing a couple games due to sickness and then leaving Lexington to go back home for a few days, Harrow is back with the team and looking to regain his starting spot.
There have been some bright signs of improvement for Harrow including his second half against Baylor. He is the key to not only Calipari's offense but the key to Kentucky being a top 10 team. The return of Harrow will allow Archie Goodwin to play his natural position at the 2 and give him the chance to look to score more instead of distribute.
Harrow's return also means there should be more open looks for shooters like Wiltjer and Julius Mays. In the dribble drive motion offense, Harrow has the ability to break his defender down off the dribble and cause another defender to either lean-in, allowing an open look from downtown or a big to step up in the post and allow a drop-off pass to Noel or Poythress.
Again, this is all dependent on Harrow playing like he did while a freshman at North Carolina State and not like he did against Maryland earlier this year.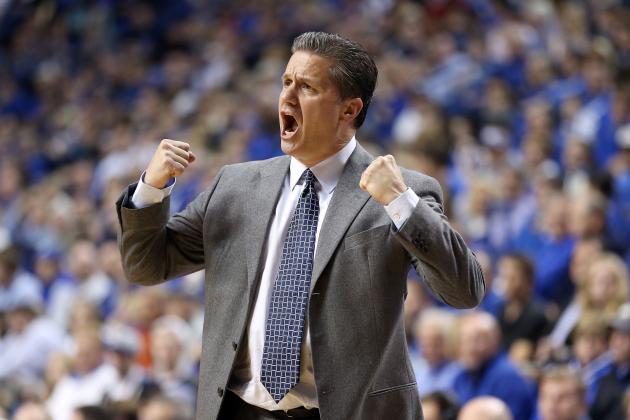 Andy Lyons/Getty Images
UK head coach John Calipari
We know Kentucky basketball will always be Calipari's team during his era, but someone on the court needs to take over. The Wildcats haven't had a player this year be their go-to guy in the clutch and they need someone to grab their team in a huddle and direct traffic.
There have been games where senior Julius Mays has shown flashes of being the leader on the team much like Darius Miller was last season and DeAndre Liggins the year before that. However, there needs to be that consistent voice on the floor.
If I'm Calipari this is where I turn to Harrow. Point guards are stereotypically known as the coach on the court, but Calipari's system needs the point guard to be vocal at all times on the floor. If Harrow wants to regain his permanent spot in the lineup this is where he needs to flourish.
With tough losses already to start the season and a schedule that will only get tougher as the year progresses, there needs to be someone who can step up and make a basket when it's needed.
If these five things begin to get addressed against Portland then watch out for the Wildcats. They have the talent to be a top 10 team again.