10 NCAA Basketball Players off to Sizzling Starts Who Won't Cool Down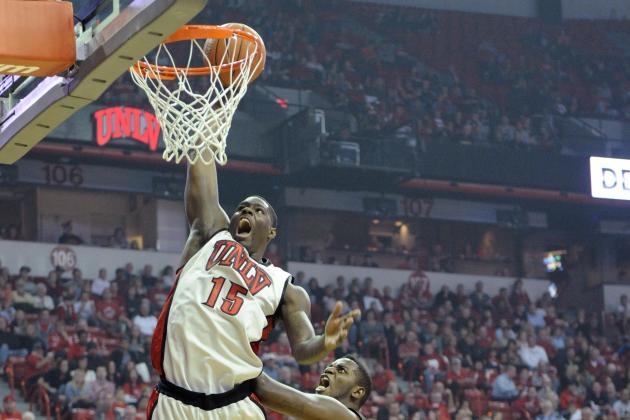 Josh Holmberg-USA TODAY Sports

Four weeks into the NCAA basketball season, there are plenty of players around the Division I landscape putting up gaudy stats. Many of those are going to crash back to earth when conference play begins and they aren't facing Podunk State every night, but some will be able to sustain their high level of play for the long haul.
One star in the latter category is UNLV freshman Anthony Bennett. Not only can he match the country's top power forwards for athleticism and skill, but the opposition he'll face in this year's Mountain West Conference won't be able to keep up with him on either front.
Read on for more on Bennett's fast start and the rest of the most impressive early-season performances that will turn out to be anything but flukes. We'll count down the 10 best, ranked according to how impressive they're looking now as well as how good their chances are to stay in a zone all season long.
Begin Slideshow

»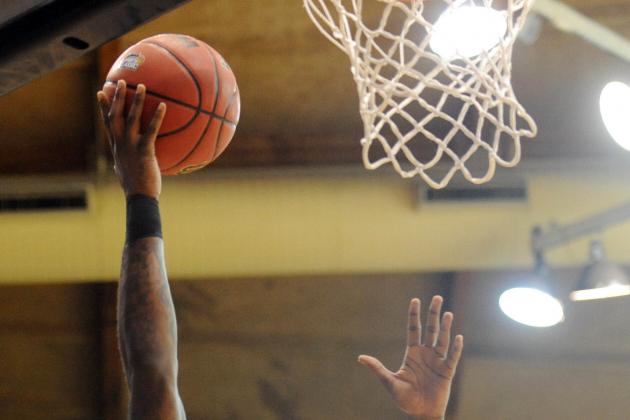 Joe Camporeale-USA TODAY Sports

PG Damier Pitts' graduation was the best thing that could've happened to the Marshall offense, because it turned over the ball-handling duties to DeAndre Kane.
The 6'4" junior has remained the team's leading scorer with 16 points per game, but this year he's also dishing out 8.4 assists a night, the fourth-best mark in the nation.
It's hard to imagine that Kane is really as good as his numbers, but that doesn't mean he's likely to slow down, either. Conference USA competition is going to be weak as usual in 2012-13, giving him plenty of chances to shine.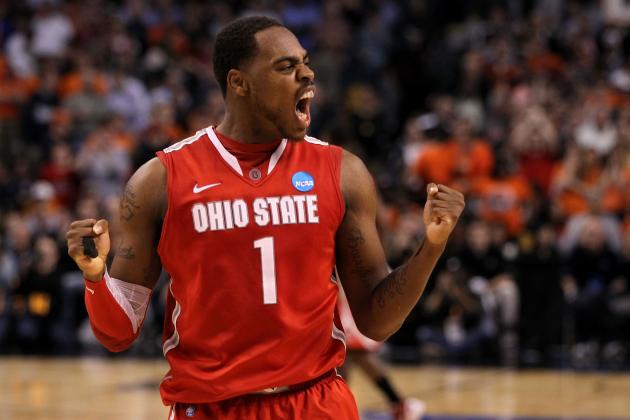 Michael Heiman/Getty Images

Nobody doubted that Deshaun Thomas was going to raise his offensive production with Jared Sullinger gone, but Thomas has raised it above anything Sullinger ever did in a Buckeye uniform.
The combo forward is scorching the nets for 21 points per game, shooting .441 from three-point range and .913 from the charity stripe.
Thomas hasn't been quite as otherworldly on the glass, though his team-leading 6.5 rebounds a night are still a career high.
Even with all the talent in this year's Big Ten, the matchup problems he creates should be enough to keep his point totals high after conference play begins.
USA TODAY Sports

B.J. Young has picked up right where he left off in 2011-12, when he turned in the best freshman season nobody noticed.
The Arkansas standout—overshadowed by Kentucky's NBA-bound first-year stars a season ago—leads the SEC in scoring after a month of action.
Young is pouring in 21.4 points per game despite having started the year in a catastrophic slump from beyond the arc (3-for-19 so far).
Once he recovers the three-point stroke that let him shoot .413 from deep a year ago, he could put up even more points for a Razorbacks offense that has precious few other options.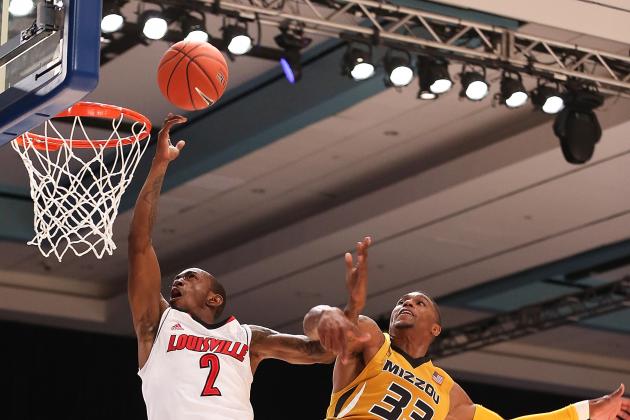 Kevin Jairaj-USA TODAY Sports

The elevation of sixth man Russ Smith to the Louisville starting lineup was expected to boost the offense, but few would have predicted the heights Smith has reached after four weeks of action.
The 6' junior leads the Cardinals with 19.9 points per game (7.3 ahead of Kyle Kuric's 2011-12 team high), and he's still grabbing three steals a night on top of that.
The most encouraging sign for Rick Pitino's team is that Smith has drastically raised his shooting percentages, hitting .430 from the field (up from .356) and .370 from beyond the arc (vs. .306).
With that improved consistency, he's a good bet to keep piling up points even against tough Big East defenses.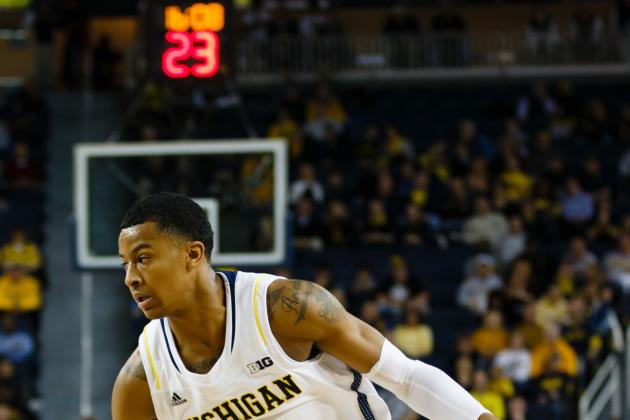 Rick Osentoski-USA TODAY Sports

Already a first-class scorer, Trey Burke has raised his passing to an elite level in 2012-13. The Wolverine point guard is tied for the team high with 16.6 points per game, but now he's also dishing out 7.1 assists a night to lead the Big Ten.
Burke's impressive performance is little surprise given the new weapons he has at his disposal.
Unless freshmen Glenn Robinson III and Nik Stauskas see their numbers fall off dramatically when conference play begins—hardly a likely prospect—Burke should keep rolling along.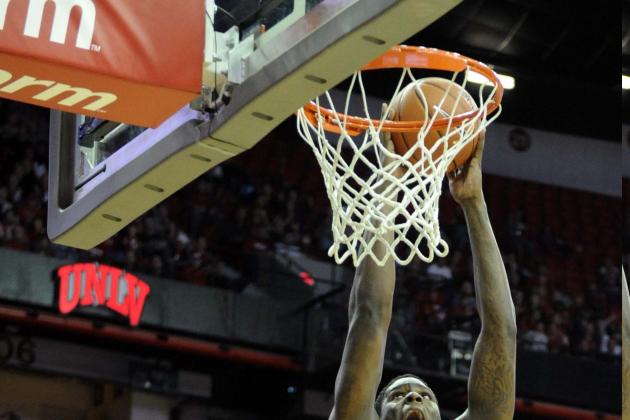 Josh Holmberg-USA TODAY Sports

While other much-hyped freshmen haven't lived up to their billing (see Adams, Steven), Anthony Bennett has dazzled in his six games with UNLV.
The 6'8", 240-lb forward is averaging 18.8 points and 7.8 rebounds a night, making him one of the best big men (of any age) in college basketball.
Bennett's defense has been even better than advertised, as he's swatting 2.2 shots per game. Most of the impact big men in the Mountain West are Bennett's Rebel teammates, so there's no reason to expect him to falter when conference play begins.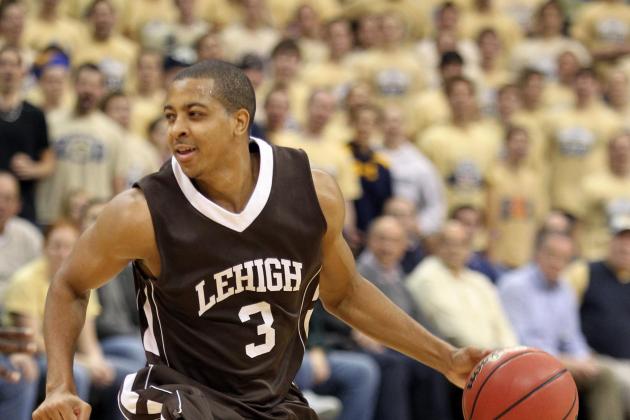 Charles LeClaire-USA TODAY Sports

His lead is only a fraction of a point, but C.J. McCollum is the No. 1 scorer in all of college basketball. The Lehigh senior has gone for 30 or more in three games already, and he's averaging 25.9 points a night.
McCollum's three-point shooting has gone from a respectable .341 last year to an eye-popping .558 through eight starts.
He's only got three more games against potential NCAA tournament teams, and the Patriot League will provide few obstacles to a player who poured in 36 points against Baylor in Waco.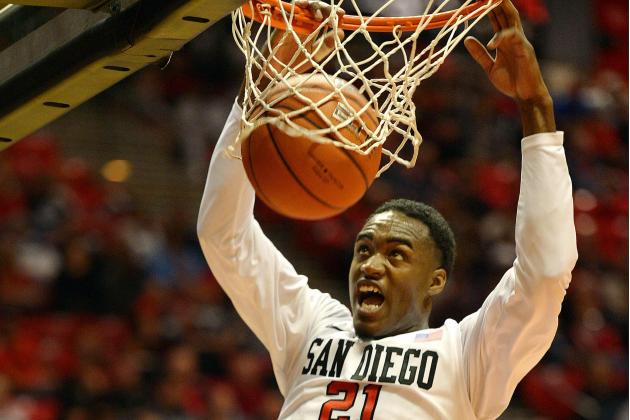 Jake Roth-USA TODAY Sports

For the second year in a row, swingman Jamaal Franklin is looking like a power forward on the stat sheet. The 6'5", 205-lb junior is averaging 20.2 points and 10 rebounds a night through his first six games.
Franklin has also picked up his defense appreciably, posting career highs of 2.0 steals and 1.5 blocks per contest.
Considering that he rang up 28 points and seven boards against UCLA, it's hard to picture anybody in the Mountain West slowing him down this year.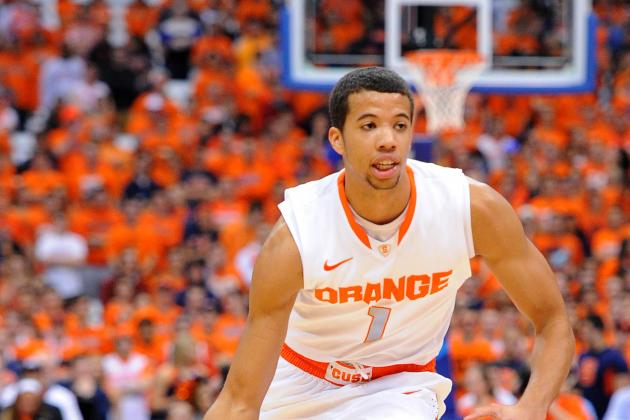 Rich Barnes-USA TODAY Sports

He's only scoring 11.6 points a night, but Michael Carter-Williams is dominating games more effectively than players putting up twice that many points.
The Syracuse sophomore not only leads the country with 9.5 assists per game, but he's tied for fourth with 3.7 steals a night as well.
Carter-Williams' 6'6" frame makes him a nightmare matchup for opposing point guards, and that edge will carry over into Big East play against the likes of Louisville's 6' Peyton Siva.
He's also got enough weapons around him that even one of the country's toughest defensive conferences shouldn't be able to drag him out of the top spot on the assist charts.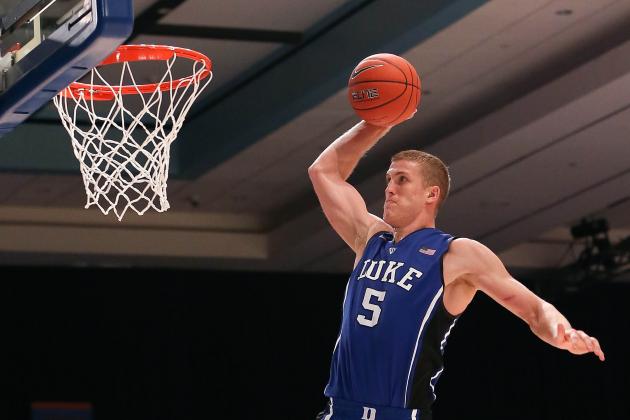 Kevin Jairaj-USA TODAY Sports

Elite seniors are an endangered species in college basketball, but Mason Plumlee has bucked that trend and then some. The Duke star has been the best big man in the country this season, averaging 19.6 points, 11 rebounds and 1.9 blocks per game.
Plumlee's numbers don't even capture his full value to the Blue Devils. His leadership and experience have been at the heart of an 8-0 start with wins over Kentucky, Louisville and Ohio State.
The ACC will throw plenty of power forwards with size at Plumlee, but none (with the possible exception of UNC's James Michael McAdoo) have the skill to slow down his charge toward a spot among the Wooden Award finalists.