Ohio State Basketball: 5 Things We Loved About Bucks' Beatdown of UMKC
Greg Bartram-US PRESSWIRE

The No. 3 Ohio State Buckeyes improved to 4-0 on Friday night, absolutely destroying the Missouri-Kansas City Kangaroos, 91-45.
OSU dominated from whistle-to-whistle, taking a 53-18 lead into halftime and never looking back.
There was plenty to love about the Bucks' performance against UMKC, from their merciless defensive pressure to their through-the-roof offensive efficiency.
The Roos were simply overmatched in every aspect of the game and it was apparent from the opening tip.
Junior forward Deshaun Thomas led all scorers with 21 points, while emerging sophomore guard Shannon Scott posted a double-double with 10 points and 10 assists.

Ohio State will look to ride the momentum from this win into its first road game of the season, which will take place next Wednesday at Cameron Indoor against the No. 5 Duke Blue Devils.

But before we can look ahead to the duel in Durham, let's take a moment to relive the Buckeyes' blowout win.

Read on for five things we loved about the Ohio State victory over the Kangaroos.
Begin Slideshow

»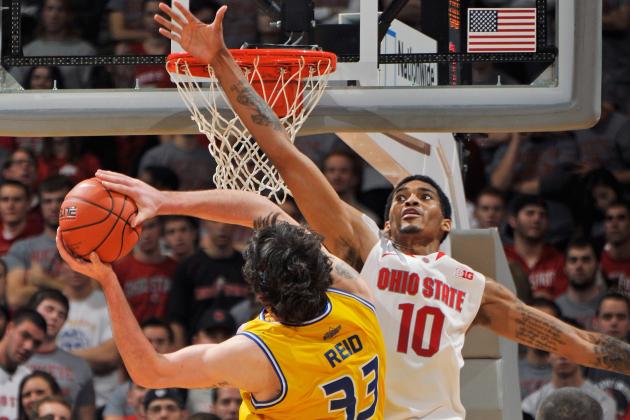 Jamie Sabau/Getty Images

To say that Ohio State was domineering on defense would be a drastic understatement.
The Buckeyes were downright unstoppable, pressuring Missouri-Kansas City into ill-advised passes and ugly, off-balance shots all night.

At day's end, the Roos committed 18 turnovers and shot a paltry 25.5 percent from the field, while only managing to score 18 points by the half.
No Kangaroo scored in double digits, as the leading scorer for the visitors finished with a mere seven points.
UMKC was also held to 1-of-15 from behind the three-point arc, as the Buckeyes were contesting every perimeter shot with a vengeance.
OSU tallied 10 blocks, including four monster swats from 6'11" center Amir Williams that shook the stands at the Value City Arena.
The Bucks also recorded eight steals, a number that likely would have been larger had head coach Thad Matta not yanked his starters with 10 minutes left to play.

During one stretch in the first half, Ohio State forced three consecutive takeaways that led to fast-break points, two of which went to Evan Ravenel for highlight-reel dunks.
These stats need to be taken with a grain of salt since UMKC was at a severe talent disadvantage, but it's still a promising sign for a team looking to ride its defense back to the Final Four.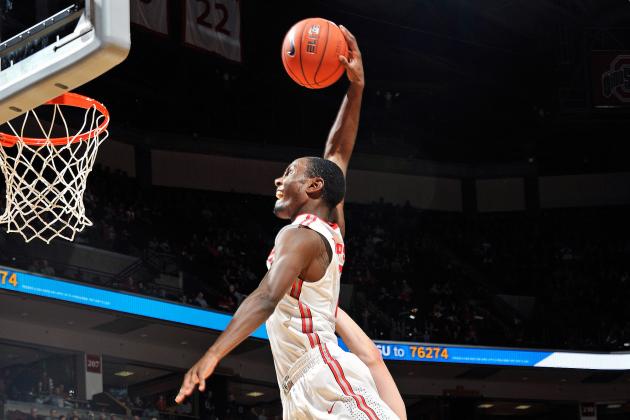 Jamie Sabau/Getty Images

While the Bucks were swarming on the defensive end, they were making quick work of the Kangaroos on the offensive side of things too.

OSU was crazy efficient on the attack, shooting over 60 percent from the floor, including 56.3 percent from deep (9-of-16).
Five Buckeyes scored in double figures, including two bench players who got major minutes in the second frame.

Ohio State was also charitable with the rock, as seven different Bucks recorded at least one assist.
Shannon Scott, a 6'1", 185-pound guard from Alpharetta, Georgia, made a name for himself against UMKC, tallying 10 points and 10 assists, both career-highs.

To bolster his double-double, Scott also got involved with three rebounds and two steals, easily making Friday night's performance his best in Columbus so far.
If OSU can continue to play unselfish basketball and spread the wealth, there's no reason to believe the Buckeyes won't keep winning.
Two areas of concern for Ohio State on offense came at the charity stripe and with ball protection.
The Bucks were 20-of-30 on free-throw attempts, while committing 13 turnovers. Those aren't terrible numbers, but a more talented team (i.e., Duke) will be able to capitalize on mistakes like that.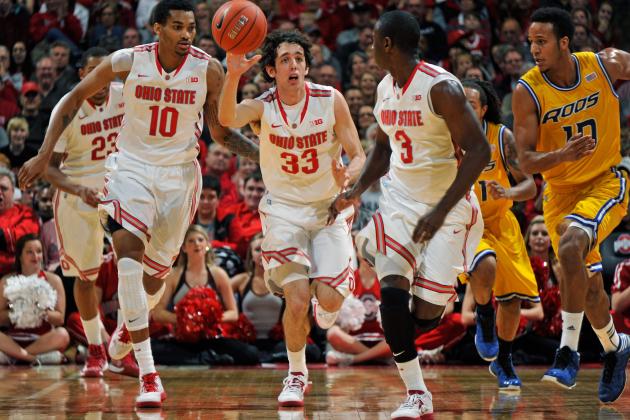 Jamie Sabau/Getty Images

The last slide alluded to the full-roster dominance exhibited by Ohio State on Friday, but it was such a huge advantage that it deserves its own recognition.
Against UMKC, the OSU bench accounted for 32 points, 17 rebounds, 11 assists, six blocks and two steals.
In addition to Scott's double-double, sophomore forward LaQuinton Ross made major contributions off the pine, dropping 11 points and grabbing five boards.

Fan-favorite Amedeo Della Valle, a 6'5", 190-pound Italian sensation, also had a solid game, tallying three points, two blocks, an assist and a rebound.
If the Buckeyes' backups can keep up their impressive production, it will provide a massive boost to the starting lineup, giving the likes of Thomas, Ravenel and PG Aaron Craft some much-needed rest.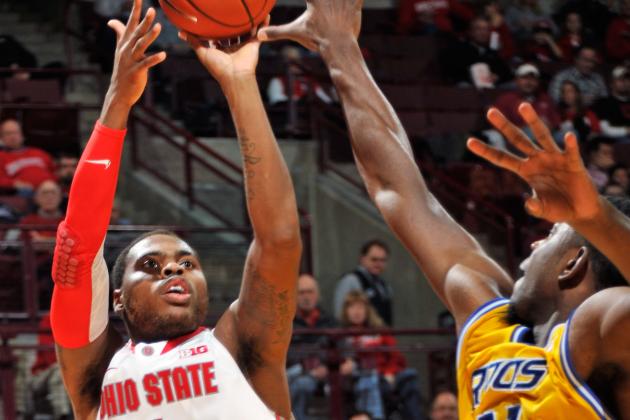 Jamie Sabau/Getty Images

Just days after being named Big Ten Player of the Week for scoring a career-high 31 points against Washington, Deshaun Thomas exploded at the expense of the UMKC Kangaroos.

Thomas, a native of Fort Wayne, Indiana, racked up 21 points and eight boards to go with an assist and a block.
His mammoth effort featured a perfect 7-for-7 mark from the free-throw line, as well as 75 percent shooting from the floor (6-of-8).
But Thomas' biggest play of the night came early in the first frame when the junior guard passed up a slightly-contested look, instead swinging it to an open Lenzelle Smith, Jr. in the corner.

The pass would go down as Thomas' only assist, as Smith knocked down an easy three-point bucket.
The dish itself wasn't a huge factor in the contest, but it showed promise for a player who has battled the moniker of "ball hog" for the majority of his career.
If Thomas can continue to play team ball, giving his teammates an equal chance to make plays, the Buckeyes will be in prime position for a fourth consecutive Big Ten title.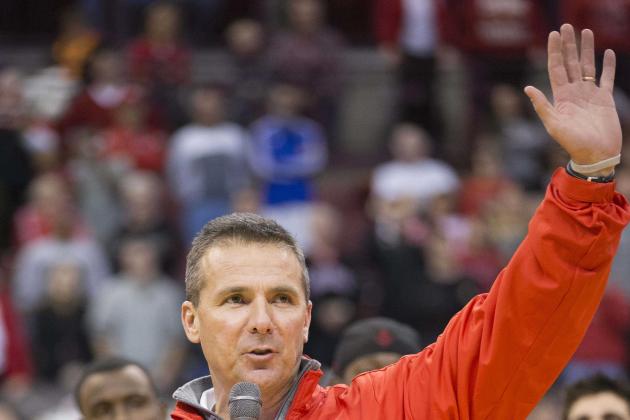 Greg Bartram-US PRESSWIRE

This has nothing to do with basketball, but it was still one of the most exciting moments from Friday night's game.

During halftime, first-year football coach Urban Meyer, alongside his senior class, addressed the crowd at the Schottenstein Center.
Chants of "Beat Blue," as well as a rousing rendition of "We Don't Give a Damn for the Whole State of Michigan," could be heard around the arena as Meyer walked to midcourt.

While the message was short-lived, its point was poignant: Come out to support us and we won't let you down.

The Ohio State football team, despite a disciplinary bowl ban, is on the verge of a perfect 12-0 season and possible AP national championship.
And, just as it should be, the only team standing in the way is the Bucks' hated rival, Michigan.
"The Game" never needs additional fuel for the fire, but Meyer stoked the flame on Friday at a pep rally, ending his address by saying, "Let's beat the s--- out of Michigan."
Needless to say, emotions will be running high when OSU takes the field against the Wolverines this afternoon.

If Meyer and the Buckeyes can knock off UM, it will be bedlam of the best kind in Columbus tonight.