Pac-12 Basketball: The Biggest Early-Season Question for Each Team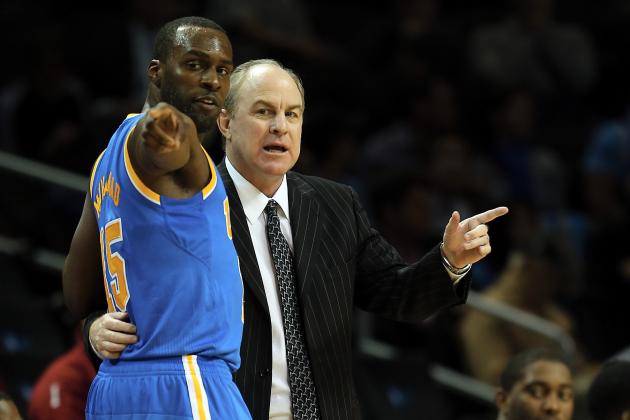 Elsa/Getty Images

The Pac-12 is much improved for the 2012-13 season. Last year, two teams made the NCAA tournament, with Colorado picking up the only win. This year, there will be several teams participating in March Madness, and at least two Pac-12 squads have a legitimate shot at the Final Four. Although the conference is significantly better, each team has issues to address early on this season.
Begin Slideshow

»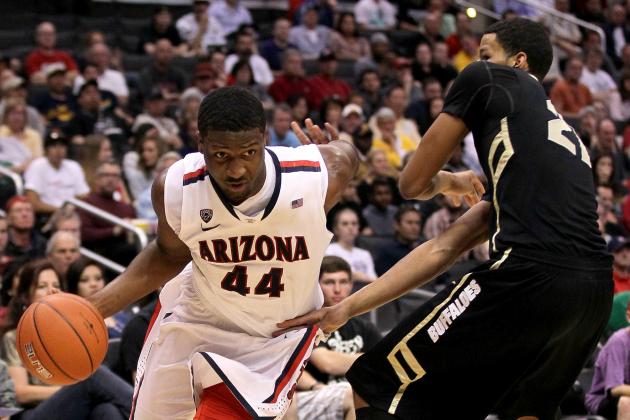 Stephen Dunn/Getty Images

After two well-played games, the Wildcats have clearly displayed talent. Arizona can score two-deep from every position, as well as defend, rebound and pass. Sean Miller took his two biggest weaknesses from last year—size and point guard play—and turned them into strengths. The expectations for this improved Wildcat team are sky high.
However, there is a cold reality with this team that is now apparent after winning its first two contests. Arizona will only fulfill those lofty expectations if Solomon Hill will lead it there. If he can maintain the stellar level of play displayed in their first two outings, the Wildcats are a top-15 team. When he scores 10 to 15 points—with a few boards and assists for good measure—Arizona is going to win its way to a high tourney seed. But that's not what the Cats or their fans want; they want the predictions of Jeff Goodman and Doug Gotlieb to come true.
For that to happen, Hill must elevate his game. He was nearly unstoppable last season when pressuring his opponents; moving back to his natural small forward spot will put him in a position to truly dominate the court.
Hill's unselfish playing style can sometimes border on passive. He tends to let opportunities float by and is inconsistent when looking for his spots. That needs to change if the Wildcats want a shot at the Final Four. Hill playing at an All-American level is the only path to get there.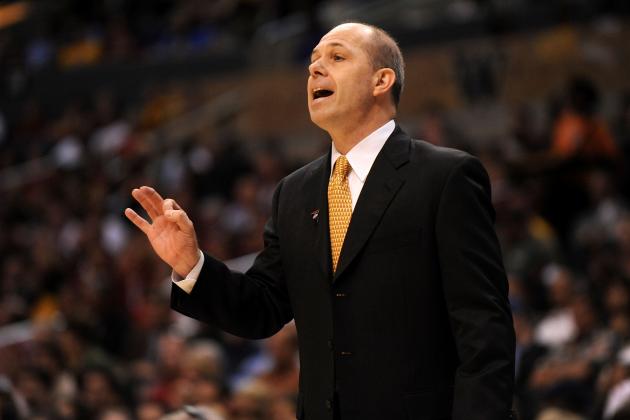 Harry How/Getty Images

After winning a total of 22 games over the last two years, Herb Sendek is making big changes. Known as a guy who slows the game down to a snail's pace, Sendek is vowing that there will be few teams which play as fast as ASU.
Whether or not he can pull that off remains to be seen. Elements of his roster seem perfect for the system; Jahii Carson is one of the fastest and most exciting small point guards in the country. He will flourish under a quicker game plan, leading to more scores.
However, some of Sendek's roster might struggle. At 7'2", junior center Jordan Bachynski could have some trouble getting up and down the court. In the first two outings, he has played well, averaging 15 points, 10 rebounds and an incredible 7.5 blocks per game. For Sendek's new plan to work, Bachynski needs to maintain that output.
Sendek has also brought in coaches Eric Musselman and Larry Greer to help him facilitate the changeover. So far, it seems to be working; the Sun Devils are averaging 88 points per game. The competition has been weak so far, but last year through two games—against equally weak competition—they averaged 72. Time will tell, but the key to a few upsets this season might be Sendek's change of pace.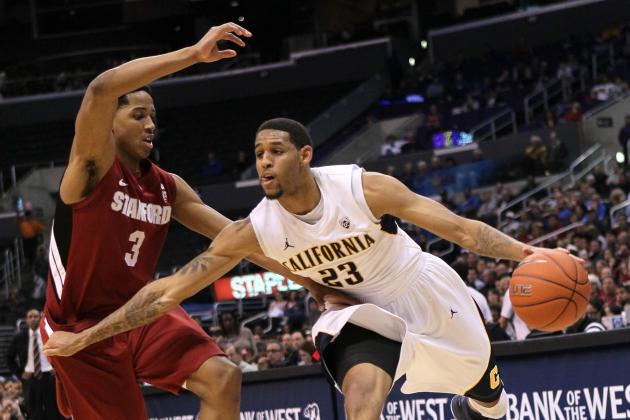 Stephen Dunn/Getty Images

California has one of the best backcourts in the country; Allen Crabbe and Justin Cobbs alone are averaging 47.4 points per game. The starting guard play is spectacular and won't be an issue for coach Mike Montgomery.
However, his frontcourt might be. The Bears are hoping Richard Solomon can bounce back from a disappointing 2011-12 season to contribute. So far this year, he is only averaging 4.7ppg. Sophomore David Kravish hasn't scored much this season, but he is pulling down 9.3 boards. The bigs at Cal don't have to put up huge scores, but they need to make steady contributions. If they do, California is a dark horse team in the Pac-12.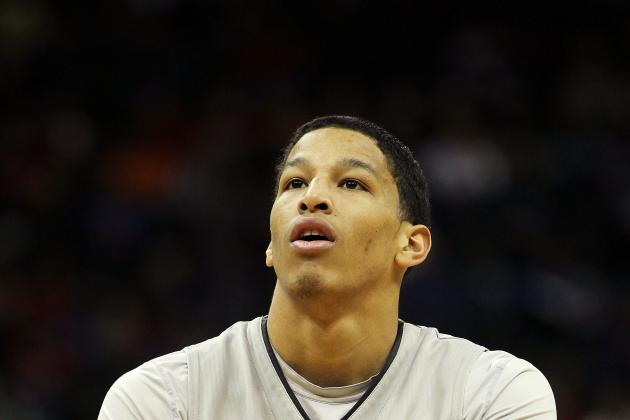 Jamie Squire/Getty Images

Last year, Colorado won the Pac-12 Tournament and notched a win in the NCAA Tourney. At the close of the season, it might have been the only good team in the Pac-12. While retaining their best player in Andre Roberson, the Buffaloes lost two of their top three scorers in Carlon Brown and Austin Dufault.
Despite their losses, Colorado does look better. It already has four wins, including one against the 16th-ranked Baylor Bears. It took home the Charleston Classic after sweeping good competition. The loss of reliable scoring is mitigated some by a very solid defense.
The Buffaloes look like they have taken a step forward, not back. They are a team to watch out for in the Pac-12 and have a good shot at another conference championship.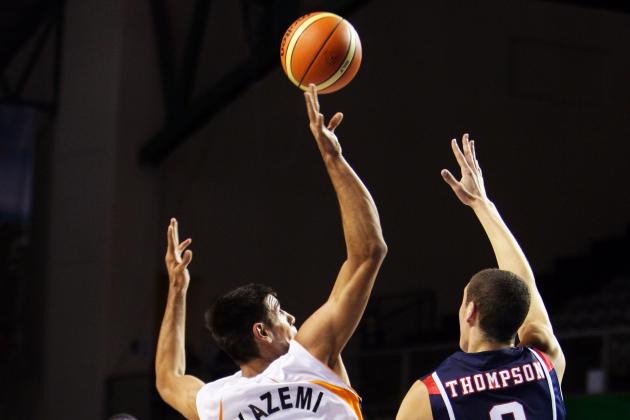 Sandra Mu/Getty Images

Oregon has six freshmen and three transfers joining its team this year. Only one player, E.J. Singler, has been with the program more than a year. Altman's abilities as a coach and leader are going to be fully tested to start the season.
If the Ducks can weather the storm, they might end up having a solid squad. The new players add skill, size and depth to Oregon's lineup. The newcomer who will have the biggest impact is Arsalan Kazemi. He posted double-doubles the last two years at Rice and was one of the best players in Conference USA. Waverly Austin was considered one of the best JUCO players in the nation last season, and at an athletic 6'11'', he will be a solid backup to Tony Woods. Dominic Artis and Damyean Dotson could also be a dynamic backcourt for years to come.
Oregon may need time to adjust, but don't be surprised if it has something to say about the Pac-12 race in February and March.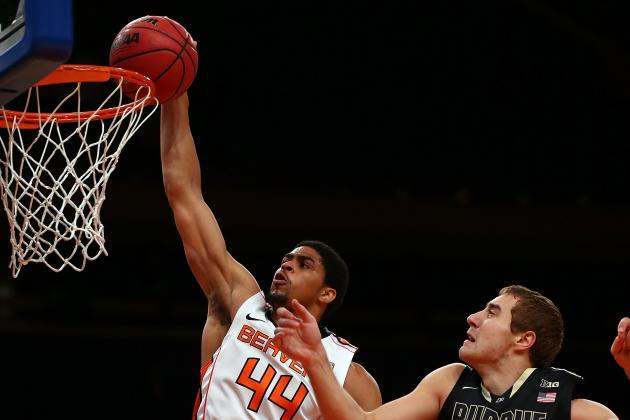 Elsa/Getty Images

Oregon State has four starters back from a team that won 19 games last season. While this sounds like a formula for success, it is missing its most prolific player.
Jared Cunningham was a do-it-all type of guy for the Beavers. He lead the team in scoring, assists, steals and was fourth in rebounding. A first-round draft pick is a very hard thing to replace for a program like Oregon State. If someone can step up and fill even some of the void left by Cunningham, the Beavers might move forward and possibly get to the 20-win mark.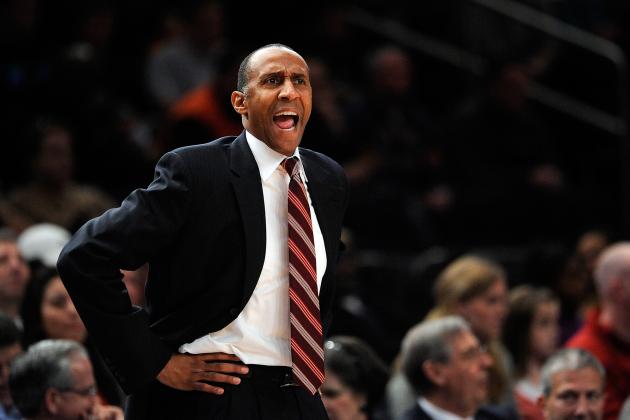 Patrick McDermott/Getty Images

If Stanford fans were to say no, that would speak volumes about the current state of the program.
During the late 90s, Stanford was a powerhouse. The Cardinals won 20 games 10 years in a row, 30 games three times and made it to a Final Four. Accepting a coach with five straight tournament misses would be setting the bar low for a program with a successful recent history.
However, Johnny Dawkins does have the Cardinals on an upward swing. In the last three seasons, his teams have won 14, 15 and then 26 games last year. His recruiting skills have improved, as he had two top-100 recruits in the 2012 class. If Dawkins can win 20 games, even without making the tournament, he will get at least one more year. If the win total is closer to 15, his seat will just be too hot.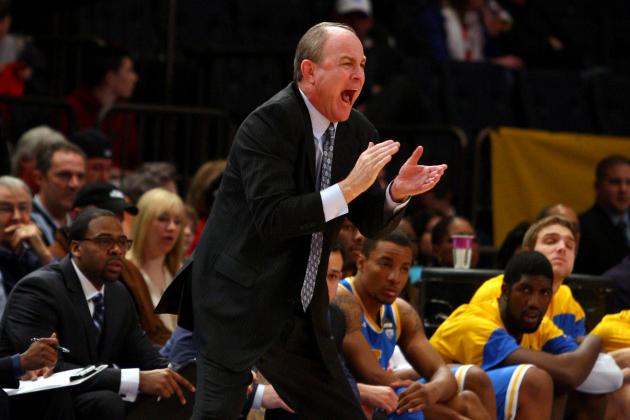 Chris Chambers/Getty Images

UCLA is practically brimming with talent. It has seven All-American team players, more than Kentucky, North Carolina or Duke. Very few programs have seven All-Americans in their entire history; Ben Howland has that many at practice every day. Add to that mix the country's hottest freshman in Jordan Adams (averaging 24 ppg through three) and a very good Norman Powell, and the Bruins roster borders on perfect.
Talent has never been an issue in Westwood. After a great run of three straight Final Fours, Howland had the No. 1 rated recruiting class in the country. He followed that class with two top-15 recruiting finishes in 2009 and 2010. Still, the star-studded rosters he has put together have not performed on the court. Since the triplet of Final Fours from 2006-08, the Bruins have two missed tournaments, endured a losing season in 2009-10 and have fallen into mediocrity.
One must look past the players and directly to Howland. Whether believing a recent Sports Illustrated exposé or not, his teams no longer play with the gritty intensity and focus they once did. His more recent teams consistently look lost, unmotivated and selfish. If these trends aren't bucked, UCLA fans are in for another disappointing season.
This team is loaded with talent. If Howland can get his teams back to playing as they did early in his tenure, we will be looking at a true national championship threat. If not, we will be watching a new coach roam the sidelines at Pauley Pavilion next season.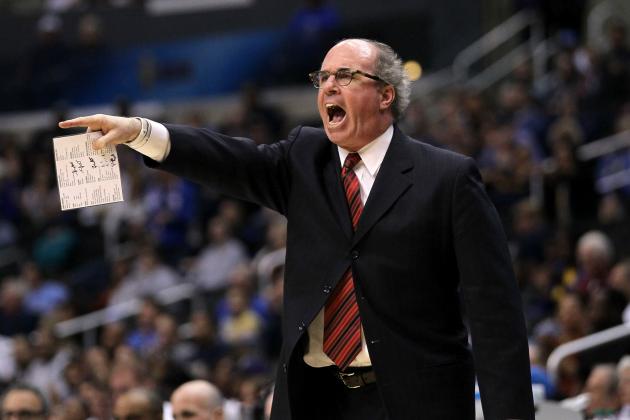 Stephen Dunn/Getty Images

USC's 2011-12 season was the program's worst since 1918. The Trojans went 6-26 and lost all but one game in a dreadful Pac-12 lineup. Even more frustrating was that the Trojans seemed to be in each of those games. For a team with so many losses, it had very few blowouts.
With only six scholarship players at the end of the year, coach Kevin O'Neill must be given credit for his ability to get his players to play hard.
O'Neill has a lot more to work with this season. J.T. Terrell, a talented transfer from Wake Forest, can score from all over the court. As a freshman, he averaged over 11 points per contest in the competitive ACC. His point guard, Jio Fontan, is back; O'Neill has repeatedly talked about his leadership abilities.
USC also has serious size with 7'2'' Rice transfer Omar Oraby and 7'0'' Dewayne Dedmon. If O'Neill keeps this bunch hungry, the Trojans are going to win a lot more than one Pac-12 game this year.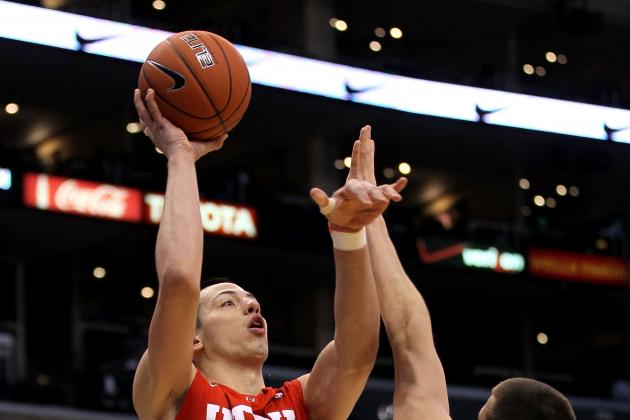 Stephen Dunn/Getty Images

The Utes had a terrible campaign last year, finishing with six wins overall and three in the Pac-12. The bad news is that they haven't made any significant improvements. It would be a different narrative if David Foster was returning from breaking his foot last year, but he is not. The 7'3'' center re-injured it, and his career at Utah is over.
The good news is Utah has one of the worst non-conference schedules a major conference has ever seen. Not only is it playing teams in small conferences like Division III Northwest, Cascade Collegiate and Big Sky, but it is playing the worst teams in those conferences. Of its 11 non-conference games, it should win 10 (BYU is also on the list).
However, Utah already lost to Sacramento State in its second game. That isn't a good sign with such a supposedly easy schedule. Hopefully, the Utes pick up the other eight non-conference games, because a win in the Pac-12 doesn't seem likely.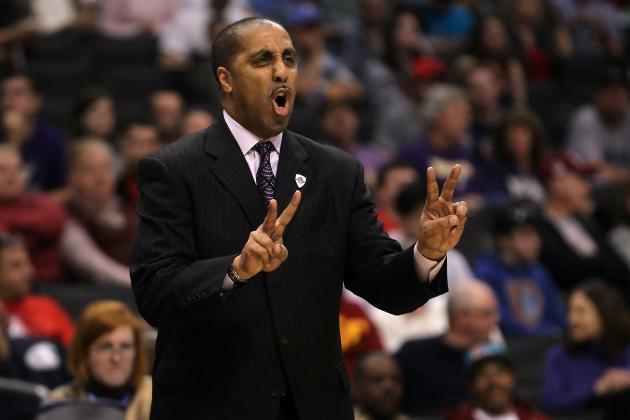 Jeff Gross/Getty Images

The story at Washington has remained the same for years. Lorenzo Romar's teams have lots of talent, play a high-octane, high-scoring brand of basketball, but fall short of their potential.
Last year, Romar had two first-round picks, with another this year. The Huskies also had good size and decent point guard play, but didn't make the field of 64. Washington was playing in the worst Pac-12 in conference history, and still, Romar couldn't put together enough wins to make the tournament. This is a pattern that has repeated itself for far too long.
Without a radical change in the team's game plan, this year will be more of the same. Washington has good players, will score and be exciting at times, but ultimately will underperform. The only interesting issue left for this program is whether or not the best player on the West Coast, Aaron Gordon, will be wearing a Huskies uniform next year.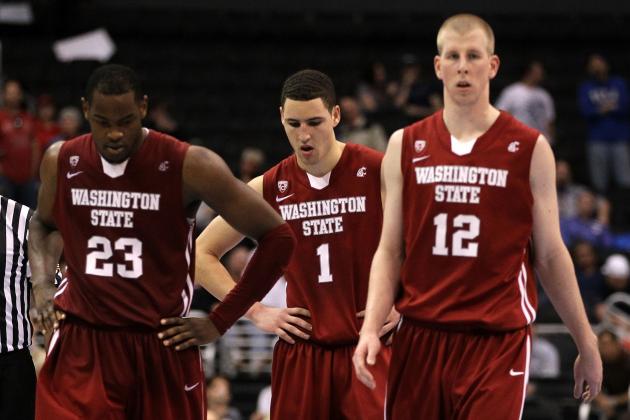 Jeff Gross/Getty Images

Brock Motum made some big men in the Pac-12 look silly last year. Taking the ball inside and out, there were points in the season where the 6'10" forward was unstoppable. In late January, he went on a tear where he scored scoring 24-plus points in five of six games. For the year, he scored more than 25 points nine times. The Australian transplant has become an unexpected star for the Cougars.
Unfortunately, that is where the praise ends for Washington State. Second-leading scorer Faisal Aden is gone; senior point guard Reggie Moore was dismissed before the season even started. Possible sources of support are Mike Ladd, DaVonte Lacy and transfer Royce Woolridge. If the Cougars could get some consistency from one or two players beyond Motum, it might translate to a few wins. Without that, Motum and his teammates will be hovering near Utah in the standings.