Big East Basketball: The Biggest Question for Each Team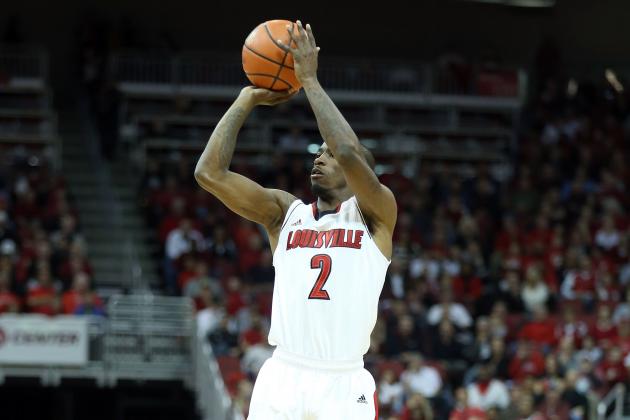 Andy Lyons/Getty Images
Russ Smith
It may be early in the season, but the Big East has already provided its fair share of storylines.
Teams who struggled last season such as Pittsburgh and Villanova have gotten off to hot starts, while NCAA Tournament teams South Florida and Notre Dame have already been upset.
Nonetheless, the conference boasts an impressive 40-11 record to begin its last fully intact season, as Syracuse, Pittsburgh and possibly Rutgers are all leaving next year. Notre Dame will follow the same trend in the near future.
All fifteen teams have shown enough so far for us to formulate burning questions about their future this season. Here are the biggest ones we are asking about each squad.
Begin Slideshow

»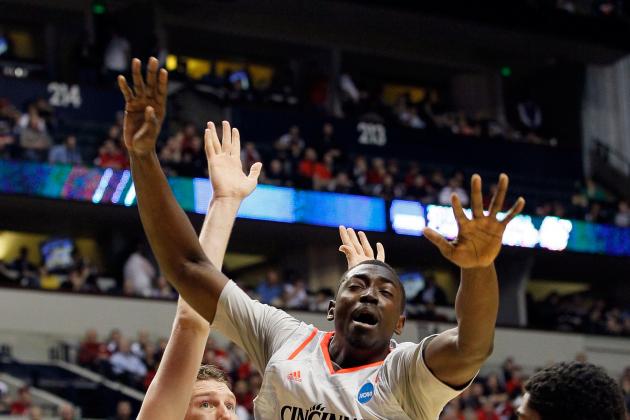 Kevin C. Cox/Getty Images
Cheikh Mbodj
Holding the arduous responsibility of replacing Cincinnati's face of the program for the past four years is certainly undesirable. Luckily, no one man is solely being placed in that position.
The trio of junior Justin Jackson, senior Cheikh Mbodj and David Nyarsuk, a seven-foot newcomer, are all being relied on to provide an intimidating interior presence for the Bearcats this season.
So far, all three have been moderately productive and no one has separated himself from the rest of the pack. Nyarsuk leads the trio averaging 7.3 PPG, while Jackson averages a strong 8.7 RPG. Mbodj, a lanky, 6'10'' center, has swatted twelve shots over a three game span to begin the season.
Nyarsuk and Mbodj are both fairly raw, and Jackson may have the best chance of upping his production the soonest. Look for Jackson to cement himself as a capable, forceful presence in the low post as the season progresses.
Jim McIsaac/Getty Images
Tyler Olander
Not only does rookie head coach Kevin Ollie inherit a squad who is ineligible for postseason competition, but one that also is overwhelmingly weak at the power forward and center positions.
Tyler Olander, a 6'9'' junior who owns a National Championship ring, may be the Huskies' best option at center, even if he's a tad undersized. Olander has registered five points and 5.8 rebounds in 25.5 minutes per game this season.
UConn fans may be used to dominant, overpowering centers like Andre Drummond or Alex Oriakhi, but Olander provides more finesse. Nevertheless, Olander should be a suitable fill-in while UConn looks to extend their four-game winning streak.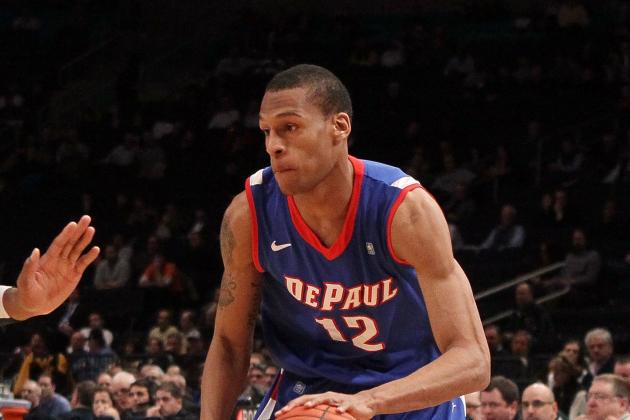 Jim McIsaac/Getty Images
Cleveland Melvin
The University of DePaul basketball program hasn't had a whole lot to smile about recently, but the efficiency and rapid development of junior Cleveland Melvin should provide some optimism.
During the Blue Demons' first three games, the 6'8'' combo forward is putting up 20 points and 7.7 boards per contest, while also contributing 3.3 steals on the defensive end.
He'll most likely continue to go unnoticed while DePaul struggles through a tough Big East, but Melvin may be one of the league's top players.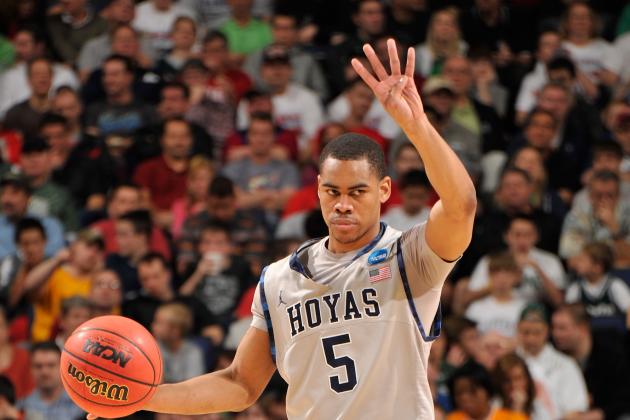 Jamie Sabau/Getty Images
Markel Starks
Unsurprisingly, big-man-university is struggling to find a point guard. After receiving four quality years from Jason Clark, the Hoyas need to find their new floor general.
Through two games, 6'2'' junior Markel Starks appears to be the man assuming that role. While he is most likely Georgetown's best option, he hasn't been all that impressive.
In over 60 minutes of play this season, he's dished out just five assists. He's not hitting much from the field either, knocking down just 33 percent of his shots.
The return of sophomore forward Otto Porter will benefit Starks' numbers, but I wouldn't expect Jason Clark-esque production from him.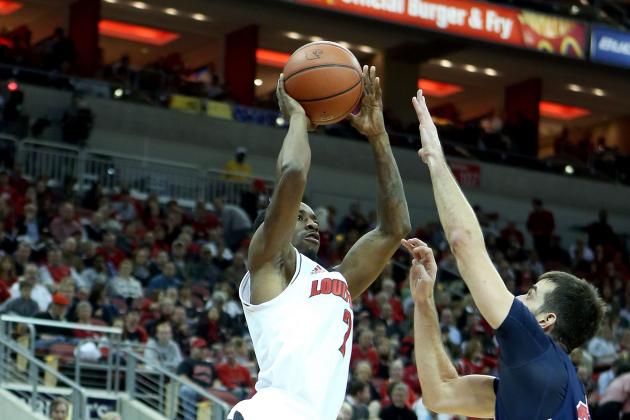 Andy Lyons/Getty Images
Russ Smith
Say all you want about their strength of schedule so far, but the Louisville Cardinals are answering the one question that's been surrounding them all offseason, by scoring an impressive 80 points per game through three games.
Everyone knows that Louisville plays lockdown defense, but scoring had been an issue. Fortunately for the Cards, Russ Smith looks fantastic, averaging over 21 points a night.
Peyton Siva has magnificently orchestrated Louisville's offense, dishing out nine assists per game. They'll be tested by Northern Iowa, Memphis and Kentucky all before conference play, but if Louisville continues this high scoring rate, there may be no stopping them in March.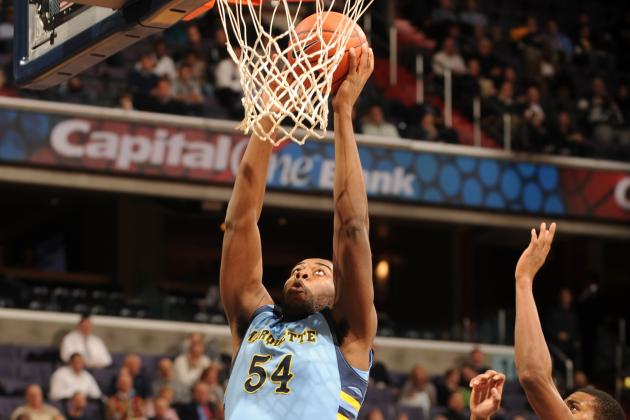 Mitchell Layton/Getty Images
Devante Gardner
The addition of Arizona State transfer Trent Lockett eased some of the pain for Marquette fans following the senior departures of four-year standouts Jae Crowder and Darius Johnson-Odom, but Lockett is more of a defensive stopper than an explosive scorer.
The Golden Eagles need to find a legitimate first scoring option to replace the 35.7 combined points per game scored by Crowder and Johnson-Odom. Burly, physical junior Davante Gardner just might be that guy.
Through two games, the 6'8'' power forward has nailed 16 points per night and might be Marquette's best bet for quick points due to his physical presence in the low post. If he and point guard Junior Cadougan can continue to be on the same page, the Golden Eagles may have themselves another big time scorer.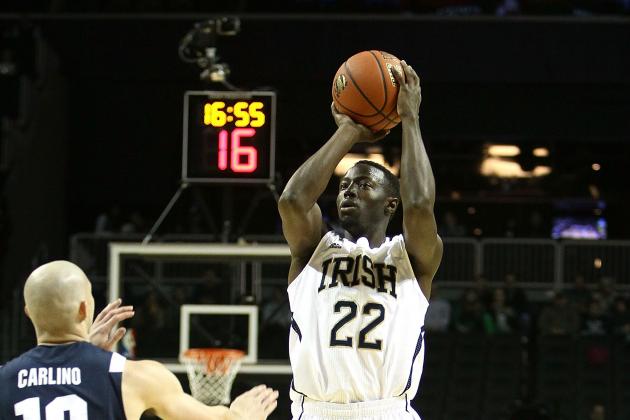 Alex Trautwig/Getty Images
Jerian Grant
It's no secret that reigning All-Big East first team member Jack Cooley is Notre Dame's go-to guy on offense. But most teams have a designated second option, and Jerian Grant has the tools to fulfill that need.
Unfortunately, Grant hasn't been terrific so far, draining just 11 points per game while shooting under 40 percent from the floor. His 3.3 rebounds per game is unimpressive for a 6'5'' guard and he hasn't been hitting his three pointers, either.
I think Grant will be able to get his act together, but he needs to show more consistency before I can reach that conclusion. Until then, Mike Brey will need to lean on Cooley for a large amount of offensive production.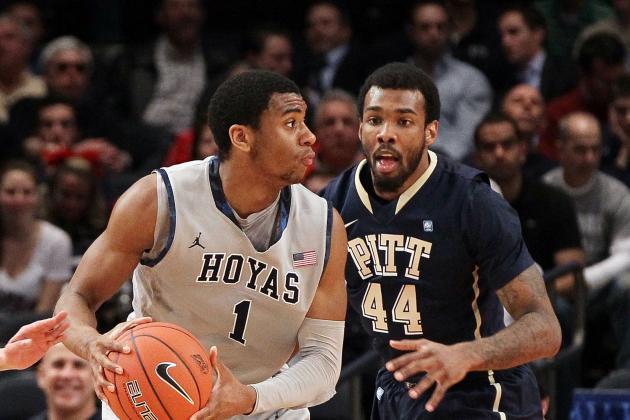 Jim McIsaac/Getty Images
J.J. Moore
Heading into the season, if you were to ask me who Pittsburgh's most effective player would be, I'd answer with either Trey Zeigler, Tray Woodall or Steven Adams. As it turns out, none of the three would be the correct answer.
So far, Talib Zanna and J.J. Moore have been tremendous for the Panthers, each averaging over 13 points a night in less than 22 minutes on the floor. While Moore's field goal rate of 55 percent is spectacular in it's own right, Zanna's 71 percent is absurdly impressive.
The Panthers can attribute their 4-0 record to the high level of play from Moore and Zanna, but the question remains whether they will sustain this production. Neither have played this well in the past, but I think both will continue their terrific progression as the season rolls on.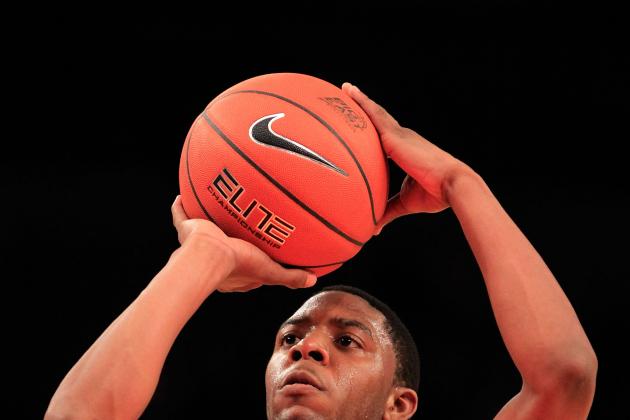 Chris Trotman/Getty Images
Vincent Council
With highly touted freshmen Ricardo Ledo ineligible and Kris Dunn injured until late December, Providence's roster was already depleted heading into the Puerto Rico Invitational. During the tournament, they lost their best remaining player, as Vincent Council pulled a hamstring, which will require four to five weeks on the sideline. Even Bryce Cotton missed a game before returning for their finale in Puerto Rico.
This is not what coach Ed Cooley has planned on to kick off his hopeful postseason run, but Cooley should be able to recover once Council returns. Until then, the firepower from LaDontae Henton and Cotton should be enough to rack up some non-conference victories.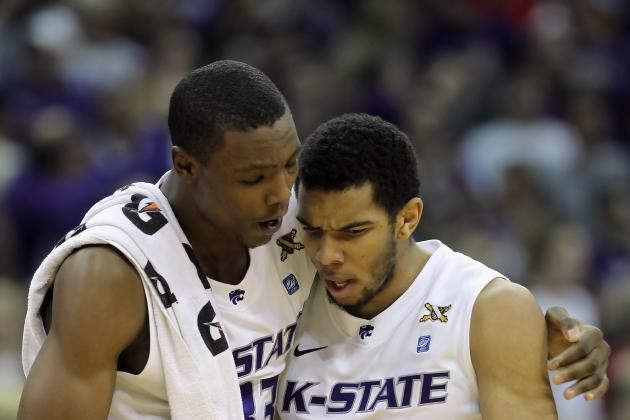 Jamie Squire/Getty Images
Wally Judge
While former McDonald's All-American/Kansas State bust Wally Judge isn't scoring at a high rate, he may be the most efficient Rutgers player thus far.
Judge has hauled in 9.7 boards per game, filling a large void left by the transfer of Rutgers' second leading rebounder a season ago, Gilvydas Birutas. Judge's muscular, beastly style of play has Rutgers over .500.
Judge's collegiate career might not quite be over yet after putting in two forgettable seasons under Frank Martin at KSU. If he continues to rebound well, Rutgers will be one to watch during potentially their last season in the Big East.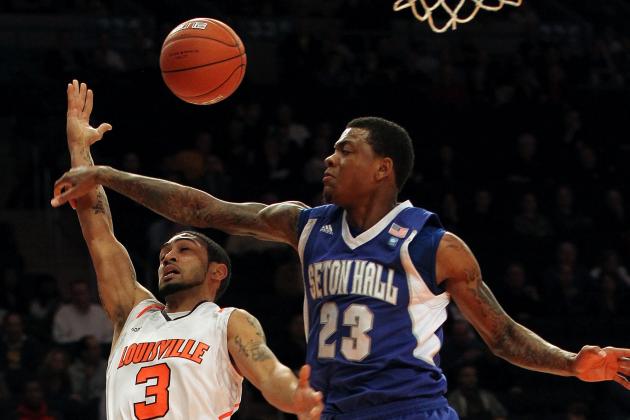 Michael Heiman/Getty Images

Undoubtedly, Seton Hall is going to take a step back from last year after Herb Pope and Jordan Theodore led the Pirates to the NCAA Tournament bubble. With those two studs gone, Fuquan Edwin is in position to become the leader of this team.
Edwin averaged a conference leading three steals per game last season and is putting up similar defensive numbers so far this season. The difference between last season and this season is that has increased his scoring average from 12.5 to 19.5 per game.
Edwin needs to be a dependable scoring threat for Seton Hall to win ballgames. So far, he has shown he is fully capable and I believe he will continue to demonstrate that.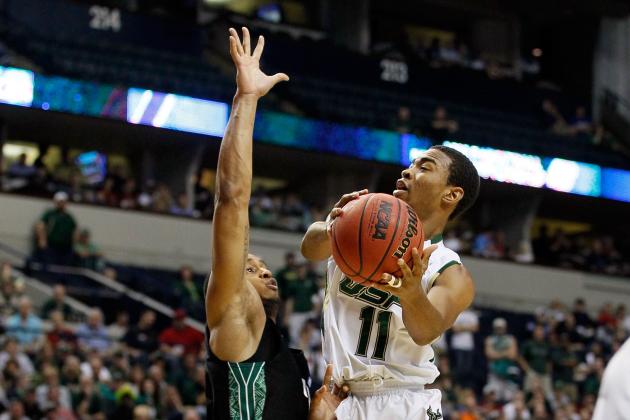 Kevin C. Cox/Getty Images

South Florida was upset by a decent Central Florida squad, led by Conference-USA preseason Player of the Year Keith Clanton, in their season opener. More shockingly, William & Mary knocked off the Bulls by five on Sunday.
Sitting at an alarming 2-2, South Florida is in serious danger of falling apart before conference play even begins. Rising point guard Anthony Collins has been solid, averaging 7.8 points and assists per contest, but high-flier Victor Rudd has been a disappointment.
If the Bulls can't find an adequate replacement for graduated forward Augustus Gilchrist, they'll find it hard to repeat last year's NCAA Tournament berth. I don't think they have that player, meaning Stan Heath and Co. will be in for a long season.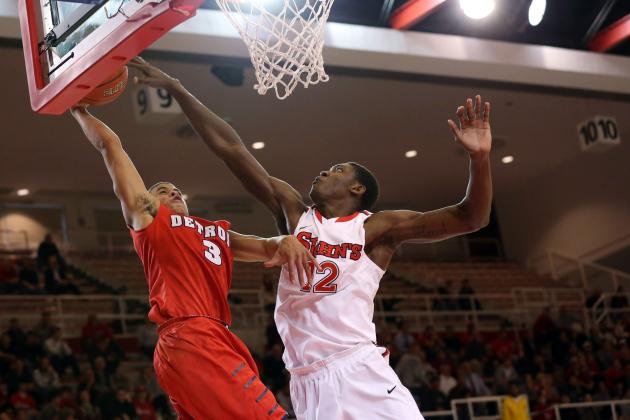 Anthony Gruppuso-US PRESSWIRE

When you think of elite shot blockers from the 2012 recruiting class, names such as Nerlens Noel and Isaiah Austin come to mind—not necessarily Chris Obekpa.
But so far, Obekpa has been the cream of the crop from that class, averaging 4.3 stuffs per game. Against top-notch mid majors Detroit and Murray State, Obekpa has 14 blocks.
St. Johns redshirted God's Gift Achiuwa and will need Obekpa to fill his role of a dominant big man. Based off his performances so far, I don't believe Obekpa's rapid shot-blocking production will decrease any time soon.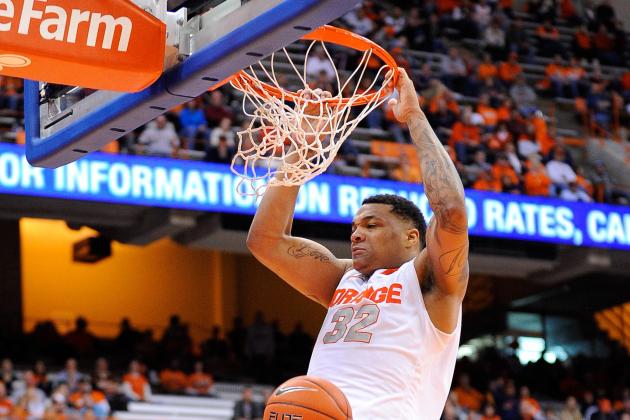 Rich Barnes-US PRESSWIRE

Dare I say that DaJuan Coleman may have "Fab Melo Syndrome"? So far, Coleman looks just as lackluster and unconditioned as Melo was during his freshman season, which led to a season total ten minutes per game.
Coleman checks in at just under 300 pounds and may need to shed some weight before he sees extensive time on the court. His skills have looked pretty unpolished so far, and Syracuse may not be receiving a true McDonald's All American until next season.
Judging off of Coleman's showings so far, I don't see the 6'9'' freshman developing into a nightly contributor in the near future.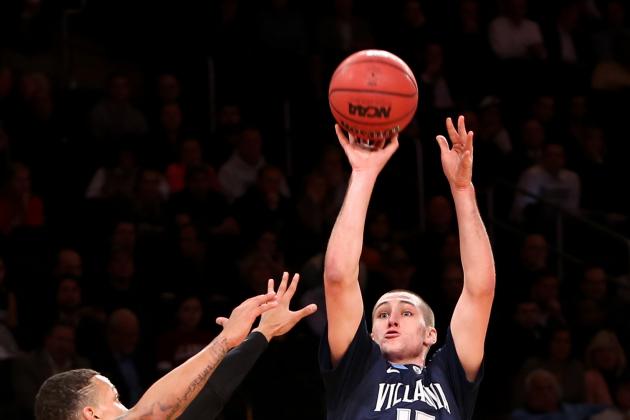 Debby Wong-US PRESSWIRE

Four-star freshman Ryan Arcidiacono's team-leading 16.3 points per game may come as a pleasant surprise to some Villanova fans, but to others he may just be another Maalik Wayns-type ballhog.
Against Marshall in Nova's second game, he shot six of eleven from the field, including four three pointers, which led to an outstanding total of 25 points. Since then, he's made just six shots out of 25 attempts.
He has maintained his high scoring averaging, but his shot frequency may be a detriment to the Wildcats. Arcidiacono should look to get more of his teammates involved, especially physical specimen JayVaughn Pinkston, and Villanova will succeed in the future.