Power Ranking and Previewing the Preseason Tournaments in College Basketball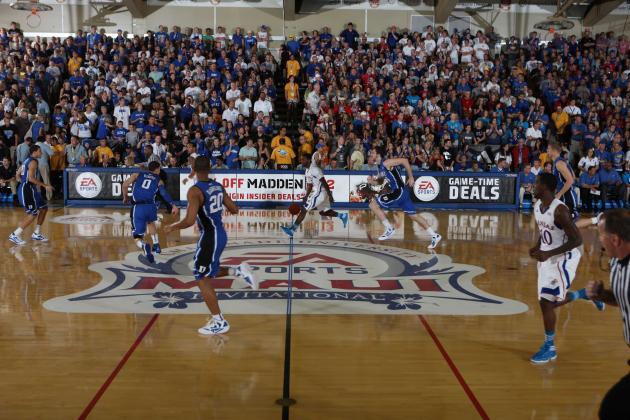 Brian Spurlock-US PRESSWIRE

It's that time of year: the start of the college basketball season. With all the "Cupcake City" games circulating the November schedules, there is also the rub of the November slate: the preseason tournaments, played at destination sites.
In recent years, these tournaments have come to be more frequent and prominent as the NCAA has allowed them to count as "exempt" games for schools, meaning they do not count toward the overall maximum of games a team can play.
With more and more of these tournaments coming into the fold over the past few years, it can get tough to follow who all is playing, where and when. Consider this a guide to assist in those efforts.
This piece covers the eight-team (or more, in one case) tournaments to be played over the next few weeks. The tournaments are presented and ranked in ascending order by overall strength of the field.
Note: The Cancun Challenge and South Padre Island Invitational, which are technically eight-team fields but are separated into two separate mini-tournaments, are not included in this piece.
Begin Slideshow

»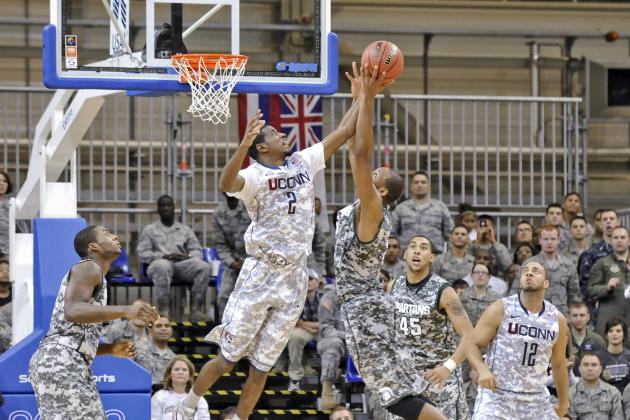 View Agency-US PRESSWIRE

When: Nov. 16-19
Where: St. Thomas, U.S. Virgin Islands
Teams: UConn, George Mason, Iona, Mercer, New Mexico, Quinnipiac, UIC, Wake Forest
After an impressive win over No. 14 Michigan State in Germany last Friday, UConn will now certainly carry the target on their backs heading into this coming weekend.
It is certainly possible they will also carry a spot in the Top 25 when they take the court against Wake Forest in their opening game on Friday.
As for Wake, it heads into the season looking to improve from its 13-18 record a year ago. It will have its two leading scorers, CJ Harris and Travis McKie, back to help in that effort. The Deacons will be counting on Chase Fischer to build off a solid freshman season, and on freshman Devin Thomas to complement McKie inside.
If UConn does not win this thing, New Mexico is certainly the next best bet.
Despite losing their double-double man Drew Gordon, the Lobos return most of last year's team that earned a No. 5 seed in last year's NCAA Tournament. This team has plenty of talent at the guard positions, led by juniors Kendall Williams and Tony Snell, as well as senior Jamal Fenton. If it can get consistent production out of its frontcourt of Cameron Bairstow and Alex Kirk, New Mexico could easily take the title trophy back to Albuquerque.
The best opening-round game of this tournament could be George Mason against Mercer. Each team will have a chance to compete for its conference title this season, and the winner of this one will likely get a shot at New Mexico in the semifinal. A win there would be an excellent resume win for either team.
Lastly, don't forget about Iona. Despite losing their terrific point guard Scott Machado, along with explosive forward Mike Glover, the Gaels have some firepower to work with. Lamont "Momo" Jones will lead the attack, along with long-range assassin Sean Armand. An Iona-UConn semifinal matchup would certainly be worth checking out.
Title Prediction: UConn over New Mexico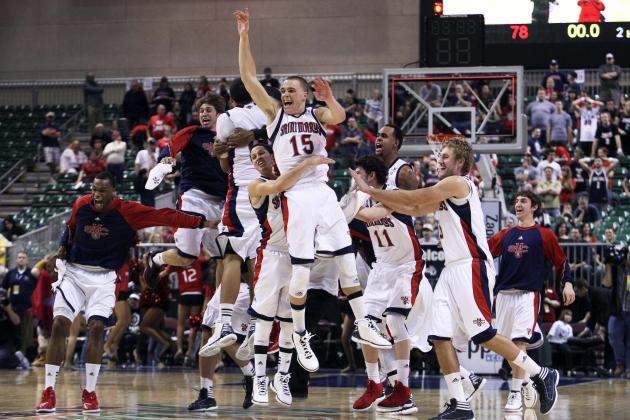 Kelley L Cox-US PRESSWIRE

When: Nov. 22-25
Where: Anaheim, Calif.
Teams: California, Drake, Drexel, Georgia Tech, Pacific, Rice, Saint Mary's, Xavier
If things shake out the way we might expect, we could see a matchup of two Northern California teams battling it out in Anaheim for the tournament title. California and Saint Mary's—separated by just 13 miles—head into the DirecTV Classic (formerly known as the 76 Classic) as the favorites on each side of the bracket.
For Cal, it's because of a lack of stiff competition on its side. The Bears will open against Drake, and then face either Georgia Tech—which went 11-20 last season—or a Rice squad that no longer has Arsalan Kazemi.
Despite losing its glue guy, Jorge Gutierrez, the return of quality guards Allen Crabbe and Justin Cobbs should give Cal enough of an edge over either challenger to reach the tournament final.
For St. Mary's, a tournament title is within reach because of Matthew Dellavedova and company. The Aussie point man returns for his senior season looking to lead the Gaels to another WCC title. He will have plenty of help around him in guards Stephen Holt and Jordan Page, along with an underrated frontcourt of Brad Waldow and Mitchell Young.
Waldow, after a showing plenty of upside as a freshman, could be poised for an all-WCC caliber sophomore season.
Unlike Cal, the path to the final will be pretty tricky for St. Mary's. The Gaels open on Thanksgiving Day against a tough Drexel team that went 25-6 a year ago and has most of that team back this year. If it survives the Dragons' challenge, SMC may then see Xavier. While the Musketeers are not the same team that reached the Sweet 16 last March, their new cast—led by Dee Davis and Travis Taylor—could provide more trouble than expected.
Title Prediction: Saint Mary's over Cal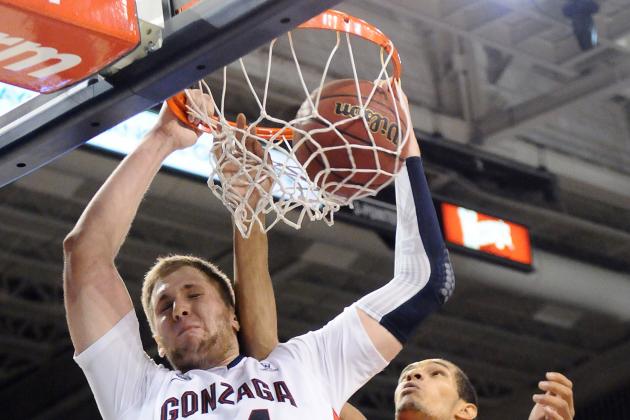 James Snook-US PRESSWIRE

When: Nov. 22-25
Where: Orlando, Fla.
Teams: Clemson, Davidson, Gonzaga, Marist, Oklahoma, UTEP, Vanderbilt, West Virginia
The Old Spice field presents plenty of unknowns.
Will Gonzaga—the tourney's only preseason-ranked team and assumed favorite—pick up where it left off last year without its outstanding 7'0" Robert Sacre? Freshman Przemek Karnowski, at 7'1" all the way from Poland, stepped up with 22 points in the Bulldogs' opener. How he, and the rest of the team, fares against West Virginia prior to the tournament—a separate non-bracketed game on Nov. 12—could give us a leading indication.
Speaking of West Virginia, the Mountaineers must adjust to life without all-Big East forward Kevin Jones, along with Darryl "Truck" Bryant. Deniz Kilicli will have to shoulder most of the load in the frontcourt, something he physically and metaphorically seems capable of handling.
The bigger question will be if guards Aaron Brown, Gary Brown and Jabarie Hinds can step up and generate offense.
The team coming into this tournament with the most questions is Vanderbilt, which came up just short of the Sweet 16 after losing to Wisconsin last March. The Commodores lost virtually every key player from that team, including John Jenkins, Jeffrey Taylor and Festus Ezeli among others.
In the meantime, guys like Rod Odom and Kedron Johnson—who were mere role players a year ago—will be forced to bear the burden of keeping Vandy competitive this season.
Vanderbilt's opening round opponent, Davidson, is one of the Old Spice's more intriguing teams.
The Wildcats return four of five starters from last year's NCAA Tournament team. These guys can really light things up from long-range, with a combined 200 three pointers returning from a year ago. If Davidson makes a run in this tournament, it should not be an overwhelming surprise.
Clemson, which opens against Gonzaga, and Oklahoma, against UTEP, are two teams capable of making a little noise this season, and in this tournament. The Tigers have a couple quality frontcourt presences in Devin Booker and Milton Jennings. The Sooners have seniors Stephen Pledger and Andrew Fitzgerald, each capable of providing plenty of contributions on both ends of the floor.
Title Prediction: Davidson over Gonzaga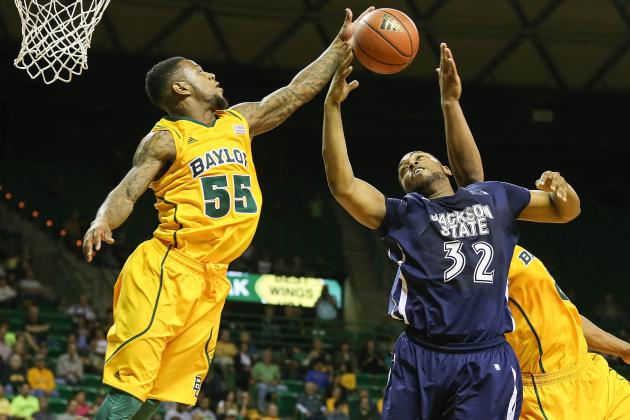 Kevin Jairaj-US PRESSWIRE

When: Nov. 15-18
Where: Charleston, S.C.
Teams: Auburn, Baylor, Boston College, Charleston, Colorado, Dayton, Murray State, St. John's
After faring pretty admirably in its first test of the season, a 99-77 win over Lehigh, Baylor will head to Charleston as the clear favorite of this field. The Bears, despite losing three players—Perry Jones III, Quincy Acy and Quincy Miller—to the NBA, appear to have reloaded immediately.
Isaiah Austin, the 7'0" High School All-American a year ago, had a dominant performance in the Bears' opener before injuring his ankle in the second half.
The injury did not appear too serious, and assuming he's back in the lineup for this weekend's action, Baylor is going to be a matchup headache for any team it may face in Charleston. Pierre Jackson, who dished out 12 assists in the opener, is a big cause for the headache as well.
After an opening-round matchup against Boston College, Baylor could wind up in a rematch of last year's NCAA third round game, against Colorado. The Buffaloes are an intriguing team in this field after its Pac-12 Tournament title run, and then giving Baylor all it could handle in that tournament game.
Andre Roberson is one of the country's top rebounders (11.1 RPG a year ago) and is probably the player best suited to give Baylor's impressive frontcourt some problems.
The other side of the Charleston bracket is headed up by last year's mid-major extraordinaire, Murray State. With another outstanding Isaiah (Canaan) leading the charge, the Racers could see a level of success not too distant from the amazing 31-2 season a year ago. Achieving similar success will depend heavily on Canaan's supporting cast, currently led by workhorse forward Ed Daniel.
Guys like Stacy Wilson and Brandon Garrett will need to step up to replace the losses of Donte Poole and Ivan Aska. Wilson certainly seems up to the task, after a 21-point showing in Murray's opening game.
While its opening round game against Auburn shouldn't be too much of a problem, a semifinal matchup with a very talented St. John's team could provide some trouble for Murray State. The Red Storm's bunch of 2011 newcomers—led by God'sgift Achiuwa and D'Angelo Harrison—could be poised for a run in Charleston, and beyond.
Title Prediction: Baylor over St. John's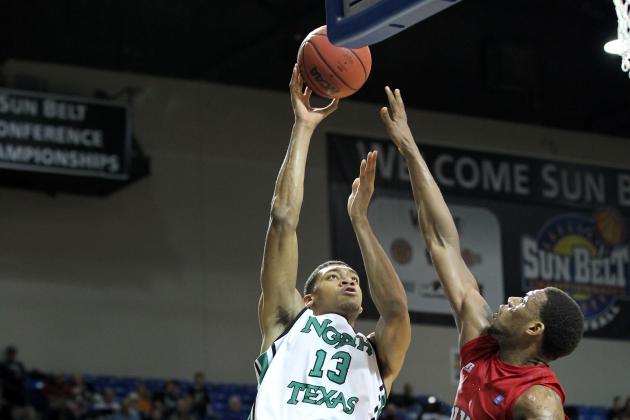 Nelson Chenault-US PRESSWIRE
Tony Mitchell, North Texas
Opening rounds: Nov. 12-13, at regional sites
Semifinal and Championship rounds: Nov. 21, 23 at New York, N.Y.
Regional hosts: Virginia, Pittsburgh, Michigan, Kansas State
With the influx of eight-team destination tournaments over the past several years, the NIT Season Tip-Off has taken a bit of a back seat to the newer, sexier tourneys. This year's tournament, though not as strong at the top, could see some very interesting challengers crashing the party at Madison Square Garden.
No. 5 Michigan is probably the one safe bet to get to New York. The Wolverines' games against IUPUI and then either Cleveland State—which lost its top three scorers from last year—or Bowling Green shouldn't provide too much drama, especially with each being played in Ann Arbor.
The other regional hosts, however, are in no position whatsoever to have their tickets to New York rubber-stamped.
Virginia, which lost its season opener to George Mason, may face a tough challenge from Delaware—another quality CAA team—in in its second regional game. That, of course, is assuming the Cavaliers get by Fairfield. Delaware is a definite sleeper to challenge for the CAA title, with an excellent inside-outside duo of Devon Saddler and Jamelle Hagins, who averaged a double-double last season.
Pittsburgh's regional also features two dangerous east coast mid-majors. Lehigh and Robert Morris will square off in the opening round, with the winner likely to face the Panthers. We all now know what Lehigh and its senior sensation CJ McCollum are about. RMC, however, returns four starters—including dynamic point guard Velton Jones—from a team that lost to Long Island in the Northeast Conference title game.
In the other regional, Kansas State figures to have its hands quite full in a likely matchup with North Texas in the second round. If the explosive forward Tony Mitchell can carry the Mean Green to a win in Manhattan, it will earn a real showcase opportunity the following week in, well, Manhattan.
However, Kansas State returns virtually everybody from a team which finished 10-8 in a tough Big 12 and reached the NCAA Round of 32. Coach Bruce Weber has plenty of personnel he can rotate onto Mitchell, which could make it tougher for him to dominate.
If K-State can survive its regional, it figures to be the one team that could challenge Michigan for the NIT Championship. Luckily for college hoops fans, the two teams are on opposite sides of the bracket, making for a very appealing potential title game at MSG.
Prediction (regional winners): Michigan, Virginia, Lehigh, Kansas State
Championship: Kansas State over Michigan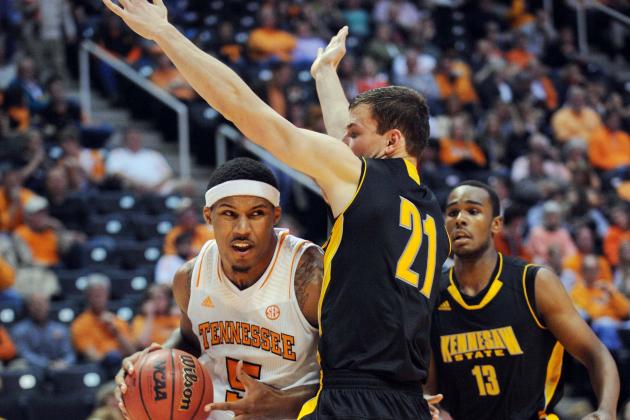 Randy Sartin-US PRESSWIRE
Jarnell Stokes, Tennessee
When: Nov. 15-18
Where: San Juan, Puerto Rico

Teams: Akron, Massachusetts, NC State, Oklahoma State, Penn State, Providence, Tennessee, UNC-Asheville
A casual glance at this year's field in Puerto Rico may yield the belief that it will be a walk for NC State, the nation's sixth-ranked team heading into the season. However, there are at least two other teams easily capable of taking down the suddenly-ferocious Wolfpack.
One of those teams is Tennessee.
The Vols have arguably the best player in the field in forward Jarnell Stokes. Once he became eligible in time for SEC play last season, Stokes helped carry UT from complete irrelevance to a near-NCAA Tournament team by season's end. At 6'8" 270 pounds, with the athleticism of a two-guard, Stokes is a nightmare for opposing defenders.
He, along with talented guards Trae Golden—the team's leading scorer last year—and Jordan McRae should ensure the Vols are a serious threat in this tournament and beyond.
The second team that could knock off NC State is Oklahoma State.
The Cowboys feature one of the more talented threesome of players in the country in sophomores LaMarcus Nash, Markel Brown and freshman Marcus Smart. Brown and Nash each averaged double figures as freshmen, and still have plenty of room to improve in their sophomore campaigns. Smart comes to OSU as a Top 10 recruit, and will combine with Brown to form what should be the Big 12's best backcourt.
On top of that, the Cowboys have a valuable experienced presence in swingman Jean-Paul Olukemi, who was granted a sixth year of eligibility by the NCAA.
The potential semifinal matchup between Tennessee and Oklahoma State is definitely a game college hoops fans should have on their viewing radar. The winner of this one, should it take place, would likely get a shot at NC State in the title game.
Make no mistake though, NC State is really, really good. There is a reason the expectations—as in preseason favorites to win the ACC—are so high. The combination of experience—led by Lorenzo Brown, CJ Leslie and Richard Howell—and incoming talent led by Rodney Purvis will make the Pack tough to beat from November to March (and maybe April).
Another team who may have been worth keeping an eye on, Providence, may have just been dealt a serious blow with an injury to its star guard Vincent Council. He played just five minutes in the Friars' season opener, and may not be available for this tournament. If so, expect the Friars to go down quietly.
The best big man in this tournament might be Akron's Zeke Marshall. The 7'0" senior has been one of the nation's best shot blockers the past two years, and could make things interesting against Oklahoma State in the opening round.
Title Prediction: Tennessee over NC State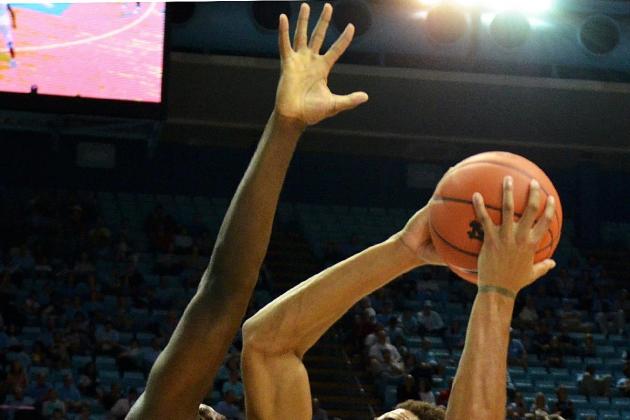 Rob Kinnan-US PRESSWIRE
James Michael McAdoo, North Carolina
When: Nov. 19-21
Where: Maui, Hawaii
Teams: Butler, Chaminade, Illinois, Marquette, Mississippi State, North Carolina, USC, Texas
North Carolina could be considered the favorite here, but I don't think that can be said with a ton of conviction.
James Michael McAdoo has proven in just two games this year he is a star in the making. Dexter Strickland and Reggie Bullock figure to form a formidable backcourt that can stretch defenses. If heralded freshmen Marcus Paige and Brice Johnson can acclimate themselves to the competition they'll see in Maui, UNC has a good chance to leave the island with a title trophy.
Another team with talent but some room for growth is Texas.
The Longhorns have a potentially fantastic lineup, but all are still extremely young. Sophomores Sheldon Mclellan, Jonathan Holmes and Myck Kabongo will have to take the reins as the go-to players, while two freshmen—point guard Javan Felix and center Cameron Ridley—will have to contribute right away if Texas is going to be a serious title contender in Maui and in the Big 12 later on.
Because of its strong returning backcourt, Illinois could be a sleeper pick to make a run in Maui. Brandon Paul will look to replicate his outstanding junior season, while fellow senior guard DJ Richardson figures to see plenty of scoring chances. Sophomore guards Tracy Abrams and Joseph Bertrand also should be key pieces in a very guard-heavy Illini attack. If senior Tyler Griffey can hold his own down low, Illinois just might shoot its way to a Maui championship.
The best game on the opening day in Maui could be Marquette against Butler.
The Golden Eagles have a bit lower expectations heading into this season, but return six of their top eight scorers from a year ago (though Todd Mayo is currently ineligible).
Butler should bounce back after a disappointing season thanks to two huge additions—Arkansas transfer Rotnei Clarke and freshman swingman Kellen Dunham. Each was excellent in the Bulldogs' season opener, with Clarke scoring 21 points on 5-of-10 shooting from three, and Dunham putting up 18 in his first collegiate game.
The winner of this one will likely get a crack at UNC in the semifinal, and would certainly have a shot at beating the Tar Heels.
Title Prediction: North Carolina over Illinois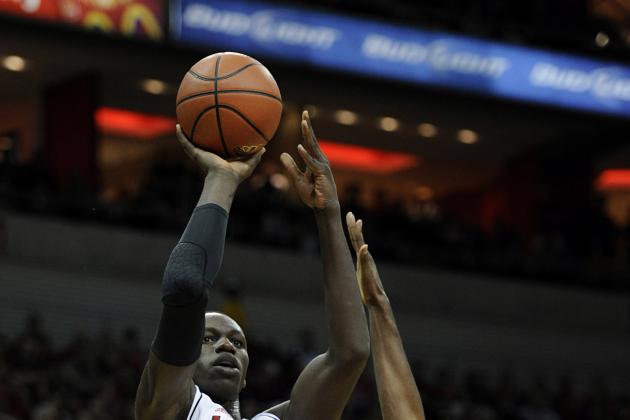 Jamie Rhodes-US PRESSWIRE
Gorgui Dieng, Louisville
When: Nov. 22-24
Where: Nassau, Bahamas
Teams: Duke, Louisville, Memphis, Minnesota, Missouri, Northern Iowa, Stanford, VCU
It's not even close.
In just its second year of existence as an eight-team tournament, this year's Battle 4 Atlantis, in the Bahamas, is by far the best of this year's crop of early season tournaments. With two Top 10 teams, four Top 25s, and not one single team that can be considered a pushover to any degree, every single game in this tournament should be quite interesting.
As the nation's No. 2 heading into the season, Louisville will have that esteemed ranking tested multiple times within the tournament's three days.
An opener against a veteran Northern Iowa team—returning nearly all of its team that won 20 games last season—could be tricky for Rick Pitino's bunch. If they win that, the Cardinals are potentially looking at a Missouri team which is still dangerous as long as Phil Pressey is running the backcourt.
On the bottom of the bracket, any one of the four teams is capable of challenging Louisville (assuming it survives to the point) for the tournament title. Obviously Duke, despite losing Austin Rivers to the NBA, is the best bet. If the guards can limit turnovers and knock down some shots, to go with Mason Plumlee's expected high level of play inside, Duke could take home a title.
However, the Blue Devils' path to that title is quite challenging, including an opener against a Minnesota team that comes into this season with a lot of momentum.
Minnesota roared through the NIT before losing in the title game, and welcomed back their outstanding forward Trevor Mbakwe, who was injured in last year's Old Spice Classic and never came back. The Gophers also have plenty of firepower in the backcourt, with the Hollins' duo (Andre and Austin, not brothers) as well as Maverick Ahanmisi. Rodney Williams Jr. is also back, looking to build off an excellent junior season which saw him make many a highlight reel.
The winner of Minnesota-Duke gets the winner of another interesting battle (of course) between No. 17 Memphis and VCU.
Memphis loses its best player, Will Barton, from last year, but welcomes freshman power forward Shaq Goodwin, a HS All-American. The Tigers' success will hinge largely on the efforts of guards Joe Jackson, Chris Crawford and Antonio Barton. One of three—Jackson probably the most likely candidate—will need to step up and provide the scoring reliability that the departed Barton gave.
As for VCU, get ready for more of what we saw from them a year ago—constant pressure on defense and plenty of outside shooting. The Rams return all but one of their players who saw any significant minutes a year ago, so the defense should be the same type of organized chaos we saw from them at the end of last season.
Last but not least, there's Stanford, which opens against Missouri. The Cardinal, like Minnesota, closed the year on a strong note, and actually beat the Gophers in the NIT title game. Guards Aaron Bright and Chaisson Randle figure to lead the way this season, and a potential breakout from forward Dwight Powell (who scored 27 in the season opener) could make the Cardinal a pretty dangerous team. Don't be shocked at all if Stanford knocks off Mizzou in that game.
Title Prediction: Louisville over Minnesota