Predicting the 10 Most Improved College Basketball Teams in the 2012-13 Season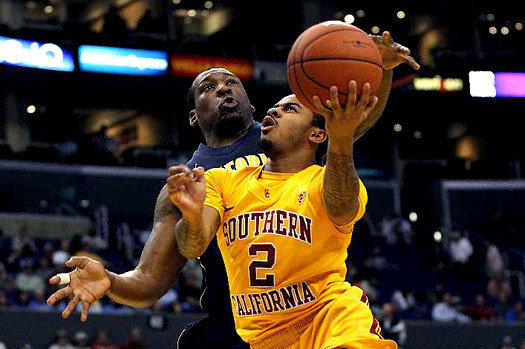 latimes.com
The 2012-13 college basketball season is off and running.
Every team, every coach and every player in every conference is looking to get better than they were last year.
Of those that do get better, some will improve more than others.
Here is a prediction of the 10 most improved teams in college basketball.
Just because they are on this list doesn't mean that they are still ready to win their conference or make a deep run in the NCAA Tournament.
In fact, several of these teams will still be in the middle of the pack even after they take things to another level.
Begin Slideshow

»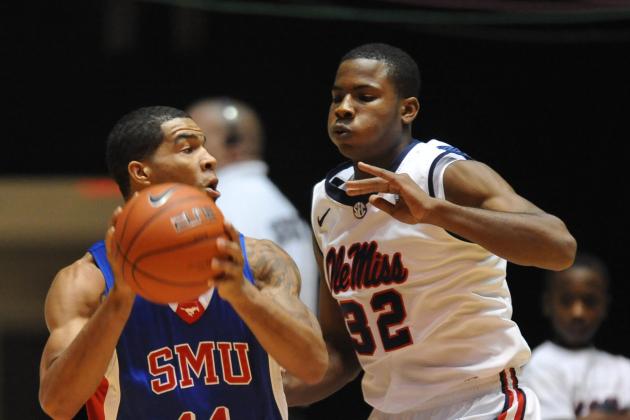 sfexaminer.com
Legendary coach Larry Brown must really like big challenges because he has one in turning Southern Methodist University into a winner.
Not only have the Mustangs consistently underperformed in Conference USA, but next year they will be moving to the Big East. Last year, Southern Methodist went 13-19 (4-12 in CUSA) under former head coach Matt Doherty (80-119 in six seasons).
SMU has not played in the NCAA Tournament since 1993.
Brown's biggest initial asset is a top-level coaching staff that he assembled, headed up by former Illinois State head coach Tim Jankovich who is serving as the "coach-in-waiting."
In terms of players, SMU will build with a collection of transfers (headed by Kansas State transfer Nick Russell) and a pair of towering post-player projects (6'11", 202-pound Blaise Mbargorba from The Peddie School in Hightstown, N.J. and Jordan Dickerson, a 7-foot, 240-pound center from Brooklyn).
Brown's current squad will be helped in practice by three talented transfers who are sitting out: point guard Nic Moore (Illinois State), shooting guard Crandall Head (Illinois) and power forward Markus Kennedy (Villanova).
If nothing else, SMU will improve on hustle alone. Brown won't tolerate low-energy or lethargy.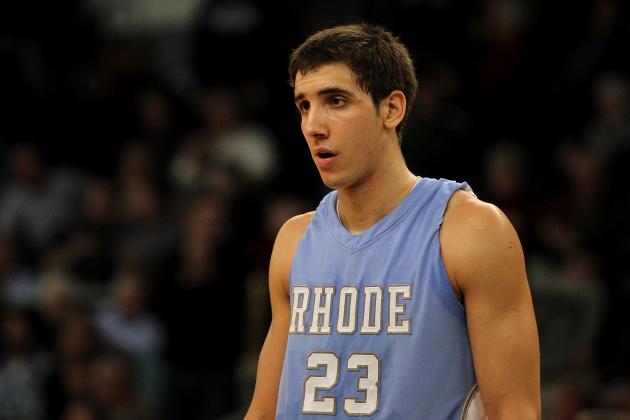 Chris Chambers/Getty Images

Rhode Island has virtually nowhere to go but up from 2011-12.
The Rams went 7-24 overall and 4-12 in the A10.
But there is actually optimism surrounding URI because of first-year head coach Dan Hurley, who helped Wagner go from five to 25 wins in two seasons.
Dan brought his older brother Bobby (yes, that Bobby Hurley) to help resuscitate this program that hasn't been to the NCAA since 1999.
Hurley will lean heavily on seniors Nikola Malesevic (11.0 PPG, 3.0 RPG in 2011-12) and Andre Malone (9.3 PPG, 2.6 RPG in 20111-12).
Malesevic (pictured), a 6'7" forward from Serbia, led the Atlantic 10 as a sophomore in three-point percentage (45.8 percent). In the Rams' opening game this season against Norfolk State, Malesevic went 3-for-4 from beyond the arc and scored 26 points.
Also watch out for newcomer Xavier Munford, a 6'2" junior shooting guard and 2011-12 NJCAA Division I All-American selection. Munford played for Hurley at St. Benedict's Prep, and should add scoring punch.
A .500 season might be too much to ask in Hurley's first season in Kingston. But, one thing is for sure: No one will outwork the Rams.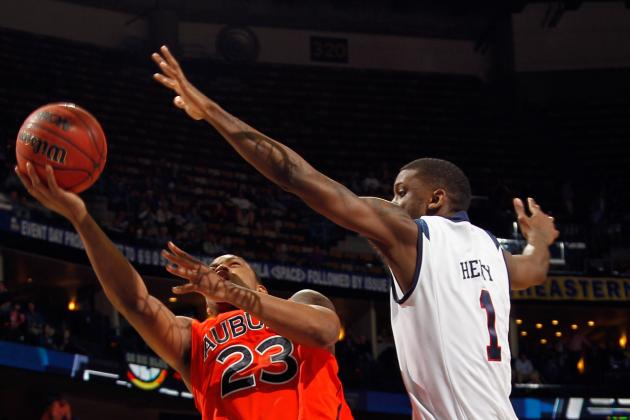 Chris Graythen/Getty Images

Tony Barbee has had a lot to deal with in his first two years as the head coach at Auburn (15-16; 5-11 SEC in 2011-12).
After going through multiple departures (through transfers or being kicked off the team), Barbee will finally have a squad that could be ready to play into the upper half of the SEC.
Senior guard Frankie Sullivan (12.6 PPG, 3.9 RPG, 2.3 APG, 1.4 SPG in 2011-12) is a hard-nosed player that will run the show.
Junior forward Allen Payne does a little of everything.
But the 2012 recruiting class, that includes three four-star players, should step in immediately and help the Tigers be competitive, if not successful, on a nightly basis.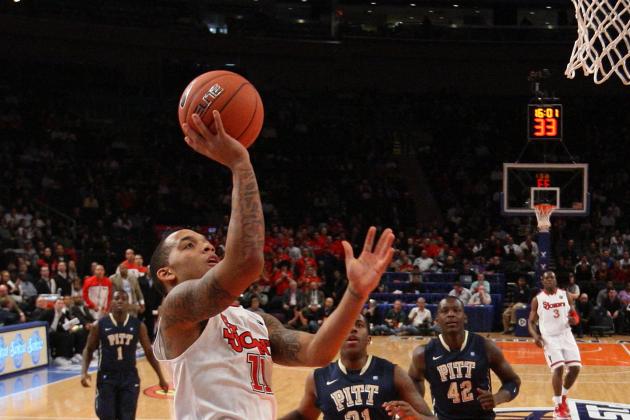 Jim McIsaac/Getty Images

Normally, a team that is as young as St. John's, will be looking down the road for success.
Not the Red Storm.
With four of five starters returning and a huge infusion of talent and athleticism (eight newcomers) arriving, head coach Steve Lavin is ready to erase last year's 13-19 (6-12 Big East).
Sophomore guard D'Angelo Harrison (17.0 PPG, 3.9 RPG, 2.0 APG, 1.7 SPT, .367 3PT) is one from whom Lavin expects big things.
Harrison is not only the top returning scorer, but he is ready to provide on-court leadership to this year's squad.
Lavin picked up a couple of solid weapons in junior college transfers Marco Bourgault, a 6'6", 216-pound shooter, and Orlando Sanchez, a 6'9", 216-pound junior who should make an immediate impact.
Because of a relatively easy Nov.-Dec. schedule, St. John's may enter Big East play with at least eight wins if not more.
And, while no one expects the Red Storm to storm through the conference schedule, there is a good chance that they pick up a handful of more wins in the upcoming season, and make a case for post-season play again.
Mark D. Smith-US PRESSWIRE

Travis Ford definitely wants to reverse the four-year trend that has occurred since he arrived in Stillwater in 2008.
In his first season at OSU, Ford's Cowboys went 23-12. Since then, Oklahoma State has gone 22-11, 20-13 and, last year, 15-18.
Fortunately, four of Ford's top five scorers return from last year.
LeBryan Nash, a 6'7" sophomore forward (13.3 PPG, 5.0 RPG), earned co-Big 12 Freshman of the Year honors, the first Cowboy to take that honor.
Five-star combo guard Marcus Smart is likely to start at the PG and bring a physicality to the position that few teams will be able to combat.
Nash and Smart may potentially be the most potent perimeter pairs in the Big 12.
Sophomore power forward Brian Williams (9.6 PPG, 3.3 RPG) brings athleticism to the post and in transition.
Even though the Cowboys lack a little in overall size, they will make life difficult for most of their opponents in terms of hard-nosed, physical play.
Look for the Cowboys to win over 20 games and return to the NCAA Tournament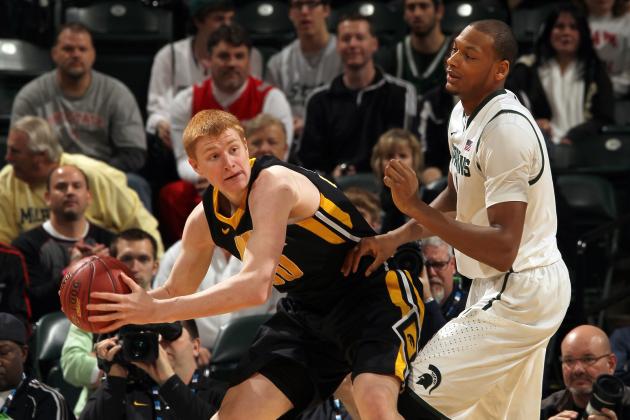 Jonathan Daniel/Getty Images

Fran McCaffery enters his third season as the Hawkeyes head coach with optimism.
Last year, Iowa posted a winning record (18-17), finished a decent 8-10 in Big Ten play and upset four top 20 teams.
This year, the Hawkeyes could take the next steps to play their way into the upper-half of the conference, which is no small accomplishment.
Sophomore forward Aaron White (11.1 PPG, 5.7 RPG in 2011-12), who was a Big Ten all-freshman team selection, is ready to step into a team leadership role.
Zach McCabe might be an undersized post (6'7") but he is a player whose defense and drive is hard to keep off the court.
But the player that has the Hawkeye nation stirred up is 7'1" freshman Adam Woodbury, who has all the tools to be a big time college player.
If Iowa can shore up its defense and incorporate Woodbury into the flow of things, McCaffery's mob may be ready to return to the NCAA Tournament this year for the first time since 2006.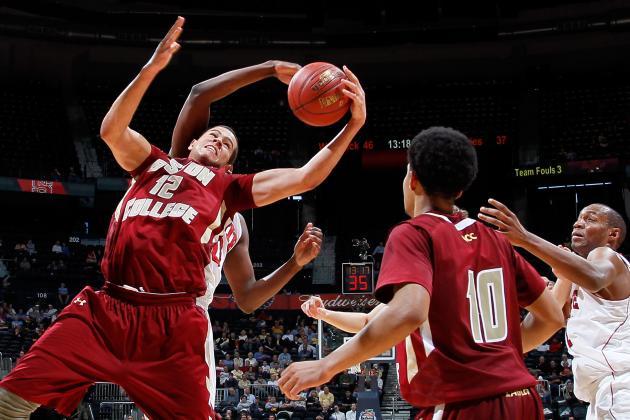 Kevin C. Cox/Getty Images

Last year was a "pay your dues" season for the Eagles (9-22; 4-12 ACC).
Almost everyone who played in 2011-12 and is back was a freshman.
BC is still one of the youngest teams in D-1 hoops, with eight sophomores and four freshmen on this year's roster. But, watch for the Eagles to begin to spread their wings in the upcoming season.
Ryan Anderson (11.2 PPG, 7.4 RPG in 2011-12) was a unanimous pick for the All-ACC freshman team. At 6'8" and 220 pounds, Anderson is the kind of player who third-year coach Steve Donahue can build on.
So is sophomore center Dennis Clifford (9.1 PPG, 4.7 RPG). The 7-footer has added 20 pounds to his slender frame (he played at 225 pounds last season).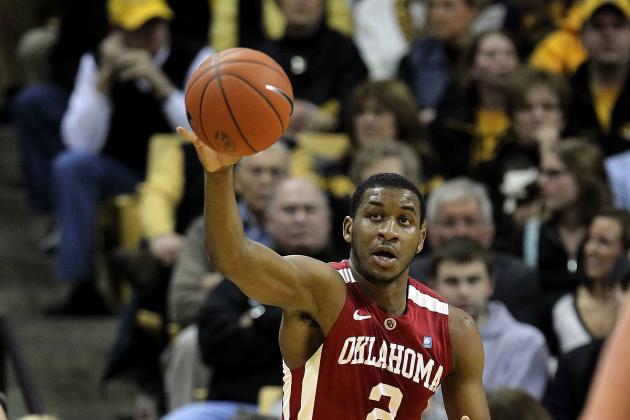 Jamie Squire/Getty Images

Lon Kruger took over the OU basketball program in the middle of a time of disorder and confusion.
Instead of crumbling under the pressure, Kruger brought a degree of stability, but not much success
Oklahoma's 15-16 record (5-13 Big 12) might have appeared better than they really were.
The Sooners only won two of their last 10 games.
But the good news in Norman is that Kruger has done this before and is ready to move forward.
"The second season is always a lot different. Now everyone knows what to expect. They know what the program feels like. You're now a step ahead of where you were last year, so now it's different. You have a better feel for what's going on." (ESPN Insider - subscription access).
All five Sooner starters are back from last year, including 6'4" guard/leading scorer Steven Pledger (16.2 PPG; 3.9 RPG).
Also, Kruger is getting some further help from a few talented transfers.
Junior Amath M'Baye, a 6'9" forward, averaged 12.0 points and 5.7 rebounds as a sophomore at Wyoming.
D.J. Bennett, a 6'8" junior college transfer from Indian Hills (Iowa) Community College, has a non-stop motor that will help crash the boards and play some tenacious D.
After Kansas and Baylor, the Big 12 is wide open. And even if OU is not ready to contend, they will be significantly more competitive and should win at least 20 games and could be picked on Selection Sunday.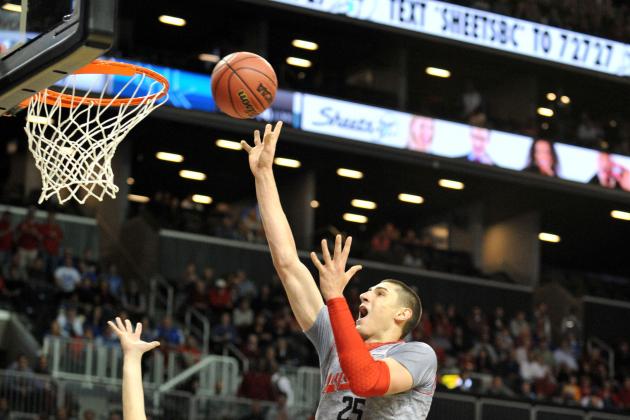 Jason Szenes/Getty Images

Maryland is a program on the rise.
Second year coach Mark Turgeon is not focused on a disappointing 2011-12, where the Terrapins posted a 17-15 record, with only winning six of their 18 games in the ACC.
Turgeon is locked in on what is ahead.
Alex Len is not only a strong interior defender and rebounder, but he is becoming a dependable scorer.
Len is capable of being a double-double threat every night.
The Terrapins secured the services of Xavier transfer, Dez Wells. He is a powerful (6'5", 215 lbs) wing who has no trouble getting his shots. Last year as a freshman at Xavier, he averaged 9.6 PPG and 4.9 RPG.
He gives Turgeon one more explosive perimeter player, joining 6'3" PG Pe'Shon Howard and 6'6" wing Nick Faust.
Turgeon has three newcomers 6'8" or taller, including 6'9" Shaquille Cleare and 6'8" Charles Mitchell.
How all of these pieces fit together remains to be seen. Even if it is into ACC play, the Terrapins will be a nice team to watch in February and beyond.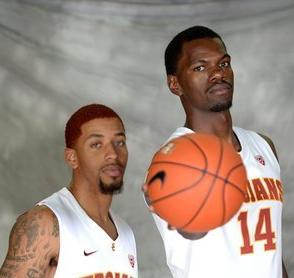 www.monstersandcritics.com
You can't have much worse of a season than what the Trojans had last year.
Injuries to numerous players shortened or ended their seasons. USC stumbled through a 6-26 campaign that saw Kevin O'Neil's squad win only one of 18 Pac-12 contests. In fact, after beating Utah at home on January 28th, Southern Cal was winless in February and March.
But this is a new year. Many of the injured players have returned and are ready to contribute. Some talented transfers will step in and help revive the Trojans.
PG Jio Fontan (10.5 PPG, 3.9 APG in 2010-11), who blew out his knee last year, is ready to resume his role as leader of this team.
Seven-foot center Dewayne Dedmon (7.6 PPG, 5.5 RPG), who blew out an ACL in midseason 2011-12, is very athletic and is capable of being a force in the middle.
Forward Aaron Fuller (10.6 PPG, 5.9 RPG), who only played half of a 2011-12 season, will be tough on the boards.
Wake Forest transfers J.T. Terrell and Ari Stewart could both bring scoring and defensive help that will translate into minutes.
There's not only no direction but up for the Trojans, but USC could actually be competitive in the Pac-12 race. O'Neil's massive job is to sort through all of the pieces and come up with the best combination of this assortment of players.
The sky is the absolute limit for this year's Trojans.